07.07.2010 - Margetshöchheim
Hi, Today i want to show you our holiday apartment. The house is around 250 years old and full of funny things. This is the entrance of the house.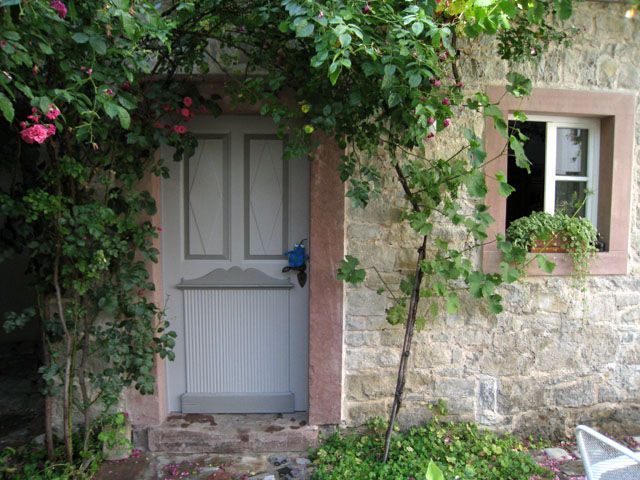 Now I want to show our living room! Can you see me sitting on the couch?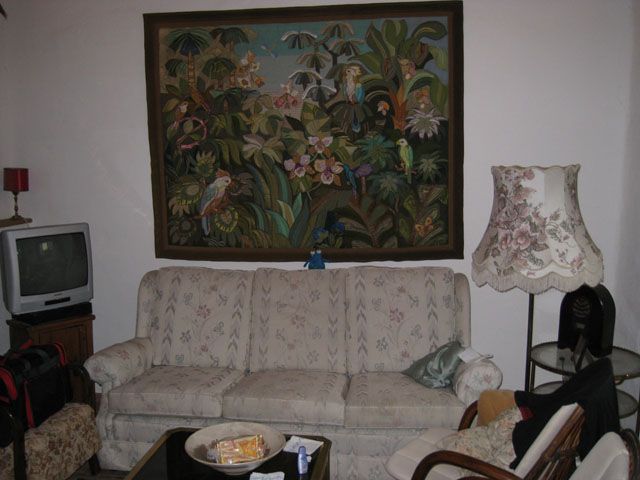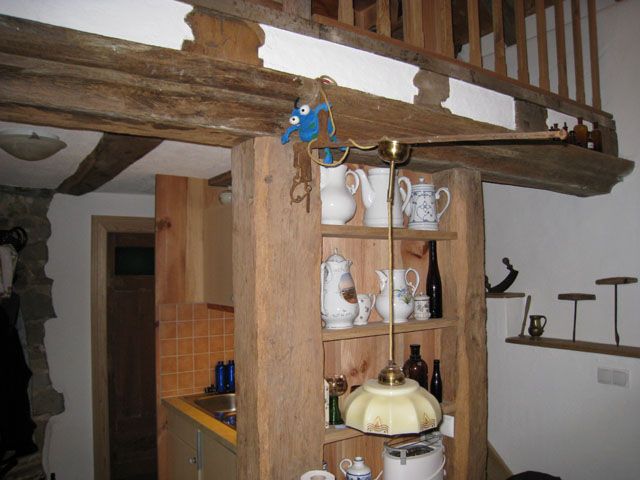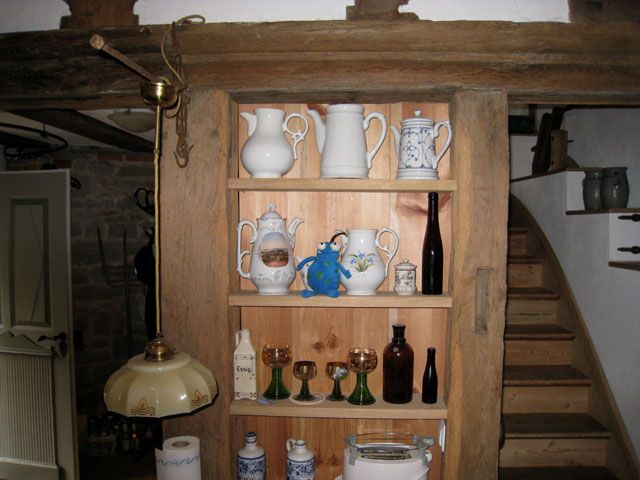 Hello – here I am – up in the air!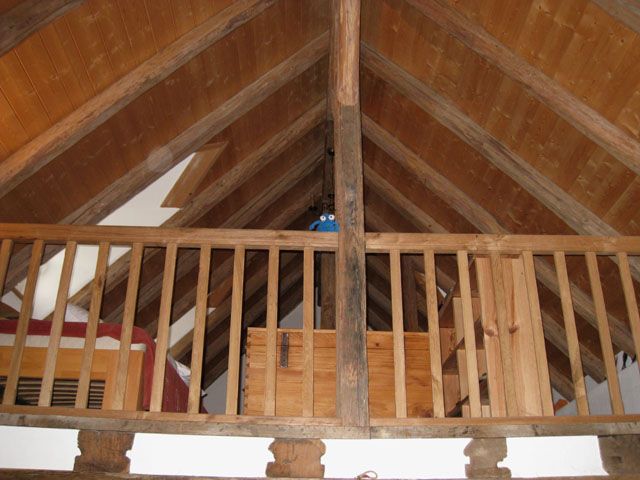 This is the place where we slept. Really beautiful, isn't it? Everywhere in the house I could find interesting things. Strange tools – what have the people done with it?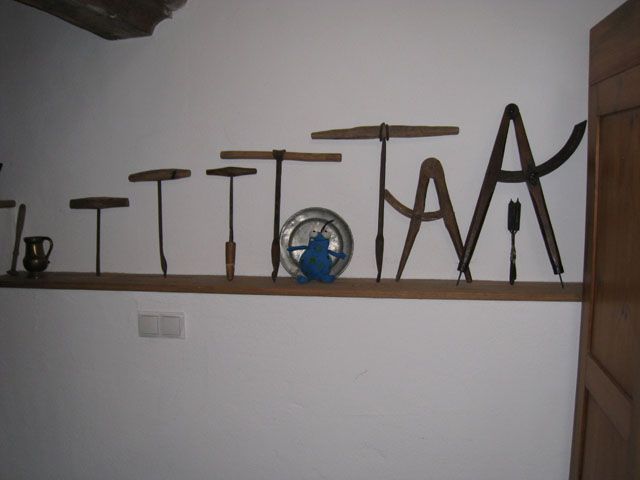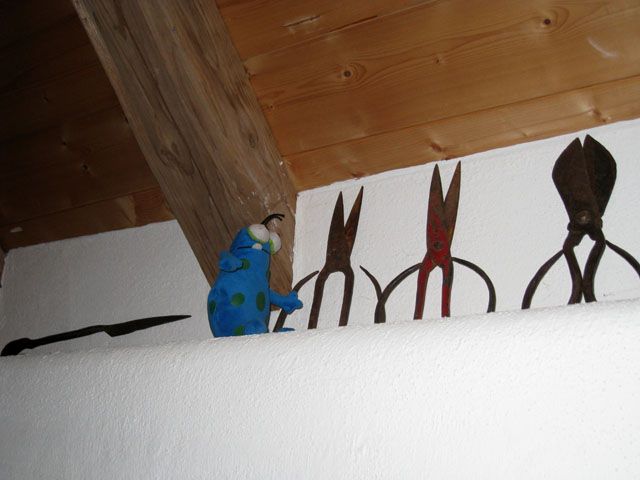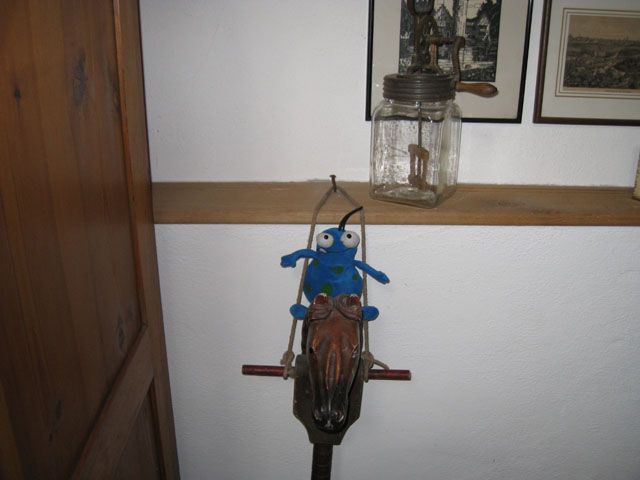 Oups – I was to curious….. I told myself : don't move, Murph, stay cool – then I called for help. – BINE !!! HOLGI!!!
Fortunately HoBi rescued me. After it I decided to watch out of the window, until the thunderstorm was over. Then I went outside and played in the courtyard.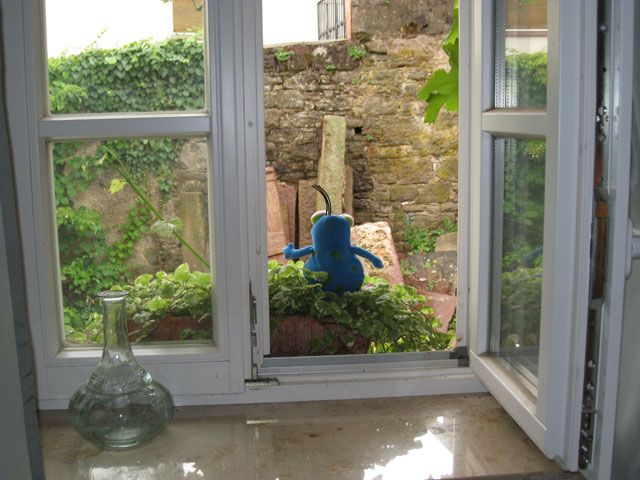 There were many, many interesting things to see.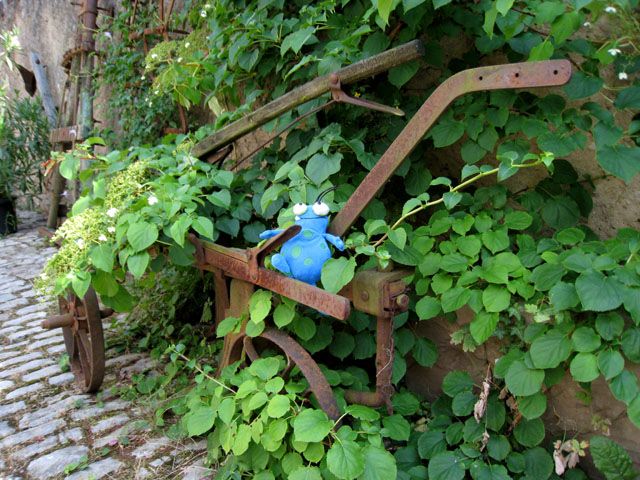 I found a junglegym – great playground for an alien like me.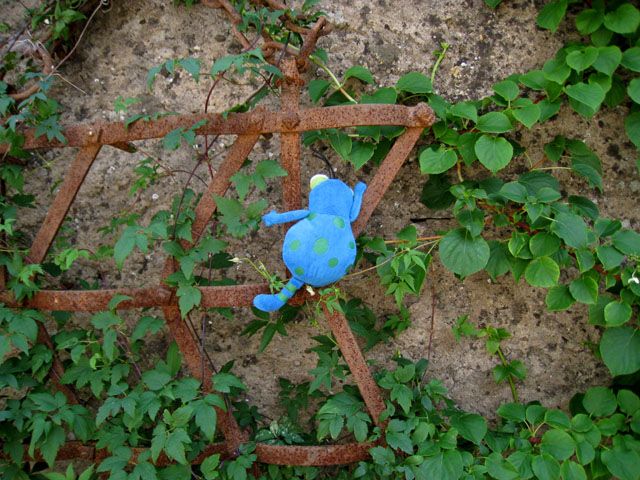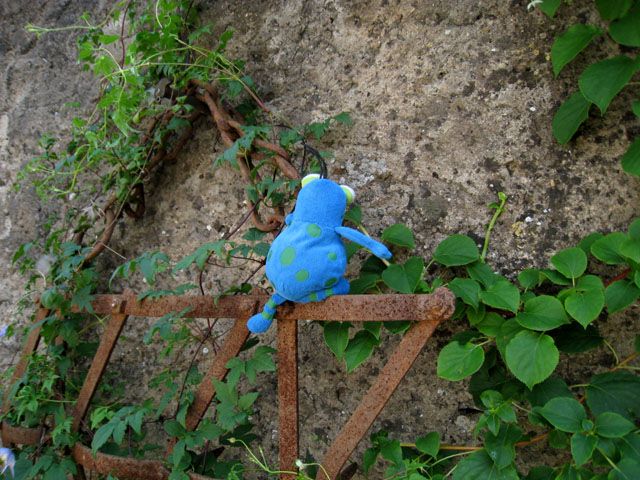 Look – I am on the Top!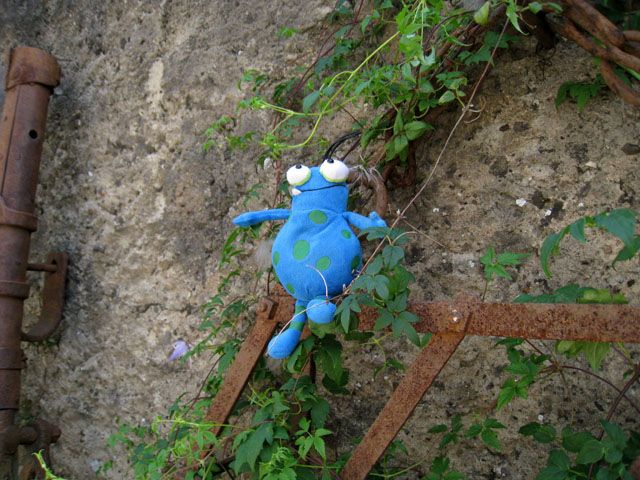 Enough for today – I will write more soon. Love Murph
---
08.07.2010 - Veitshöchheim
Hi, today we made a trip to Veitshöchsheim. There is a nice Rococo-Garden. I was on my way to beautiful flowers. We went over this bridge over the River Main – it was exhausting!
This is the way the flowers get water here. I wanted to take a shower, but HoBi didn't allowed it.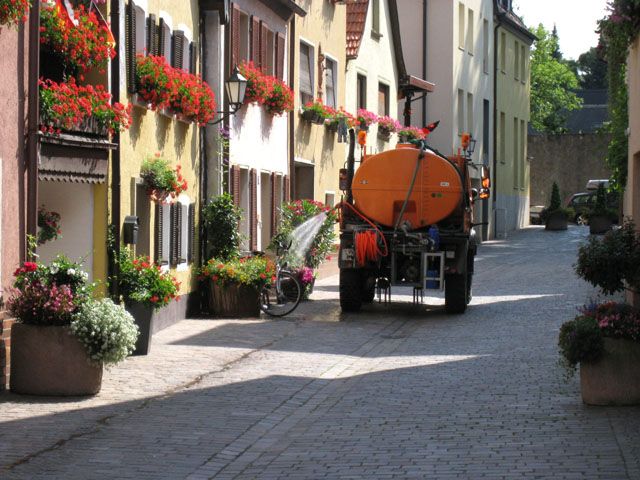 But now to the flowers in the garden. Just behind the entrance was this funny guy.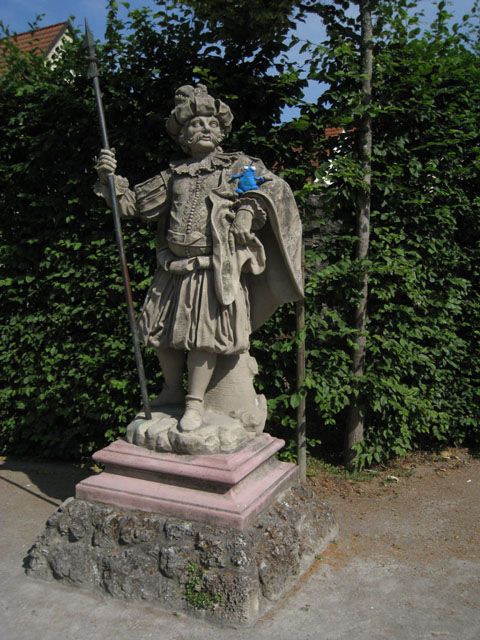 This is the castle.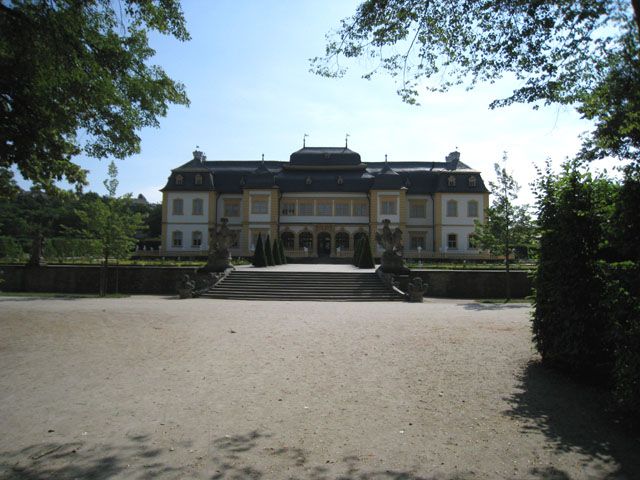 Hm, not too many beautiful flowers – but many trials of courage for a brave blue Alien. Here I was very courageous and sat next to the dangerous dragon.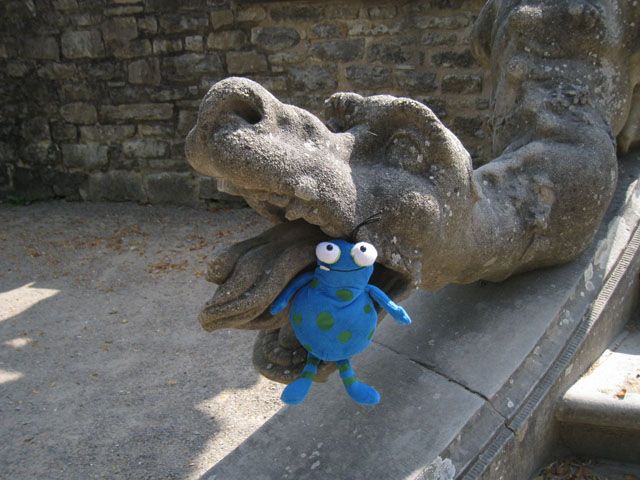 This house was full of mussels and snails.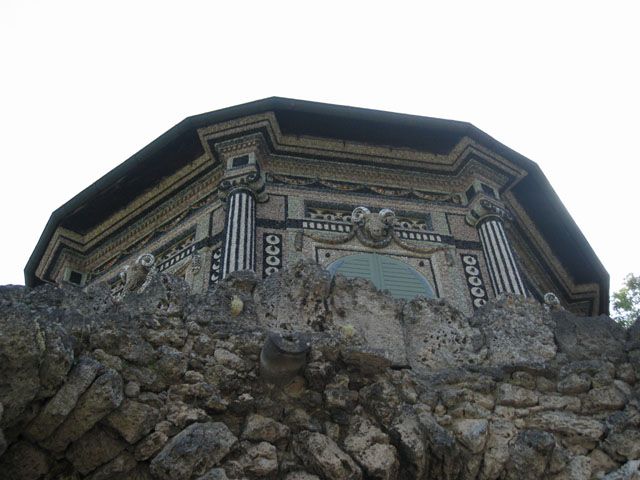 In front of the house there were many dangerous things…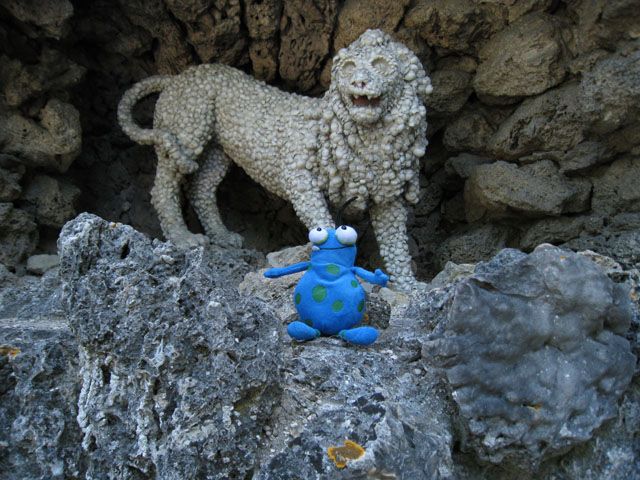 ...this one had really sharp teeth.
After all this adventures it was time for delicious ice cream.
I really missed my friend Dicker Kumpel – it is a shame that he was not here with me. HoBi and I found a really beautiful postcard for him.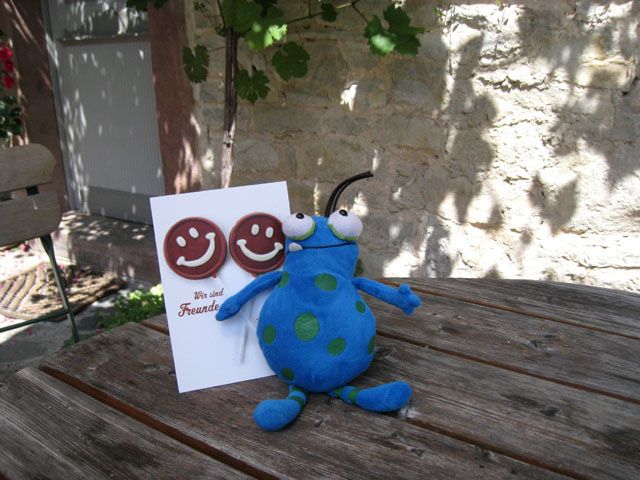 At home I wrote the card…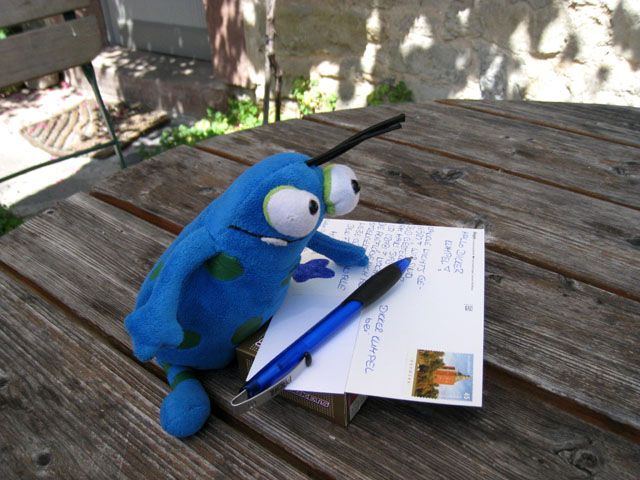 I really hope that Dicker Kumpel was happy to receive it and read about my adventures. Many greetings Murph
---
09.07.2010 - Würzburg
Hello, Today we went to Würzburg by boat. How exciting. This is the place where we waited.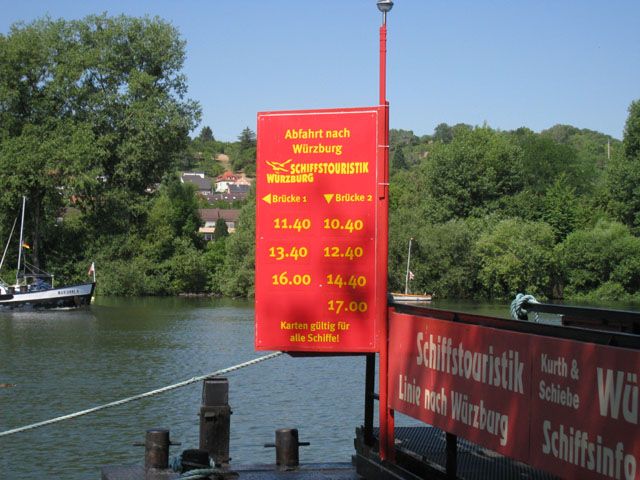 Look – this was our ship.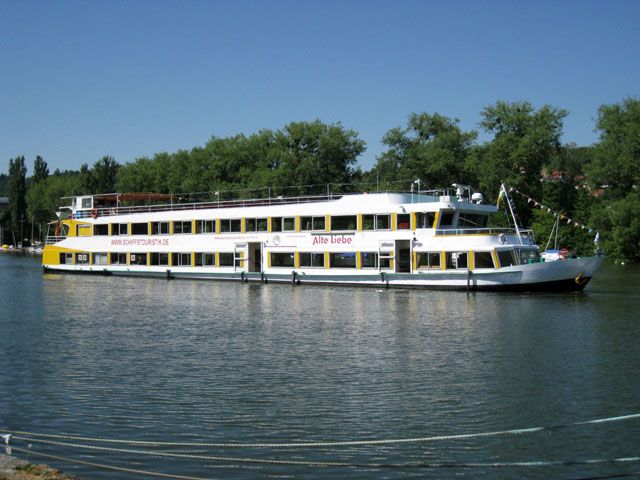 The weather was fantastic, but really hot. So we decided to take out seats outside.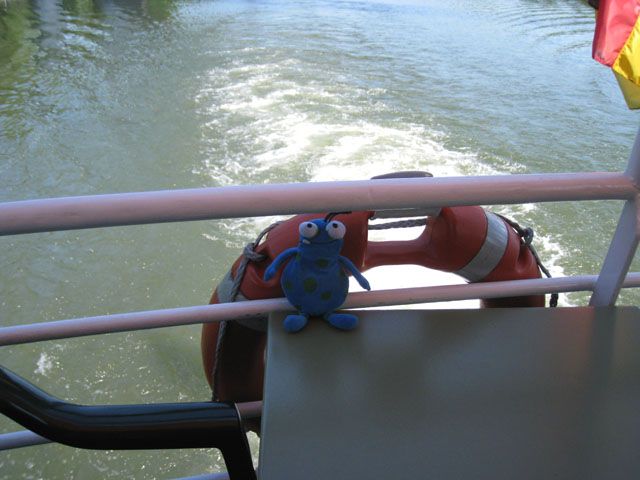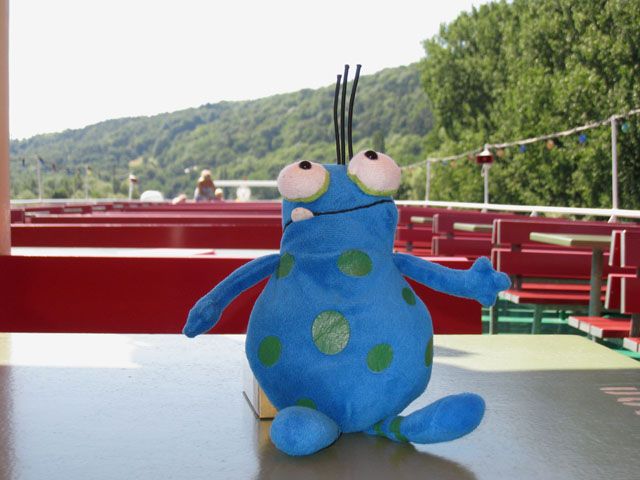 Because the Sightseeing was so exhausting, I took a rest and had something to drink.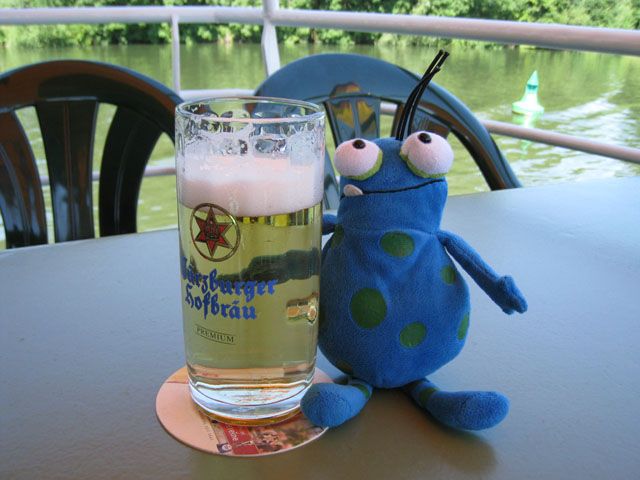 This was the Residence in Würzburg, a really big house with a wonderful park. I would love to live there with many other TVs or Aliens…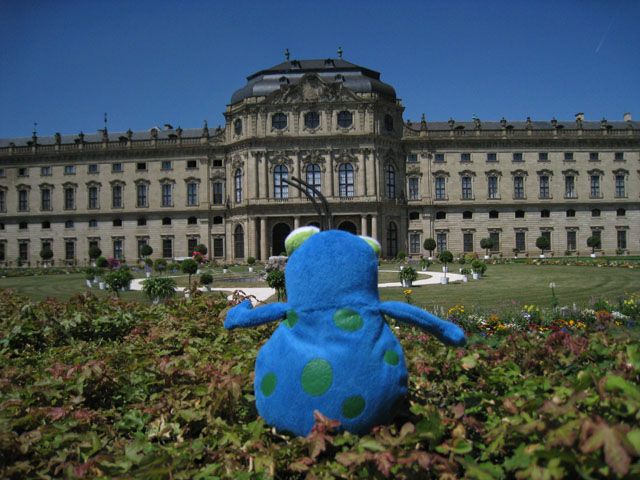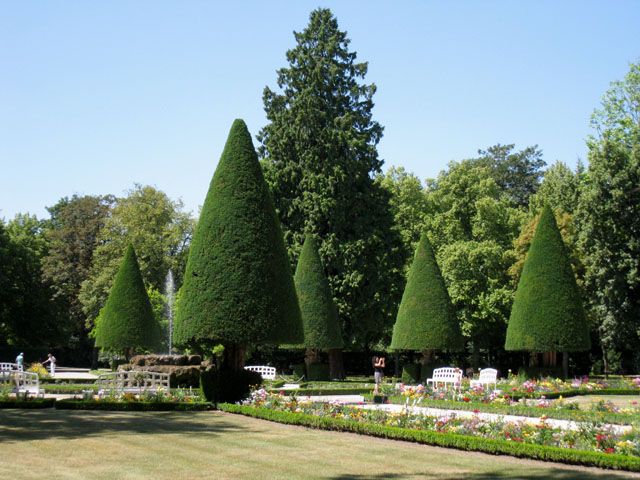 In the evening at home in our backyard : it looked delicious  :p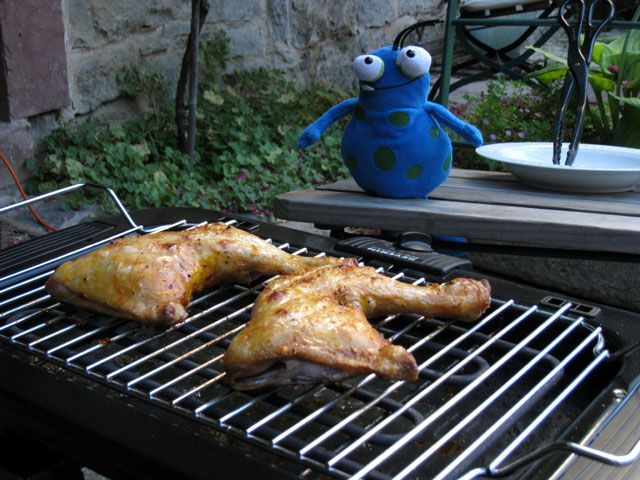 Let's start it.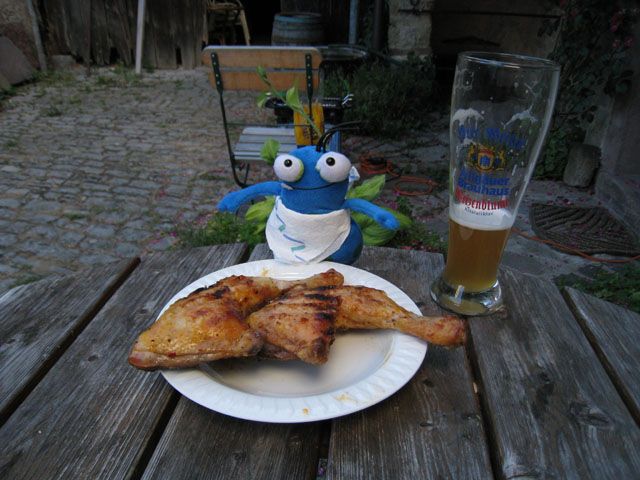 It was so yummy – I love to be on holidays with HoBi!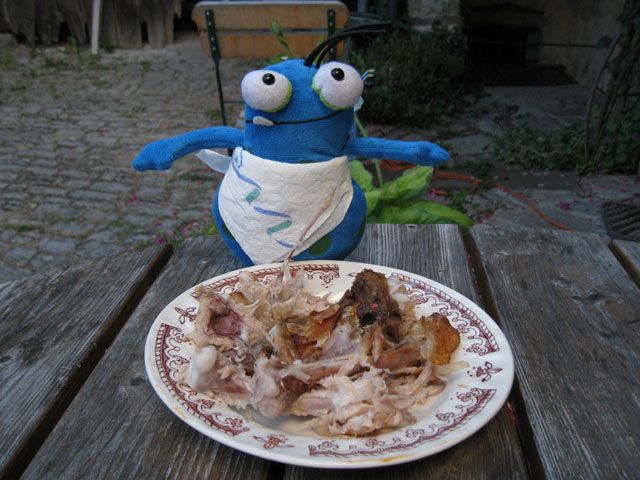 Many greetings Murph
---
11.07.2010 - Würzburg
Hello, today we went to Würzburg again. This time we will visit the Botanical Garden and the fortress Marienberg. In the Botanical Gardens there were a lot of really beautiful flowers. I will show you some photos.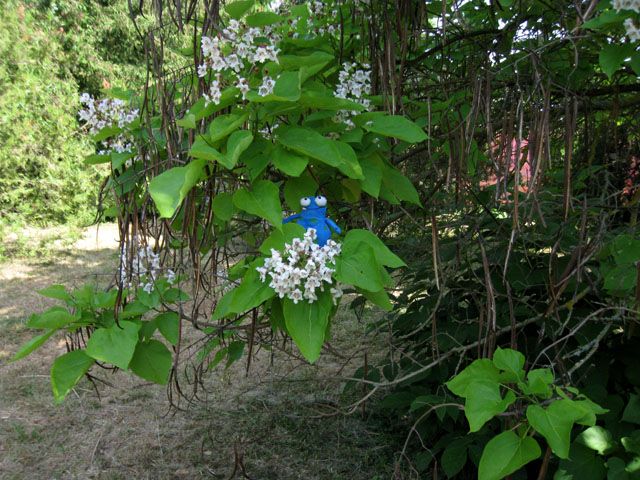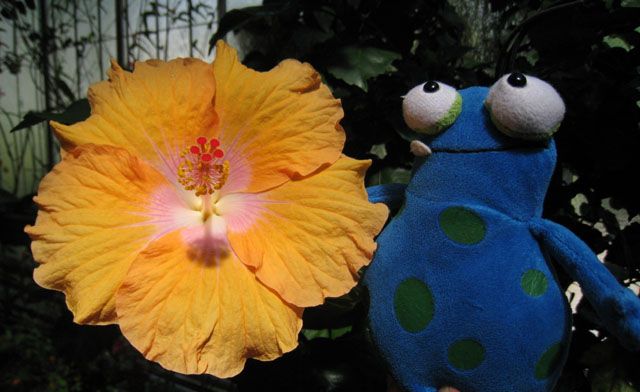 Ouch – this hurts – strange flowers…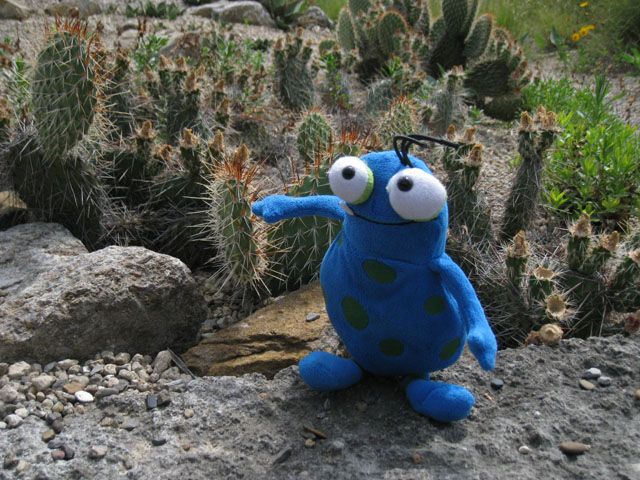 I found a great place in the shadow to relax.
Then we were on our way to the fortress Marienberg. I was so happy, because we went there with our car. We had a wonderful view over the city of Würzburg.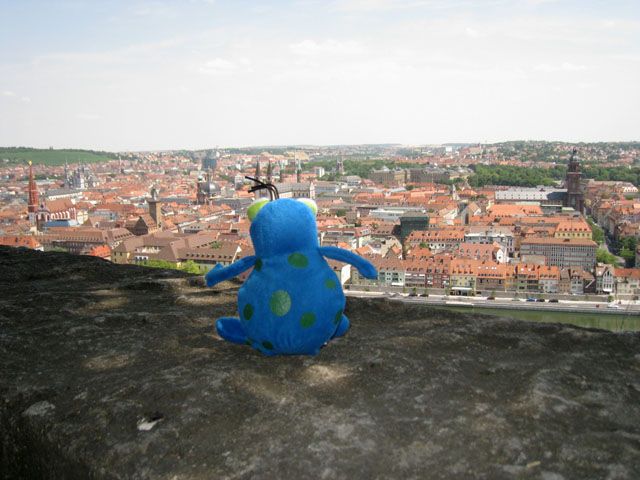 It looks like a Castle out of a fairy tale! The right place for a romantic Alien.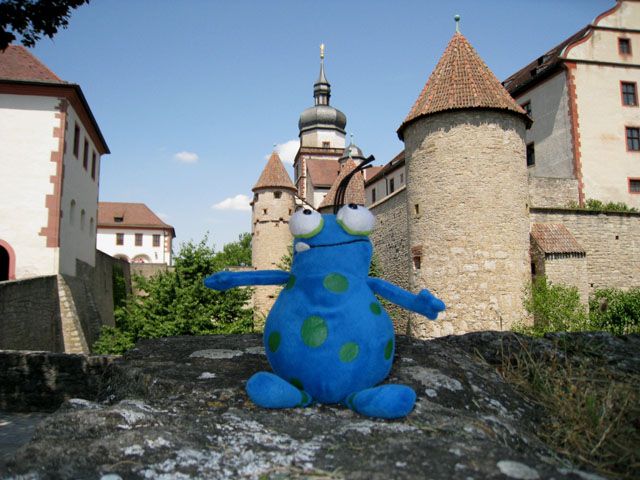 That's it for Würzburg. Until soon Murph
---
13.07.2010 - Sulzfeld
Hi, after having breakfast we went to a very small town. It is called Sulzfeld. No – not Sülfeld, where I spent many months – it is Sulzfeld – a really funny name.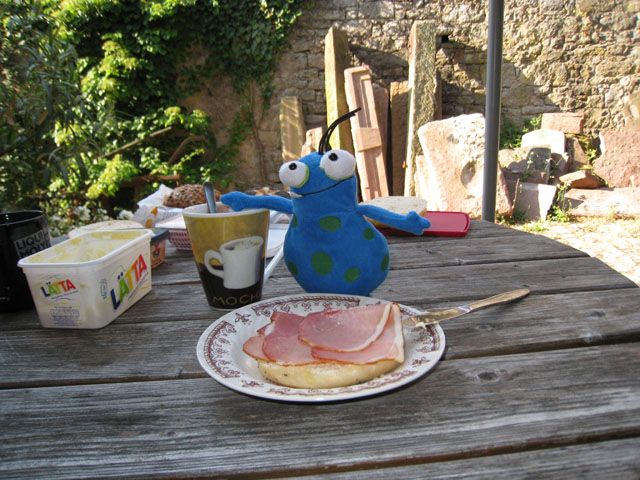 It was too hot to take many photos. On the old town wall I found wine. Unfortunately the Grapes were not ripe yet, otherwise I would have tasted them.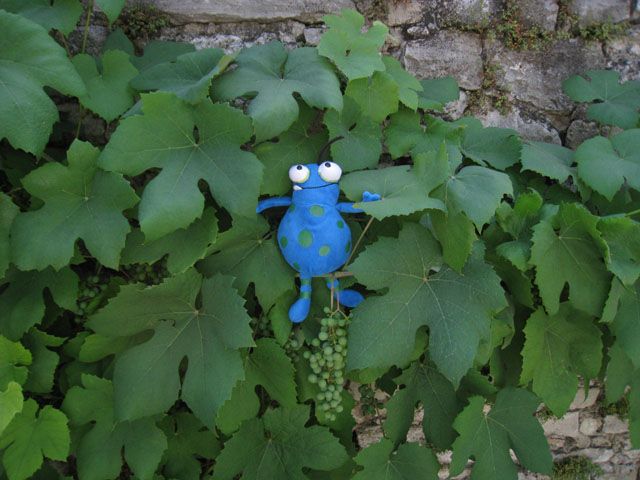 These town gates are so wonderful – big walls, big gates, small windows – and it was really cool – a good place for an Alien.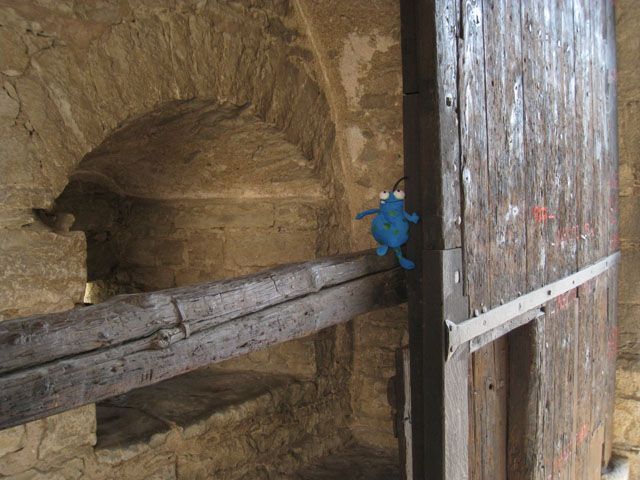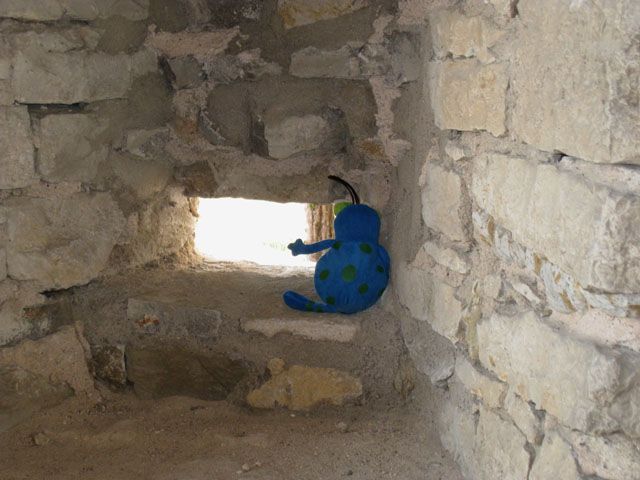 Actually we wanted to go to this ruin, but we didn't find the way. (I knew it of course, but I didn't want to walk anymore, and didn't help HoBi.)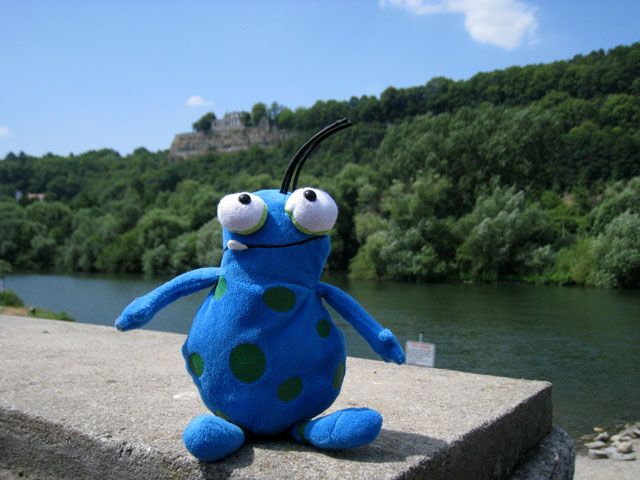 After the trip we had a nice time in our backyard. When it is hot, a cold beer is the best! Oups – bear and heat.... this is funny.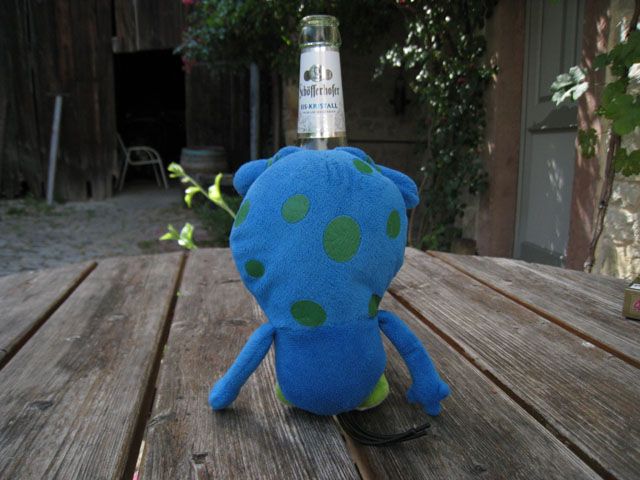 But it was really delicious – I will remember the name of it!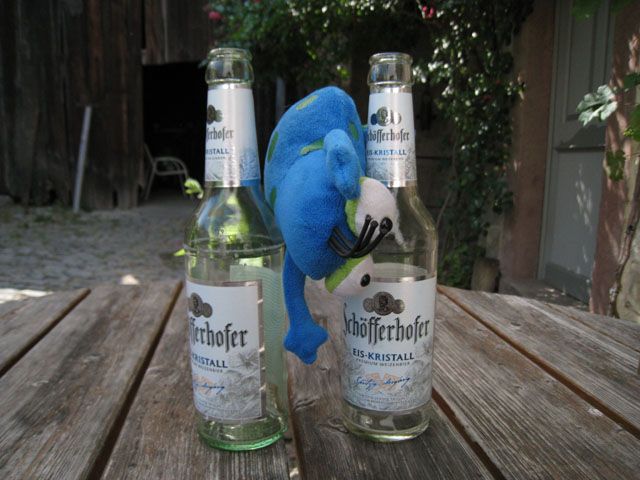 Now it is time to sleep. Yours Murph