29.05.2014 - Bellenberg
Hello , We had a short holiday again. What a beautiful house!
Let's explore the holiday flat.
Stop! We heard something.
What was it? Where was it?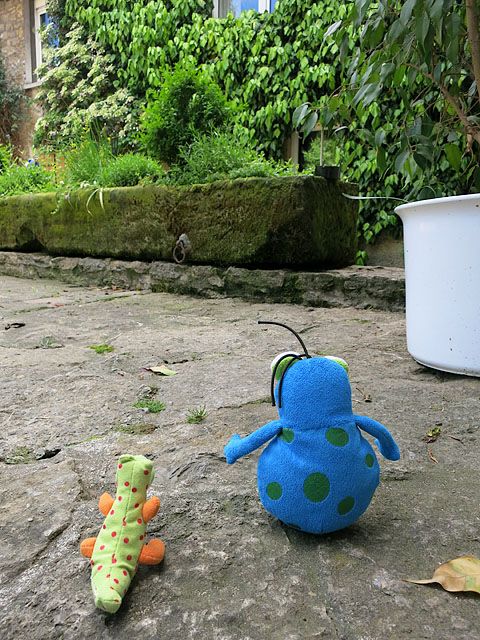 Look, there above is somebody calling us! It was HolgiHH.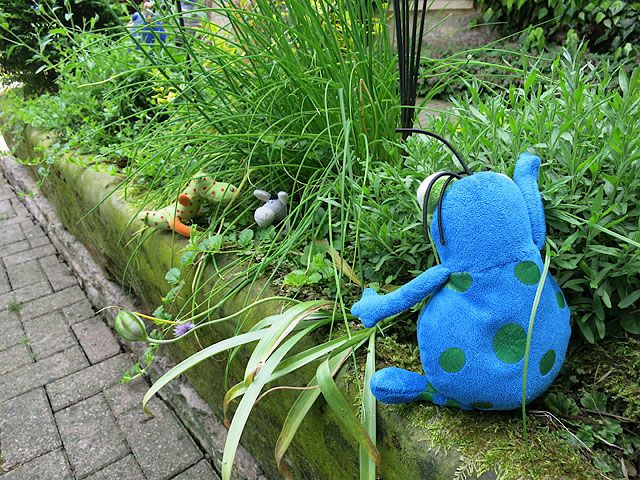 HolgiHH went 300 km to go on holilday with us. A great effort!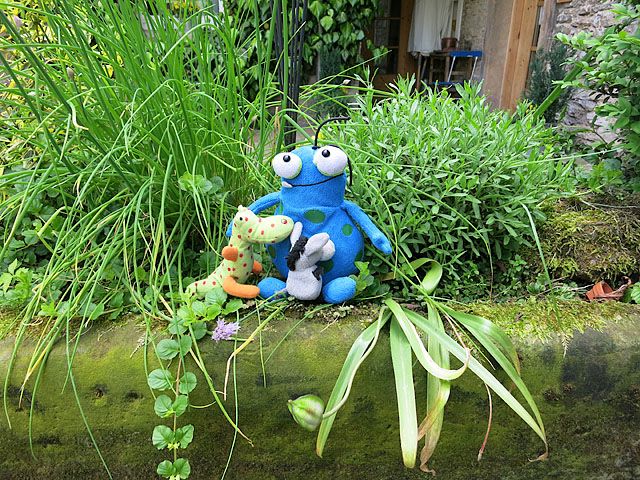 We found a nice armchair in the flat and talked all night long!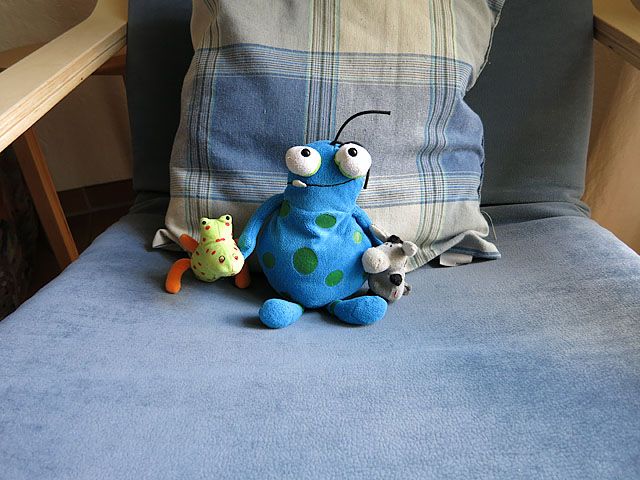 Well – did RikeH know where HolgiHH is now? Whatever – it is great that he is with us now! Yours Murph
---
30.05.2014 - Externsteine
Hello, today we visited two landmarks in the Teutoburger Wald. First we walked to the "Externsteinen". These rocks are really famous. There behind me you can see it.
We saw this beautiful small river – and urgently wanted to have a photo.
These rocks look really great – don't they?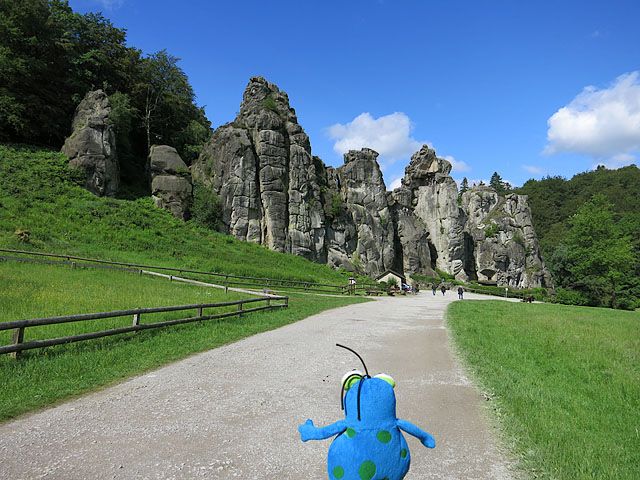 There is a bridge between these rocks – it looks dangerous…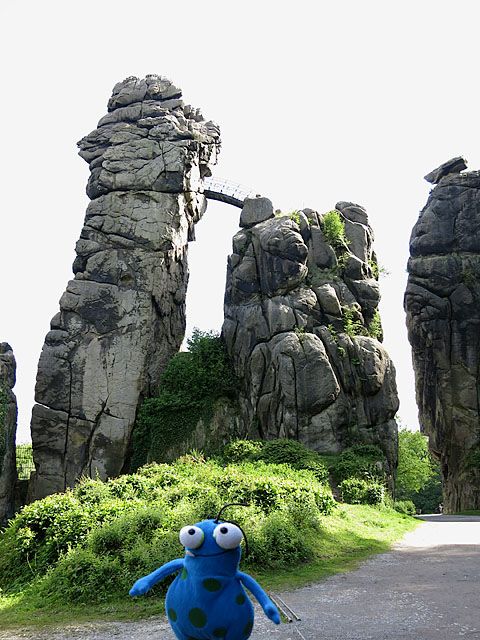 These rocks are really beautiful!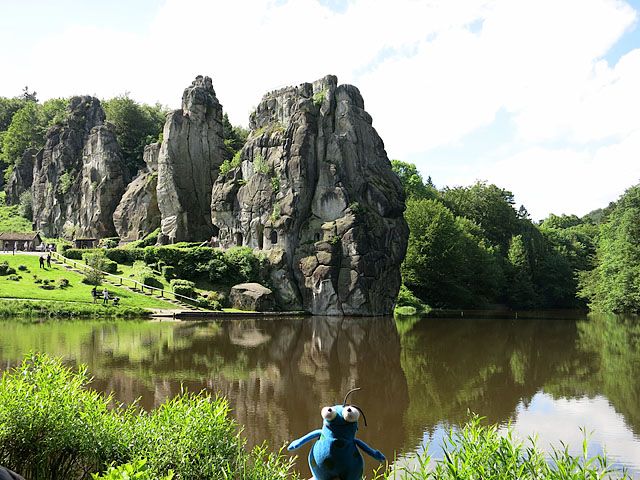 Our second stop is the region's landmark. It is "Hermann der Cheruskser". A really big monument!
Here you can read the height of the monument. The sword alone is 7 meters high.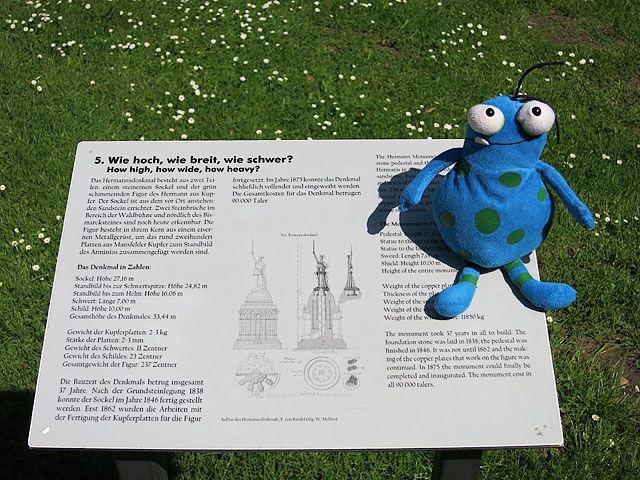 What a wonderful day! Murph
---
31.05.2014 - Detmold
Hello, today we went into a big museum.
There were many old buildings. This house stands on stones, because the mice should not climb into it.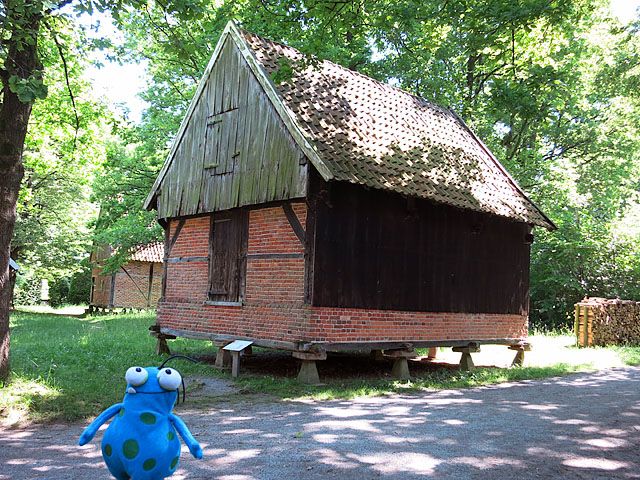 The umbrella for the hay looked great.
I love Windmills.
Look, so many vegetables.
Can you see who is on the vegetable? Snails everywhere.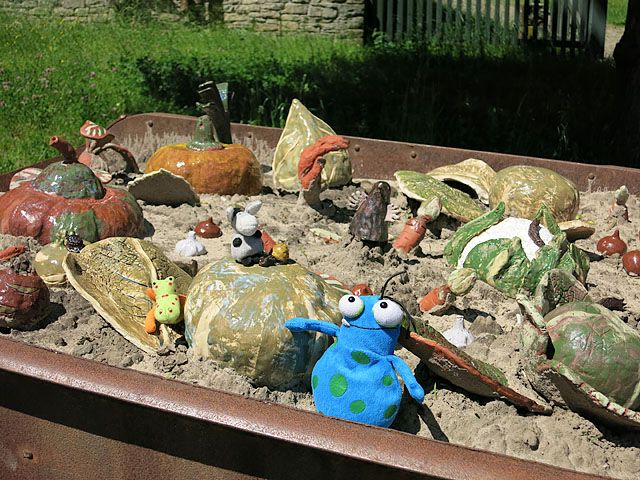 Wonderful houses!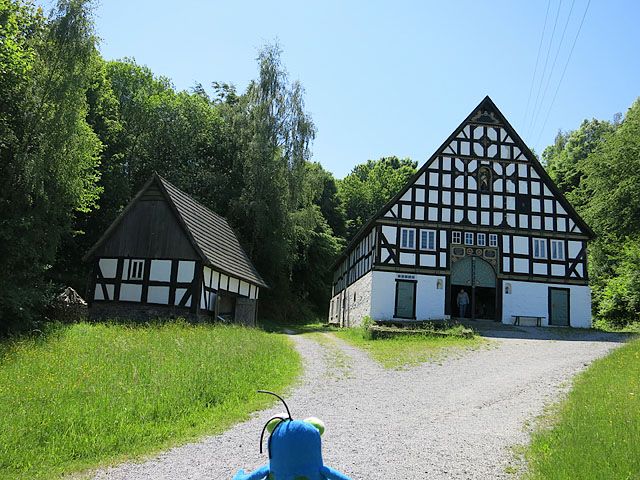 We saw this funny guy in one garden.
Wow, another windmill!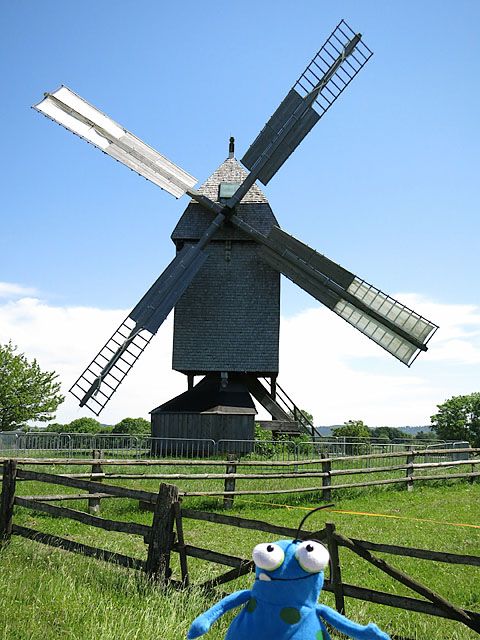 And a water wheel.
At the end we saw an old fuel station – funny, wasn't it?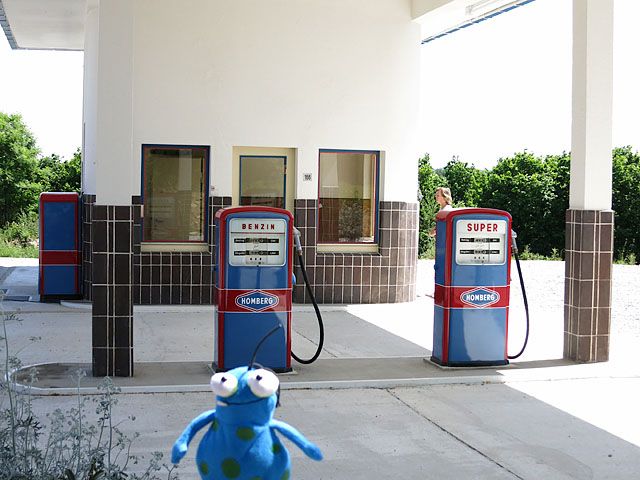 The museum was really great. Until soon Murph
---
01.06.2014 - Blomberg
Hello, on our way back we visited another small and beautiful town. The town hall: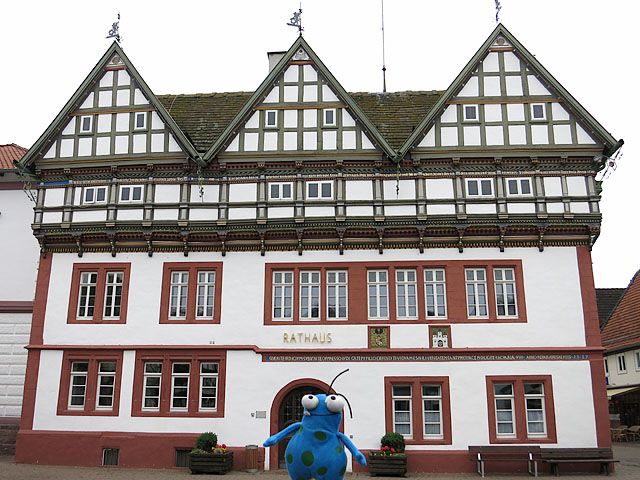 There was a beautiful fountain on this place.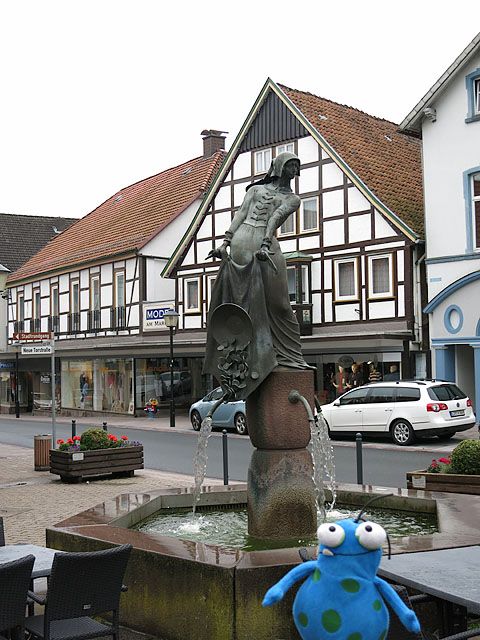 I saw many nice half-timbered-houses in Blomberg.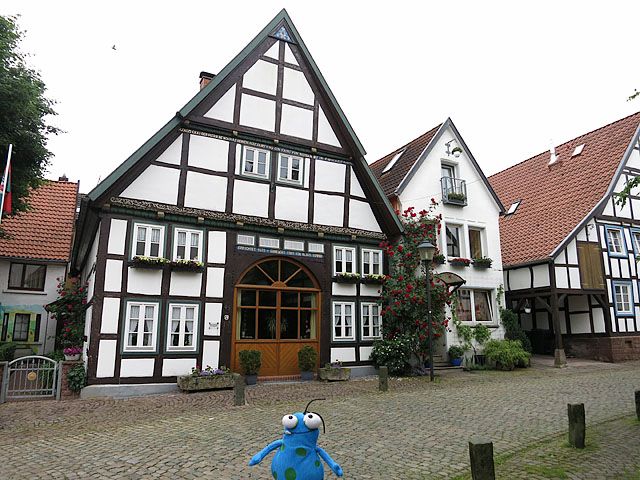 And I really liked this old water pump.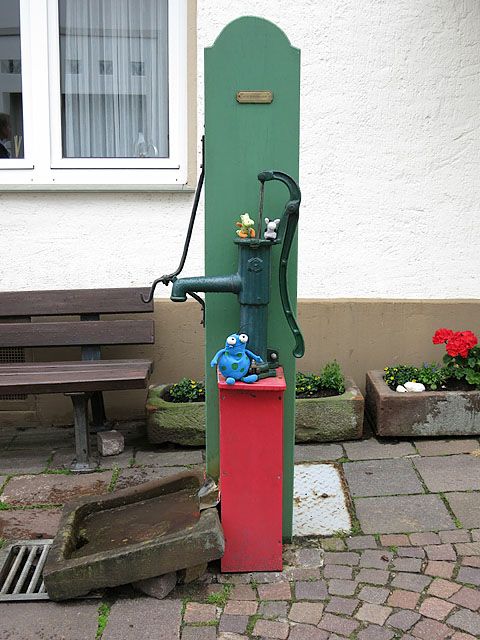 Another great half-timbered house – it was wonderful painted.
This is an old town gate.
Blomberg has a castle. This is the courtyard of it.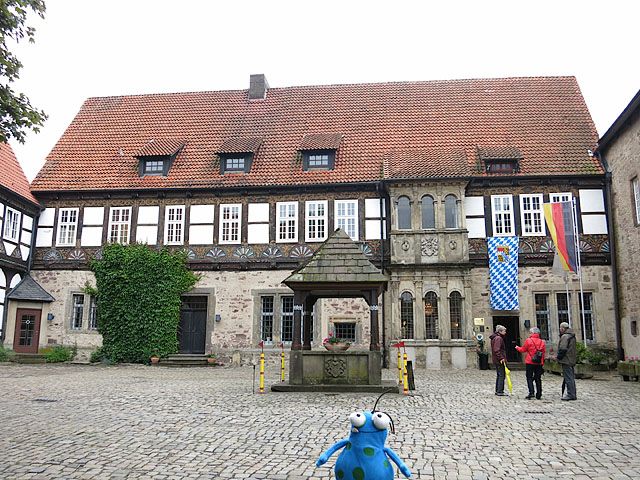 We saw this car there – I would have loved to drive in it.
Unfortunately our holiday is over and we have to go back home. Greetings Murph