05.10.2013 - Neuzelle
Hello, finally we are on holidays. At our first day we visited a big abbey.
This was the abbey church from outside, beautiful – wasn't it?
And then inside of the church – can you see the gold and all the angels?
The decoration for the harvest festival was so beautiful.
The garden of the abbey:
There were many old trees.
It was a very beautiful abbey.
A brewery belongs to the abbey. We bought a lot of delicious stuff.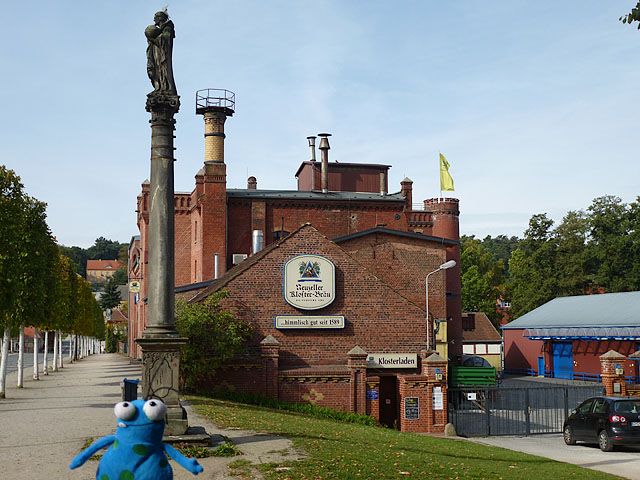 Tomorrow we will hike. The nature should be really nice here. I am curious! Greetings Murph
---
07.10.2013 - Bremsdorfer Mühle
Hello, today we hiked.
And this was the point where we started. The beautiful "Bremsdorfer Mühle" in the "Schlaubetal".
We walked along this small river. It is called Schlaube. It was a wonderful landscape.
We found a new mushroom for TobiHH's life mission. It was a grey mushroom.
We continued our walk along the river.
Wow – another mushroom with a new color. It is purple. Can you see the color? The mushroom is very bright. Maybe we will find another mushroom that is really purple. We will see.
This lake was the destination of our hike.
What a beautiful scenery.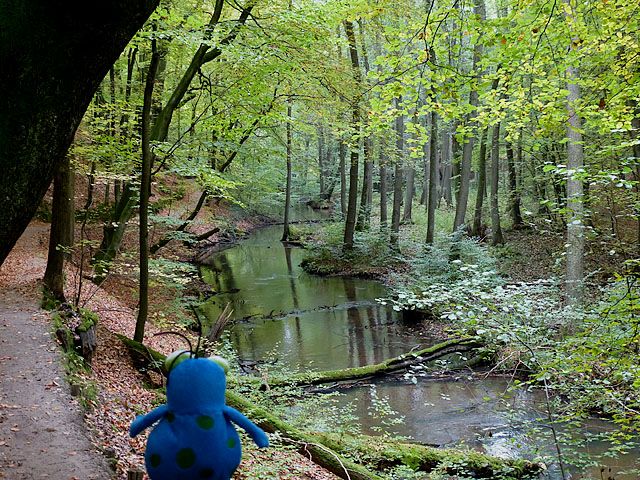 Do you know this tree? It grew in front of our holiday flat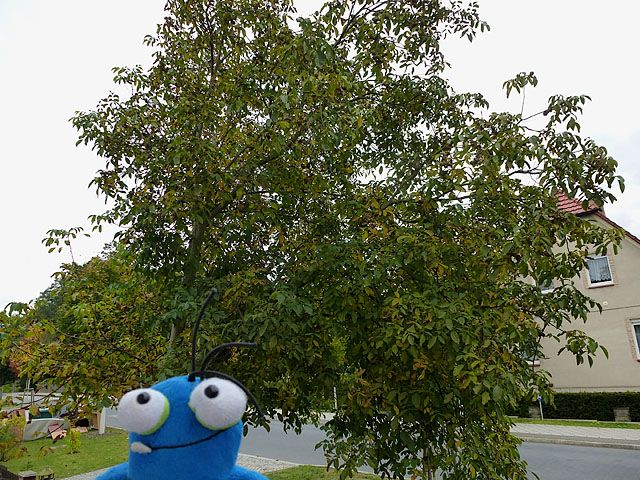 A Walnut tree – and the nuts were ripe.
We collected all nuts. They were so yummy.
Until soon Murph
---
08.10.2013 - Wirchensee
Hello, we walked around this lake today.
First we found a purple mushroom. This one is really purple, isn't it?
What a wonderful view over the lake.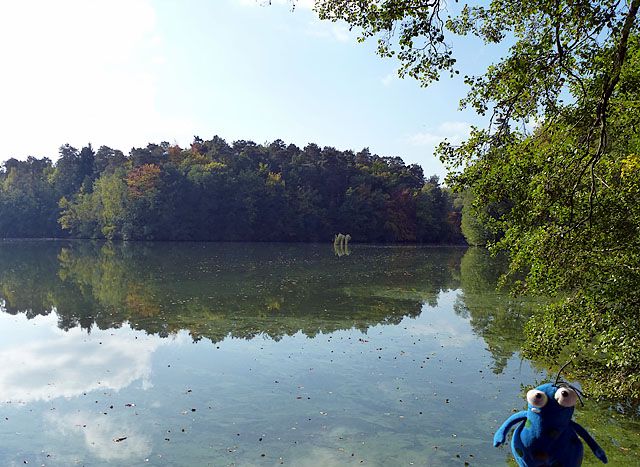 We were not able to use this boat anymore …
Unfortunately we couldn't take this mushroom with us. It is not allowed to pick mushrooms from a nature reserve.
What will we find there?
Wow – what a view!
Yesterday I walked along the Schlaube. This is the spring of the small river.
This small river feeds the whole lake that we walked around. Unbelievable.
Isn't it beautiful here?
These mushrooms look like small balls, don't they?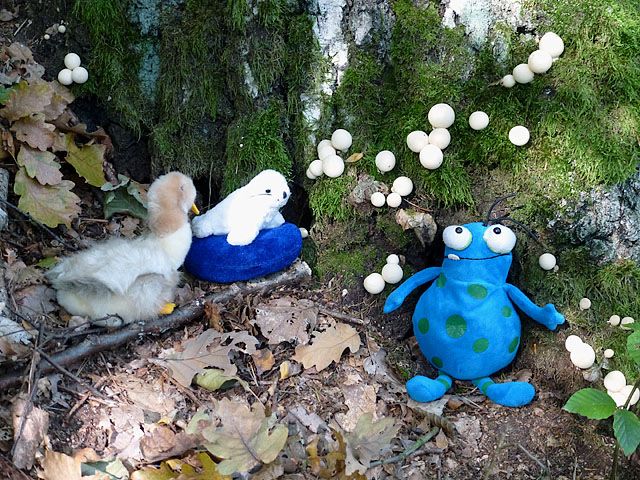 I really love it here!
Greetings Murph
---
09.10.2013 - Schlaubetal
Hello, another hike through the 'Schlaubetal'. First we found a mushroom for TobiHHs life mission. It was pink!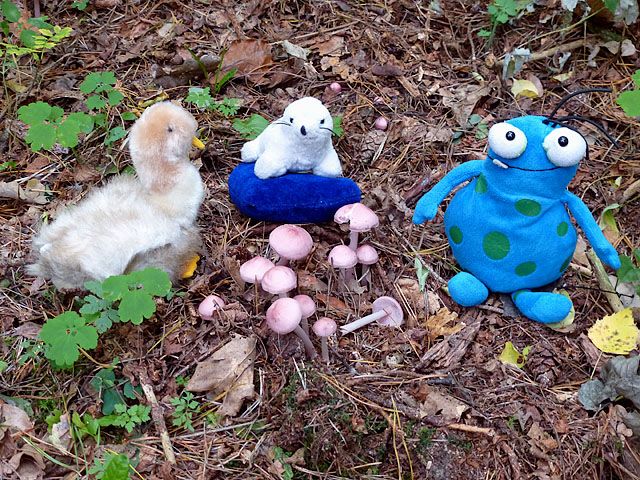 Again the small river – the Schlaube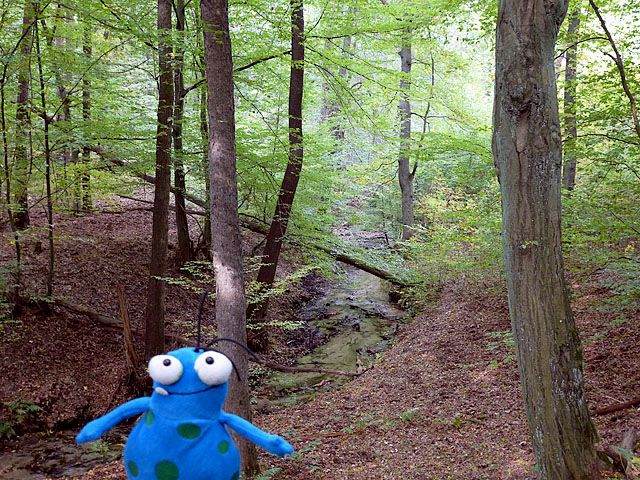 This mushroom is eatable, but many people got stomach ache when they ate it.
We walked through a lot of sand – it there a beach near to us?
No, but there were many mushrooms.
A small waterwheel in the forest.
Wow! The next mushroom for TobiHH's life mission. It was green!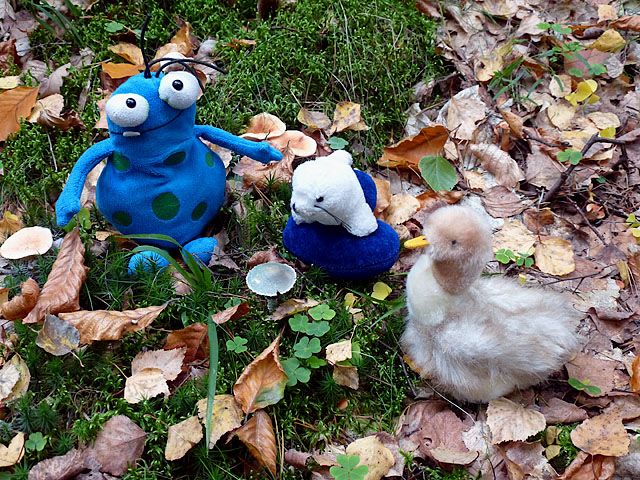 The last photo of the "Schlaube" – what a wonderful river!
Until soon… back in Bad Salzdetfurth Murph