05.08.2012 - Dresden
Hello, It was time for a big sight-seeing-tour. Although it was very hot, I want to show you some photos. Do you know this city?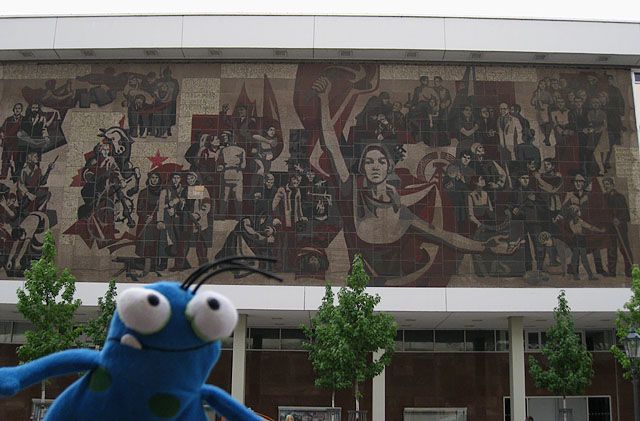 Maybe it is easier now?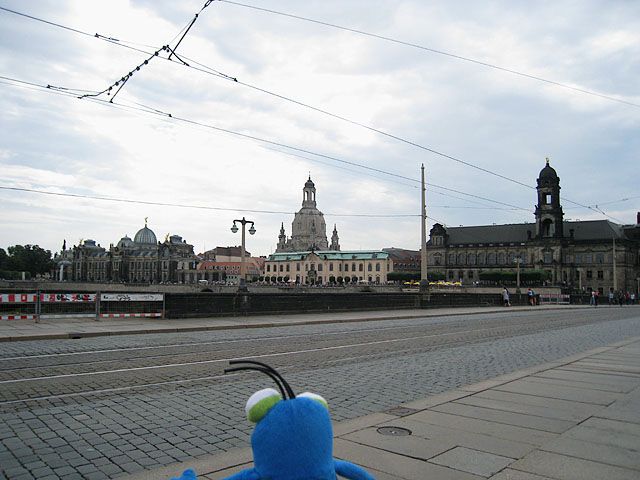 Right – I have been in Dresden. And here are some photos of the 'Zwinger'.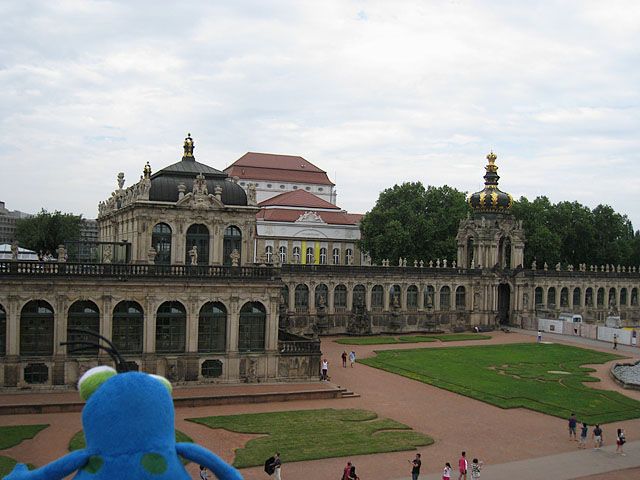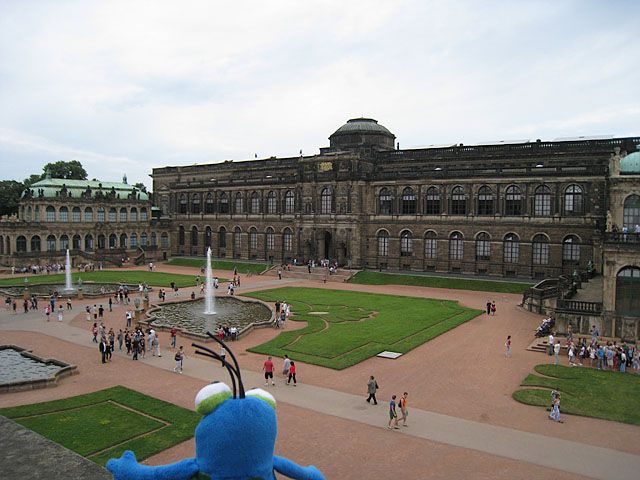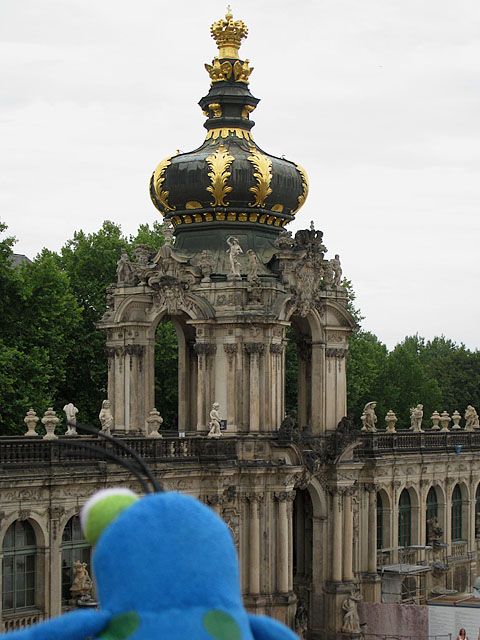 This is a famous Castle in Dresden.
The well-known Semperoper.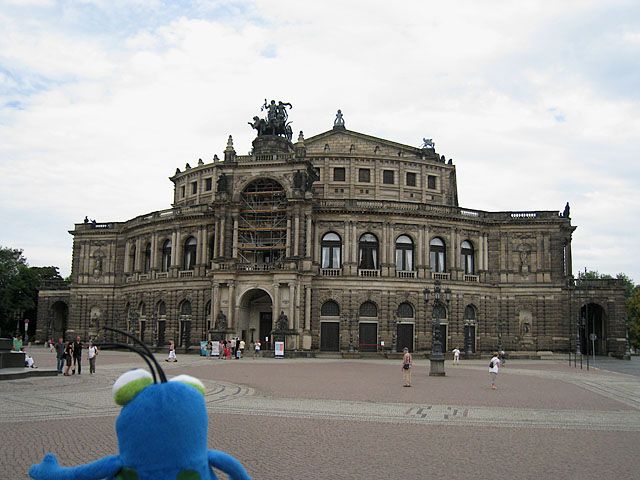 And there were flowers in Dresden!
This was the "Stallhof". Isn't that a wonderful painting on the wall?
But I liked the back side, too.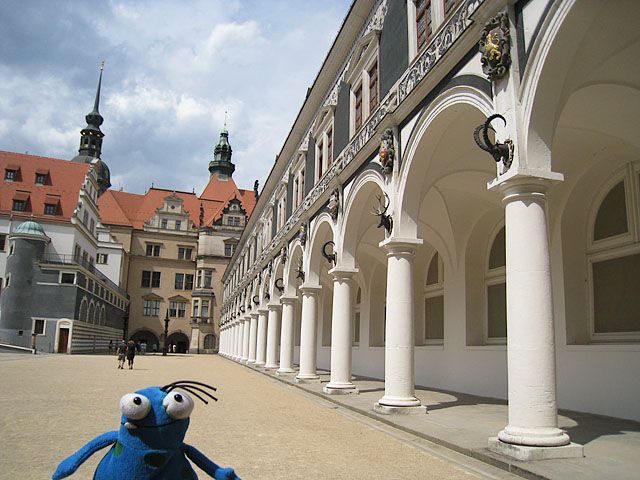 Finally I saw the very famous church: the 'Frauenkirche'.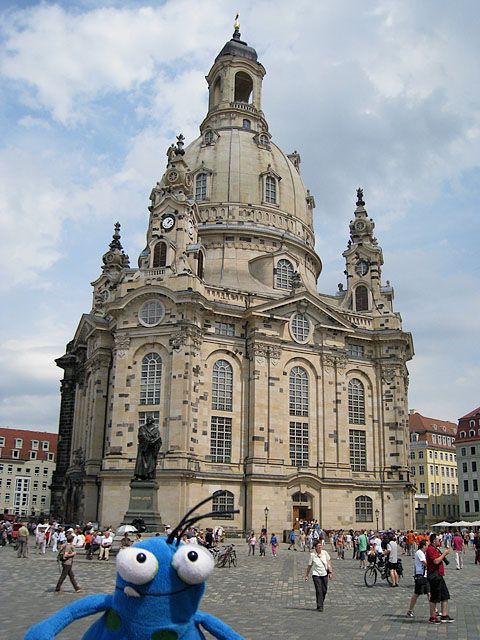 Dresden is a very beautiful city. But it was so hot. Hopefully it will cool down soon, we have so many things to do! Tschüssi (all people here are saying this instead of bye) Murph
---
06.08.2012 - Bad Schandau
Hello, these are photos of the village where we are living at the moment. These are famous rocks! We see them every day. They are called "Schrammsteine".
There is a funny lift in Bad Schandau – its height is 50 meters.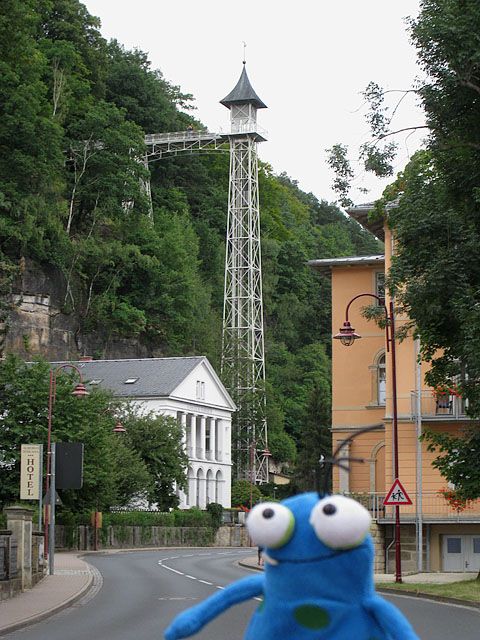 We had a stop at this fountain, because it was very hot again.
This is the Elbe, a very big river in Germany.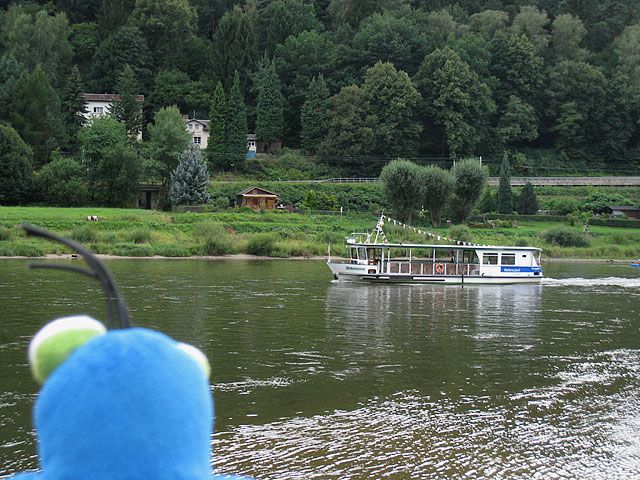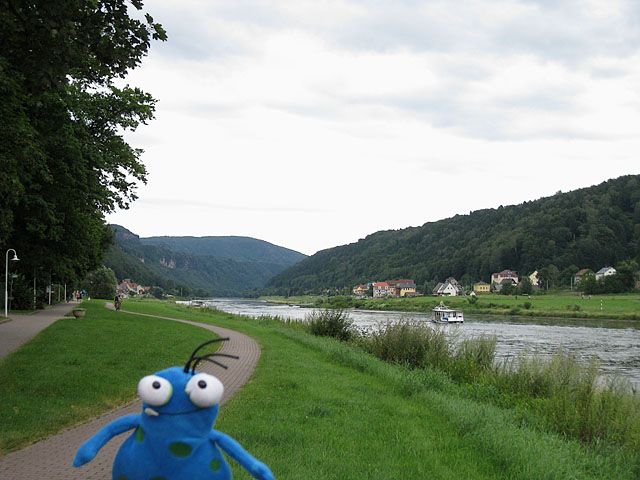 Then we went to the "Lichtenhainer Wasserfall". It is only a small fall, it gets water every 30 minutes.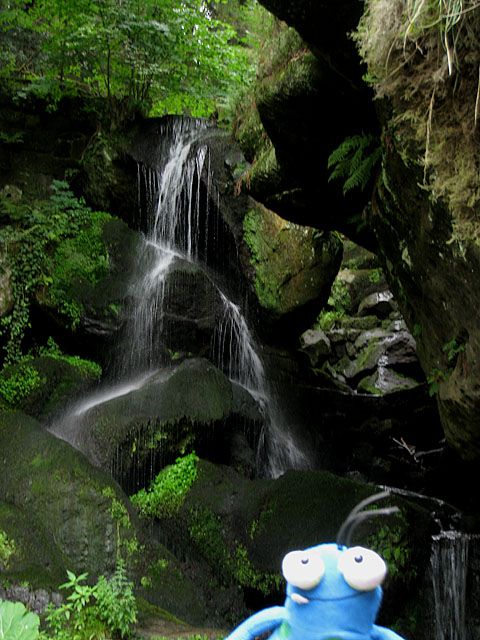 On these two photos you can see the wonderful landscape here. It is called the "Sächsische Schweiz" (Switzerland of Saxony) and I will show you a lot of more photos of it.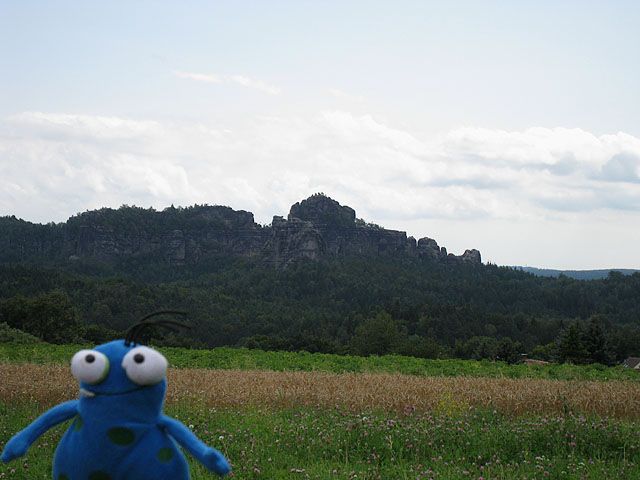 Look at the sky – we had to hurry back home.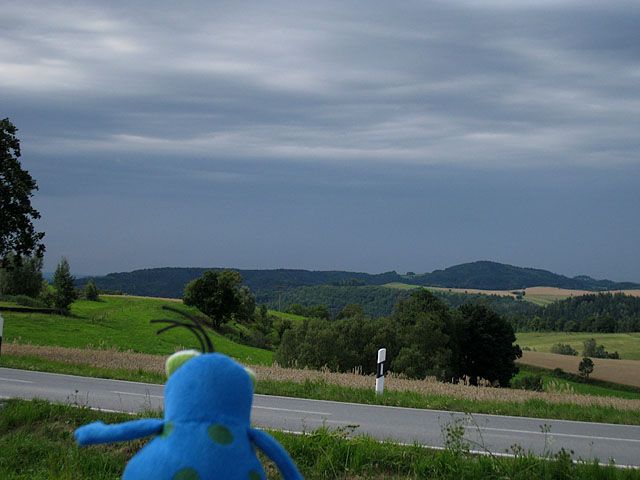 Regards Murph
---
07.08.2012 - Königstein
Hello, today we visited a big and famous fortress.
The fortress Königstein was built in the Rock. It looks impressive.
I was so curious how the fortress looks like.
There were many cannons. Look – we tried to use it, but we were too small.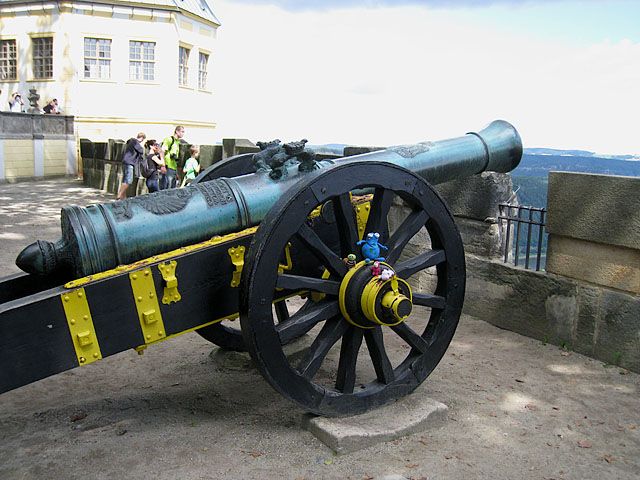 We went all around the fortress.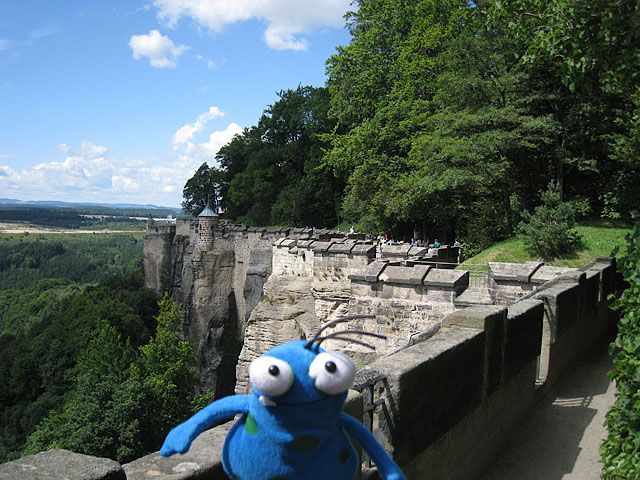 This was great – these were the casemates.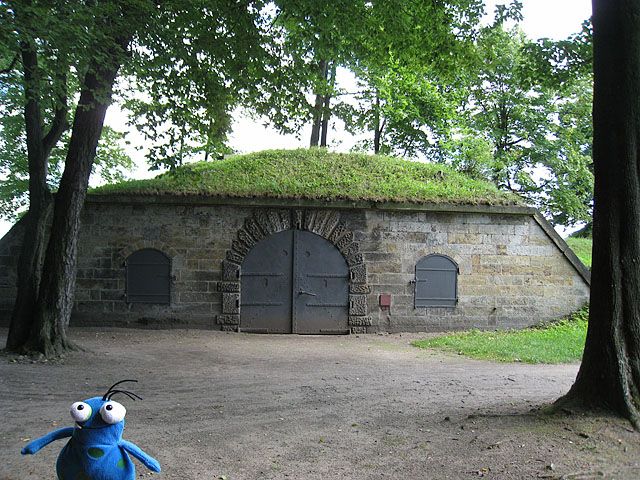 I definitely wanted to have another photo with the cannon. There were so many of it around.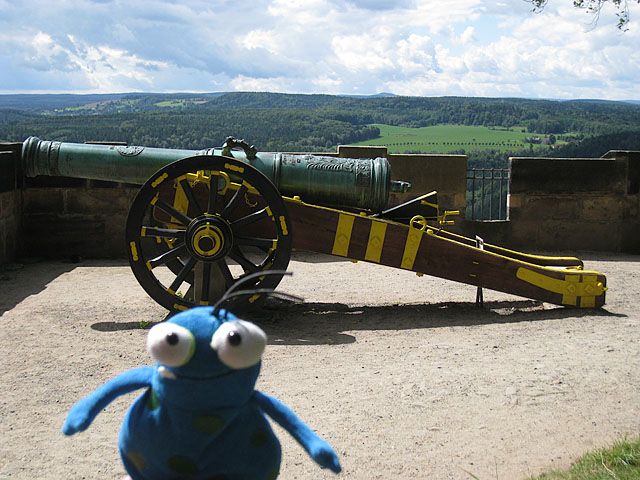 The fortress was really beautiful!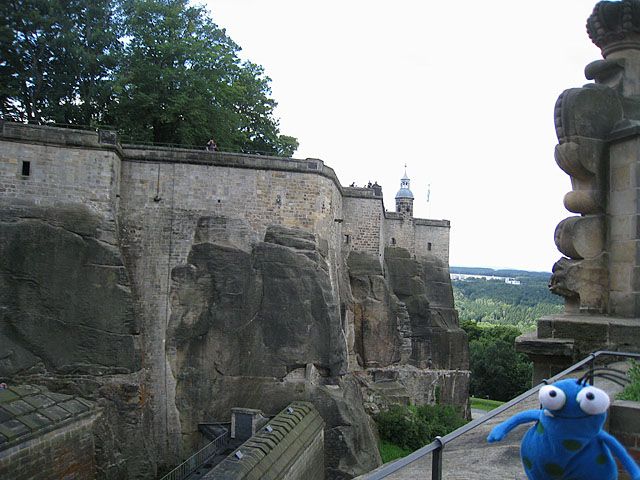 This was a funny sign – maybe we will visit the museum in the next days.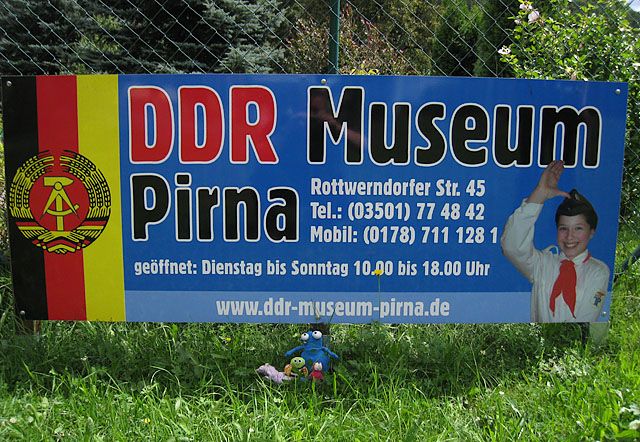 Love Murph
---
09.08.2012 - Wehlen
Hello, I found the Paradise for ToyVoyagers! Look!
So many things are here! There were Castles and Rocks! And everything is in the right dimension for us!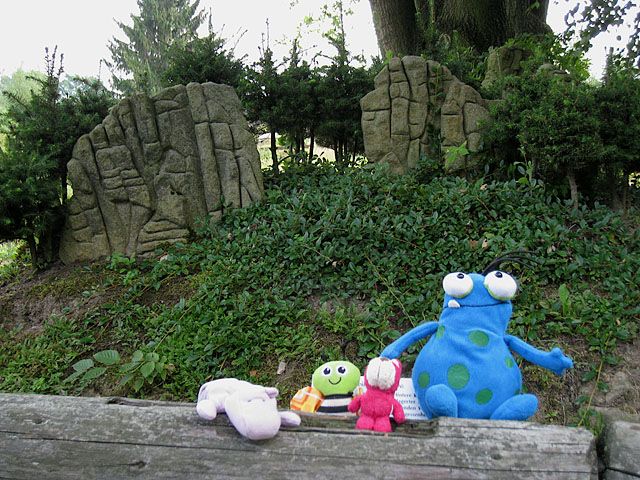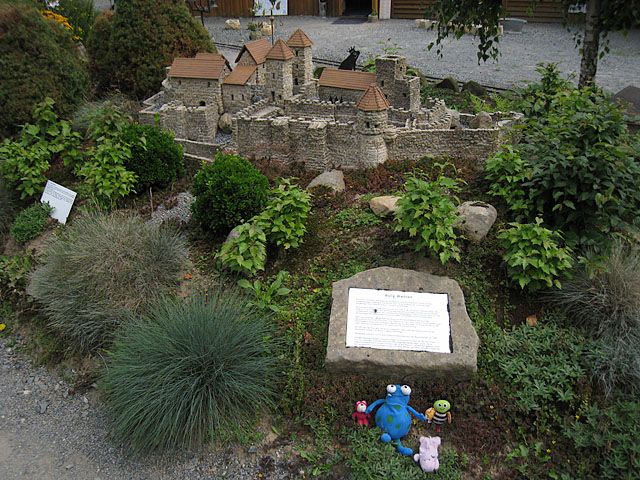 We can fly!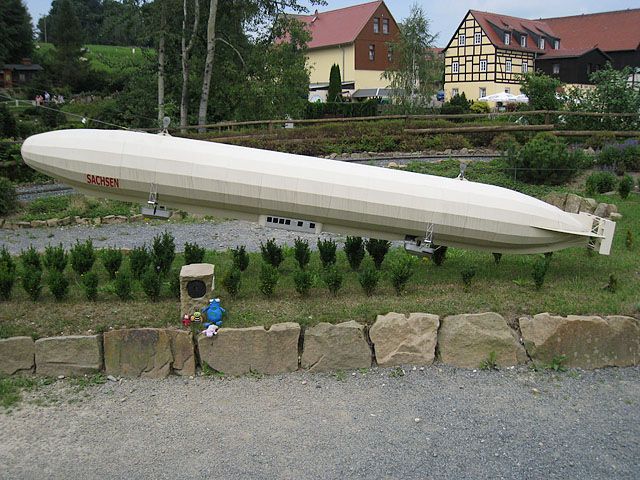 These houses were perfect! Maybe we should move into it.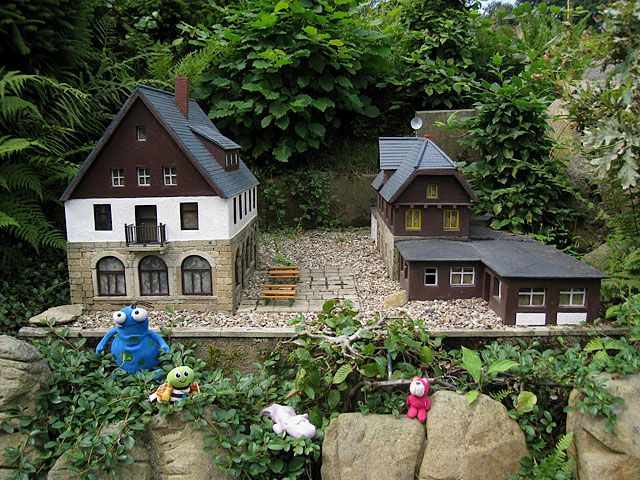 We found trains!
And enough storage for all our trains!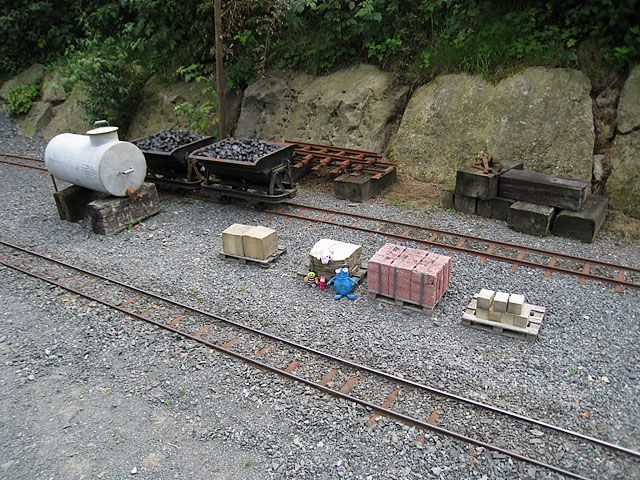 We could use the lift to go onto the rock.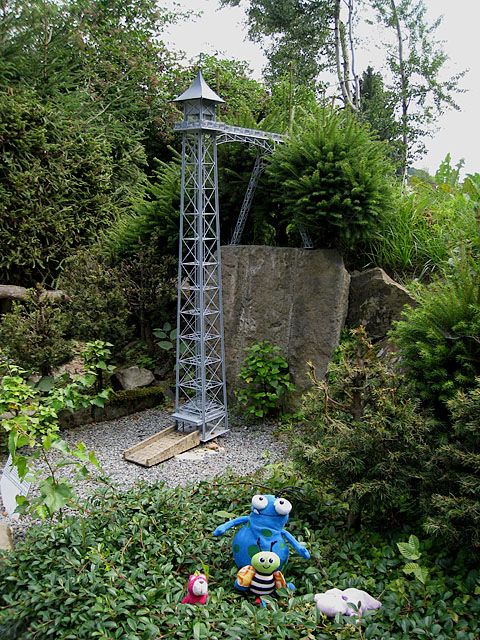 Another great house – maybe we should take this?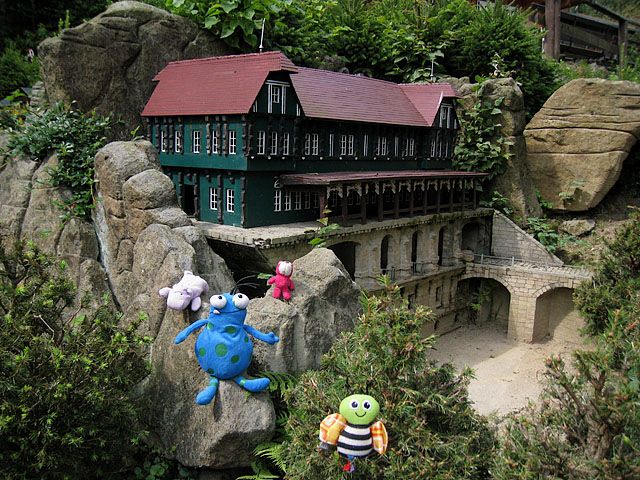 There was enough work to do in this quarry, but we didn't want to do it.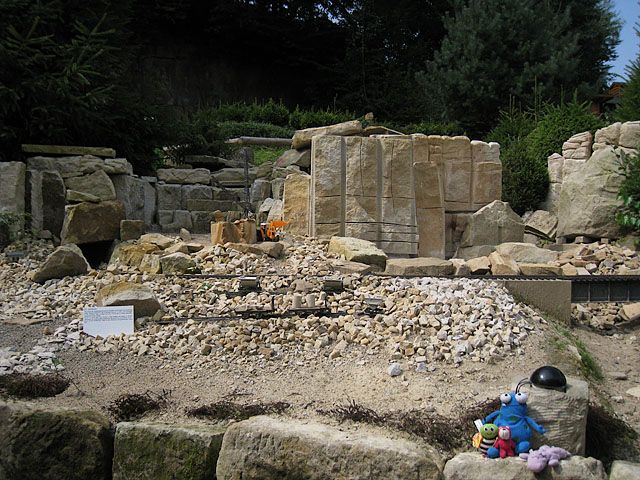 A fountain and a river!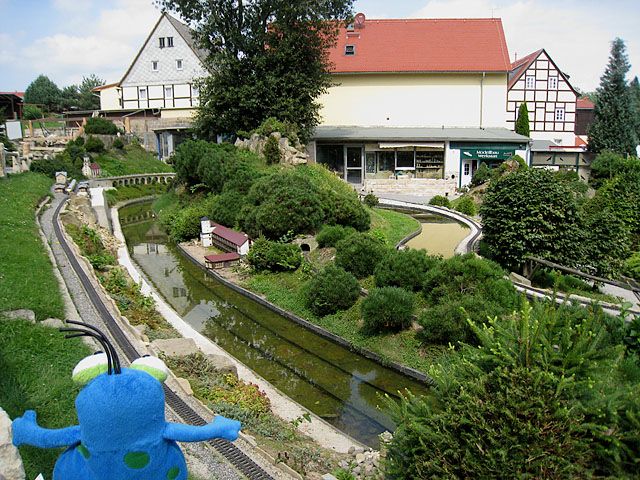 I would love to play at this famous rock every day.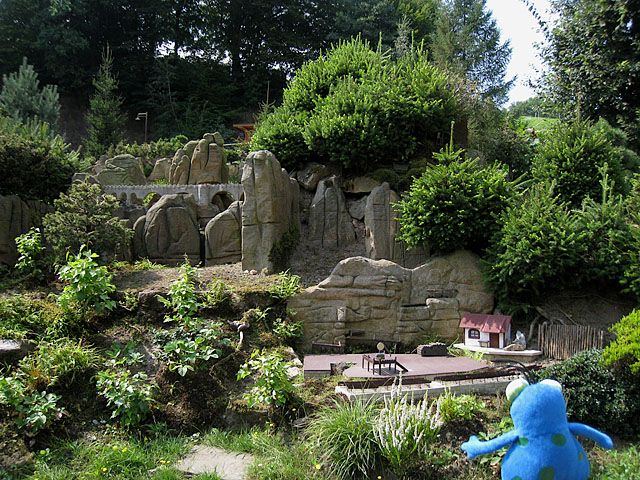 Can you see it? PinkyHH decided that this will be the best house for us.
I think that I will stay here with my friends. Many greetings Murph
---
13.08.2012 - Rathen
Hello friends, it was an exciting day today. We took a trip by boat.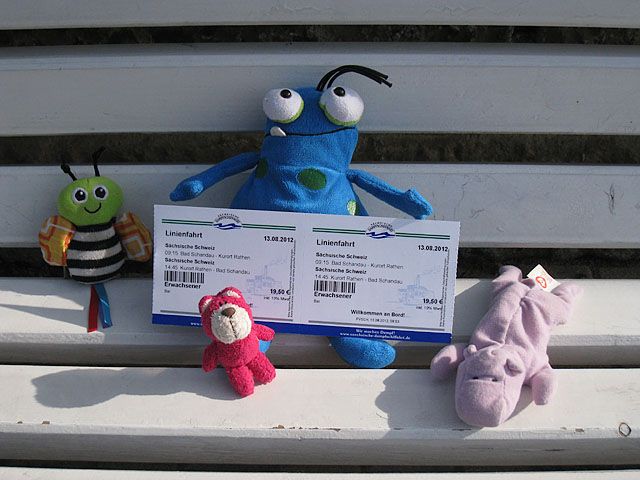 It was a paddle steamer – and it was already 116 years old.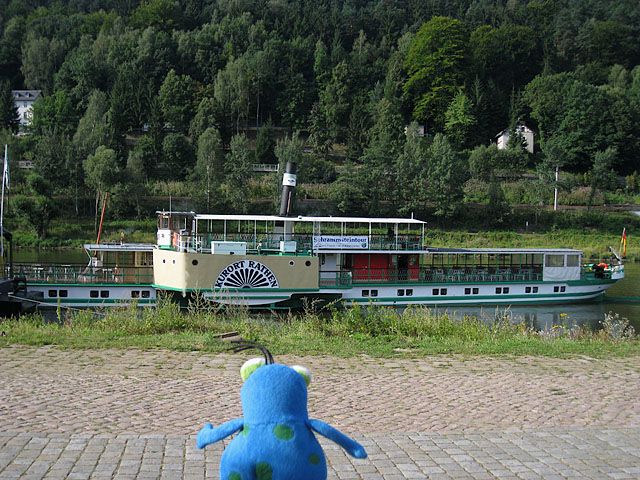 Here you can see the paddle of the steamship! It looked great!
It was a really nice trip with the boat.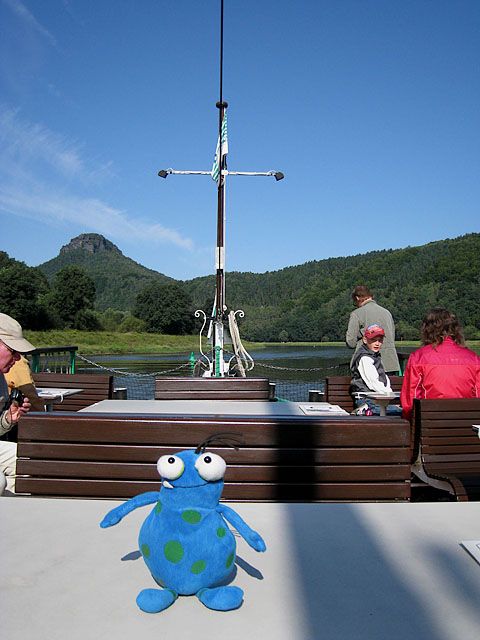 We had a wonderful view of the Rocks in the port of Rathen.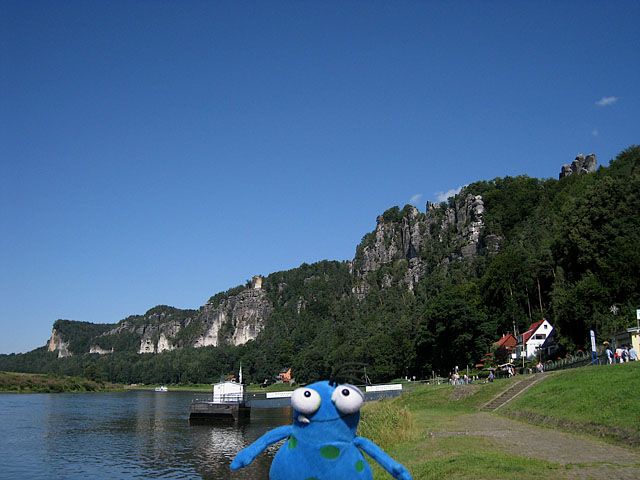 We definitely wanted to have a photo with this bear.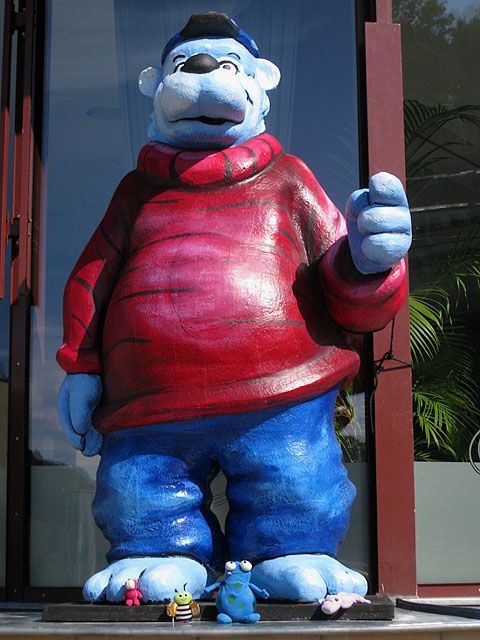 Then we went along this Lake. The rock that you see is called locomotive. Can you see the loco?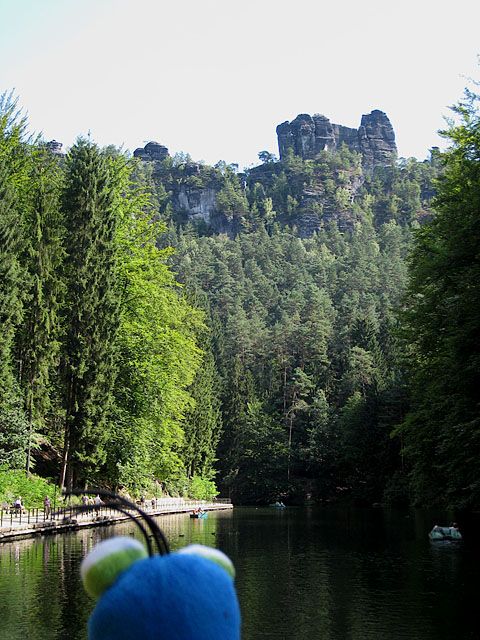 Then we walked a really famous Path. It is called 'Schwedenlöcher' (holes of Sweden): It looked exhausting. So many steps!
The way was really narrow. We crossed narrow holes in the rock – and went along nice cliffs.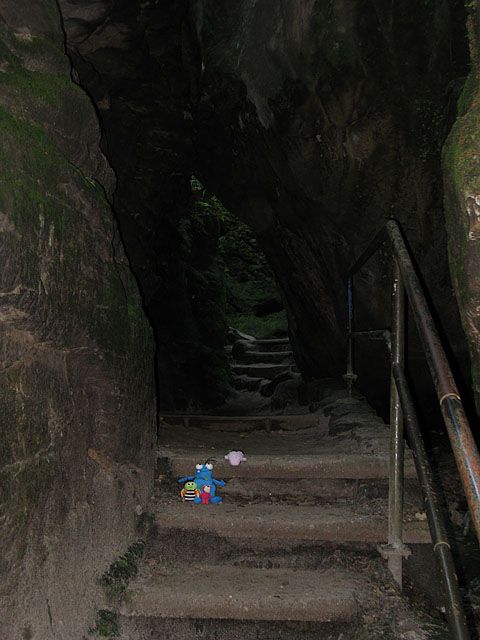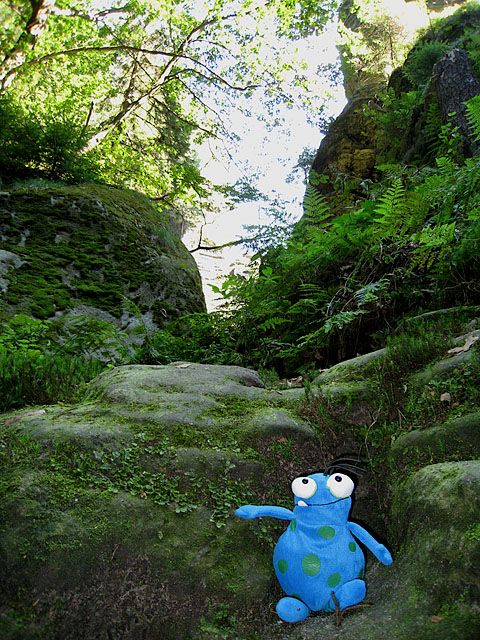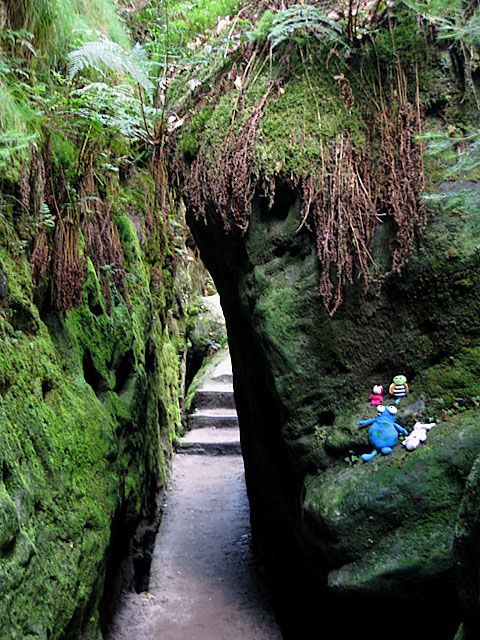 Finally Sofia and I found a beautiful mushroom.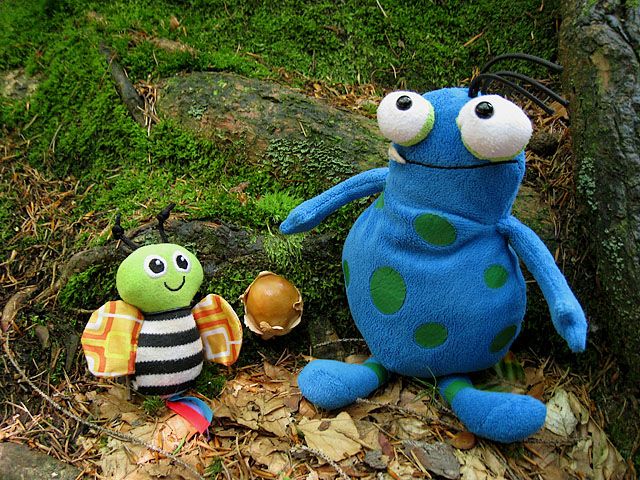 What a wonderful landscape.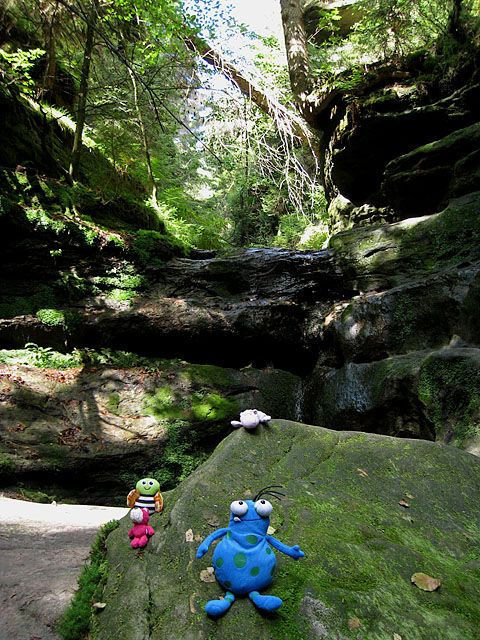 But to tell the truth – I was so happy that Bine carried me. Many greetings Murph
---
14.08.2012 - Hohnstein
Hello, again we took a nice trip through the wonderful region.
We went to the Castle 'Burg Hohnstein'.
In the Past criminals were bounded with these wooden chains – and then they were pilloried on the market place.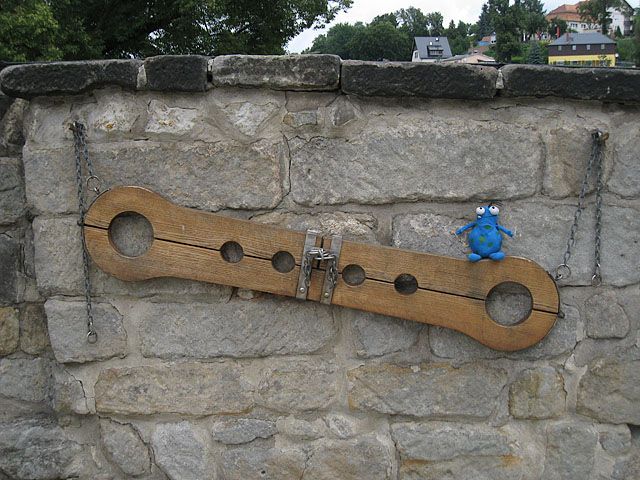 This was the viewing tower.
We went along this wonderful rock on our was to the "Hinterhermsdorf" .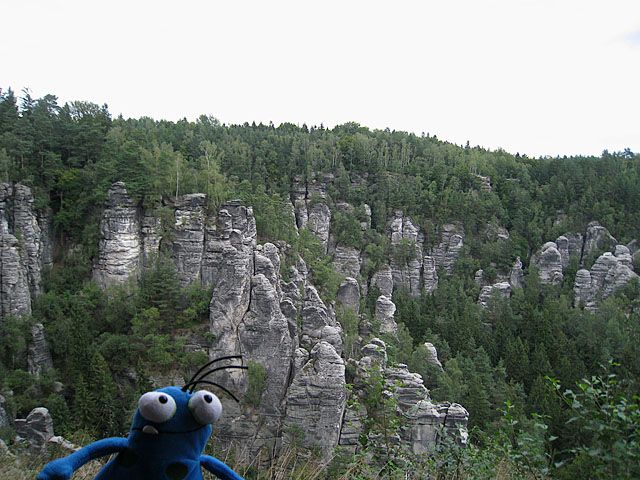 There was a beautiful retaining lake in Hinterhermsdorf. But can you see it? Stairs again- so many steps!!!
But the way was worth it. Look at his wonderful forest.
The lake was inside a narrow gorge.
Small paths everywhere.
And the water was so bright – we were able to see the bottom of the lake.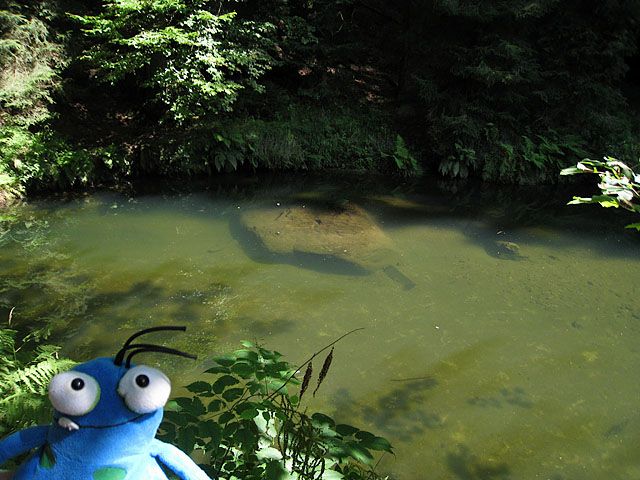 Finally we found a delicious mushroom. Unfortunately we had no basket with us.
yours Murph
---
15.08.2012 - Pillnitz
Hello, today we visited the Castle Pillnitz.
A really big garden belongs to the Castle.
We found this house there – it was an "Orangery".
Look what I found in front of the house. It was an orange, but unfortunately not mellow yet.
This was a very famous tree. It is a japanese chamellia and it is 230 years old. The house behind the tree will protect it from the cold in the wintertime.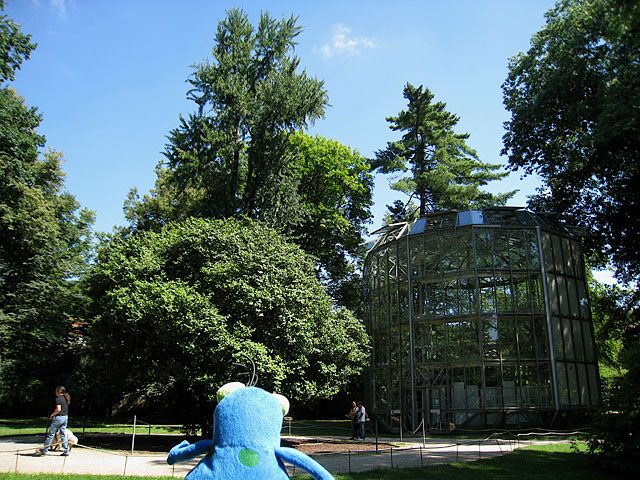 We saw a nice lake and a wonderful pavilion in the garden.
It was a really beautiful castle.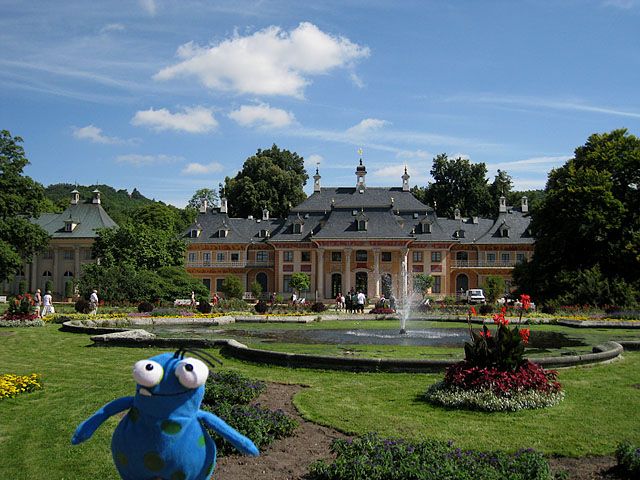 From the terrace we saw a paddle steamer on the River Elbe.
Many greetings Murph
---
16.08.2012 - Pfaffenstein
Hello, as a last trip in our holiday we climbed up a famous hill. And can you imagine what we saw? Yes, right, stairs again.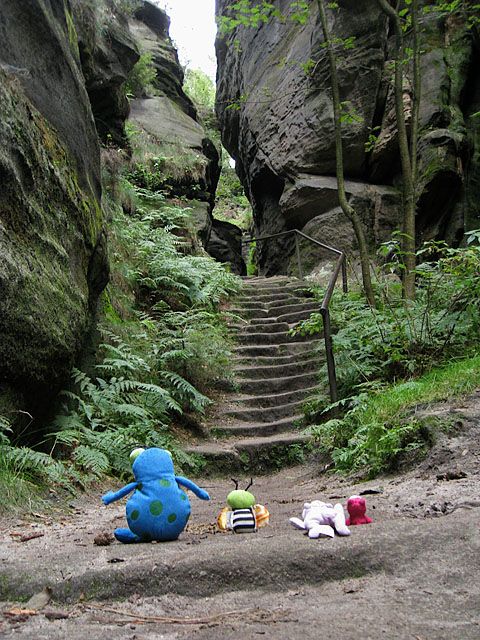 The rocks here were really impressive.
We had to continue our walk.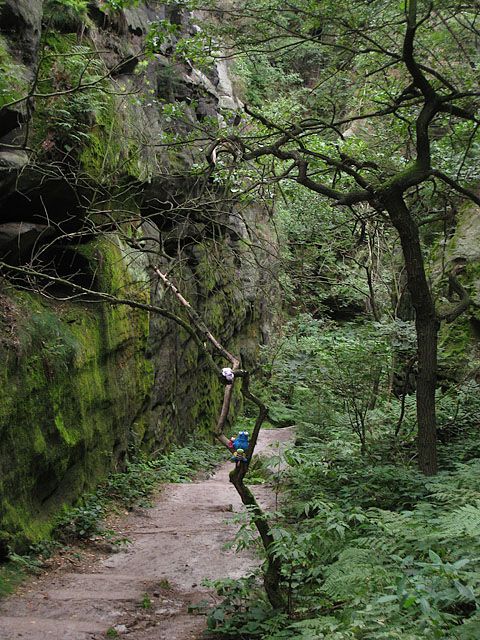 Then we nearly finished it. It was not a long distance to the viewing tower.
Have you ever seen a tree, growing on a rock like this one?
The last part of our way was narrow again – and had steps…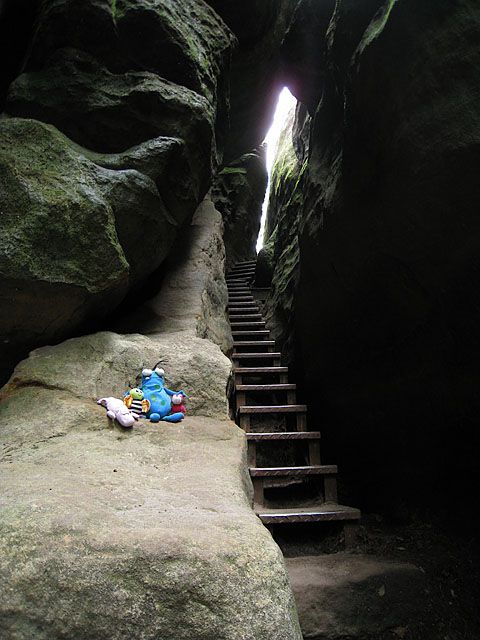 We reached our goal - this is the famous cliff – called Barbarine.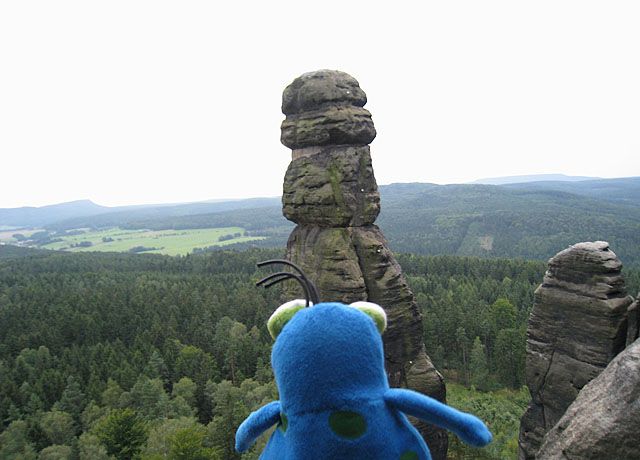 After the long walk we took a rest.
Later – back on the parking lot we saw the fortress Königstein. I have been there – can you remember it?
Unfortunately this was our last trip in the holiday. Tomorrow we will go home. Many greetings Murph
---