Hello, The weather forecast promised 20 cm of snow. We wanted to see it.
Hmmm, 20 cm?
Nevertheless we took a long walk.
This river is called "Innerste"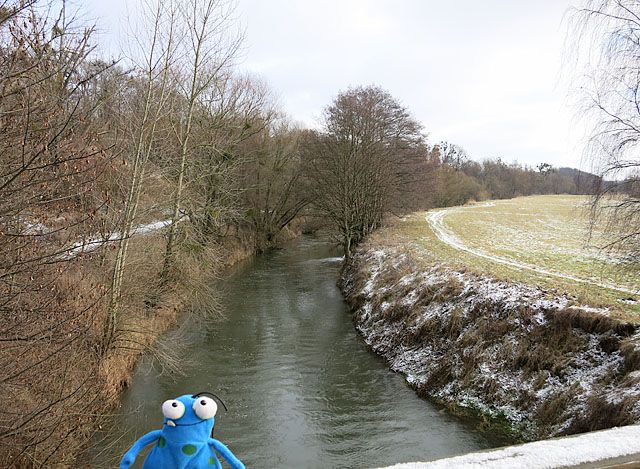 This tree was very impressive. There were many mistletoes hanging on it.
We found a small water fall…
… and a lake without water...
But there was almost no snow!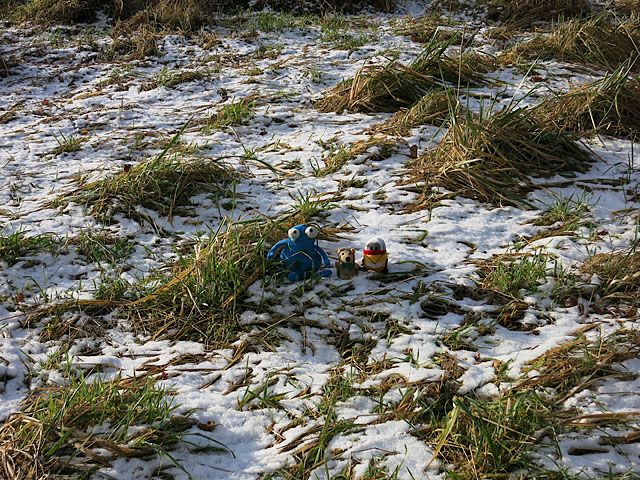 On the way home we found a good friend. He guarded my home.
Yours Murph
---
Hello, The weather was so beautiful. We drove to my famous lake.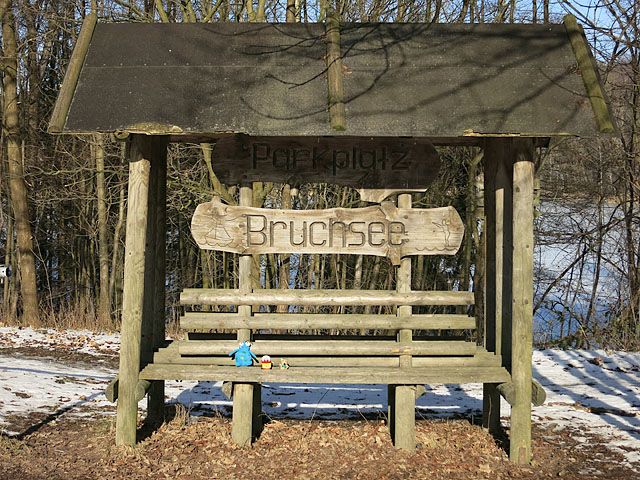 Let's go…
It looked really great.
Hopefully we will get a hot punch there.
Even the river was nearly frozen.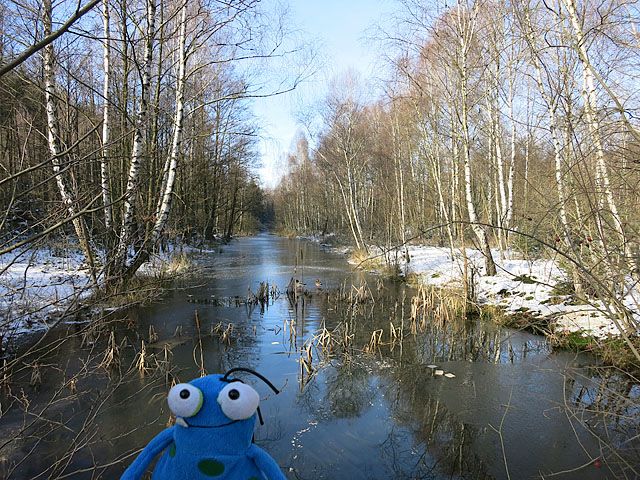 Unfortunately we didn't get hot punch…
… and we were not able to do a boat trip.
It was beautiful.
This is my famous beach. During the summertime you can see me often with my beach chair here.
Wow, so much ice!
What a wonderful walk! Murph
---
Hello, On the way back we found something amazing. I have to show it, although we didn't get so many photos. But look!
It was so exciting! A tree, where water flows out of the Top.
I learned on this sign, how it works.
The water with the ice looked so beautiful!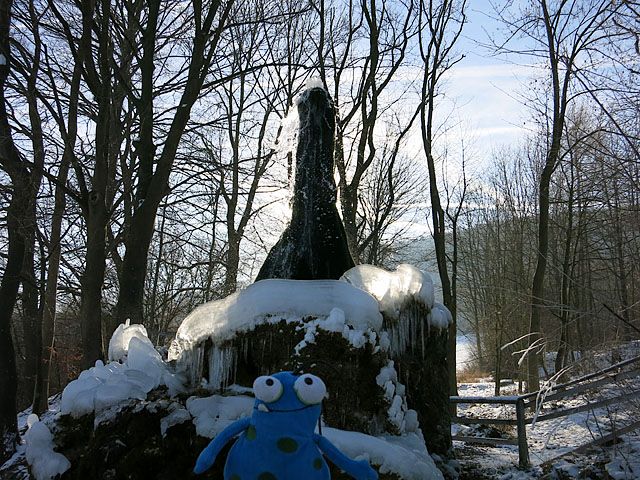 What an experience! Surely I will visit it in spring again! Greetings Murph
---
Hello, we took a trip to the Harz Mountains. The large water dam was very full.
We walked to this river.
We walked all the way on the masonry damn.
Where did all this rubbish come from in the water?
This was the masonry damn from down below.
They dump water out of this opening, when the water damn is full.
The water flows through the "Innerste" then. The river flows near to my home. We already showed it.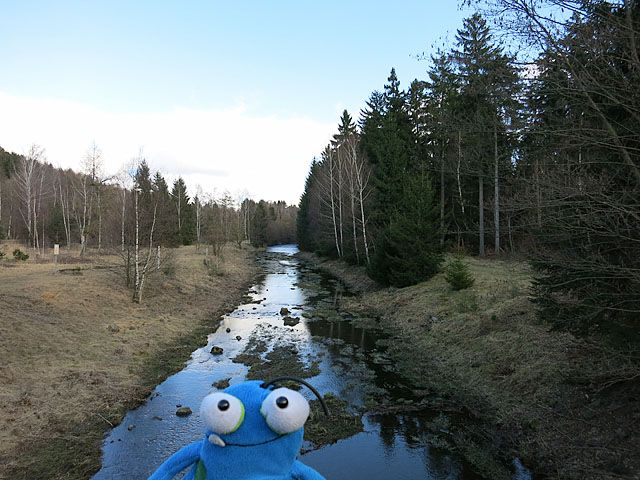 It was a great trip!
Yours Murph
---
Hello, today we went to a holy spring. Many people take water from it. It should help against sicknesses.
This was the main spring.
Here you see 2 other springs – coming directly out of the hill.
There was a small altar next to the spring. People sacrifices things here, and hope that the spring never stops.
The water from the spring feed this pond. The water was so bright!
Then we went into the forest to search the spring. The Coltsfoot and the Spring Snowflakes have blossomed
The bear's garlic and the orchids were still very small.
Hopefully it will be warmer soon, because we want to search mushrooms.
Until soon Murph
---
25.03.2017 - Bad Salzdetfurth
Hello, We wanted to see, if the spring arrived in the forest.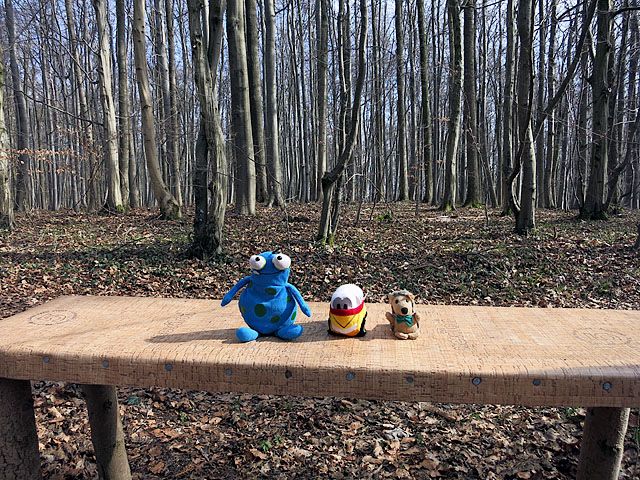 The Daphne mezereum already bloomed. Great colour – wasn't it?
The orchids were still very small.
There were trees cut down everywhere in the forest. Hopefully nevertheless the Morels will come back
What a beautiful flower!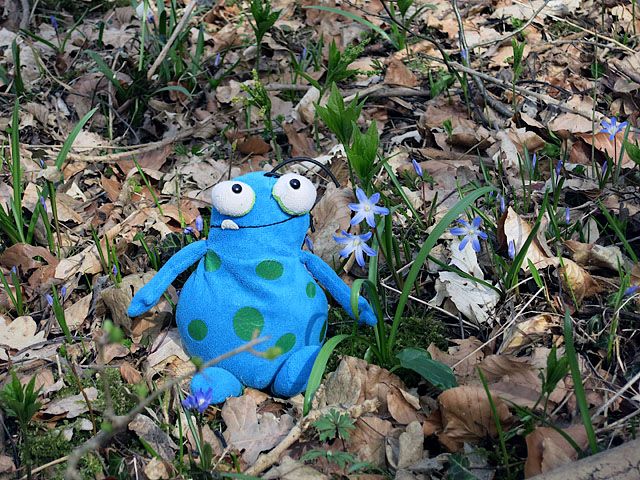 I loved this mushroom! It was gorgeous.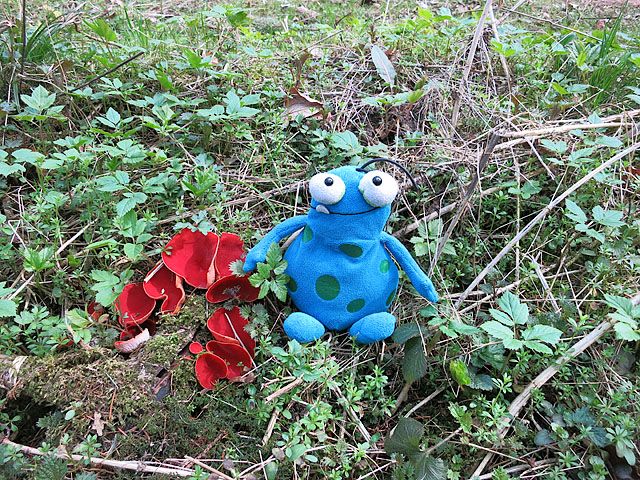 The Wood Anemone already blossomed a bit. There will be many more soon.
The Bear's Garlic was still very small.
You have to be very careful when you collect Bear's Garlic. On the photo you see it together with Wild Arum. Wild Arum is very poisonous. Be careful out there!
Yours Murph
---
26.03.2017 - Diekholzen
Hello, The weather was wonderful! Let's see what we spot today.
This Hairy Black Cup was here.
And this mushroom is very famous. Ötzi put it around his neck.
What a beautiful place.
Many people eat this mushroom (we don't know its English name)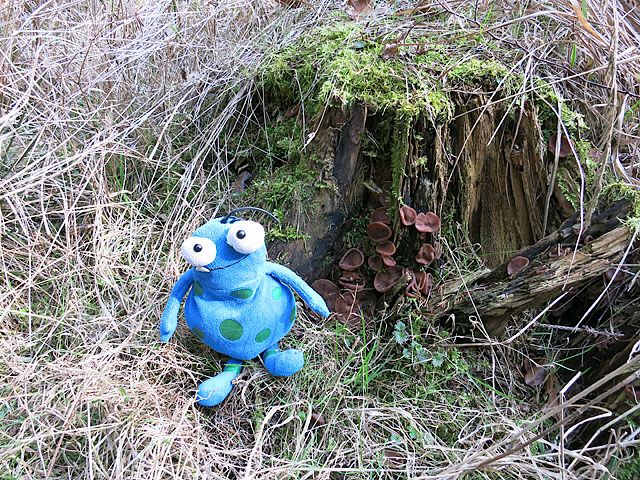 We found flowers, too.
Normally Brain Mushrooms live here. But we didn't find any.
It wasn't a miracle. This machine drove over the mushrooms. We hate this monster!
Until soon Murph
---
09.04.2017 - Bad Salzdetfurth
Hello, Another day in the forest. Let's see, what we will discover today. Sweet Violets:
Wood Anemones:
and Kidneyworts:
Maybe there will be the first Morels?
Actually we found our first Morels.
The forest looked great in spring!
At the end I show you my favorite flower.
Yours Murph
---
29.04.2017 - Bad Salzdetfurth
Hello, today we searched St. Georg's mushrooms. But look, what we found – morels.
And so many orchids…
Then a white one…
The morels played hide and seek with us.
There was another Morel. Can you see it?
But now…
Playing hide and seek was so much fun.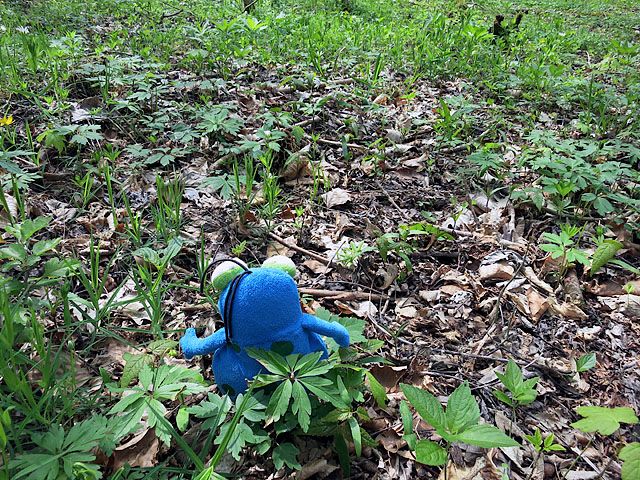 We won and found all morels.
At the end we found St. Georg's mushrooms.
They smelled floury.
It was a wonderful day in the forest.
Until soon Murph
---
01.05.2017 - Wolfshagen
Hello, today we took a trip in the Harz Mountains. We wanted to see a beautiful nature reserve.
We had to follow this sign.
Let's go.
Wow, what a view!
We learnt a lot.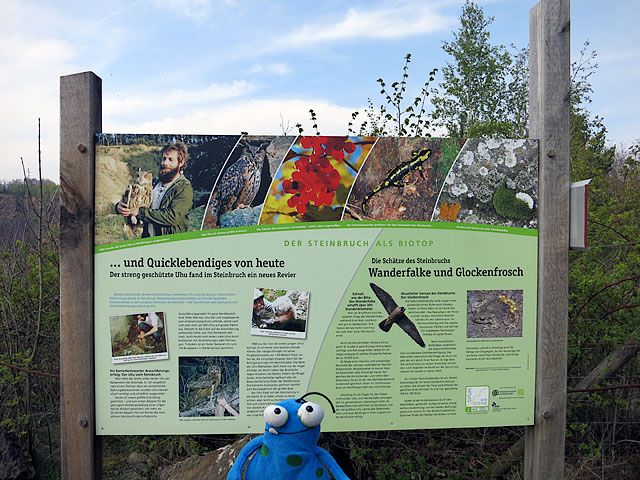 Everyone needed a rest.
The view over "Wolfshagen" was very impressive.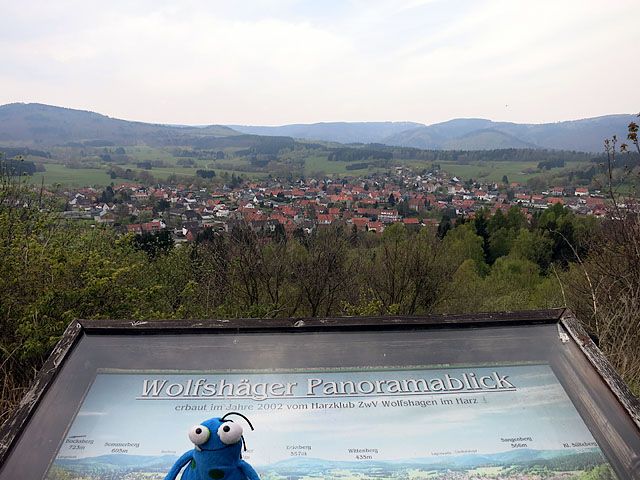 They burn witches on the 30th of April in the Harz. It is called Walpurgisnacht. One witch forgot something.
We were disappointed at the end of our walk, because we wanted to see more of this beautiful quarry.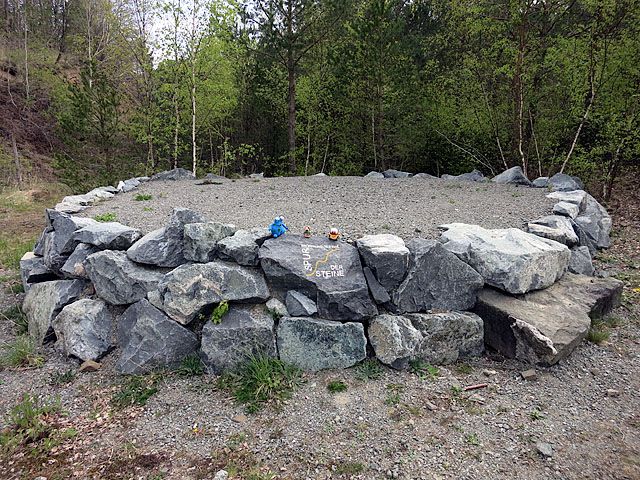 Unfortunately it was not possible. Nevertheless it was a nice day. Yours Murph
---
06.05.2017 - Bad Salzdetfurth
Hello, another day in the forest. Everything was green!
Surely we found mushrooms. Finally no morels. A Cup, that only grows in the spring.
Another Cup…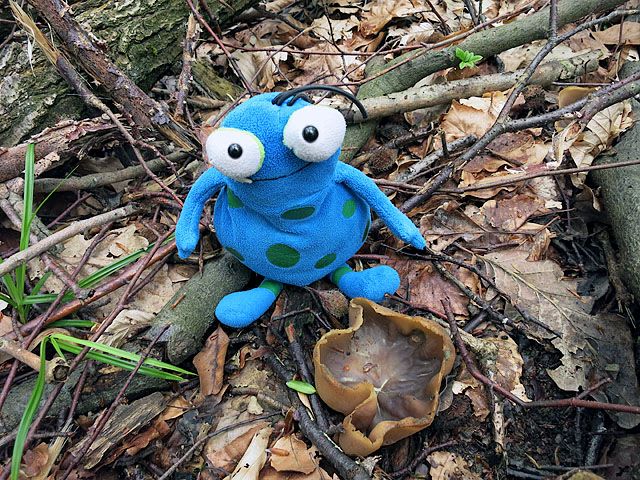 It was very tall!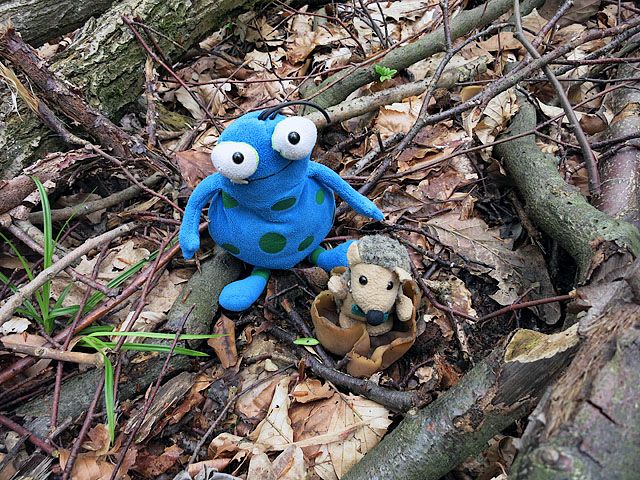 The orchids were beautiful.
And then this! They were everywhere this year.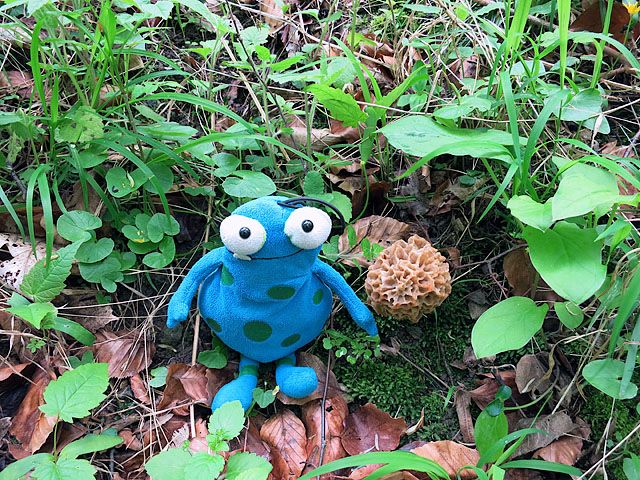 We found more great orchids. I love these flowers.
Of course I found a rare mushroom next to the orchids.
In the end I have this great photo for you. He sat quiet on the perch for a long time.
Yours Murph
---
20.05.2017 - Langenholzen
Hello, today I visited a beautiful nature reserve. Didn't it look great?
There were many different wild orchids. I show you the most beautiful flowers.
There were orchids with green blossoms.
Wow – this one was big!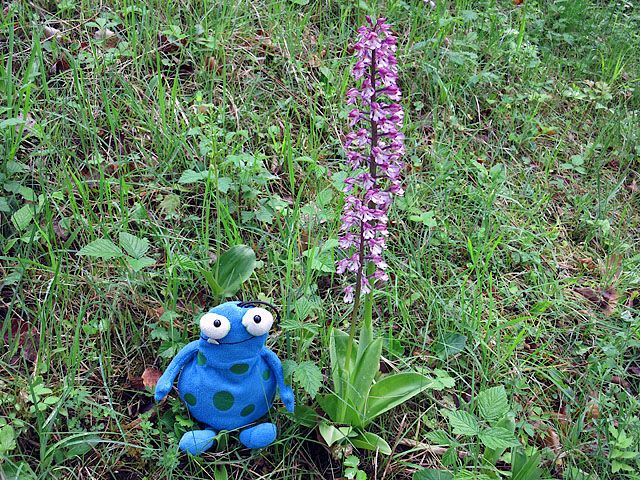 We had to walk careful. These beautiful animals were everywhere on the ways.
Let's see, what else we can discover.
All over the meadow there were snowdrop windflowers.
This flower is really rare in Lower-Saxony. You only find it in a few nature reserves. Do you know it? It is the lady's slipper orchid.
So many wonderful orchids! I love this place.
Greetings Murph
---