Hello, After a long time I went into the forest again.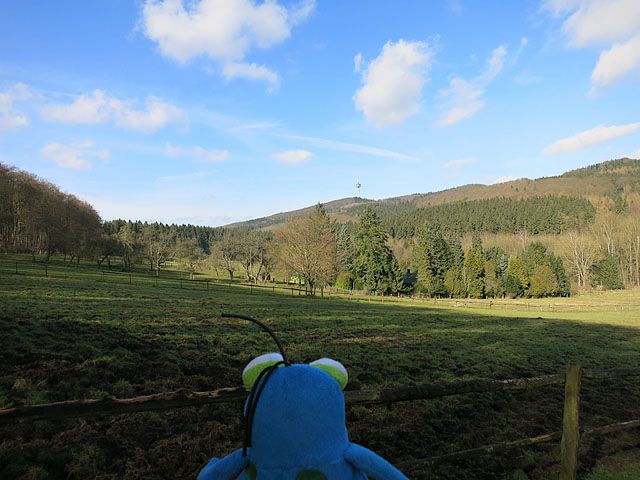 I searched mushrooms and I found Velvet Foot.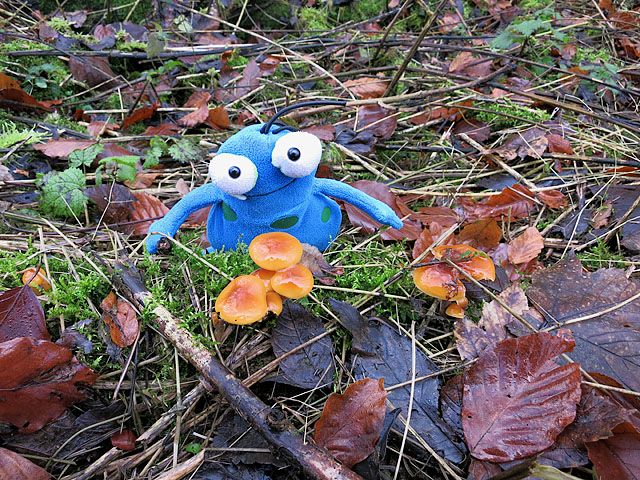 My favourite mushroom – but very small – Scarlet Elf Cups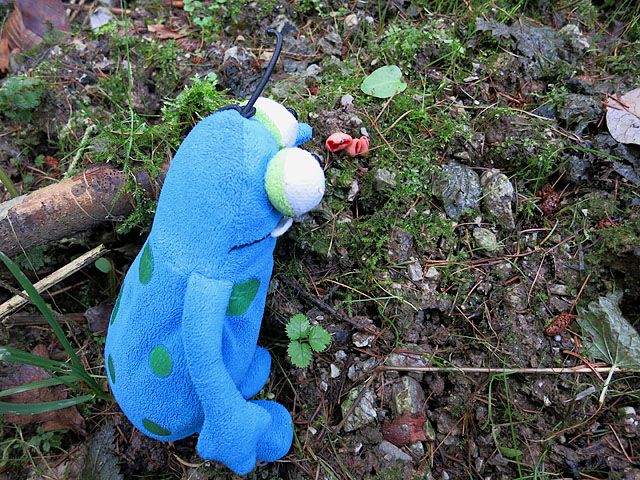 And here were some bigger ones – aren't they beautiful?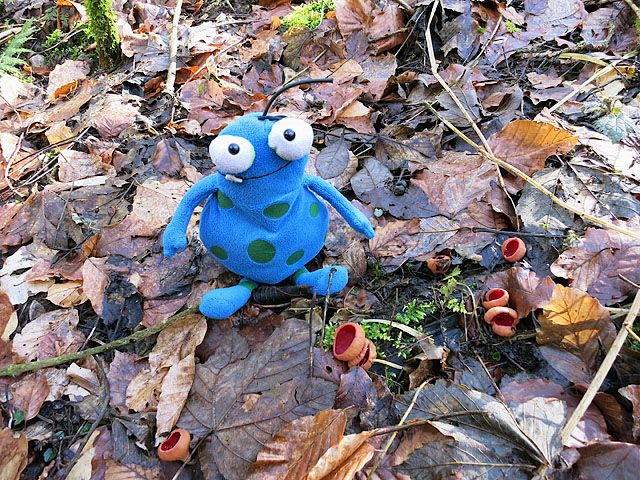 I found the first spring flowers.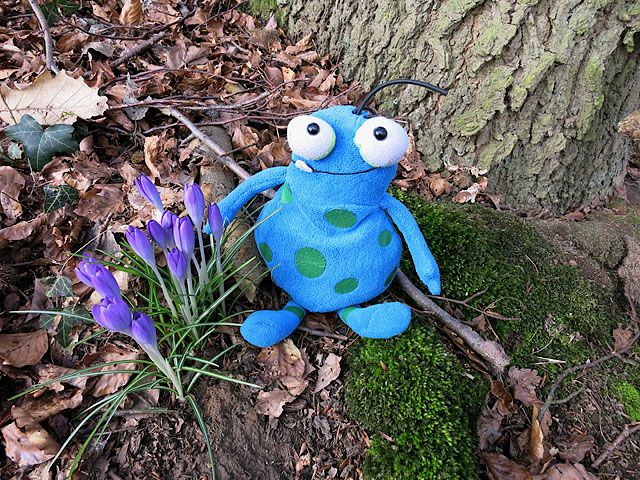 This is a mushroom, too. It glows orange!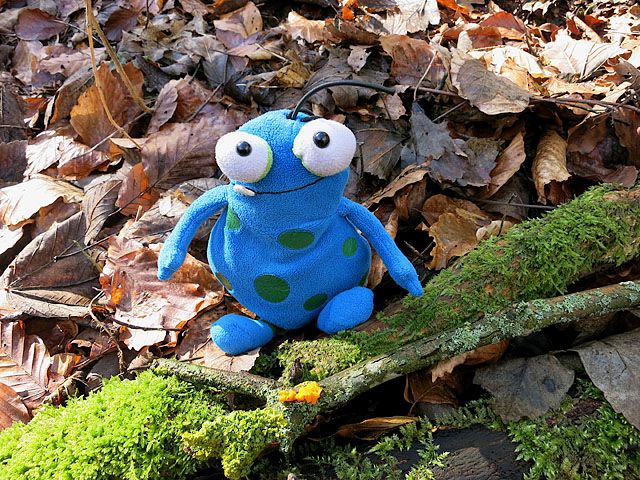 Can you see this? The first trees get their leaves! The spring arrives!
These mushrooms were very small, you must have a closer look. A Hairy Black Cup.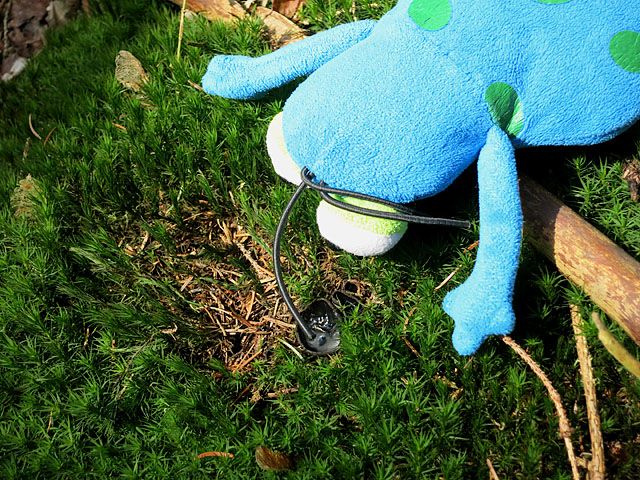 More flowers: Snowdrops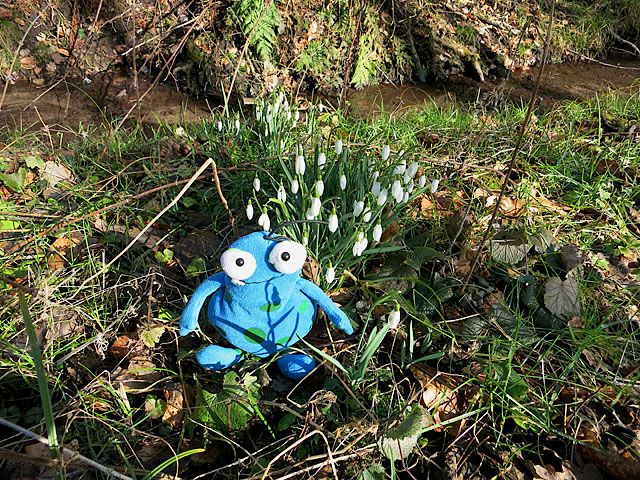 and Coltfoot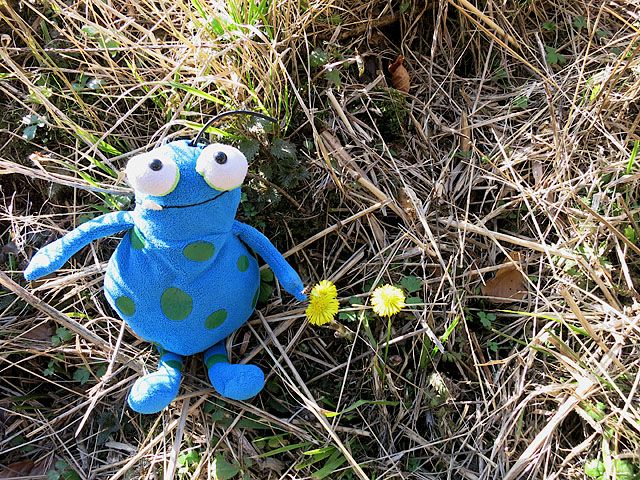 And I looked at this mushroom – I never saw it before. It is poisonous. The name is Brain Mushroom...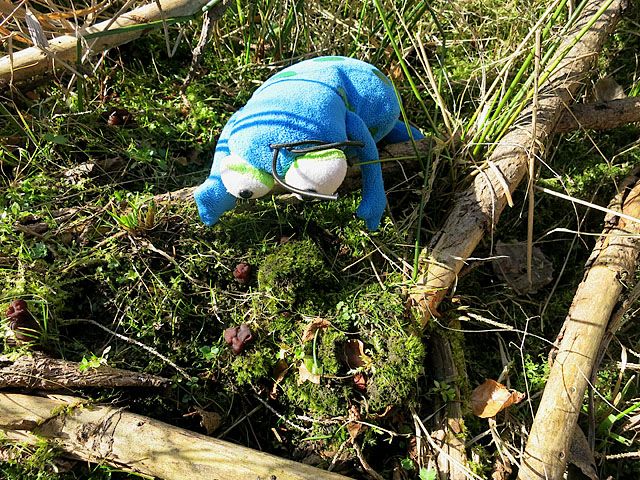 It is so nice to be in the forest! Yours Murph
---
Hello, Today we wanted to go into the forest and collect bear's garlic. But first we searched for mushrooms and flowers. The first mushroom was poisonous. We don't know its English name.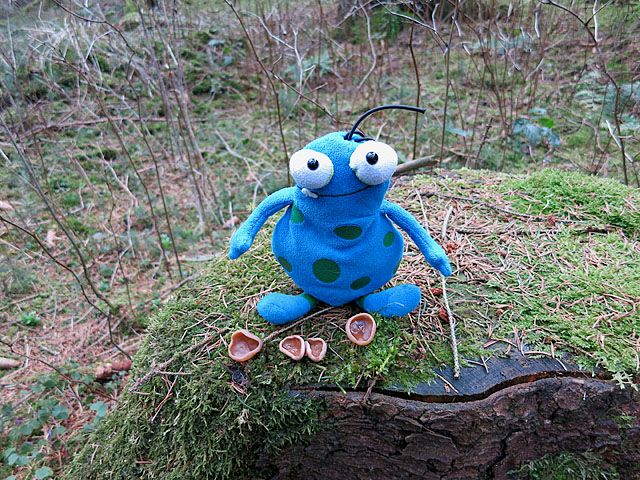 What a beautiful plant: Daphne mezereum. It blooms very early in the year.
The orchids didn't bloom now, but in some weeks we can admire the orchids.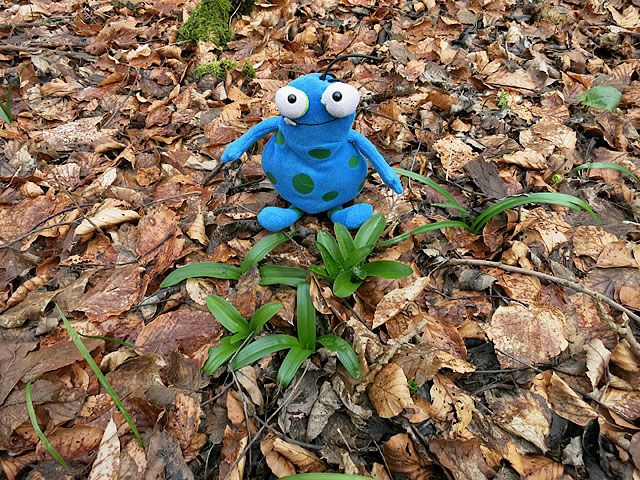 Then I showed Ole my famous mushroom: Scarlet elf cups
There were many Spring snowflakes in the forest.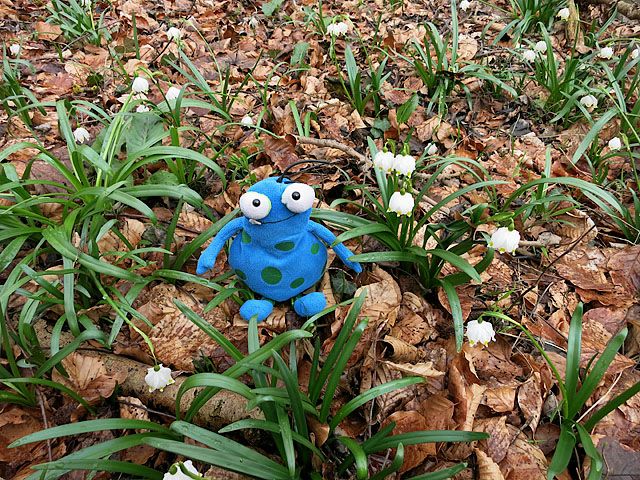 We walked to the bear's garlic with our basket.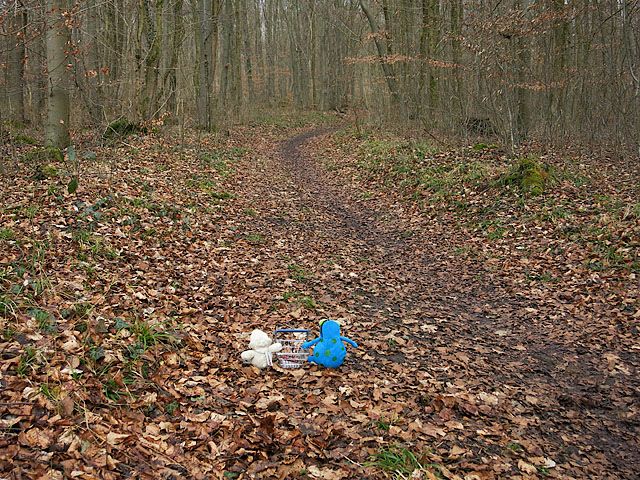 First I told Ole the difference between the poisonous Wild arum and the yummy Bear's garlic.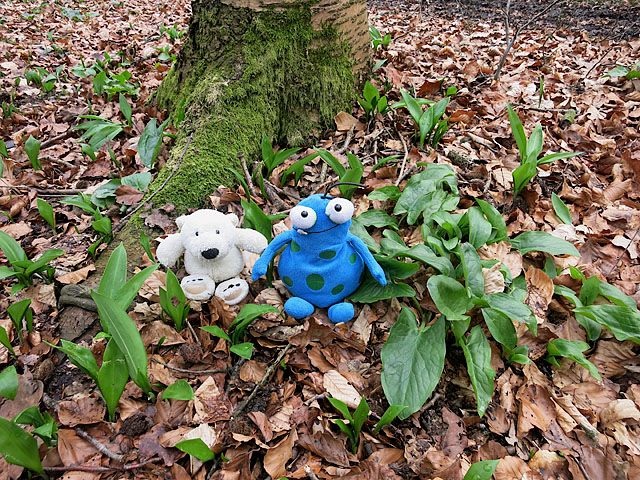 This was bear's garlic! We were sure!
I cut it and put it into our basket.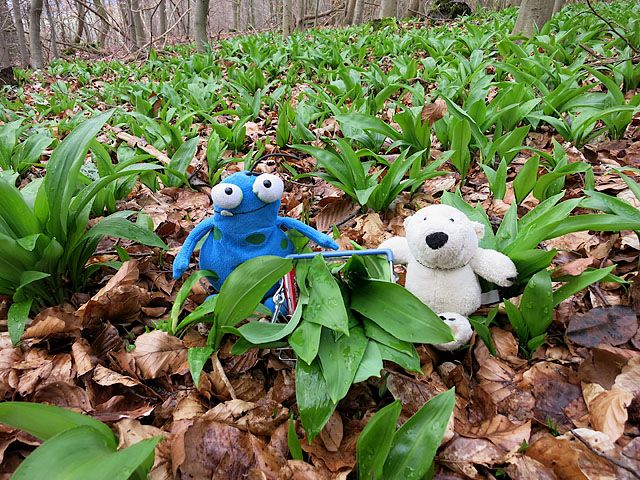 The basket was full, time to go home.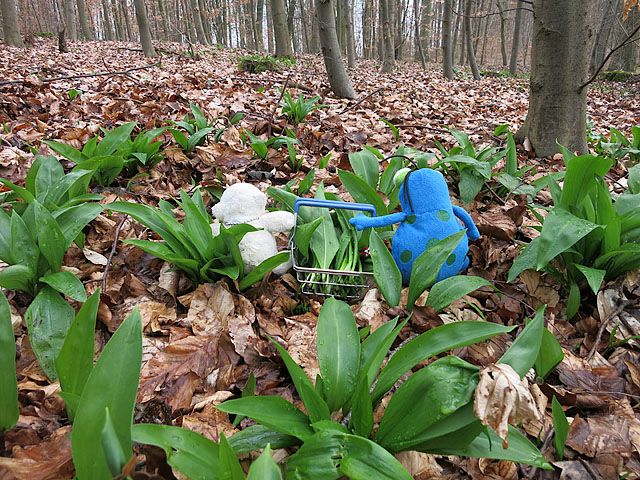 Now we smell a little strange…but this doesn't matter, does it? Yours Murph
---
Hello, another day in the forest.
Today we found many flowers. This was amazing! But look: Sweet Violets
Yellow wood anemone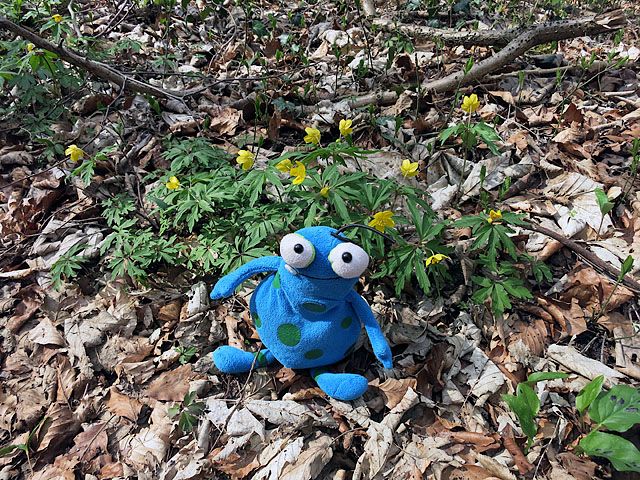 Hollowrot-birthwort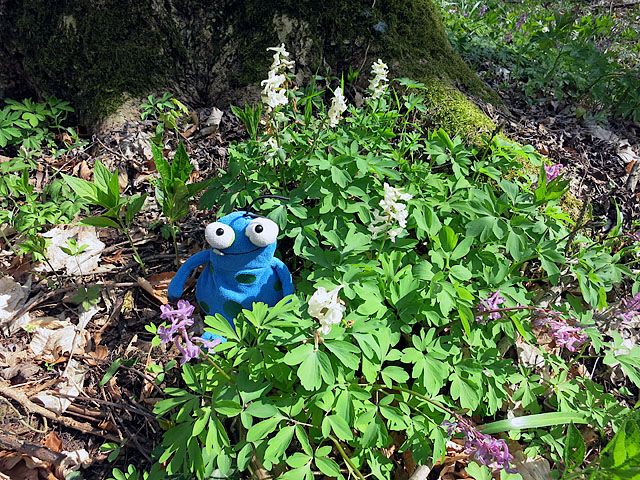 The orchids didn't bloom yet.
What a beautiful forest.
More flowers: Wood anemones
Spring vetch
The forest was so colourful!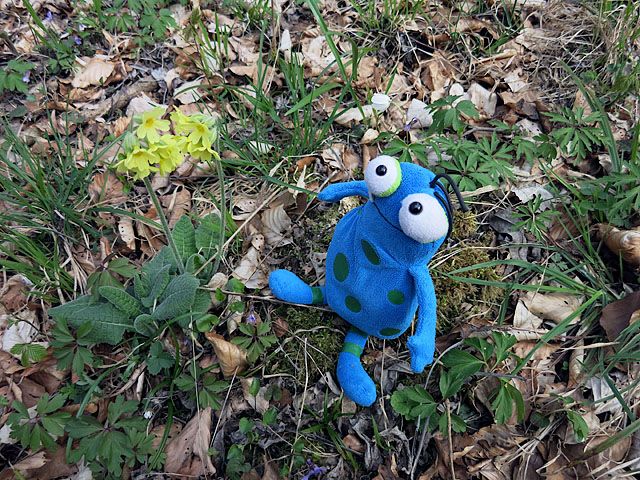 Common butterbur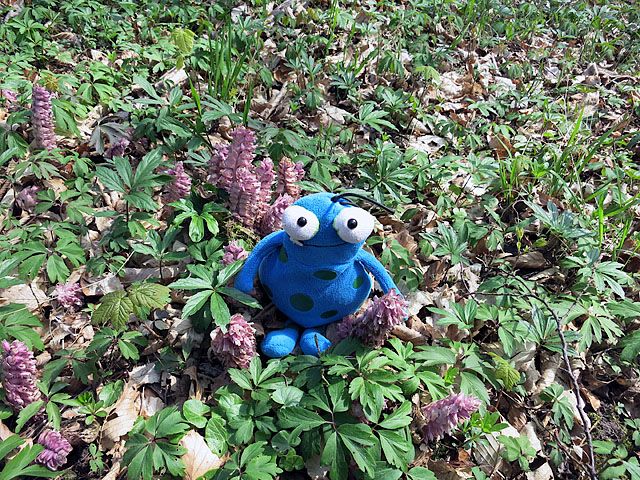 This is the place where the deer sleep in the forest.
Yummy Bear's garlic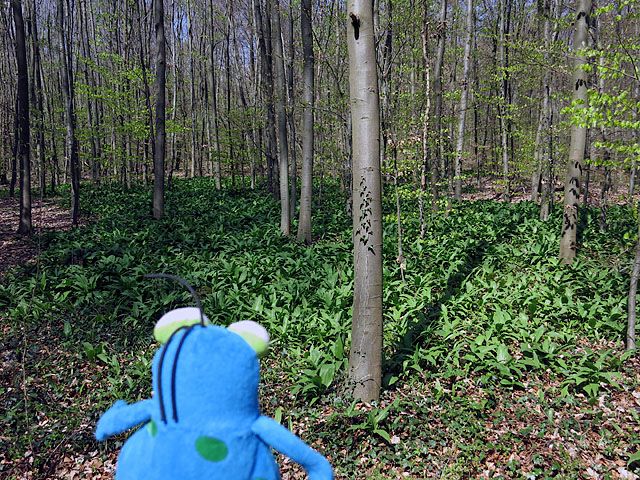 We even found the first morels. We urgently wanted to have photos.
They were very small.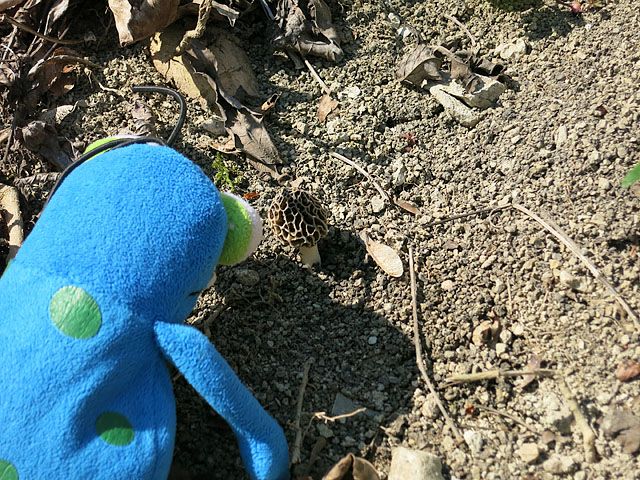 We wait curious for the next weekend.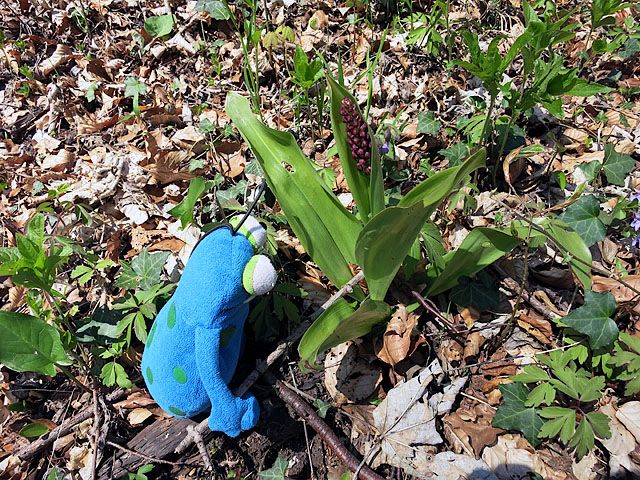 Love Murph
---
Hello, Today we want to find morels. Hopefully we will be lucky.
I think that these are the most beautiful flowers in the forest! The Orchids…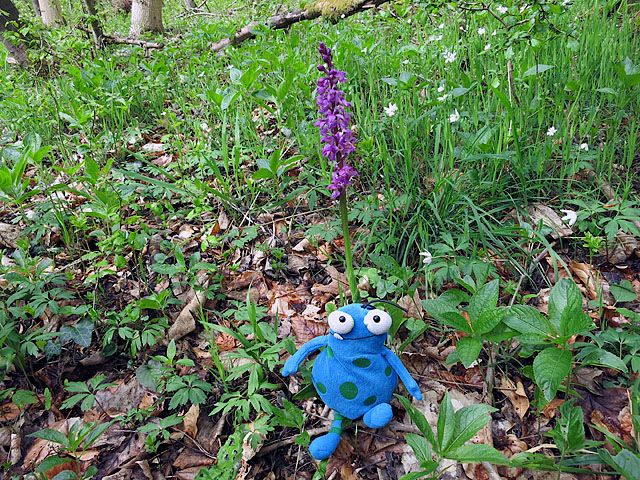 … and a white on – it is really rare!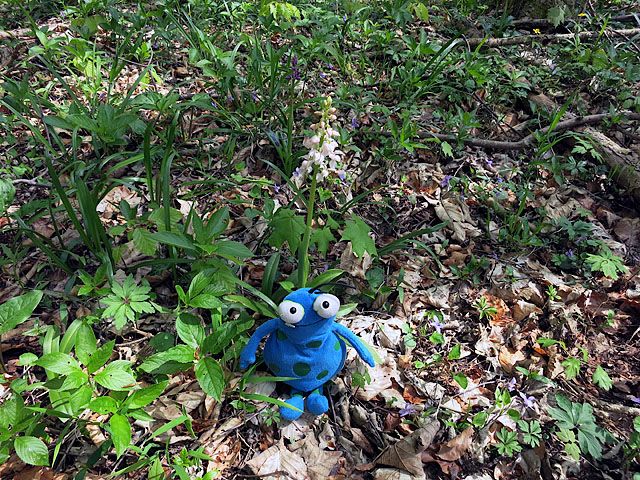 But where were the morels?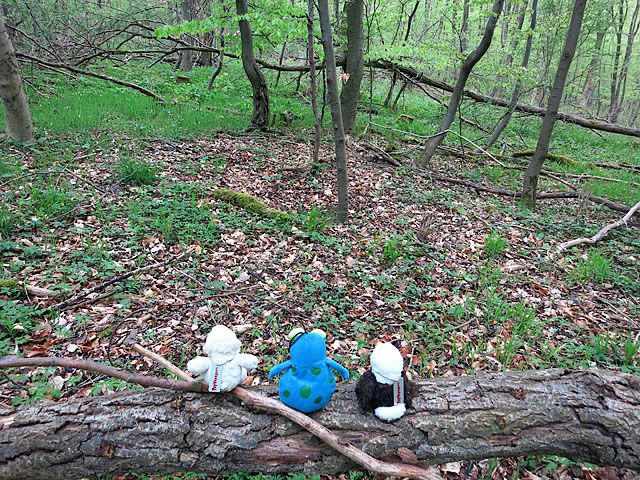 Not here…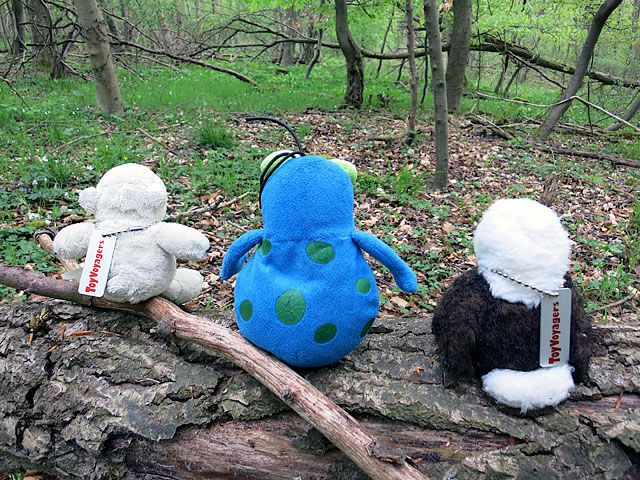 But maybe here! We should have a closer look!
Jippie! I found one.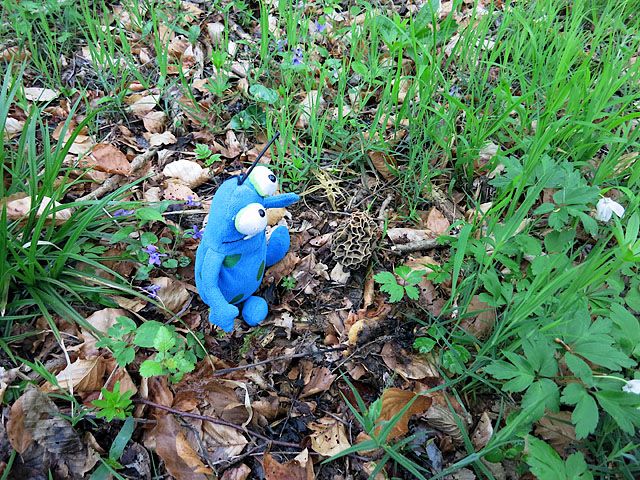 Ole and Landroval came and admired my discovery. Unfortunately it was the only one.
On the way back we showed Landroval Bear's garlic.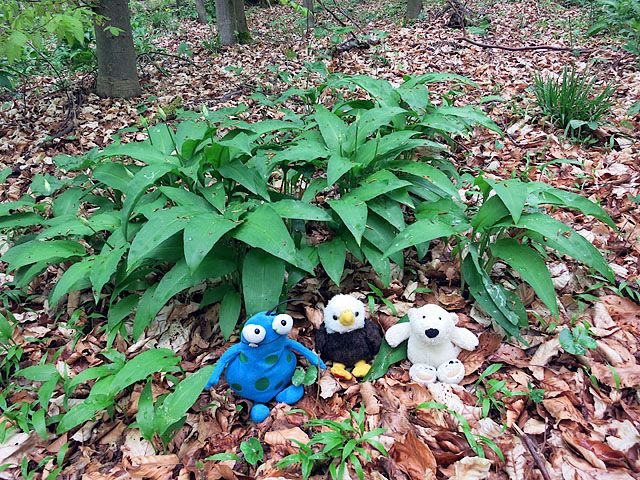 Will we find more morels? We don't believe it now… Until soon Murph
---
Hello, Today we searched morels. But nothing… - no morels… Only some white flowers…
…and so many orchids!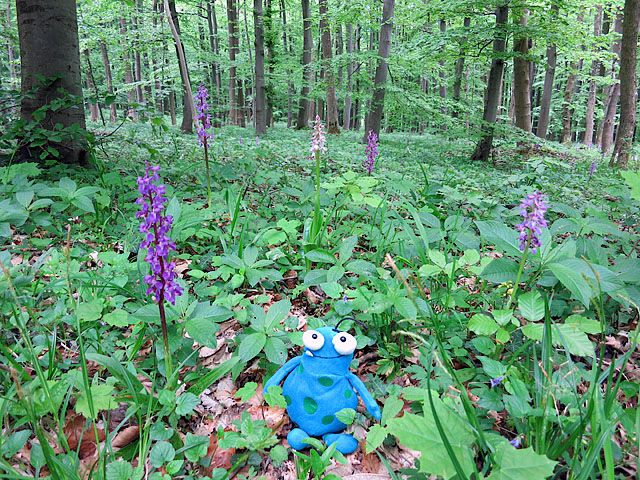 We found some St. Georg's mushrooms. It won't enough to eat for all of us.
Ugh, the mushrooms smelt like flour.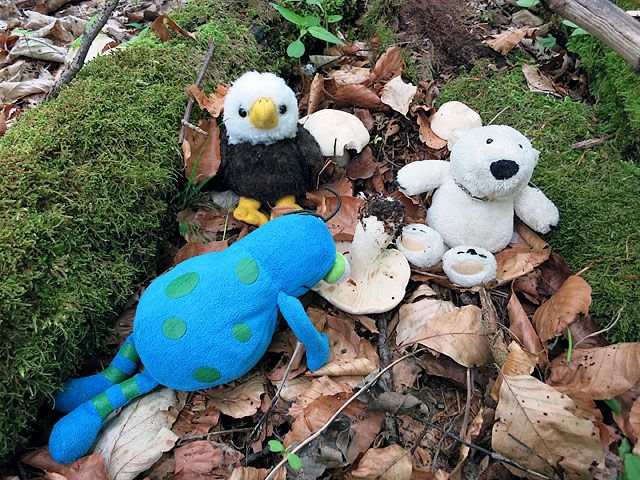 The Bear's garlic was blooming.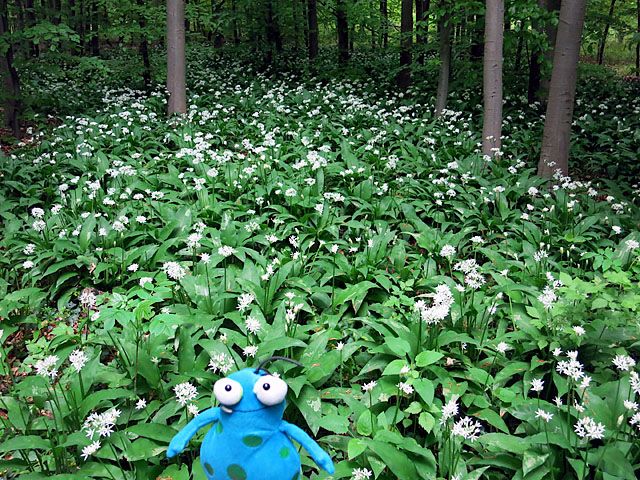 However it was a wonderful day in the forest.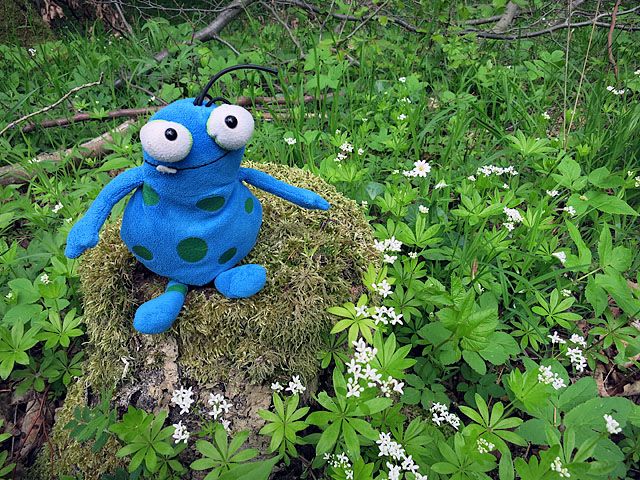 Greetings Murph
---
Hello, Today I visited a beautiful nature reserve. Didn't it look great?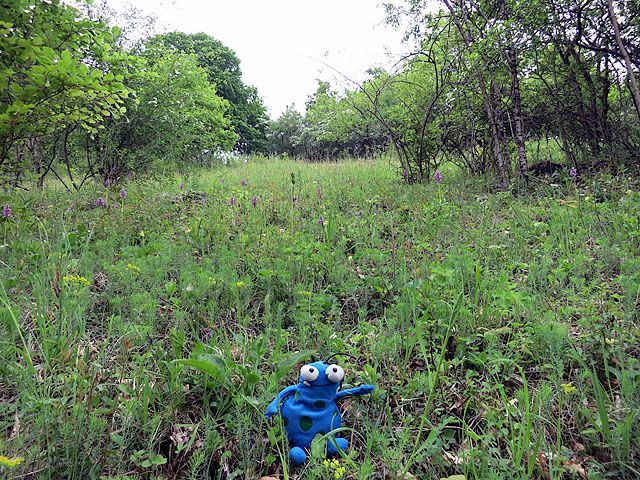 There were many different wild orchids. I show you the most beautiful flowers.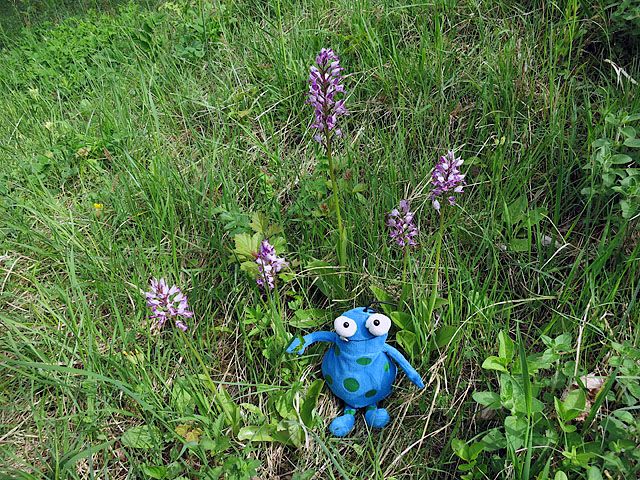 There were orchids with green blossoms – difficult to see in the photo
Wow – this one was big!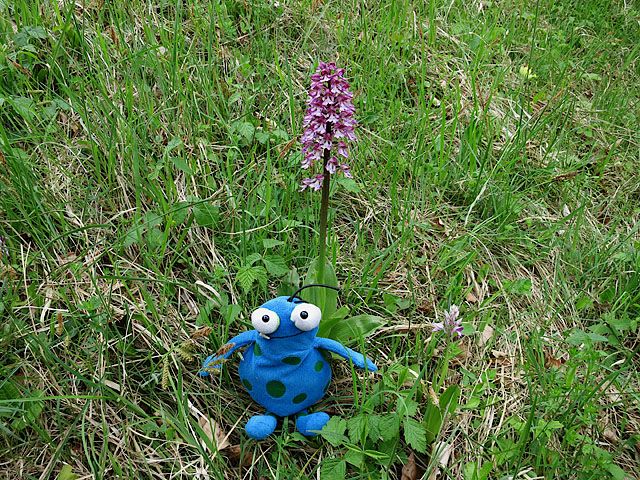 All over the meadow there were snowdrop windflowers.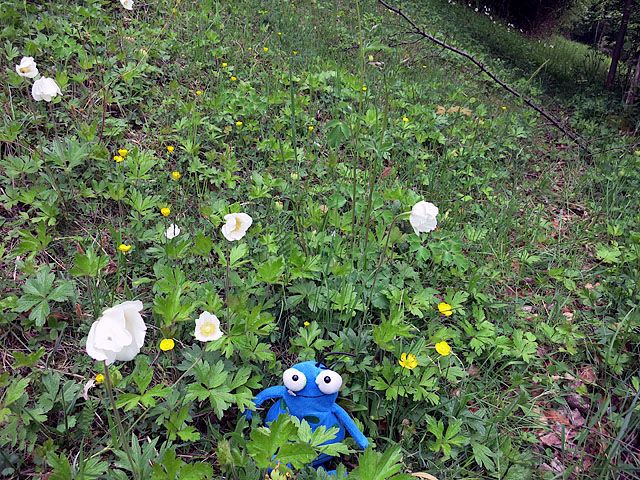 This flower is really rare in Lower-Saxony. You only find it in a few nature reserves. Do you know it? It is the Lady's Slipper Orchid.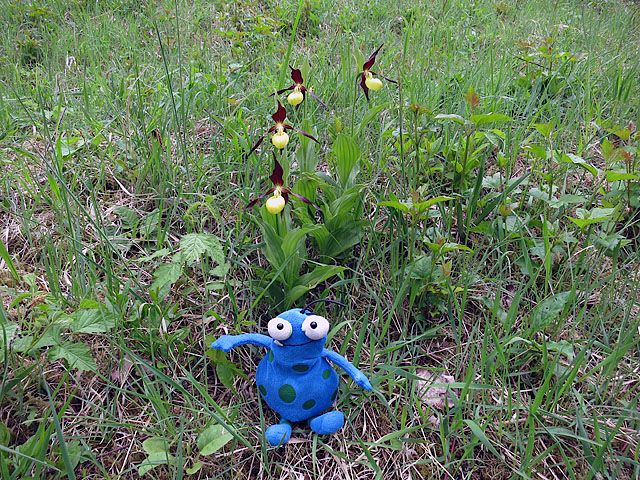 We wanted urgently a photo with this group of orchids.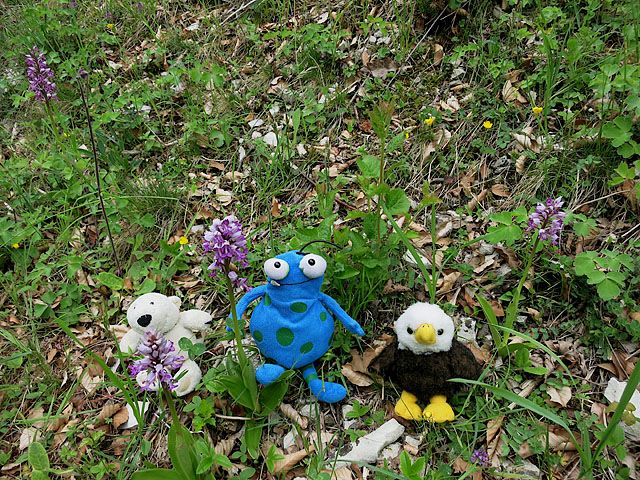 Until soon Murph
---
Hello, Today we went into the forest. We wanted to collect mushrooms.
This seemed to be a good place – we should find some here.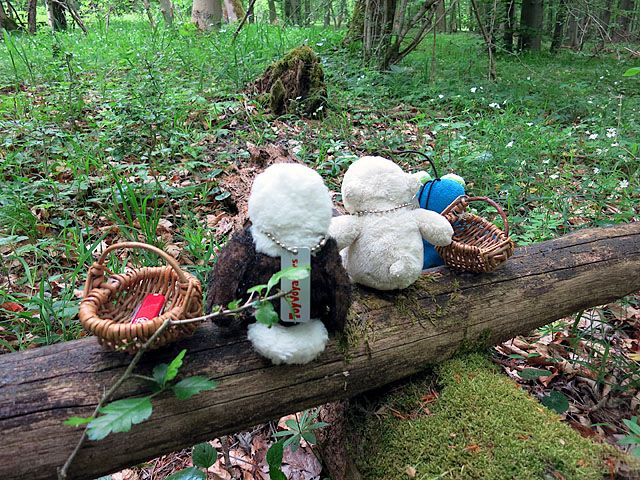 Look, there were the first mushrooms.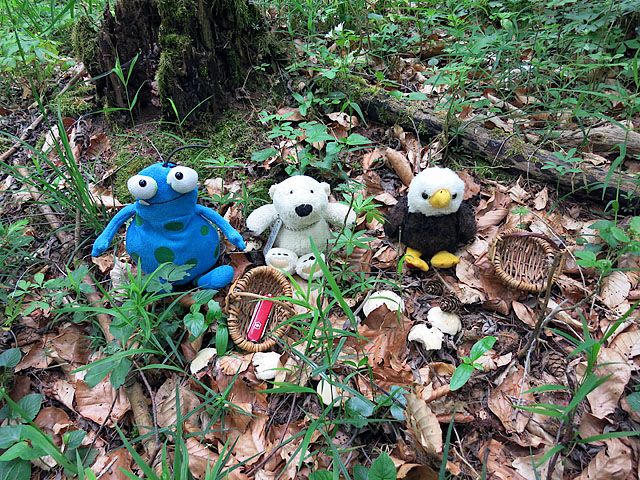 ... a lot of St.Georg's mushrooms.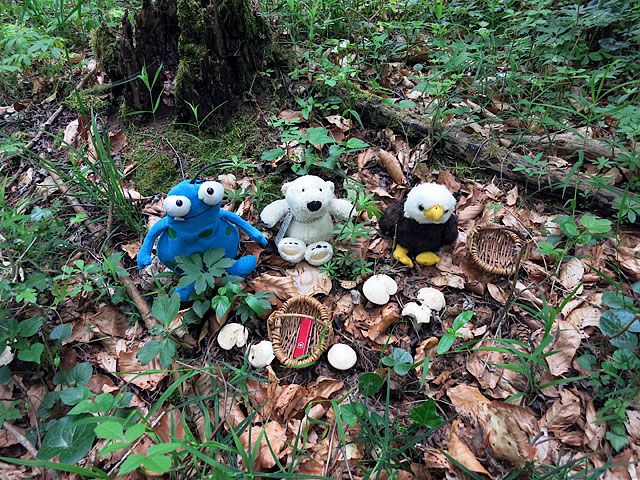 Landroval and Ole cut it.
Our baskets were full.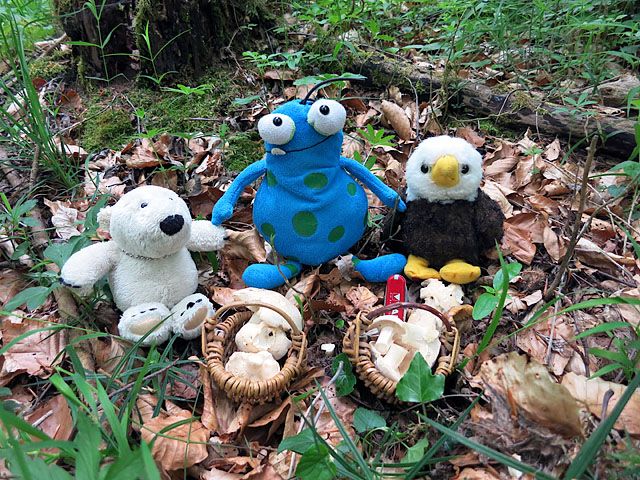 It was time to go home.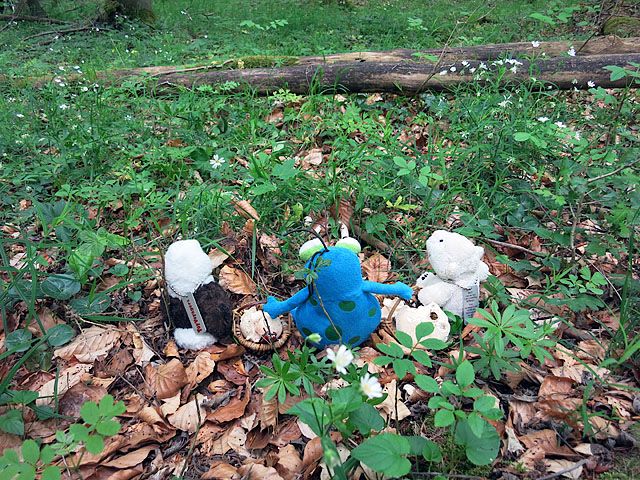 Yours Murph
---
Hello, Today we went to a beautiful river.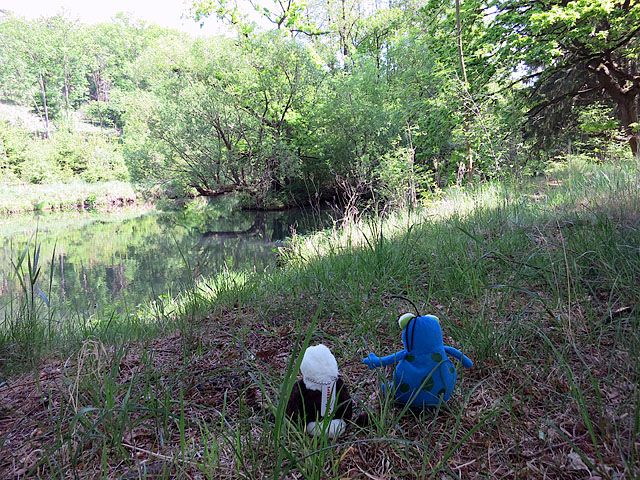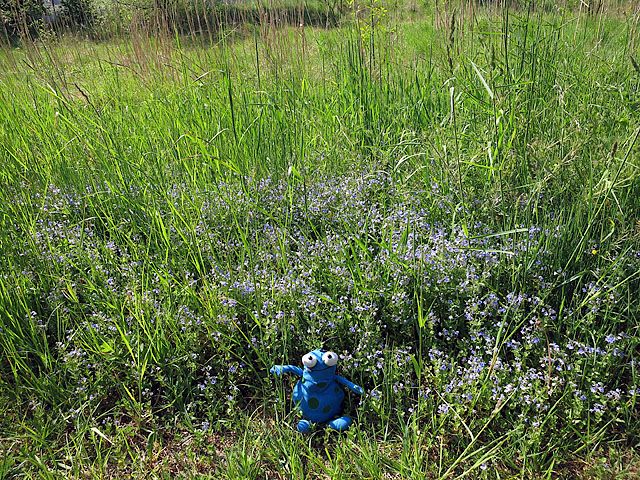 We wanted to find wonderful and rare butterflies and take photos. If you are lucky, you see them at these flowers.
It was a beautiful place.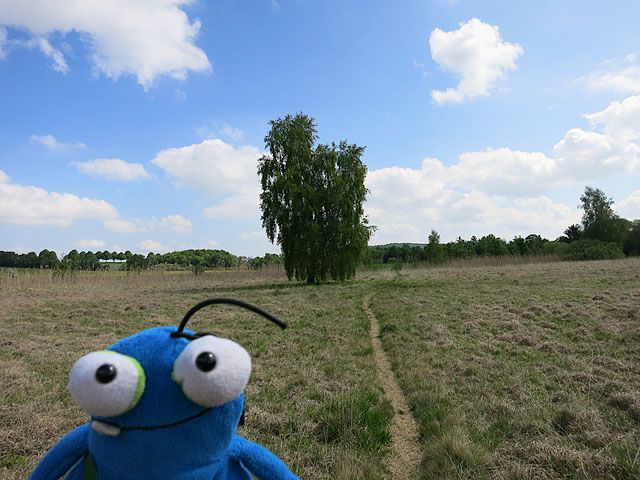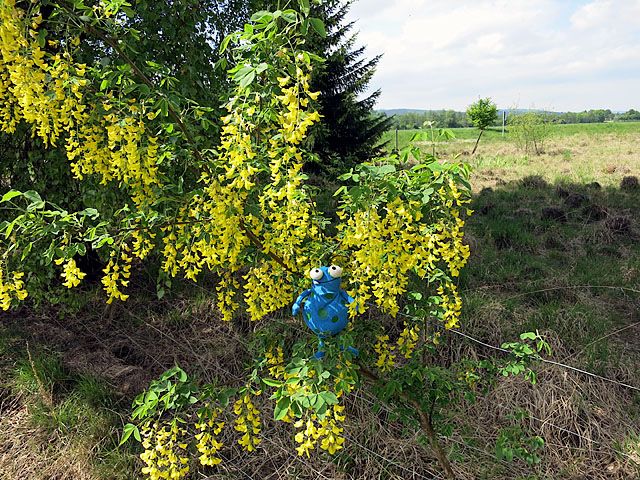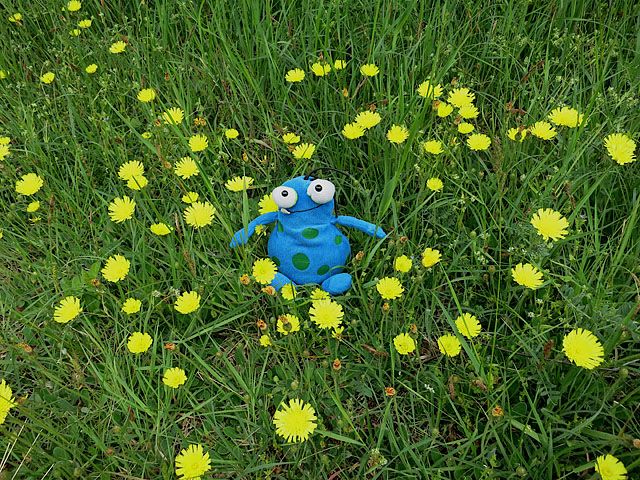 We sat in the flowers and waited for a long time, but the butterflies wanted no photos today.
Yours Murph
---
Hello, Today we took a long walk through this forest.
Wow, can you see what we found?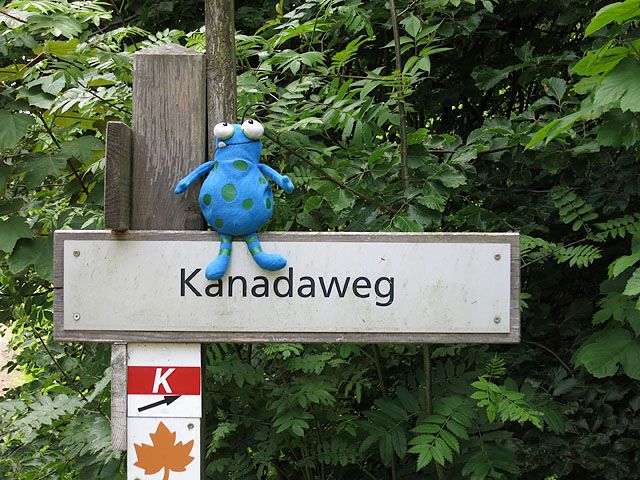 Let's start the "Blütenpfad" (Path of Blossoms)…
There were many blossoms I never saw before.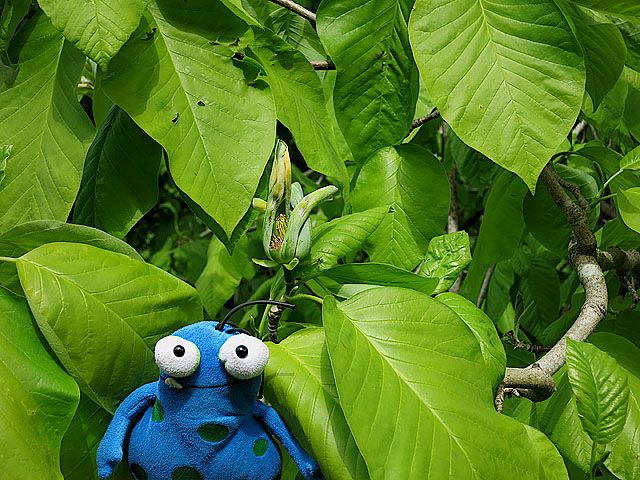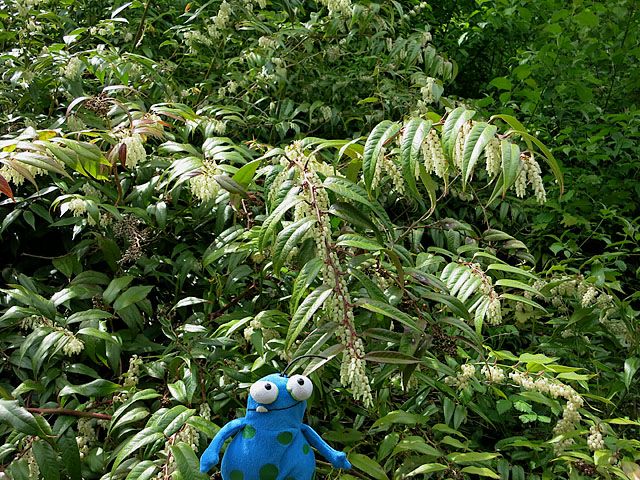 A small break…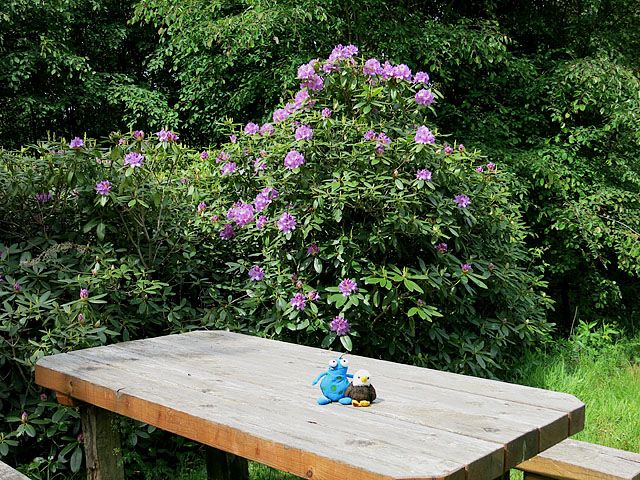 It was so colorful here.
The view was wonderful, but nothing compared to the Rocky Mountains, was it?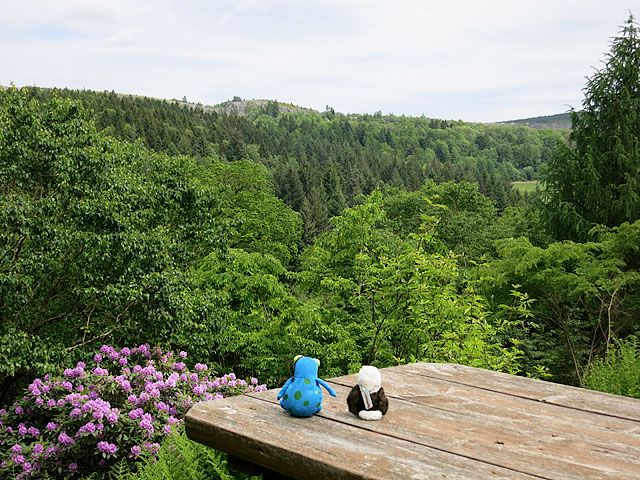 These were the highest trees of the World, but they were small at the moment.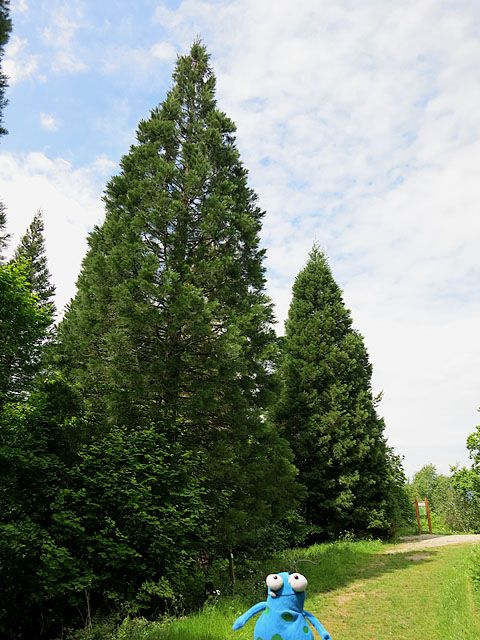 What a wonderful trip!
Until soon Murph
---
Hello, This looked exciting. We must have a closer look!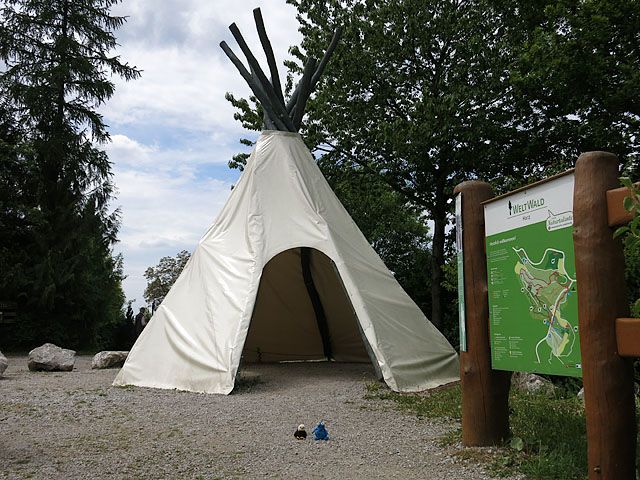 Oh, what a friendly greeting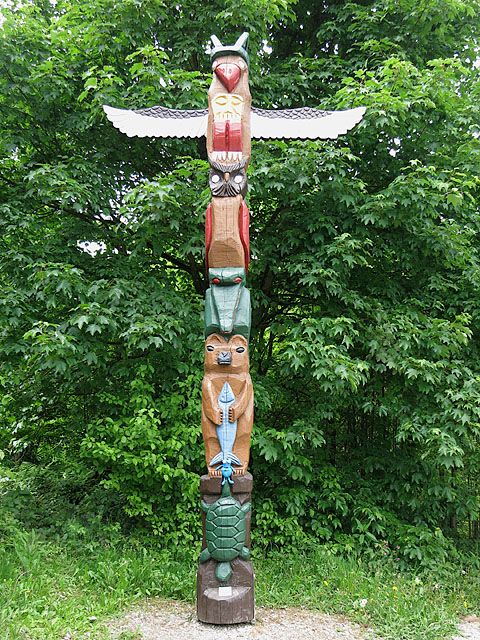 We build towers out of many stones.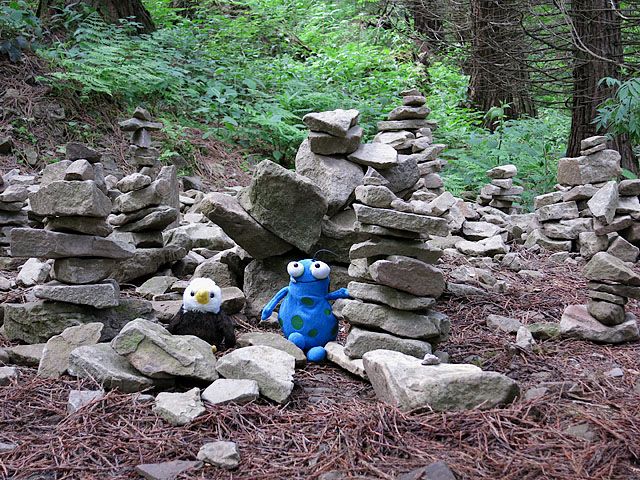 Let's see what's coming next.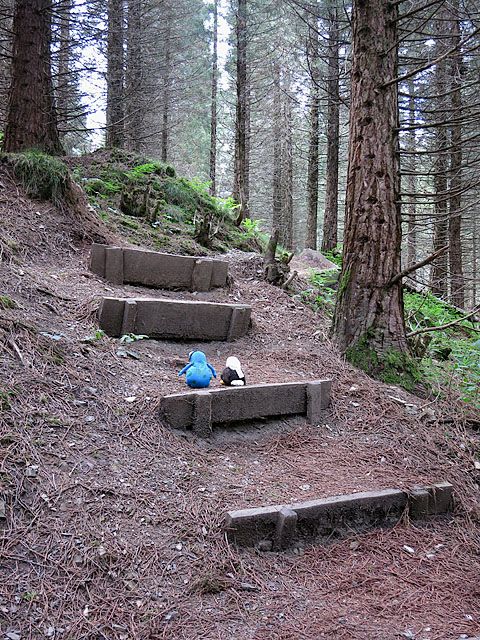 We learned, how far animal can jump.
Surely I was better. I am an Alien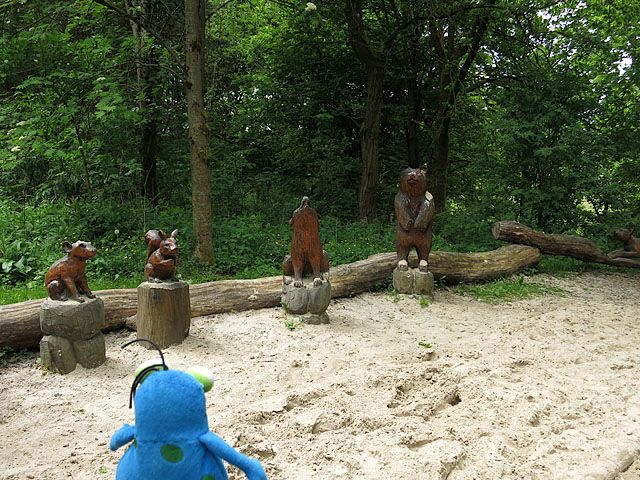 We continued…
We wanted to stay here, because it was so beautiful, but we kept moving.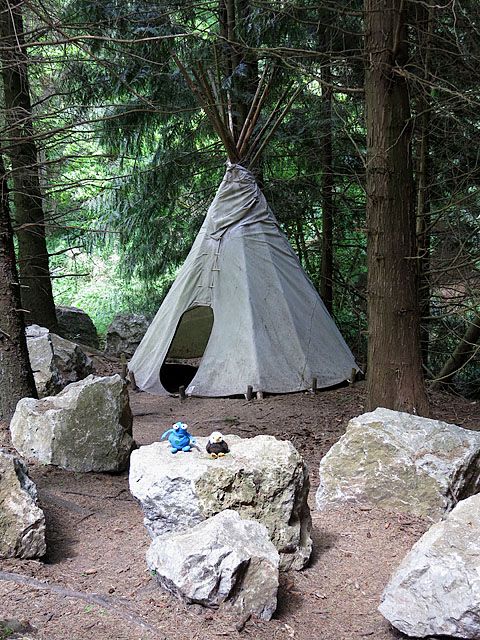 Normally you can see animals from this tower, but unfortunately it became overgrown. And there were no animals.
We went back to our car over this shaky bridge. What a great day!
Many greetings Murph
---
Hello, What a long time without mushrooms. It was so dry, but today we will try it again. Maybe we will see some!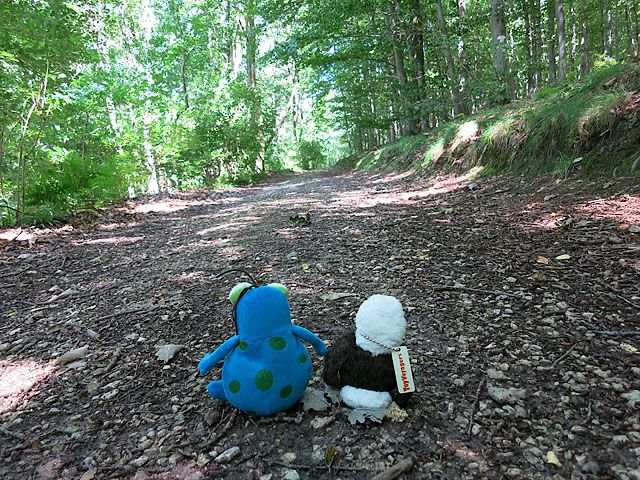 Great – our first mushrooms! King boletes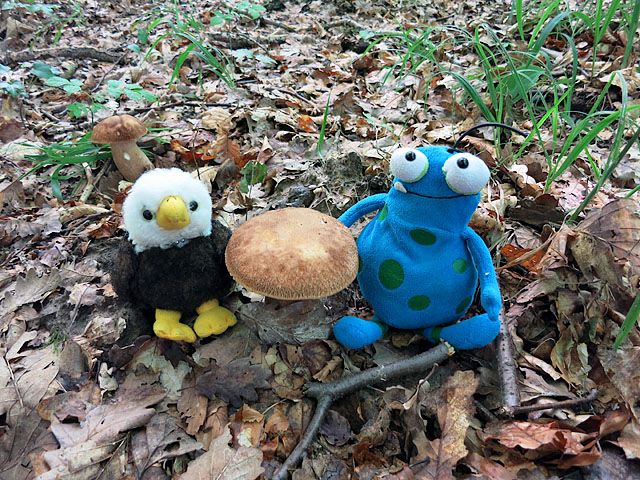 What a beautiful guy…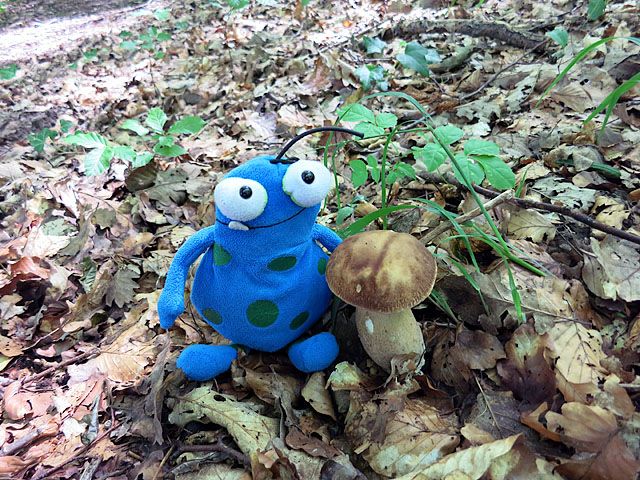 The Lurid bolete looked boring from this side…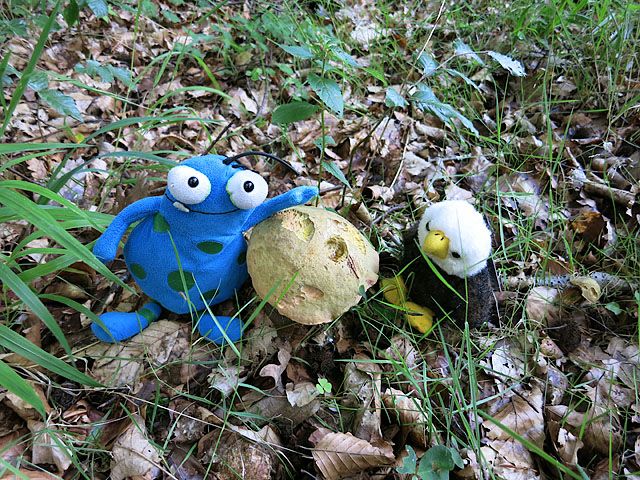 …but look! If you cut it, it had the same color as me.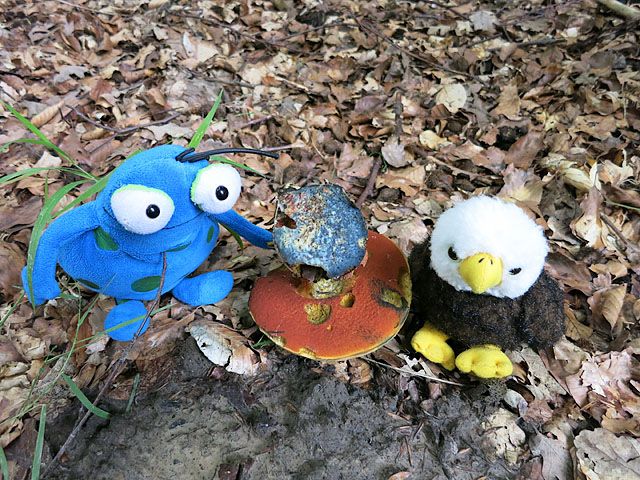 No friend of mushrooms likes these animals.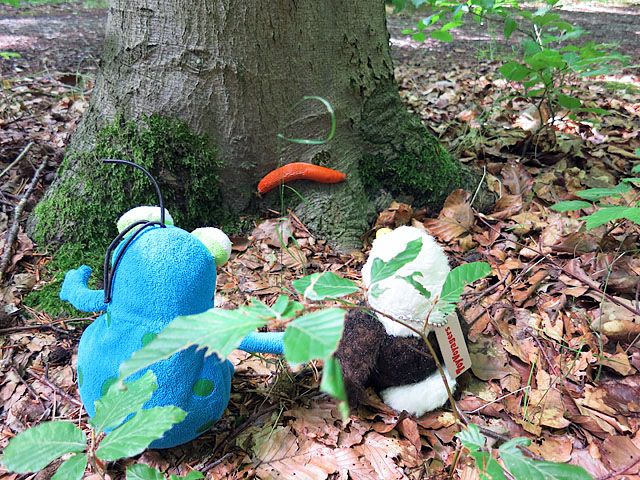 But fortunately snails don't like all mushrooms.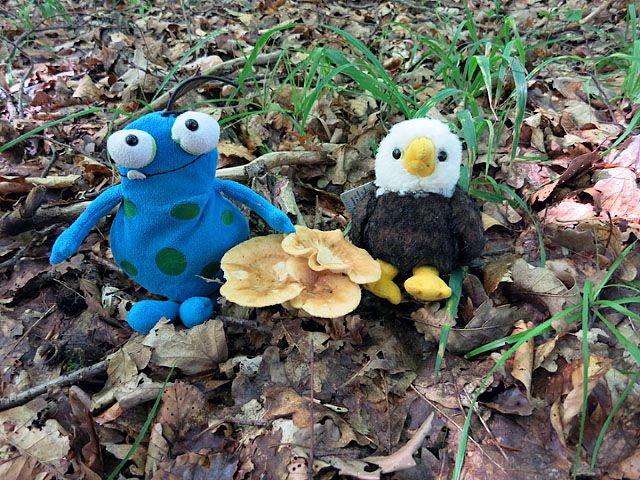 The Devil's Bolete is rare. It is poisonous and each year people were empoisoned by it.
How can you eat his mushroom? It smells like carrion!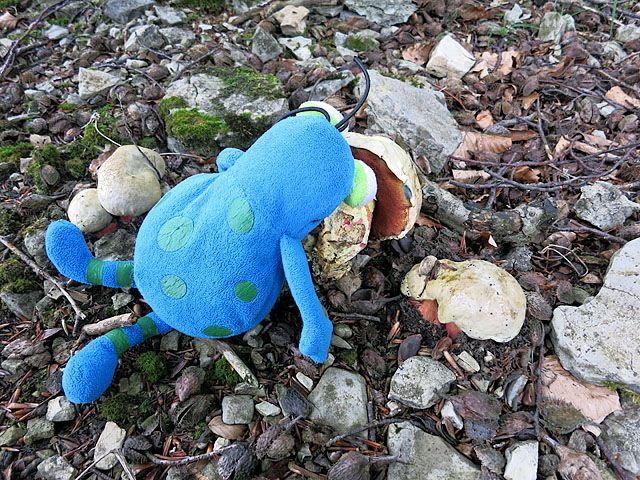 We saw a lot of mushrooms Ruby Boletes…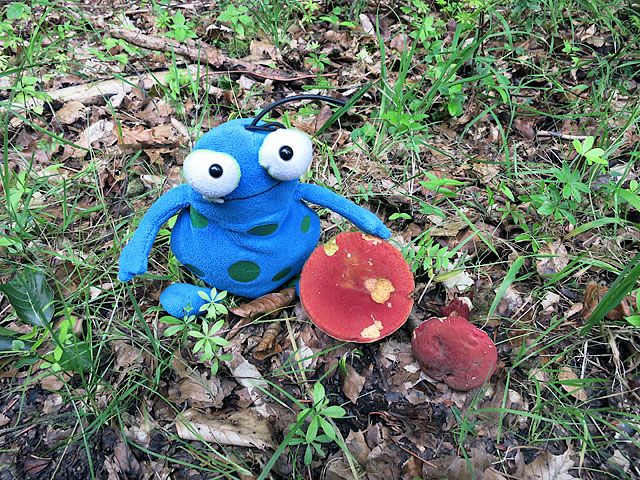 … and Rosy Brittlegills
We don't know the English name of this mushroom. But the color looks like Landroval's craws.
Then we found our dinner.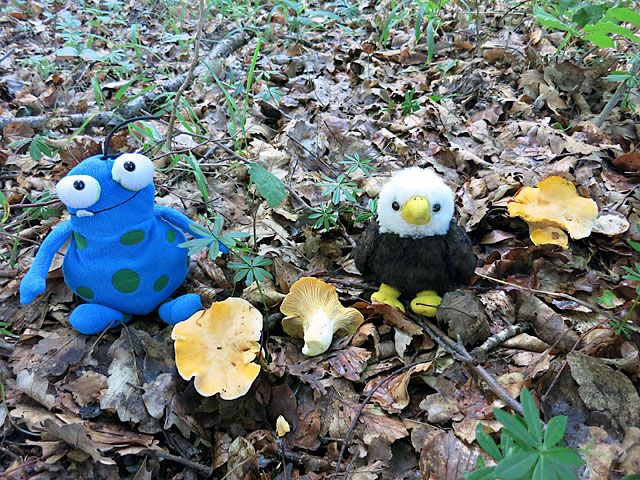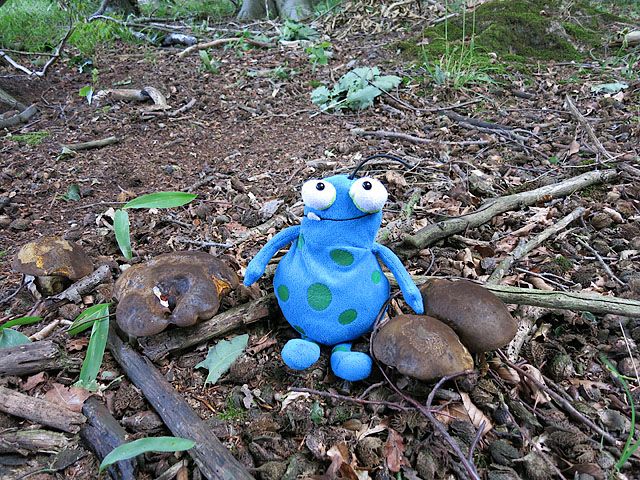 It was yummy – finally mushrooms again! Yours Murph
---
Hello friends, I got an invitation to the mushroom-meeting in the legendary "Schönbuch" and I think this is an exciting meeting! It was very dry and hot here – let's see, what we will find in the forest….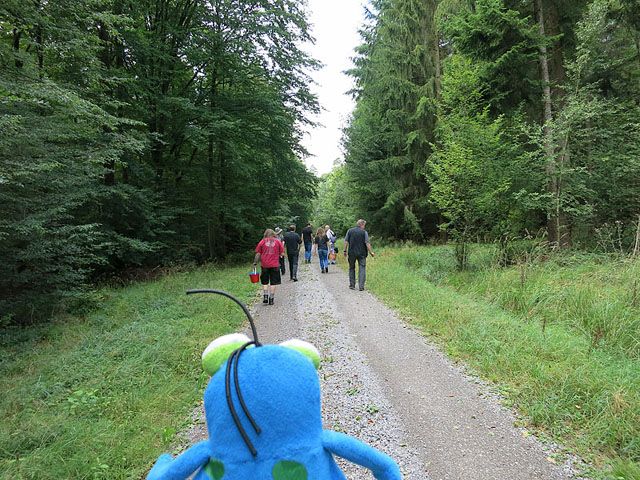 Wow – I didn't see something like this for a long time. There were puddles!!!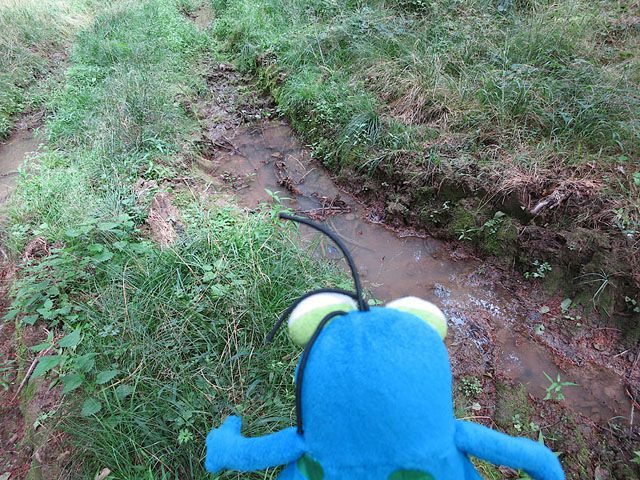 What did they find there? Maybe a mushroom? I will have a closer look!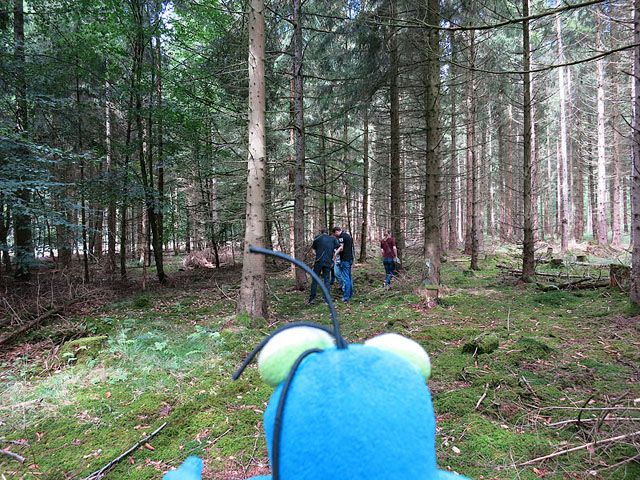 Actually a mushroom: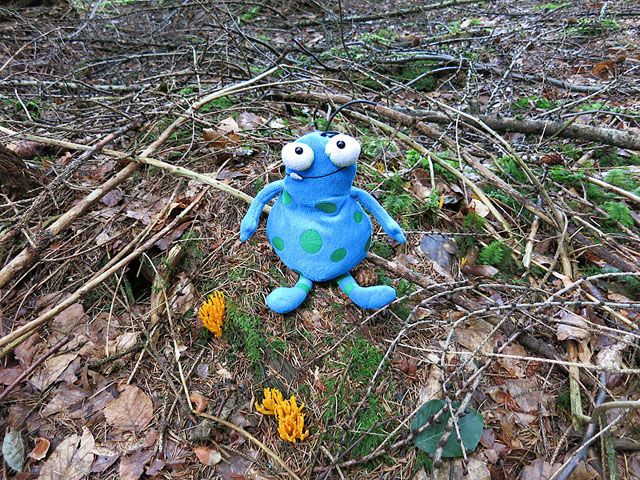 I can do it, too. I find mushrooms everywhere, if I want. But I am not in the mood to identify it…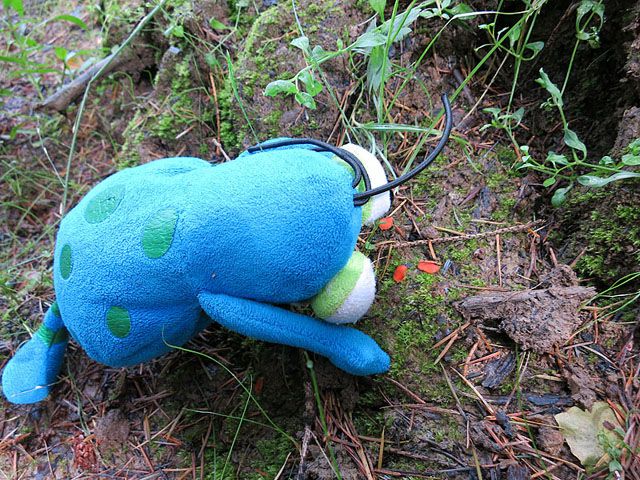 Well, blackberries are yummy, but I think to healthy. Other can collect it.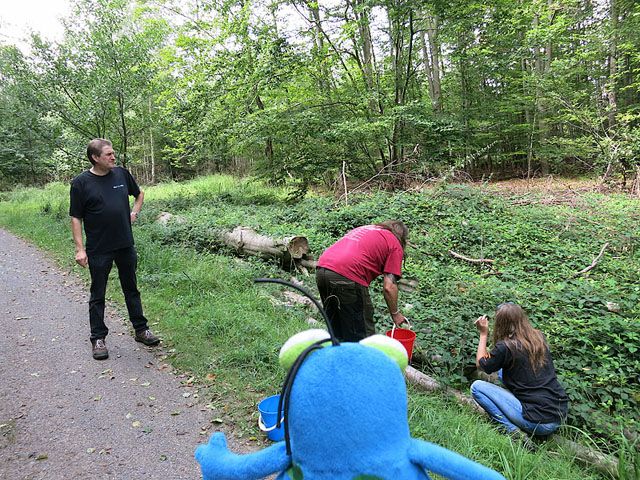 Pablo called us – and all run to him. Look what he found. Wasn't it a beauty?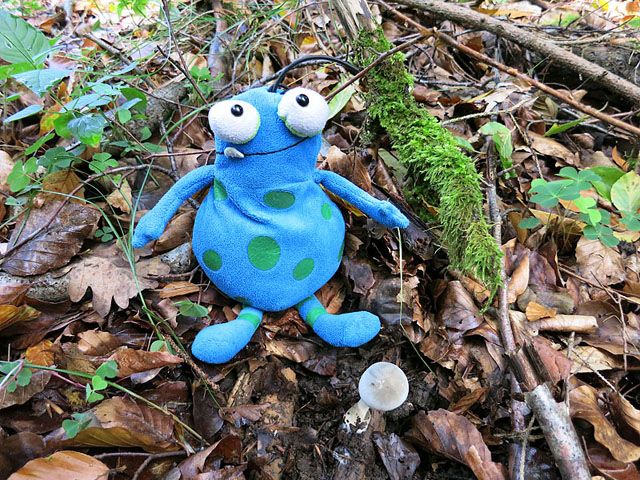 I know these guys from home – I find them in regions with chalk there.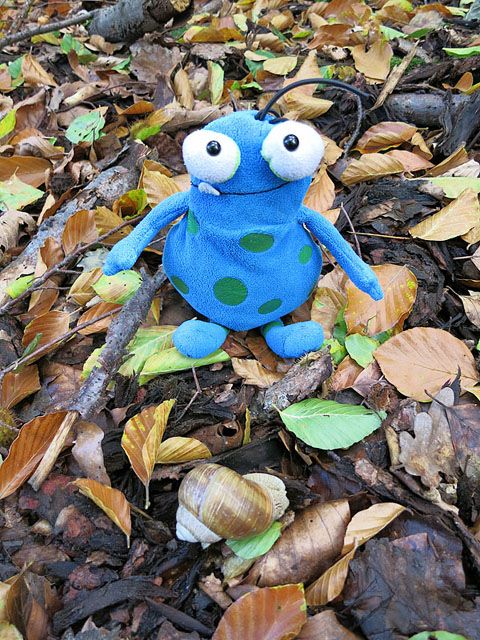 What did they find now? Let me see it! I want to see it!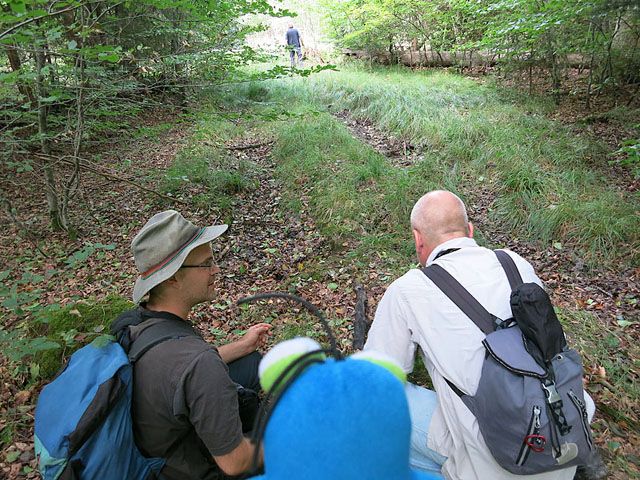 Well, only this mushroom. Everyone find one of it today.
Of course I found the only bolete of the day.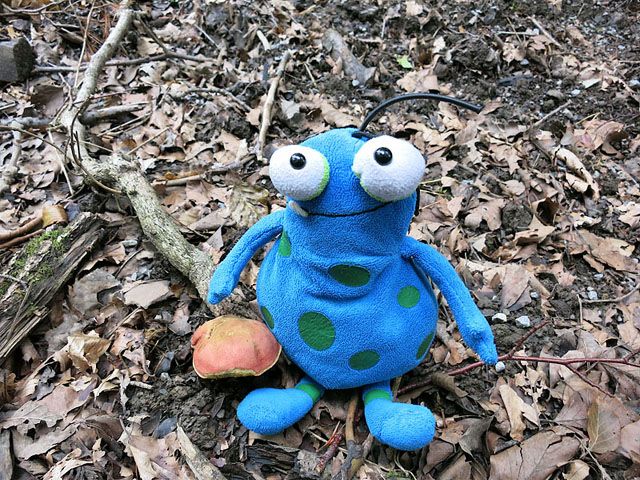 And what will I see here?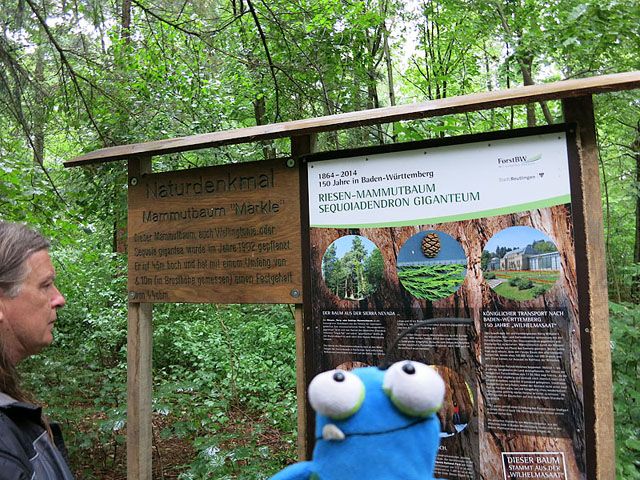 A sequoia in the middle of the forest – this is great!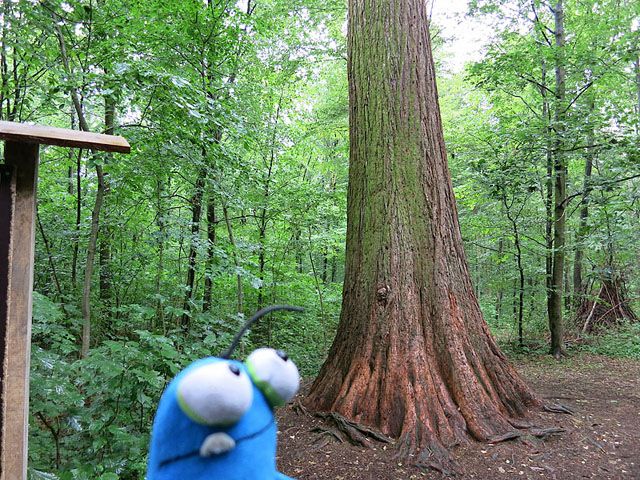 But I really loved the rest of the day! A comfy evening with a lot of yummy food.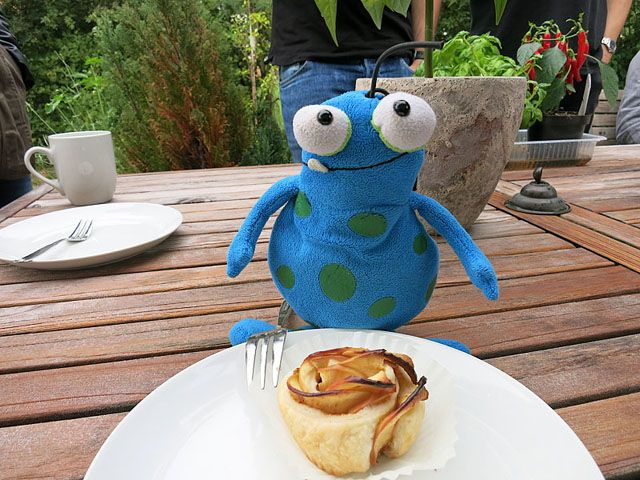 I found a lot of new friends! That was great. Murph
---
Hello, Will we find mushrooms today? It was very dry. We didn't take our baskets with us, because we don't believe that we will find enough for a meal. First we found this nice mushroom. It was not eatable and very bitter.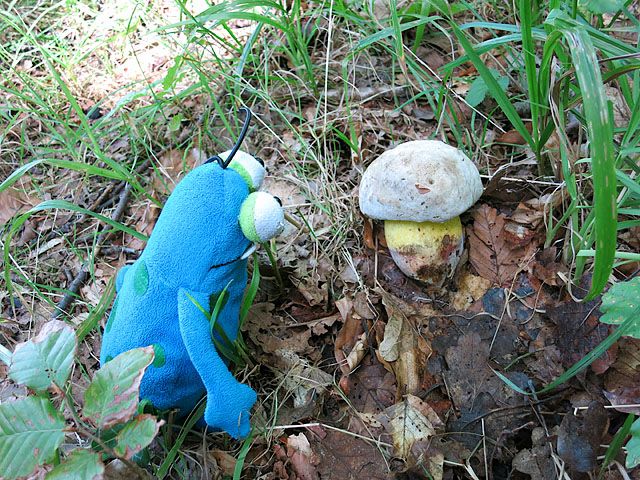 Look at this – someone cut these wonderful Rooting Boletes and let it in the forest. What a shame – and they didn't look like King Boletes.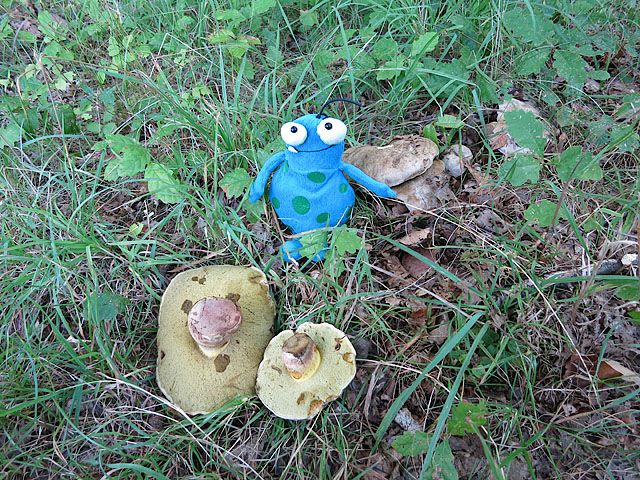 Then we found a King Bolete – but a really small one…
These mushrooms were eatable, but we had our baskets at home.
Unbelievable, another small King Bolete – we should have taken our baskets with us!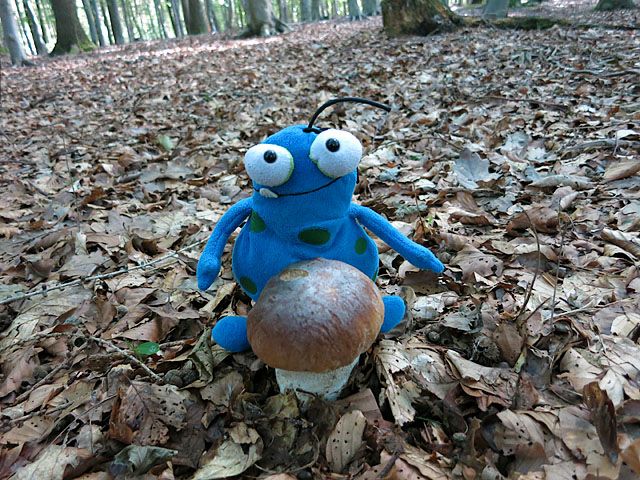 Wow, this was tall!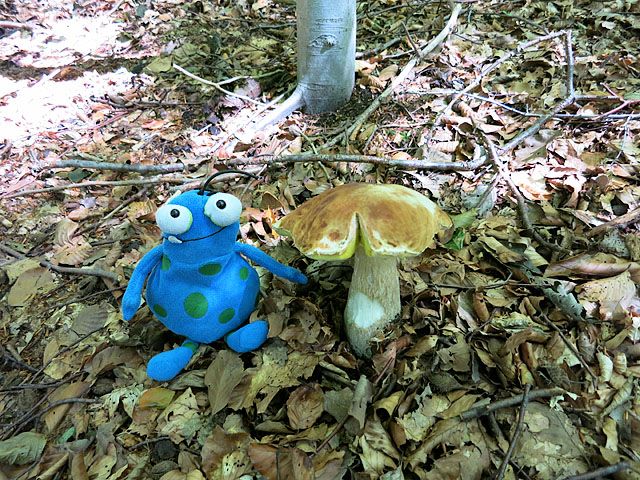 This mushroom is very rare: A Tiered Tooth Fungus
It smells like anise!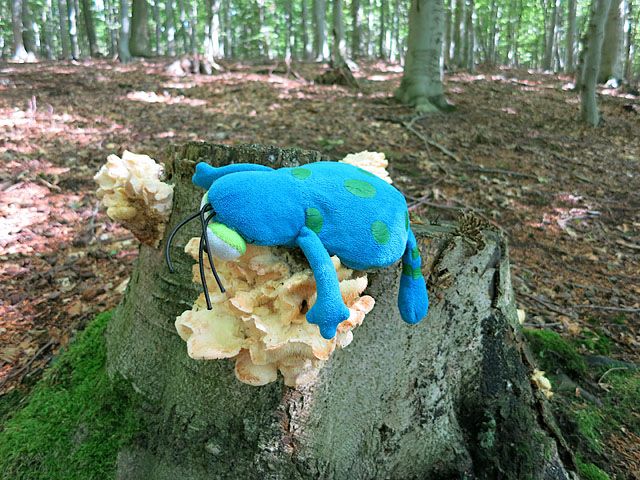 There exist mushrooms, which look like flowers. Beautiful!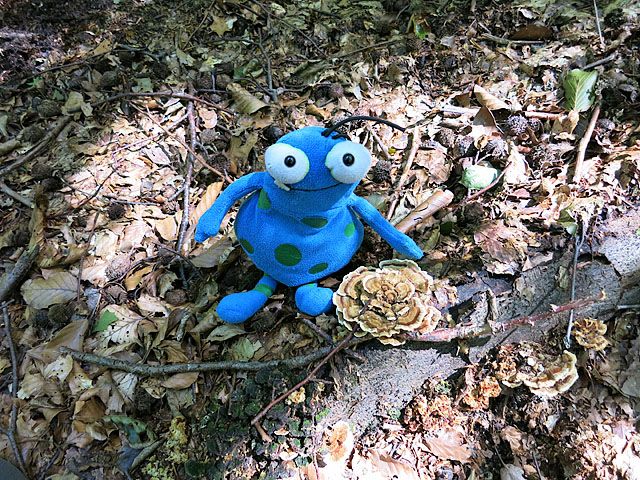 And another King bolete. Fortunately Holgi brought the mushrooms home for us!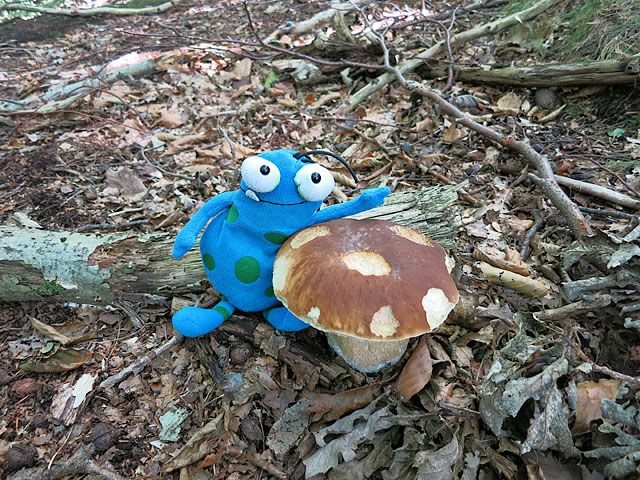 There were many of it!!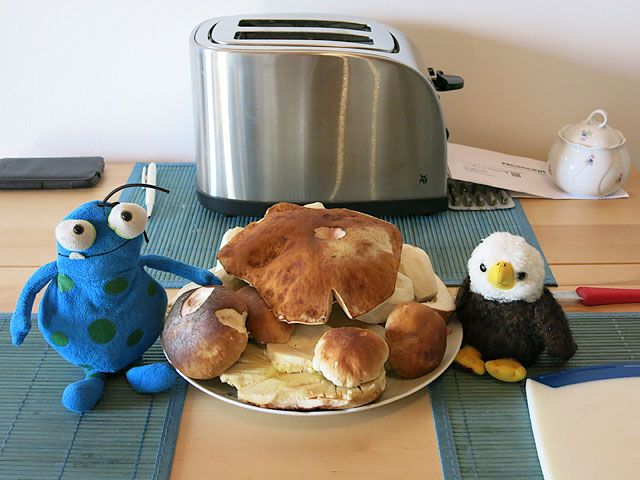 All were dried!
Until soon Murph
---
Hello, Today we didn't want to pick mushrooms in the forest. But we want to show you rare, funny and poisonous mushrooms.
This mushroom is very rare in Germany. Unfortunately I didn't know the English name.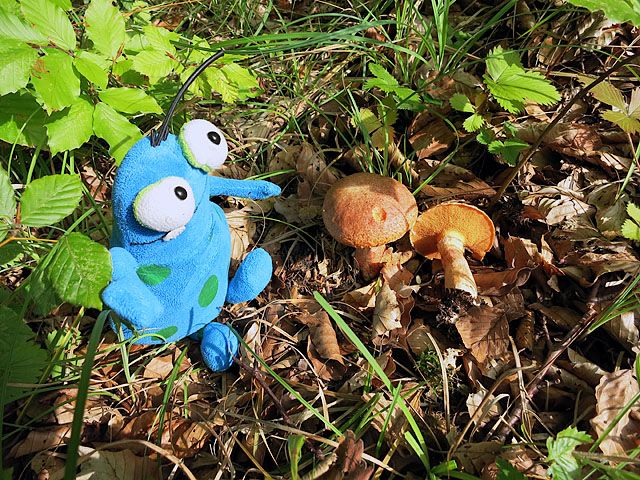 This one is very very poisonous. 4 people in Lower-Saxony died of it this year. They confused it with eatable mushrooms: the Death Cup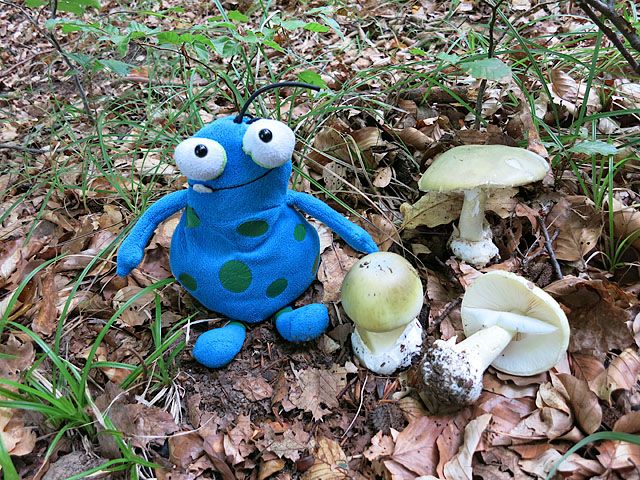 And look at these! Weren't they beautiful? They look like corals in the sea – and this is their name.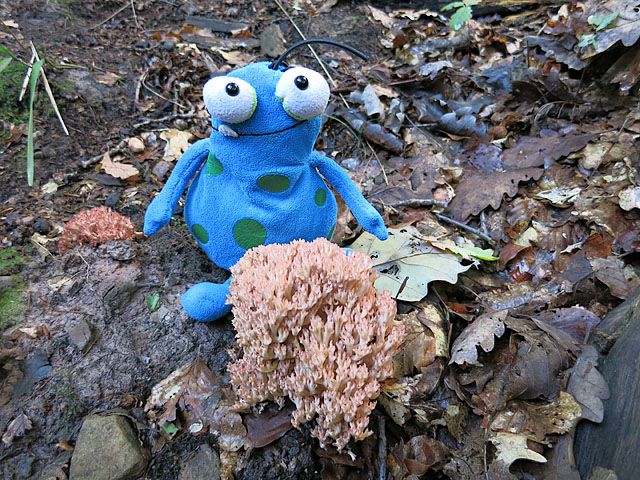 Ok, these animals cannot be dangerous for us TVs.
And have a look at these mushrooms. They look funny, don't they? Black Trumpets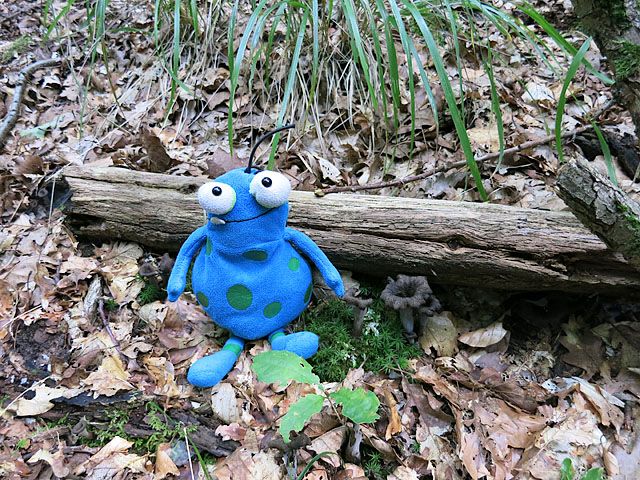 Another poisonous mushroom – but fortunately it is rare... Tiger Tricholoma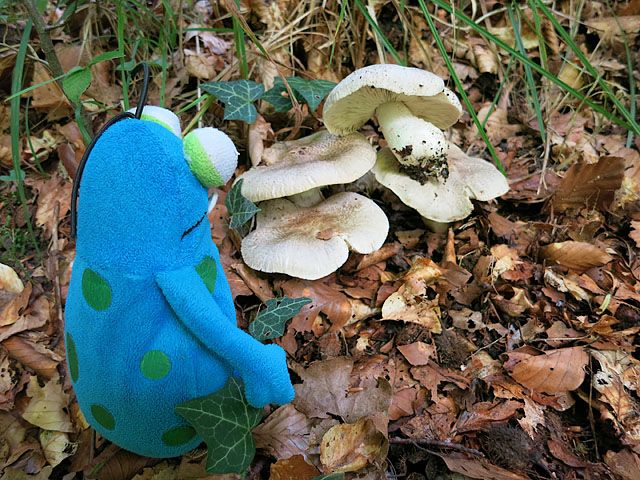 Beautiful, too! These Hedgehog mushrooms have stings on the bottom side. Can you see it?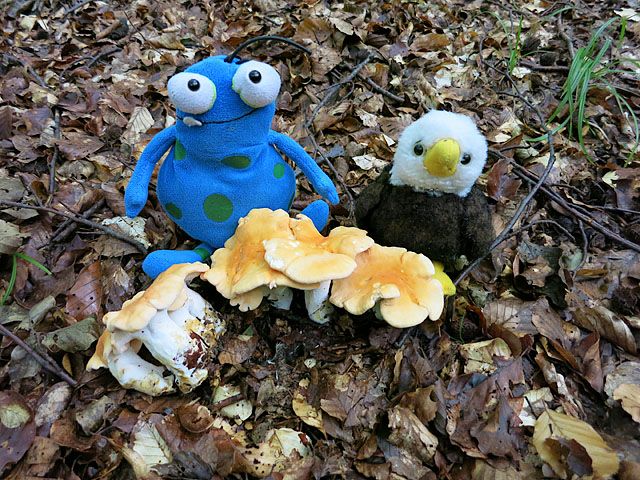 These mushrooms are very small. But they will be 20 cm high. Their name is "Herkuleskeulen" (Pestle-shaped Corals) – funny name, isn't it?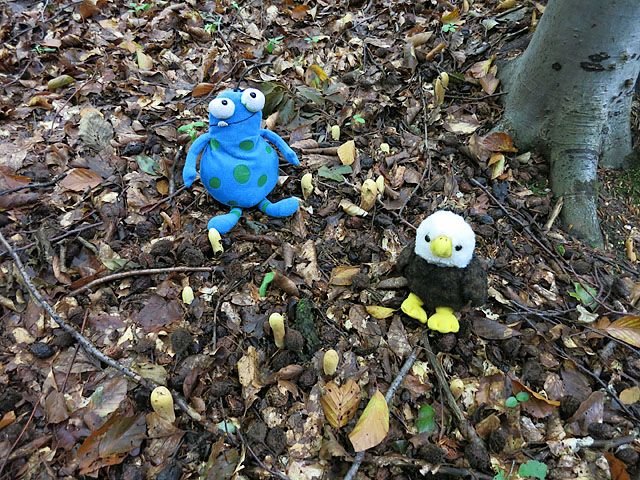 And we found stars in the forest. I love these mushrooms!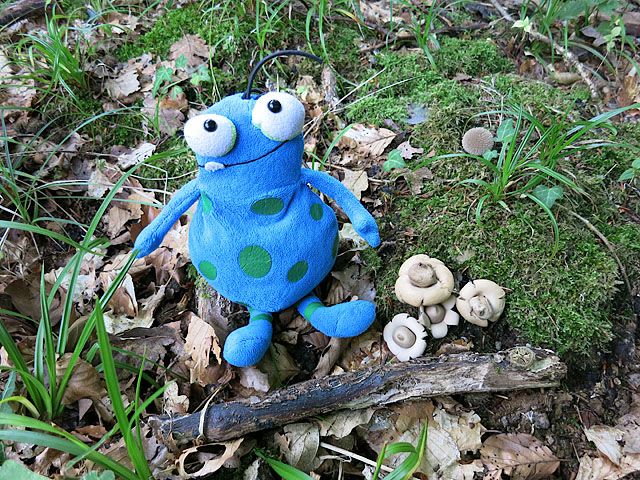 This is my famous mushroom – when it is raining.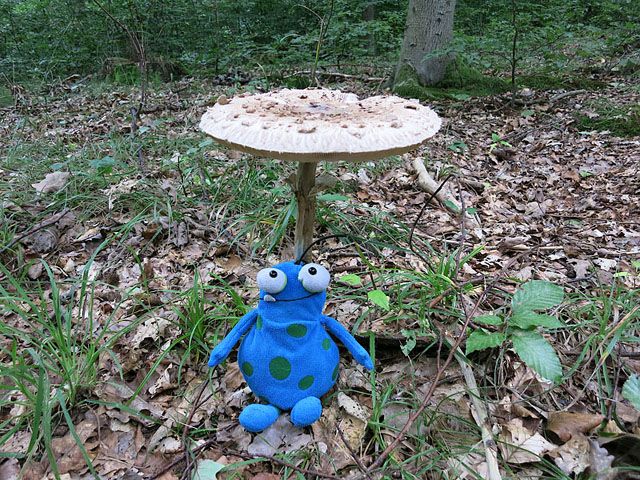 Hopefully you liked the mushrooms. I love the different shapes and colours. Yours Murph
---
Hello, Today we took a trip to a great lake!
It looked wonderful!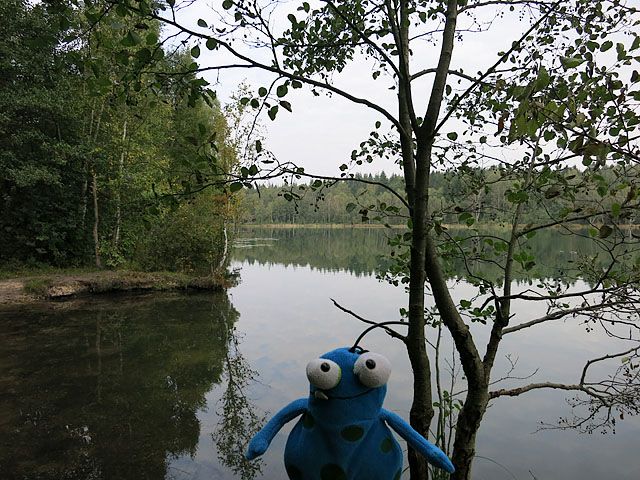 Certainly we found mushrooms.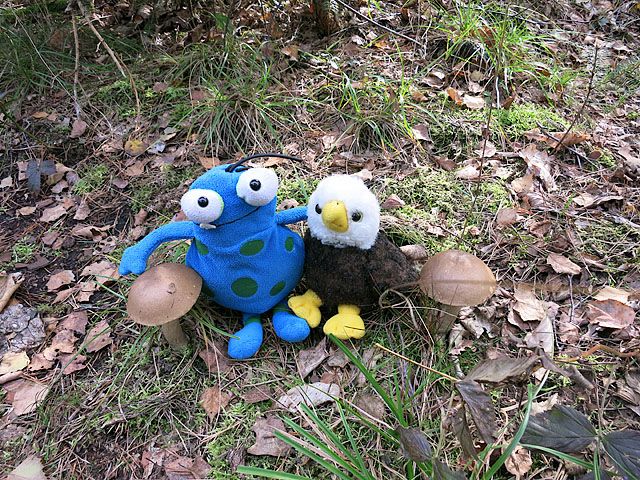 There were many beautiful places here.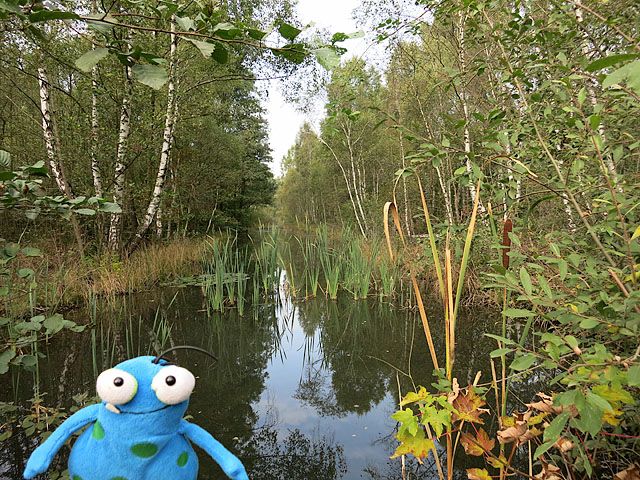 Everybody knows this mushroom.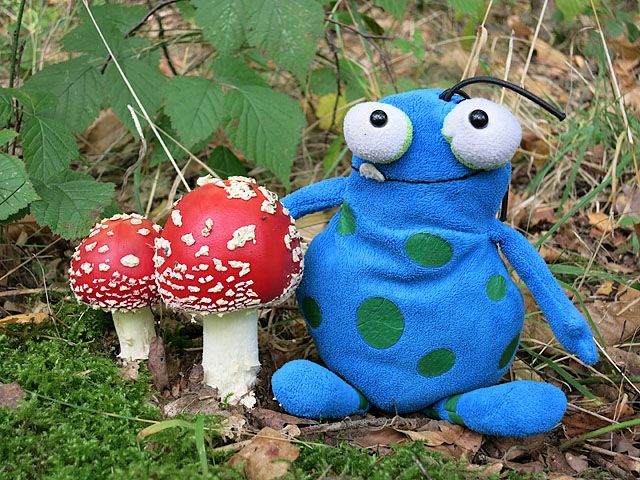 The leaves went colourful.
More mushrooms…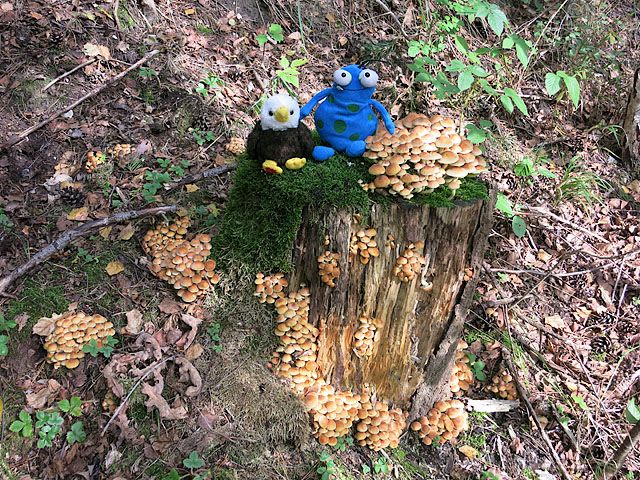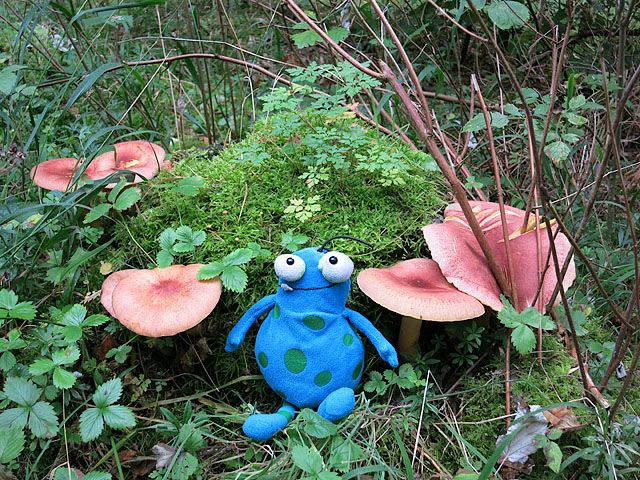 At the end I sat on the beach and relaxed.
]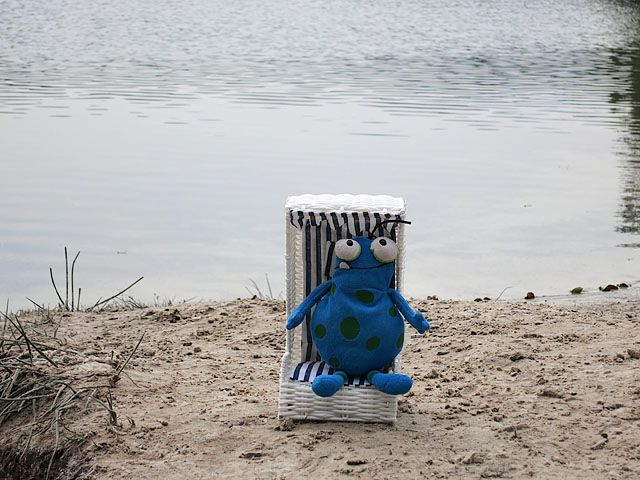 What a wonderful day at the lake!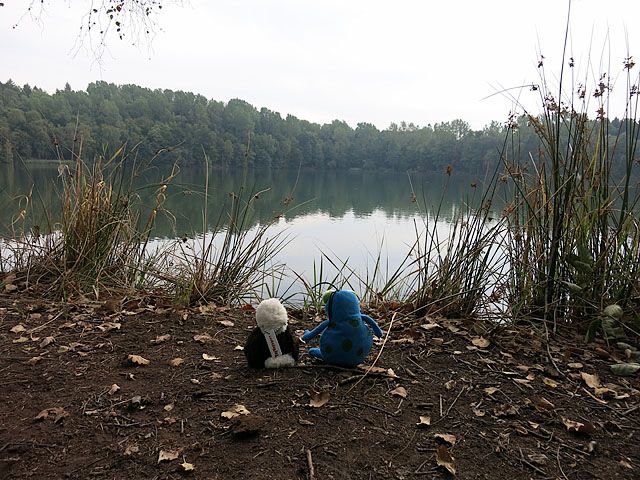 Greetings Murph
---
Hello, We went into the forest really early today. We searched a beautiful launch pad.
Freya and Landroval will fly to their next hosts. This place looked great!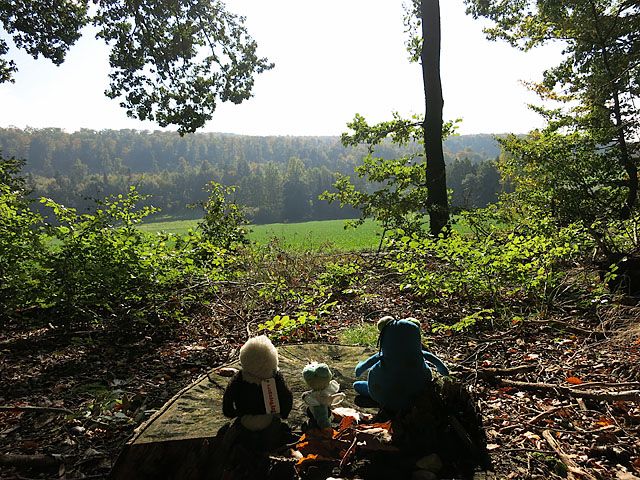 A last hug!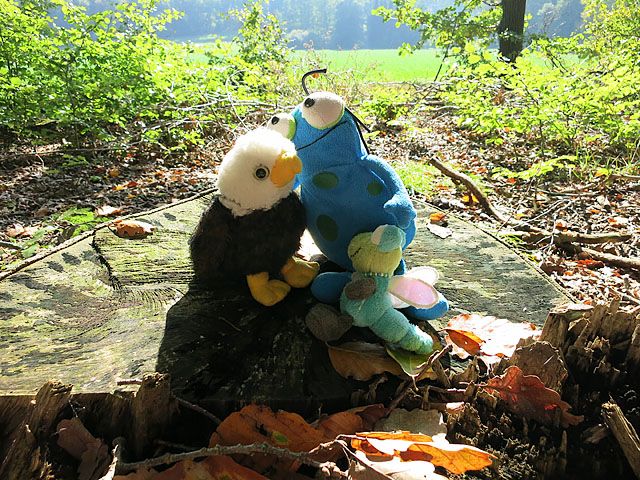 Let's go!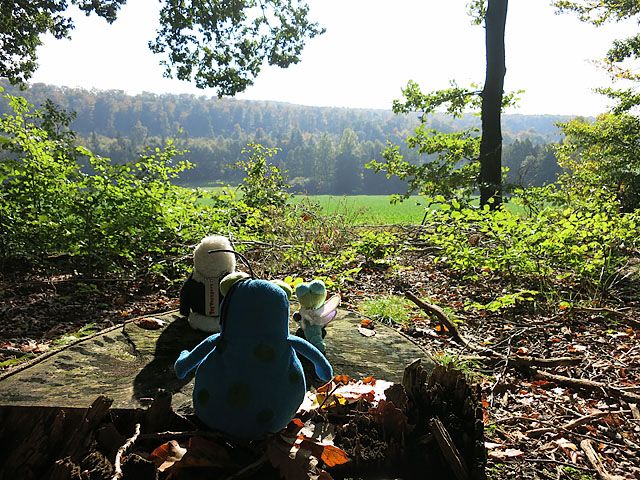 Hopefully they will arrive fast and safe!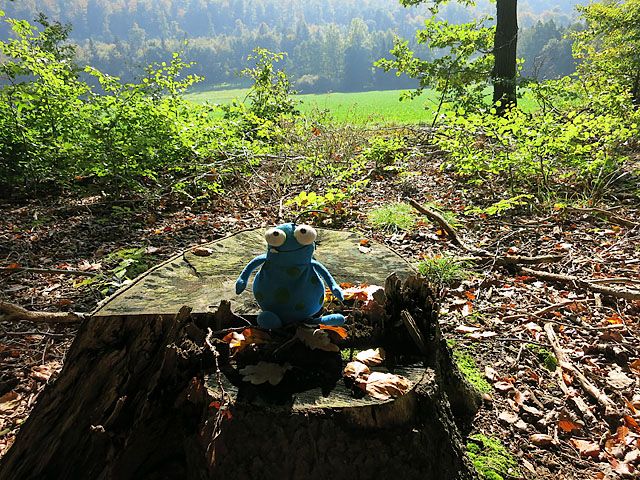 And what about me? I am alone. Murph
---
Hello, Landroval and Freya are away! I will go home.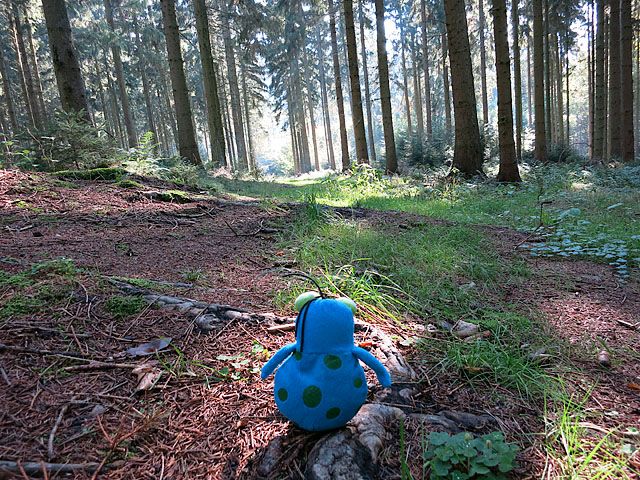 What is this? A mushroom? I will have a closer look.
Unbelievable. This was a small donkey. I know him!
I call quietly his name: LuckyHü
It was him – what a joy!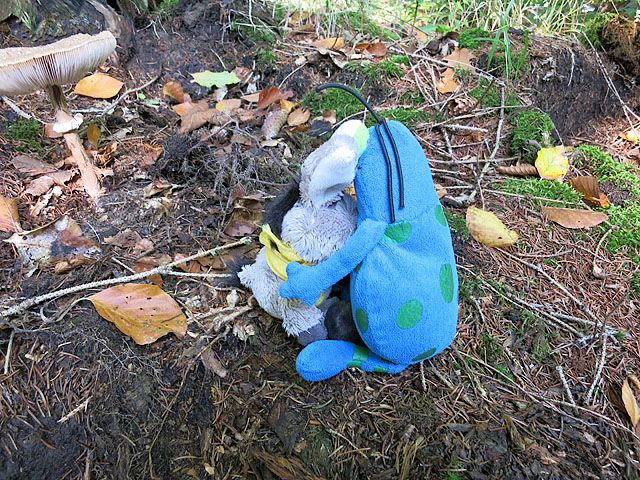 I invited him to come home with me.
On the way we surely found mushrooms.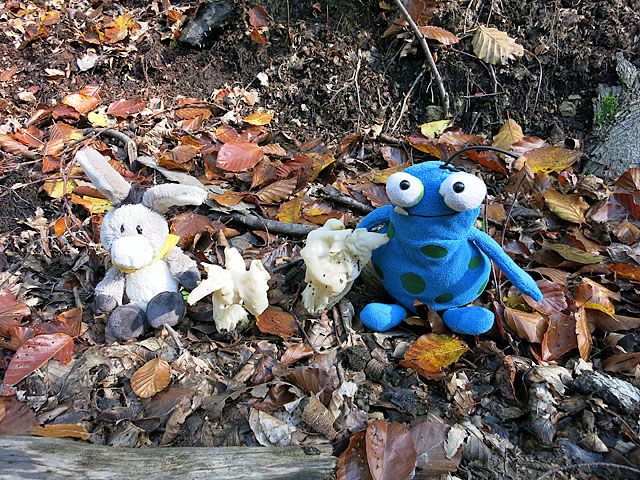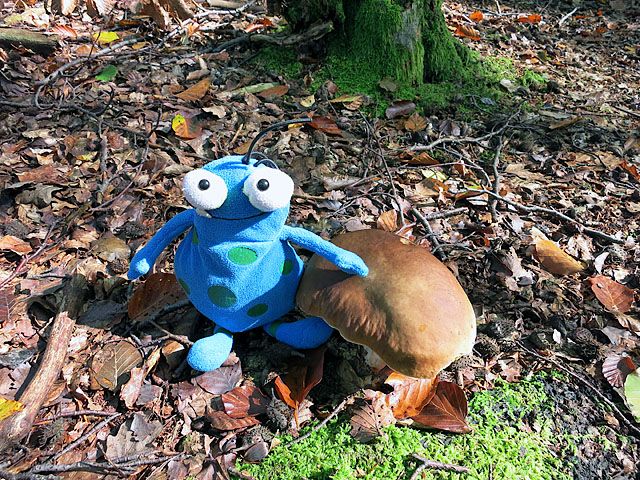 It was nice in the forest, but it was more fun with a buddy.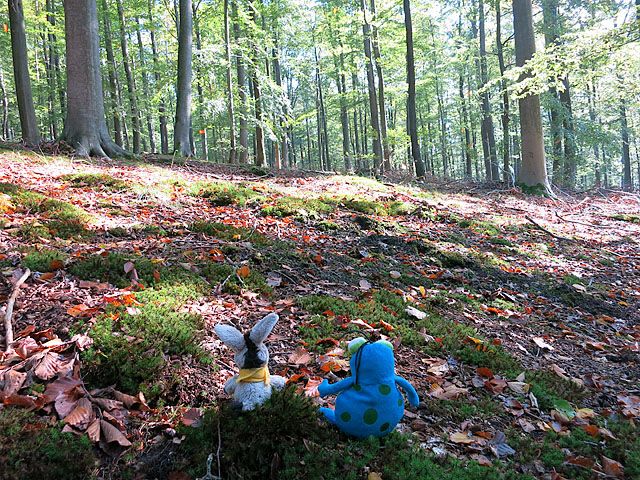 Yours Murph
---
Hello, Today we searched mushrooms on a big meadow.
But there weren't many yet. But we found some. This will be an Octopus stinkhorn soon. Looked strange, didn't it?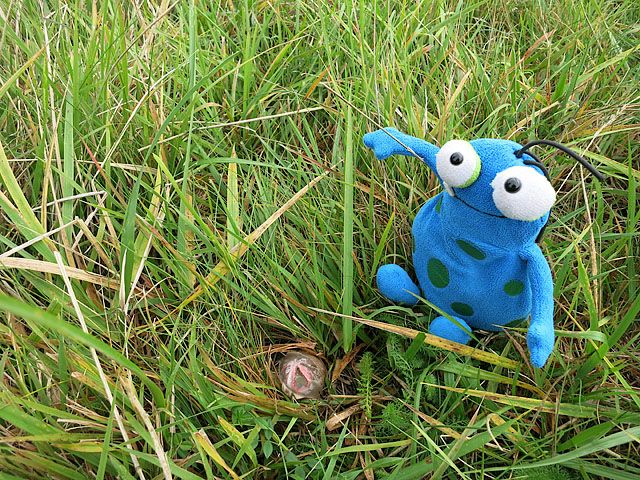 There were not many flowers anymore.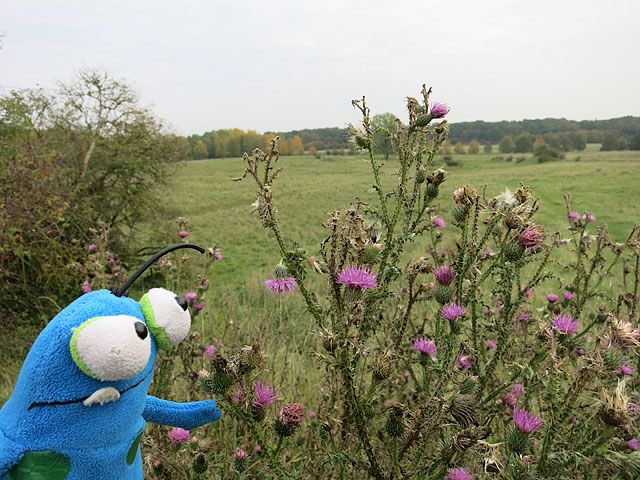 This mushroom had great colours! Orange and green.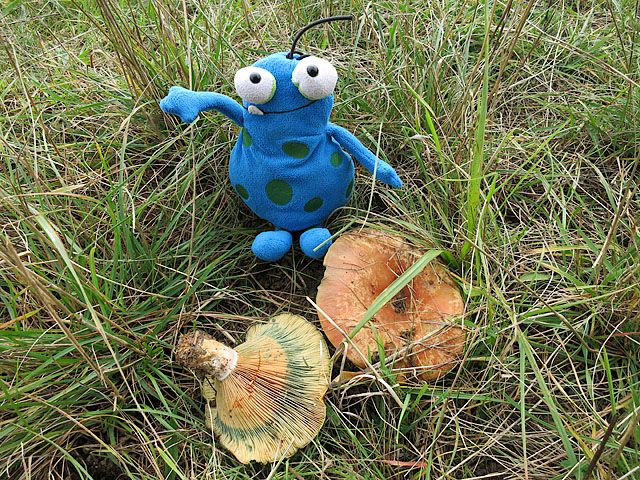 I had to have a closer look.
The trees looked wonderful – they are so colourful now!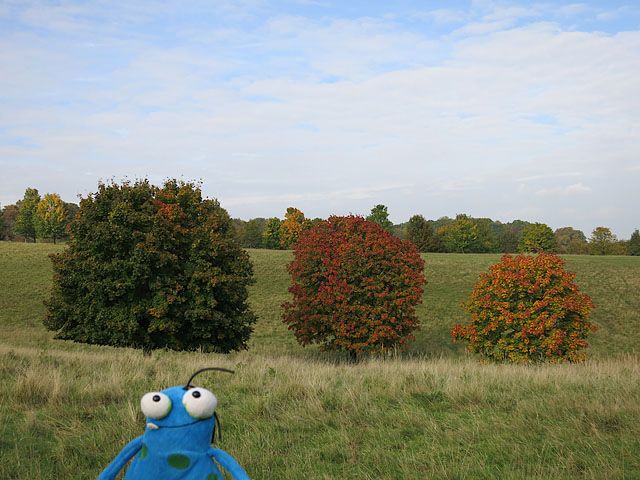 This tree was very beautiful!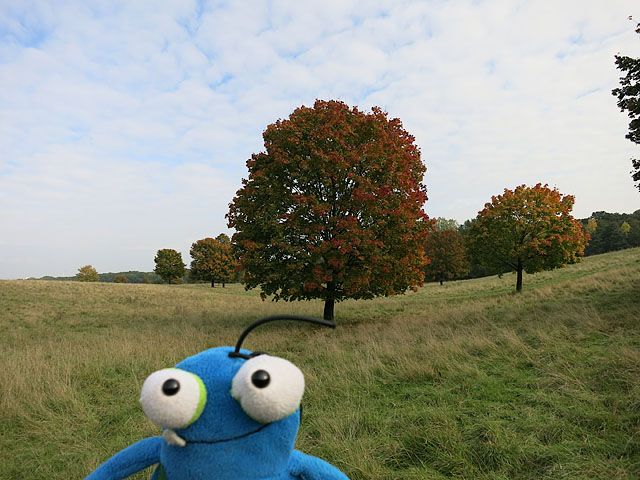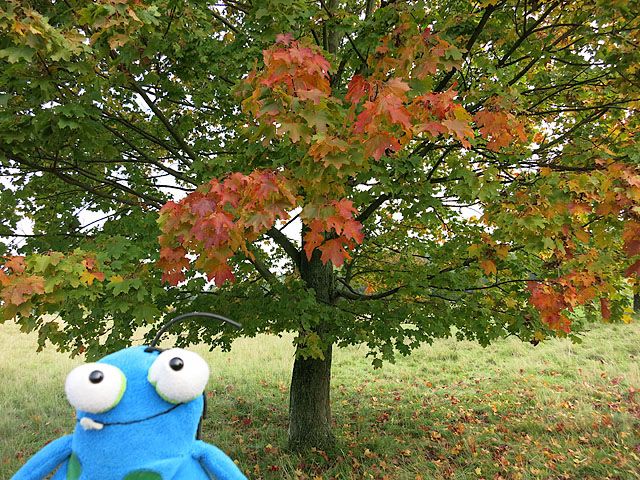 This was a special mushroom. It is growing on underground pupae of moths…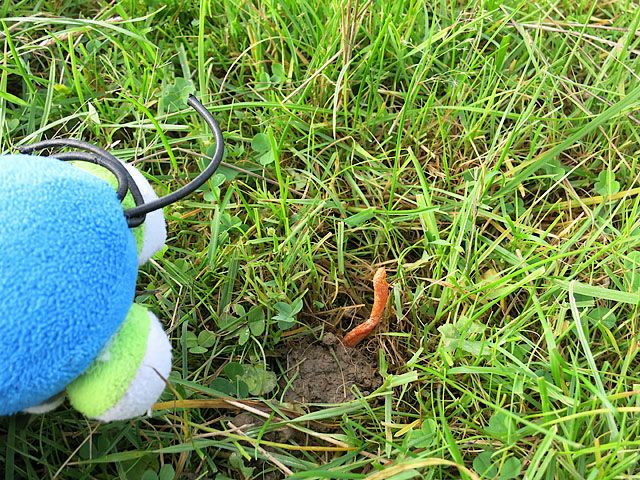 What a great walk!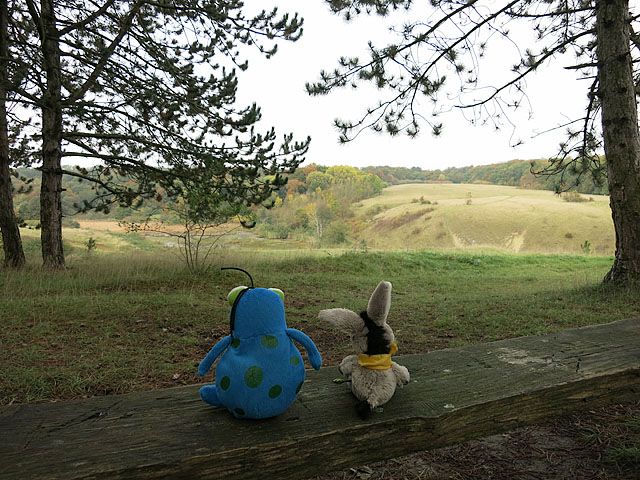 Until soon Murph
---