Hello, the snow was away – and we were able to go outside again. Today we made a trip to the midland canal.
If you have luck, there are many ships. Of course I were lucky – and I saw two ships.
Can you see, how long one ship was?
After it we went through the forest to search some mushrooms. There were some mushrooms, that grow in the winter time. This was a typical ' winter' mushroom:
It is called Velvet food and it is eatable. But there were not enough of it, I wouldn't have been full. The next 3 mushrooms were not eatable.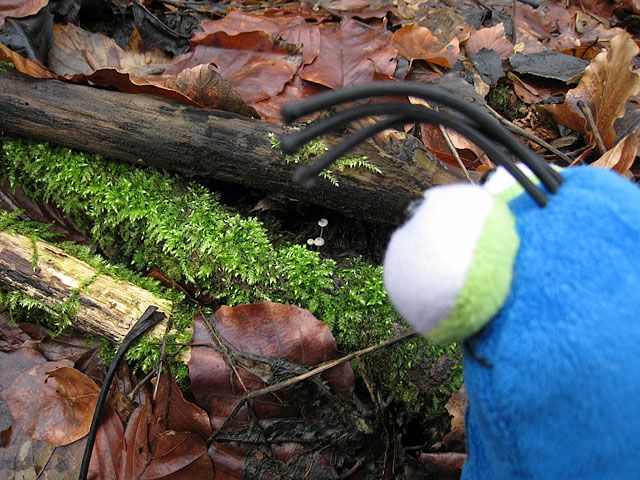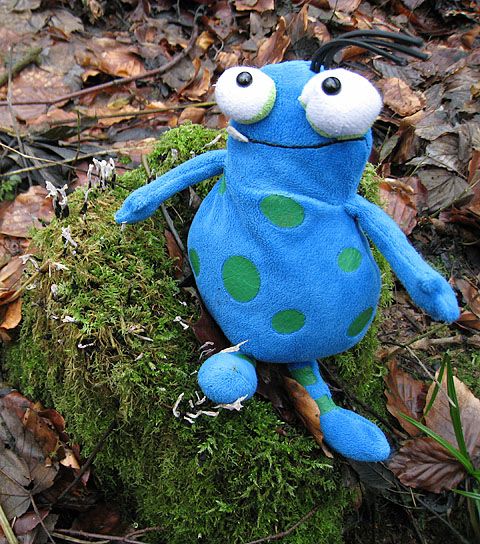 I am sure that you know these mushrooms.
The Woodear is with the name "Mu-Err" in many meals in chinese restaurants. I don't like them, but many other people do. This was all for today – I will show you more of the winter mushrooms soon. Many greetings Murph
---
Hi, yesterday and tonight it was very foggy outside. But today it was sunny – and we made a walk through the wonderful white landscape. All trees were full of white spikes.
The spikes looked really dangerous.
Wasn't this all wonderful?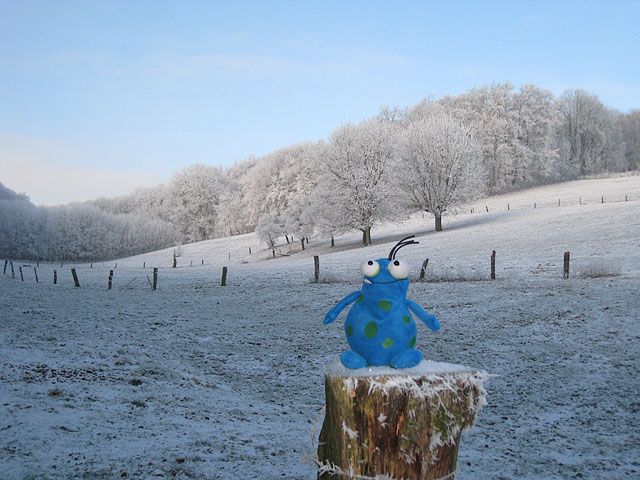 Even the flowers of the last year looked really beautiful again.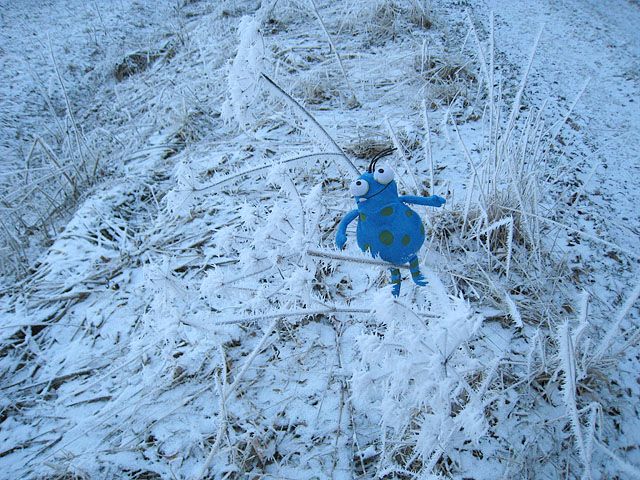 But it was horrible cold – so we went home and made a punch.
I felt really warm after it – and it was so delicious. I wanted more but HoBi didn't gave me more.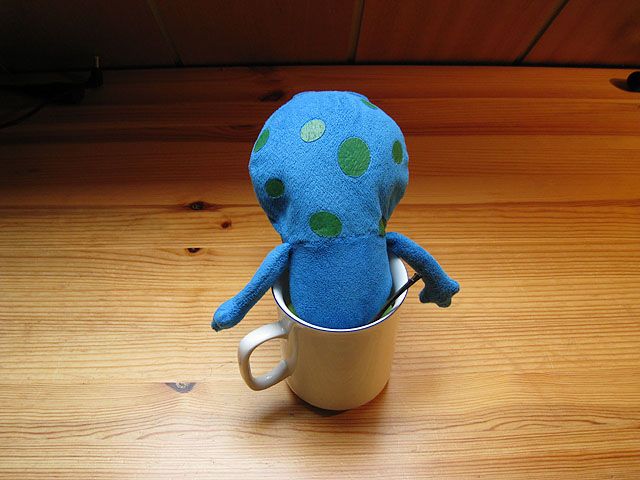 Can you understand it? Happy Greetings Murph
---
Hello, As you know I am an expert for mushrooms now. This mushroom was named after me.
It is the langstielige Murphling, cool, isn't it? Now to the real mushrooms. Today we found two wonderful mushrooms.
I know this one – it is the Scarlet Elf Cup. Very beautiful and really rare. Then we found this :
Black mushrooms – there are only three kinds of black ones. I had to take it with me.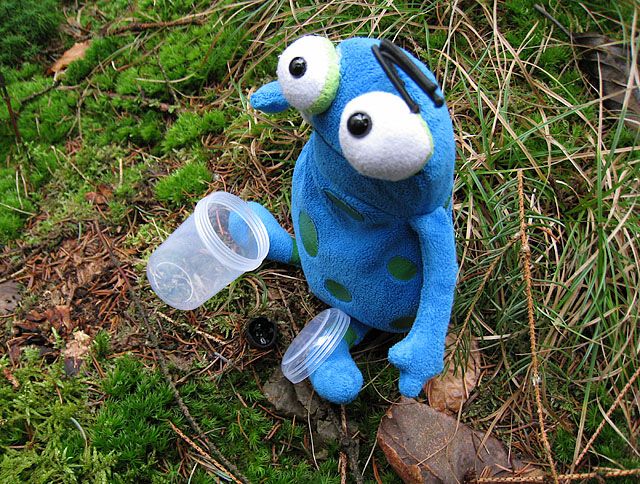 So I put it into this nice little box.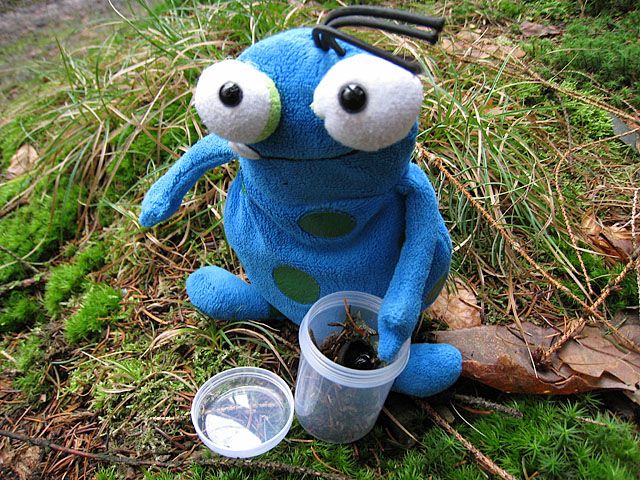 I had to examine it under the microscope. Therefore I take a very small piece of it on a needle.
I put the piece onto a microscope slide.
Now I can see all with the help of the microscope.
Then I compared it with my book.
It is the Hairy Black Cup. A lot of work for finding the name of a mushroom – but I have a lot of fun. Bye Murph
---
Hello, today I went out to find the Spring – and I found it. Because I know that you really love flowers – I wanted to show you the nicest flowers we found. Look – aren't they beautiful? Some snowdrops...
...winter aconites...
… these here are really small but so beautiful – butterburs.
These flowers are rare here in my part of Germany - spring snowflake.
The next two flowers came that early only because I asked them, of course. Here they are : the lungwort flower and
the cowslip.
HoBi told me, that this forest will be very colorful in the next weeks – everywhere there will be lots of flowers in different colors. They promised to come here again, and I will show them to you and the rest of the World then. I hope you liked the flowers. Many Greetings Murph
---
Hello , Today we went into the forest to search for bear's garlic. At the beginning I found something really interesting – I have to show it to you. Do you know this animal?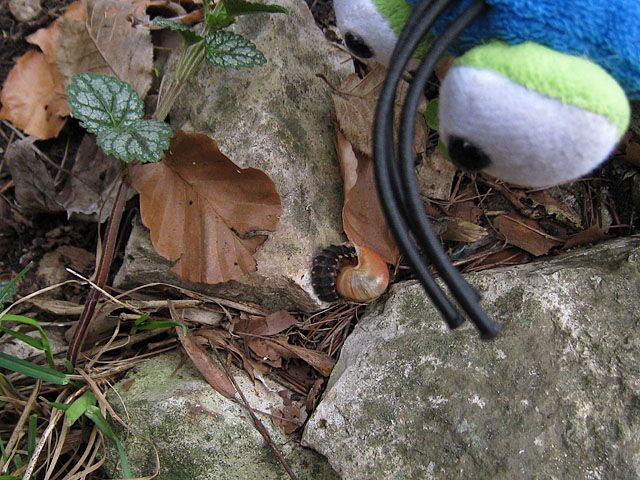 It was the larva of a glow worm. It ate the snail in her home. Great, isn't it? Hey we found some bear's garlic. :D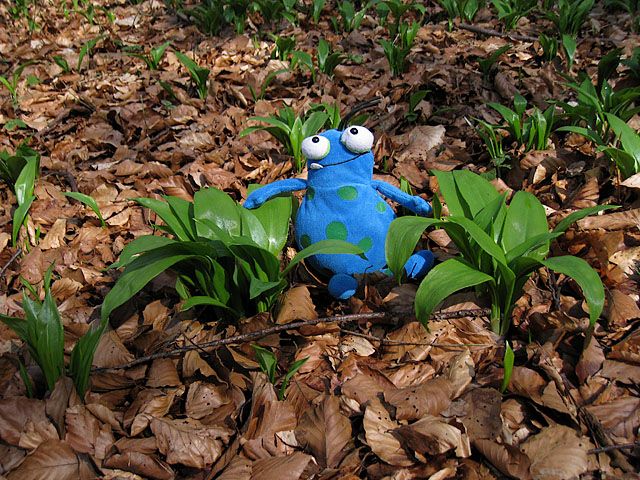 It smells like normal garlic and is really yummy. I had to cut it.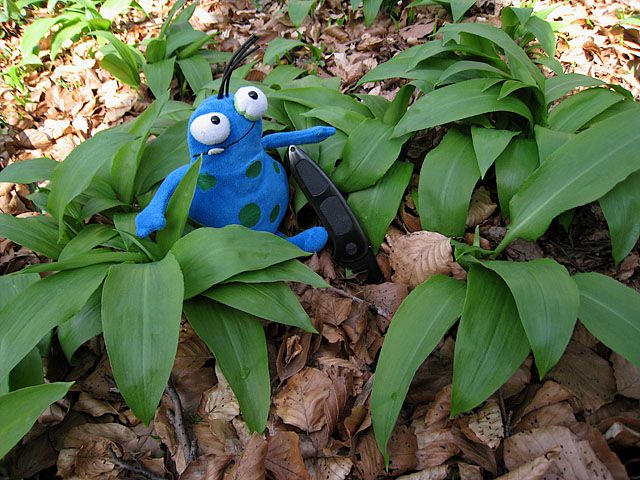 Well done, the bag was full. This should be enough.
We went home and I washed the bear's garlic.
And then we made a delicious pizza with the bear's garlic.
I put the pizza into the stove.
It looked great!!! Many greetings Murph
---
Hello, today I had a nice visitor – it was an Alien out of another solar system near to Hannover. We made a walk together to find some Morels. Here you can see a suspicious little hill. My buddy Zugly told me, that I was a fool – there is no mushroom under it.
But I started to put the leaves and the branches away.
Well –there was one – and there another one!
I found one more!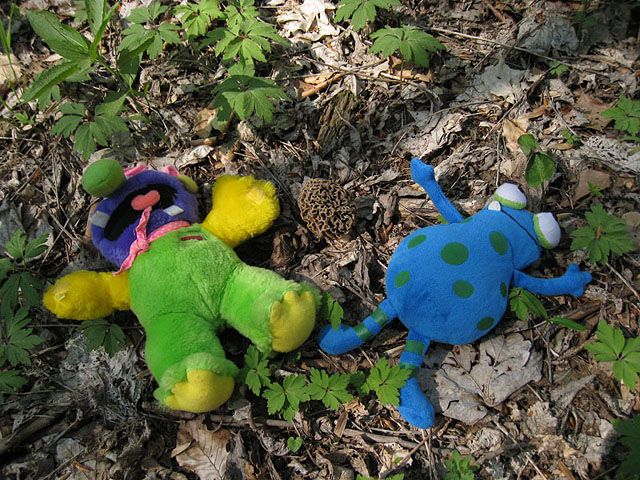 How wonderful was this? We were so happy – what a discovery! Later we had our baskets full and said goodbye to each other.
This was a wonderful day. Zugly was really happy and was looking forward to a delicious Morel-Dinner. Just as I do. Many greetings Murph
---
Hello, Finally Ulrich arrived. He was in the envelope for such a long time – so he was very inflexible and not able to move. We drove really fast into the forest, so he was able to relax. Bine told me to put him into the sunshine, then he will be able to move again. This is normal for snakes. We found a very beautiful place for him – and I looked at these wonderful flowers and waited.
Ulrich was fit soon – so I showed him the blossoms of the bear's garlic
We found a really cosy place in the basket- and Bine carried us.
This was the first mushroom.
It was a Dryads saddle. I wanted to show Ulrich some Orchids and I found some.
These were the mushrooms I wanted to pick with Ulrich in the last weeks, but he came too late.
Now they were old and dry. Fortunately we found something for our dinner. Very delicious St. Georg's mushrooms.
We cut them and put them into our basket.
It looked really yummy. Ulrich seems to be a friendly guy – he is able to climb onto trees. I am sure that we will have a lot of fun together. Bye Murph
---
Hello, I went into the forest with Ulrich again.
Maybe we will find more mushrooms.
I think that Ulrich found something – there at the tree!
He was away!
I wanted to see it, too.
These were phoenix mushrooms. They are really yummy. Before we continued our walk, we made a rest next to this little river.
When we looked from this tower – we surely would find more mushrooms!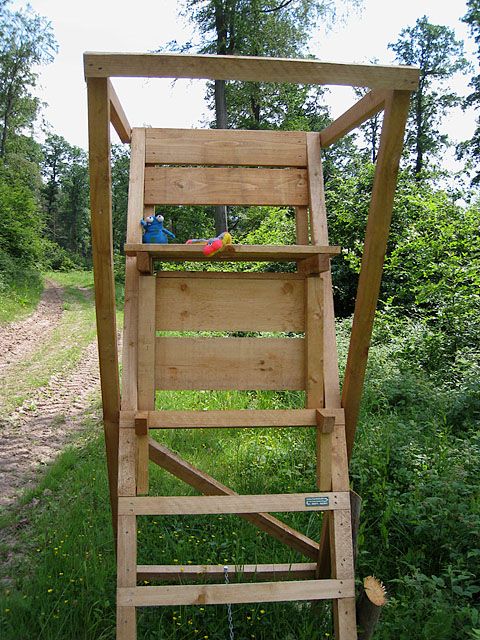 I found this wonderful flower.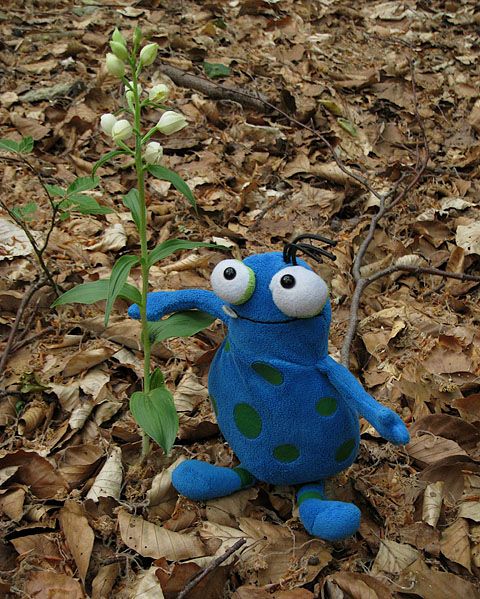 It is the white helleborine. At the end of our walk we relaxed on this really beautiful bench.
Many greetings Murph
---
Hello, Today I visited friends of mushrooms in Schleswig-Holstein. I found a great place in the car – so we were able to start the trip.
Around Hamburg the streets were very full.
There was a traffic jam in Front of the Elbtunnel. The Elbtunnel is a tunnel under the big river Elbe. I didn't want to stand on the highway for a long time – maybe I find a better way.
Unfortunately there was no other better way – so we had to use the tunnel.
It was so boring!!!
We needed about an hour for the tunnel – and it is not really long. Then we reached our goal.
Wasn't it beautiful?
I found a wonderful yellow mushroom. My other friends found more mushrooms, but I was too lazy to walk around. And near to me were many other interesting things. This wonderful flower!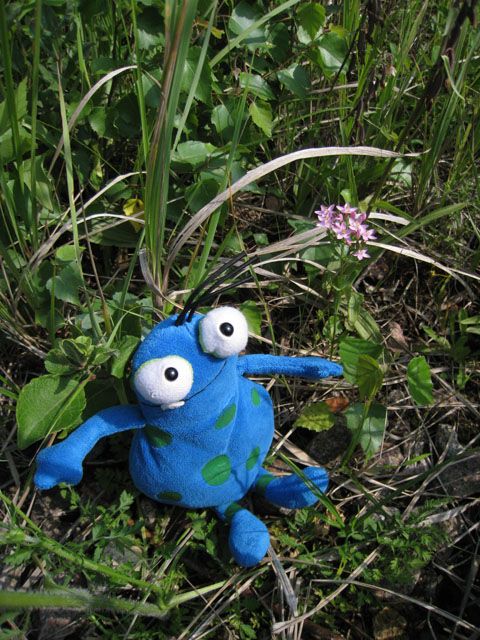 Do you know this?
It is a Robin's pincushion. The larvas of gall wasps live in it. It was time to learn something. On this sign they explained, how the sea and the swamp were formed. Really interesting!
This wonderful flower is an evening primrose.
And this one hurts, if you touch it.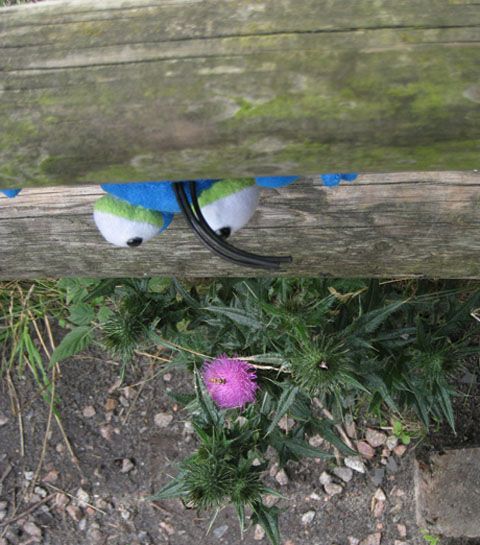 I think that this measuring worm looks really funny!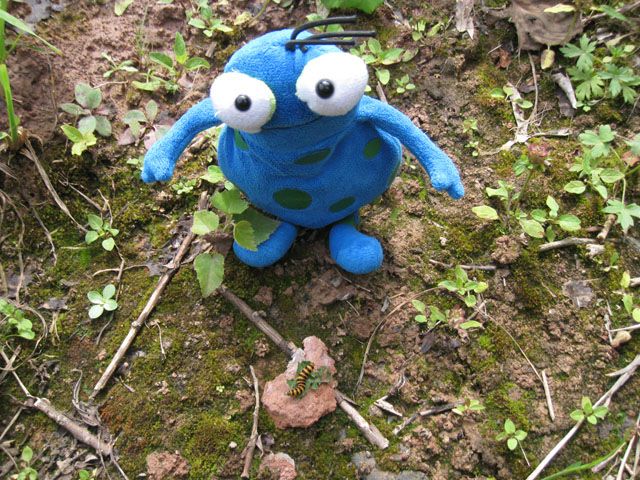 I really loved it to be here.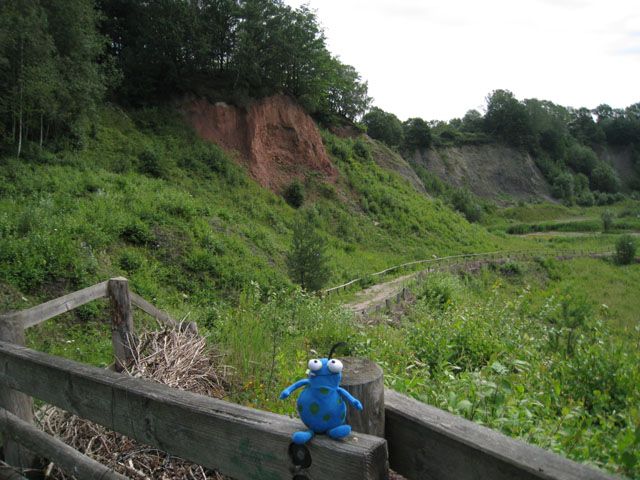 What a wonderful region! I would love to be here more often, but there is the awful tunnel. Many greetings Murph
---
Hi, tomorrow Mirembe will travel to Essen. But today we wanted to go into the forest with. We wanted to search mushrooms. Then this happened! The sky was very dark – it looked like some rain soon.
But we really wanted to go into the forest. We asked Bine, if she would allow us to go. She thought about it – then she had the great idea! Bine had rain capes for us.
So we were able to start!
And we found wonderful mushrooms. A beefsteak fungus.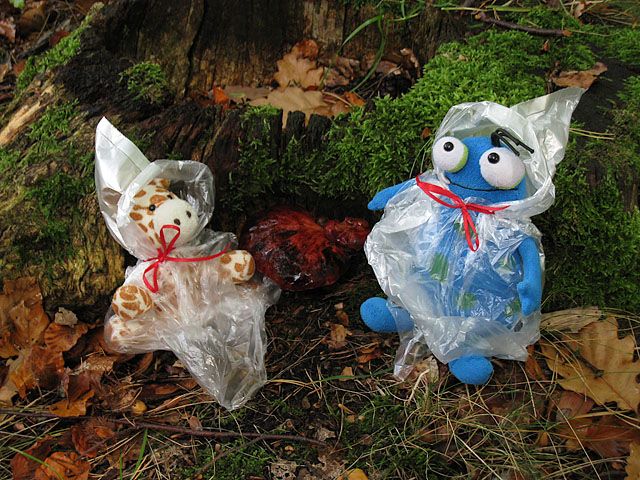 and a famous Maitake – Hen oft he woods
Here we had a short rest.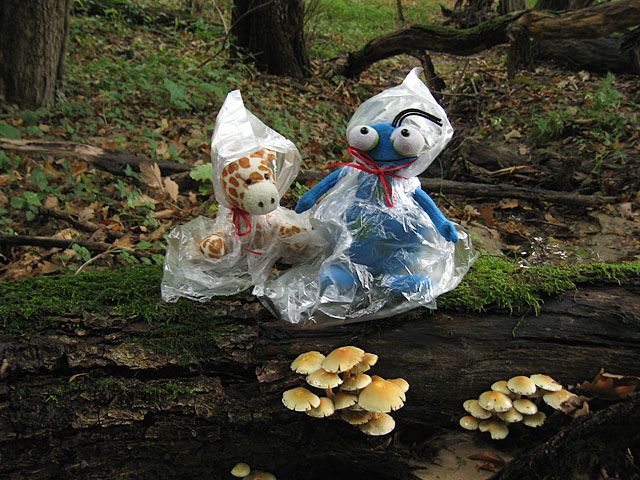 We found this wonderful red mushroom. Wasn't it beautiful? It was a Conical wax cap.
On the way home we had sunshine....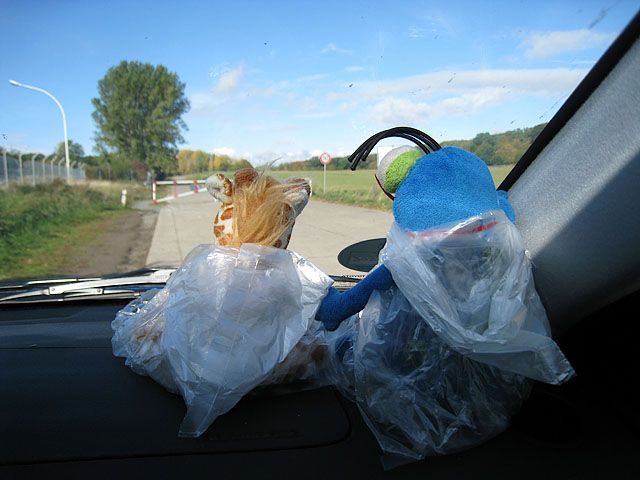 At home we searched for a nice postcard for Mirembe.
Love Murph
---
Hello, it was a wonderful fall day today. So I went into the forest. Wasn't it beautiful?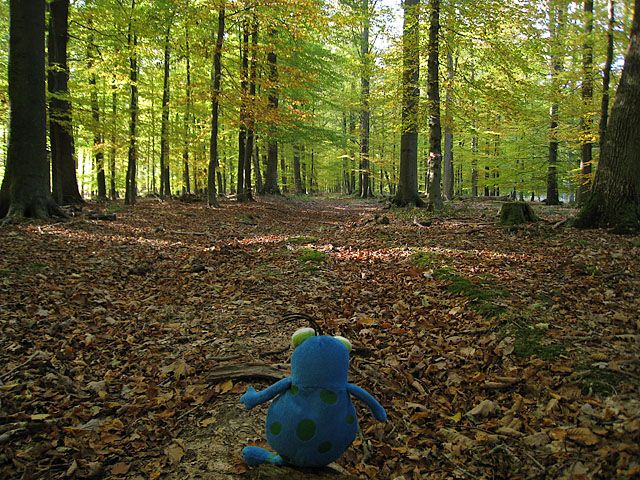 Of course I searched for mushrooms – and I found these wonderful earthstars.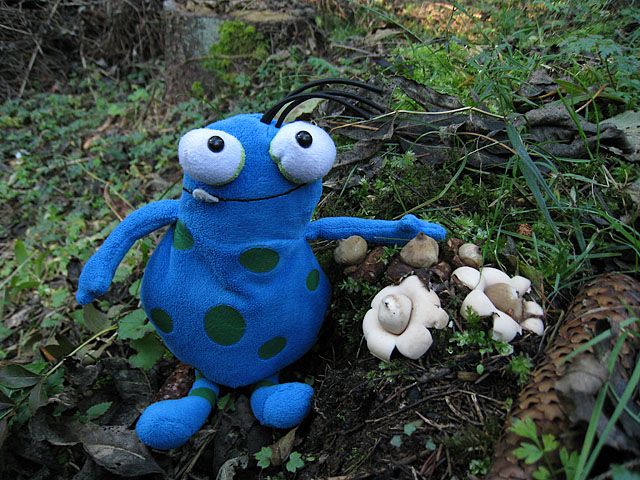 And I found my dinner – an bay bolete.
This fly agaric was surely not something to eat.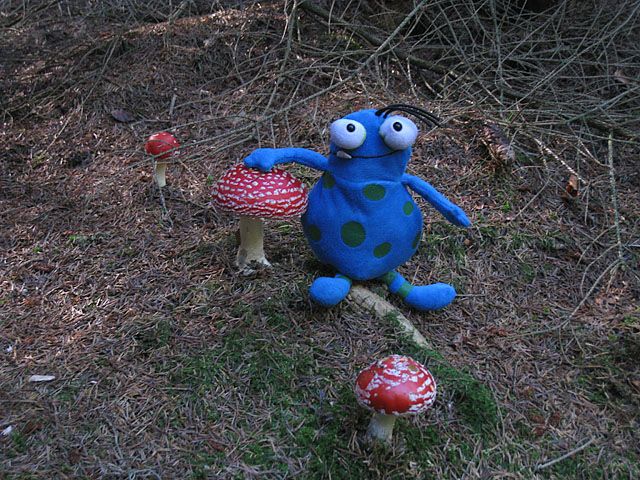 At some places it was really cold.
On my way back I found this wonderful old bridge.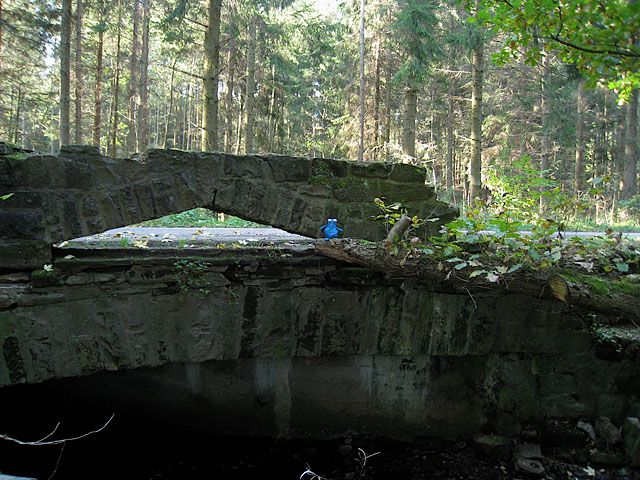 There were this sign – world heritage site. :D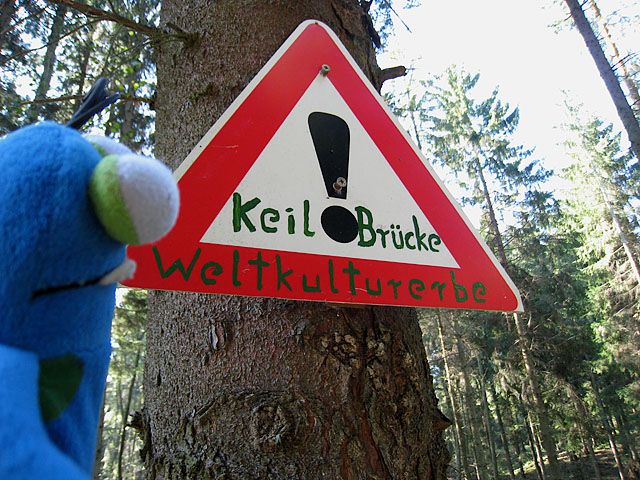 It was a great walk in the forest.
many greetings Murph
---
Hello, This weekend I made an excursion and met some friends. We wanted to find mushrooms. This was our hotel.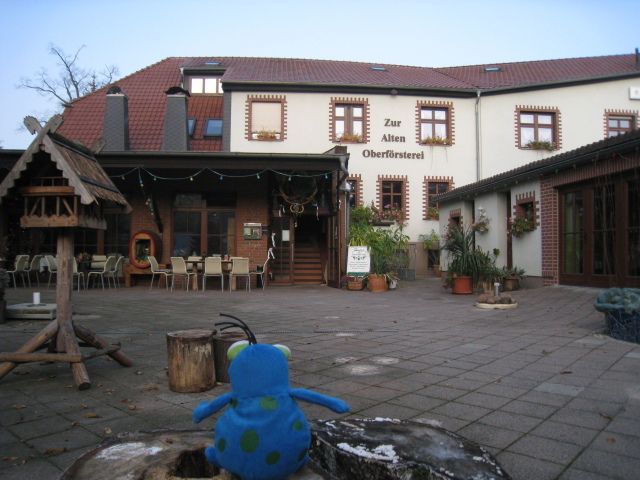 There were some beautiful things in front of the hotel. I wanted to take this house with me, because I wanted to live in it. But it was too big for Bine's car.
I never saw a funny automat like this before.
The garden was very beautiful.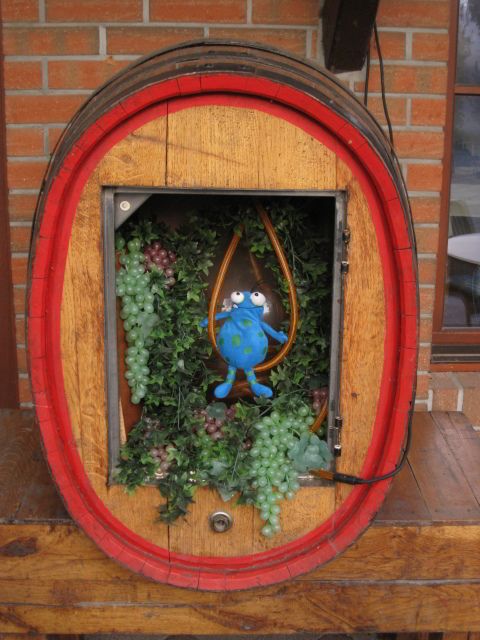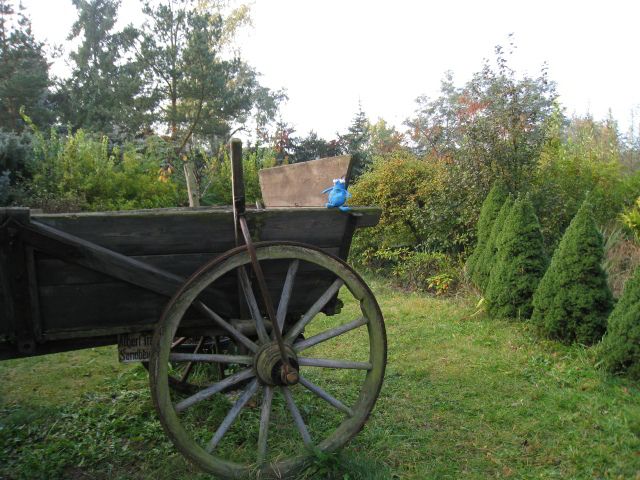 I had a good breakfast.
Then we started to search mushrooms. My friends were so busy!
I started the day – having a look around.
But of course I found some mushrooms.
My friends at work…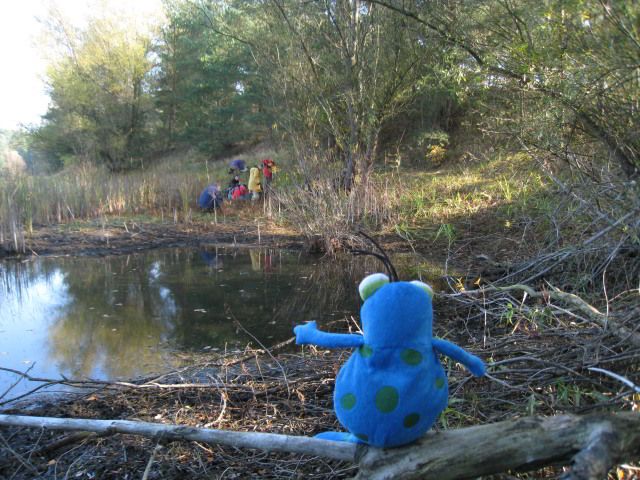 At this point we started our way onto the Dune.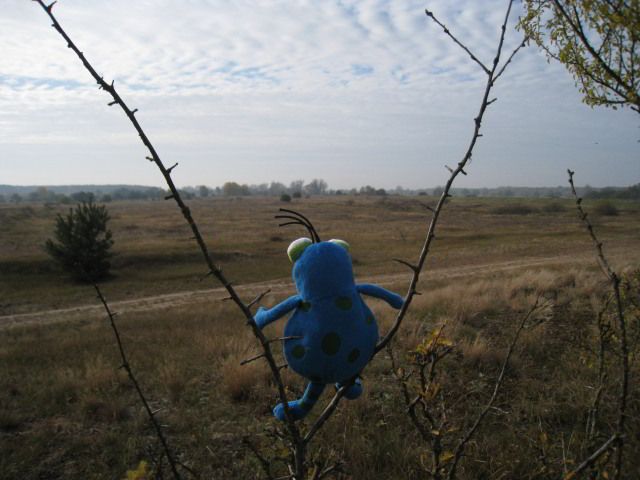 Here I am on the top. Can you see me?
Then I went to the Elbe River.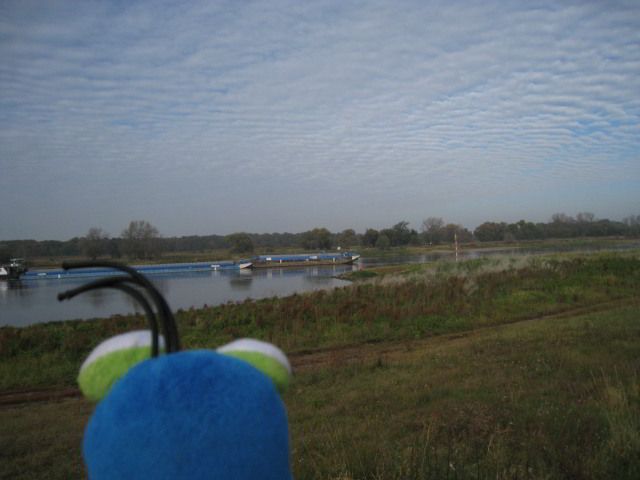 And I found mussels!
It was a wonderful weekend in a beautiful region of Germany. Many greetings Murph
---
Hello, today I was allowed to open a gift out of the Advent Calendar.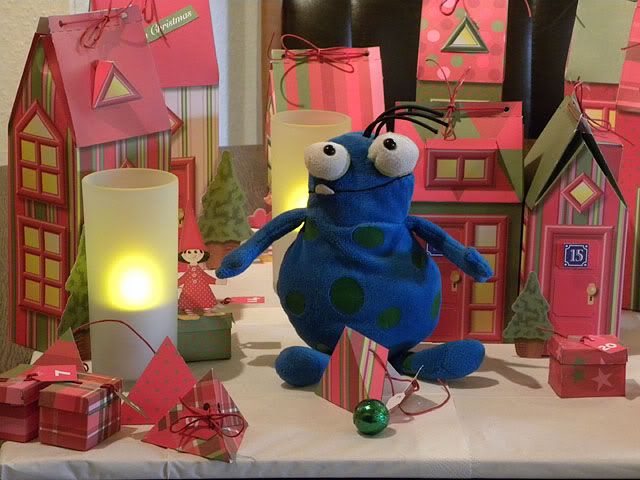 Today we went into the forest. We searched Mushrooms. First we found a lilac mushroom.
This one was eatable.
The mushroom was a wood blewit. We loved this too, it is called hair ice.
Unfortunately these mushrooms were frozen.
Oyster mushroom, really yummy! This big mushroom is eatable, too.
This is a trooping funnel mushroom. Sadly it was too big for our basket.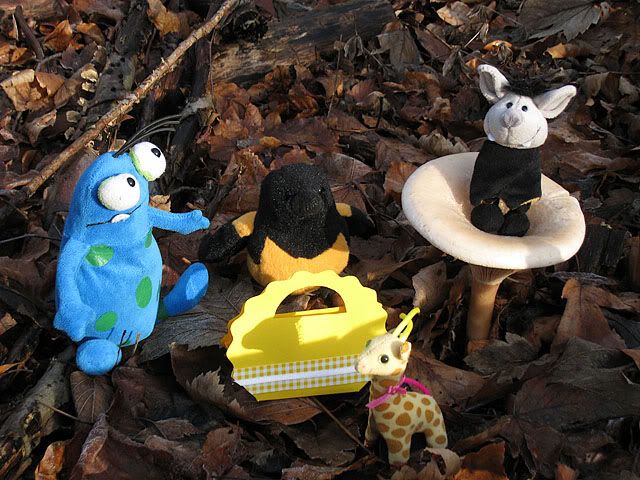 There were many of these mushrooms.
We searched for these mushrooms, but they were too small.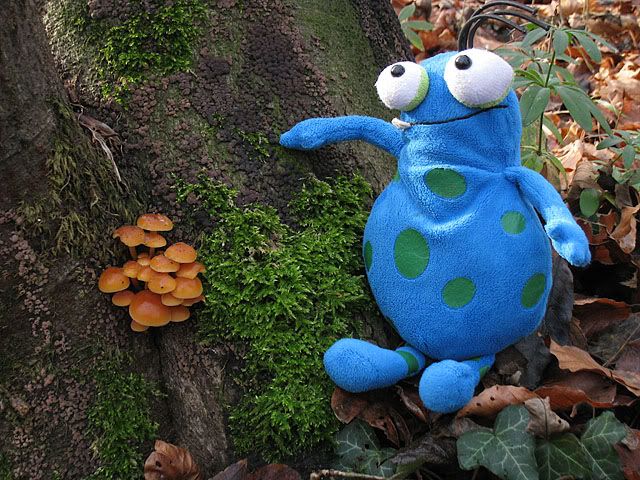 Their name is velvet foot. We found bigger ones.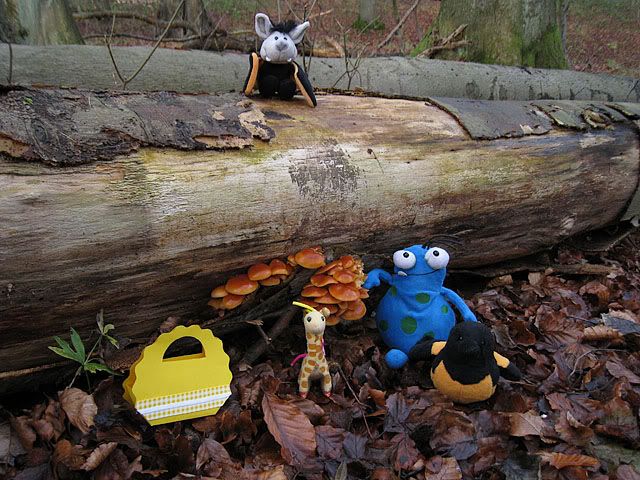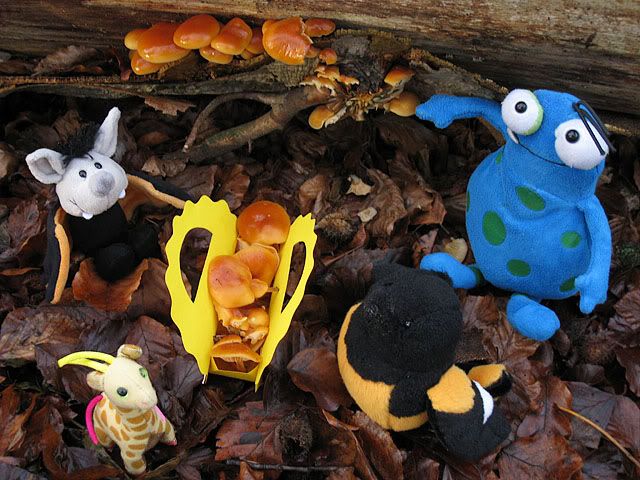 Then we went home with our full basket.
What a wonderful day in the forest. Many greetings Murph
---