01.02.2014 - Hildesheim
Hello Dicker Kumpel, Finally I went to a darts tournament. You told me so much about it. And today I wanted to celebrate it, too - and many people with me.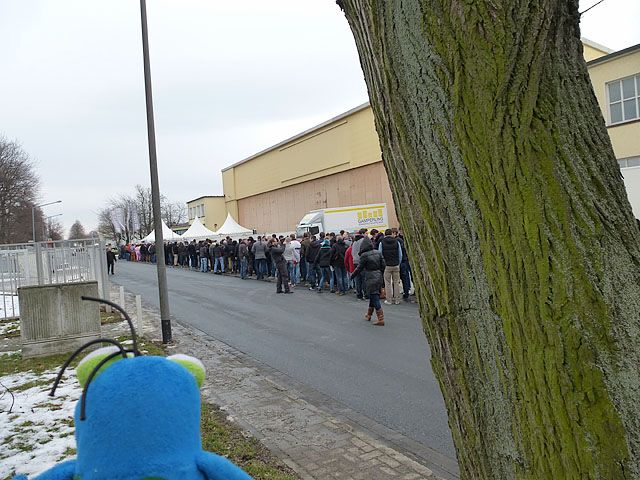 Unfortunately the photos are not that good, because it was very dark inside the hall.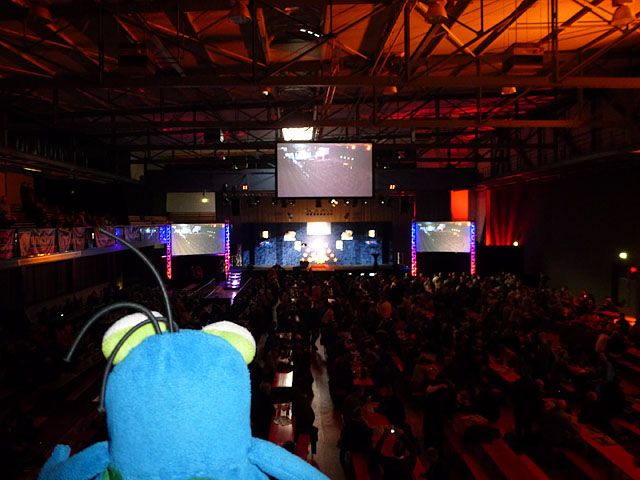 Now I have my own sign – just like you.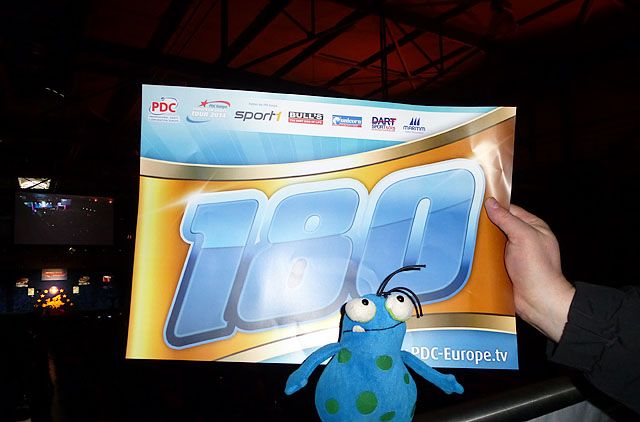 Shortly it will start – I was so excited!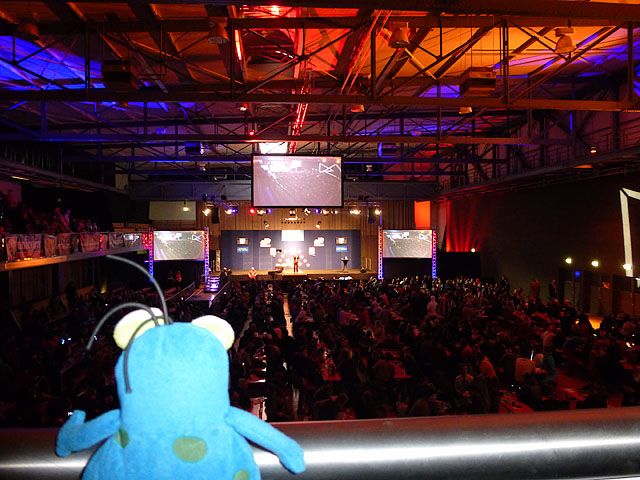 Then my favourite played.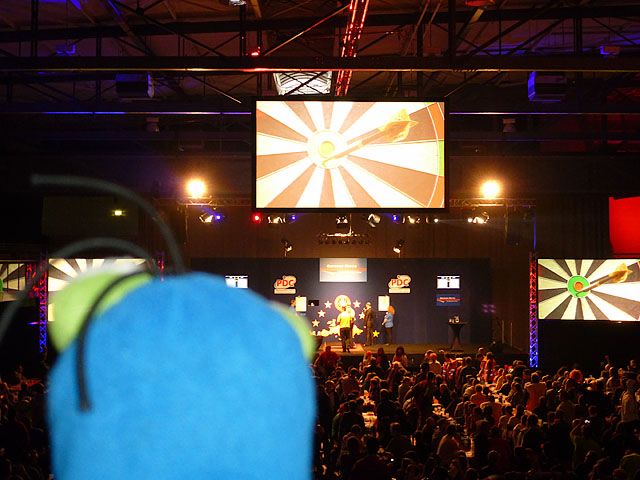 He won the match, but not the tournament. But I didn't care…
What a fascinating day! Your friend Murph
---
23.02.2014 - Wohldenberg
Hello, we had to take a trip because of the wonderful sunshine. First I found these winter aconites.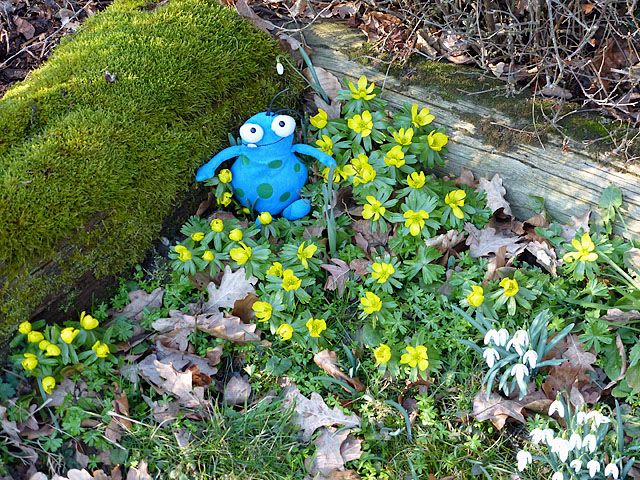 Unfortunately you cannot read this sign, it explains a special forest – the "Hutewald".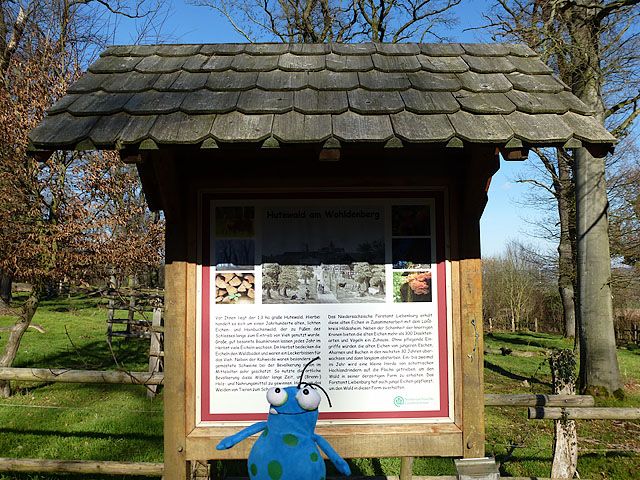 There are many very old oaks. Cows are grazing here 1-2 times a year, because the oaks need enough light for growing. Unfortunately the cows were not here today.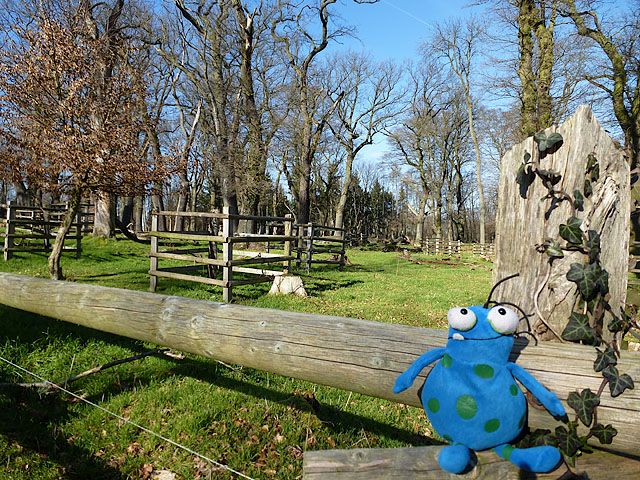 This was a small part of the "Wohldenberg" Castle.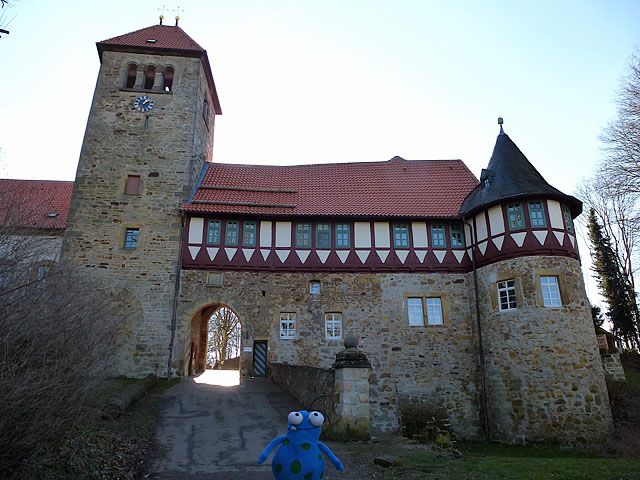 On this photo you can see how big it was in the past.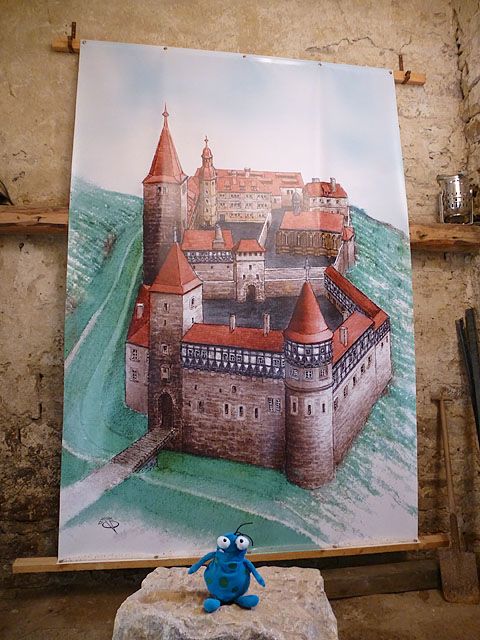 We found many snowdrops in the garden.
From this look-out you can see the Harz Mountains, but it was closed in the winter.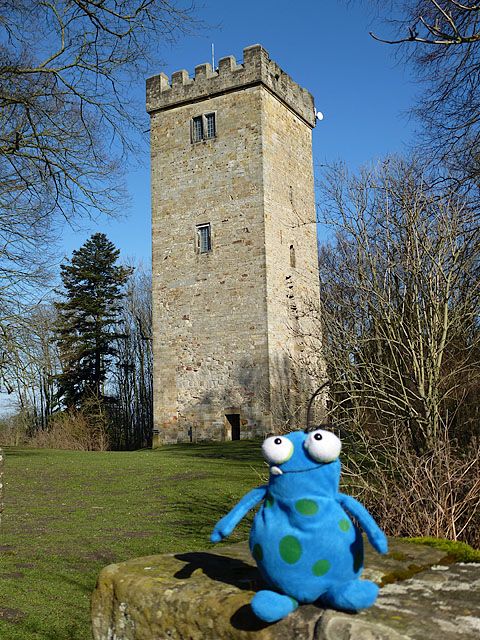 The Castle stood on wonderful rocks.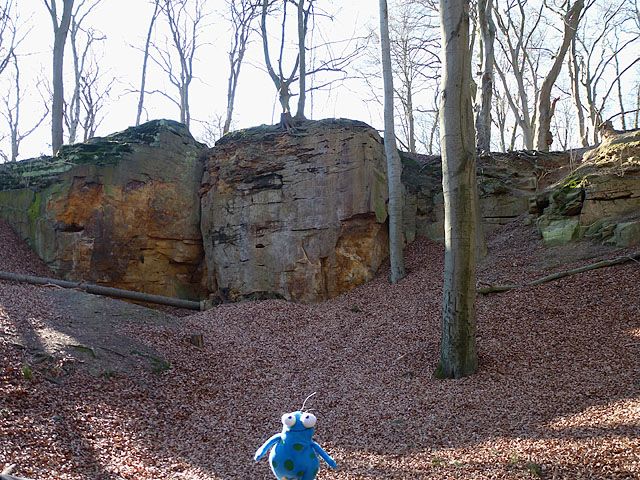 And the trees grow directly on the rocks, too. The roots look great, don't they?
Of course you don't have a walk with me without a mushroom. This one is very rare – and looks like a mosaic.
It was great to sit in the sunshine! Until soon Murph
---
02.03.2014 - Winzenburg
Hello, today we went to a holy spring. Many people take water from it. It should help against sicknesses.# This was the main spring.
The water was so bright!
Here you see 2 other springs – coming directly out of the hill.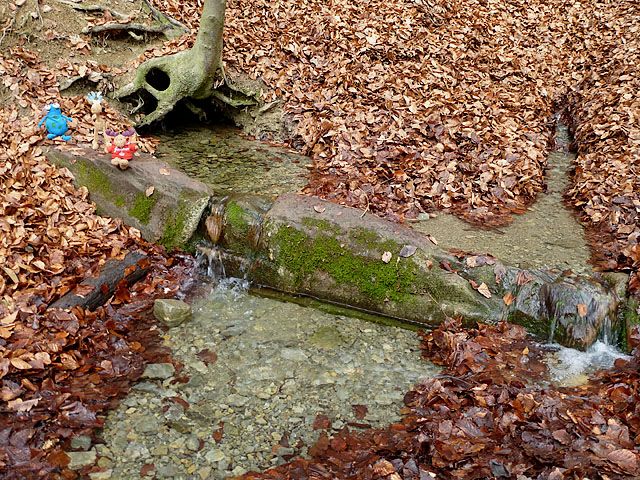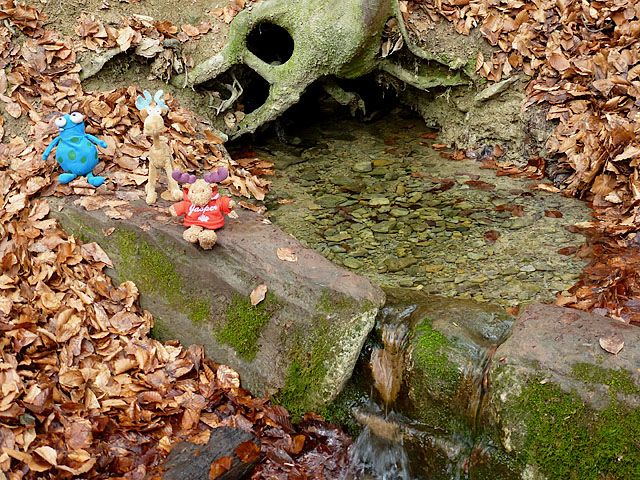 There was a small altar next to the spring. People sacrifices things here, and hope that the spring never stops.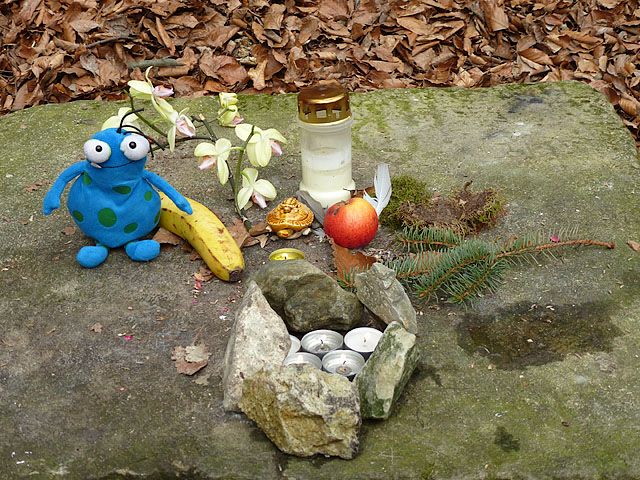 Then we went into the forest to search the spring. And we found some flowers. This was amazing! But look: sweet violets
A spring snowflake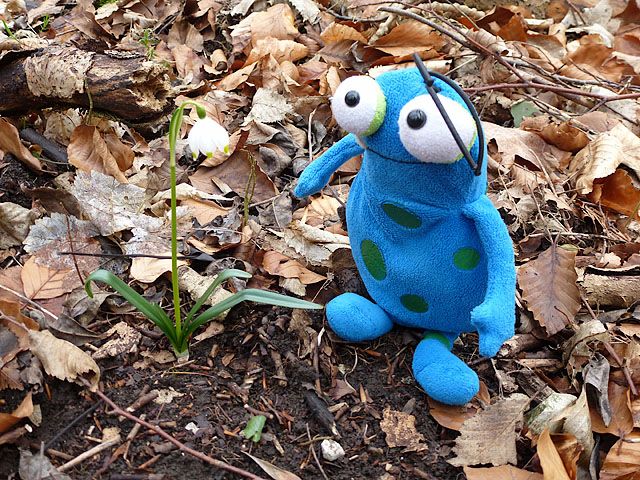 The orchids didn't bloom yet.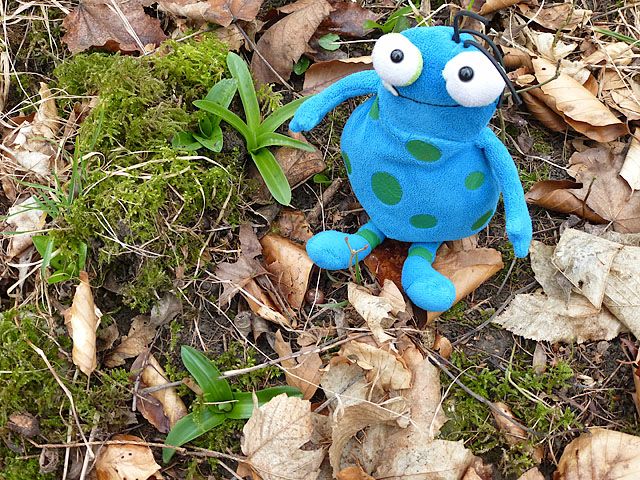 Another flower: daphne mezereum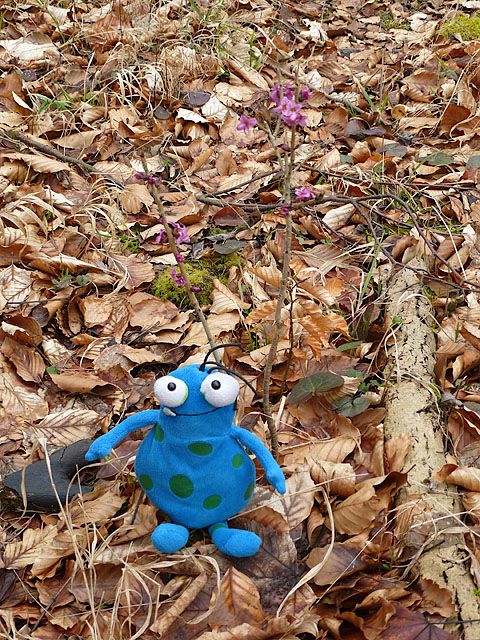 Wow - the bear's garlic is really tall. We can go and collect it in 2 weeks.
Greetings Murph
---
08.03.2014 - Salzgitter
Hello, we visited a ruin today.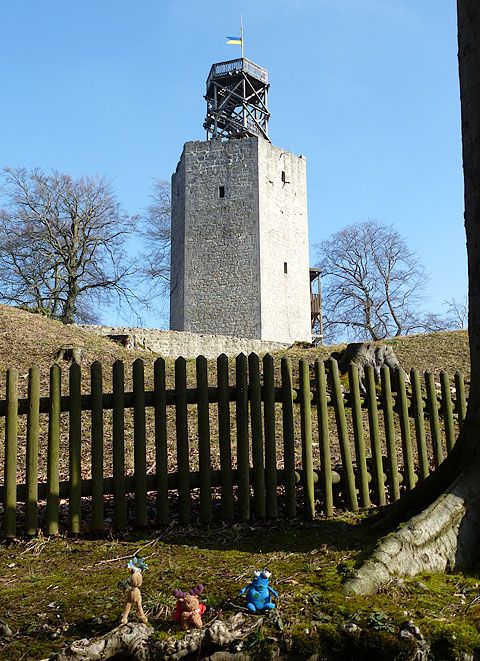 The walls of the gate were very thick.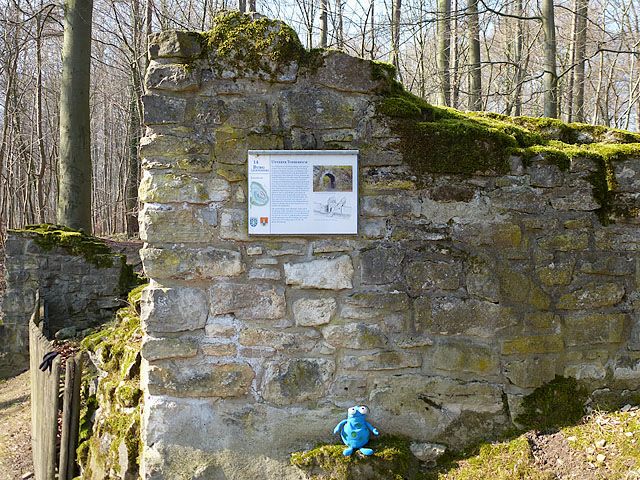 This catapult was really huge.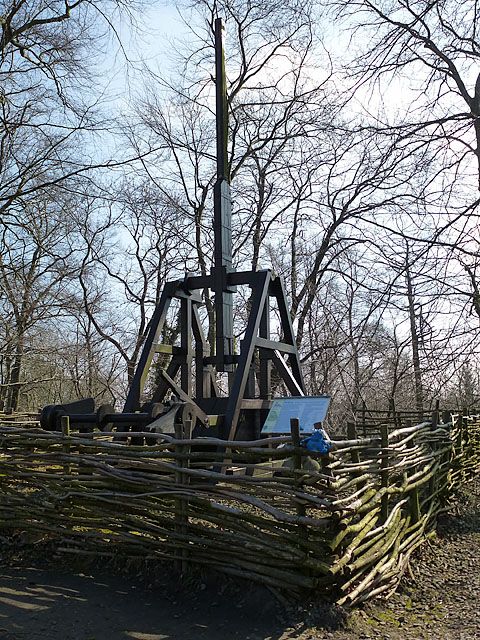 We had a great view from the wall. It was the garden of the castle.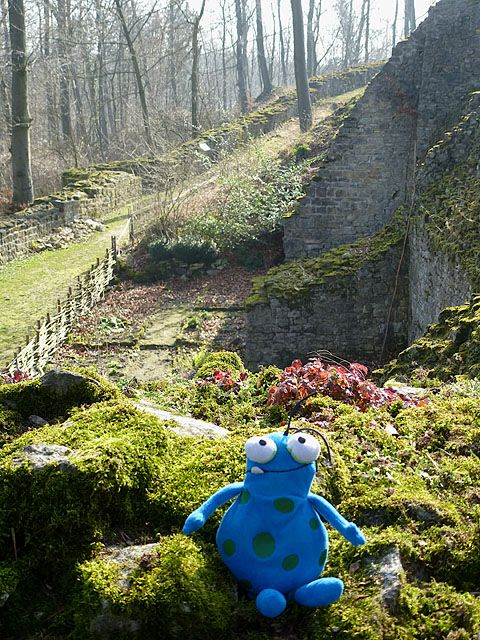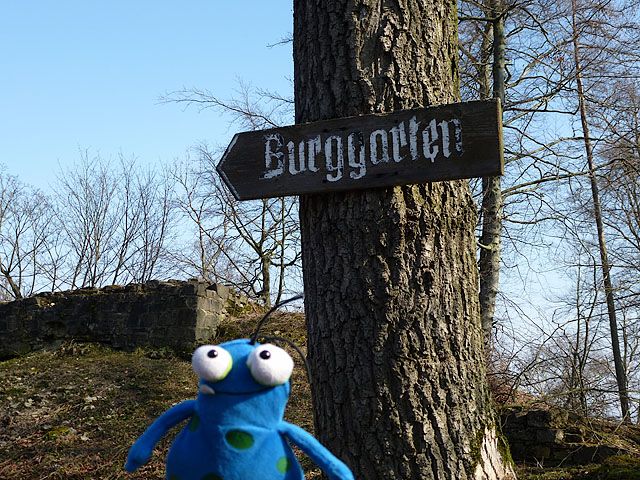 You won't believe. The people had a heating in the past. The thing with the holes was the heating.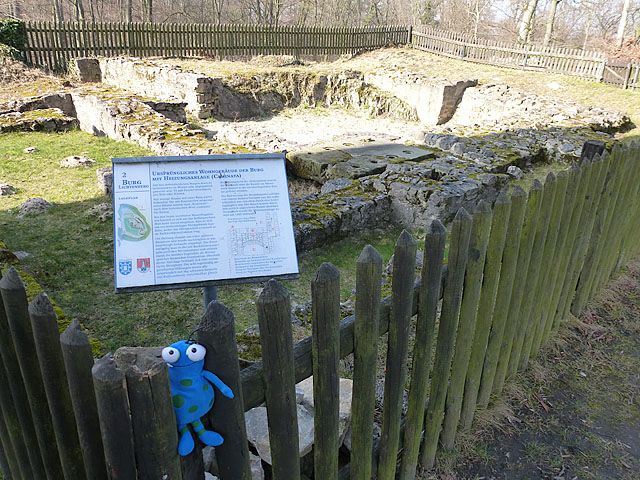 This was exciting. Stones like these hold the drawbridge.
There was a nice view from the tower over the ruin.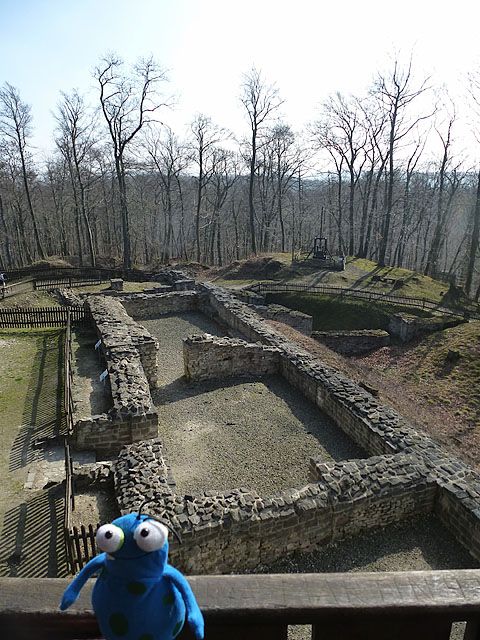 Yours Murph
---
09.03.2014 - Salzgitter
Hello, Today we had beautiful weather. We walked around a big lake. There is the possibility for water skiing here.
But there were no people here today – maybe the water was too cold.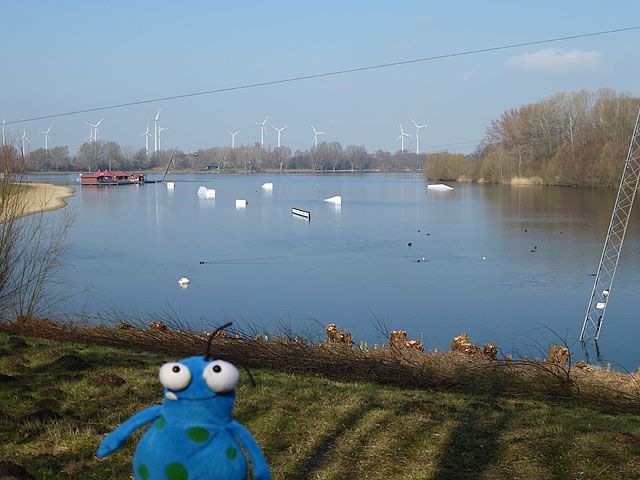 There were sculptures everywhere around the lake – should this be art?
I really liked these small flowers!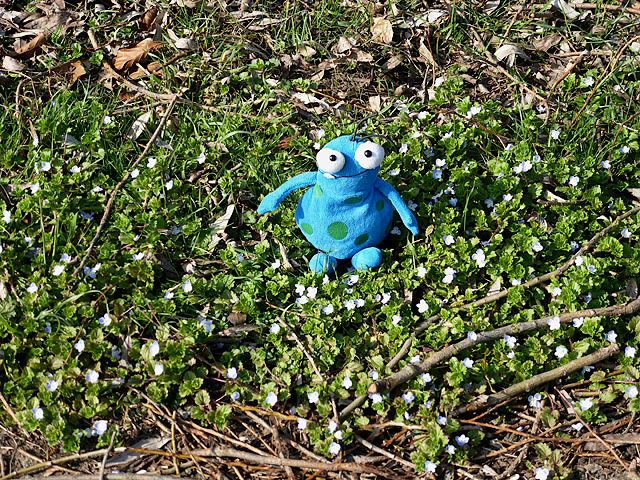 I have no idea, what this should be. Maybe it was a work art, too?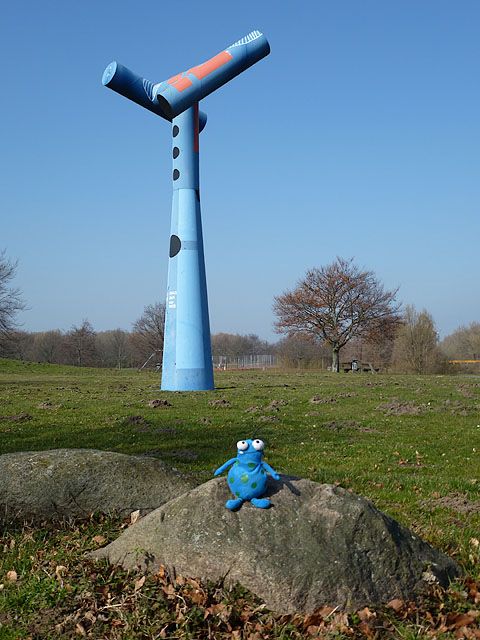 There was a long sandy beach at the lake.
Really great – just like the sea!
A wonderful day in the sunshine!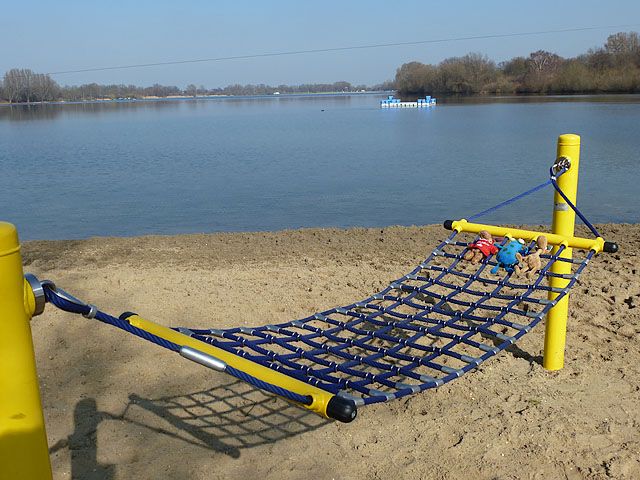 Best wishes Murph
---
27.04.2014 - Bad Salzdetfurth
Hello, today I showed Bad Salzdetfurth to my guests. This river flew through the whole city.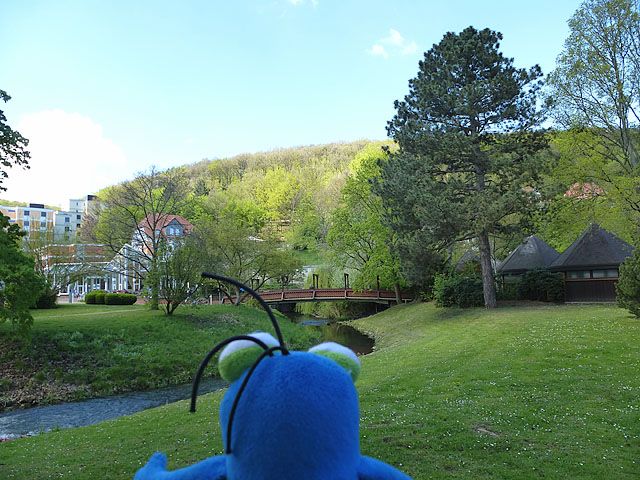 There are 2 big salines in the spa gardens. The people used it to produce salt in the past.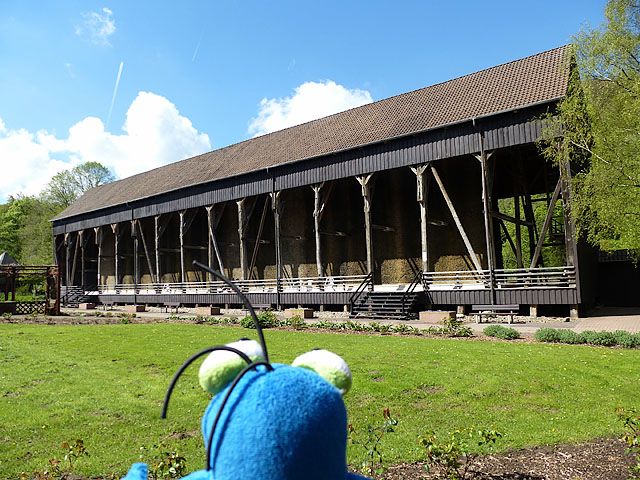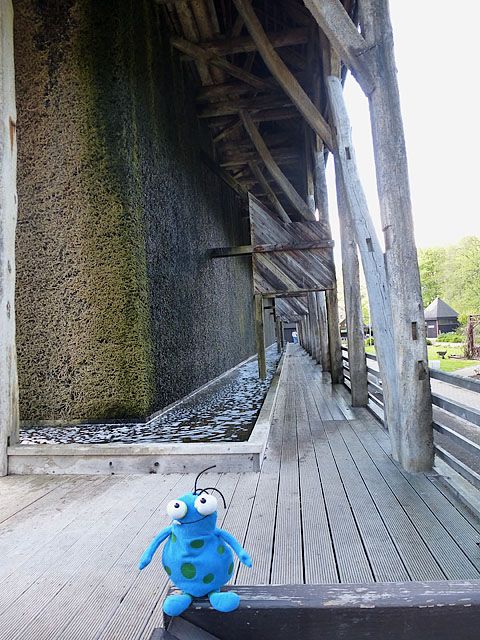 It smells good.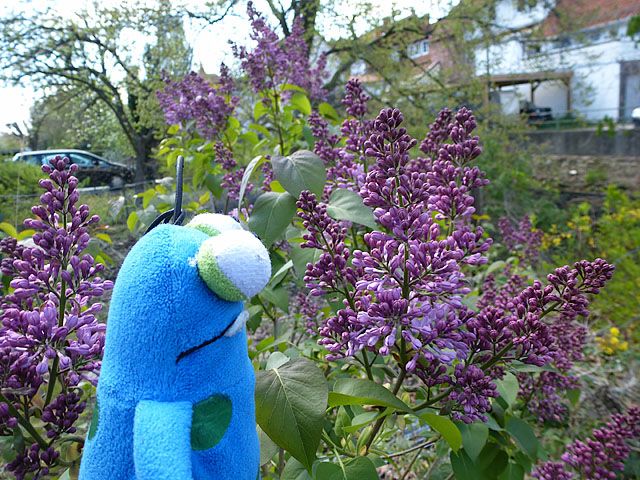 This is my famous place. It is called Summstein – you sit inside of it and bumble. Then the whole body prickles. Very funny!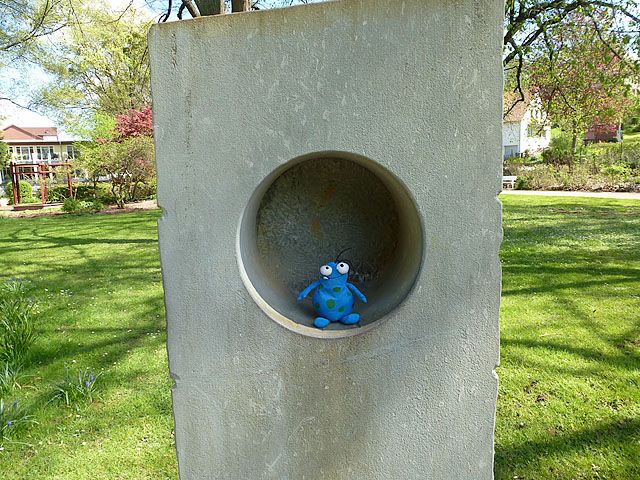 Next to the Summstein you see the colorful pigeonry, but I didn't see pigeons.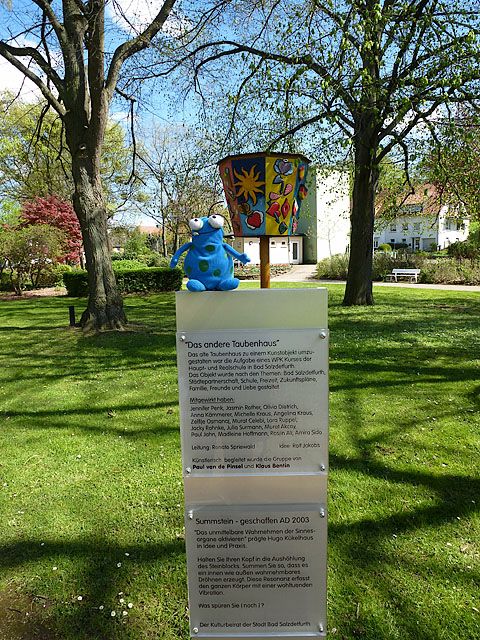 There were many beautiful trees in the park.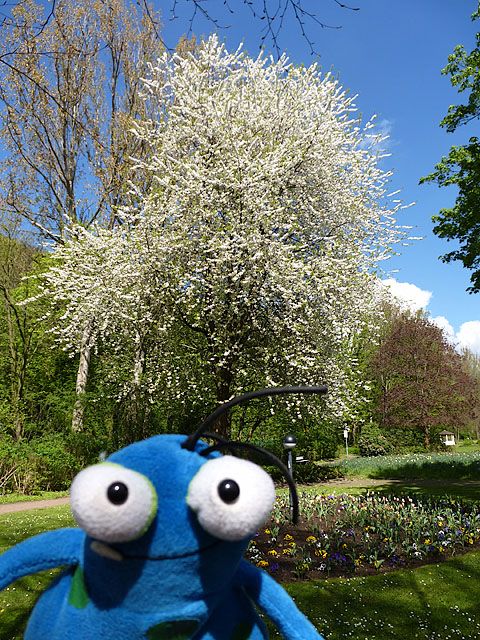 They opened a golf-course here. It is an 18-hole-adventure golf course.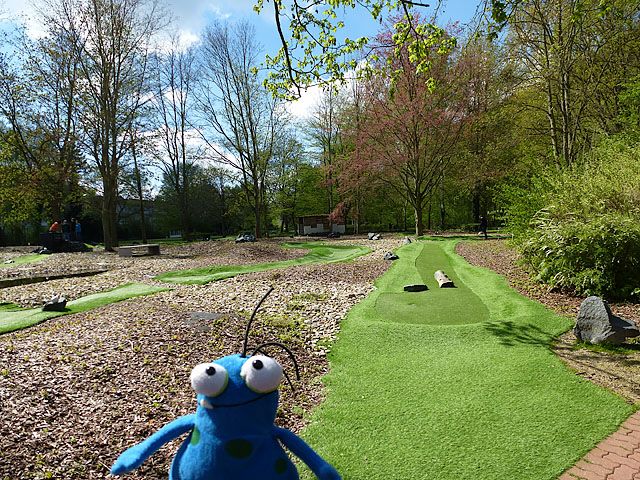 Bad Salzdetfurth is a really nice city.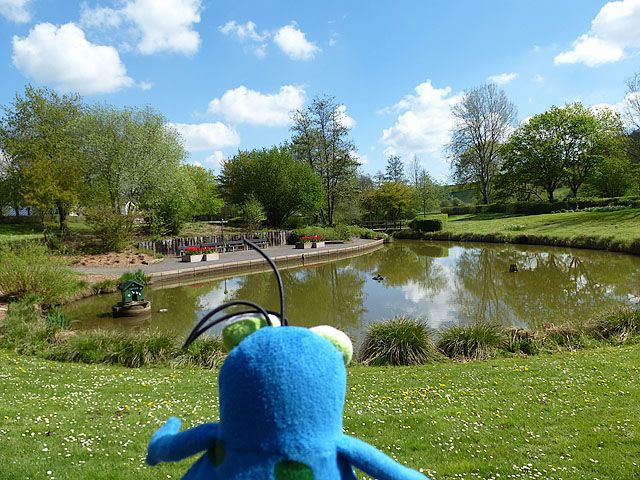 Many greetings Murph
---
10.05.2014 - Sülfeld
Hello, Today we visited my best friend Dicker Kumpel.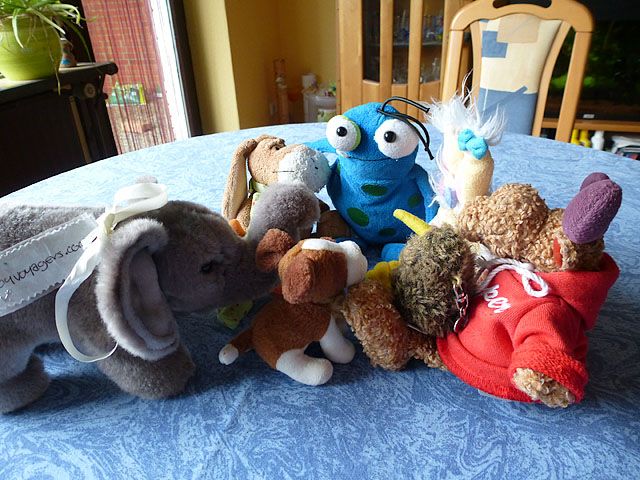 We showed our gifts to the others.
I am so excited! Hopefully Dicker Kumpel and Kleine Fee will love my gifts.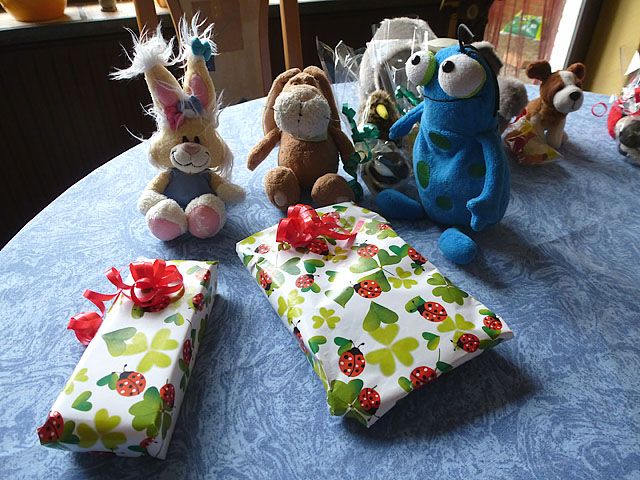 They really liked it and were so happy.
Dicker Kumpel planned a game for us - great!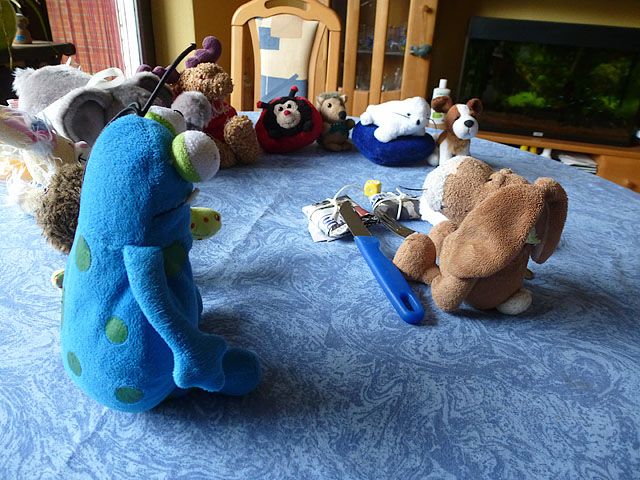 He explained the rules. We played with the die. Everyone who has a six put the cap and the scarf on. Then he or she was allowed to 'fight' with the wrapped chocolate. This seems to be funny. Let's start.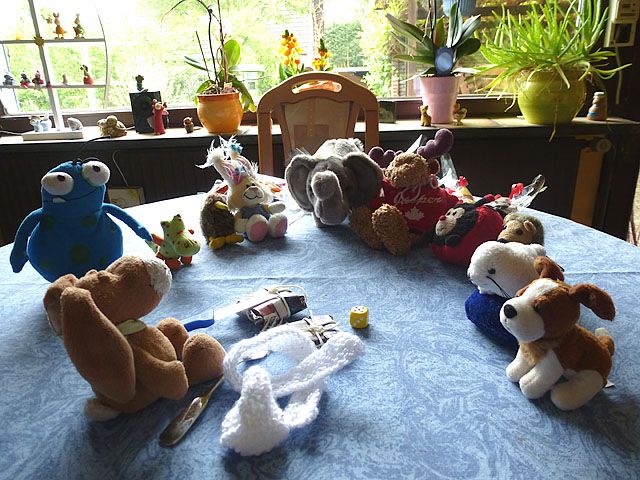 I threw the dice – unfortunately no 6…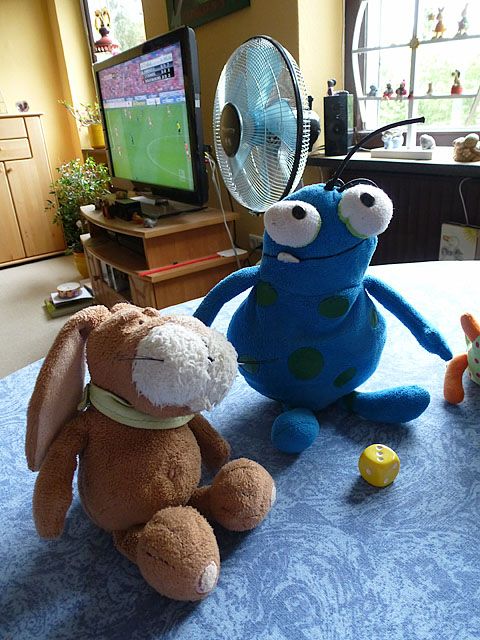 The next time there was a 6 – I took the cap and the scarf – and here I go.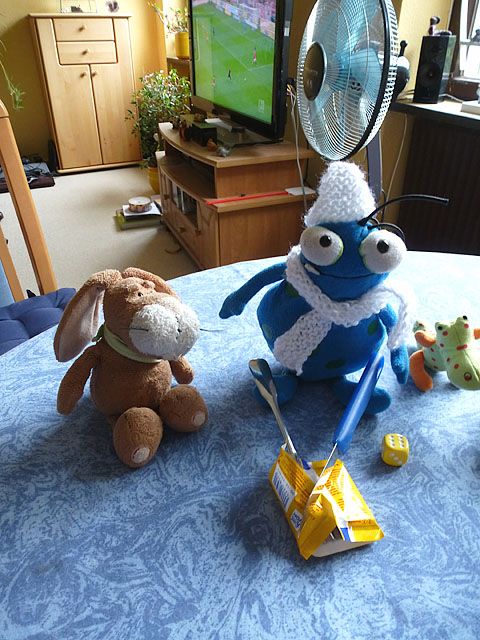 After the game we all ate sweets – yummy!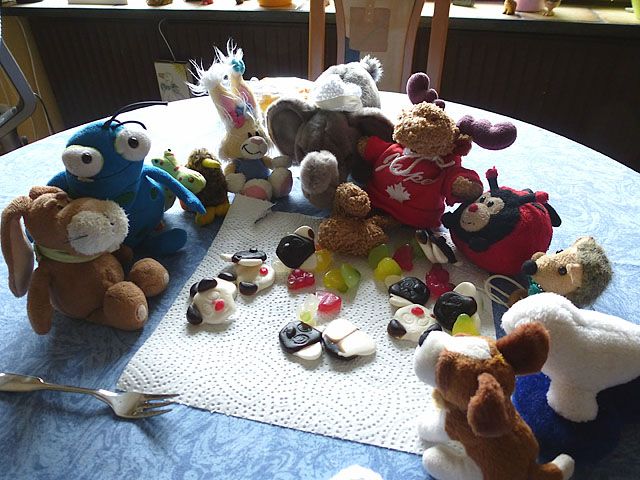 In the evening I showed Dicker Kumpel the wonderful postcard that my friend Soeren sent me.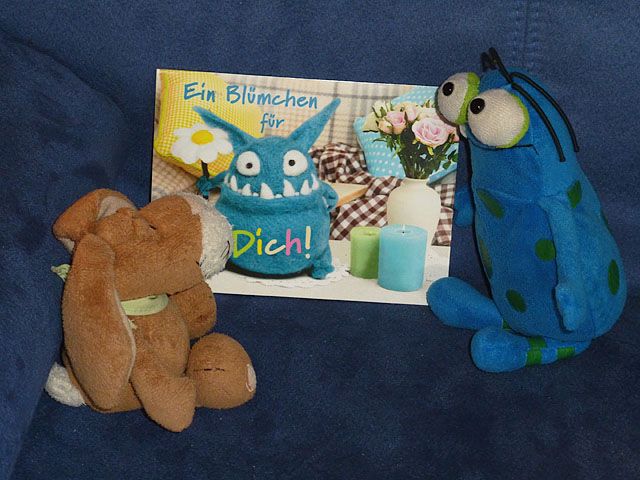 We talked all night long – it is great to have such a good friend. Until soon Murph
---
11.05.2014 - Grabau
Hello, We took a trip to Grabau together. There is a maypole in the middle of the village.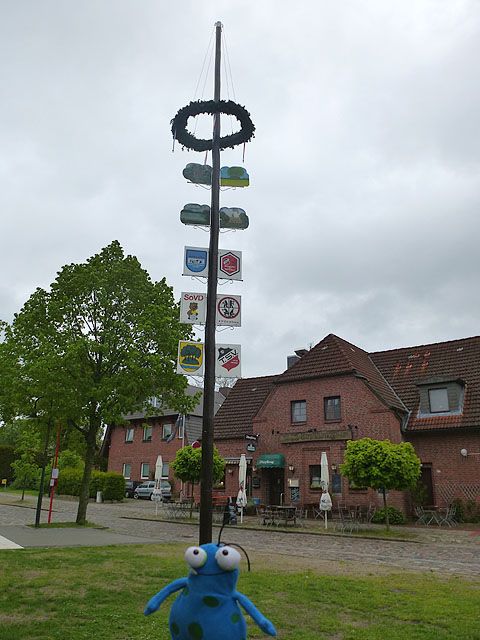 But actually we wanted to go into the forest.
Let's see what we can find here.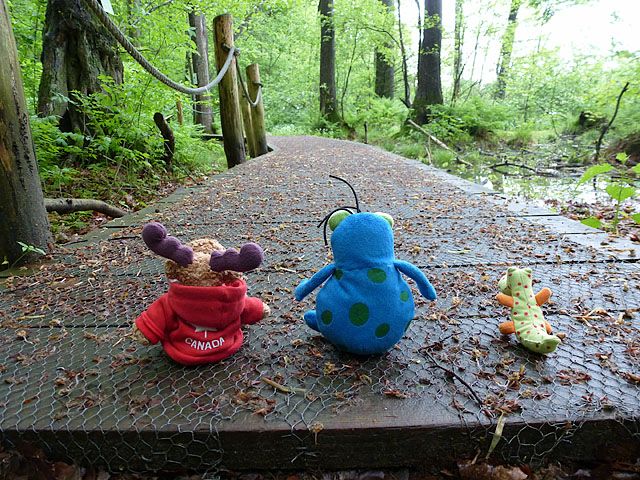 Wow – really beautiful!
We loved the view over the lake.
A quiz in the forest. Do you know this tree? It was an oak tree.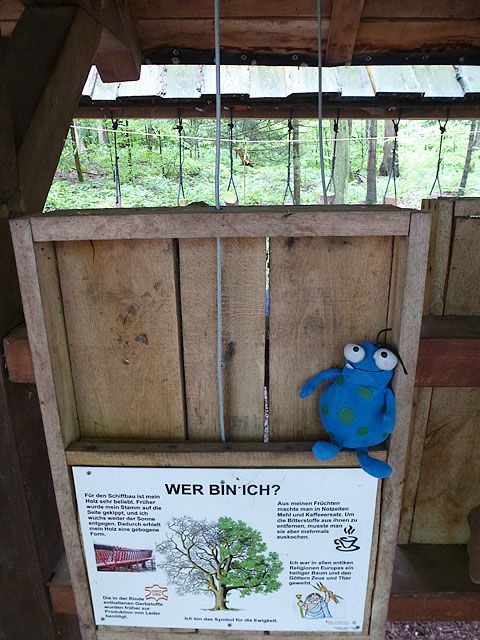 Normally you can play music here, but I was too small.
We found great mushrooms! Everyone knows these mushrooms – you can eat it in chinese restaurants – jelly ears…
We observed animals.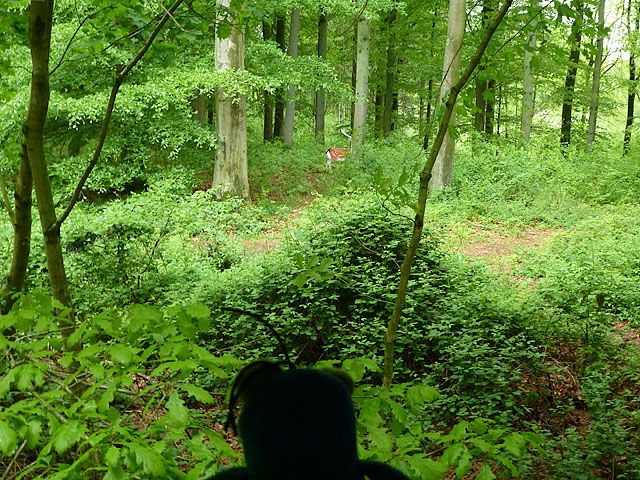 For good photos we were brave and went near to the animals.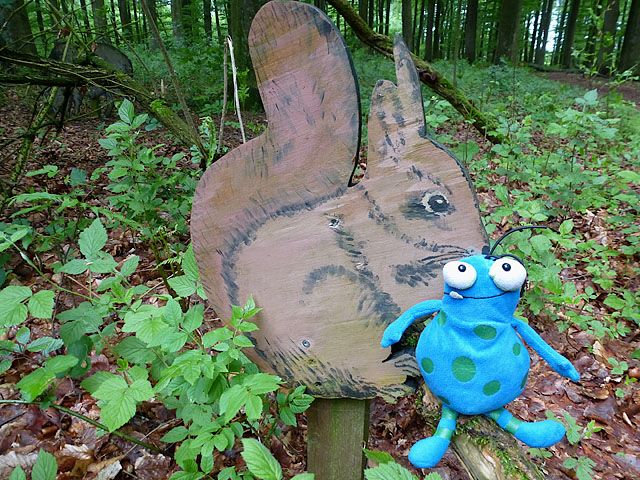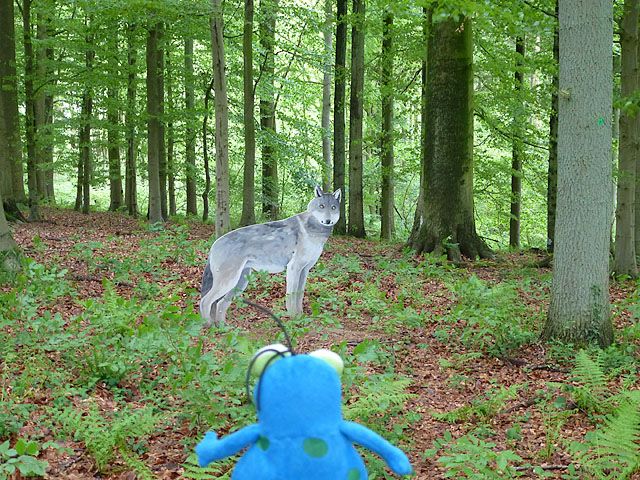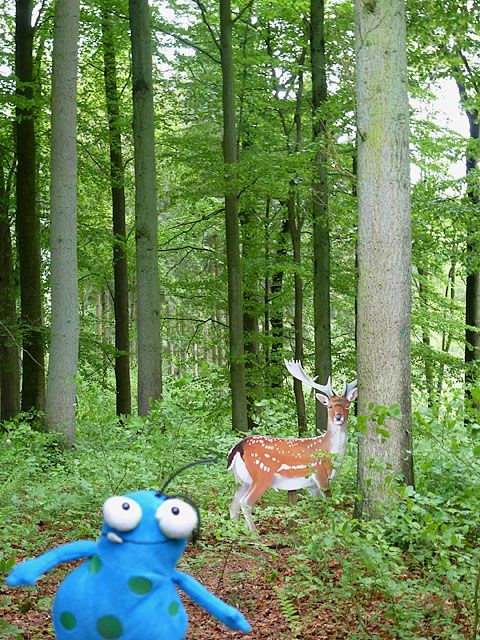 Then we continued our walk- and at this lake we watched out for birds.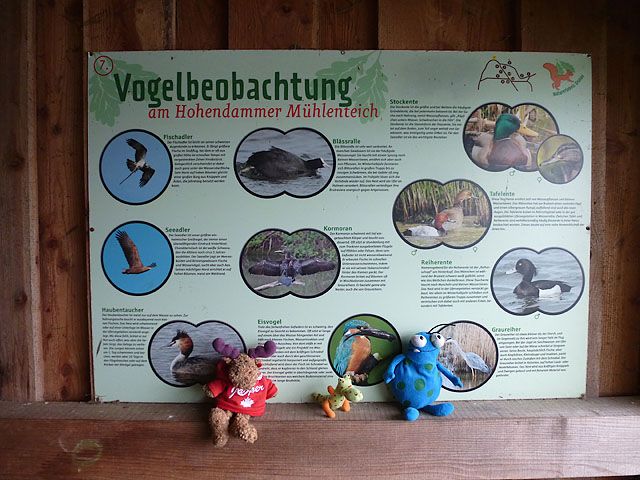 More mushrooms!
I think that DottyCroc completed his 2. life mission. But now surely…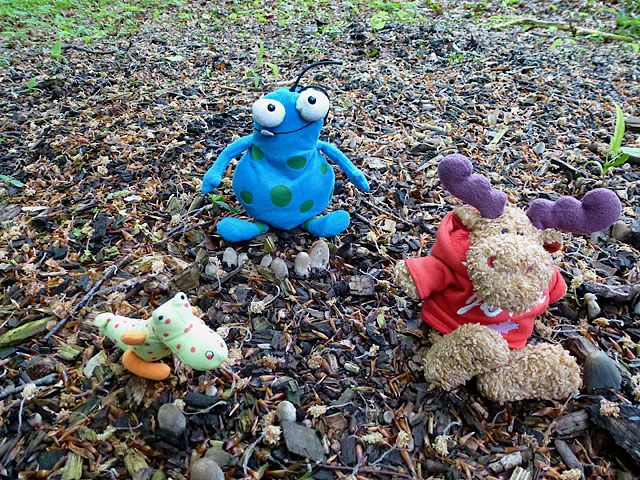 At the end we found this great wooden wigwam.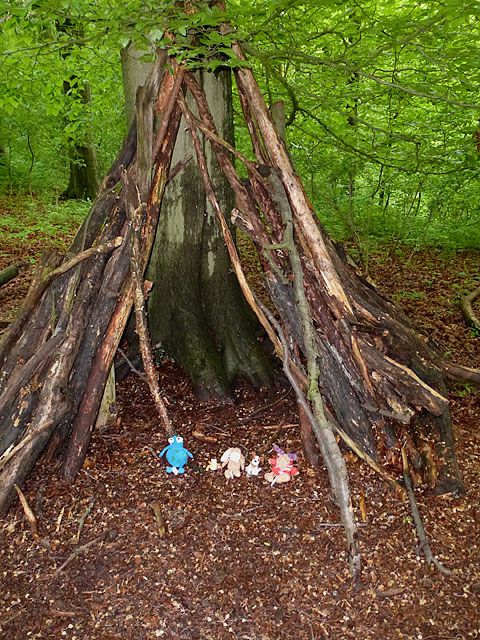 What a wonderful forest! But then it was time to say goodbye to Dicker Kumpel and his guests.
And imagine this: we will go on holiday together soon. How exciting!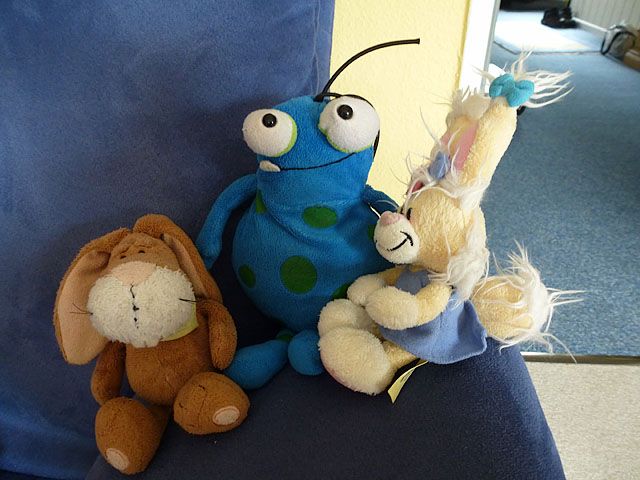 It was a great weekend! Yours Murph
---
16.06.2014 - Bad Salzdetfurth
Hello, Today the German team started in the World Cup of Soccer. We had to celebrate it. Can you see our great drink?
I had red…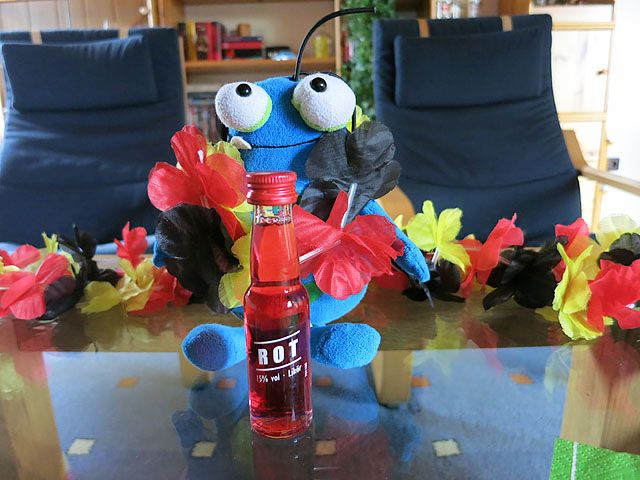 …some sweets…
… and potato chips.
Everything was ready!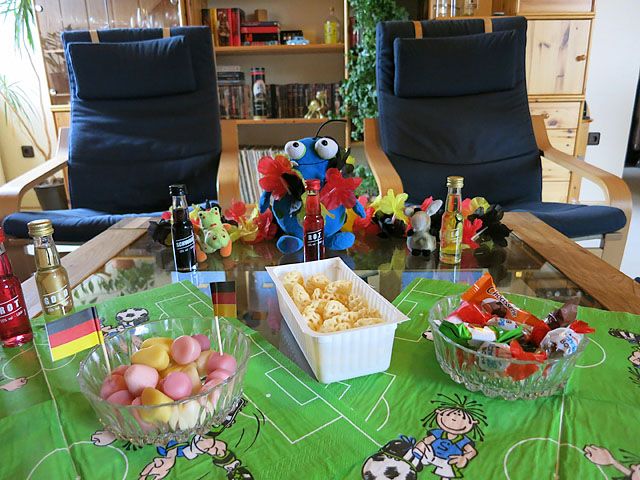 It can start!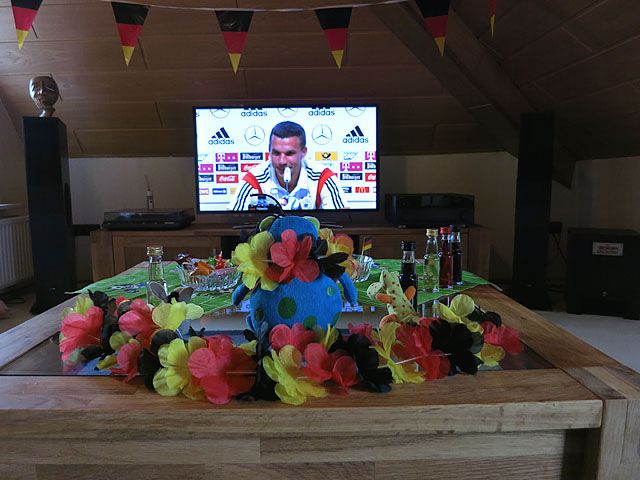 Here they go. The German team played really great!
It was exhausting and the drink was really yummy…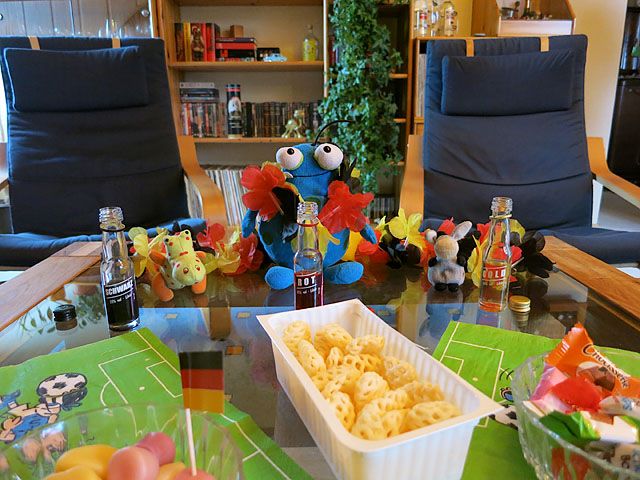 It continued…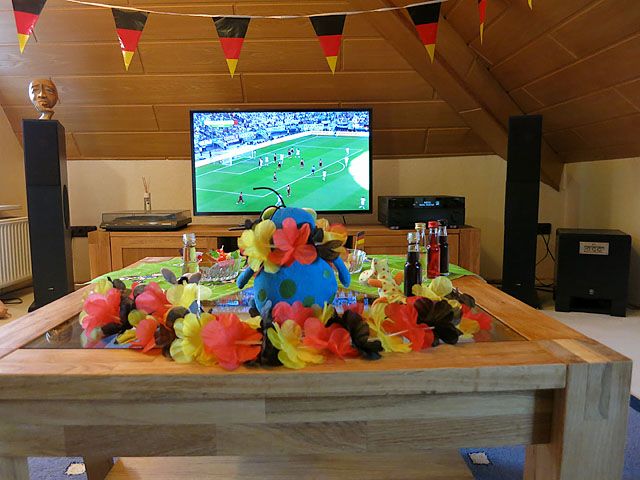 Why did the German Coach looked so strange – Germany will win!
What a game and what a party!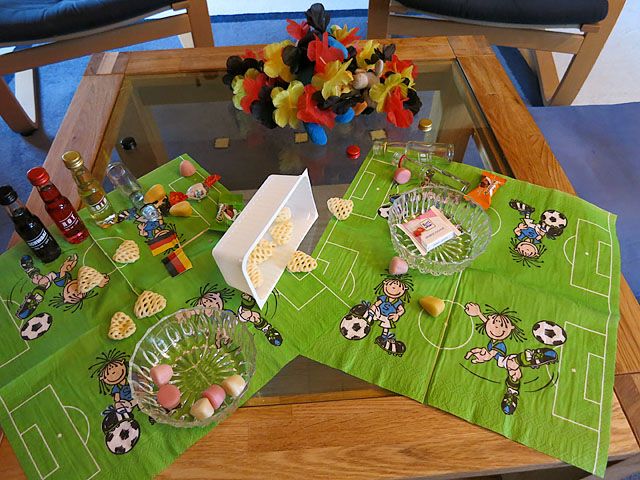 Have a good night! Murph
---
19.07.2014 - Bad Salzdetfurth
Hello, we have new guests!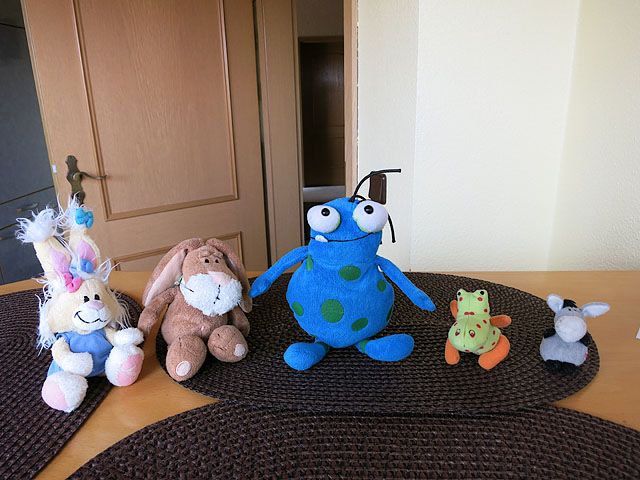 My best friend Dicker Kumpel and Kleine Fee arrived! And imagine this – they will stay for four weeks and travel to Rügen with me! We all are so happy.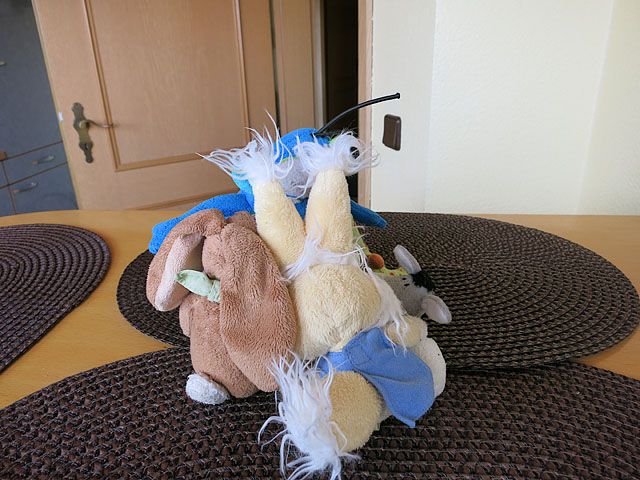 Of course we will celebrate it, but first we will go on a nice excursion.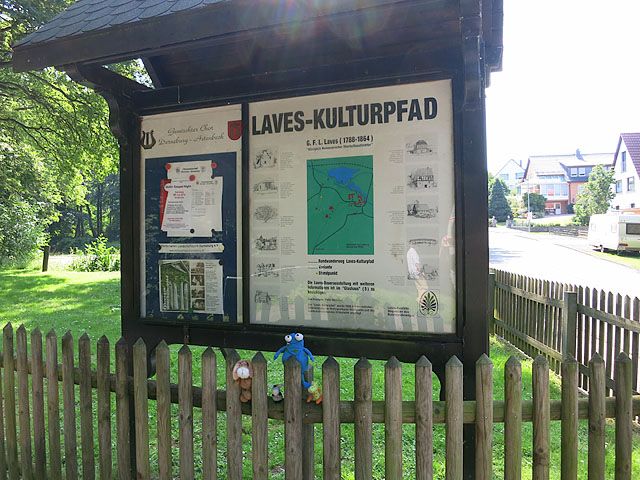 There is a big castle in Derneburg.
In the forest was a small teahouse.
So many stairs…
Unbelievable – there exists a pyramid in the forest inside of Germany. It is the grave of the former owner of the castle.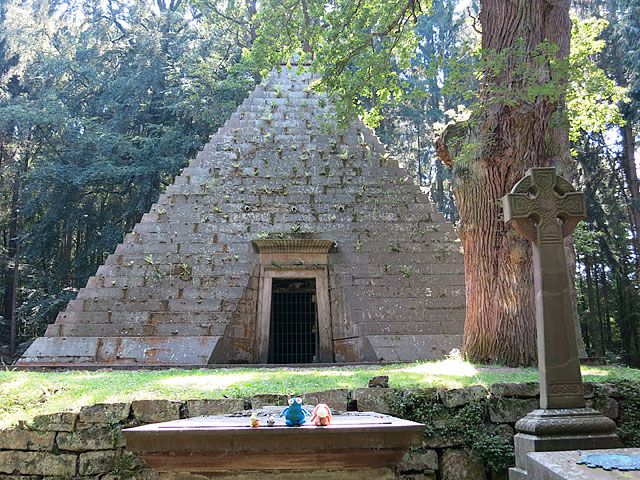 I liked this house.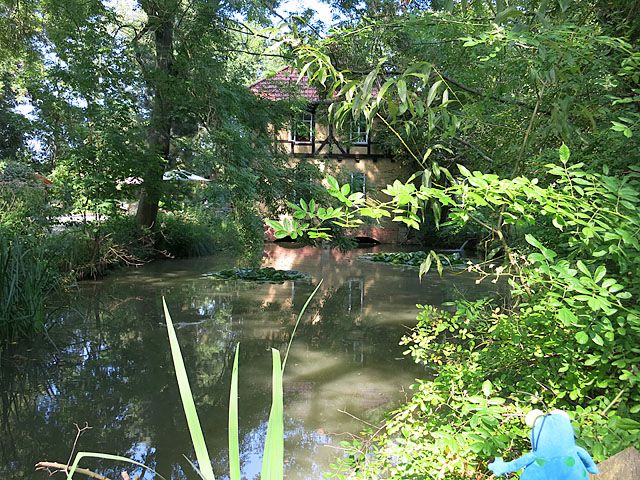 There were small houses of fishermen next to many small ponds.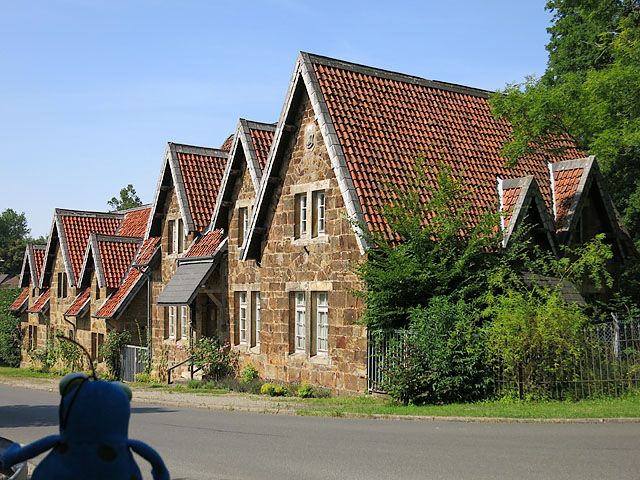 It didn't look like one – but this was one of the fish ponds.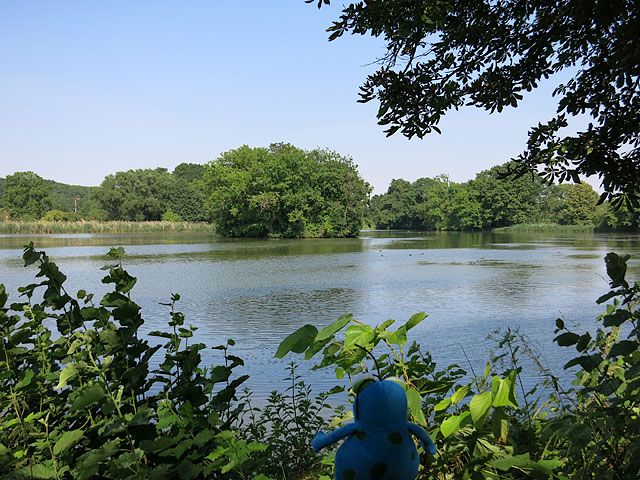 This region is really beautiful. Murph
---
20.07.2014 - Nordstemmen
Hello, today we visited the Castle Marienburg. It looked beautiful!
Just like a fairytale…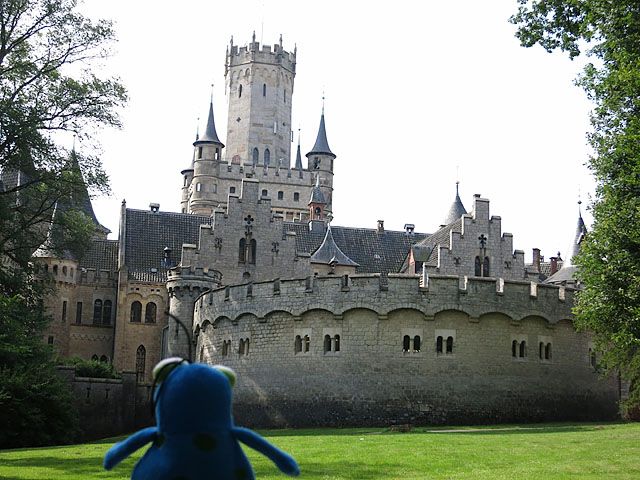 The courtyard of the castle…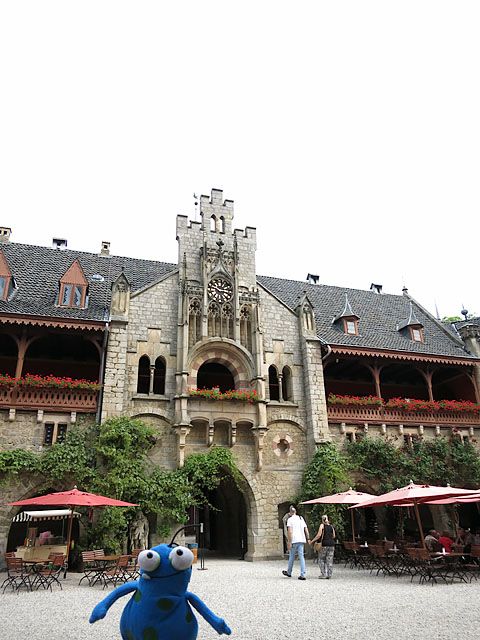 We were not allowed to take photos inside of the castle . But we found this funny guy at the exit and wanted to have a photo with it.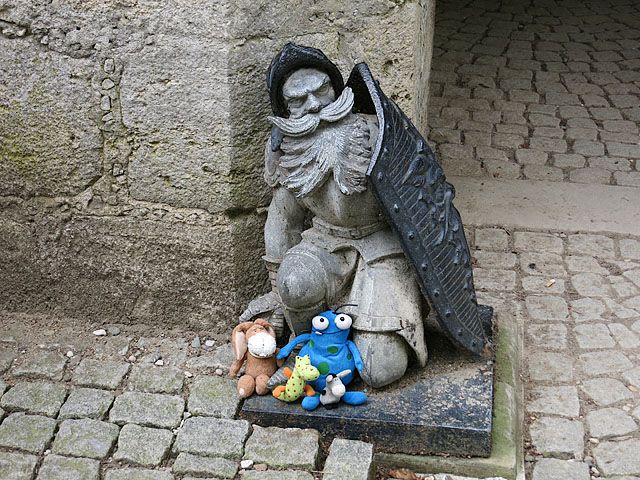 In the evening we celebrated the arrival of Dicker Kumpel and Kleine Fee. I prepared a small party:
We drank, ate and talked a lot.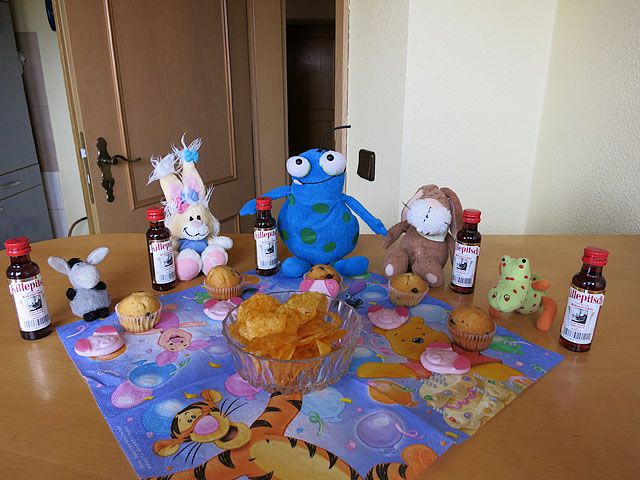 ... even drank, ate and talked more...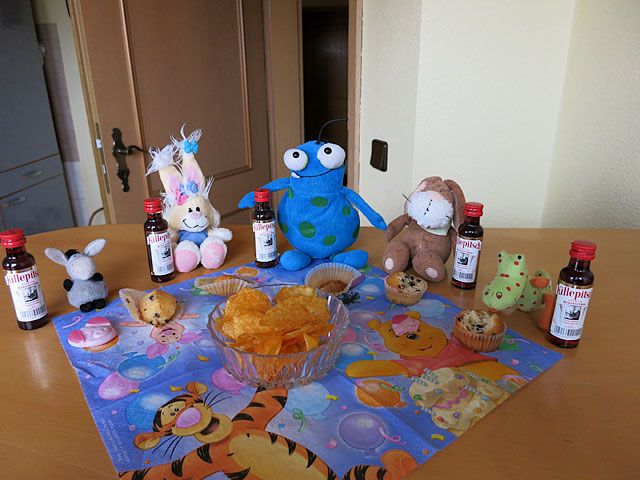 Maybe a little too much?
It was a wonderful evening! Yours Murph
---
27.09.2014 - Sülfeld
Hello, Today is a wonderful day. It's my birthday and we visit my best friend Dicker Kumpel.
They all sang a nice birthday song for me.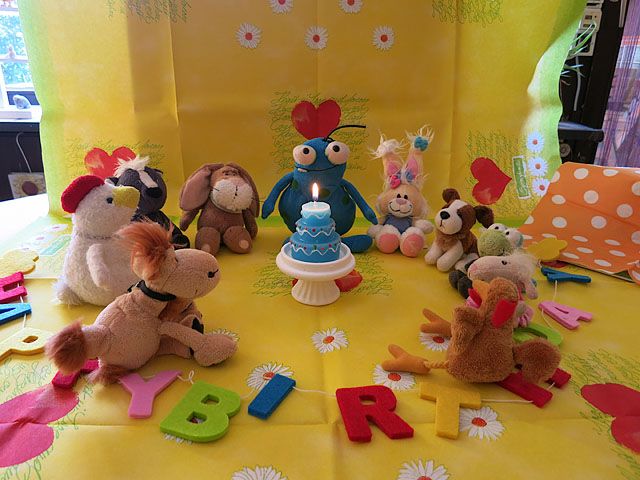 Then we showed the others what we brought for the party.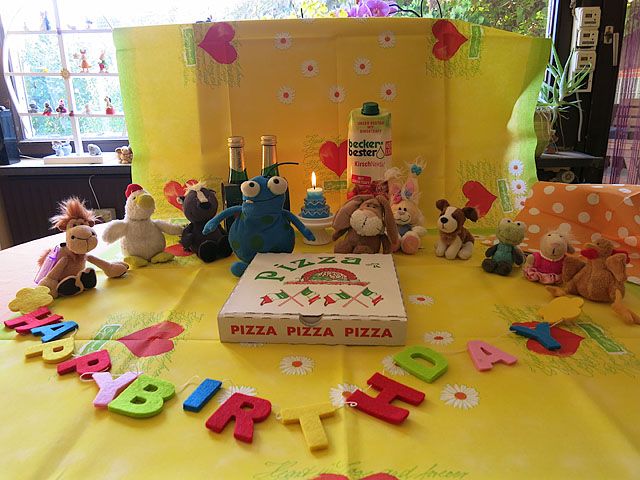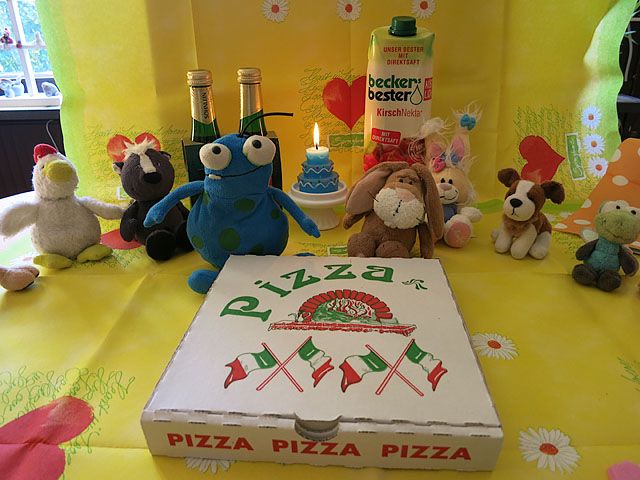 This looked very yummy!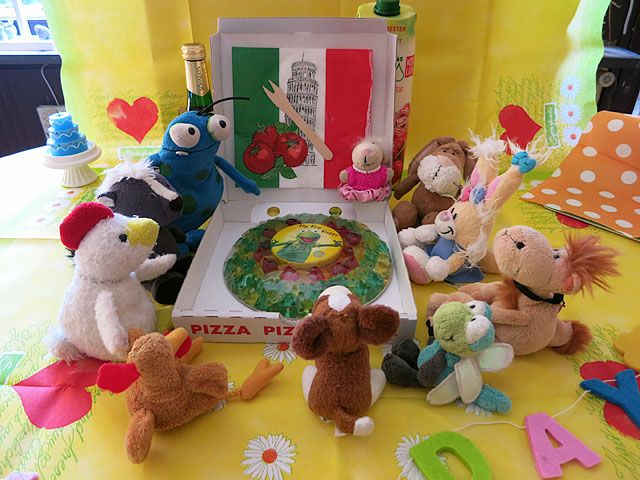 And everyone got a cocktail!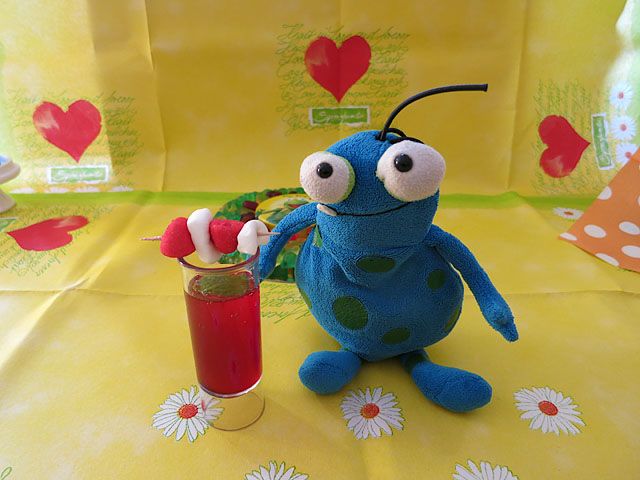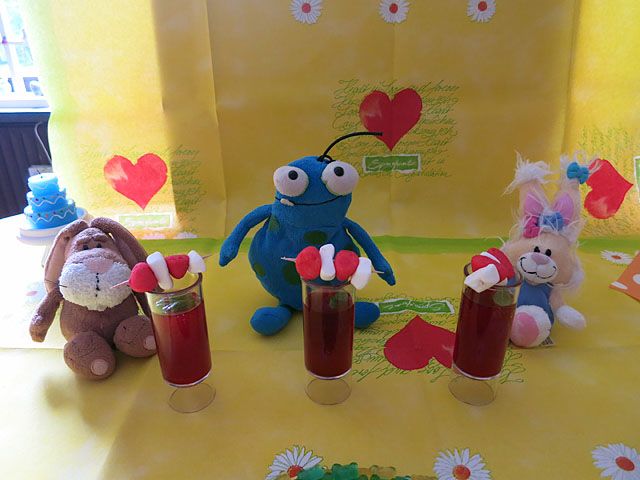 Cheers! Let us enjoy it…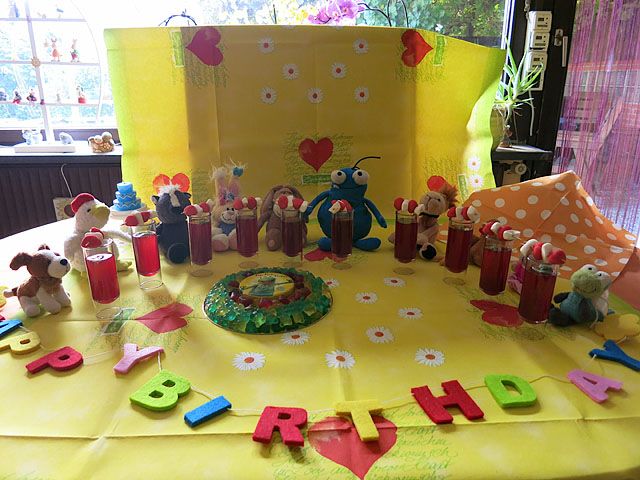 What a pity – already finished.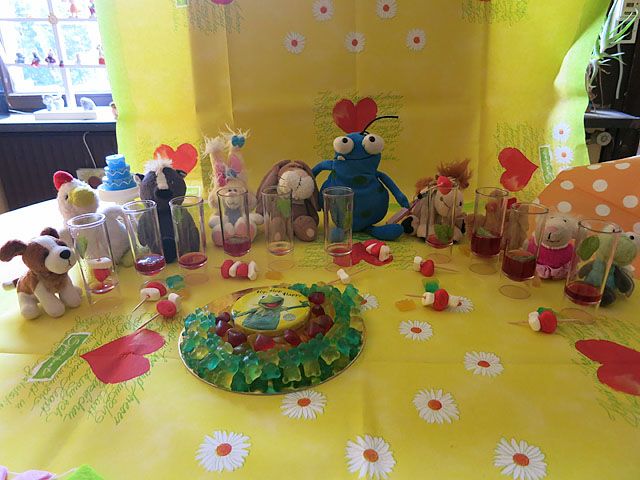 ... To be continued...
---
27.09.2014 - Sülfeld
...After finishing our meal, I got my gift.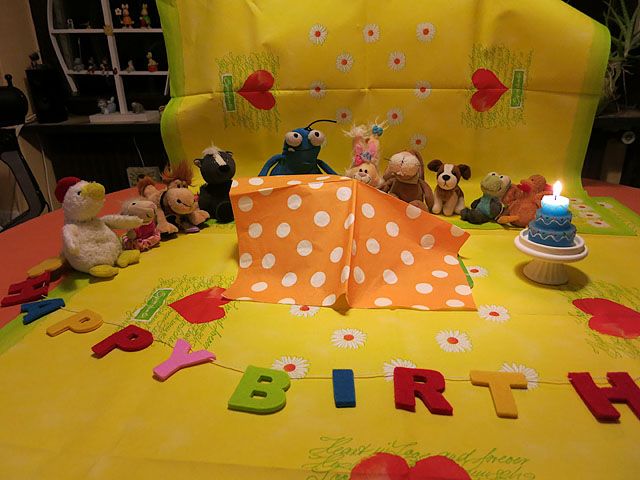 What will be in there?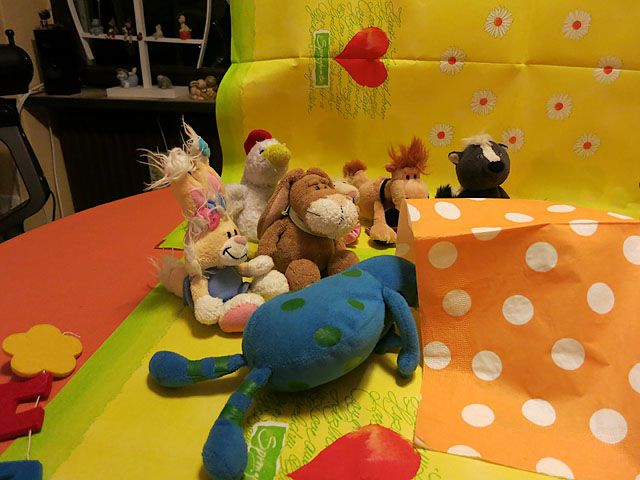 Wow, this is beautiful!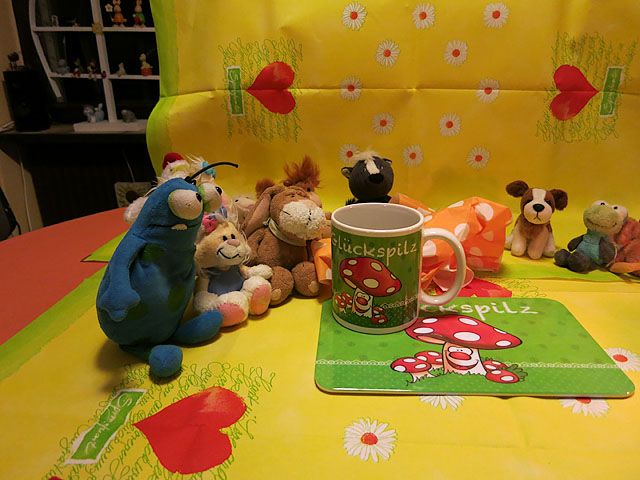 Thanks Kleine Fee and Dicker Kumpel!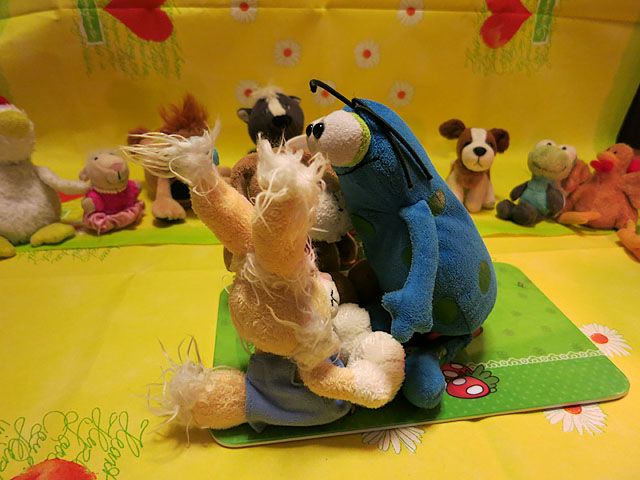 Dicker Kumpel promised a big surprise! What will it be?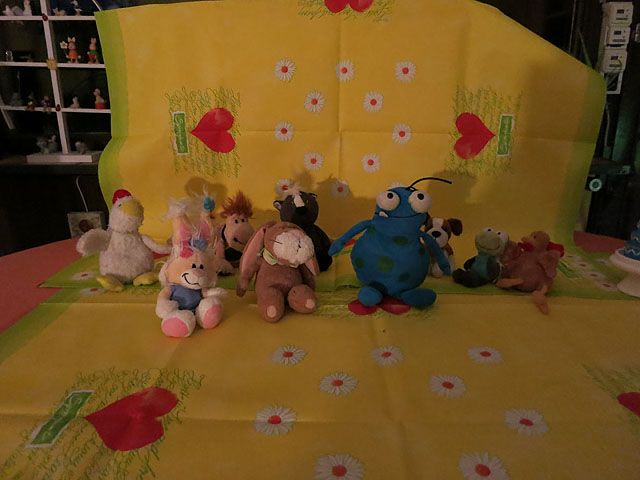 What is it? An UFO! Who will be in it?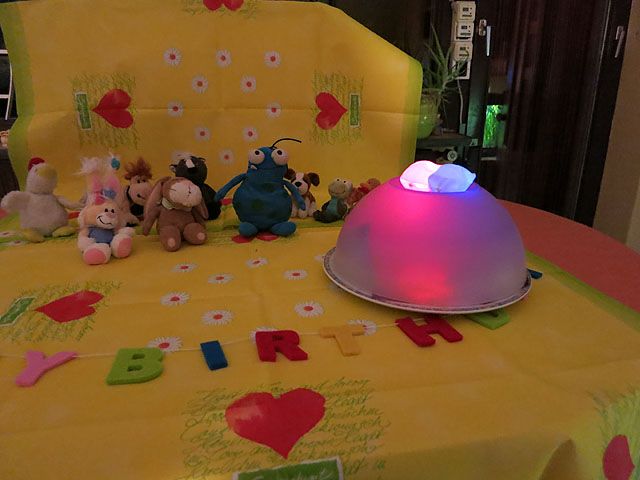 Two beautiful Alien-Girls!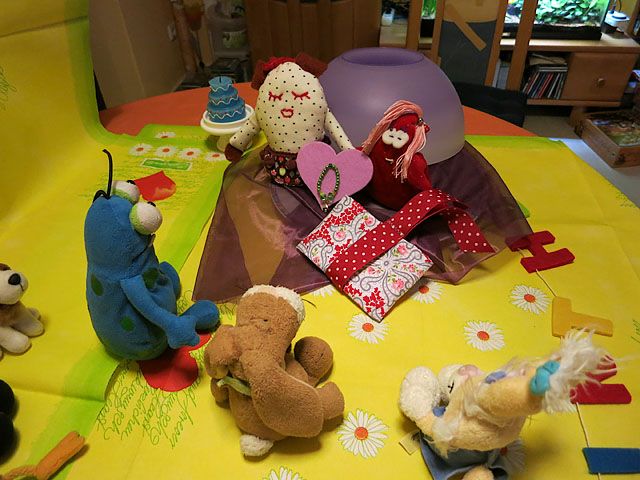 I was blown away!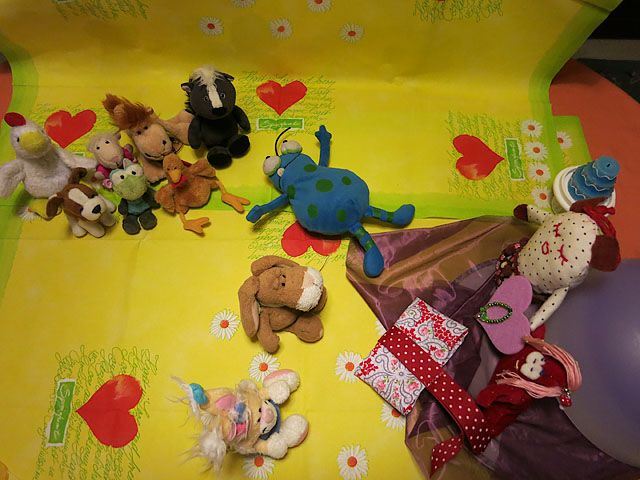 I am not the only alien on the Earth anymore!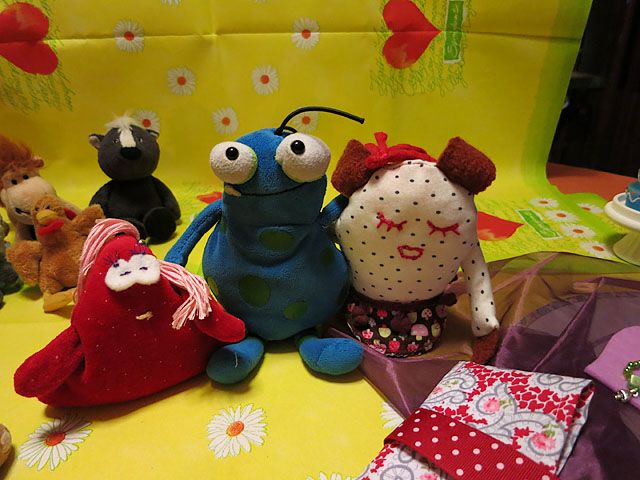 What a wonderful surprise!
Unfortunately we had to leave soon! I said good-bye to Mefito. He travels back home with his sister!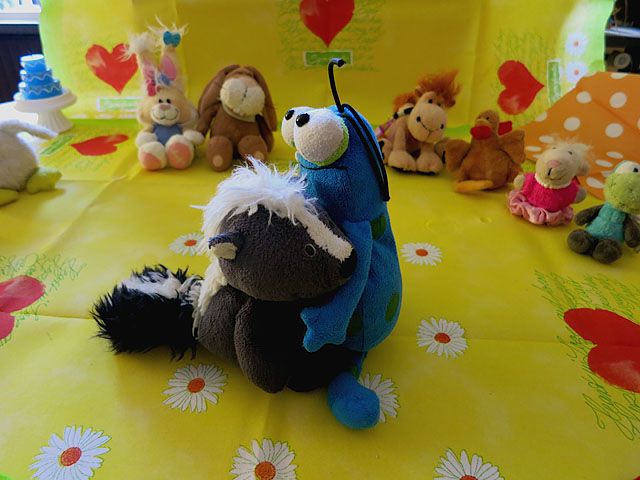 ] Goodbye to all of you, friends. It was a great birthday!
Murph
---
03.10.2014 - Duingen
Hello, I had a great day and visited my famous lake.
There were so many beautiful places.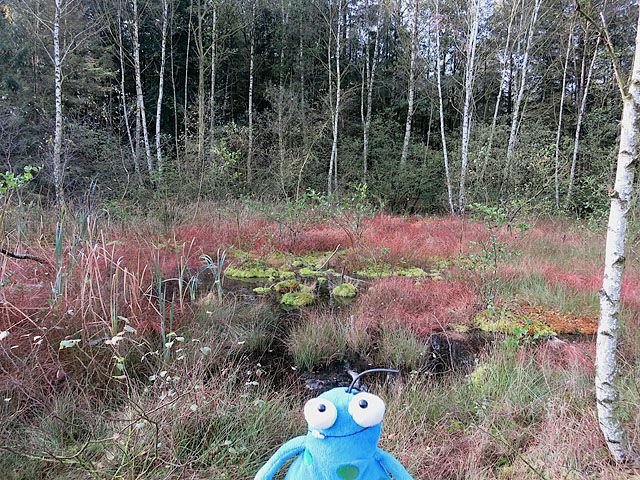 Isn't it wonderful here?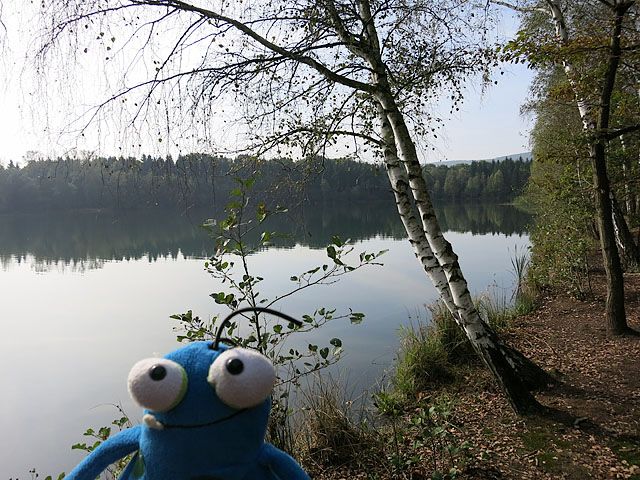 Surely I found mushrooms.
My beach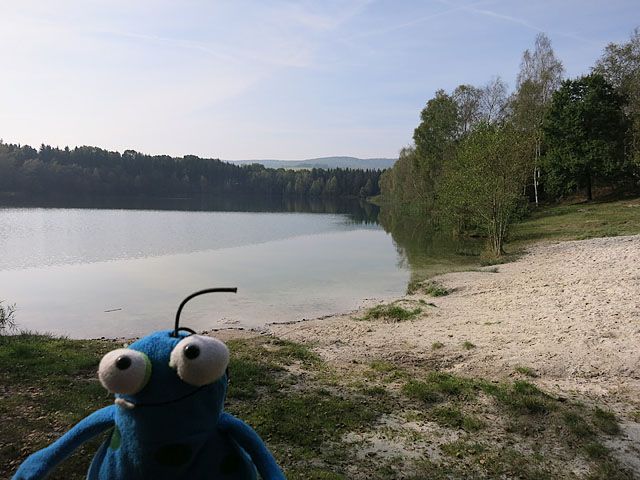 And at this place I enjoyed the sunshine. It was so relaxing.
What a wonderful trip.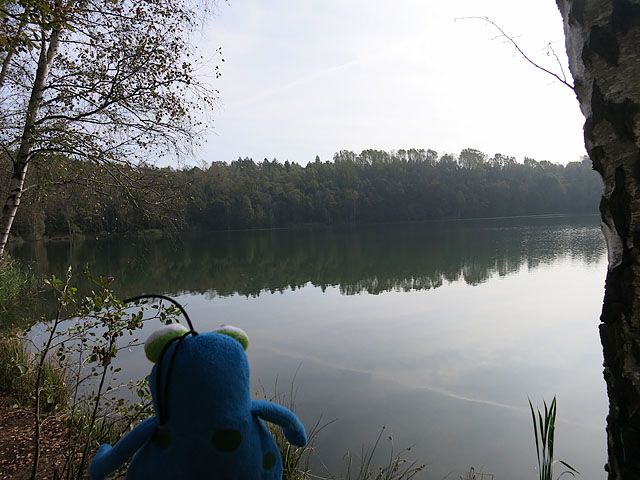 Until soon Murph