Hello, today Keinohrhase and I made a nice trip. This was our Trail: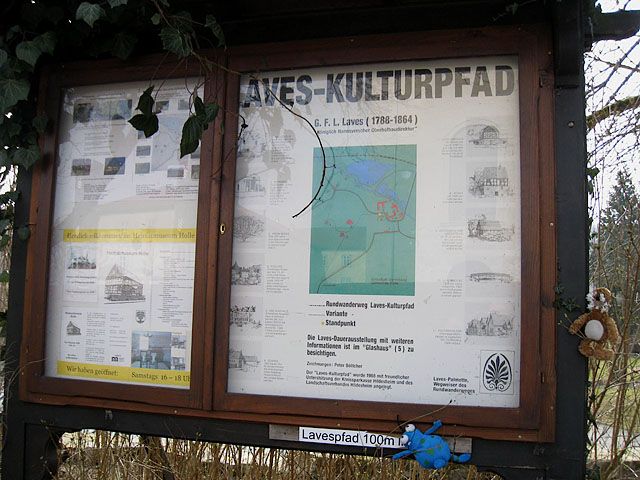 First we saw the Castle of Derneburg.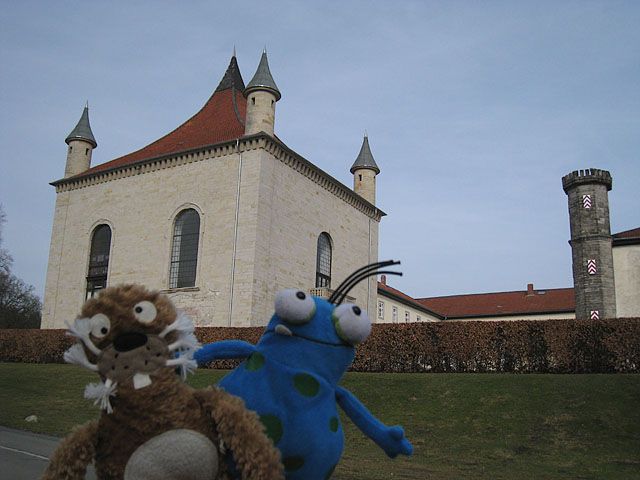 It is really big. Sadly we were not allowed to visit it, because it is private. But we were allowed to walk through the Park around the Castle. This is the old Tea-House.
It didn't looked really nice, did it? Them we were really surprised – Egypt??? Or a pyramid in Germany?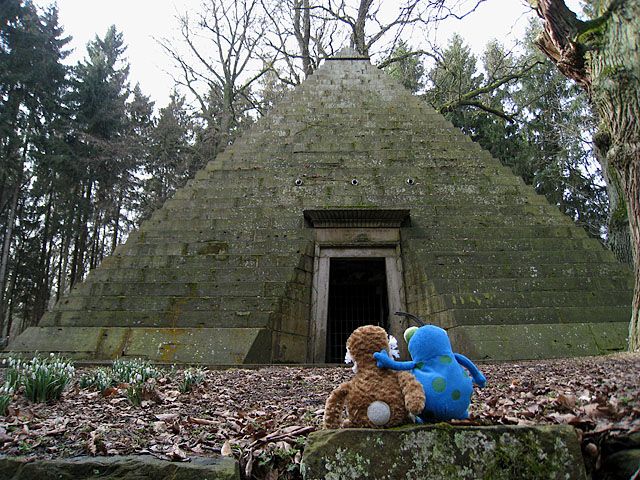 Bine explained us, that it is a mausoleum with many very old caskets in it. Holgi offered to go in with us, but we were too scary. Fortunately we went to nicer places and found these beautiful houses.
In the past fishermen lived in these houses. So the houses were near to the fishponds. There are many ponds with a lot of small island in it. Many rare birds are living there. We sat down on the bench in the sun – and watched the birds.
When we continued our trip we walked over this nice bridge.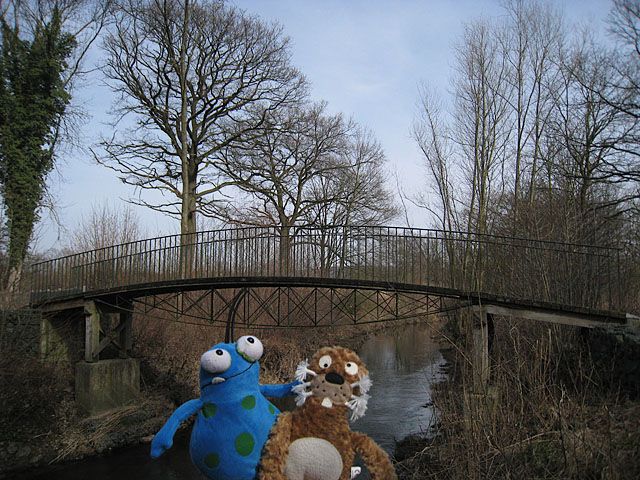 This garden will be very beautiful in the summer – maybe we will come back...
We found an old water mill next to the ponds.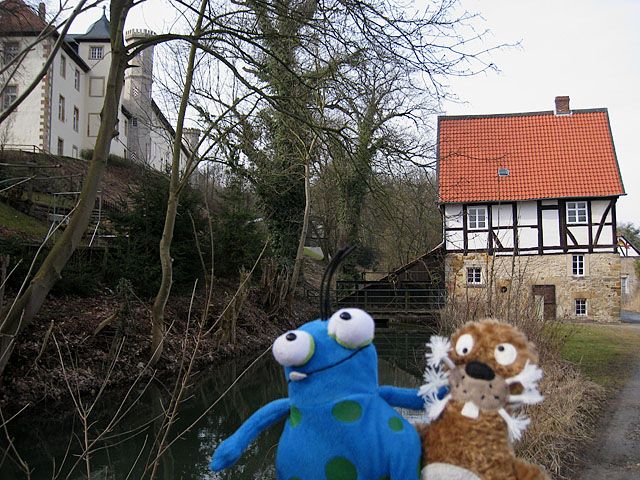 What a wonderful hike! We relaxed in the sun and made plans for our next weekend.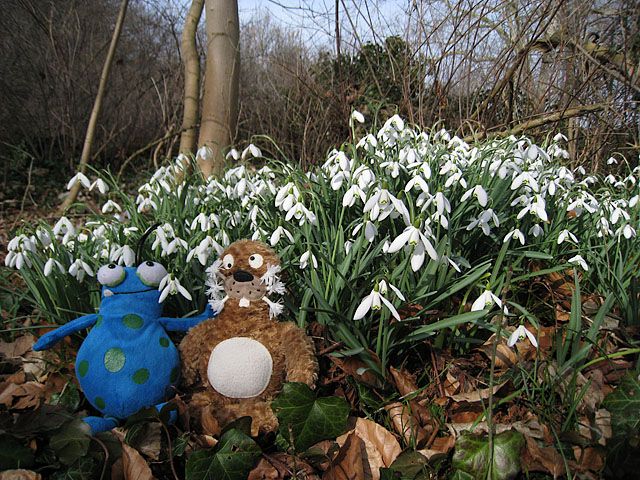 many greetings Murph
---
Hello, I stay really long here with HoBi - but they didn't show me Hildesheim up to now. So Keinohrhase decided to show me Hildesheim now. He choose the "Rosenroute" for us.
A way in Hildesheim – where you can see all the points of interest. It will take 5 km – this is long – will we be able to do it? First we had a look, where we should go.
The first stop is the market place with many nice old houses.
This it the "Knochenhaueramtshaus" – a really famous building.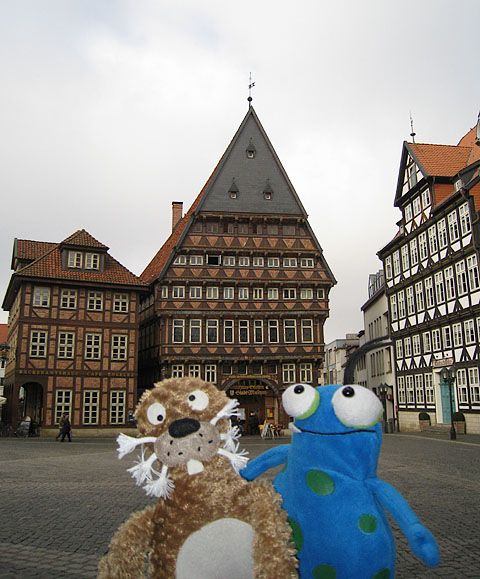 Then we went to the "Huckup"
Can you see the little guy on the big man? This is a small kobold – he jumps onto the back of thieves and gives them a guilty conscience. Really interesting. We continued our walk through beautiful streets...
to the "Wernerschen Haus".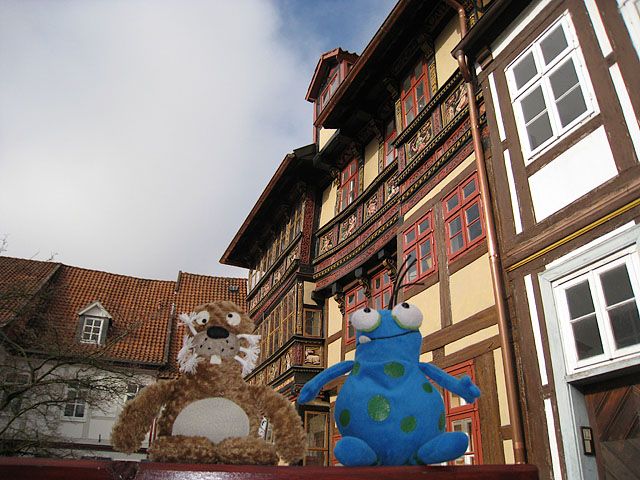 The first big church in Hildesheim – the "Godehardikirche"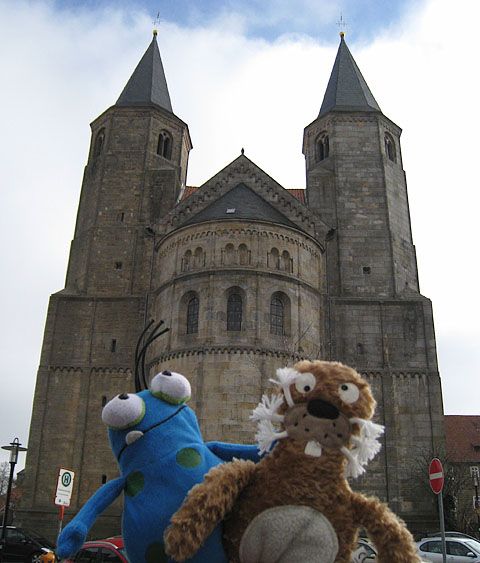 Believe me – Hildesheim has a lot of churches. At the next stop HoBi hat to look at the sign, what we found.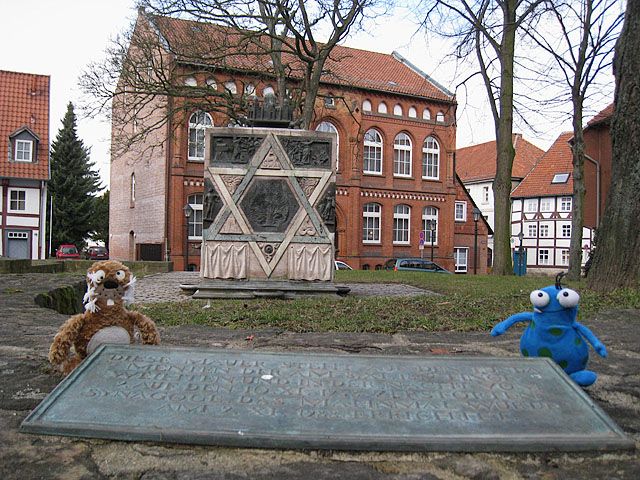 This is a Monument for a destroyed synagoge.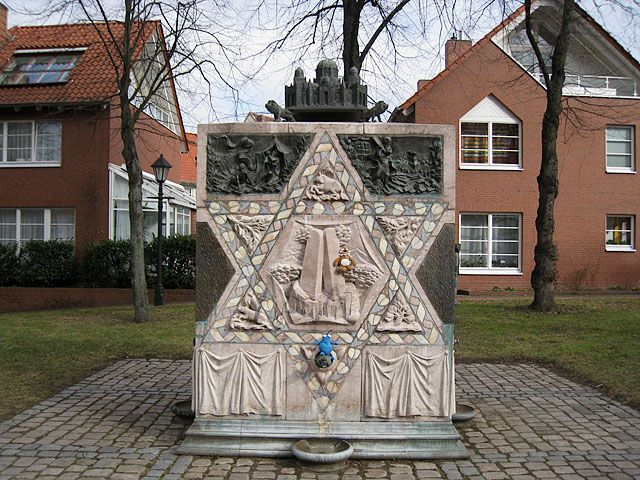 The "Kehrwiederturm" is the last tower of the old city wall.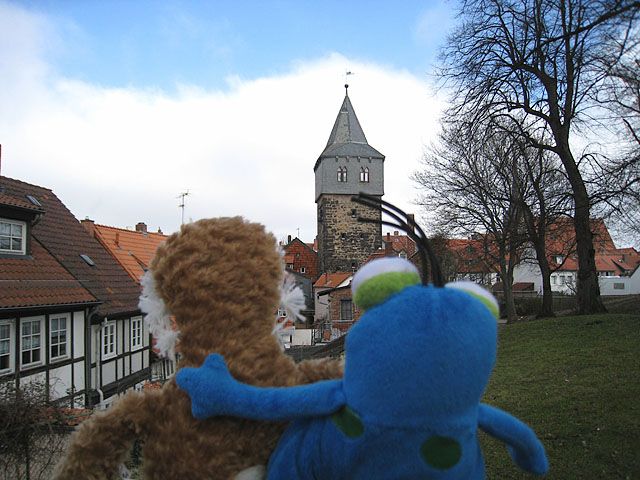 This is the first part of the "Rosenroute". We sat down in the sunshine and didn't want to walk anymore.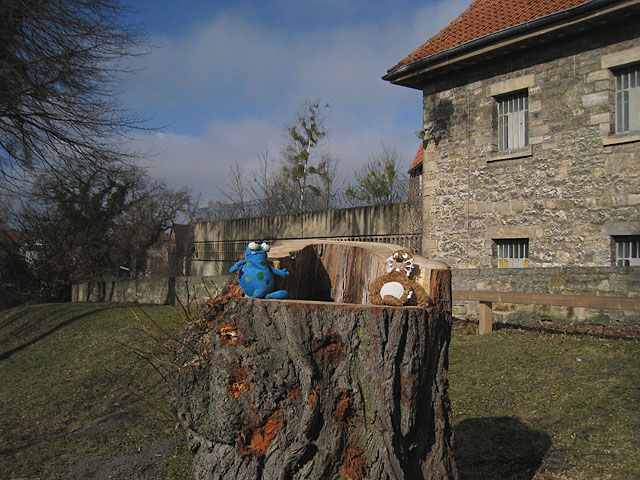 Behind us you can see the prison of Hildesheim – but don't worry, we are good guys – no need to stay in it. I will show you the second part of the "Rosenroute" in the next update. Many greetings Murph
---
Hi , great News – as you know I live with HoBi for a long time now. And now I decided to stay with them forever – or at least for a really long time. I decided that they should have their own host-name now – and they agreed. Maybe there will other TVs come and visit us in the future, we can tell them a lot about mushrooms and show wonderful places around here. But now back to the normal work as a TV: as promised I will show you the second Part of our Trail on the "Rosenroute". Why lives a Hindu God here in Hildesheim?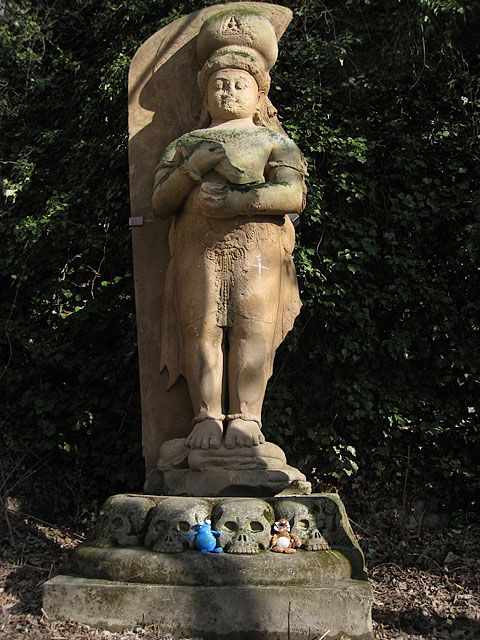 We don't know it – but his name is Shiva. He is a little spooky.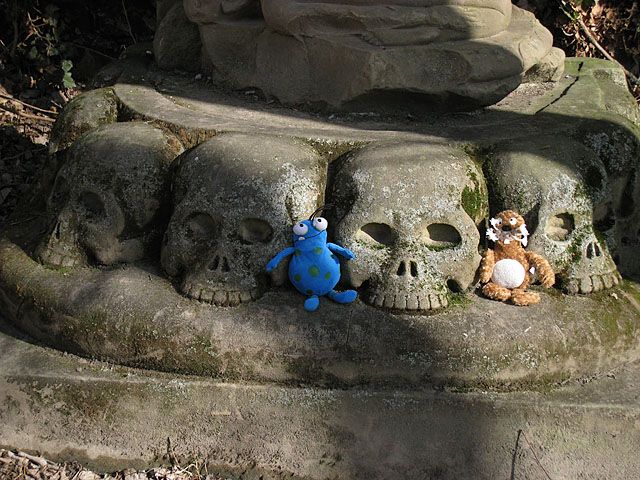 The next stop is the dome of Hildesheim.
Here is a rose, which is 1000 years old. We wanted to see it.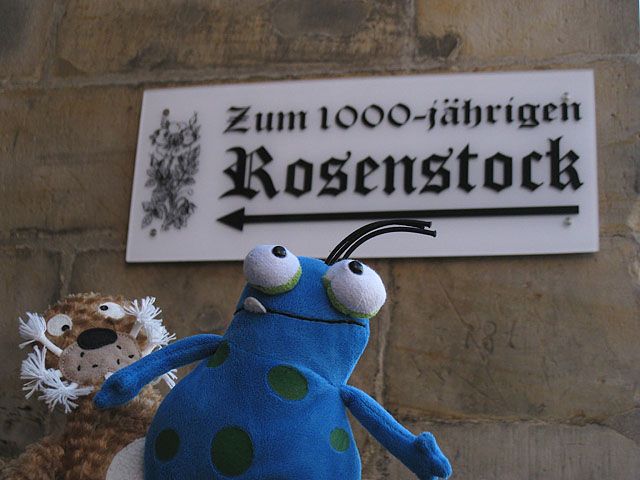 Bad luck for us – the door was closed.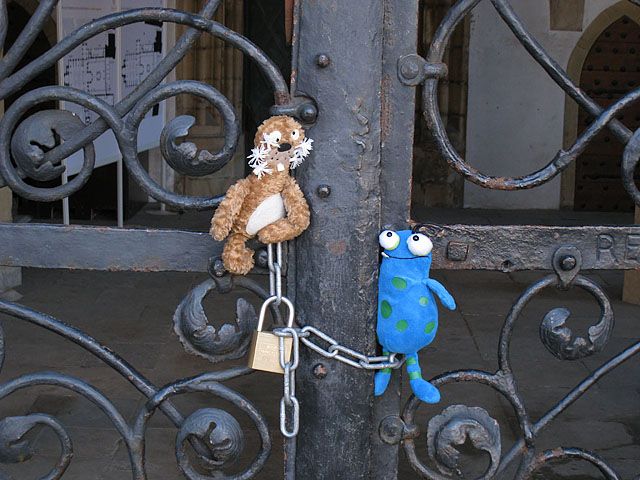 Maybe we will come again, when there will be the bloom of the roses … Then we saw something funny.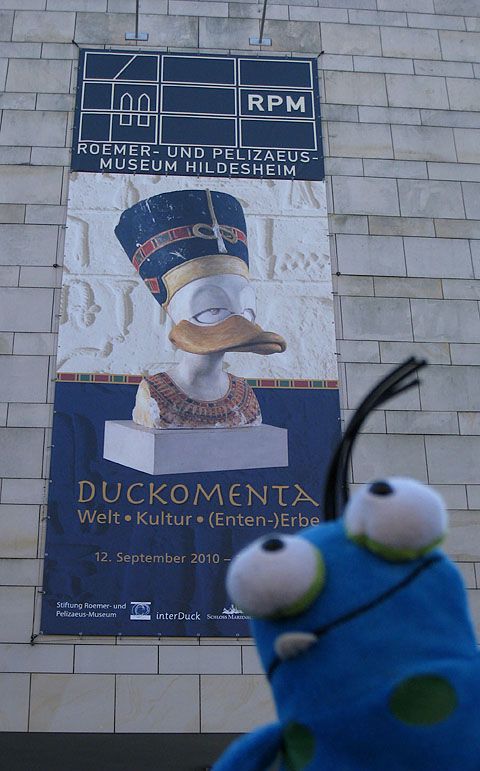 But the weather was too nice to visit a museum. The "Michaeliskirche" is another really big church in Hildesheim.
We sat down in the grass and looked at the church in the sunshine.
In front of the next church we found this wonderful fountain.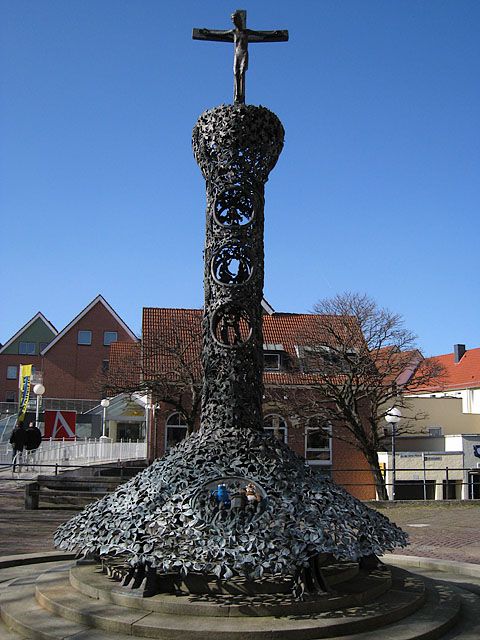 No idea, what the man told us...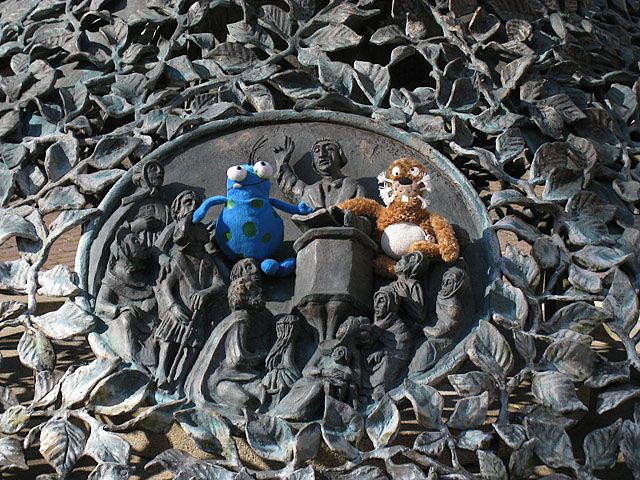 At the end a weird house with a funny name. This is a model of the house.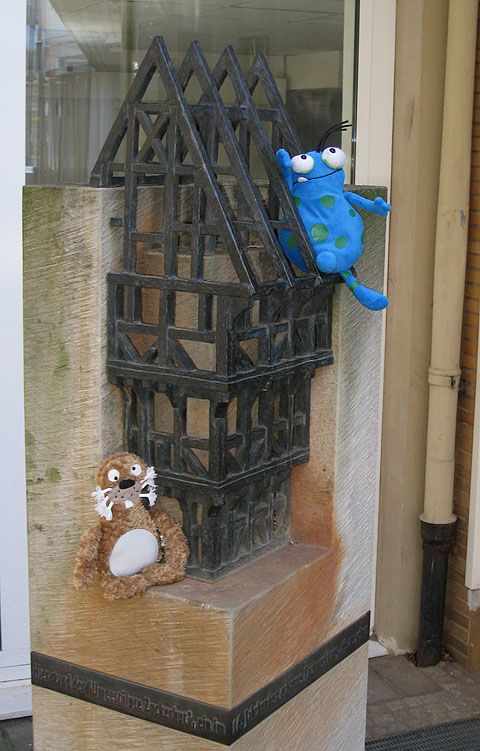 The house was rebuilt last year. We didn't like the location – it does not fit in this place. But we like the name!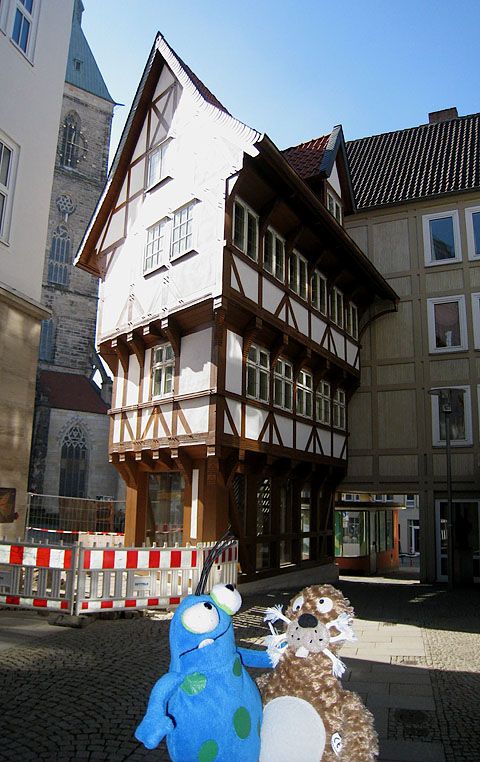 It is the "Zuckerhut"!  Love Murph
---
Hello , Today we went to the Wildgatter in Hildesheim – and wanted to see some animals. Here you see the entrance – really beautiful, isn't it?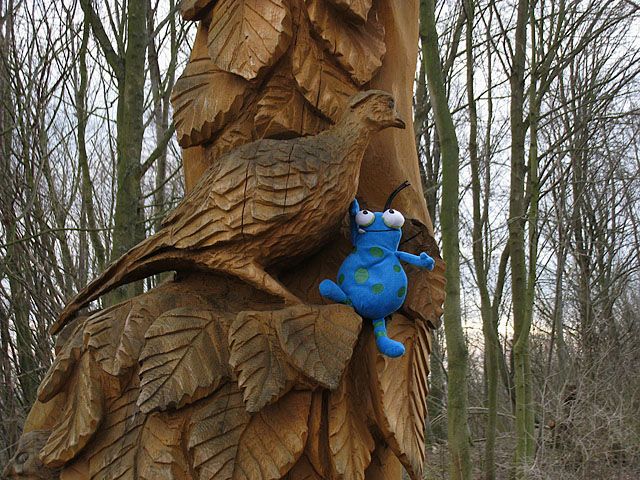 -
Unfortunately the real animals played hide and seek with us - and we didn't found them. But we saw other wonderful things – a big funny man out of wood.
We met a lot of animals – but all out of wood.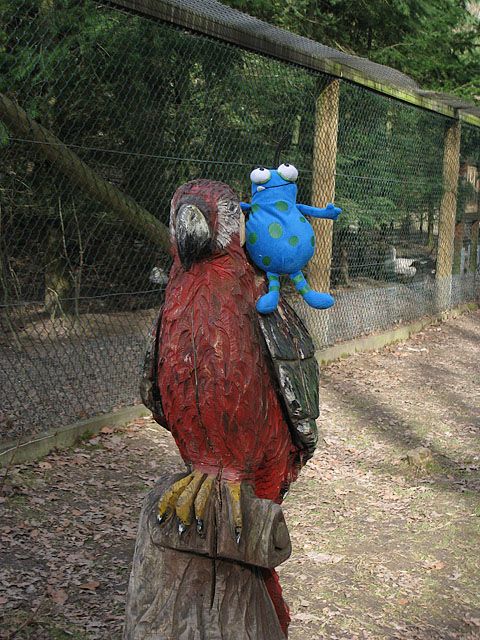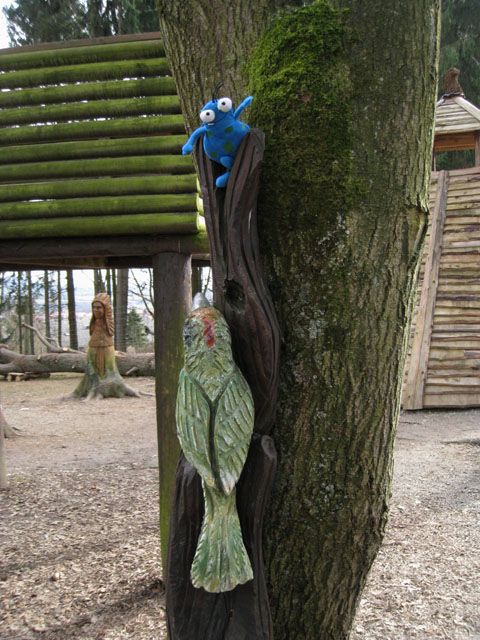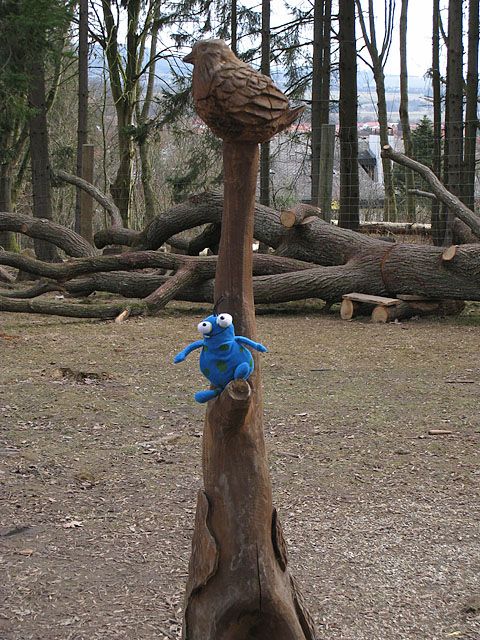 I was really happy that Bine and Holgi hat no rope.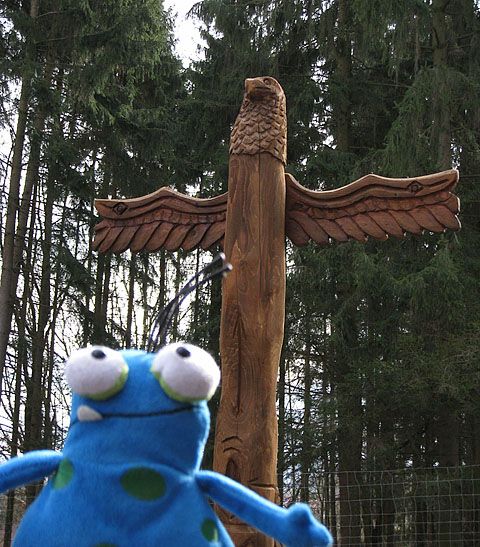 He had fortunately no rope too, to tie me at the Stake.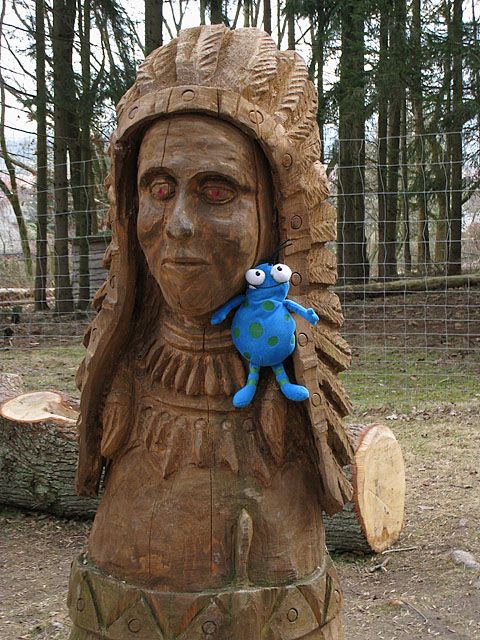 This is his tent.
Of course I found mushrooms, but not for the pan. :D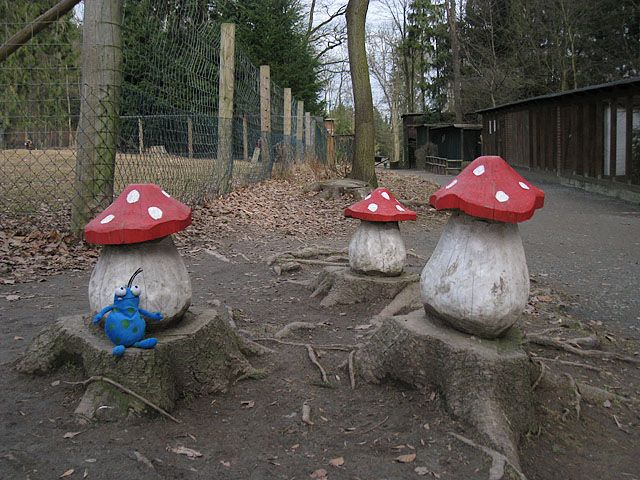 At the end I met this friendly turtle.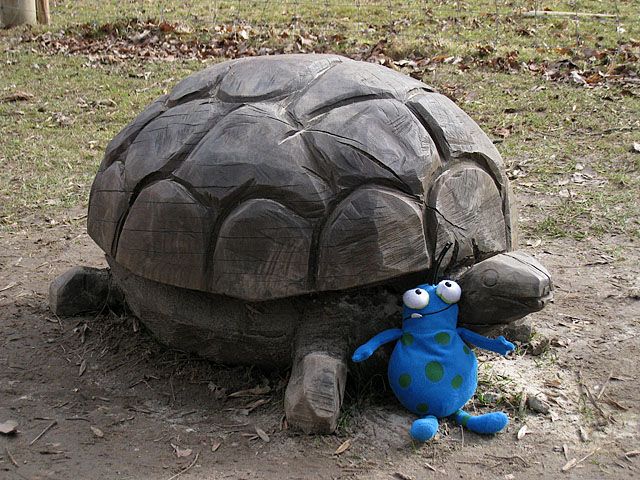 The trip was really great, although we didn't found the real animals, but I loved the wooden guys, too. Love Murph
---
Hello, It is Easter. Will the Easter Bunny came to us. I am so excited. Let's have a look!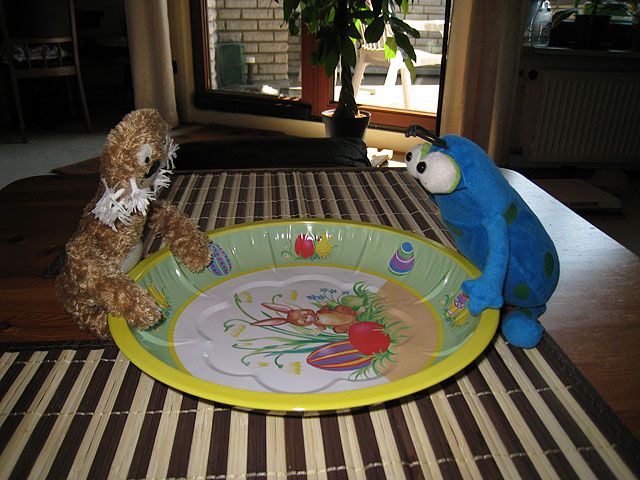 Mmmhhh, it is empty – maybe the Easter Bunny hided the Eggs?
Nothing – I didn't find anything in the flat – nothing! But my friend Keinohrhase found something.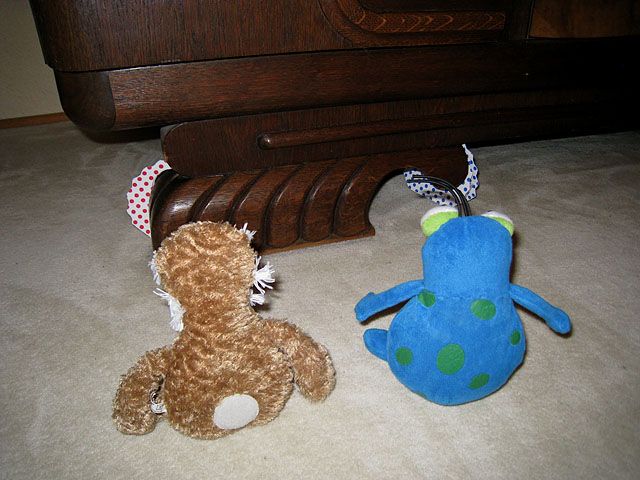 We wanted to see, what was in the baskets.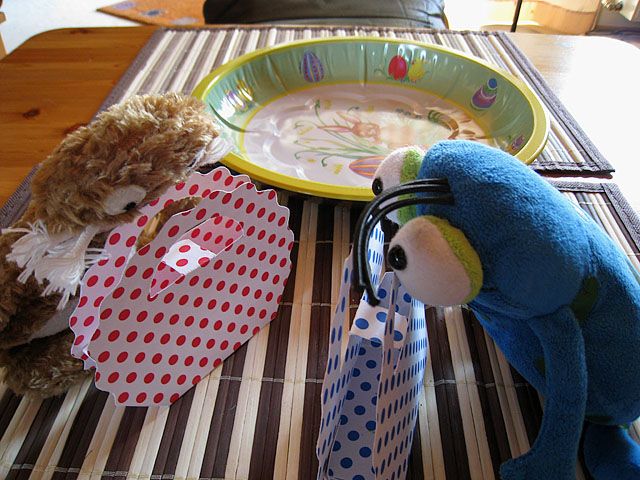 They were empty – no Easter Eggs for us. HoBi told us, that we had to take the baskets with us on our trip. They knows the forest, where the Easter Bunny lives!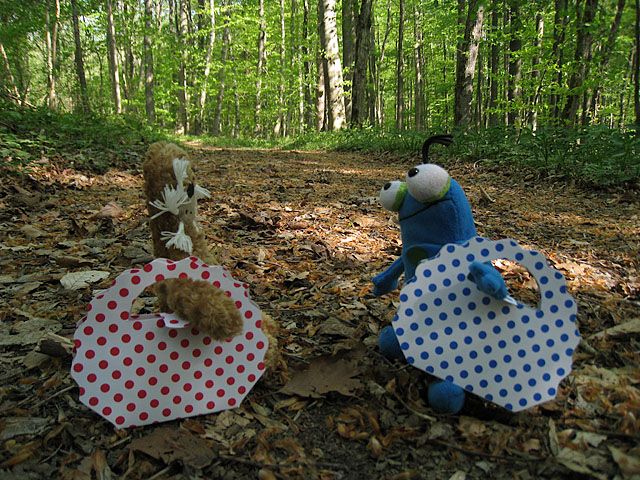 Well – this was the forest, where he lives. Let's have a look around! Yeah – I found the first Easter Egg.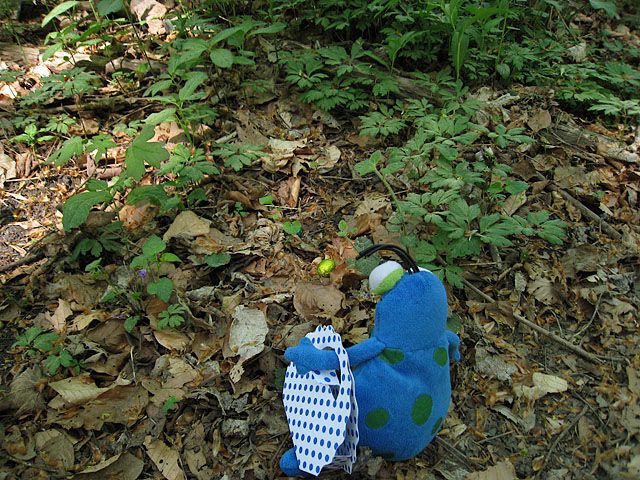 Good luck – there were two eggs!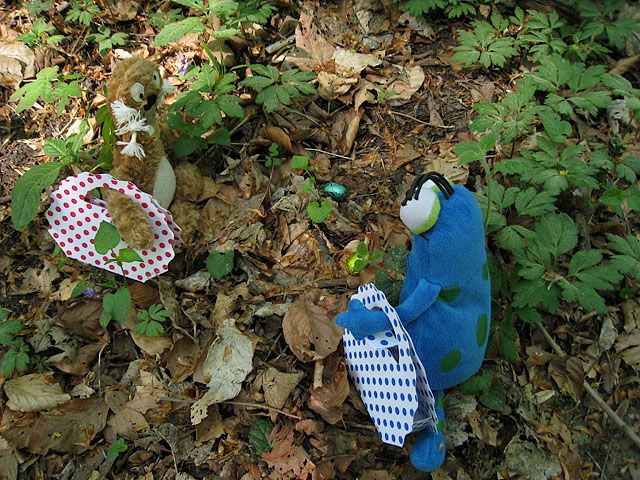 There were two lady birds sitting in the sun. Are they alive?
They were out of chocolate! Will we get it, or are we too small?
Ready ! But there will be more I hope. I will go to the left – and Keinohrhase will search on the right.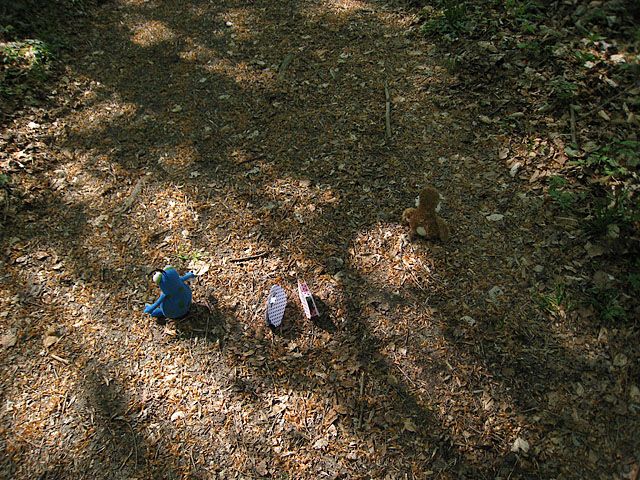 Look there – another Egg – and a wonderful flower – this is an Orchid - it grews in the forest.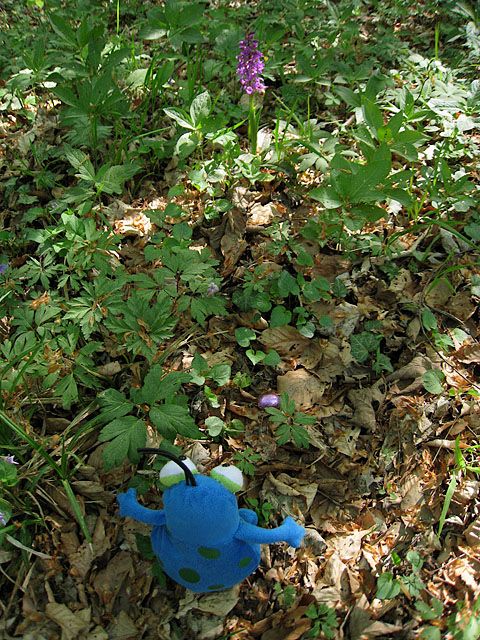 Keinohrhase found something.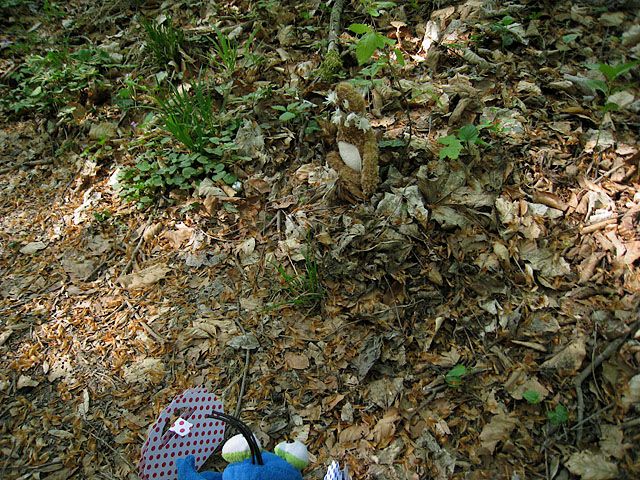 I am sure – there are two more eggs behind the knob.
No Easter Eggs…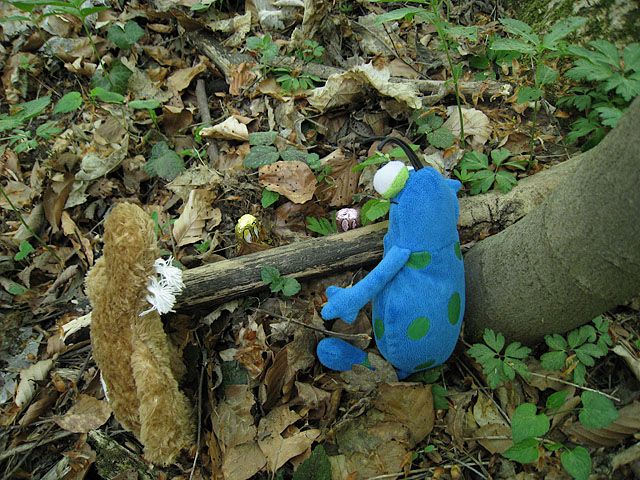 But Easter Bunnys – we took them of course.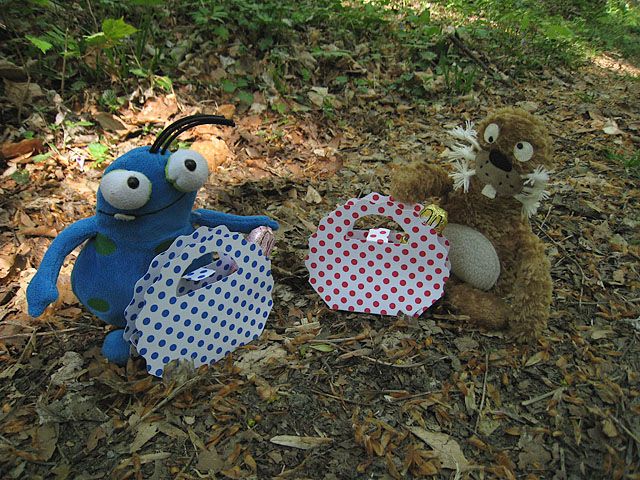 Keinohrhase, look there – what is the bright thing there?
We wanted to have it, too, of course.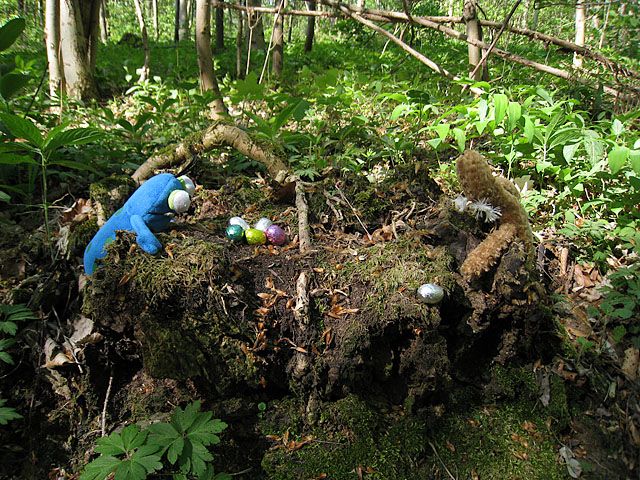 Wow, so many Easter Eggs, now our baskets were full!
We were sure – the Easter Bunny is living here. What a wonderful forest. Maybe we will come back and find more Easter Eggs? We wish you, Dicker Kumpel and all your guests a wonderful Easter Time! Keinohrhase und Murph
---
Hallo , today I made a trip to the Harz with Ulrich. The Harz is a region with a lot of mountains. This is the Innerste River.
In this barrage the water of the Innerste River was collected.
On the board of the river we had a little rest. We found a nice place in the shadow!
Then we drove to the National Park Harz.
We found this beautiful pond. He is called Entensumpf (swamp of ducks).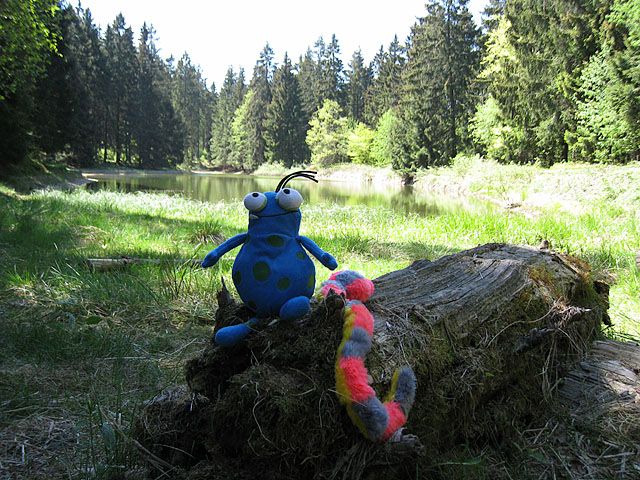 Isn't the Oberharz beautiful? We didn't want to leave it.
From a place called Torfhaus we saw the highest mountain of the Harz. It is the Brocken.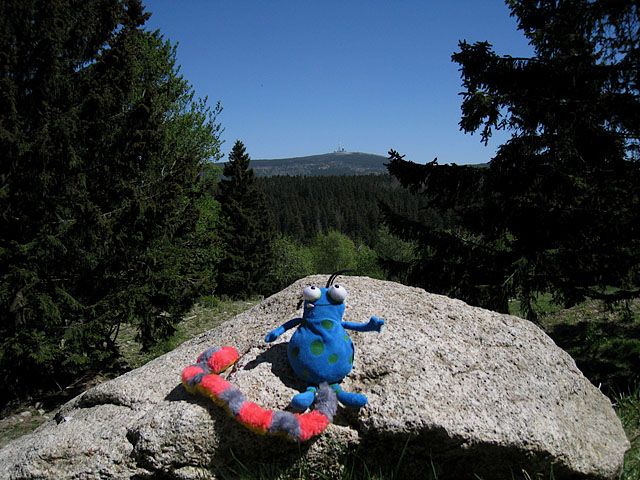 The Okertalsperre is the biggest dam in the Harz. There were big ships on it.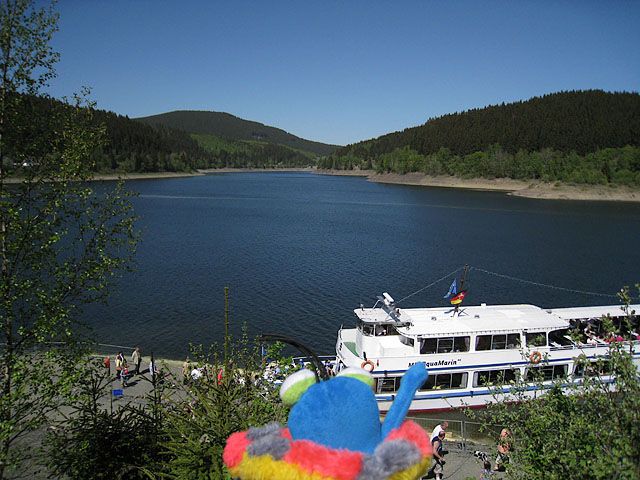 On our way back home we found this lovely waterfall. He is called the Romkerhaller Wasserfall.
I really loved this trip! Many greetings Murph
---
Hello, I was so sorry and sad. I have forgotten the birthday of my best friend Dicker Kumpel. So I went to visit him – and brought him a nice flower and a gift! I hide behind the flower to see, if he is angry.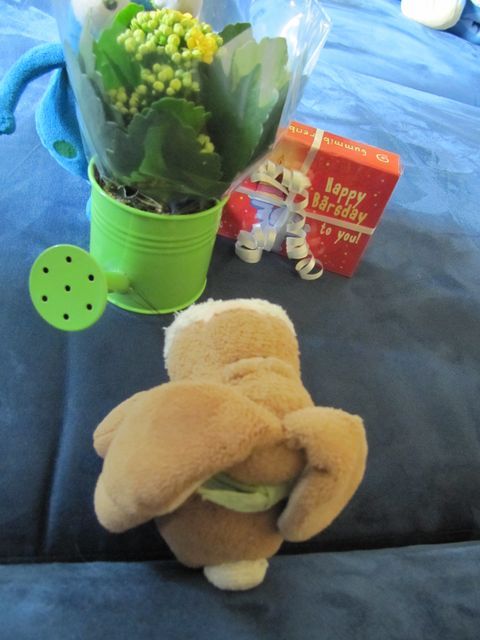 But it was a little boring behind the plant so I came nearer.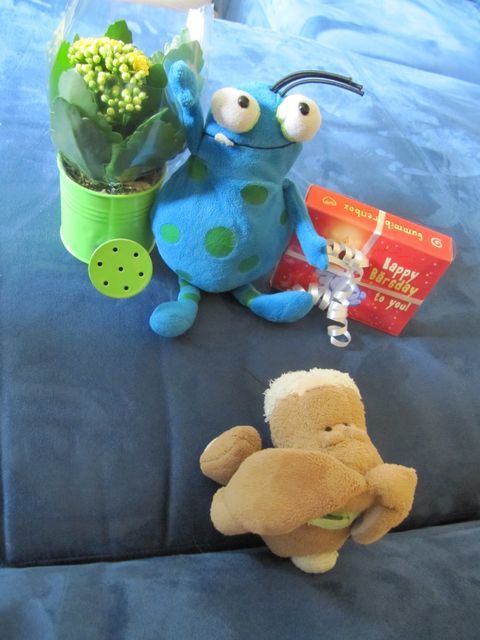 Fortunately he was not angry. Instead he was so happy to see me.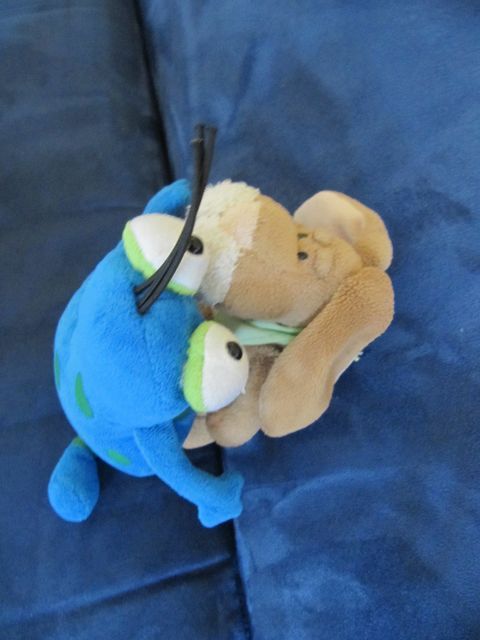 Luckily – I arrived in time to went to the Landesgartenschau – a place, where many nice flowers and other plants are shown.
Look- so many beautiful flowers.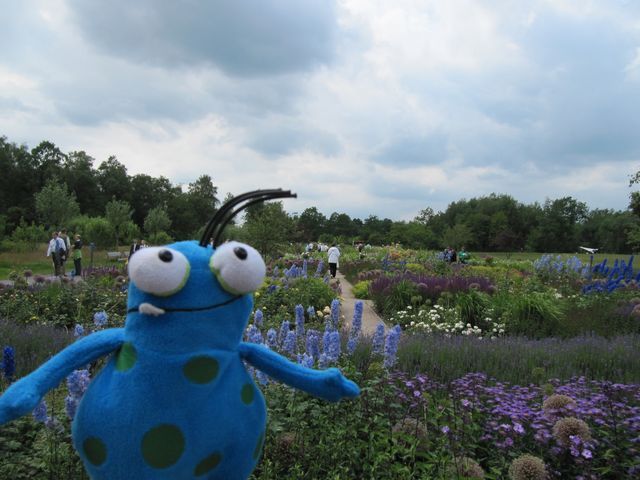 This plant was so funny. I tried to talk with it – maybe it is another alien.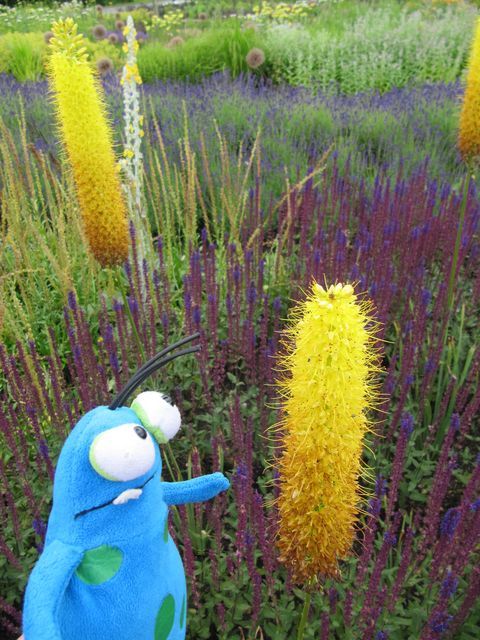 Next to the flowers there were other things – like these crazy chickens. One was blue like I am.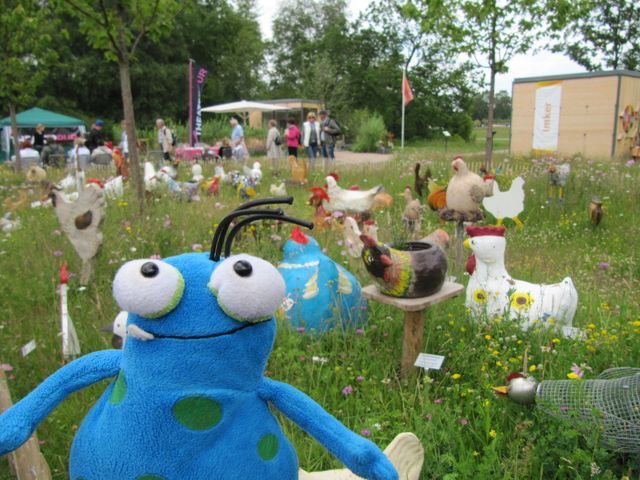 There were storks, too…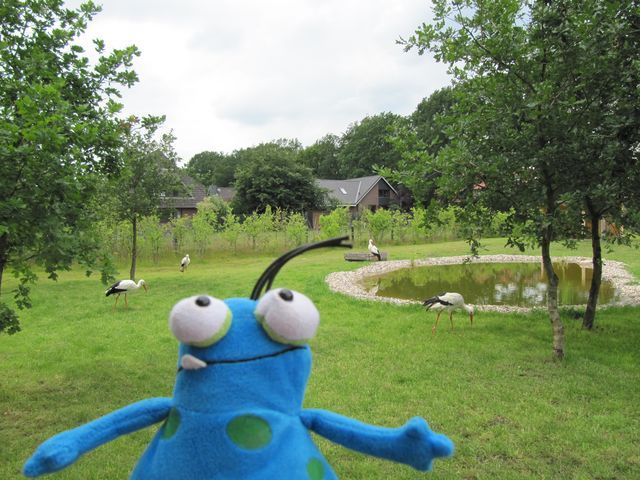 … and little pigs. I wanted to play with the pigs, but I was not allowed to do it.
So we went to another place and had fun on the playground.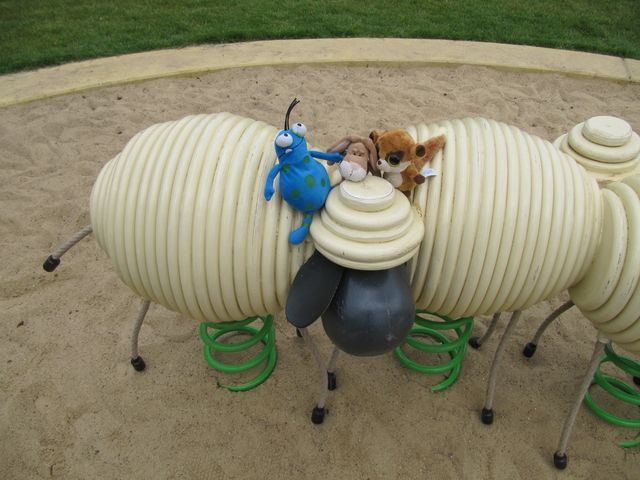 Another funny guy.
And more wonderful flowers. But I am more beautiful, don't you think so?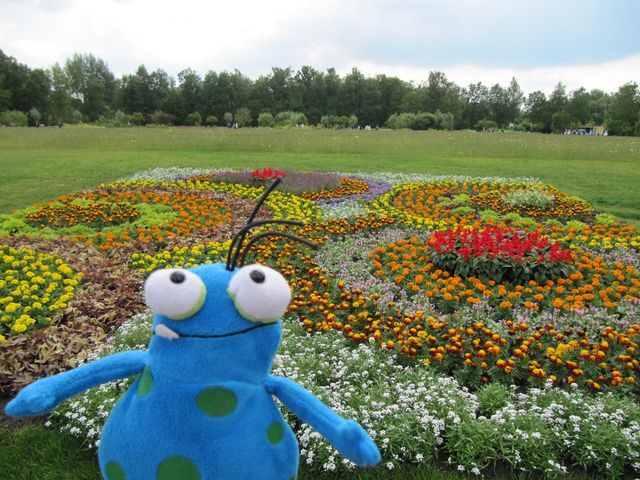 I talked with this strange man. He had a nice house.
There was a strange tree in his garden.
Then we met someone who played the piano.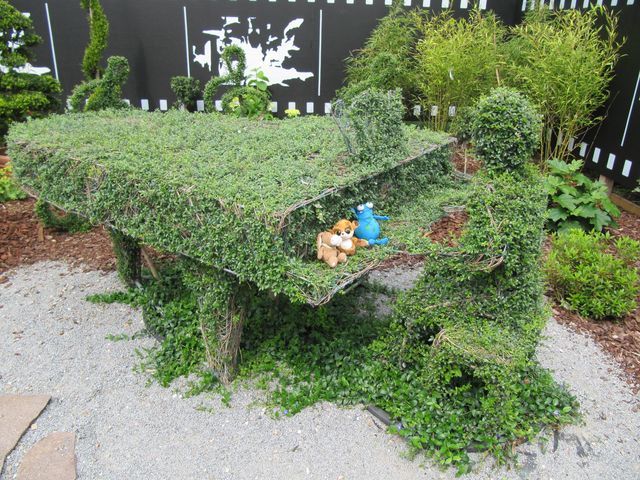 It was a great day. But I had to say good-bye to Dicker Kumpel. It is always great to see him.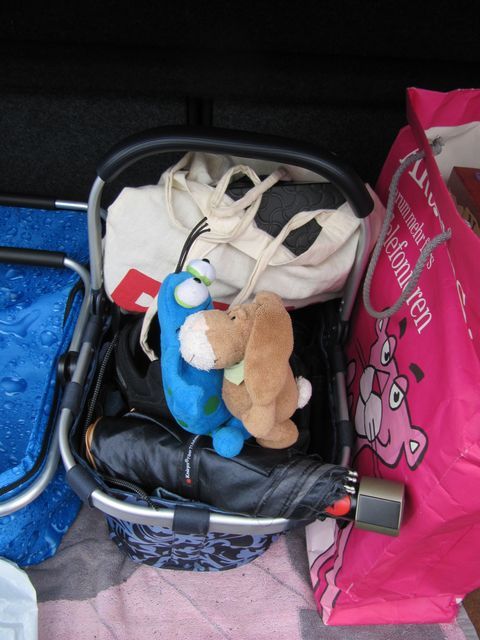 Love Murph
---
Hello, Today Holgi wanted to show me, where he works.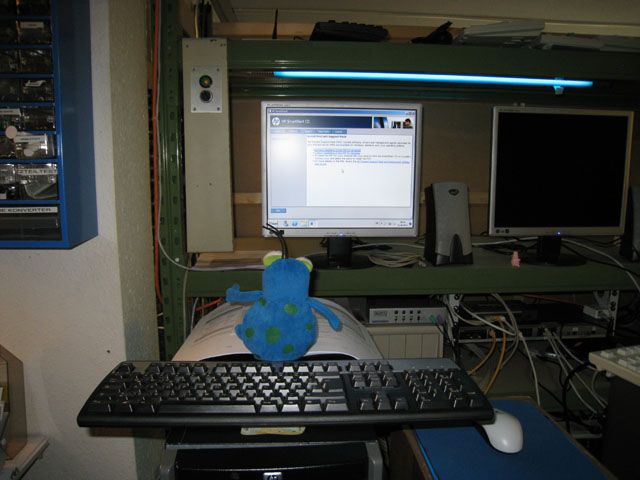 It was so boring! Sitting all day long in front of the Computer – this was nothing for me. So I decided to explore the house.
Look – there – what is this? It looked exciting!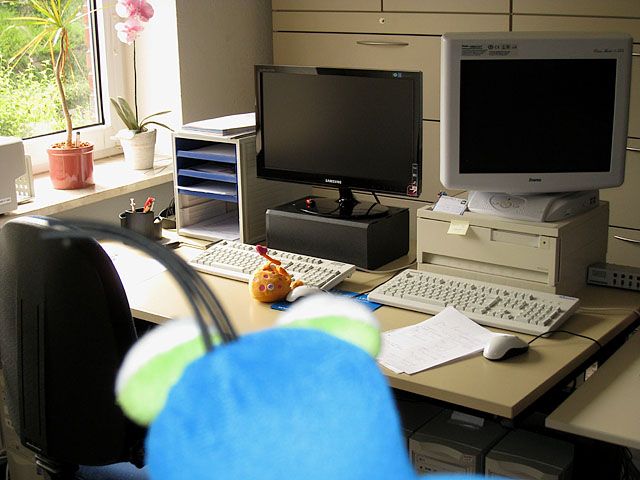 Hm, he seemed to be a little shy. Hi – I am Murph – and what is your name?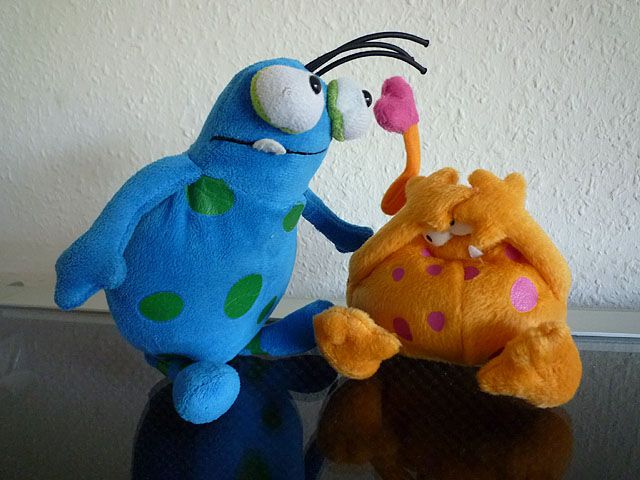 I am Teeth – do you want to play with me?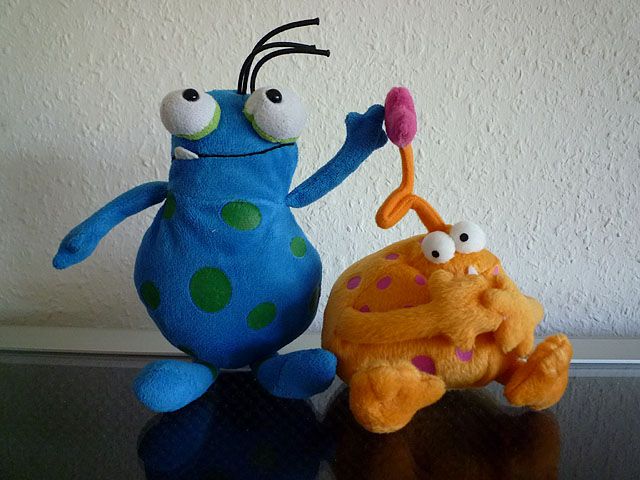 We went outside. I have been here a while ago and walked on the Lavespfad.
Oh – what a wonderful Tree!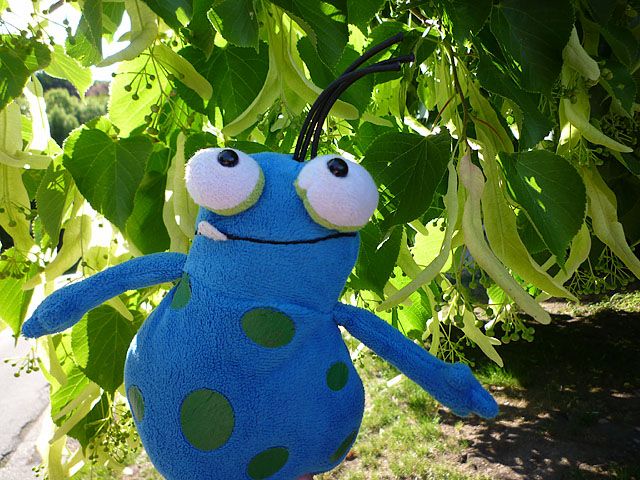 Can you see me?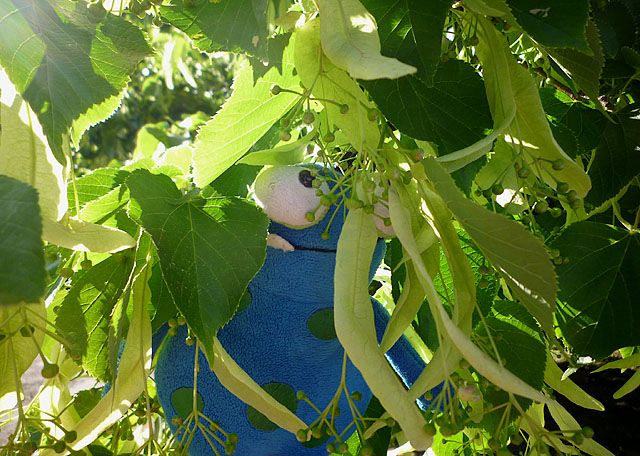 Hey, Teeth – can you do this, too?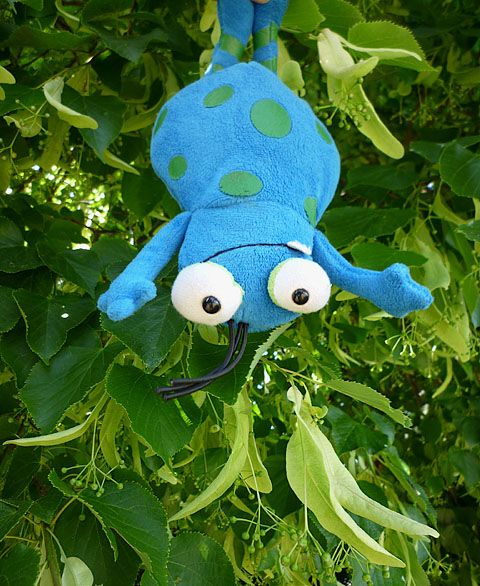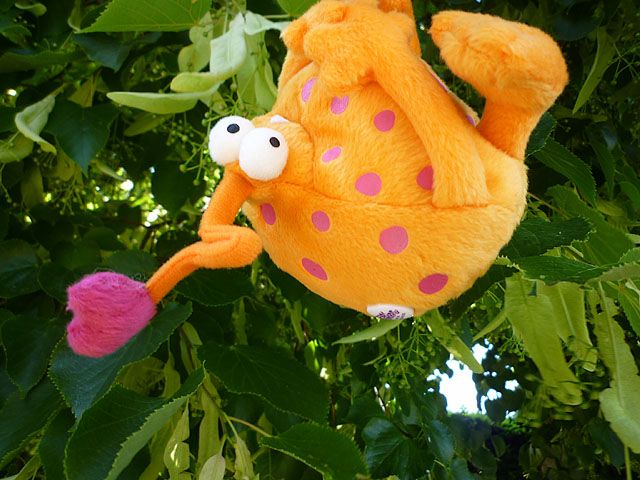 We were so beautiful!
I showed Teeeth these wonderful flowers!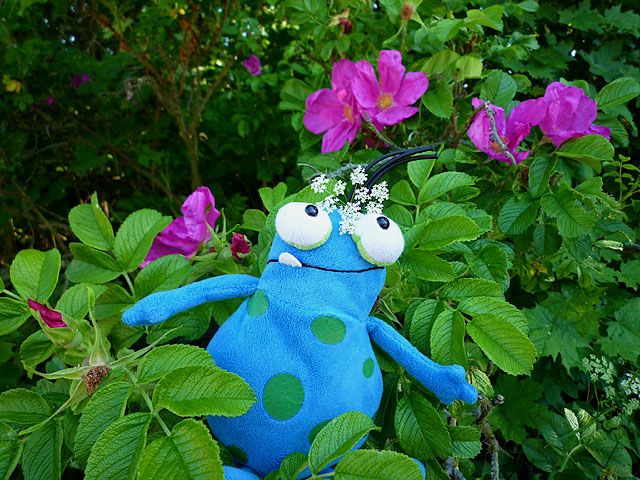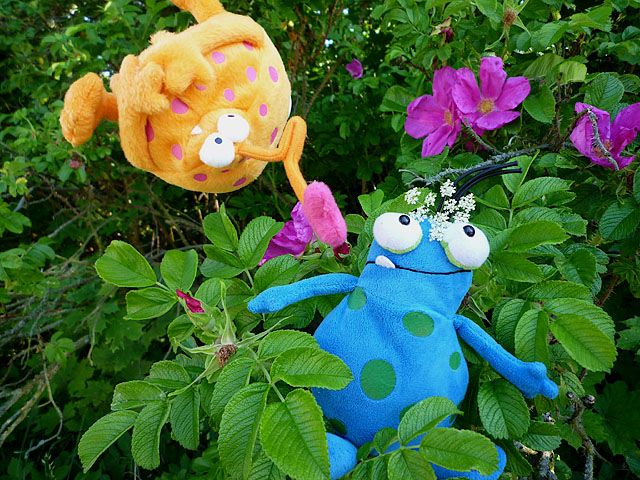 We took this way – because we have so beautiful small bodies, it worked.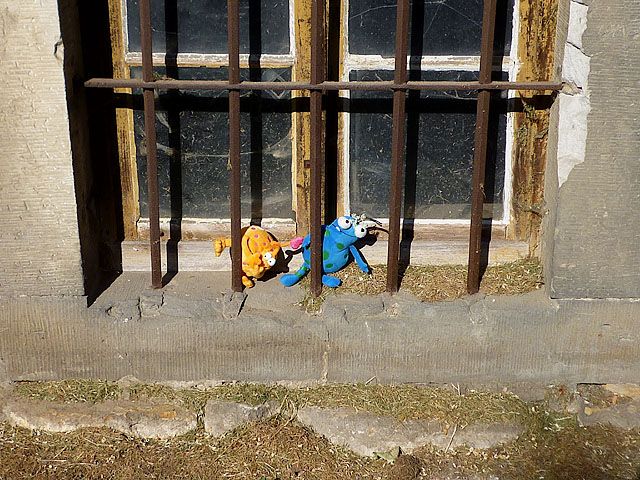 To tell the truth - it worked for me - I had to help Teeth.
Then we made a rest.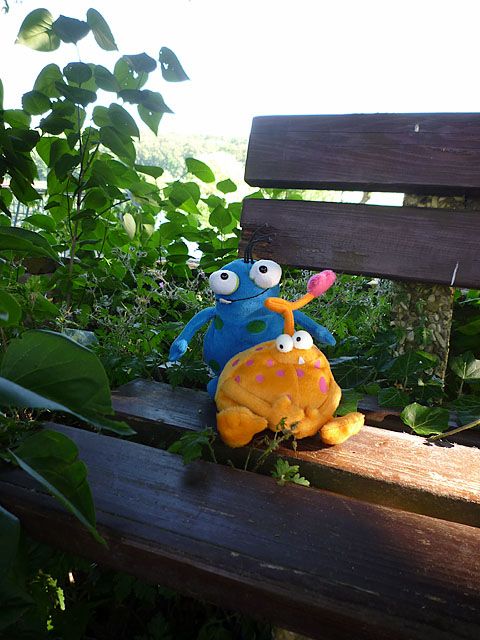 Where is Teeth?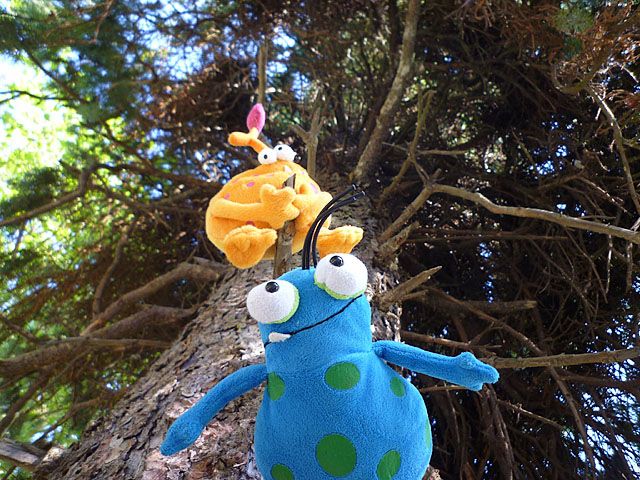 What are you doing there?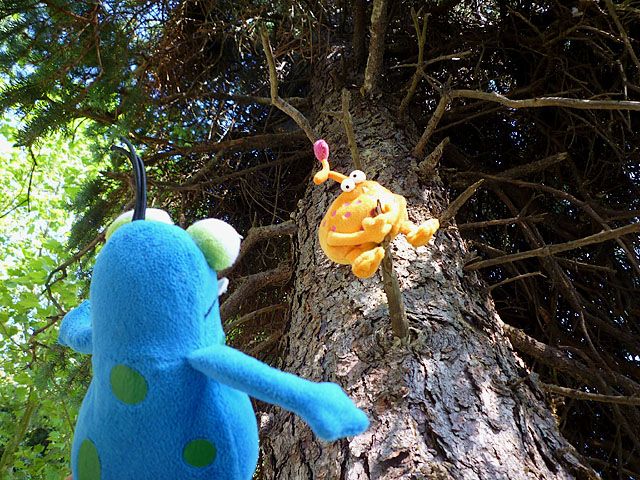 Come – let's play football.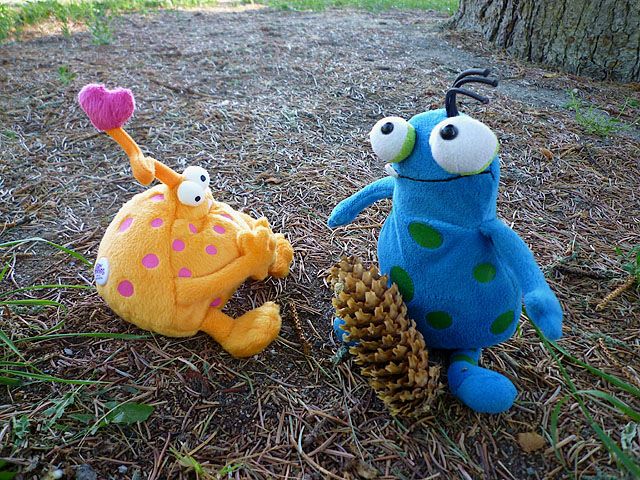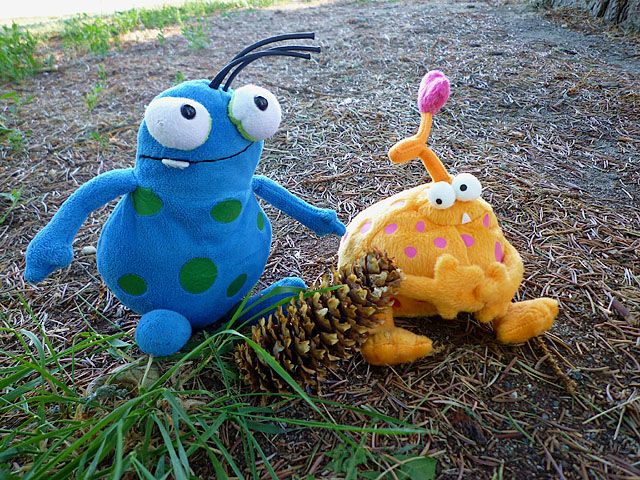 Then we searched for something interesting.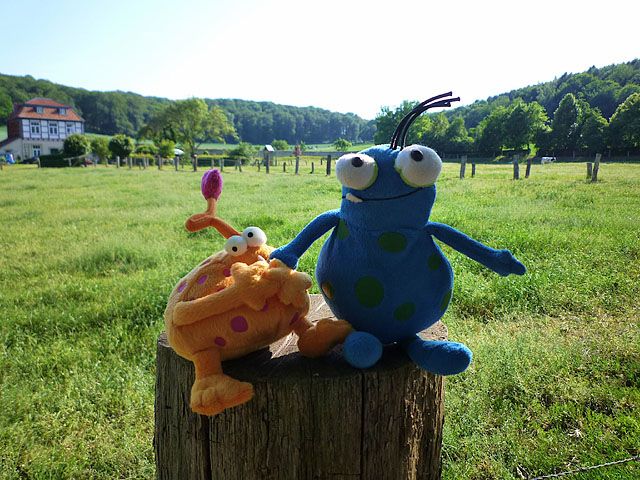 What about the bus stop here?
Murph, look, I found something scary!
Hey, who are you – are you an Alien, too. But he didn't answer.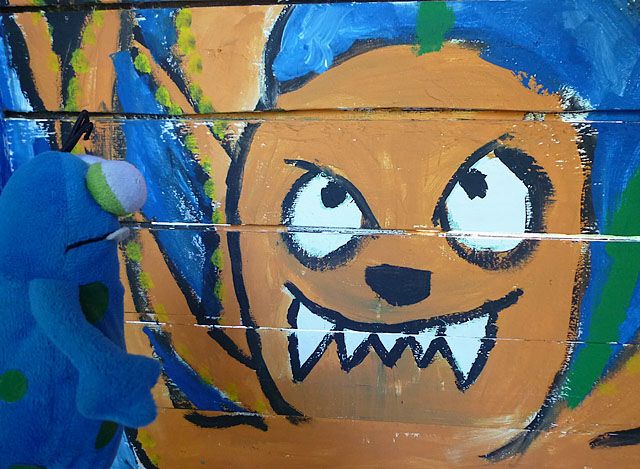 Teeth preferred the sun.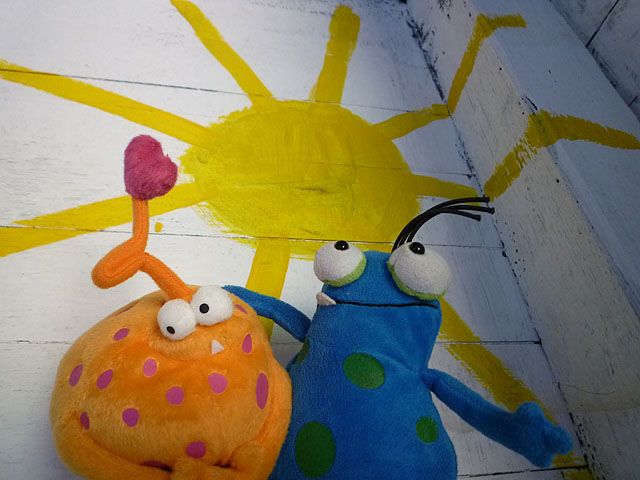 It was time for another break.
Look, what I can do….
I can fly!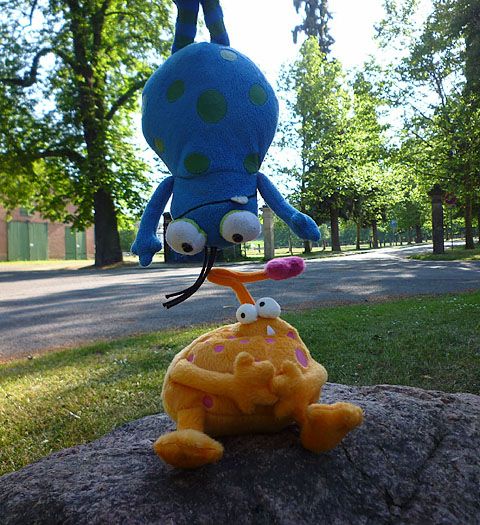 And come back onto the Ground…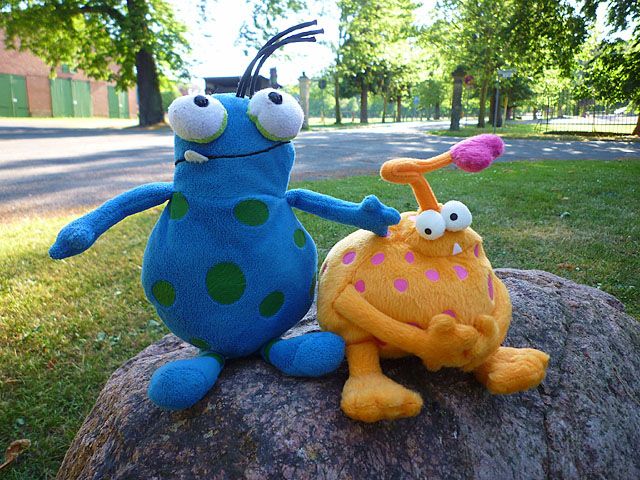 And I can climb of course.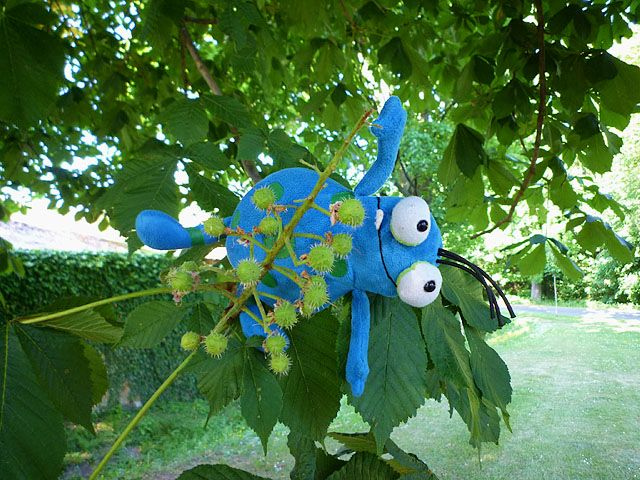 The time with Teeth was funny – much better than sitting in front of the Computer.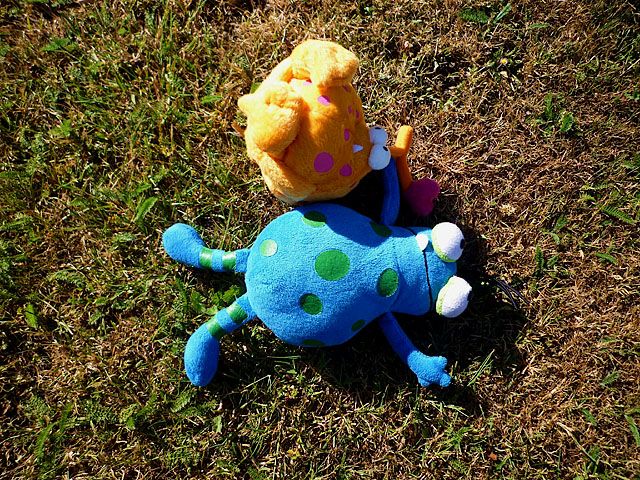 Many greeetings Murph
---
Hi, I am on holidays! We have a nice holiday flat in Jena. I show you some photos of it. Because it is so colorful!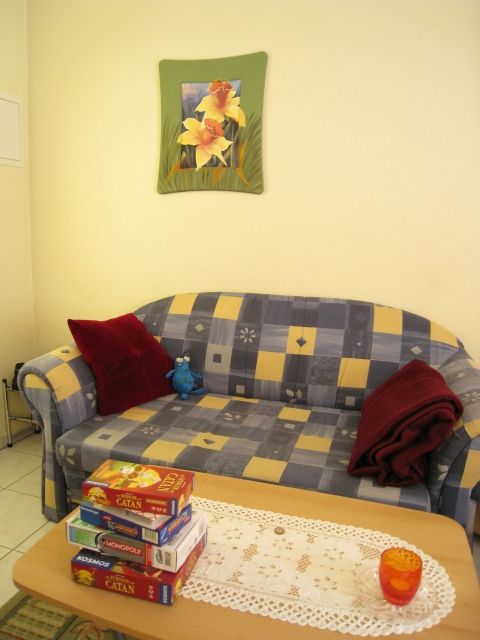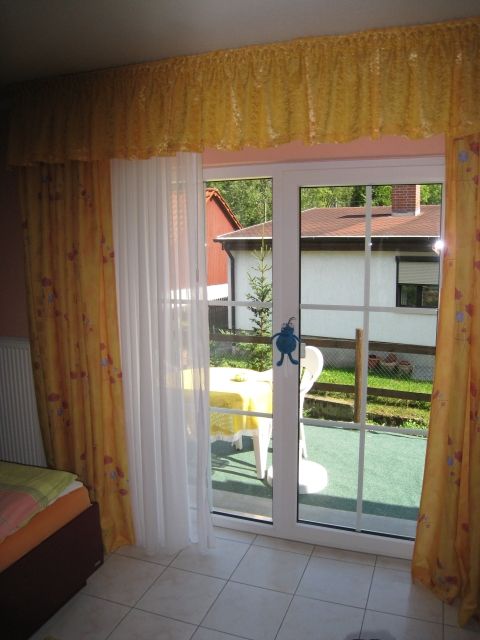 Today we went to Weimar and visited the Castle Belvedere.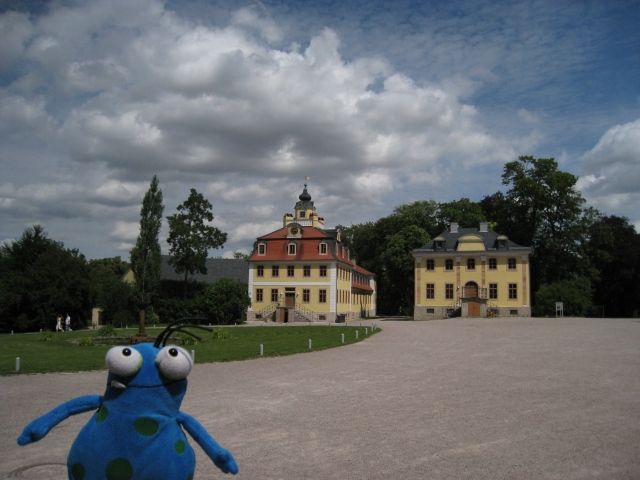 I found a very beautiful statue in the Garden.
I loved to be in the Park of the Castle. What a wonderful old tower!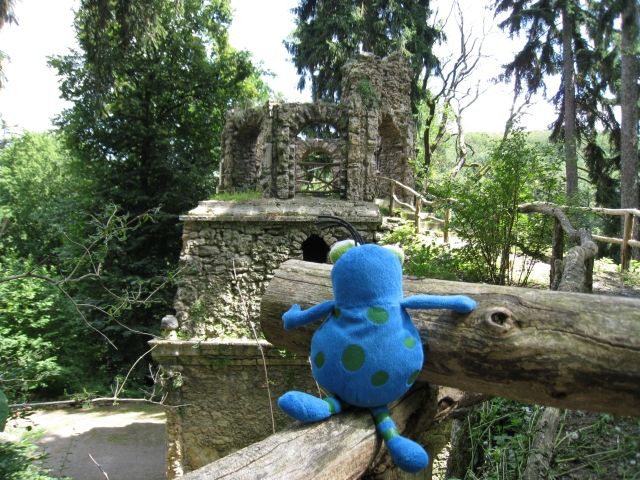 And a beautiful waterfall.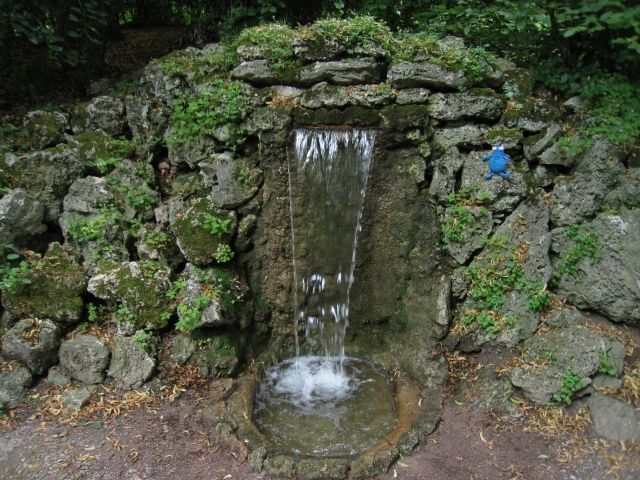 I sat next to this fountain for a long time. It was so wonderful – but I sat not near to it – so I didn't get wet.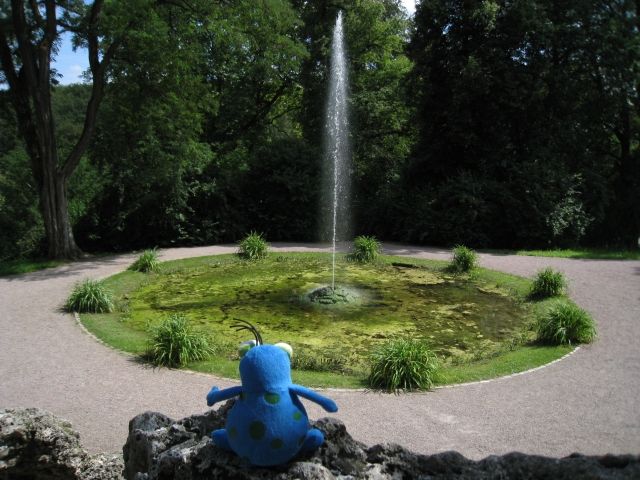 On the way back Holgi bought this great beer. The day was so hot – so I wanted to try it.
But it is a gift for another person – so I got another beer. A good idea!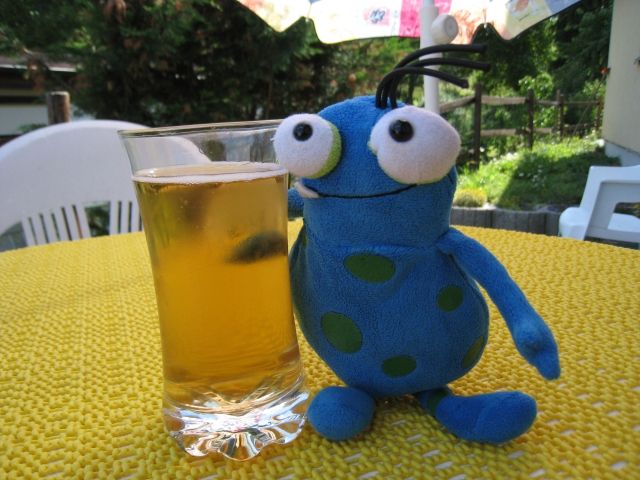 I found such a funny card for my best friend Dicker Kumpel. I really hope that he will like it.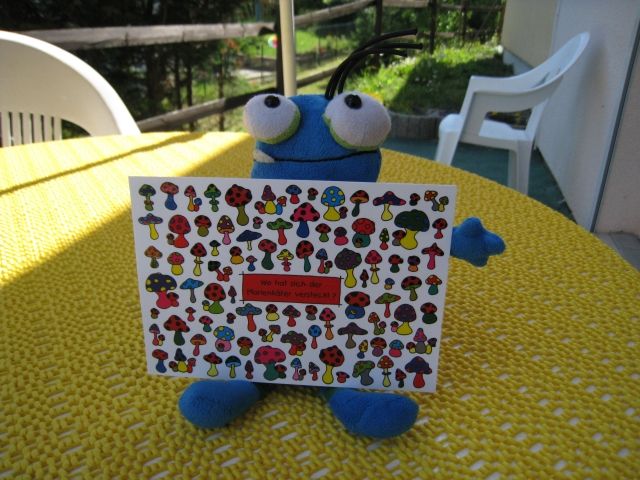 I will show more photos of Weimar soon. Many greetings Murph
---
Hello, as promised, I will show more photos of Weimar. Today we went into the city center. Near to the parking lot we found this wonderful fountain!
In the city there were really famous poets : Goethe und Schiller. Maybe I will be famous like these guys some days – Murph the famous ToyVoyager.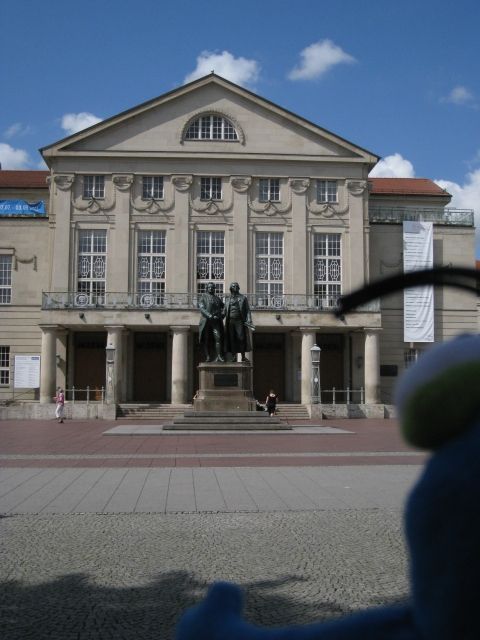 Back to Goethe und Schiller -I really loved this guy more.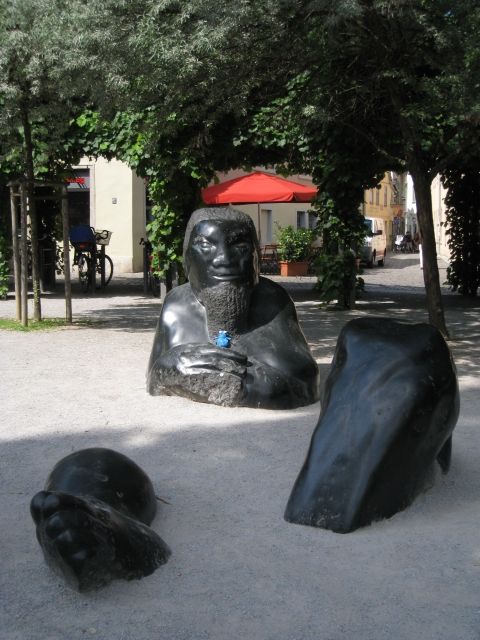 Unfortunately I have no idea, who he was. Can you see me in front of the Roemerhaus?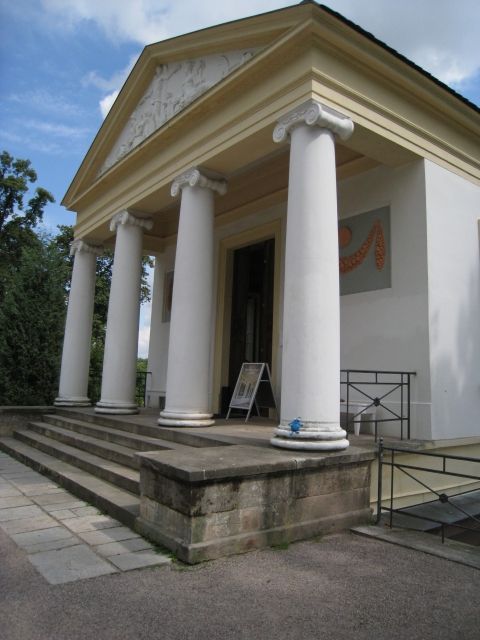 Yes – here I am!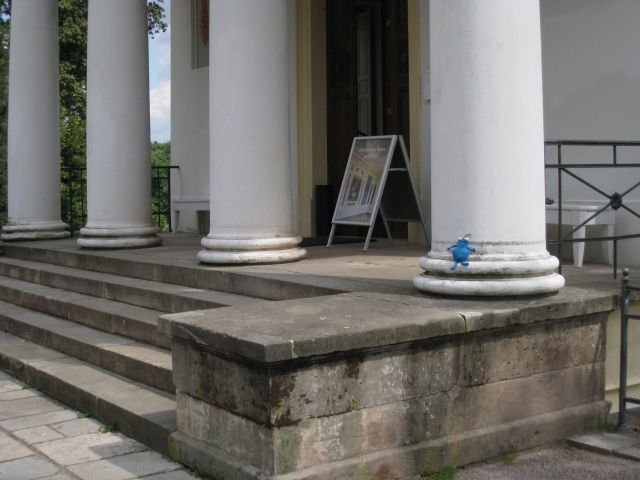 In the garden I found this beautiful flower!
And behind the house is a nice small spring.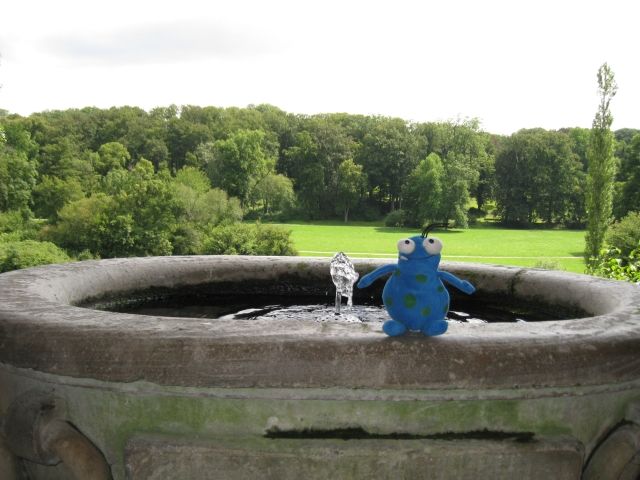 The Roemerhaus had really nice painted walls!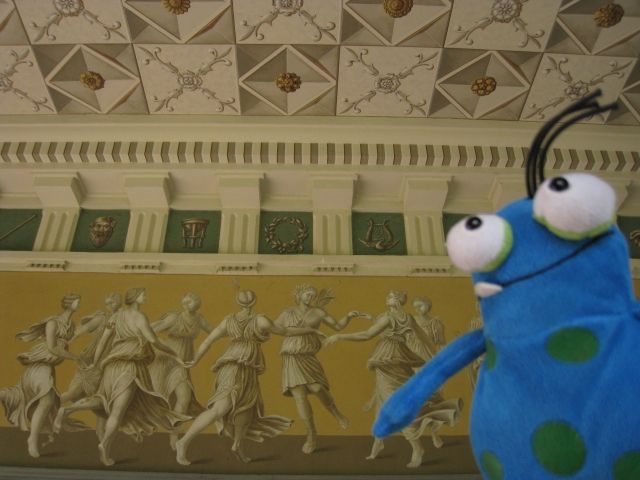 And look – what I found in the ceiling.
This is a place, you have to go to, when you are in Weimar.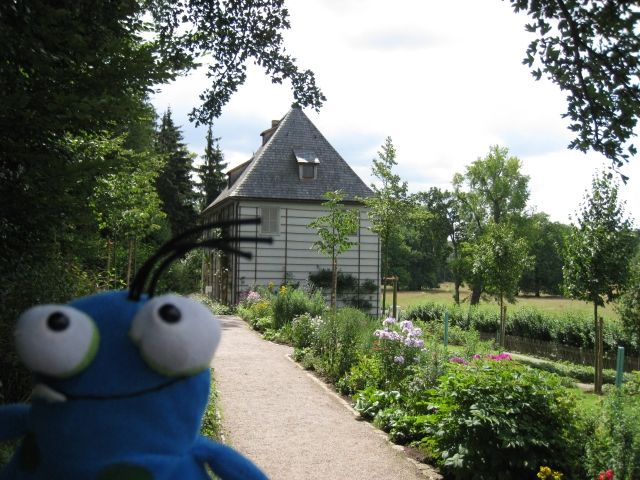 At the end I found another famous person: William Shakespeare
And next to his feet, there was this nice guy.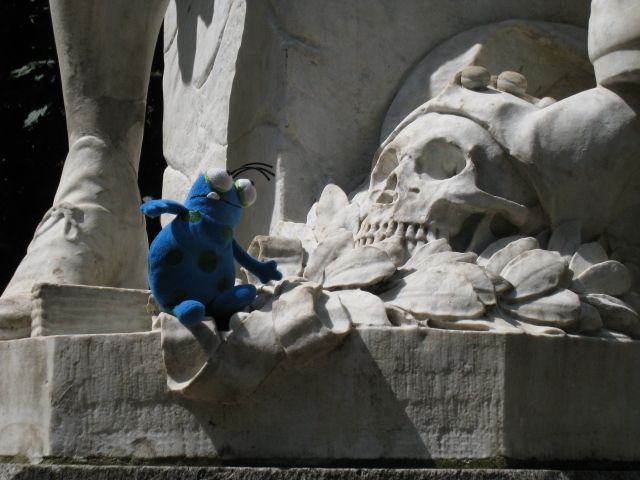 Weimar is a really beautiful city – and it was worth the visit. My next photos will be from Jena. Let's see, if it is as nice as Weimar. Many greetings Murph
---
Hello, Today i visited Jena. I started in the very beautiful botanical Garden and saw a lot of nice flowers. The flowers normally don't grow here in Germany.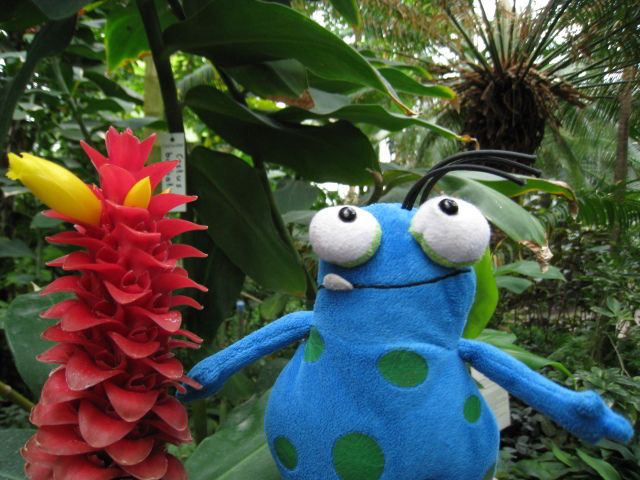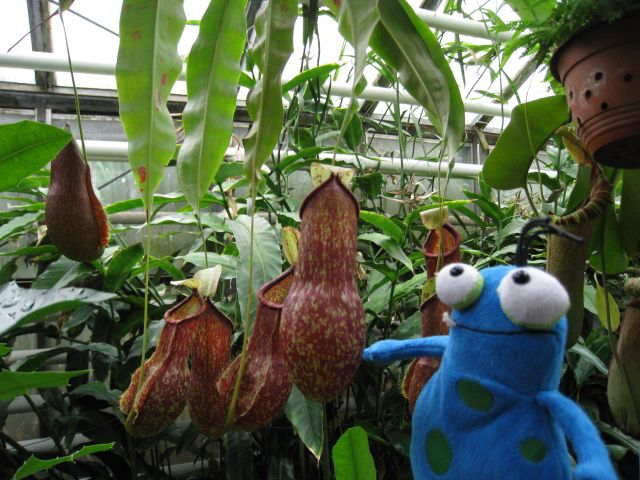 I think the next plant was really interesting. The 'plates' swim in the water – and can carry 40-70 kg. Can you imagine how many TVS could sit on one plate?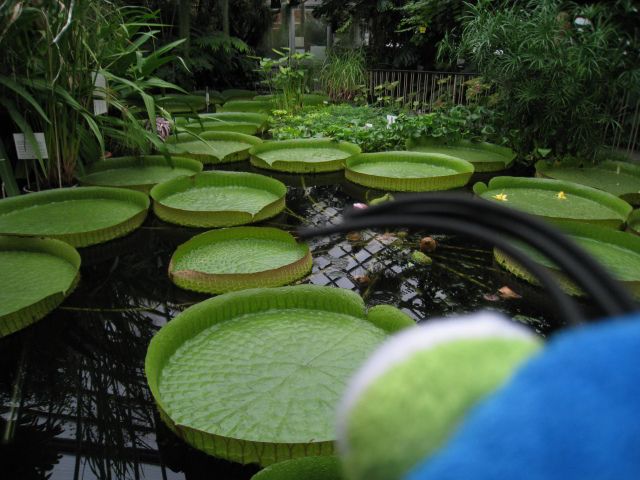 There was a wonderful lake full of flowers in many colors!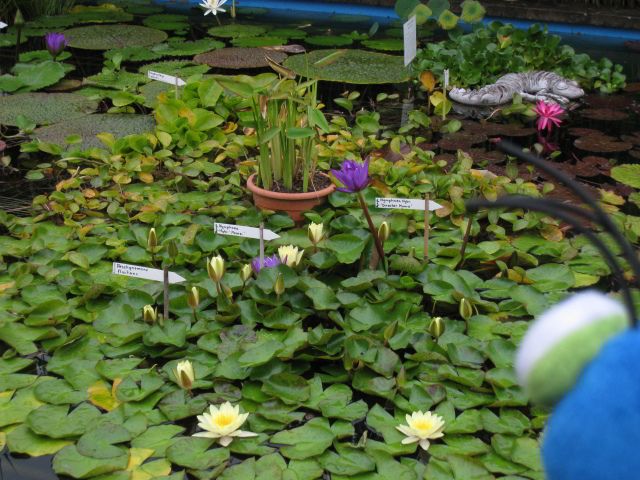 Of course I found a mushroom in the botanical garden!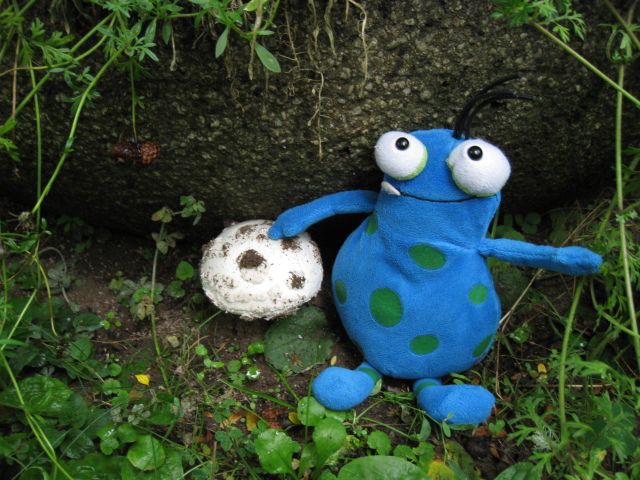 Then we went into the city center. This is the powder Tower.
A really big church…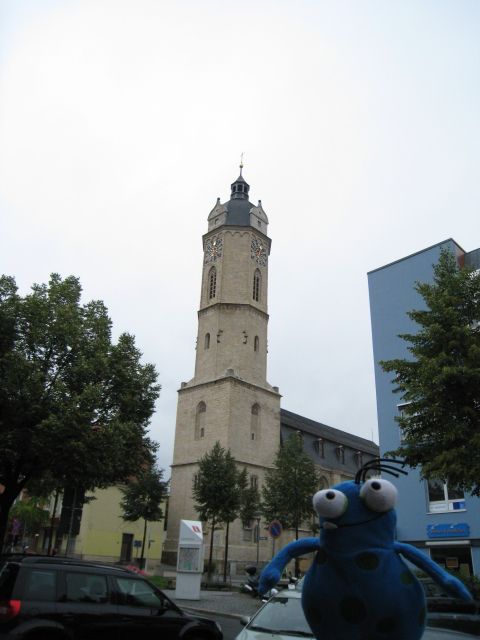 And I wanted to show you this really ugly tower. It is called the JenTower and is really in the middle of the old town.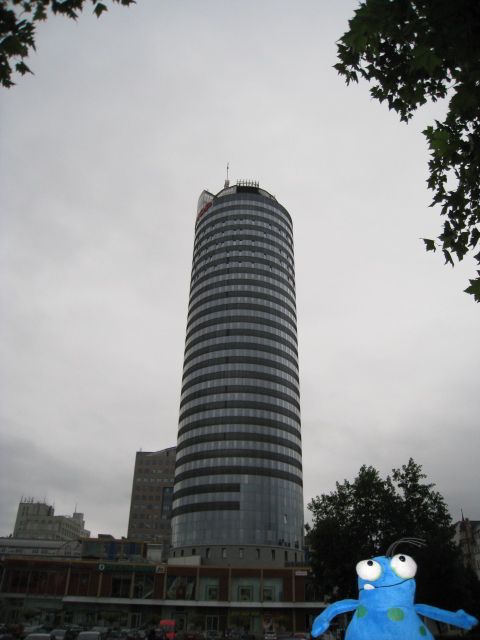 Of course I preferred the market place of Jena – it is much nicer.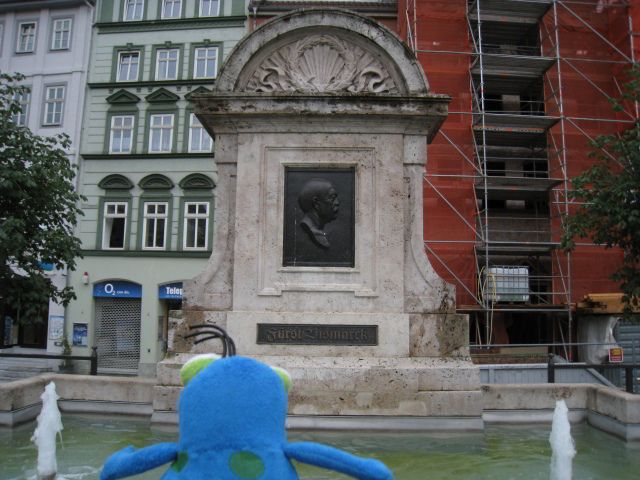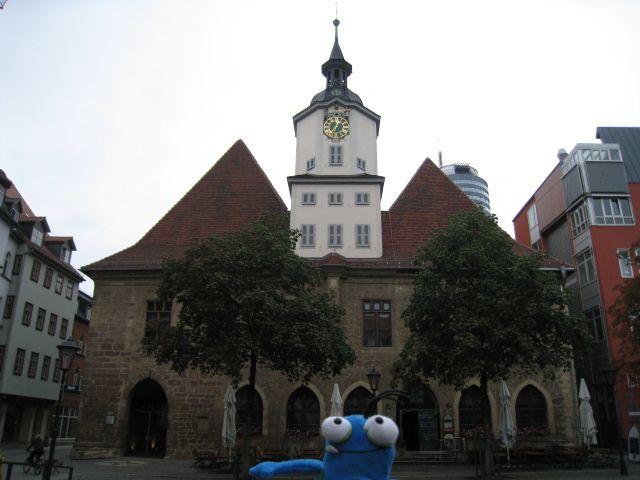 The rest of my holidays I spent on a course for mushrooms. I had no time for photos, because I learnt so much. And I met a lot of people; they wanted to see me –the famous Murph! Many greetings Murph
---
Hi, today we went to Lamspringe. There is a big park with a nice playground. Here you can see the Abbey, where the park belongs to.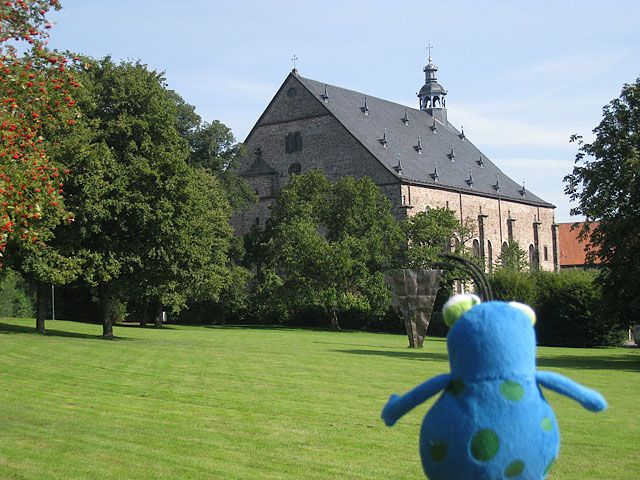 In this park the Lamme starts – the little river, that flows through Bad Salzdetfurth.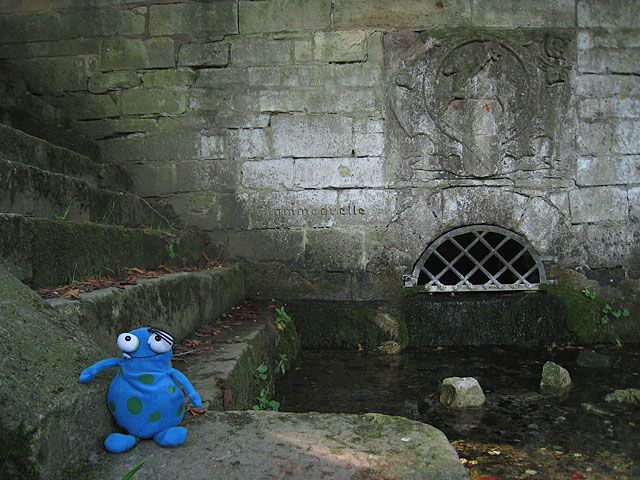 There was a big roll on the playground. Unfortunately it is full of graffiti.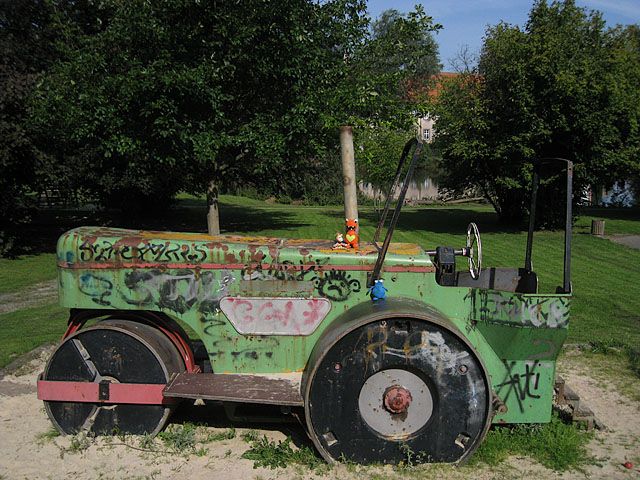 But there was a wonderful slide.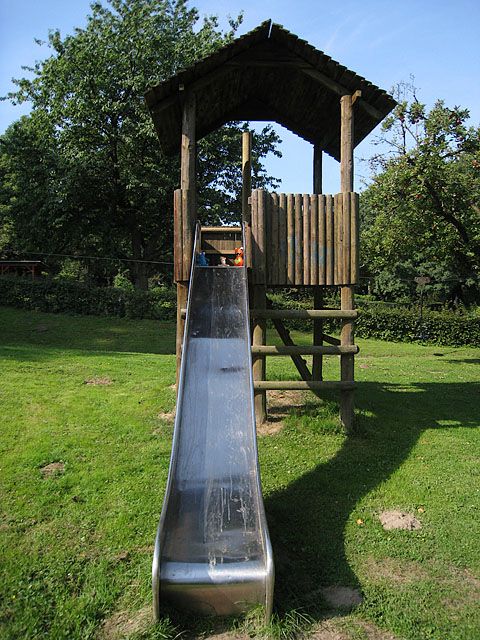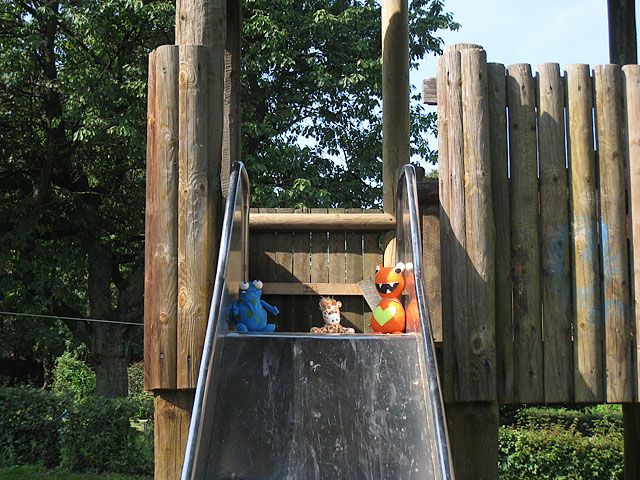 We wanted to use the seesaw, but Jujube was too big, so it didn't work.
The ride on the ropeway was so funny.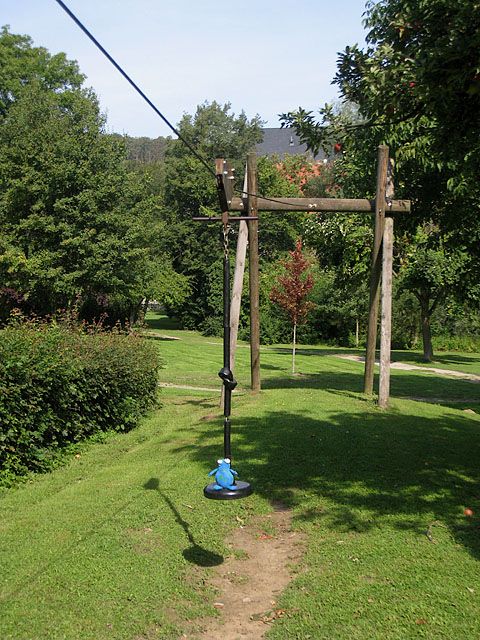 Then we had a rest on this roll.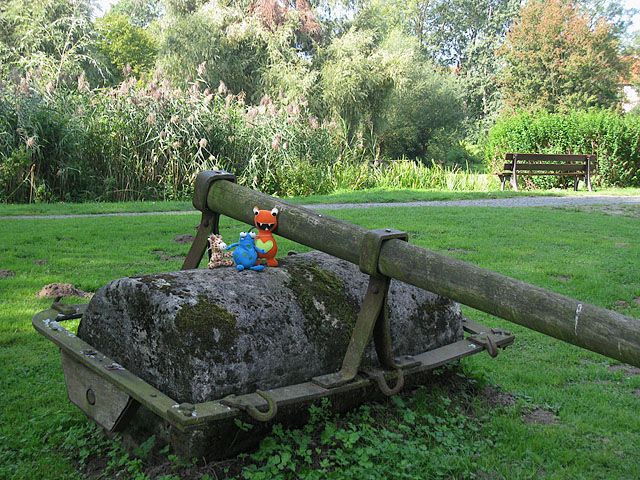 At the end we found this beautiful water wheel.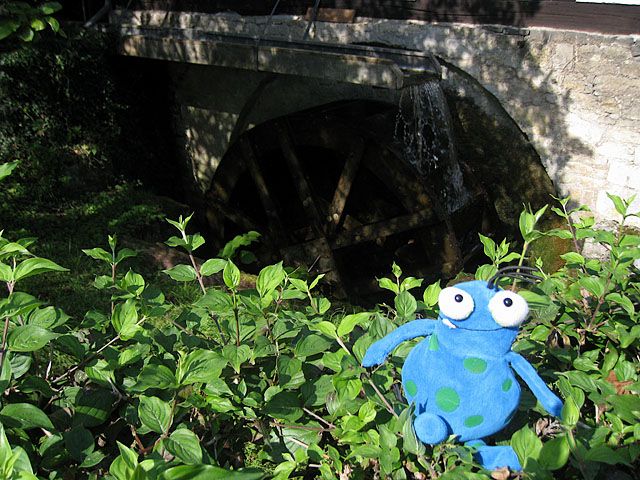 We had so much fun. Many greetings Murph
---
Hi, Today we drove to Hildesheim and visited the rosarium there. In front of the rosarium we found these two palm trees – it was like being on holiday.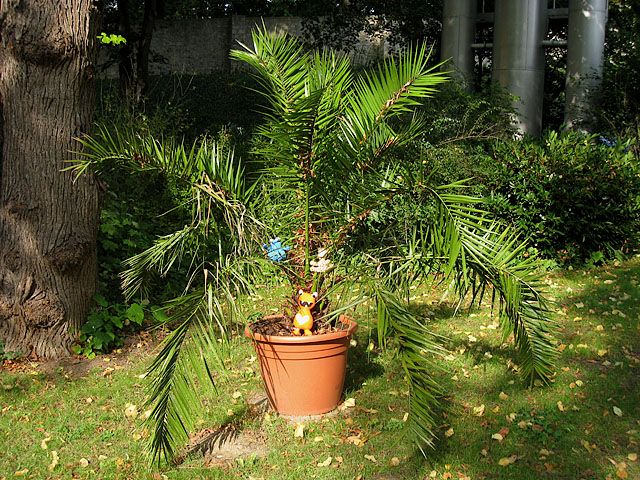 This is the entrance to the Magdalenengarten.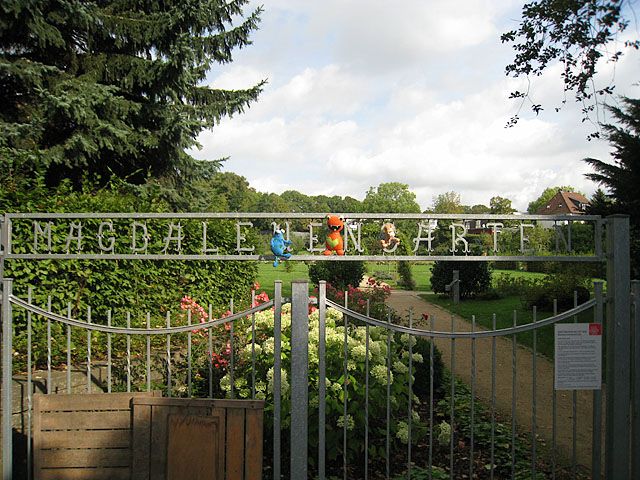 Of course we found many beautiful flowers.
And there was a wonderful sundial.
We took a rest and enjoyed the sunshine.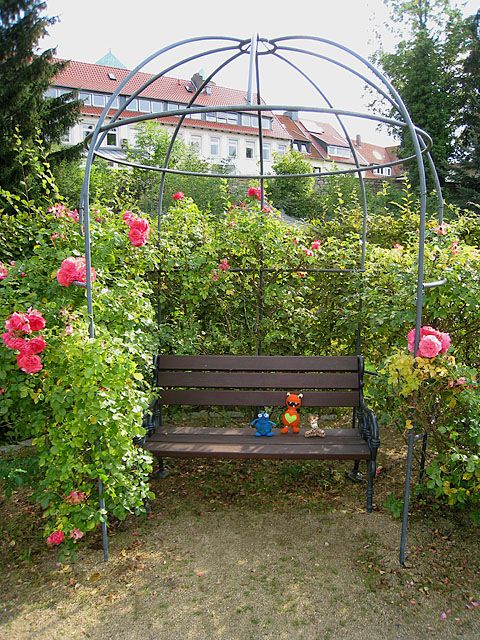 I loved this rose most.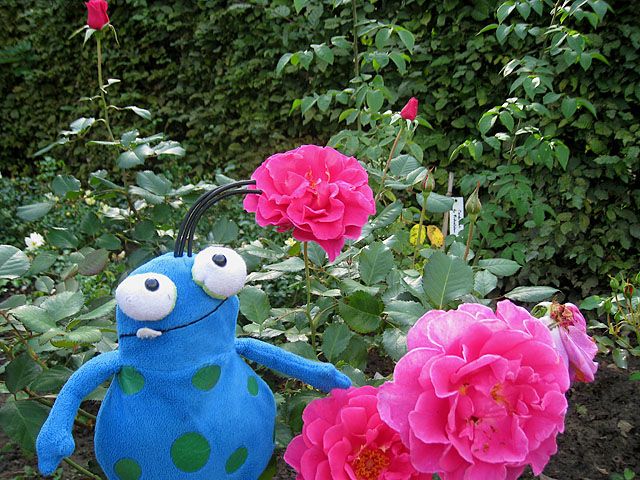 Now I wanted to show you a photo of the whole garden.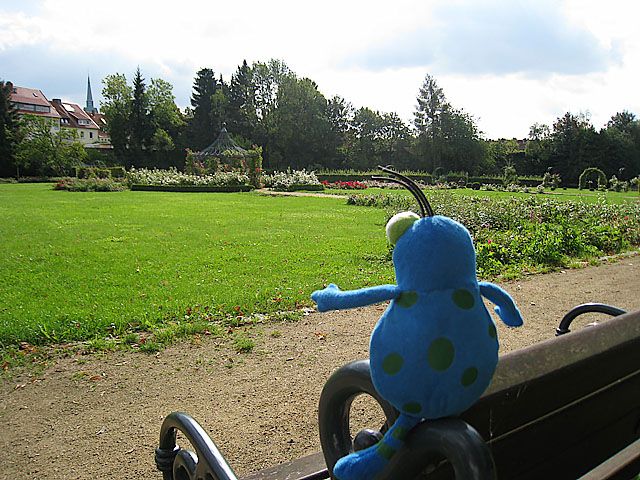 There were many statues.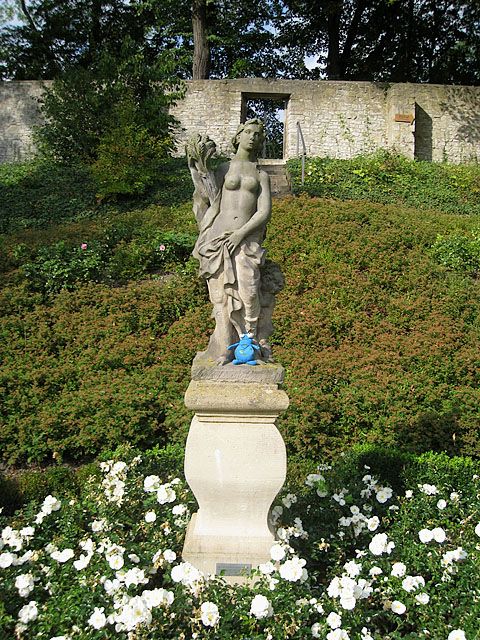 This pavilion is in the middle of the park.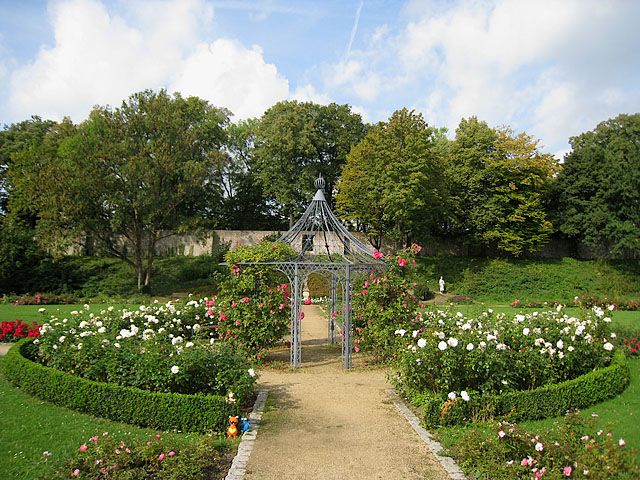 Hildesheim is the rose–town. This flower is named after Hildesheim.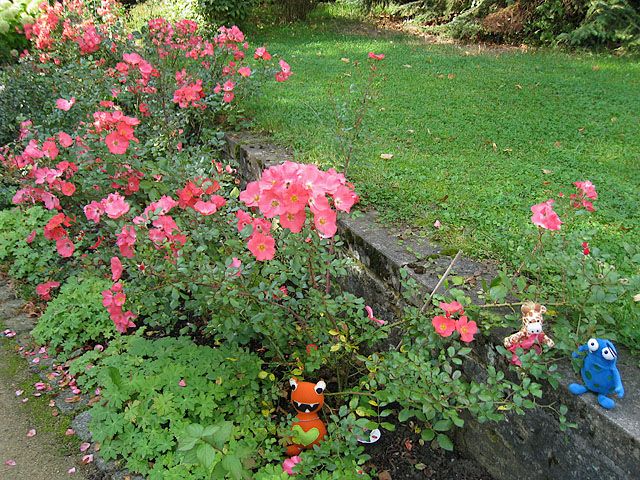 At the entrance there was a funny collection box. Bine tried to put me into it, but fortunately I was too big. 
What a beautiful garden! Many greetings Murph
---
Hi, Today it is BIRTHDAY. I received a nice card from my best friend Dicker Kumpel.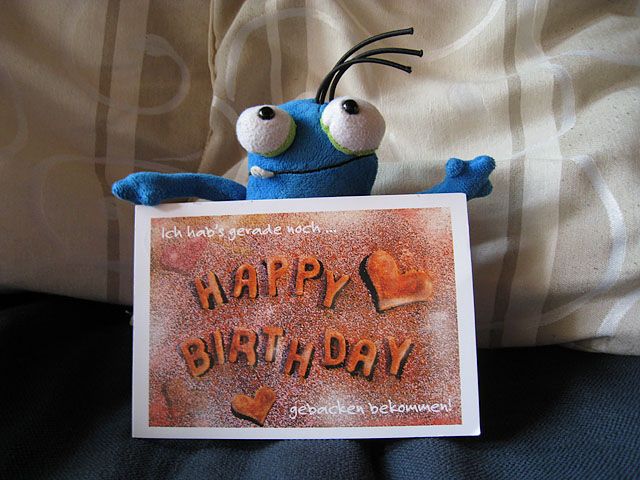 I showed the card to Mirembe and Jujube.
Then Jujube and Mirembe sang for me.
I blew out the candles.
I got a gift!
Of course I unwrapped it – and I loved my new game!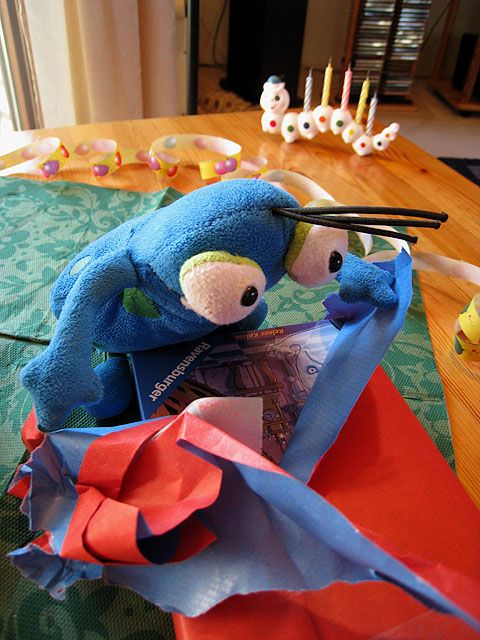 After it we had coffee and a cake.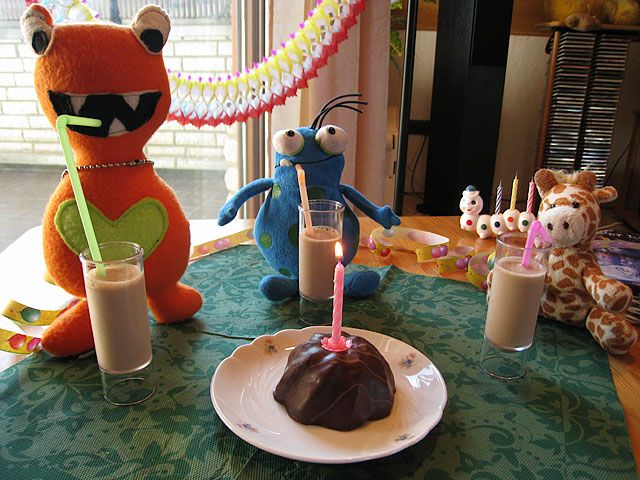 Then we played 'hit the pot'. It was so funny!
First I went into the wrong direction.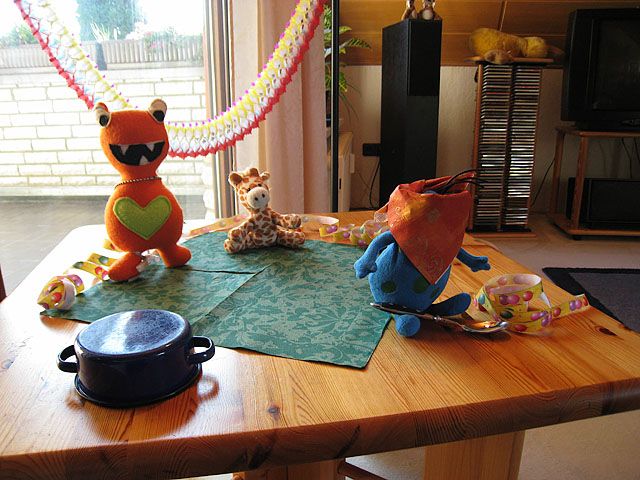 But then I found the pot.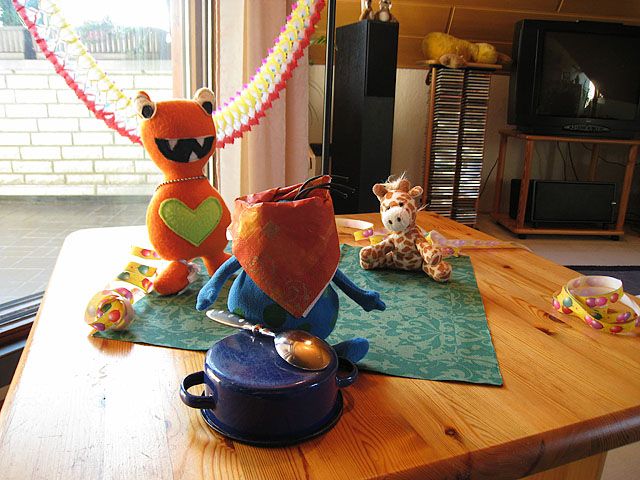 I won sweets!!!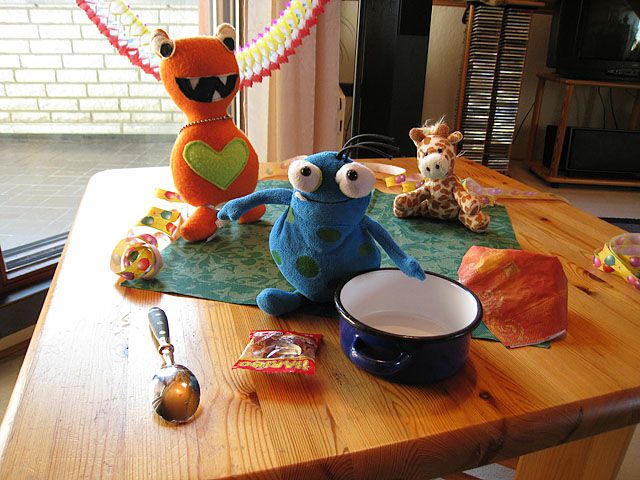 What a wonderful birthday!
Many greetings Murph
---
Hi, today I went into a great forest with Buzz and Snakey. There were old trees and wonderful rocks.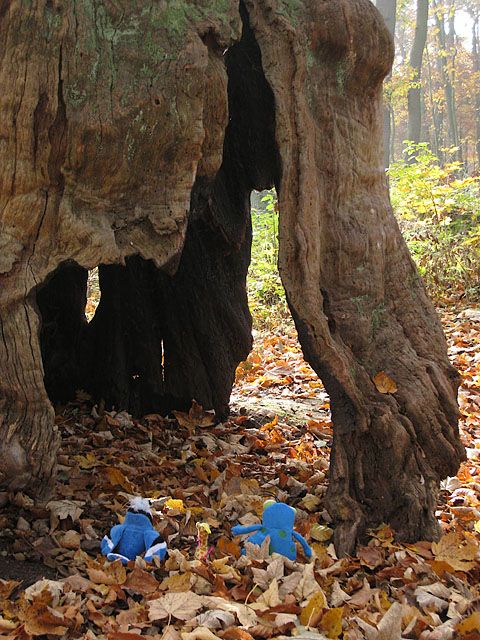 I found this rare mushroom.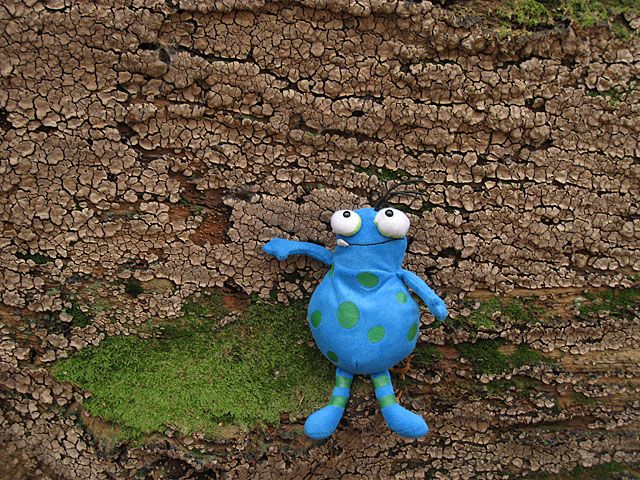 Can you see these beautiful rocks?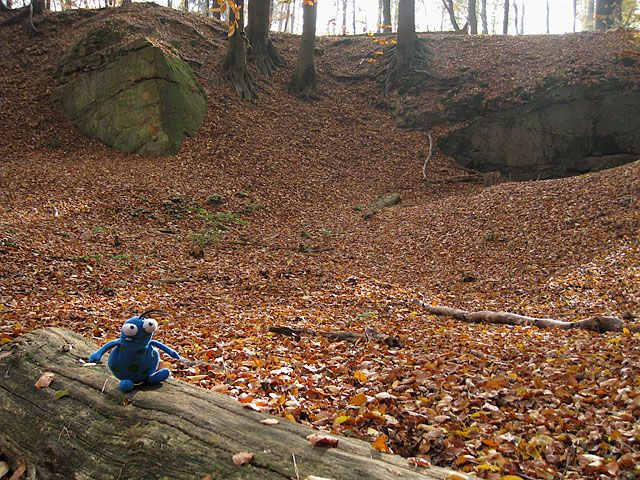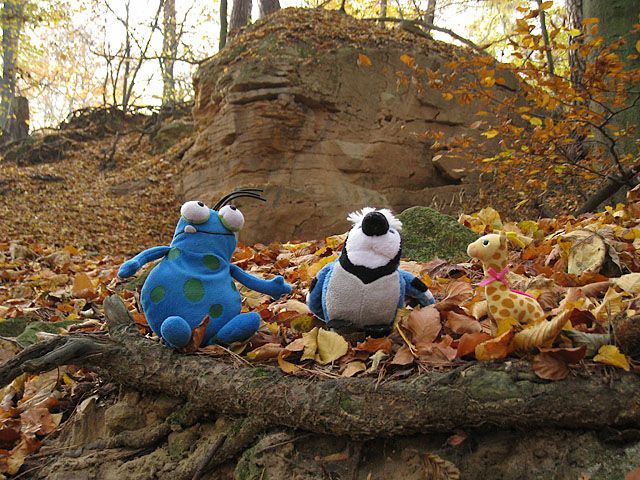 And the wonderful old trees.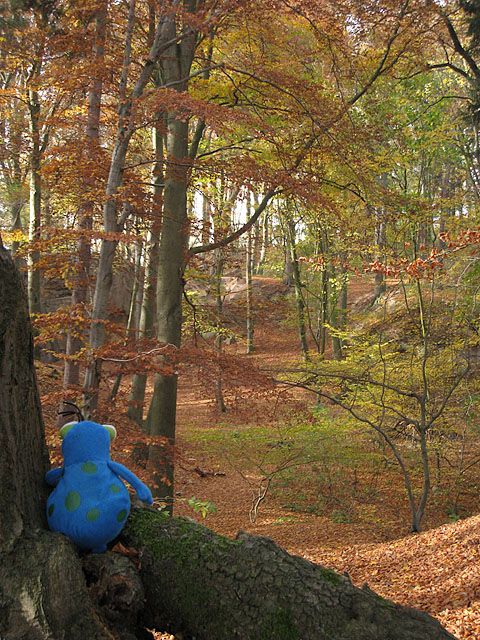 We climbed up the rock. What a nice forest!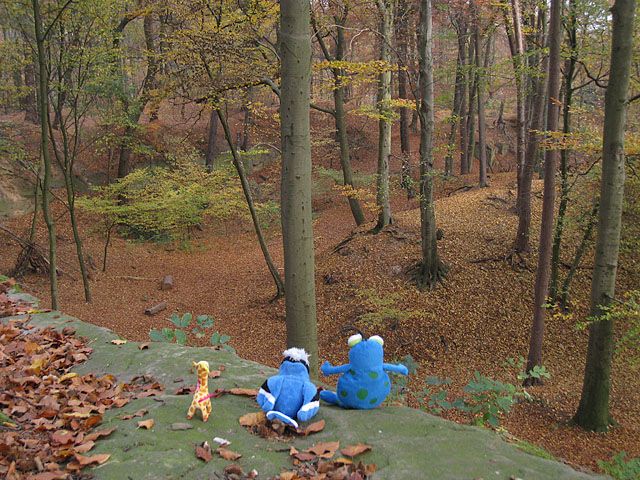 There was a look-out in the forest.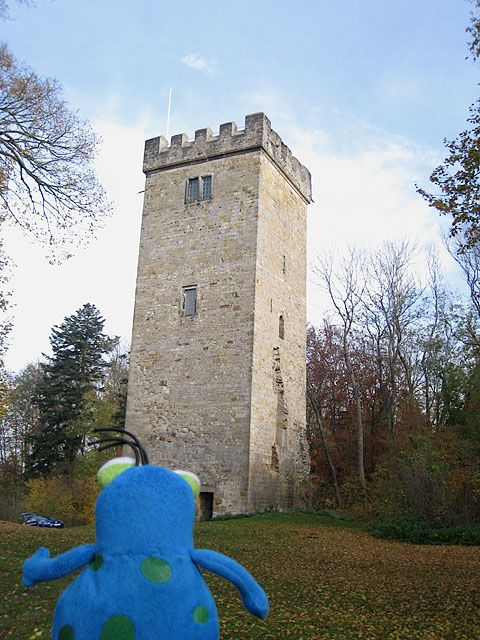 We thought about climbing up the tower.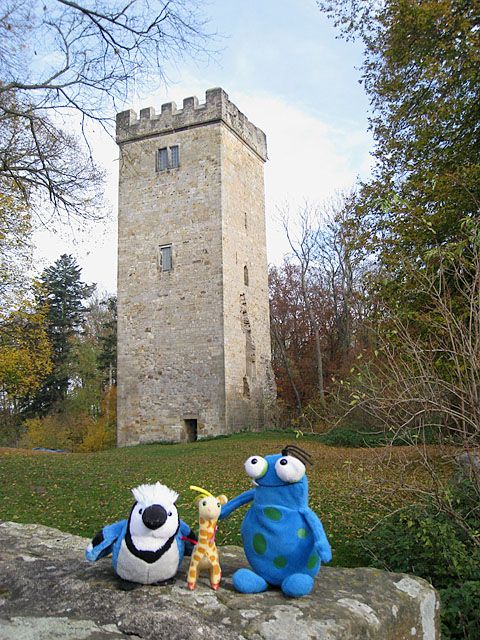 And decided to go – we wanted to see the surrounding from the tower.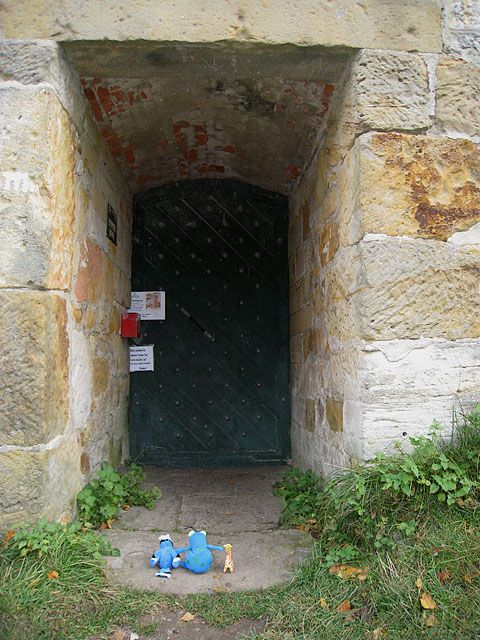 The view was brilliant!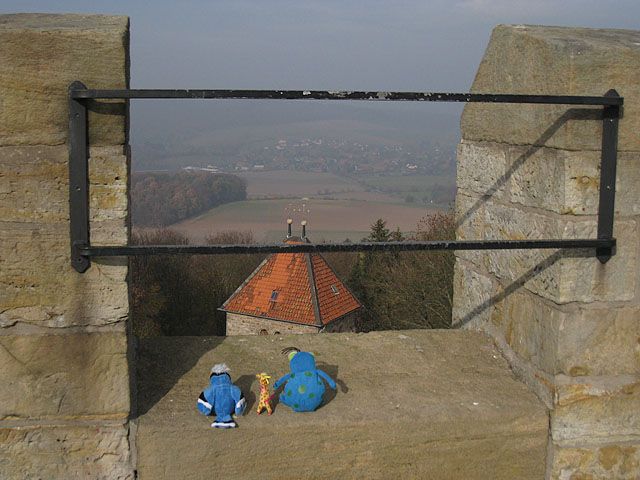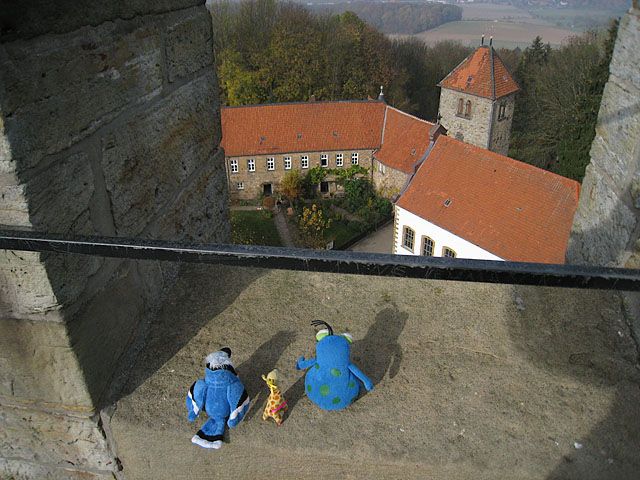 There was a little church.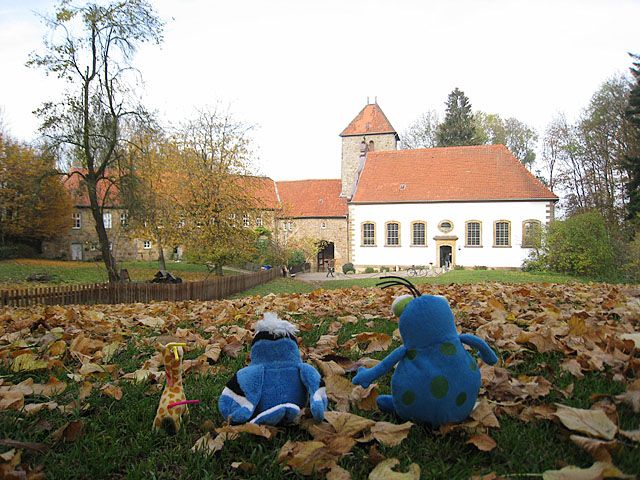 We felt like being in a big castle.
It was a wonderful trip!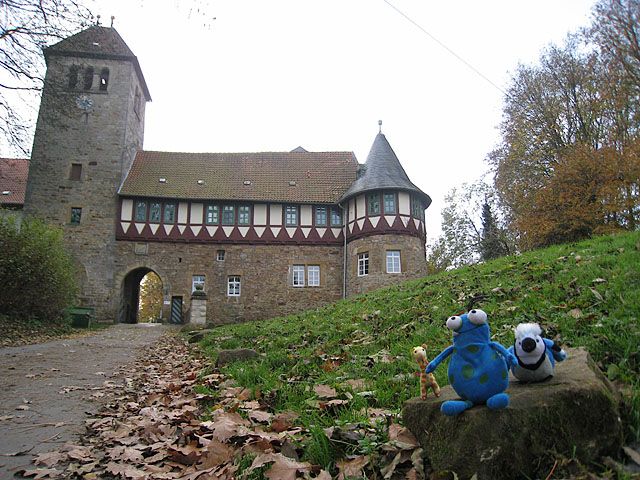 Many greetings Murph
---
Hello, Today we made a trip to the Wisent Park in Springe. We saw a lot of animals there. First we saw these beautiful birds.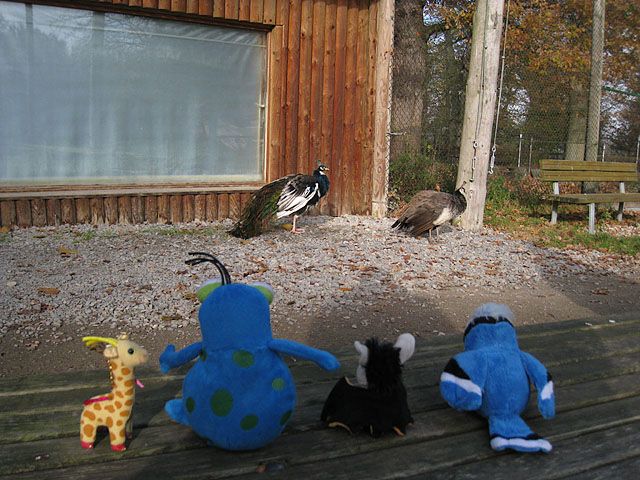 They were almost as beautiful as Buzz. This is a hotel for bugs.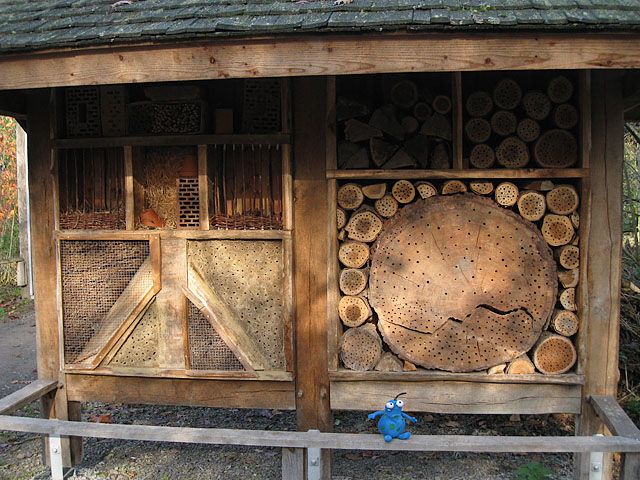 We met moose…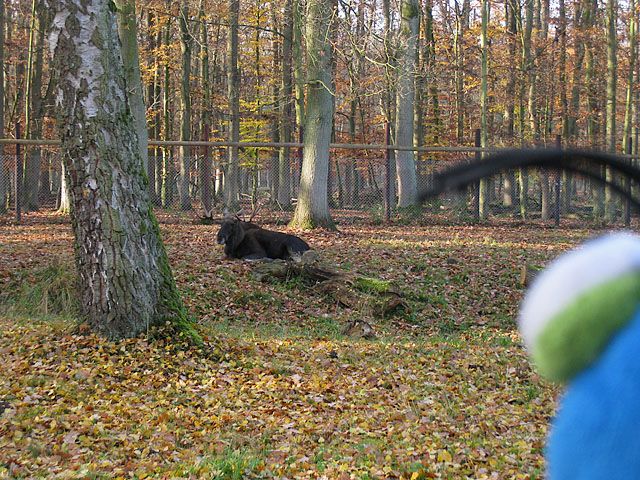 … and many deer.
These lazy animals gave the name for the park. (No - not the nice ones in the front - look behind us!)
More beautiful animals!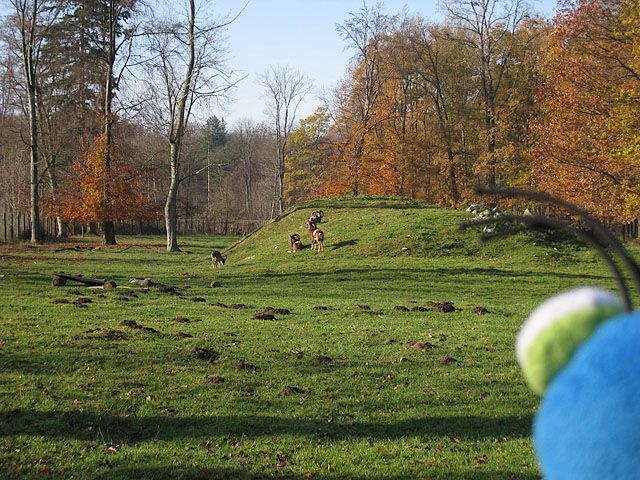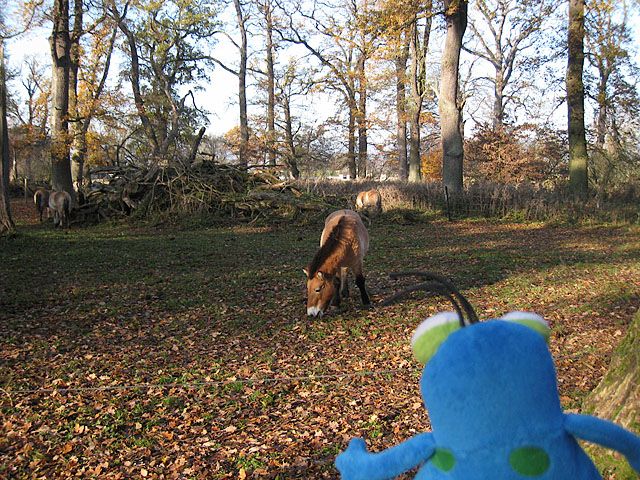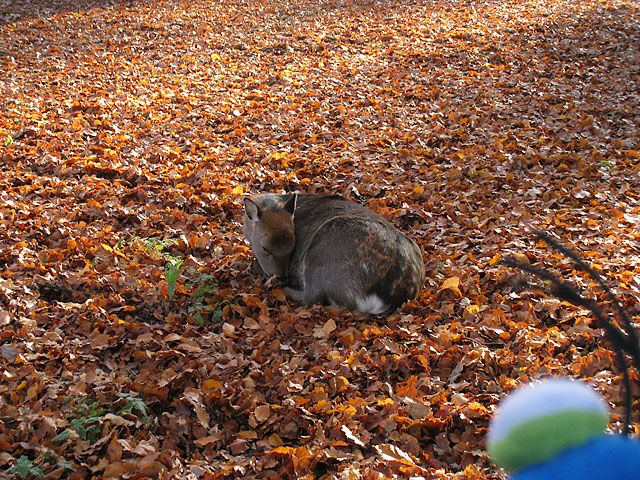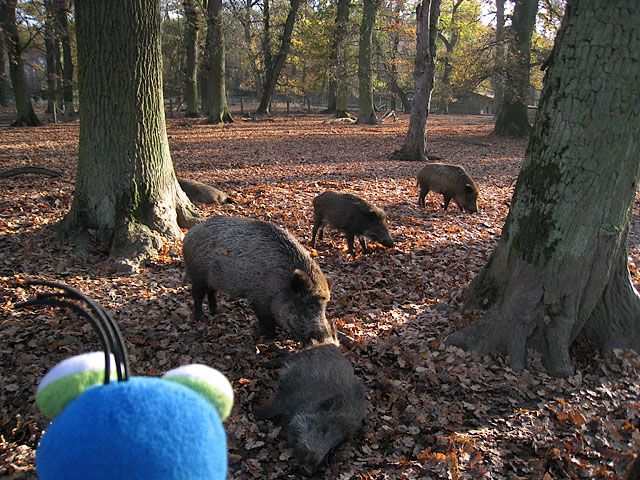 It was a great trip.
Yours Murph
---
Hello, It was cold and windy today, but we wanted to make a nice trip to Alfeld. In Alfeld everything is decorated for Christmas.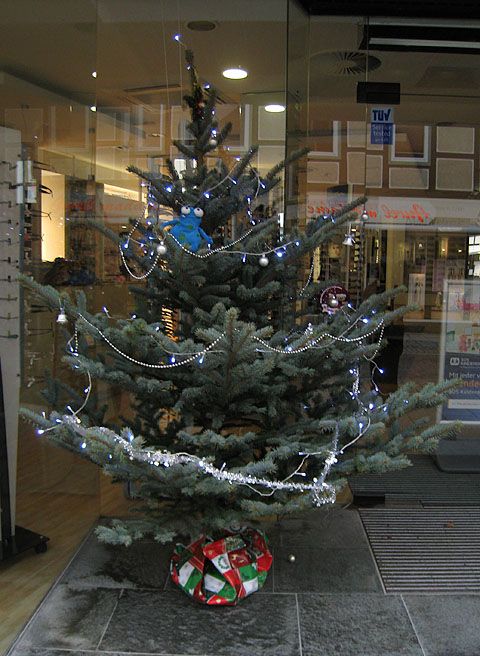 I would love to see this old tower in the summertime – I think that it will be more beautiful then.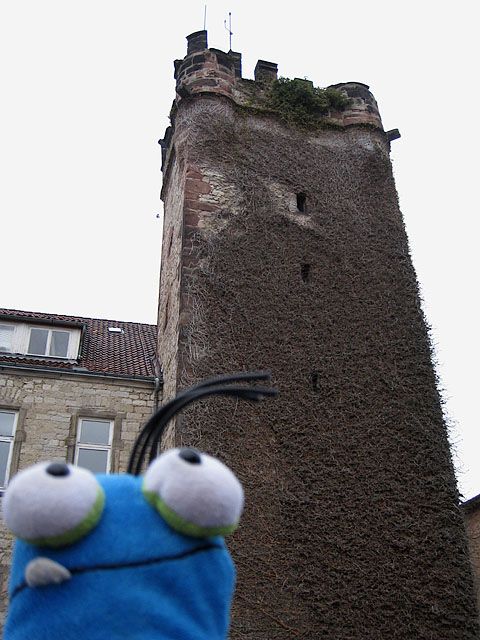 On the marketplace there is a funny monument.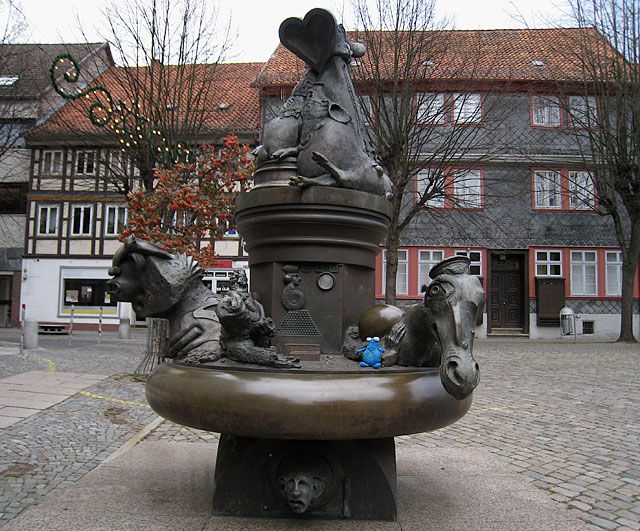 And a beautiful fountain.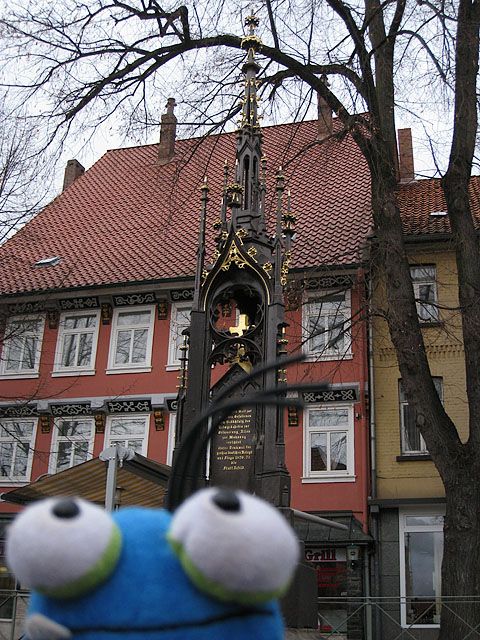 The marketstreet and the townhall.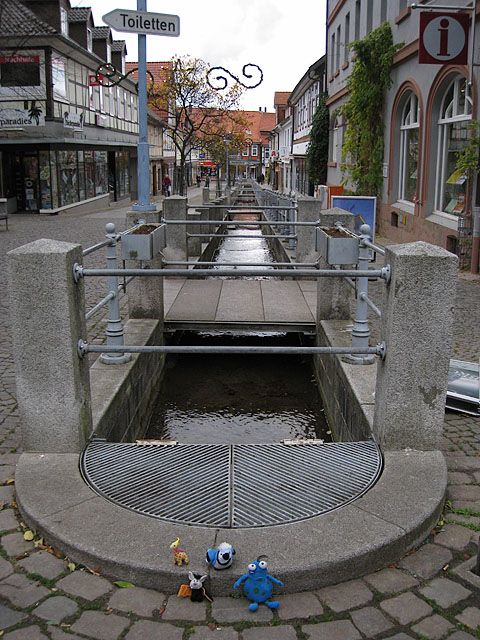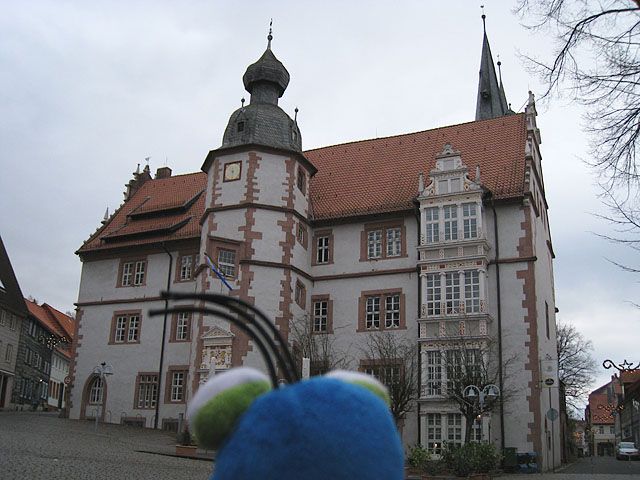 What a shock! I thought that the church burned.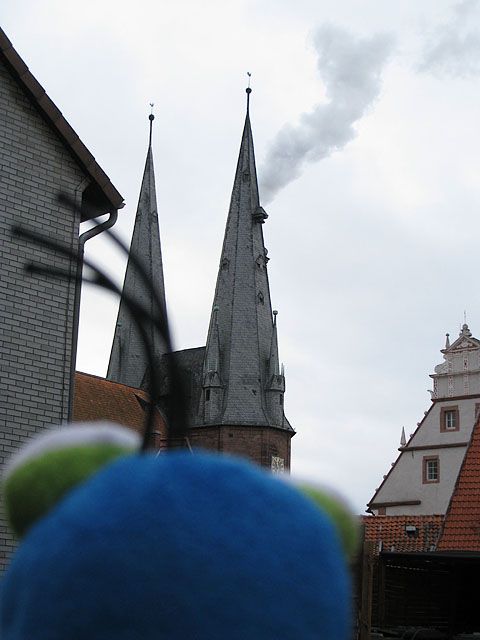 Luckily it was only smoke from a factory behind the church. I found this wonderful houw – the old Latin School.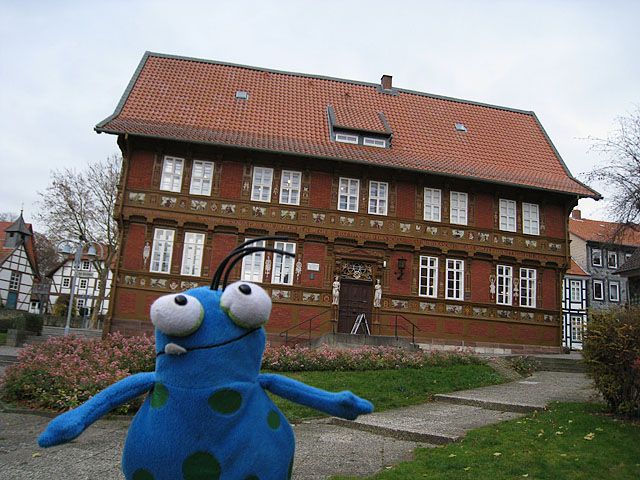 Near to it there was another statue.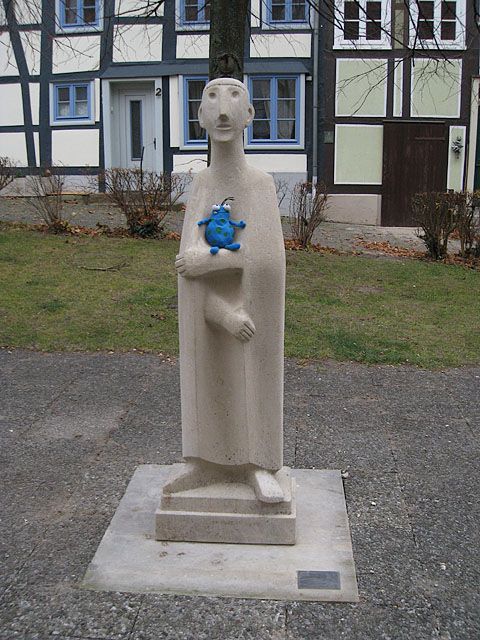 On our way back we saw this big angel. I wanted a photo with it.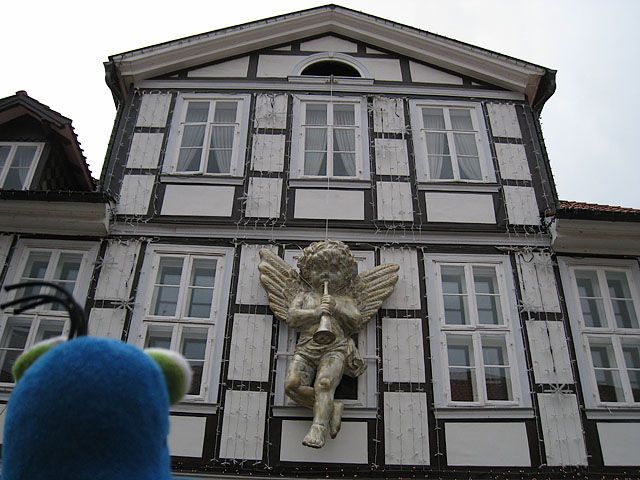 At home we we lightened the first candle of the Advent wreath.
We were not able to celebrate the first Advent for a long time. Buzz will travel to his next host tomorrow – fam-united is waiting for him.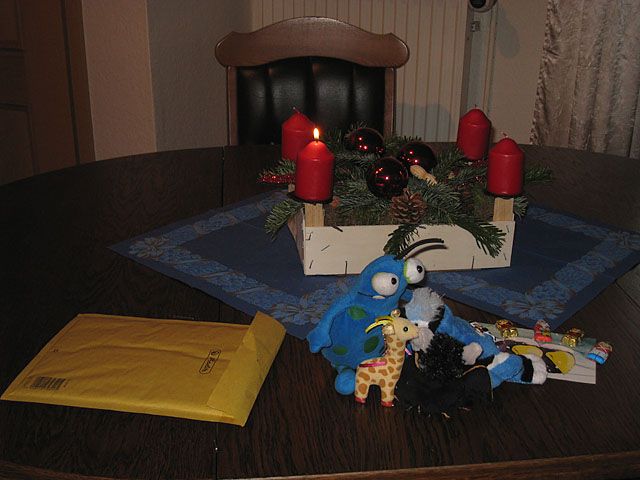 He climbed into his envelope.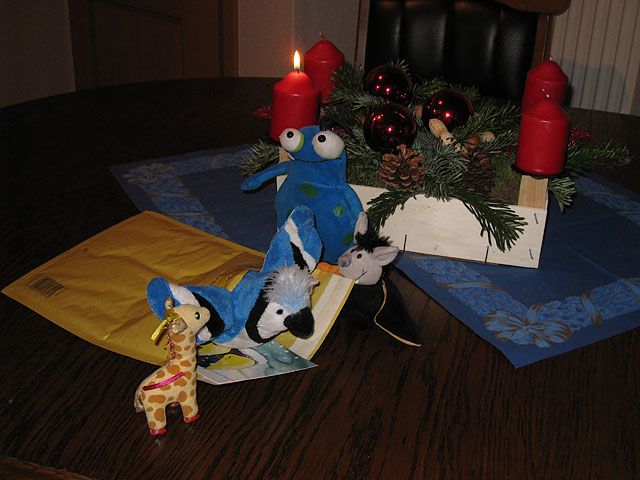 Have a good trip, Buzz. Many greetings Murph
---
Hello, Today we made a trip to Seesen. First we saw this funny sign. I wanted a photo. Can you see me?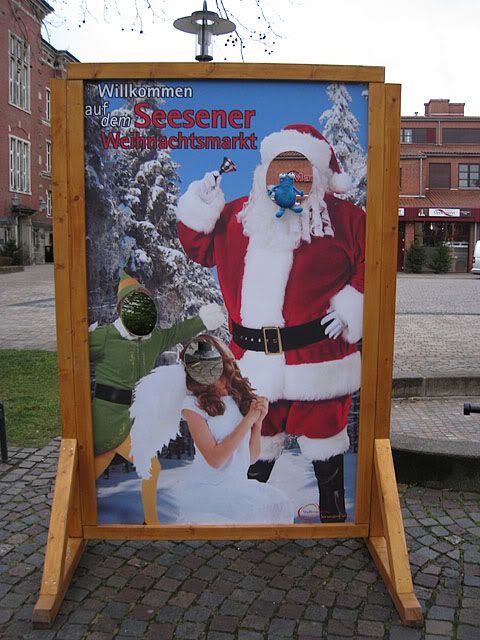 This house was so beautiful!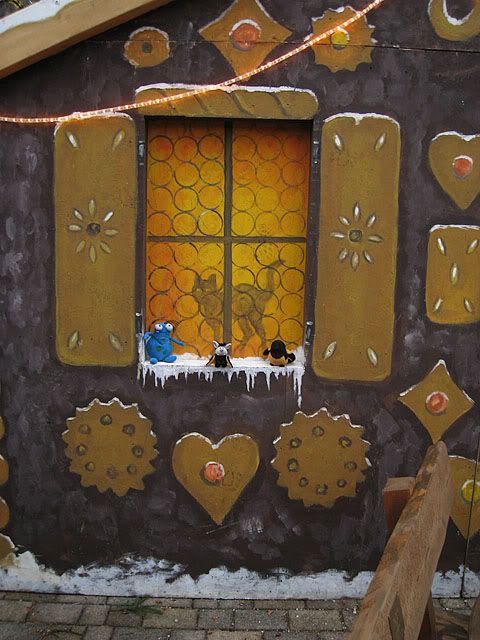 Next to the sights in Seesen there are always windows to sit in. Here you can see the museum.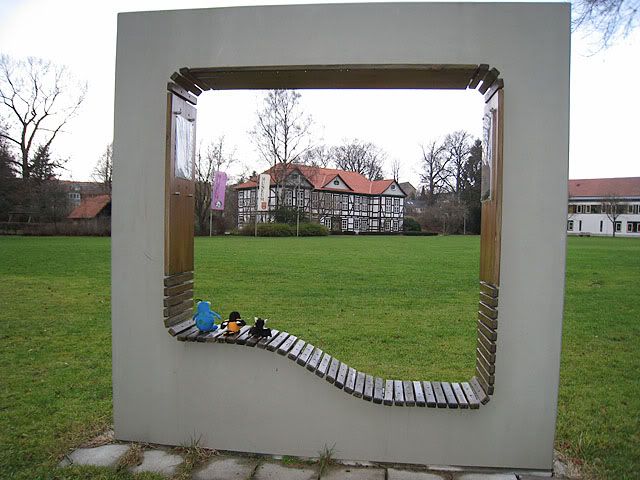 We went to a playground. What a great seesaw!
Next to the playground there was a lake with a lot of ducks. We talked with the ducks.
This statue shows Wilhelm Busch, a German poet.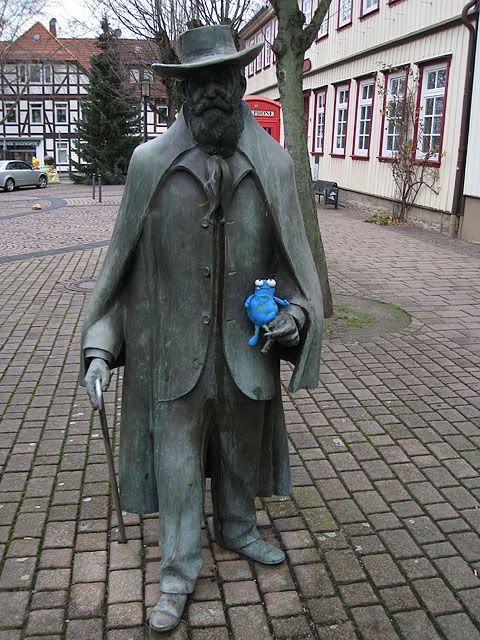 He wrote the story of Max and Moritz. Do you know the story and the boys?
And another window. You can see the Sehusa-Castle.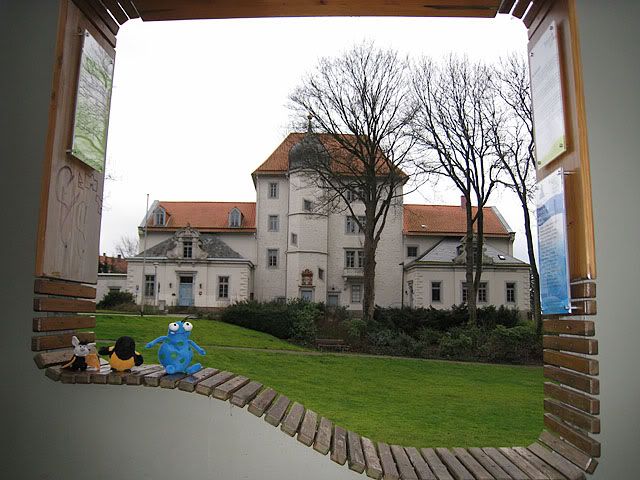 Then we drove some more kilometers and – look, what we found.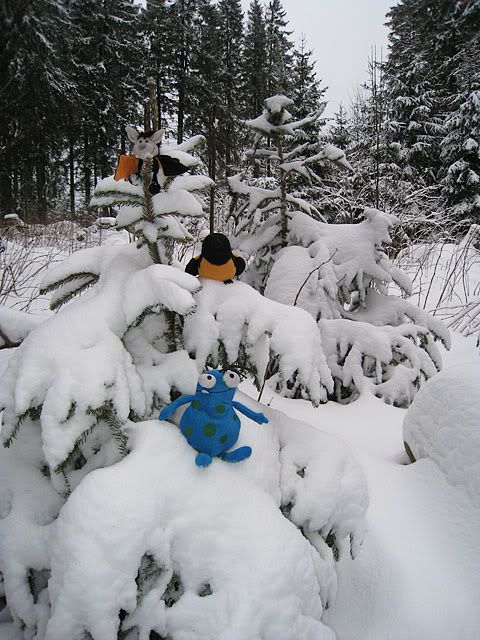 Hello Dicker Kumpel! I received your card from Madeira! Thank you!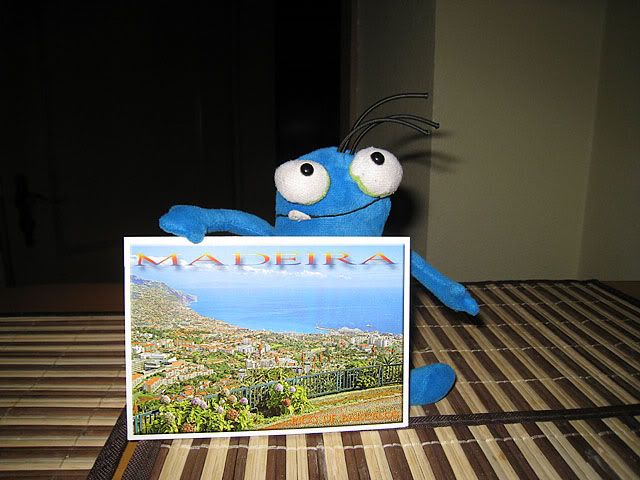 ] I was very glad and showed it to the others.
I will go on holidays with my friends now – we won't have internet there – but I will tell you more, when I am back. Merry Christmas to you! Murph
---