Hello, Today is Easter. A little Easter Bunny came to us. He told us that there are some nice things for us hidden in the room.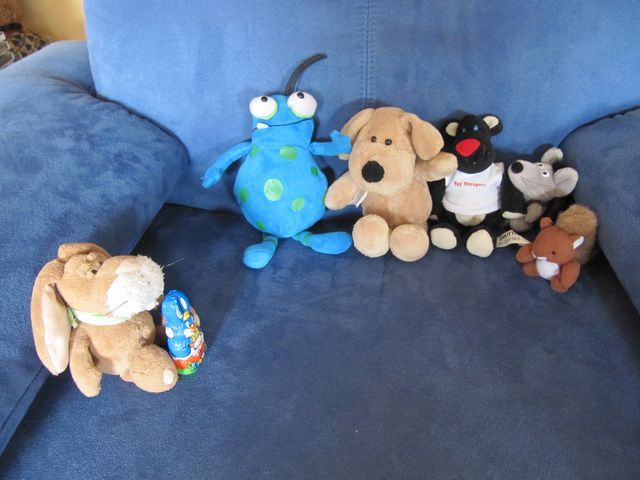 Of course I started to search. First I looked under the arm chair, but I didn't see anything.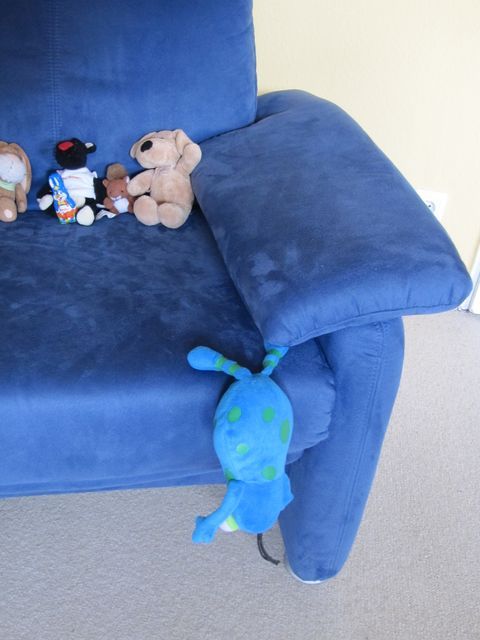 I walked around – and look what I saw...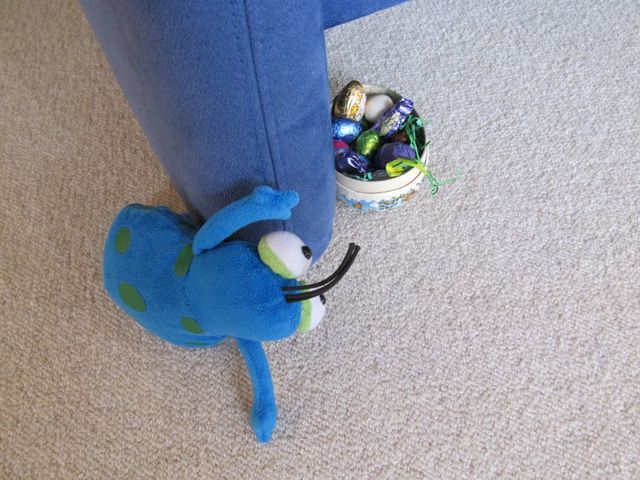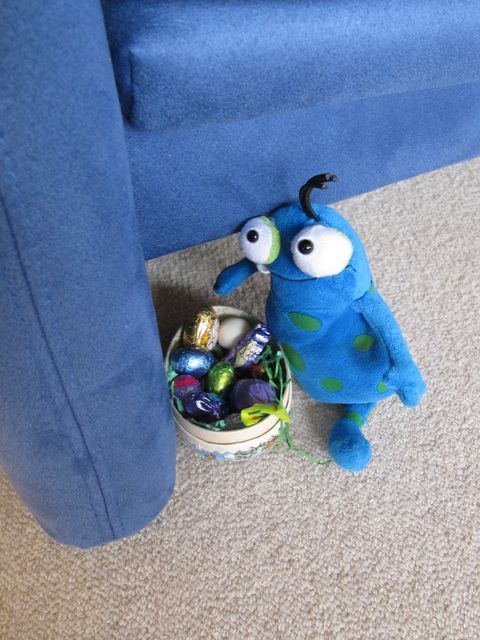 A great success. Minutes later I jumped onto the table. There were beautiful flowers.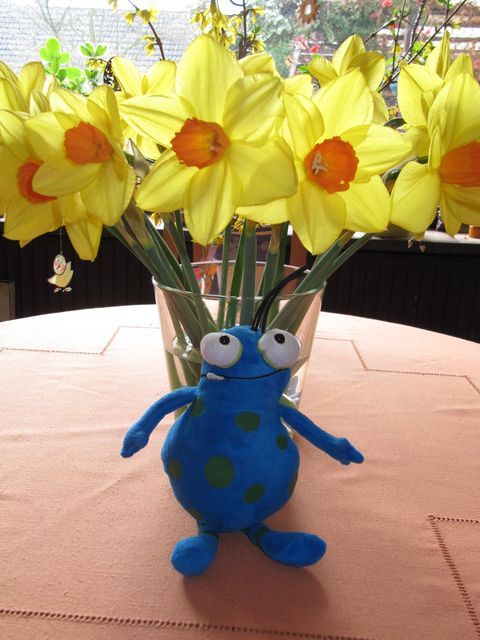 But it was no time to admire the flowers. I had to search Eggs – and look – behind the flowers were more sweets.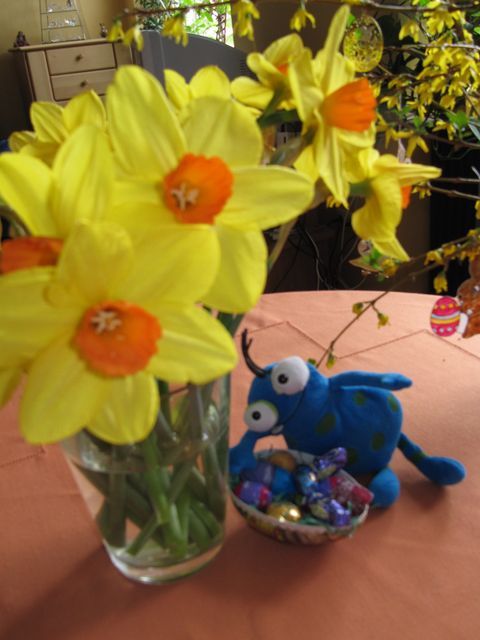 I went back to my place – I found so many sweets – wonderful.
In the afternoon we had some delicious cakes – they were really big, but I ate one!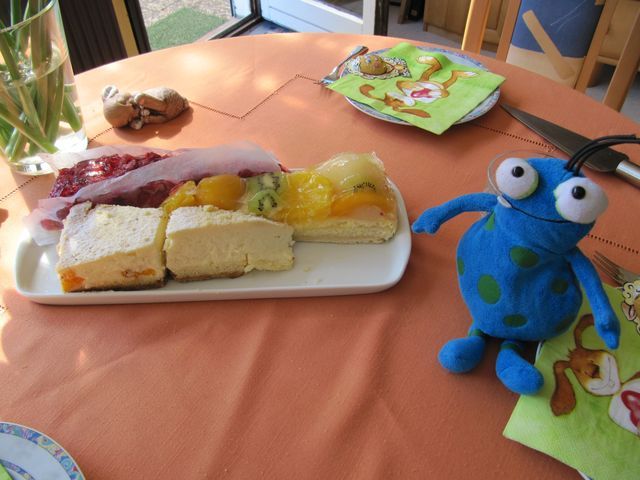 Happy Easter! Murph
---
Hi Fans, great news – another Alien is in the house. He landed on the balcony of RikeH's Mum. Of course he came to visit me: Murph the best Alien on Earth. There he is: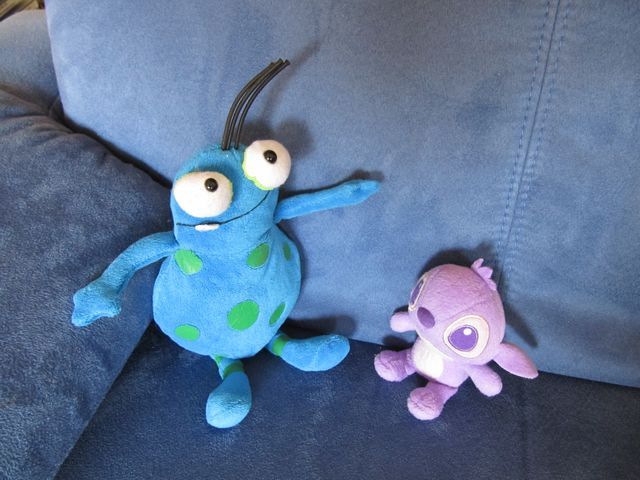 We danced the Alien-Dance together: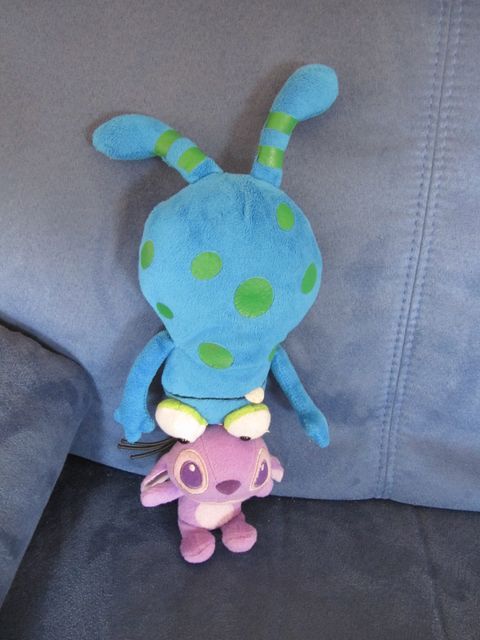 That was fun. After dancing we talked a lot. I told him about ToyVoyagers. He wants to be one – I offered him to stay here and have a lovely lazy life – just like I do it. But he wants to see more of the world. Well – have a good trip Tobbi. Yours Murph
---
Hello, finally I arrived. The trip was longer than expected, but I arrived in time. After many hours headfirst in the postbox, Bine and Holgi rescued me. (BineH is Rike's sister for the people who don't know this fact...)
After climbing out of my envelope I looked around. No TVs around – where are they? Hey, here I am , Murph, the brave. I asked, where they are – the answer was: You are the only TV here. Hm – for a little moment I was scared – but I am Murph the courageous Alien. No problem. Bine and Holgi introduced me to two guys who are living here.
They are really cool! I am sure we will have a lot of fun together. But not today – I will be busy. We will go on a two-days-trip tomorrow. Can you see, where we will go to?
This will be great – I am sure. And I promise to bring a lot of photos with me. Now I have to pack my bags – hm – I have nothing to put into it. See you soon. Murph
---
Hello, today I had to get up really early – it was awful for a little Alien like me. So I decided to take a nap in the car. When we arrived I was awake and full of beans. This was our destination:
There was a Festival for the 175th jubilee of the German Rail. There were a lot of steam trains. Some of the trains were very old ones, who travelled the 'Schiefe Eben' – a famous railway track in Bavaria.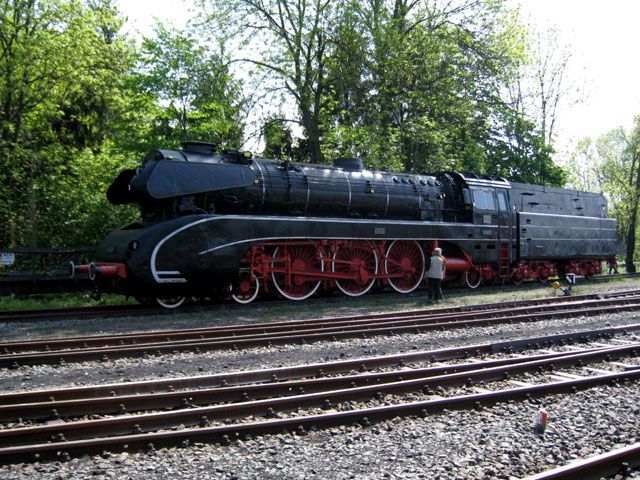 Aren't these trains really big? Two of the trains (T 01 for specialists) pulled me the Schiefe Ebene – later more. First I had to stretch my legs and arms – and walk a bit. I went nearer to the trains and climbed up there.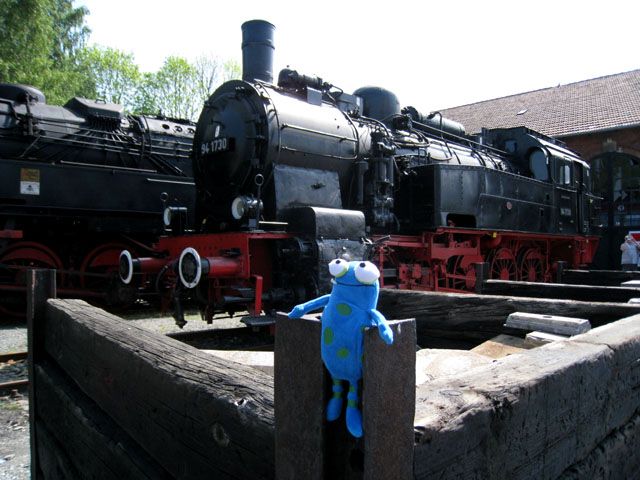 They are so big and beautiful. Two more photos to prove this – I myself are really big, but they are much bigger.
Here I sat in the wheel – can you see me?
Later we drove drove the Schiefe Eben with a train. There had to be two locomotives – one for drawing and the other for pushing. One alone is not enough. We didn't make a photo, because the train was so full – but I looked out of the window, of course. I tried to open a door.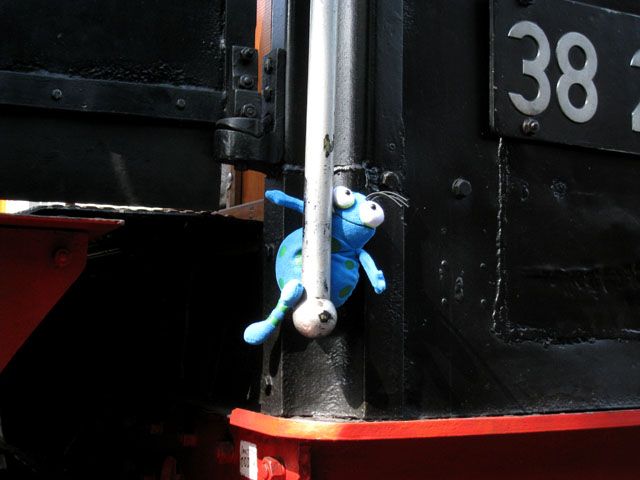 But I was not strong enough. Holgi and Bine helped me – look what place they gave me.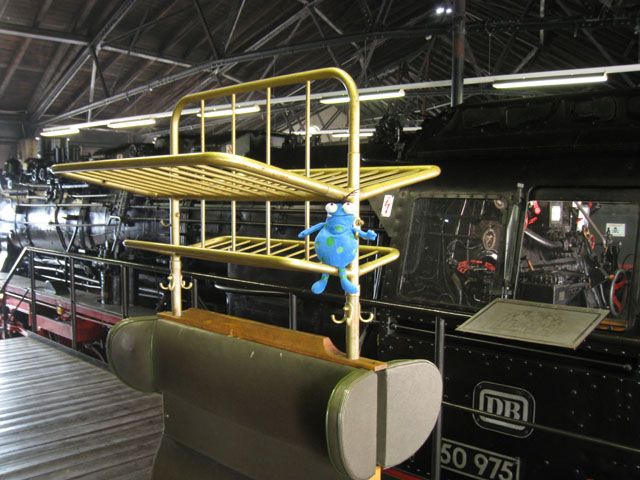 I thought they would forget me. Maybe someone would have found me and take me to this place...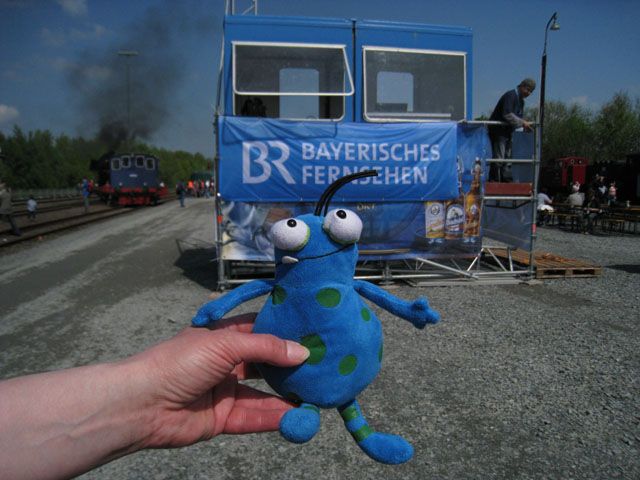 But lucky me – they took me and we went into the hotel. I was so tired. I will show more photos of my second day here – it was even more exhausting. Where am I here? Love Murph
---
Hello, now I will tell you about the second day there. After a really delicious breakfast we went back to the museum. We went to the viewpoint for the 'Schiefe Ebene'. There we should be able to make great photos. Here are the both locomotives we wanted to see in action there.
There was a Shuttle-Service to the viewpoint. A great idea for me – jump into the bus – drive to the viewpoint – jump out of the bus – and take a photo. But it was only an Alien-Dream! Imagine this – the bus stopped – I climbed out of the bus – no 'Schiefe Ebene'. We had to walk 1,5 km uphill to reach the view-pont. Surely I wanted to stay in the bus and drove back, but Bine and Holgi walked away. What should I do? I followed these crazy guys. But after 200 meters – I didn't want to walk anymore... After talking a lot – I was the winner – and Holgi put me into his bag – well – this was nice – a good view – and not to many action for me.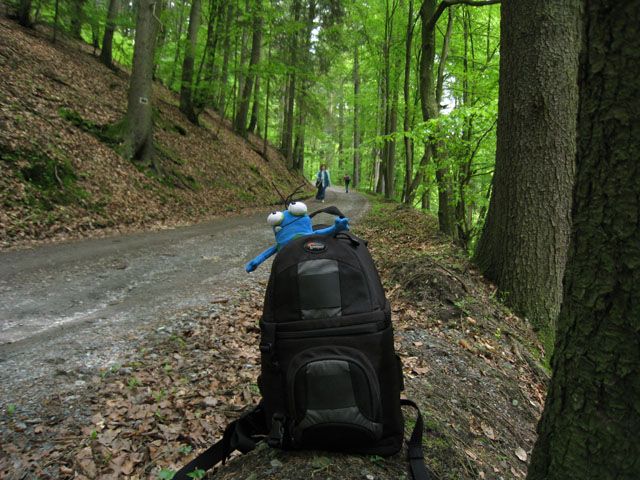 When we arrived – we had this view.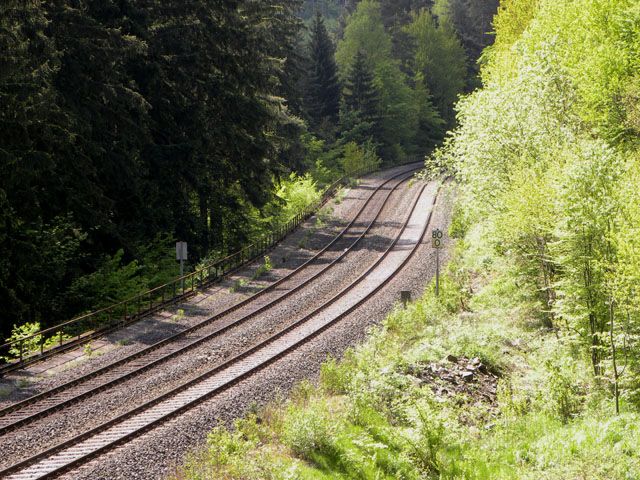 The 'Schiefe Ebene' – but no train. Bine and Holgi promised me that I will see trains – so we had to wait – and wait – and wait. Waiting is so boring – I relaxed in the sun!
But then I heart a strange sound.
There will come a train – I am so excited. Where is it?
Look – there is it – it is wonderful.
This was really great – the locomotives worked hard – but they reached the top! On the way back I sat in the bag again – no more walking for me this week-end. I enjoyed the week-end – and will tell you more about my visit here soon. Many greetings Murph
---
Hello, this evening I went nine-pins bowling. Holgi told me – it is sport. I don't like sport, so I decided it is a big adventure. But have a look. This is the bowling alley.
Here you see me sitting in front of the bowling balls.
It looks easy – just to take a ball – and hit all the bowling pins. Let's try it:
Oups – normally without me...
Where am I???
Everything is dark. Where am I? In the Space? Suddenly I hear a noise. What happens? Ah – I see it – and it is very big!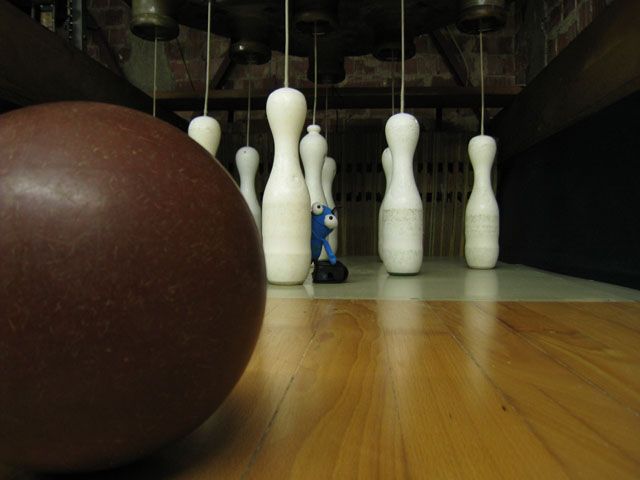 I have to run away! This was narrow. But I escaped! Now I have to drink something.
This is called Berliner Weisse – and it is only for me. Really delicious! Now I am starving – this looks great. My dinner for this evening.
Looks great – I will eat all – no problem.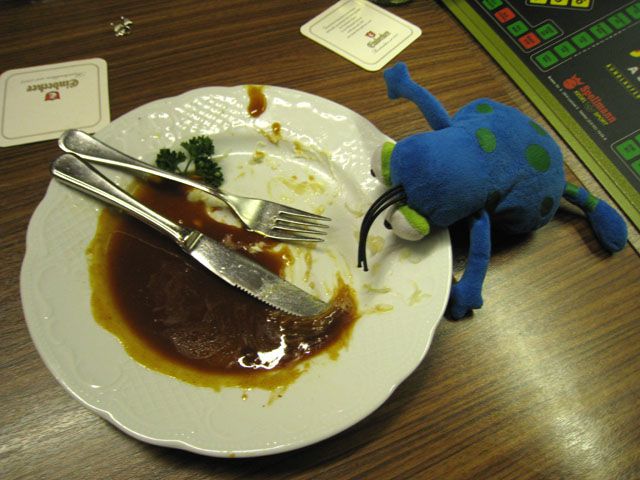 Now I need a break – but I will be awake again for the award ceremony. I won – have a look.
I got a trophy – the poodle. I celebrated it with two new wonderful friends...
...but this is another story. Well – I had fun. Greetings Murph
---
Hi, as you know, I live in Germany for a long time now. It is the Soccer World Championship at the moment. Yesterday the German Team played – and I am a Fan of them now. Bine and Holgi promised a big party for me and my friends. We started with really delicious food from Turkey? Why Turkey? No idea, but we were really hungry – and it looked great.
Look at it – gorgeous! All of it only for us. Let's start it.
After the meal – nothing left…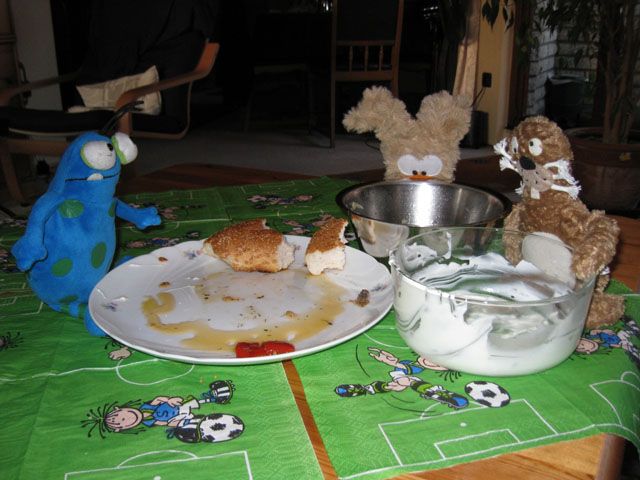 We weren't hungry anymore, but thirsty. Surprise!!!
There were many sweets and cocktails. Wow! Can you see our Cocktails?
They looked delicious – and they tasted delicious! Now we were ready for the game.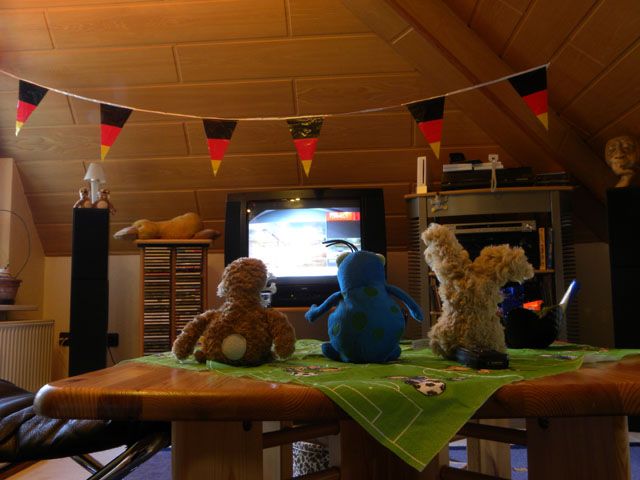 Germany won 4:0 – we were so happy… And tired.
We didn't made it into the bed and slept on the table. Maybe there were too many Cocktails for us. The Party was a big success. And before I forget it – Happy Birthday to my best friend Dicker Kumpel! Many Soccer-Greetings Murph
---
Hello everyone, I was so excited. I visited my best friend – Dicker Kumpel! Bine and I bought a present for him. I started and wrapped it.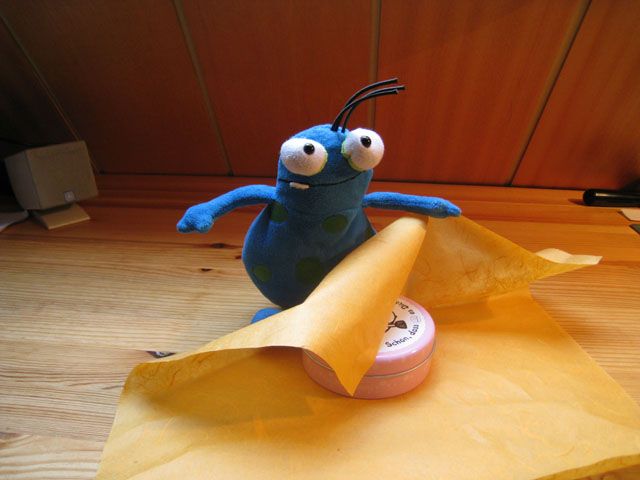 Ready, it was very difficult!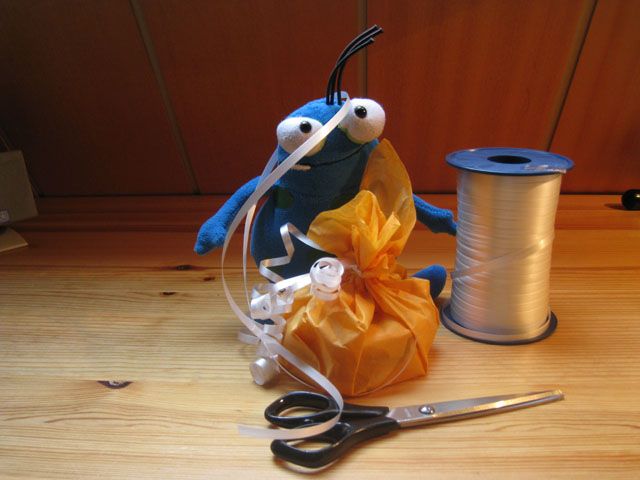 Finally we were on the way.
Look – who opened the door – my [tv]Dicker Kumpel[/tv]!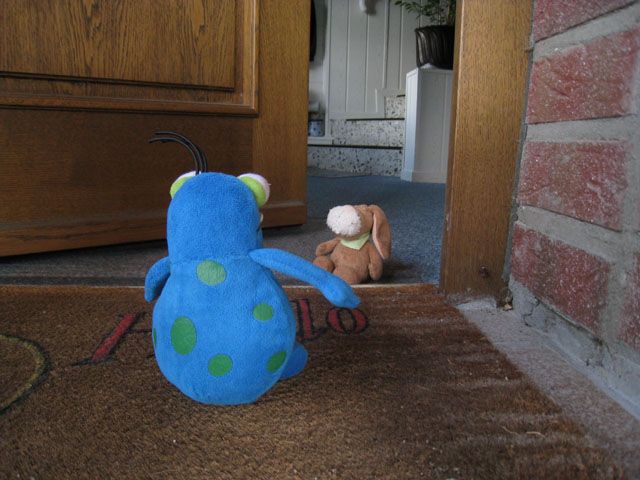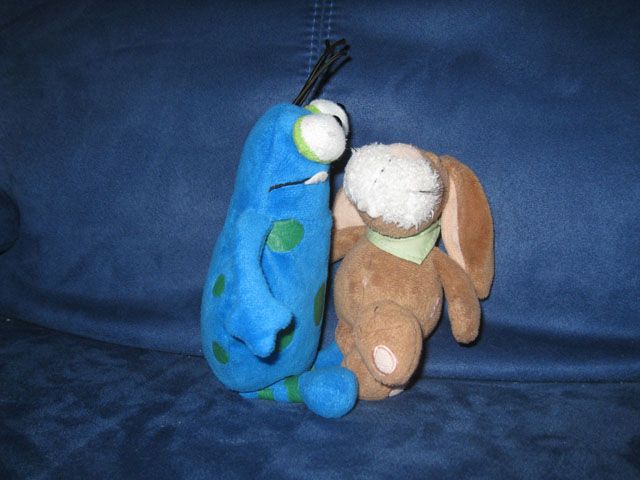 The long trip and the seeing my best friend made me hungry.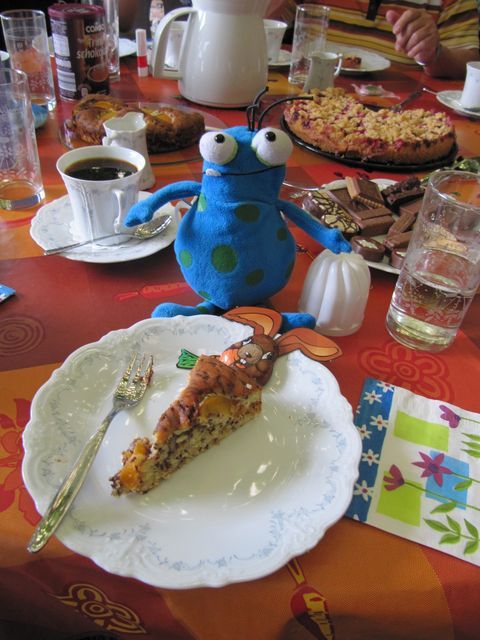 After eating the cake I gave my gift to Dicker Kumpel. He was so happy.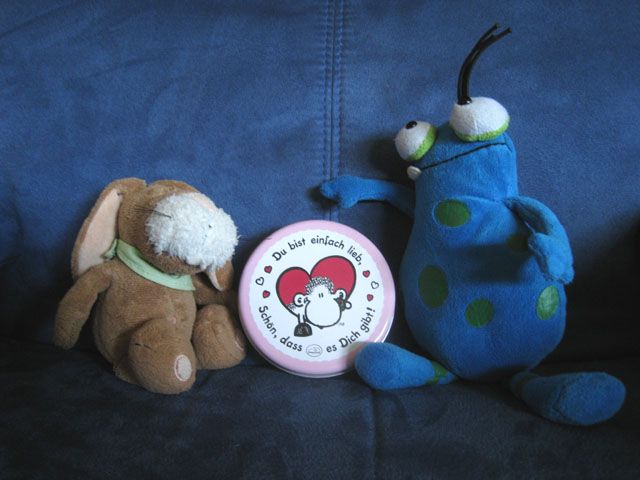 We tried the sweets.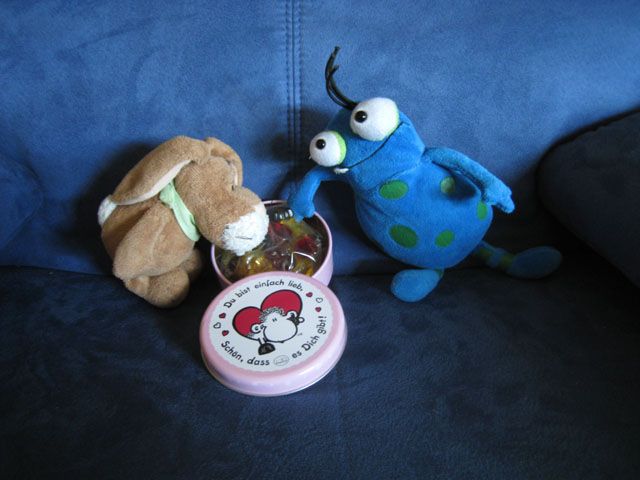 I met some of Dicker Kumpel's guests – and of course we talked a lot.
Talking made me hungry – so we decided to have a barbecue.
Unfortunately it was time to leave. I showed Dicker Kumpel my car. (Okay, Bine and Holgi's car.) Nice color...
We started to jump into the car, when we saw this stork. There were 10 storks, but only one wanted to be on a photo with me.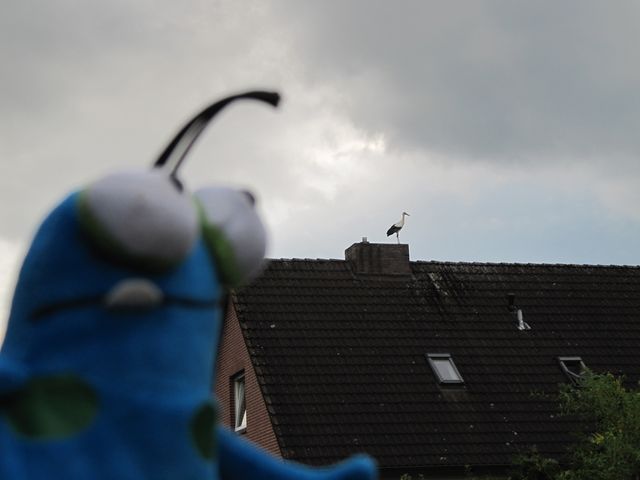 But now : Goodbye Dicker Kumpel.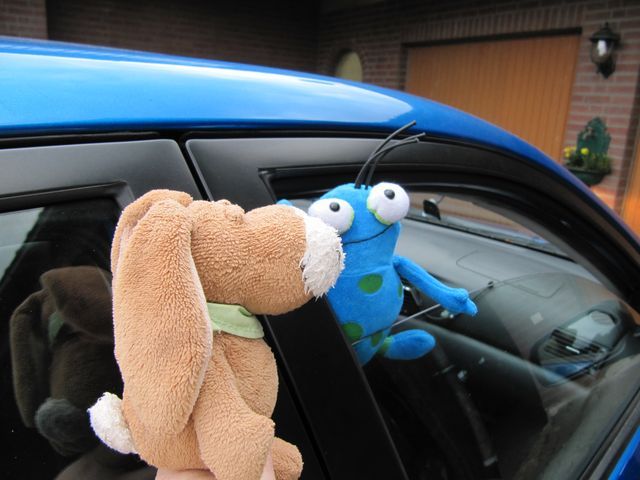 See you soon – it was great here!
Love Murph
---
Hello, today I went to work with Bine. She promised me that it won't be boring – and I can play a lot. She told me about a gym and a pool! Look – this gym is only for me!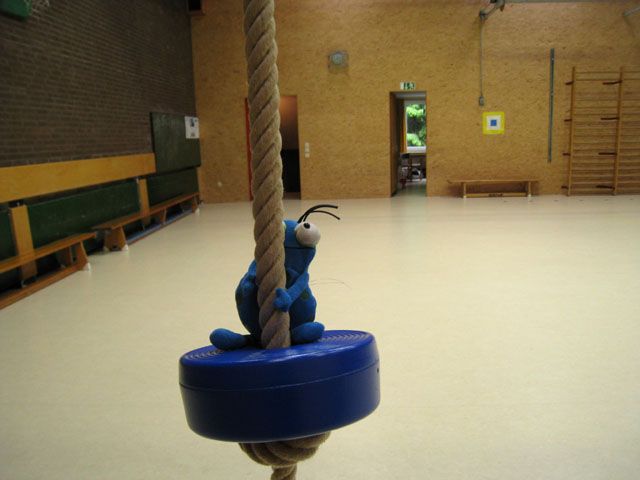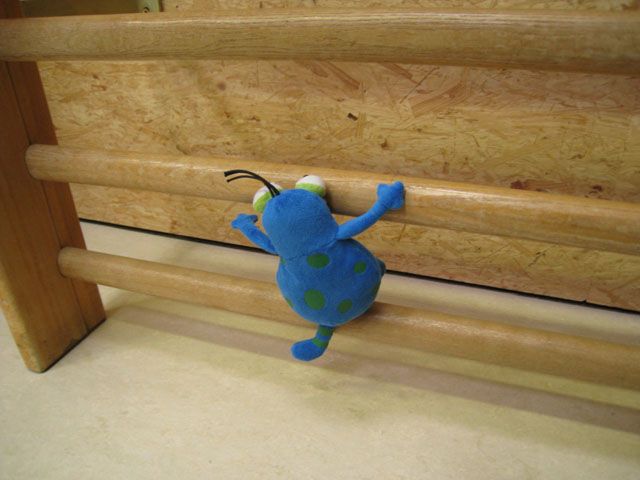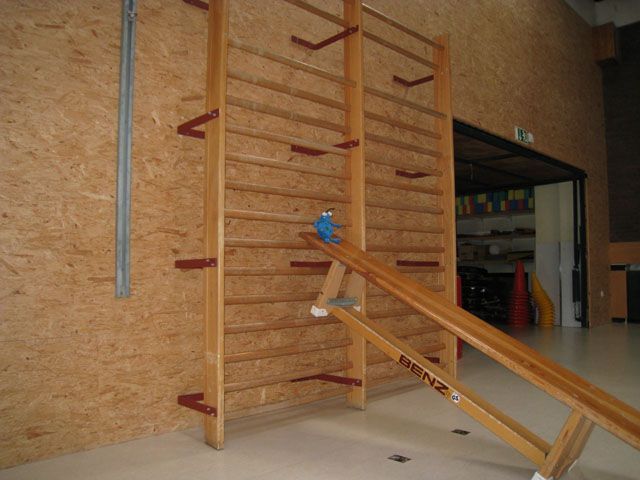 There is the pool - really big – and deep!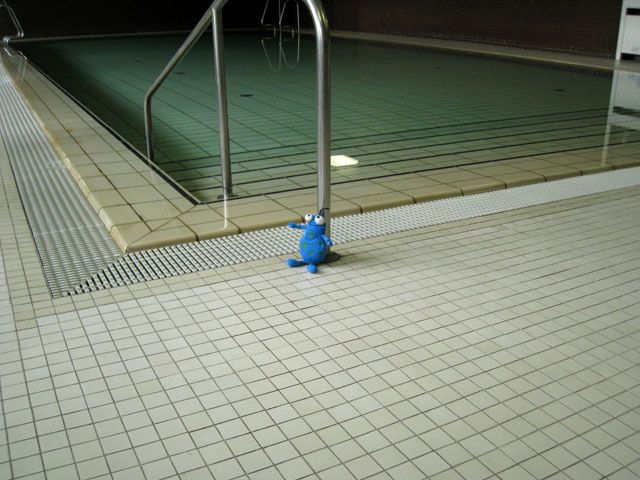 I felt, if the water is hot enough.
Ok, the water is great – and Bine will look after me. Let's start it.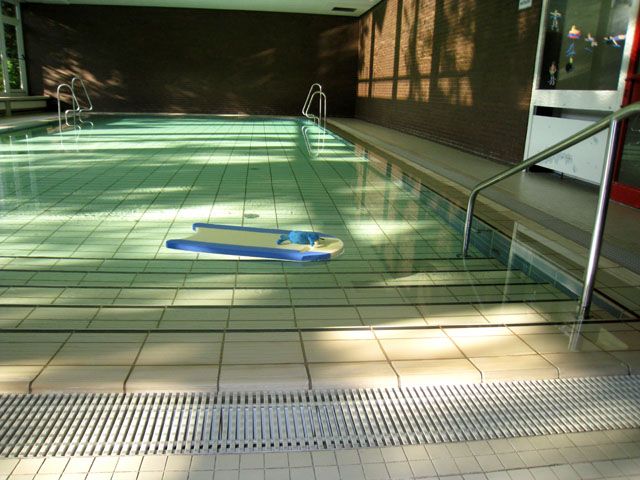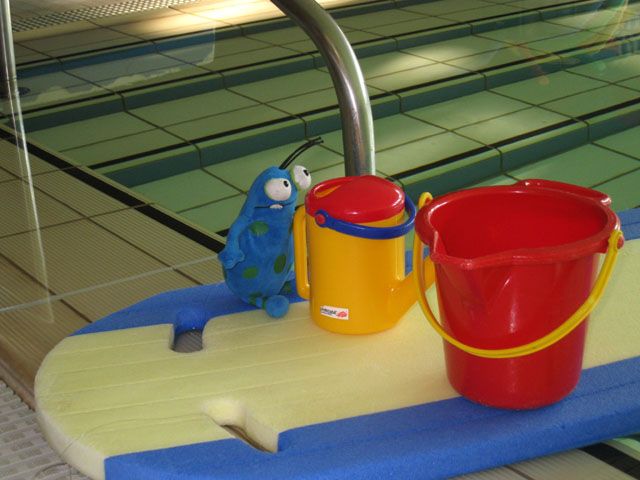 After the swimming I had to dry my hair – all of my three hairs.
And I made a lot of noise!
Many greetings Murph
---
Hello, it rained all days long. That's a shame, because it is my BIRTHDAY! But my birthday was nice without sunshine. I had a great party!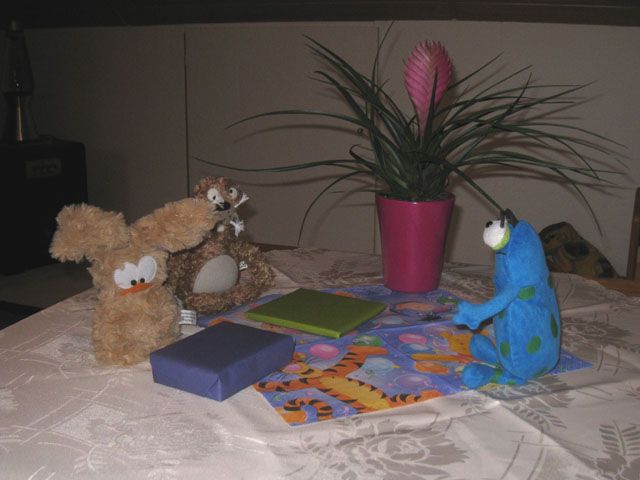 My two friend sang a song for me – and I got presents. Of course I unwrapped them.
I was so happy – and thanked for the nice gifts.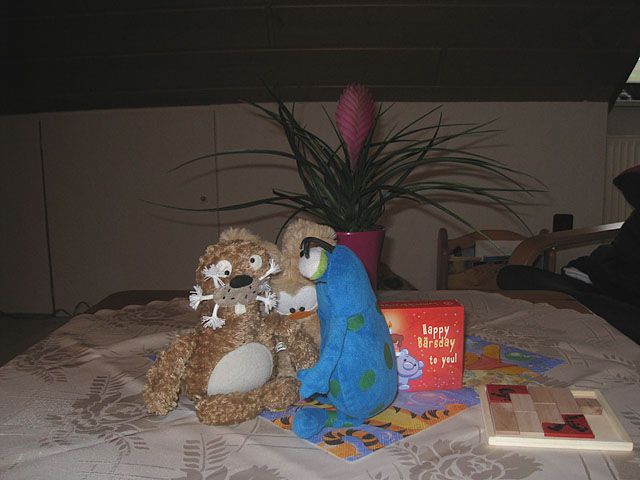 Then we had a delicious cake – with a candle.
The cake was really yummy! Then we played my new game.
It was really difficult, but we did it!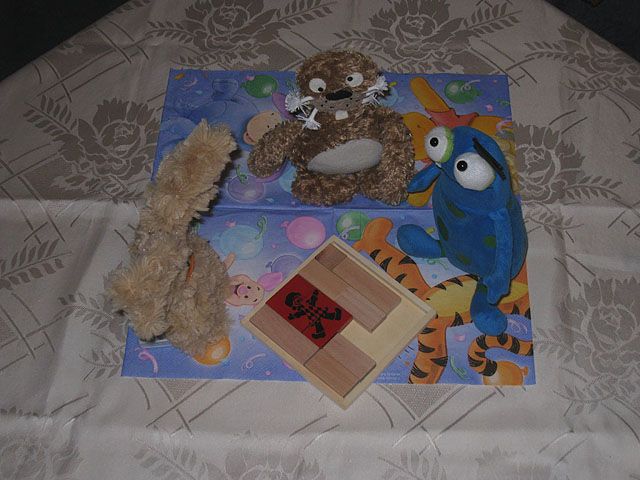 Bine told us something about cheating – but of course we never did it. After playing and thinking we were really hungry. I was allowed to choose the food.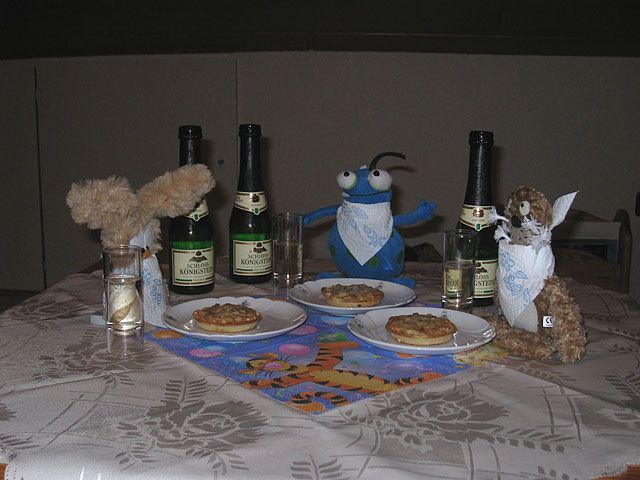 A tasty Pizza for all of us – and we were allowed to eat without the cutlery. Holgi gave us Champagne – Prost or Cheers!
This was a great birthday – it is so nice to have good friends.
Bine showed me the SMS from you and Dicker Kumpel. I was so happy to receive it. Many thanks. Love Murph
---
Hello, I just noticed that I didn't made any updates with photos from Bad Salzdetfurth. So I went into the spa gardens with HoBi. There are saltworks.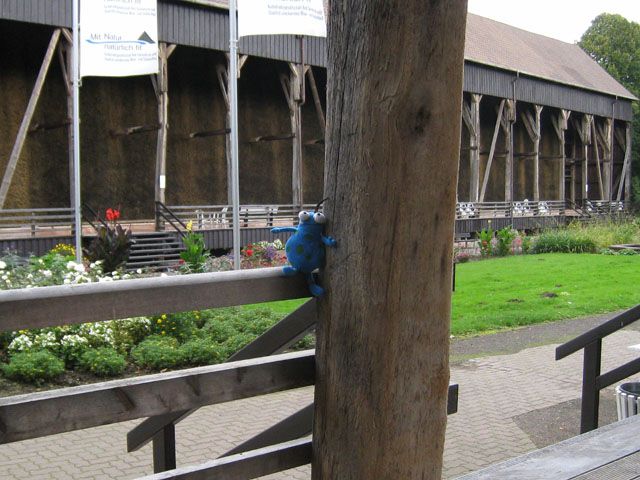 Bine told me that they were used by the humans to get salt many years ago.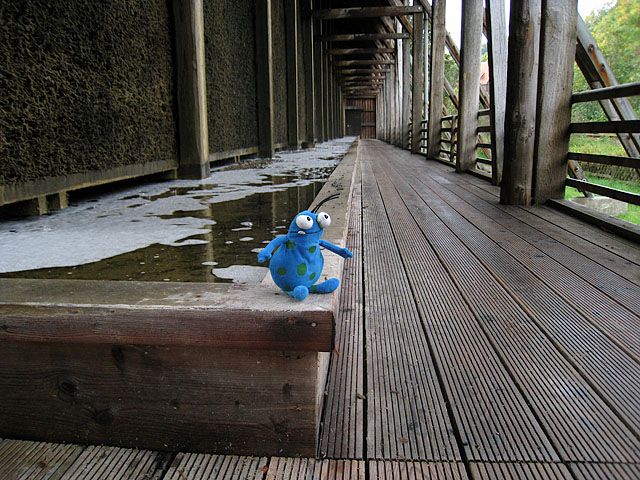 This water ist really salty. I tried it out.
Brrrr,Bine was right – very salty! The air in these saltworks is really healthy. Many people sit here in the chairs – to breath the salty air. Of course I tried it – although I am not ill – and it was nice – and relaxing. Maybe I felt asleep?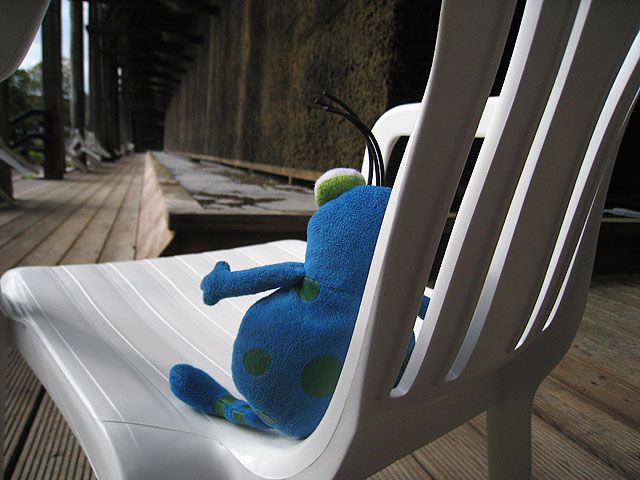 Later I found a nice fountain.
And two funny things. Bine showed me this colorful house for pigeons.
And then this : a SUMMSTEIN ( maybe bumblestone):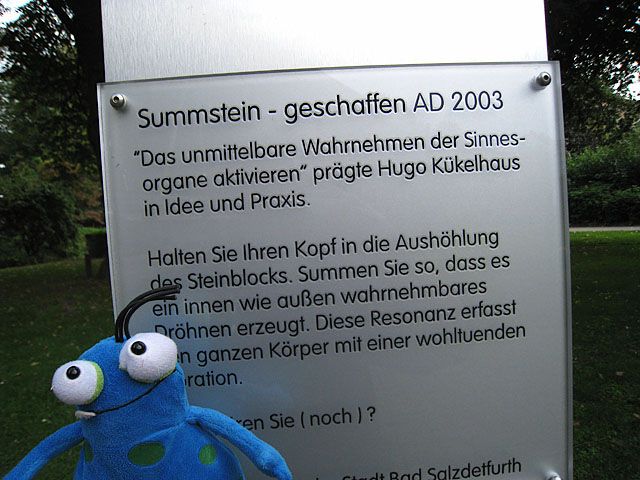 You have to put your head into it and then bumble! I did it – it was funny!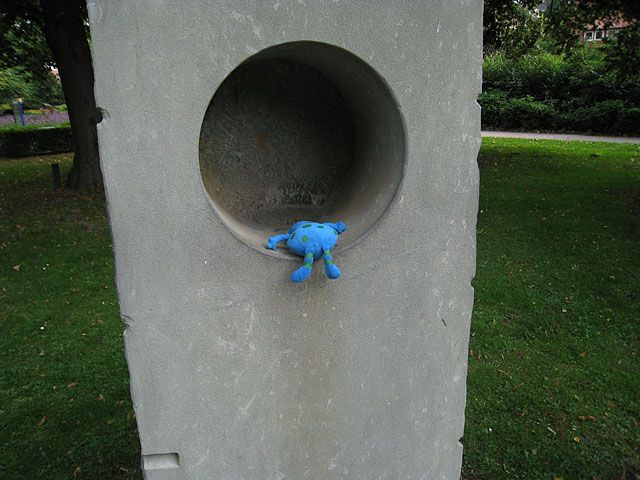 There were still many beautiful flowers, although it is autumn now. I would love to see it in the summer time – have to talk with Bine, maybe I could stay here for another 10 months?
At the end I saw this beautiful little river – it is called Lamme – and flows through the whole city.
Well – we will go on holiday and I promise to bring a lot of photos with me. Greetings Murph
---
Hi, our holiday flat is very beautiful. This is my haunt.
Today we made a trip to Schmalkalden – a beautiful little city in Thuringia. This is the view over the city:
There is a wonderful castle.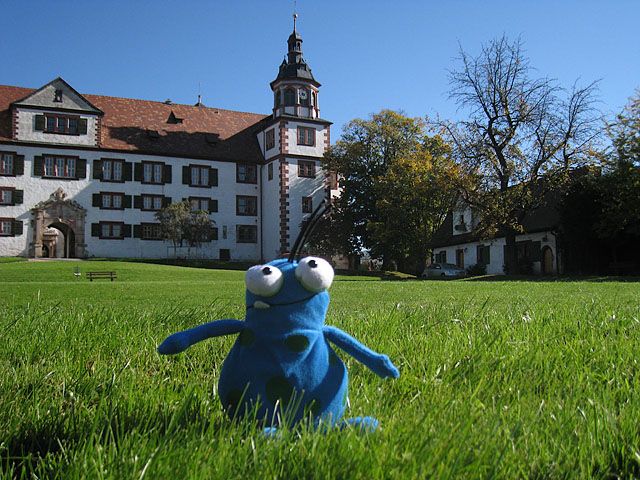 In the city we saw this beautiful garden.
This is a nice old tower – a long time ago there was gunpowder stored. I am not sure if the tower is still a dangerous place.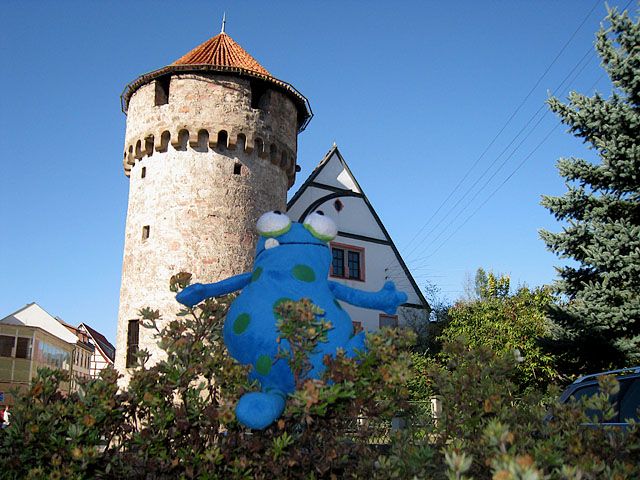 On the way back to Oberhof we stopped to have a look at these ski jump. I am very courageous, but I would not love to use it – with or without skies!
Back home I relaxed in the sun for an hour – in October – what a wonderful autumn.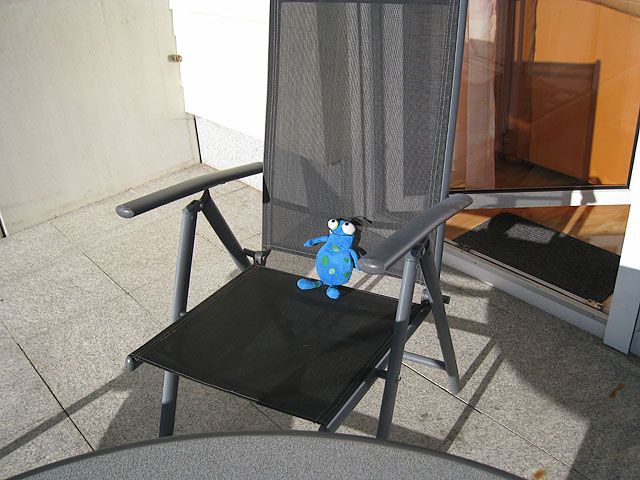 Many greeting – I will write more from the lessons about mushrooms. Murph
---
Hello, today I showed Bad Salzdetfurth to my guests Frankie_Blue and Hoots . It is an old mining town, where they mined potash and salt. First we visited Hotze. It is a monument for all the miners. Hotze is really big. Can you see me on the photo?
I wanted my own photo with Hotze.
There are many old and beautiful houses in the town.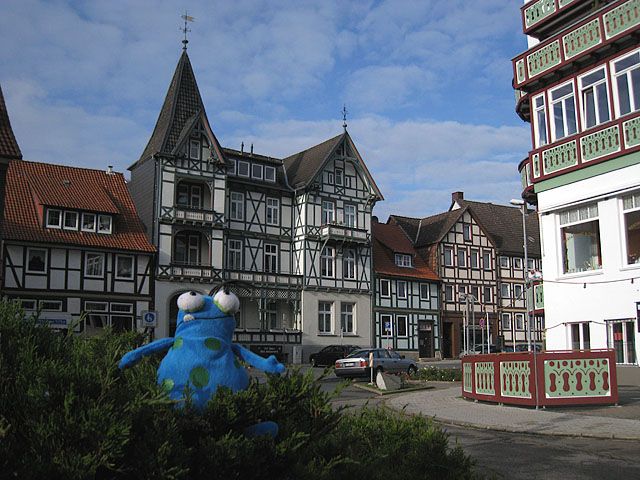 Then I showed the Salines.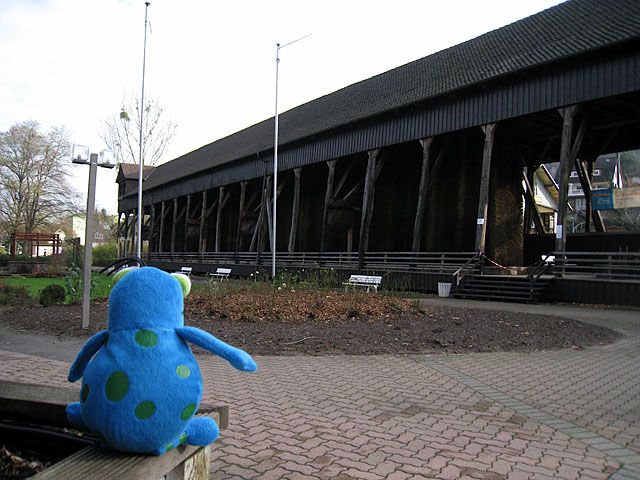 In the past people get salt out of the salines. We wanted to see it of course. What a shame – we were too late! They were closed for the winter time.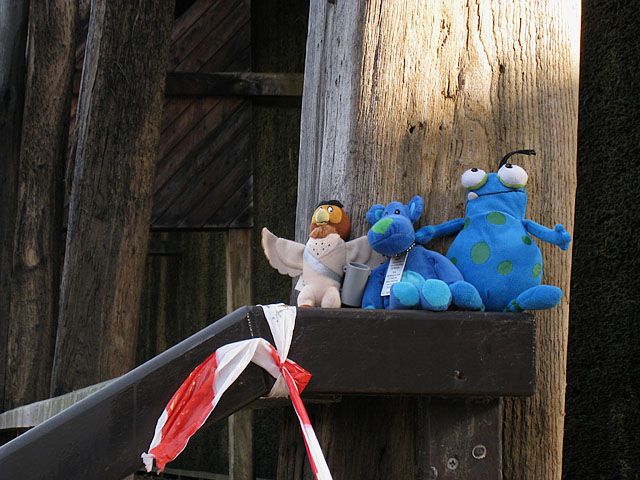 Later I showed the 'Summstein'. We wanted to try it – altogether into the Summstein – and start bumbling...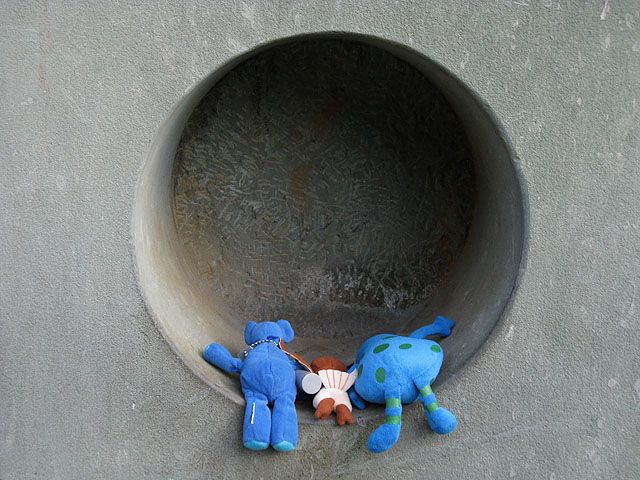 Cool - it prickled! There is another great thing in the town – a street of the planets. All planets are shown in the right relation, height and distance all over the town. Here I am under the sun!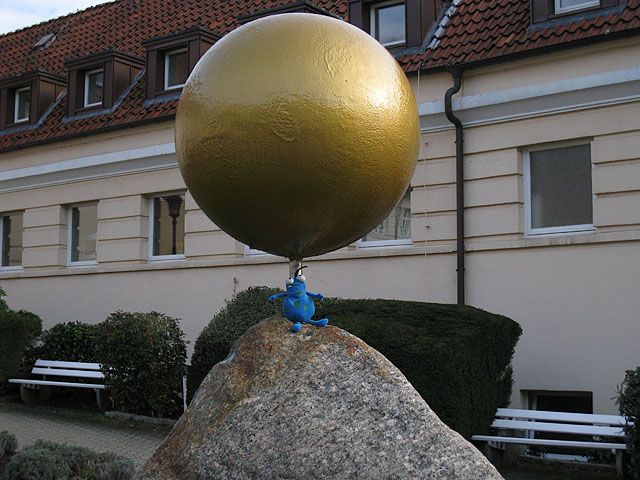 She is big, isn't she? Then we searched for the Earth – and found it.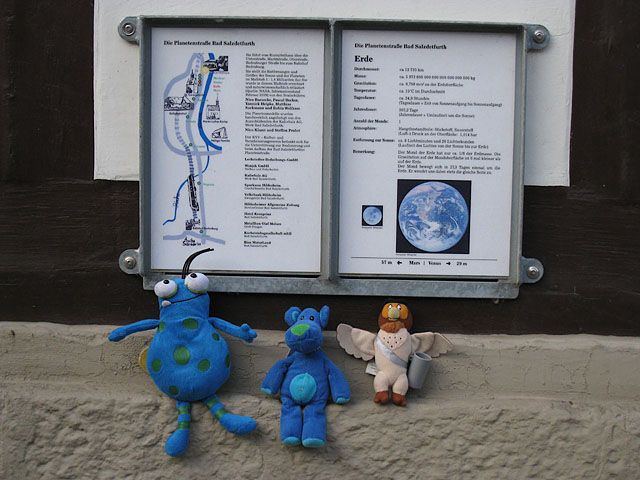 Can you see? She is so small. It is the small ball on the right in the photo.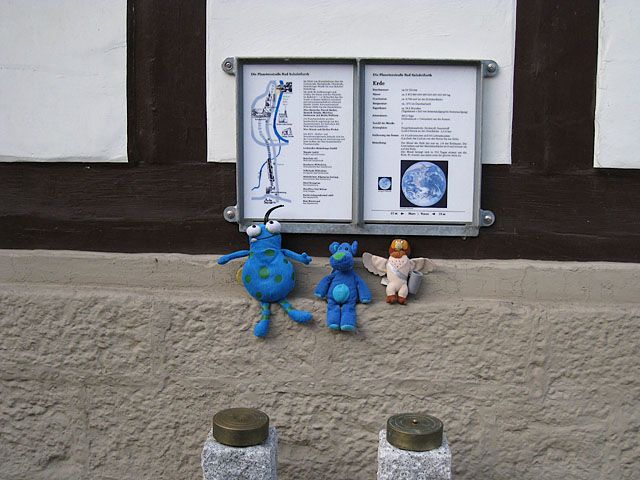 We found this nice lorry on our way.
Now you know the age of Bad Salzdetfurth. Some more mining-equipment: Something to load items on the lorry – we played hide and seek on it.
And a coach that brought the miners into the mining – carried by horses.
A pit wheel – it was soooo big!
This was a great and exciting day! And can you imagine? I found new things, when I walked around with my guests! Many greetings Murph
---
Hi, yesterday I was allowed to open one door of the Advent Calendar.
Let's see, what is behind the door.
Yummy - of course I ate the chocolate at that moment.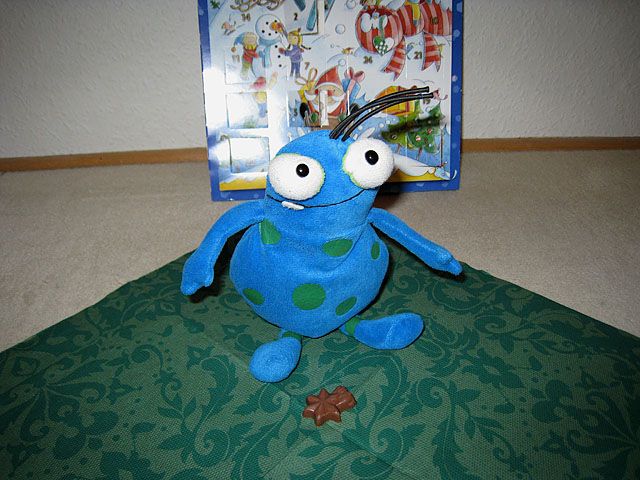 Today is Nikolaus Day : the humans put their cleaned shoes in front of the door the night before – and on the 6th of December the Nikolaus came and put sweets into the shoes – if the humas were well-behaved. Unfortunately I don't have shoes – but we searched big ones from Bine and Holgi. These shoes are too small.
But these were great !
They were big enough.
Bad luck for us – the boots were dirty. And the Nikolaus only fills clean boots with sweets. So we searched something to clean them.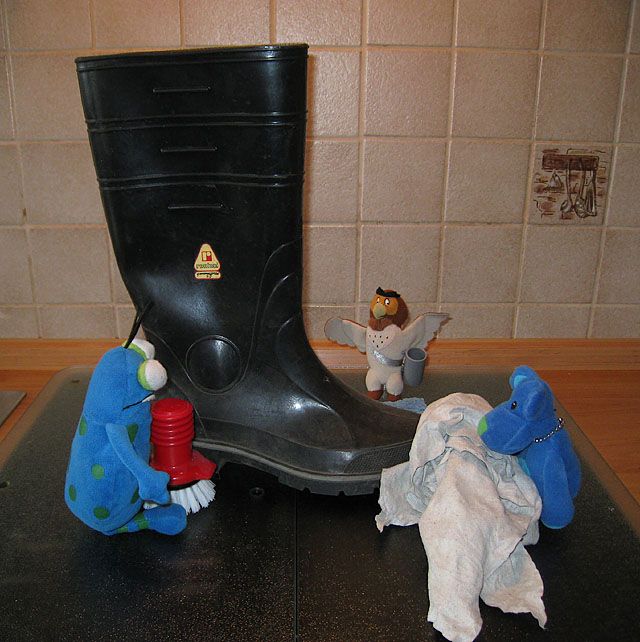 And we cleaned one boot.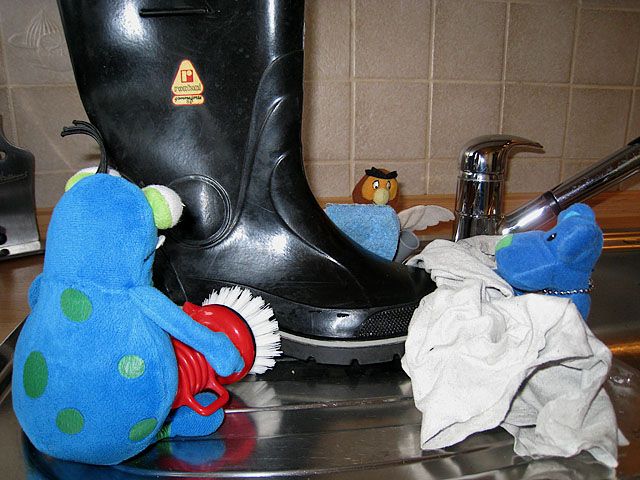 It looked great...
Ready – now we put the boot in front of the door.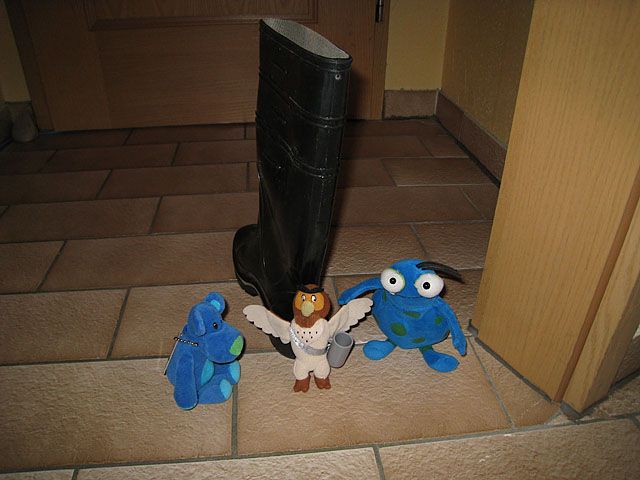 This was exciting – we all sat behind the door and wanted to surprise the Nikolaus.
We waited all night long – this was my time to hear what happens!
Well – I heart something!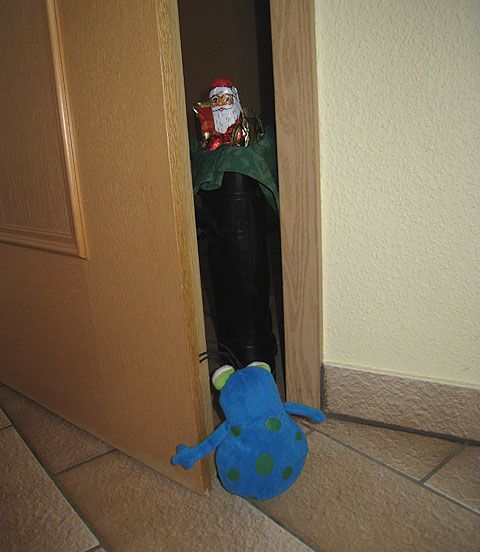 It worked – the whole boot is full!
But what now? How can we get the sweets? We are so small – and the boot is so big! We all pushed togehter – maybe he will fall?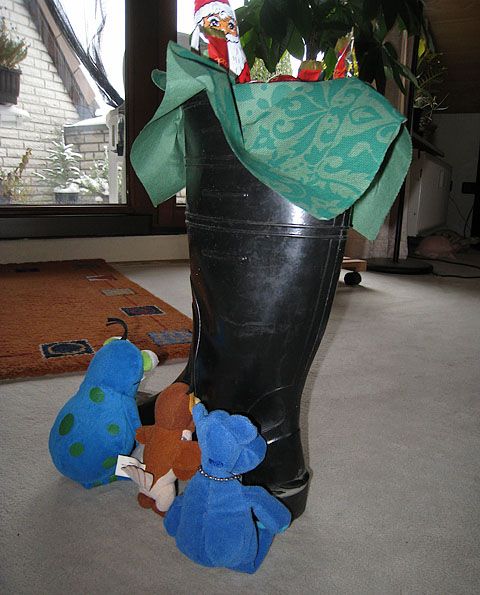 We made it – and so many sweets for all of us!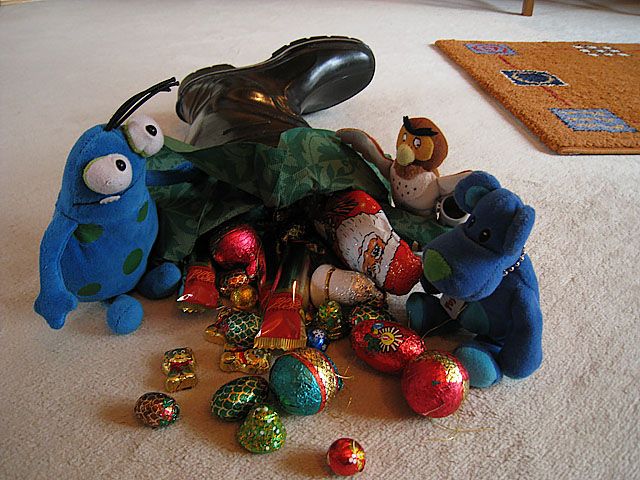 We must have been very nice over the year. Happy Nikolaus Murph
---
Hi friends, great news - I was in Sülfeld again. We arrived here at the 26th of December. I wanted to meet Dicker Kumpel .
It was a little late for Christmas, but RikeH had a big surprise for us. Rudi - the famous reindeer came along.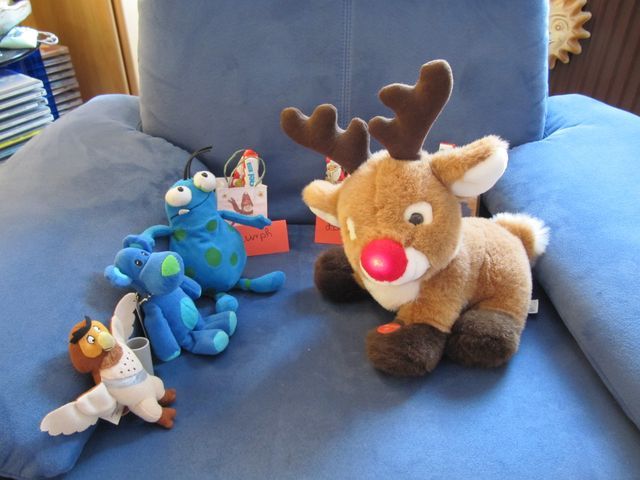 We got some nice presents.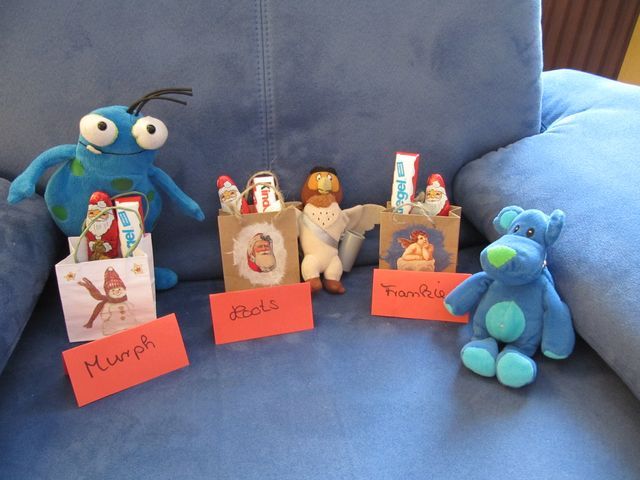 I found some sweets and nice blue creatures, because I am blue.
We had some presents for Dicker Kumpel and his guests. They were really happy about it.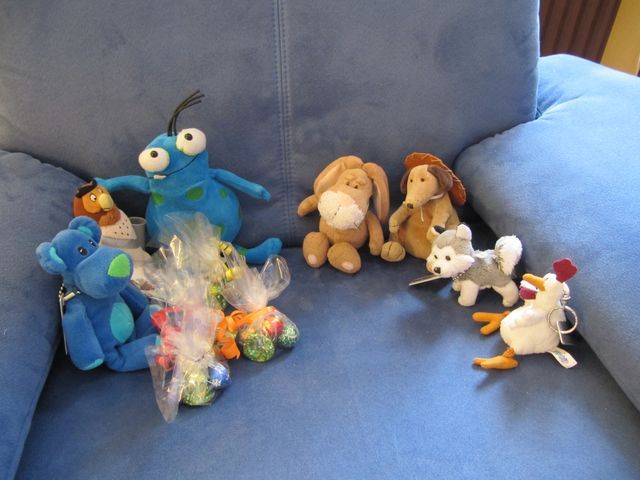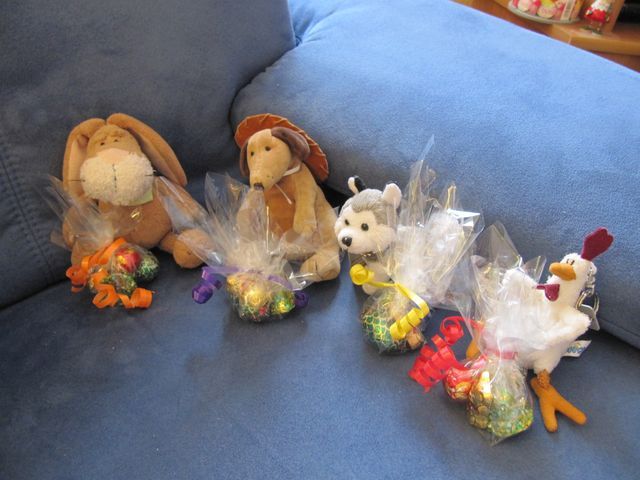 I loved the Christmas Tree - can you see me?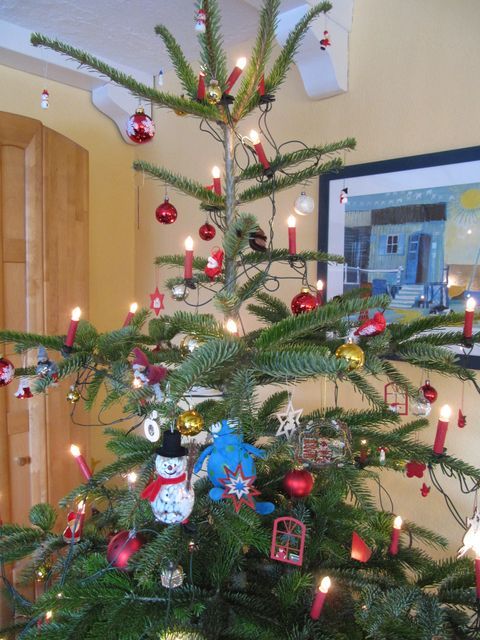 Yes, here I am!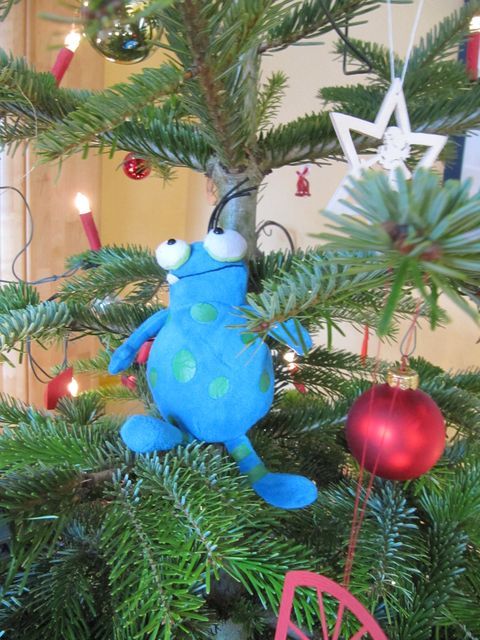 We talked a lot - then I told my friends that I want to spend some more time with Bine and Holgi. Of course they were sad that I had to leave, but I am a ToyVoyager. I got a big hug.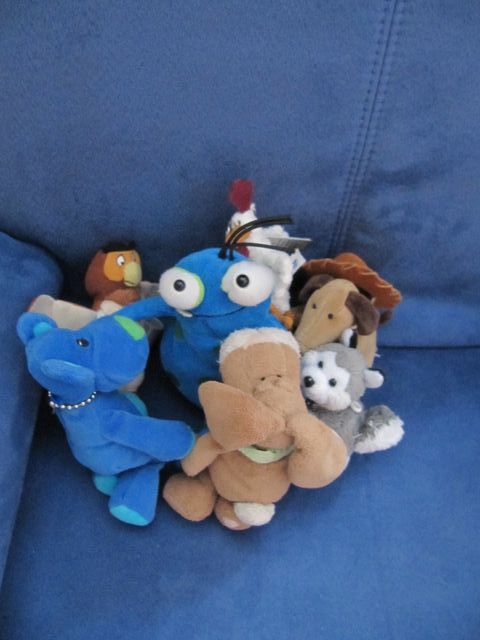 I wish all of you a good start in the Year 2011. Especially Bine and Holgi - I will stay with you for a long time! :D Love Murph
---
27.12.2010 - Schönhagen
Hello, today I want to show you our holiday home at the Baltic Sea. But first I want to show you the way to it.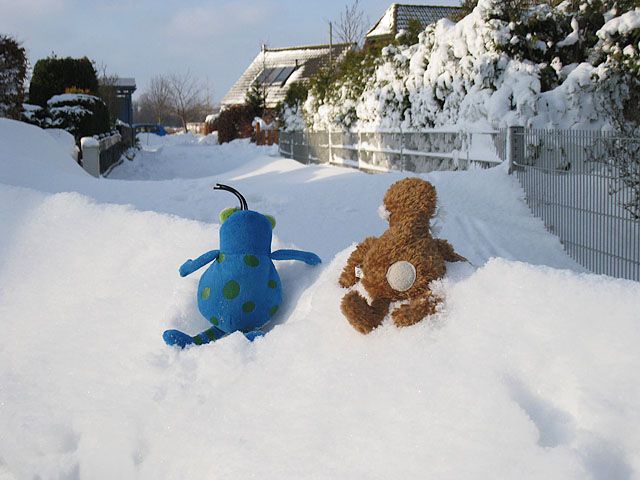 So many snow – and all is drifted. How should we reach the house?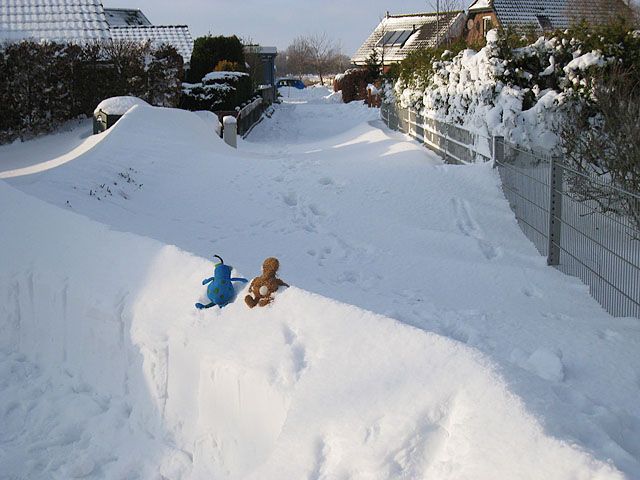 Here is the parking lot – where our car should stay...
We arrived!
Because of the snow the poor birds don't find enough to eat. So we put some food in the tree.
Then we searched a place at the window – and waited for the birds.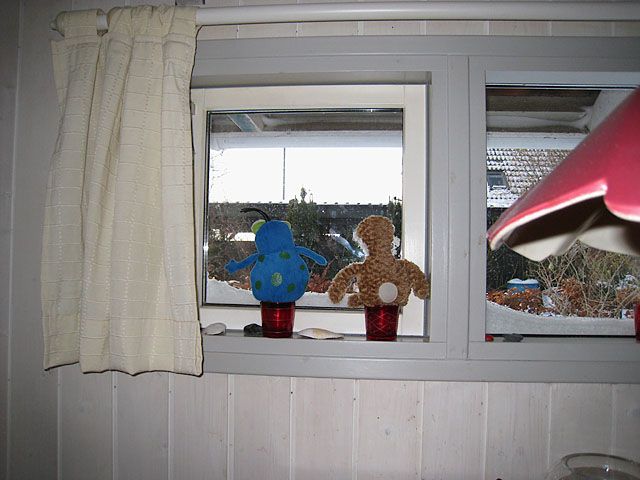 Believe me, there were a lot – but we didn't take photos, because we were so excited to watch them. In the eveing we made a delicious casserole.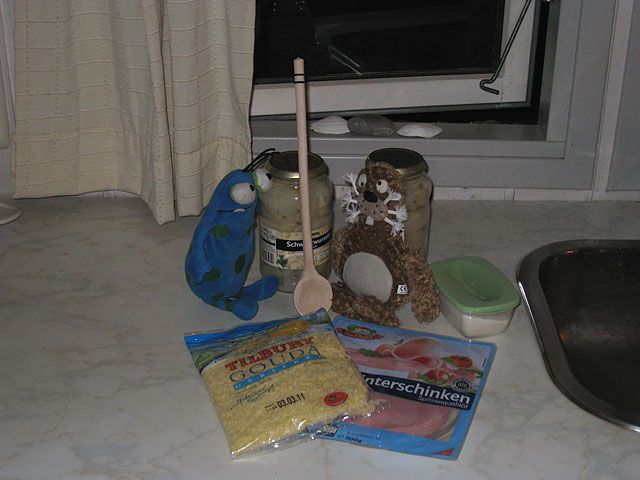 First we put the salsifies into the sieve.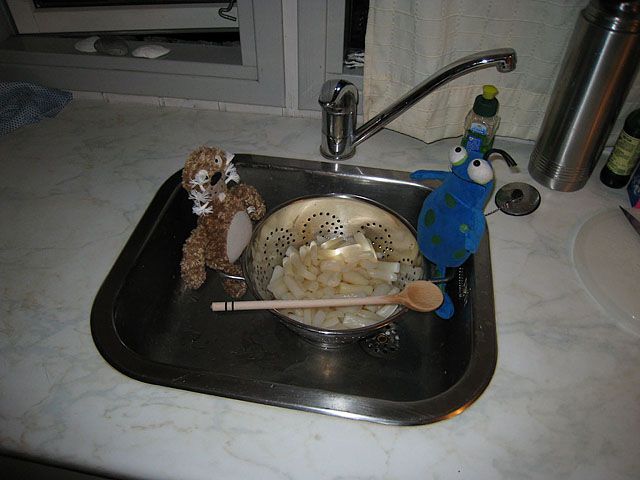 Then I cut the ham.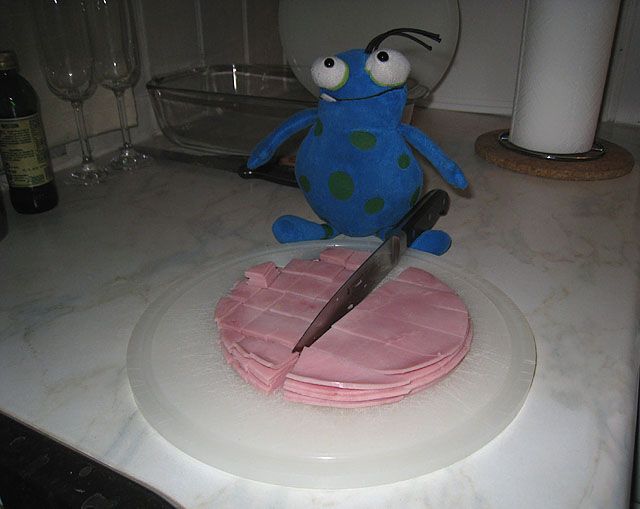 Of course I cooked a yummy sauce!
We put all things together – cheese onto the top. Ready!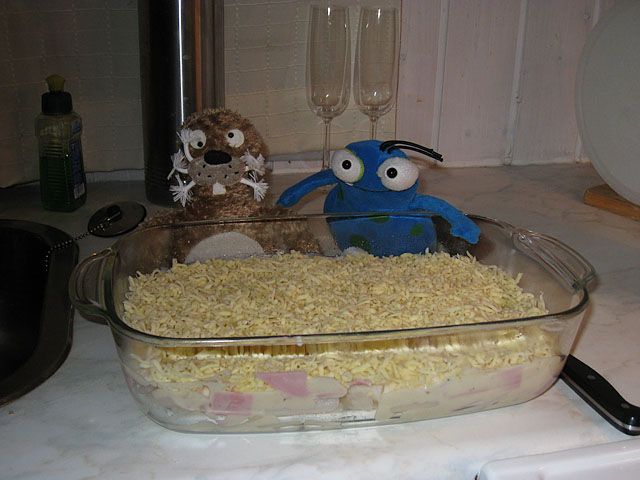 Oh – not really ready – we had to put it into the oven. Looked great, don't it?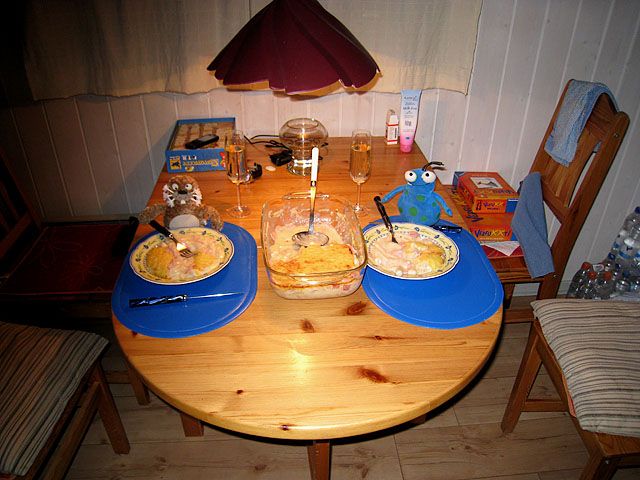 And it was delicous – of course – because I cooked it. Tomorrow we will make a trip to Kappeln and I will write more. Love Murph
---
28.12.2010 - Kappeln
Hi, today we made a trip to Kappeln. It is a town, where many fishermen live – next to the River Schlei.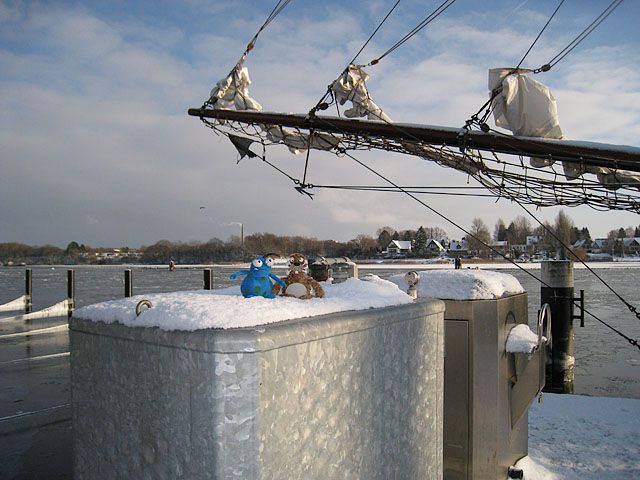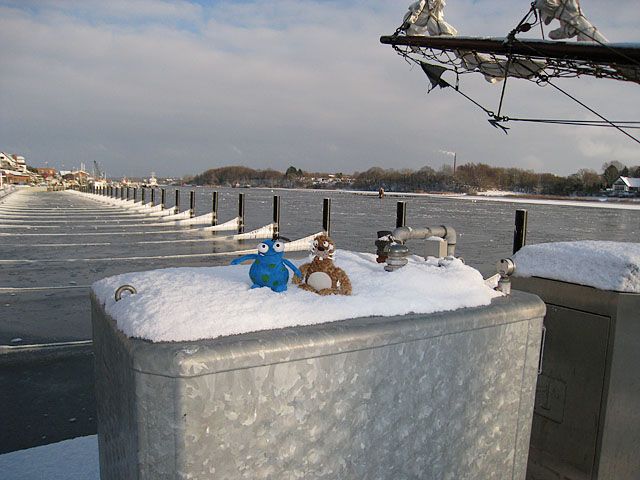 We loved these three towers – maybe it is a smokehouse for eels?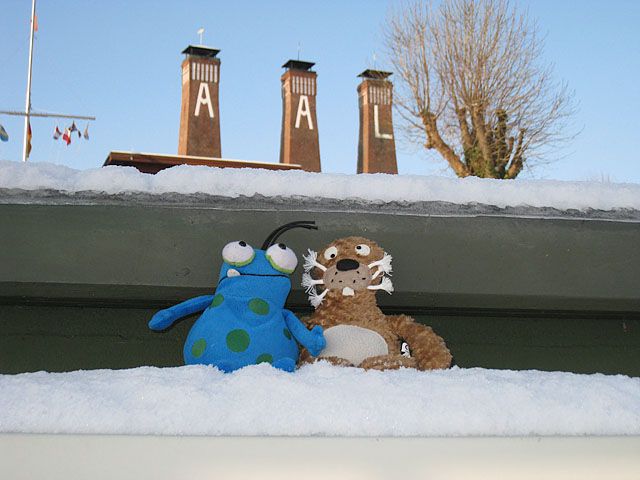 The fishermen were not able to go fishing, because there was a lot of ice on the river. Although it looked like a typical harbour here.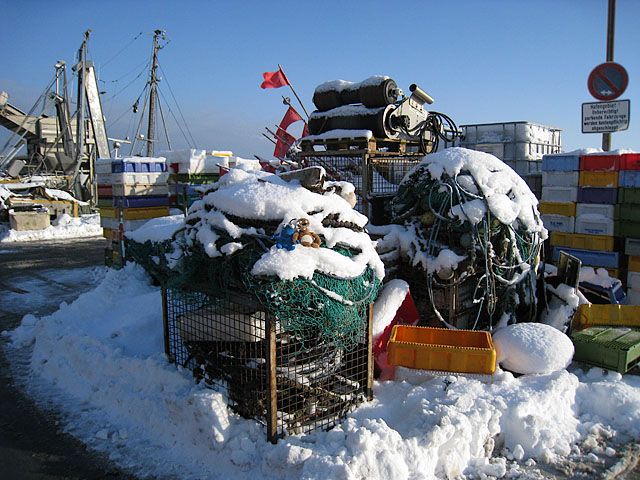 There was a beautiful paddlesteamer!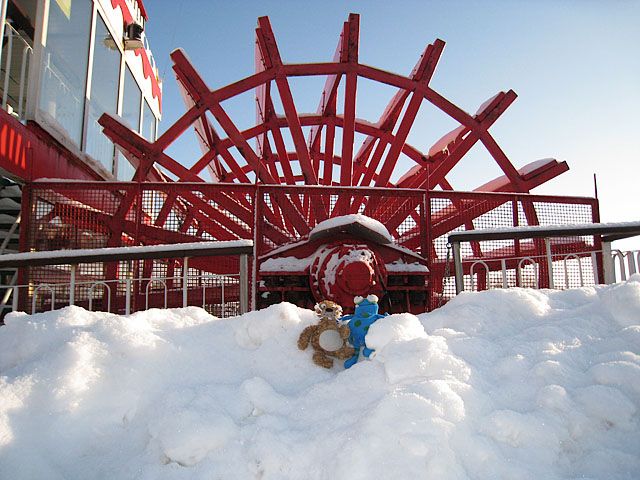 Imagine this – this bridge opens, if a ship want to go this way.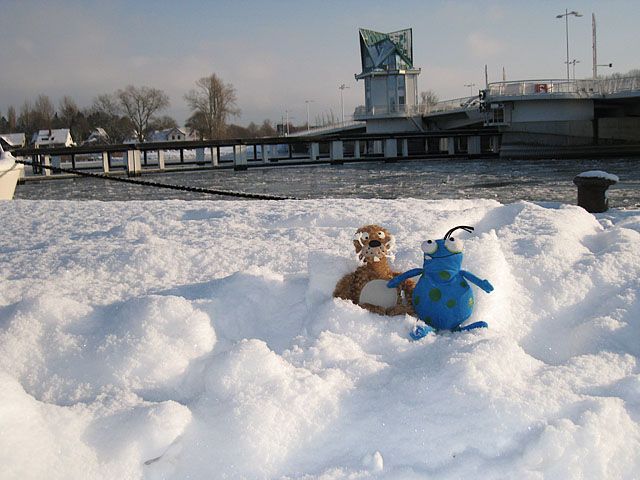 We wanted to see it, but you know – there were no ships, because of the ice.
It was a shame! On the way back to our car – we saw this nice man in the harbour.
He didn't feel cold – but we were cold – and wanted to go back into our holiday house. Many greetings Murph
---
29.12.2010 - Near to  the Baltic Sea
Hello, today we wanted to make a long walk along the Baltic Sea. There was a steep cliff and I wanted to see it.
Unfurtunately the Beach was totally icy, so we were not able to went close to the water. So we decided to walk on the steep cliff. It was very foggy – and all the plants were white – beautiful – wasn't it?
We tried it again – and went to the beach.
Look – the stones are covered with ice – the salty water of the Sea is frozen!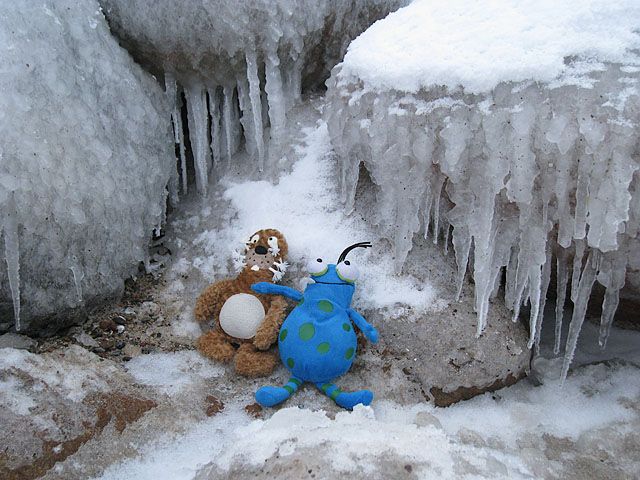 It looked great. But then it was time to go back home It was -10 degree and very windy – so we went cold! At home we wanted to have it cosy and made a fire in the oven. We took the wood out of the Shelter.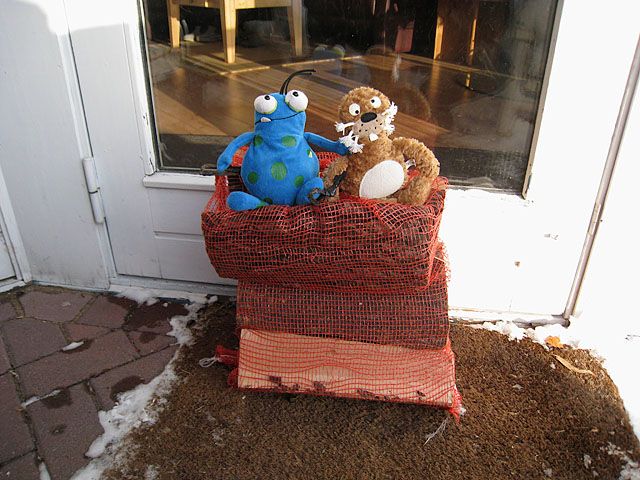 This was our fireplace.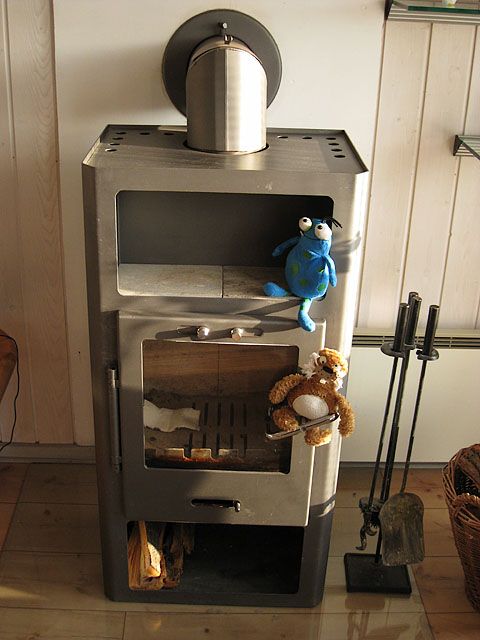 We searched the best piece of wood.
Holgi made the fire!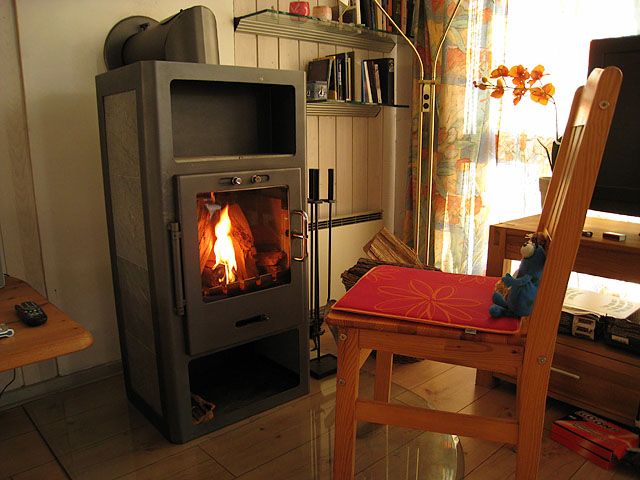 It was so comfortable – and warm in the room. Really great! Love Murph