Hi , I arrived at Rikes home today. There were some other TVs, when I arrived. First I was a little shy....
but then I started to talk.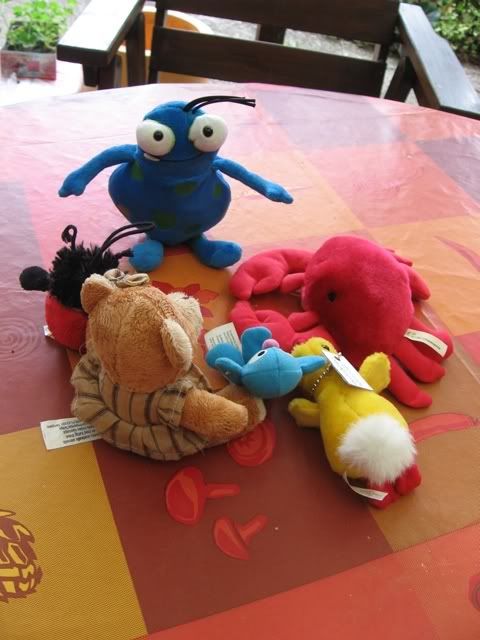 After it, I went into the garden - hey, who are you?
and two other friendly guys, we have the same color.
Now some nice flowers....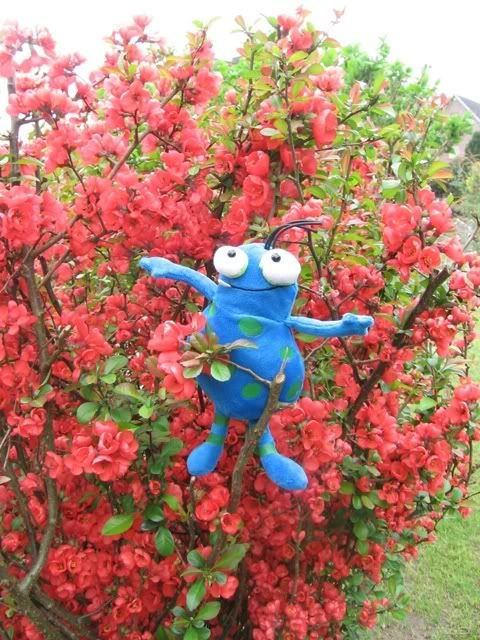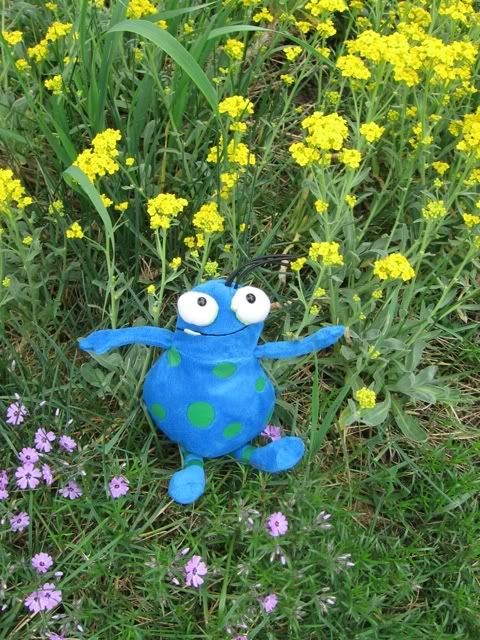 I will talk more with the other TVs and write later. Bye Murph
---
Hello, we went to Lübeck. It is a nice city – in 1987 the Unesco declared the existing cityscape to be a World Cultural Heritage Site. First we saw the Holsten Gate – it was on the 50-DM-bank-note of Germany. But now they have the Euro here.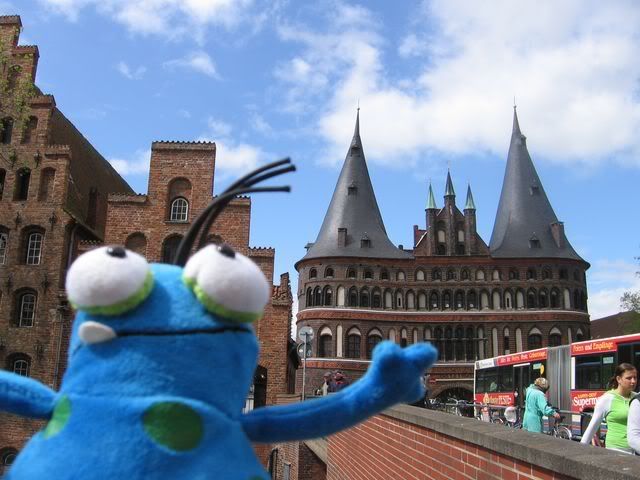 Next to the Gate are the Salt Warehouses and other nice buildings.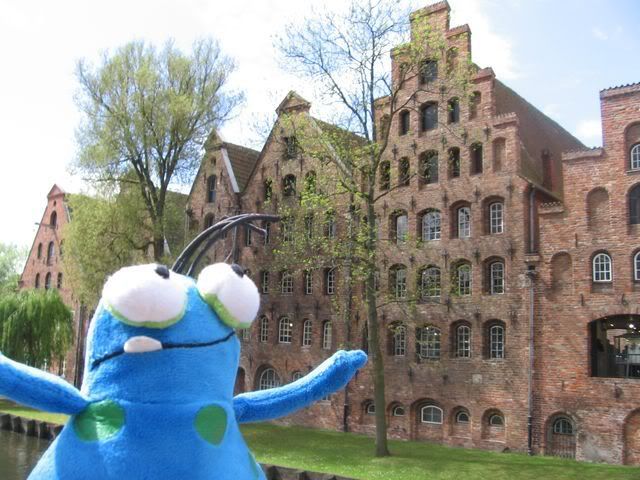 Then we climbed up the tower of the St. Peter's Church. We had a lovely view of the city – but it was very stormy…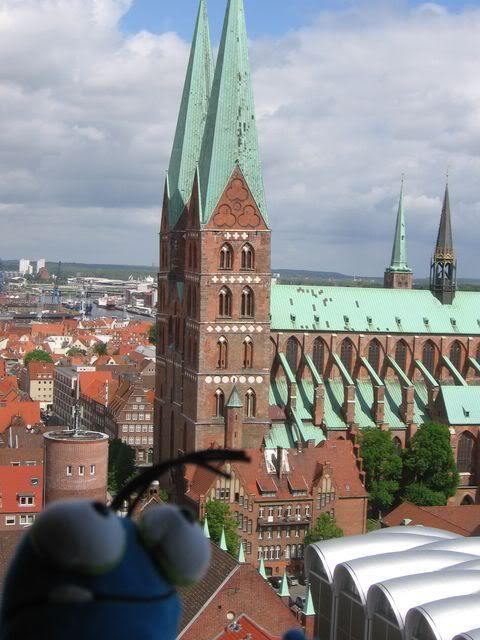 Then we saw some other nice buildings.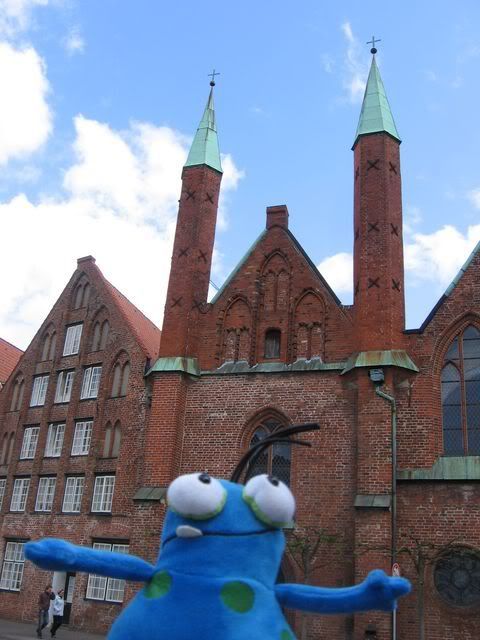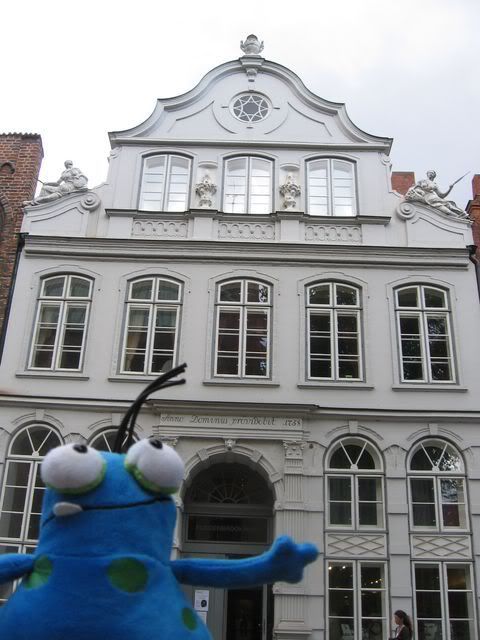 It was a nice time! Yours Murph
---
Hello, this afternoon was a special one. I didn't walk through the beautiful countryside of Suelfeld, play with the other TVs or watch television. No, I did one of my missions: I went into a gym to lift weights.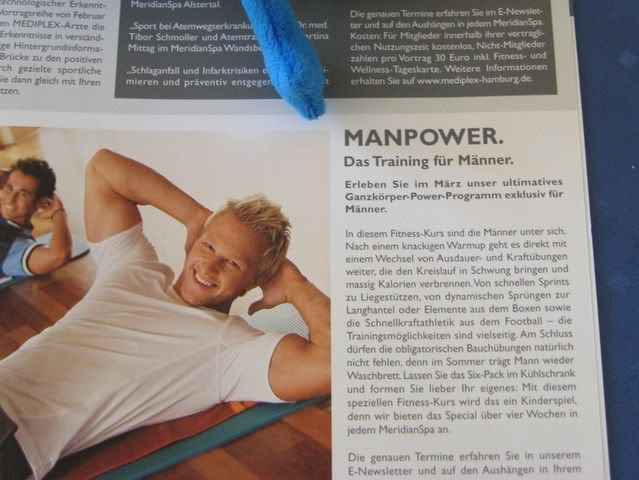 After driving to Rikes Gym in Hamburg I was there – behind this window are the apparatus.
Oh, that was so exiting! Now I was into the gym with all the fitness equipment!
Which one should I take? Did I work with the legpress? … no, that's too easy, I wanted to practise my arms!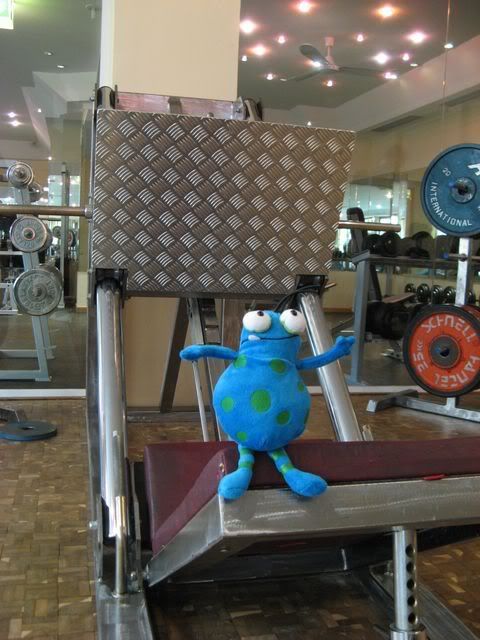 Now I looked for long-dumbbells – should I take the fixed …
… or one of the movable dumbbells?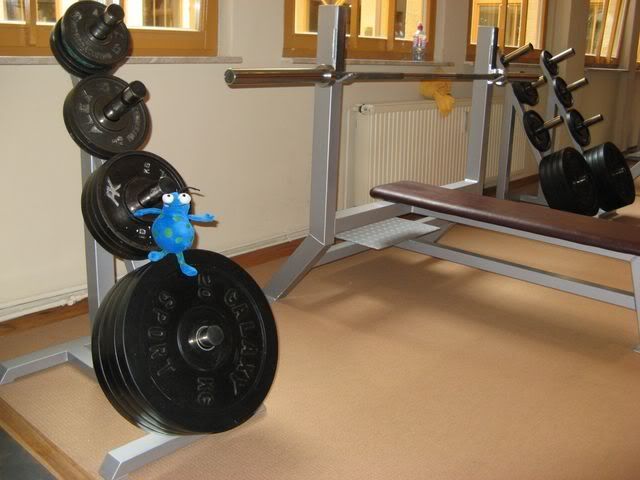 Just as well I could take one of these beautiful short-dumbbells!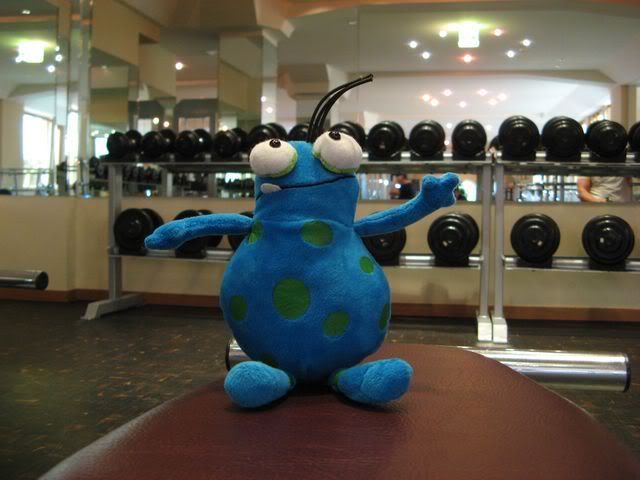 After thinking for a short time I decided for a 35 kg = 77 lb short-dumbbell.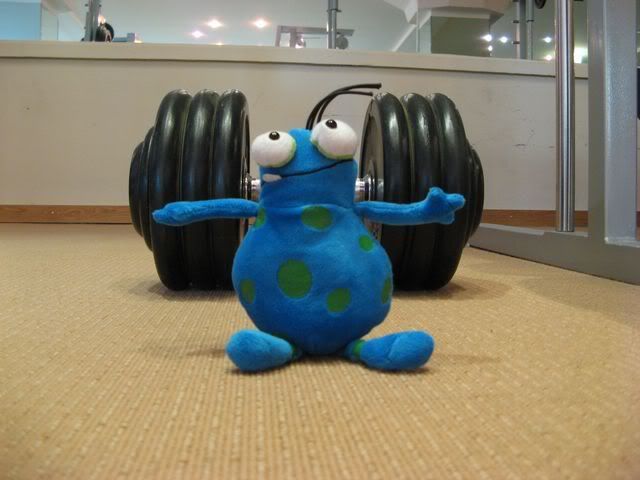 35 kg or 77 lb are very, very heavy! I lifted the dumbbell for you!!
After that sporting afternoon I was happy to lie in the garden doing nothing!
---
Hello! What a great day. We went to the Zoo of Hamburg today. It is called Hagenbeck and was founded on this place in May 1907 – what a long time! First we saw the elephants – there are small ones – they are so cute – and they played together.
This was the first gate of the Zoo. Now the Zoo is bigger – so the gate is inside the park.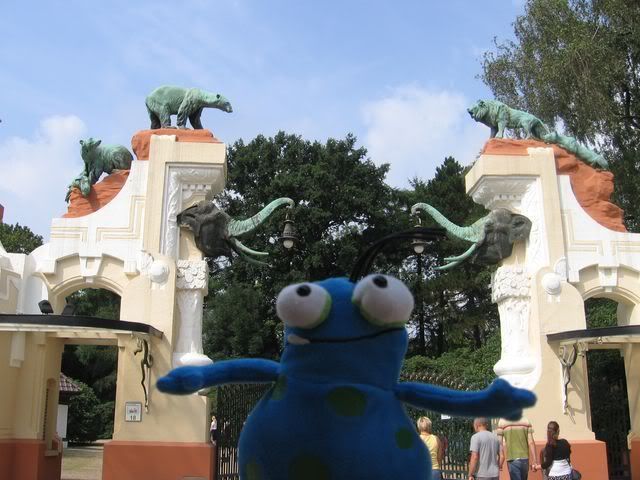 We saw this funny bird and zebras. A Zoo is really nice, but I prefer to travel around! Look, the bird is sitting on my hand !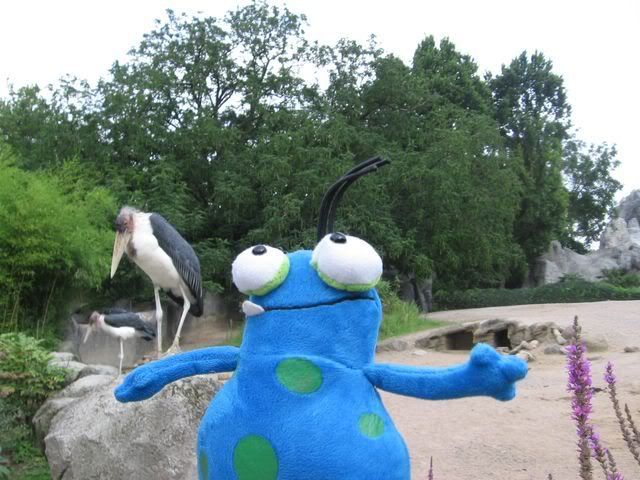 The giraffes are the biggest animals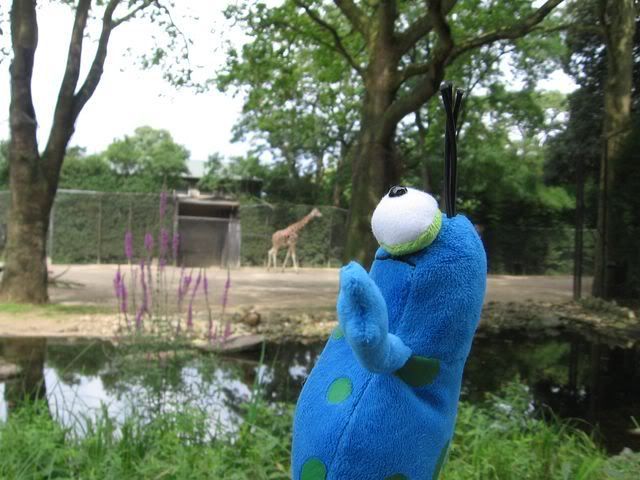 At the end we've been in the Aquarium – what a lot of nice and colourful fishes!
It was a wonderful day in the Zoo! Murph
---
Hi Fans, today is my birthday – and I celebrate it in Montenegro. I am on holidays again!!! RikeH gave me Cakes for my birthday and delicious Chips. I love them.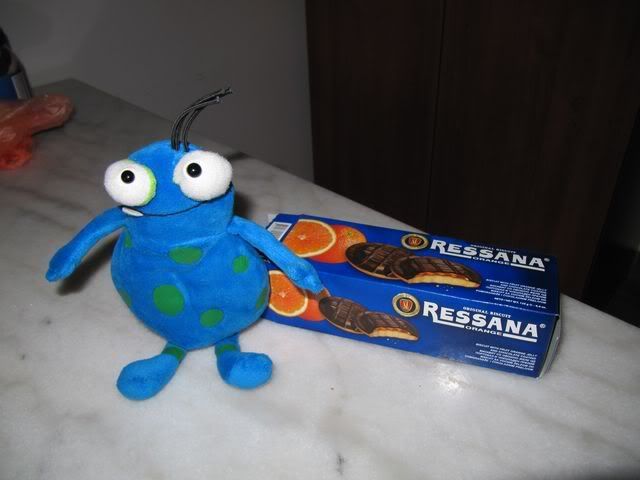 Dicker Kumpel and Orpheus came to sing Happy Birthday and they gave me a big hug. So I invited them to share my Chips with me.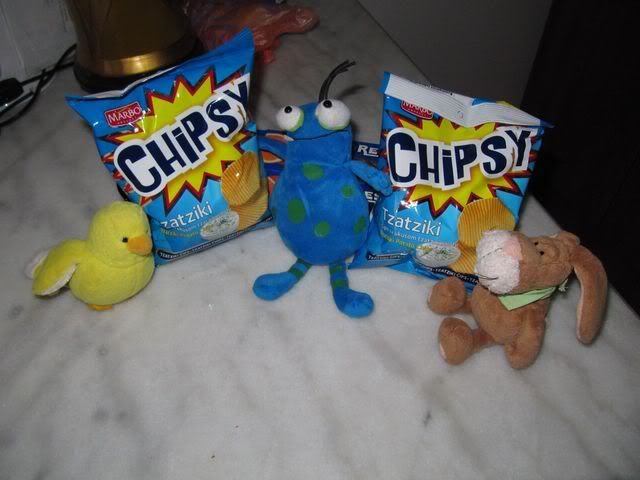 And now I can show you some photos of my trip so far. Most time I travelled in the car.
This was me in Slovenia: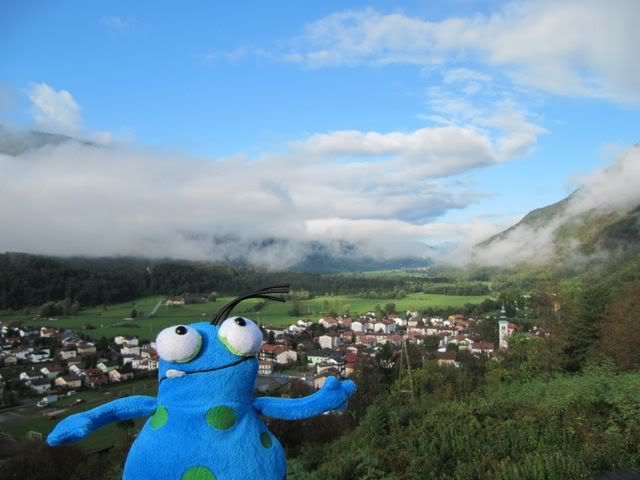 Then I travelled through Croatia :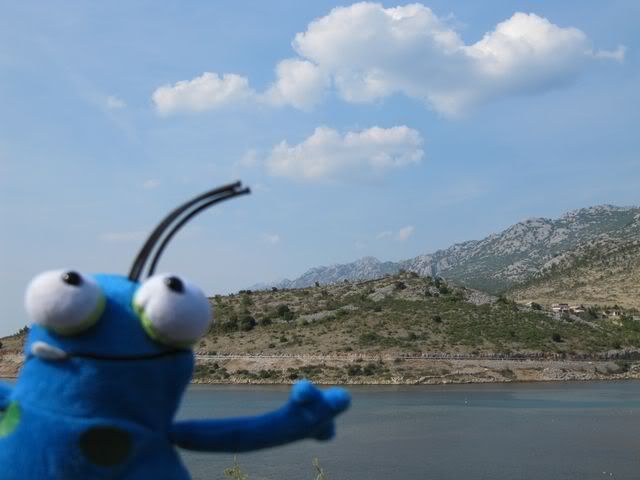 And I had my first photo of the nice landscape in Montenegro.
Now I will celebrate my birthday. Yours Murph
---
Hello out there, Now Part Two of my adventures, we made a long trip with a ferry today – and tonight. We started in Dubrovnik and arrived in Rijeka – for the people who know the map of Croatia. This is the Ferry called Marko Polo: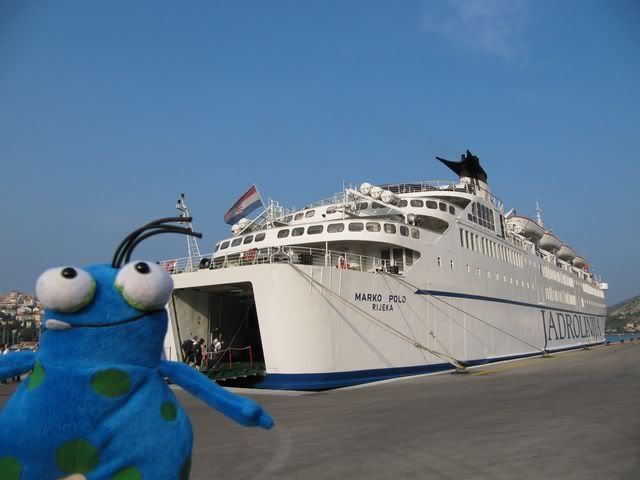 This is a view of the beautiful coast of Croatia.
We stopped in the lovely town of Korcula.
In the evenings I relaxed with a good old and cold Beer.
I love boat trips! I have forgotten to update two more photos made in the last days. Here they are:
yours Murph
---