Hier werde ich Berichte von meinen besten Partys zeigen!
---
It was time to party. When RikeH and Thomas were away, we found these two little bottles.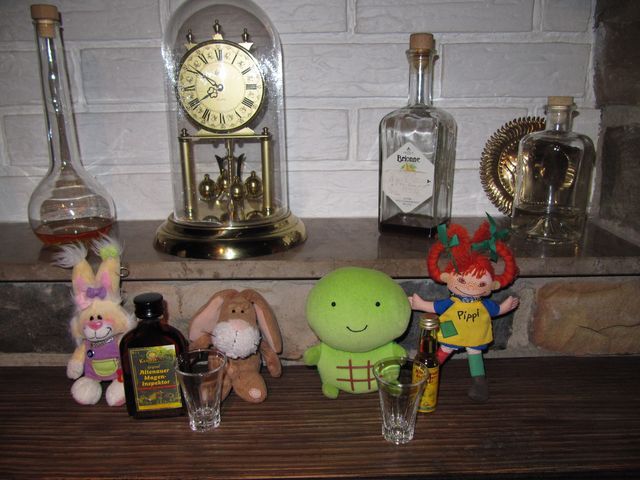 Well, the bottles were full and the glasses empty - we should change this.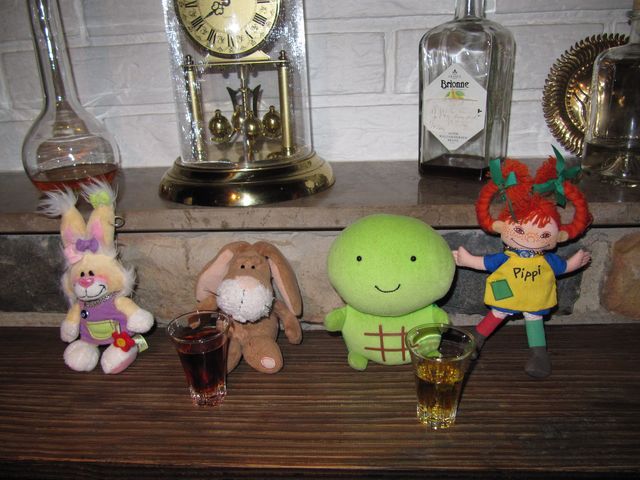 After some hours - the glasses were empty - Mimi took a closer look.
Nothing to see - maybe I will have more success?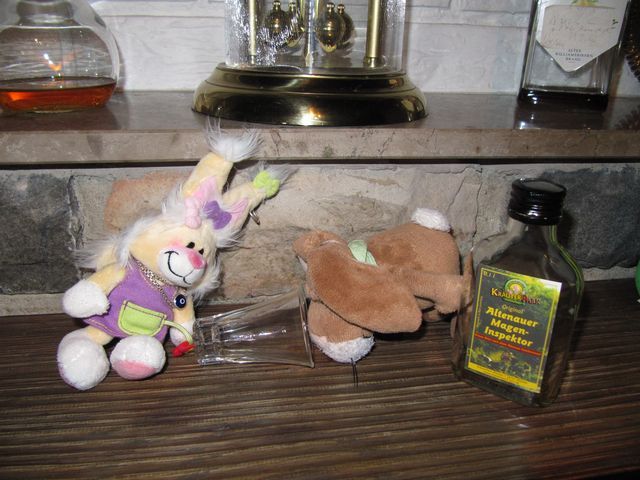 No - everything is empty... Bad luck for all of us. Oups - RikeH was coming back. She looked at us - and was not that amused.
I had fun. But I am a little worried about RikeH words : We will see us tomorrow....
Hicks Dicker Kumpel
ONE DAY LATER…
Hello from Altenau again,
Ouch! My head!!! I had a headache. It was awful. RikeH helped all of us - and gave us cold towels for our heads.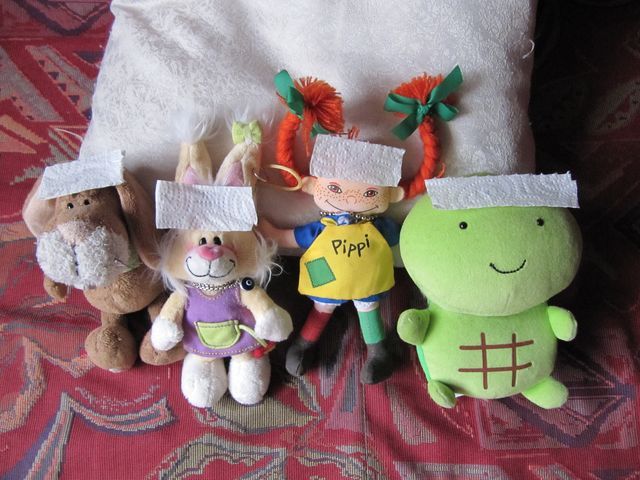 Later we had some coffee and some medicine.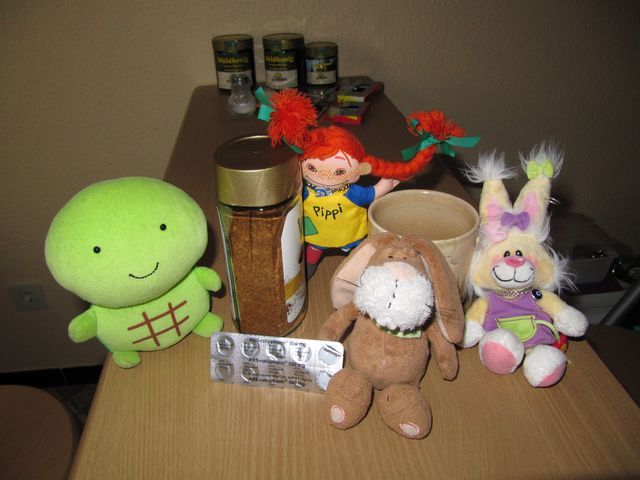 ---
Hello friends of Halloween,
It is me - Dicker Kumpel. Are you surprised to see me like that? It is Halloween!!! We all wanted to go as ghosts - but to tell the truth, RikeH is not really good in creating costumes, although she spent hours on it. Well now I look like something between a ghost and a mummy, but I am sure, we will have fun this day.
Well, we went outside and stopped at the first house we found. It seems to be winter? A funny snowman. Can you see me in my costume?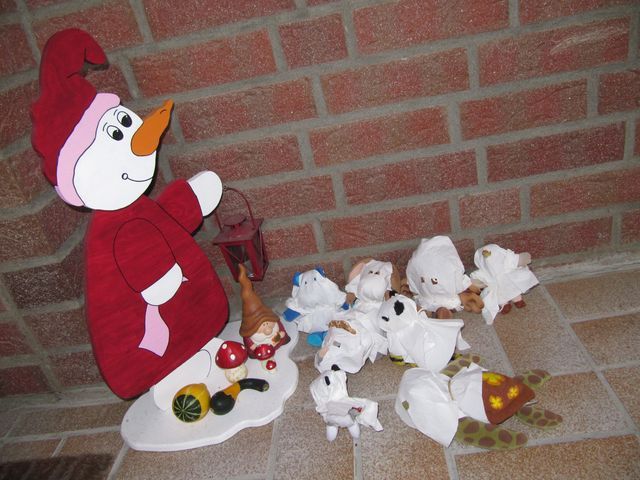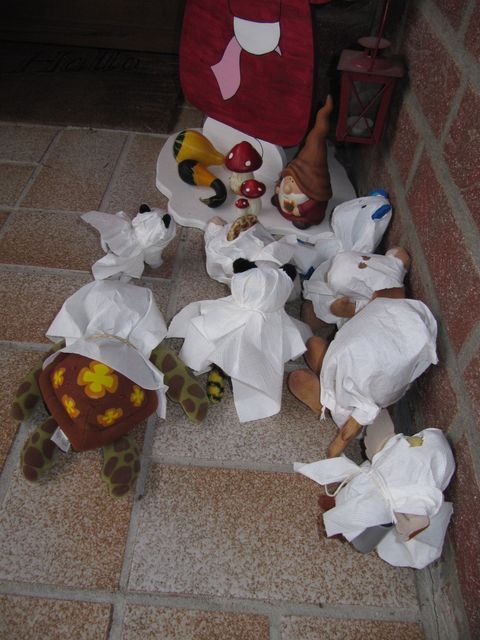 The door opened and we sang a song - and recited a poem.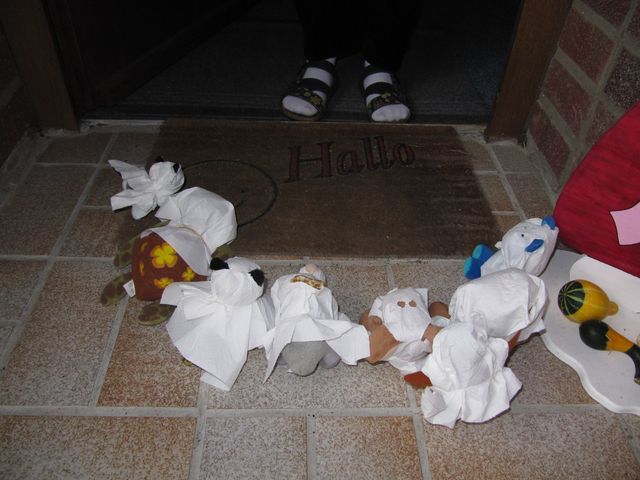 Good luck for us - we got sweets.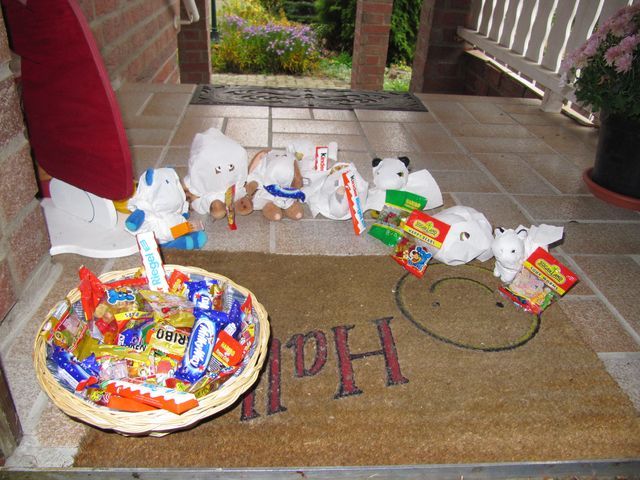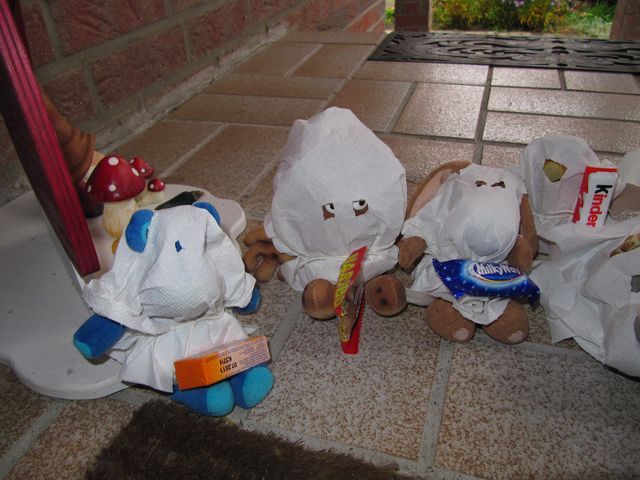 Well - it was a rainy day - so we decided to go back onto our armchair.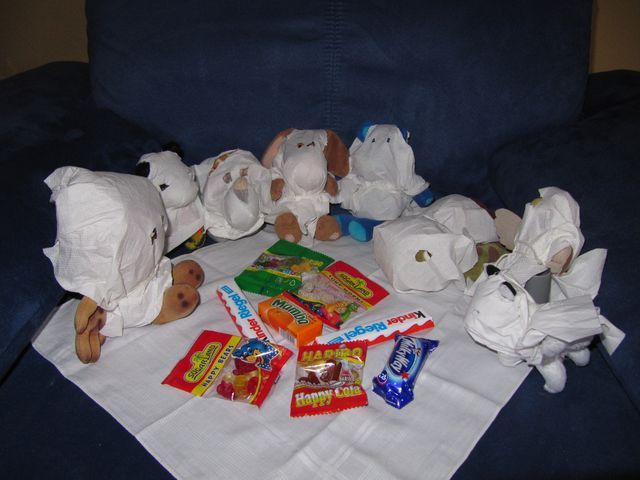 We put away our costumes - well - not everybody did it. Maybe a real ghost - we all were very curious.
Fortunately not - it was a new ToyVoyager here - called Hoots. We were very surprised, because we didn't know that he would come. He was invited more than 6 weeks ago...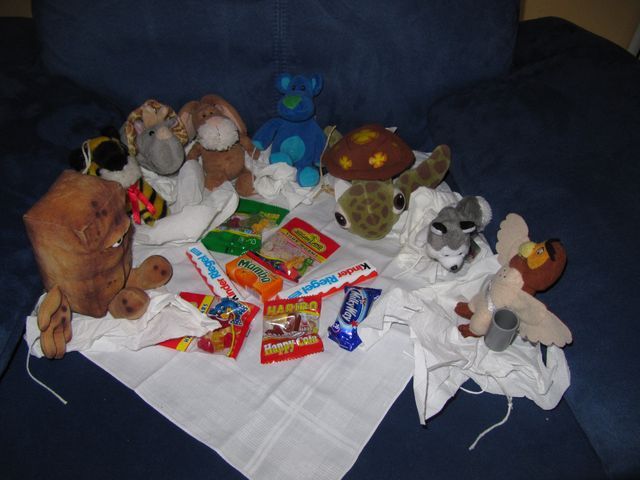 Of course I gave him a warm welcome.
RikeH told us that we should eat something normal, before eating all the candys, so we had some burgers.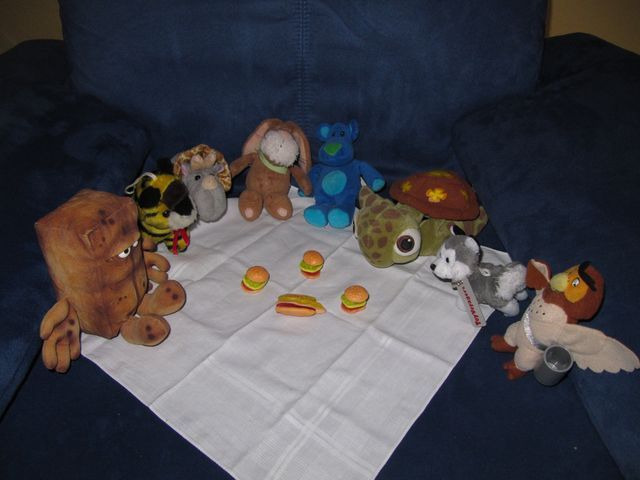 I shared mine with Timothy.
It was yummy. We will spend the rest of the day looking out of the window - and watching the ghosts outside.
love Dicker Kumpel
---
Hello friends, as you know, it was my birthday today. I got a beautiful present!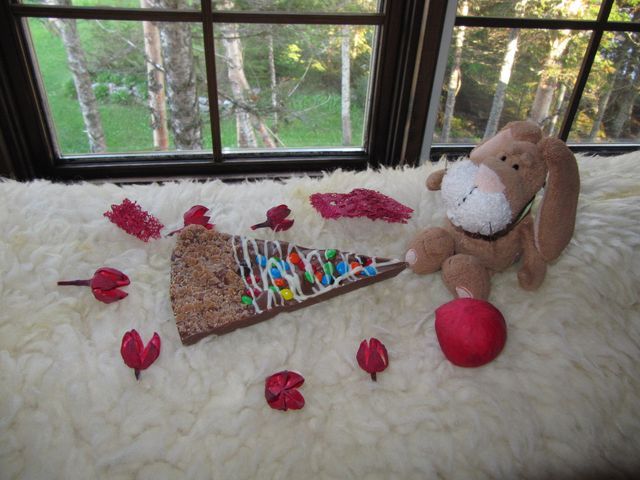 The other came and sang a wonderful song for me.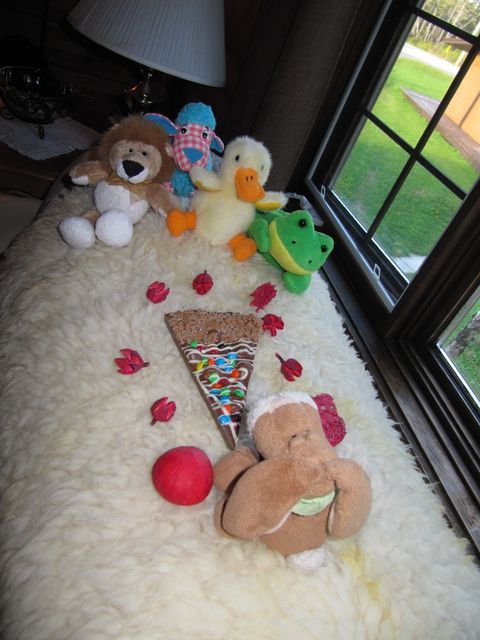 Then they gave me a big hug!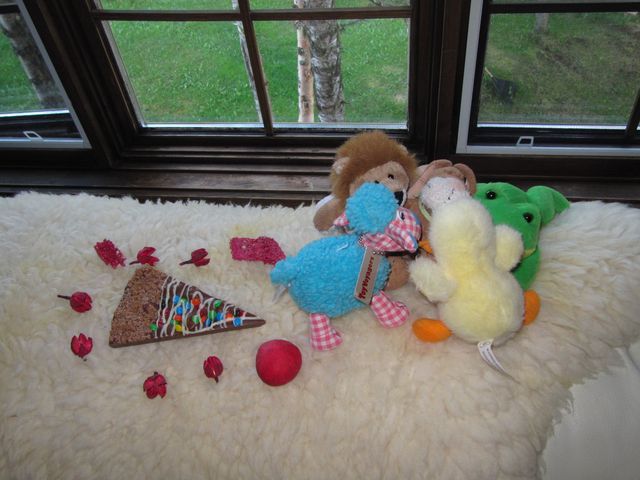 My birthday party! We had a lovely drink...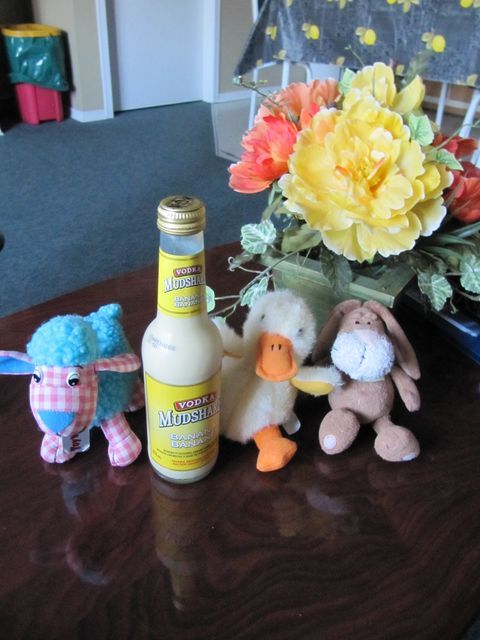 ... and something nice to eat.
But I loved the drink more!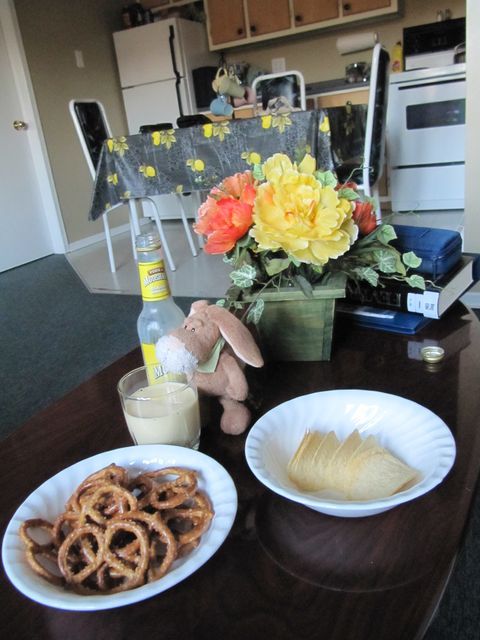 And made some nonsense.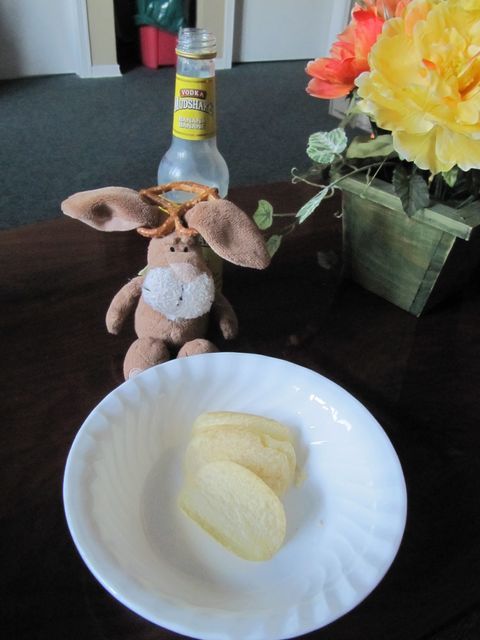 We were very tired for a moment.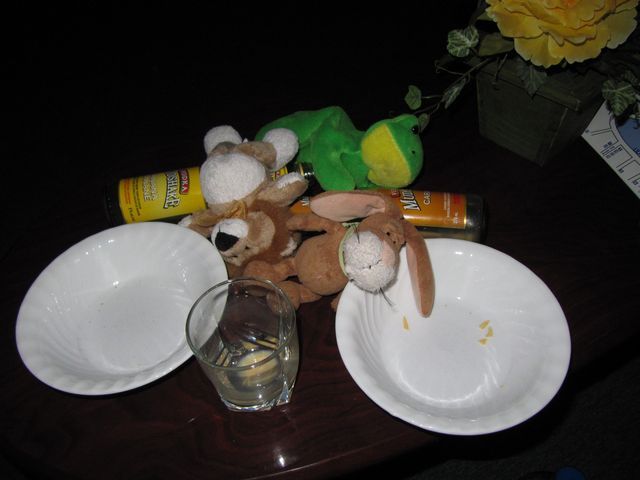 But then we decided to become artists!
My birthday was great - maybe I should have a party like this every week. yours Dicker Kumpel
---
Hello friends,
yesterday evening we had Champagne - and it was delicious. RikeH didn't spend the evening in our cabin - and we wanted to have more drinks...
We went to our minibar.
I climbed into the minibar - and threw the bottles to my friends.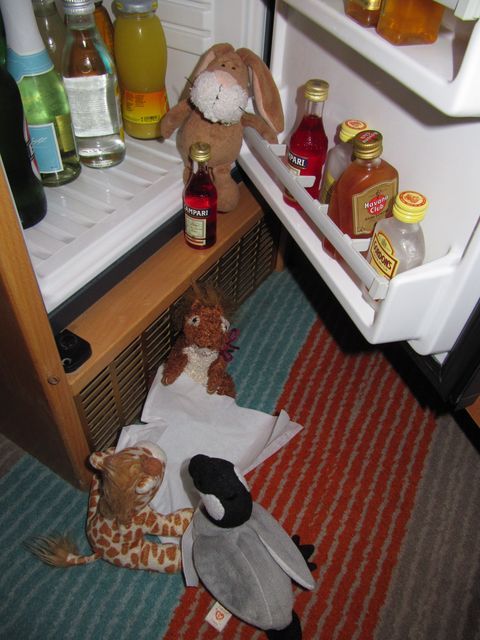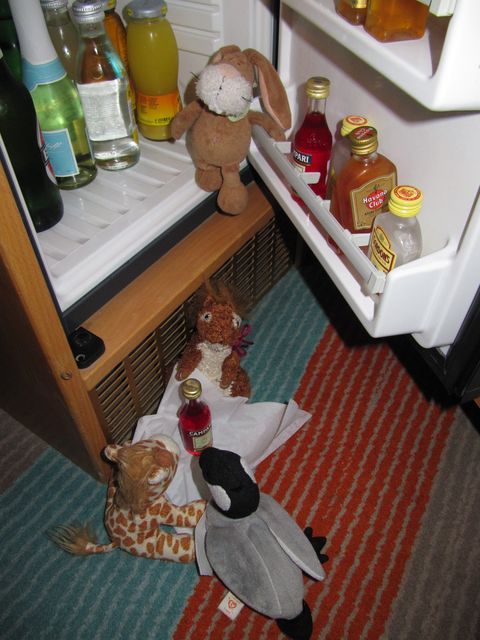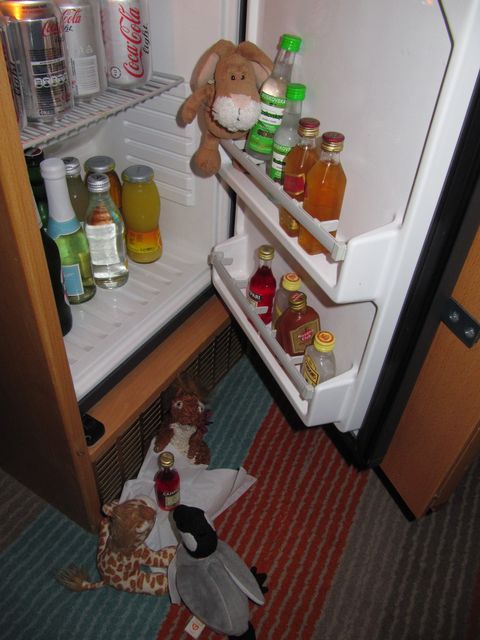 Ready - we had 4 bottles.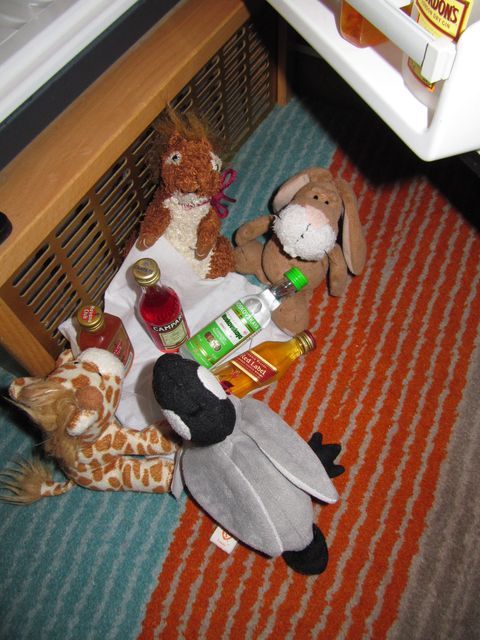 We brought the bottles to our place.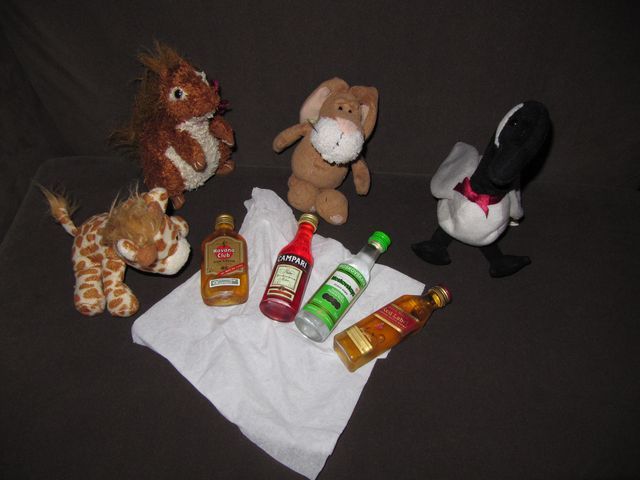 I chose the Vodka.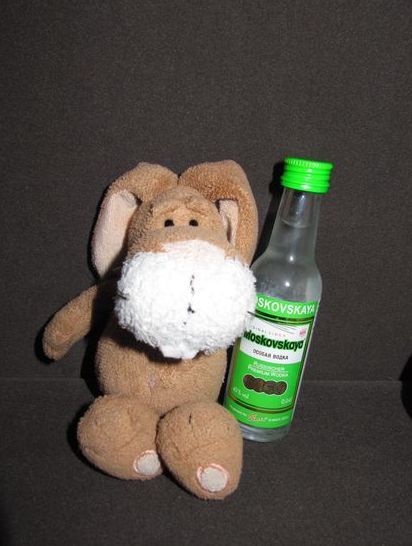 The others had other nice drinks.
Hey - the ship moved in a strange way - or did I?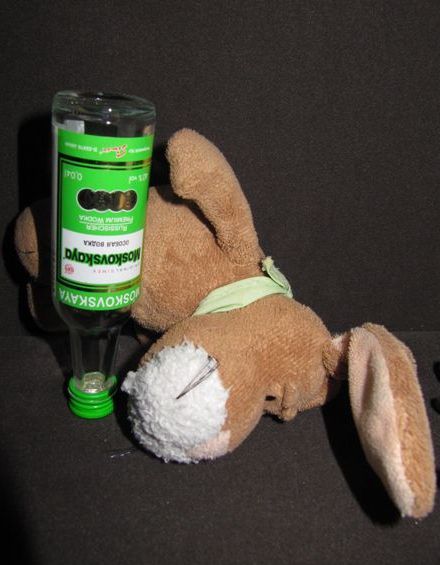 What a great evening.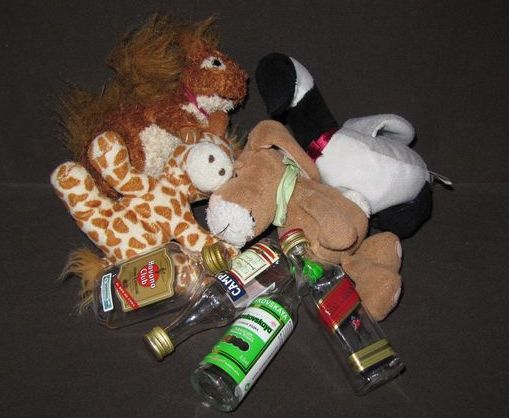 Yours Dicker Kumpel
---
Hello again, Today my guests had a surprise for me.
Erol and B.o.B. blindfolded me.
I heard them talking. They did something, but I was not able to see it.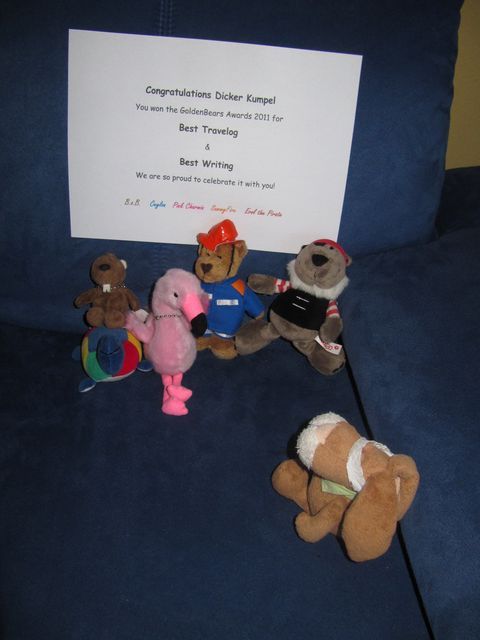 They installed a big sign for me! I was so surprised!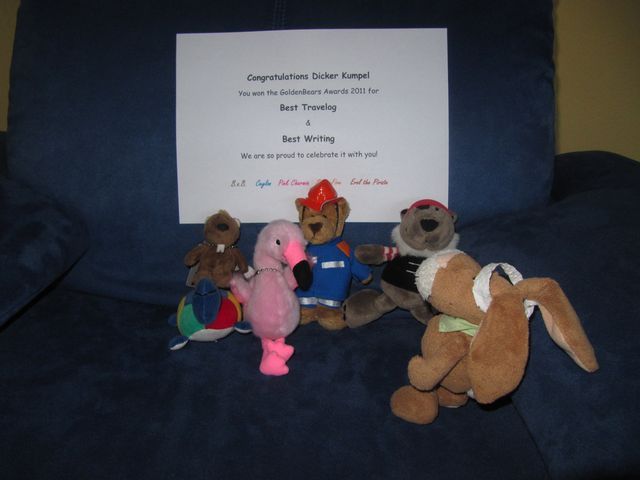 They gave me a big hug – I won two GoldenBears Awards!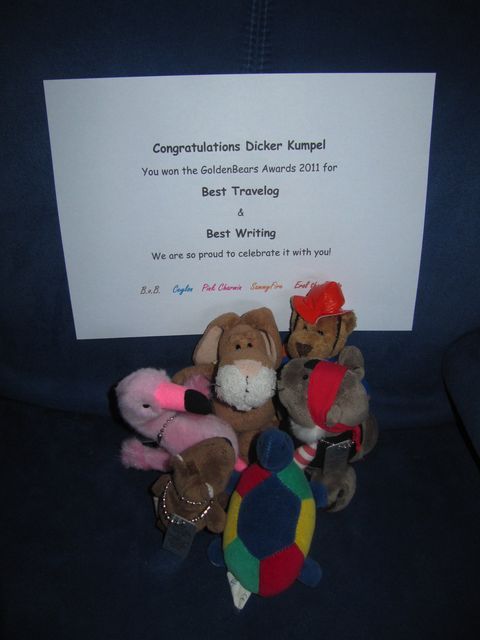 My Mum [usr]RikeH[/usr] was happy and proud too, so we started a party. First we had a delicious burger and woodruff lemonade.
We ate almost everything.
Then we had our dessert – a yummy cake and coffee!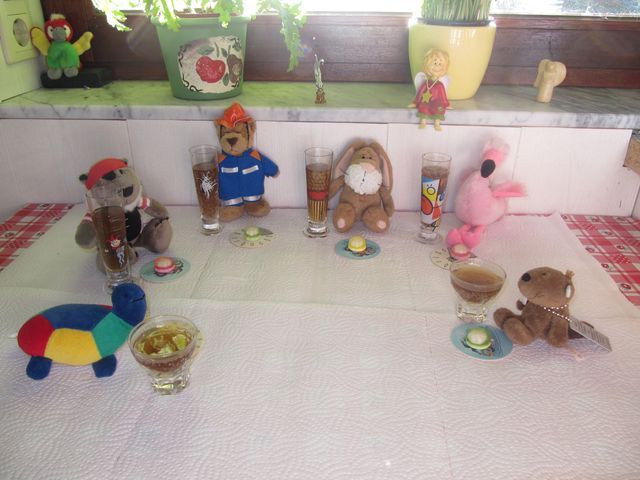 I had a yellow lime cake.
Done!
We decided to celebrate for a longer time – but we went closer to each other. Look, we had some bread and Sushi. As drinks we had a nice liqueur from Estonia, with the funny name Herbert!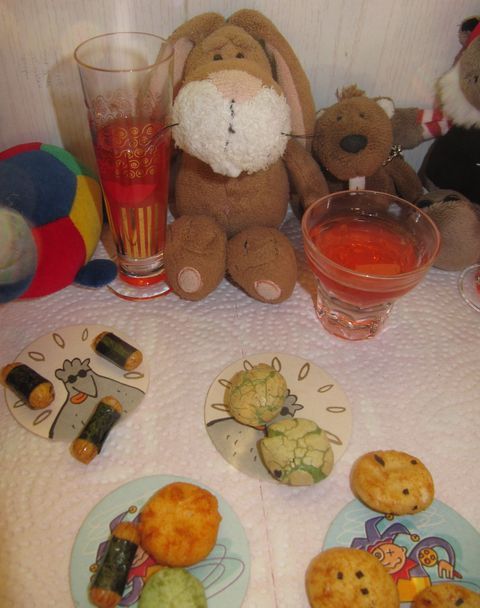 It was a fantastic party!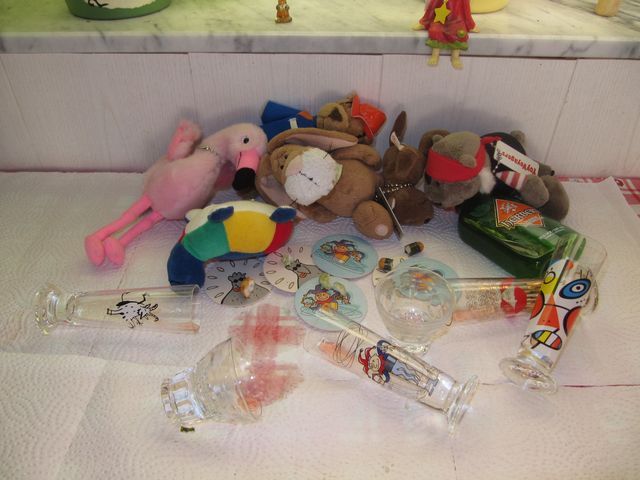 :D And I want to thank everybody who voted for me! :D Yours Dicker Kumpel
---
Bad Salzdetfurth, Germany - 7th July 2012
Cheers! We went to Murph's home and I met Mandy Sheep there. It was so nice seeing her again!
Then we started the great TV-meeting with a drink!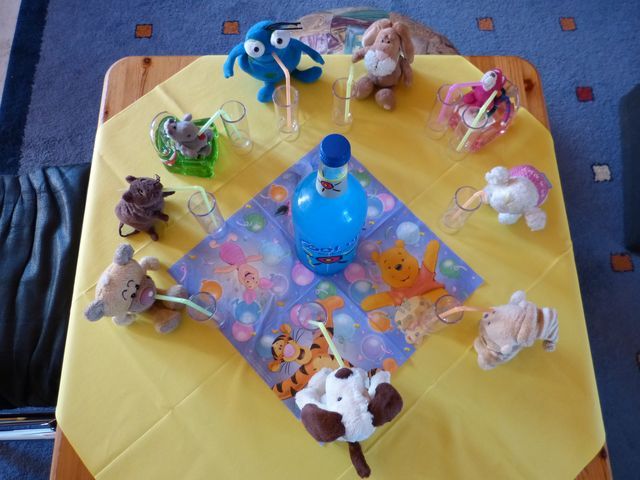 Murph decided to offer a blue drink – look at the color!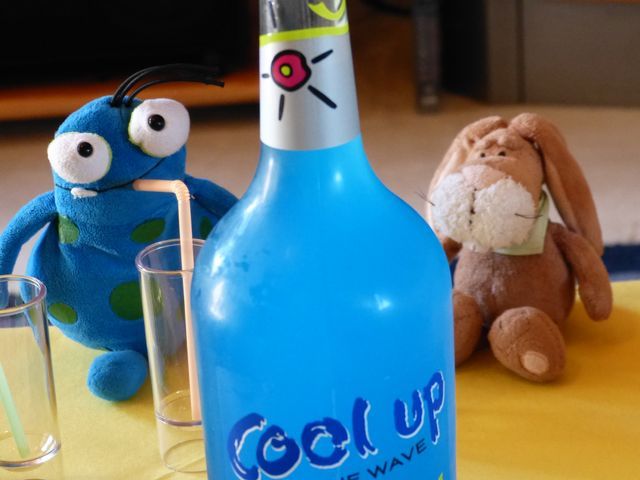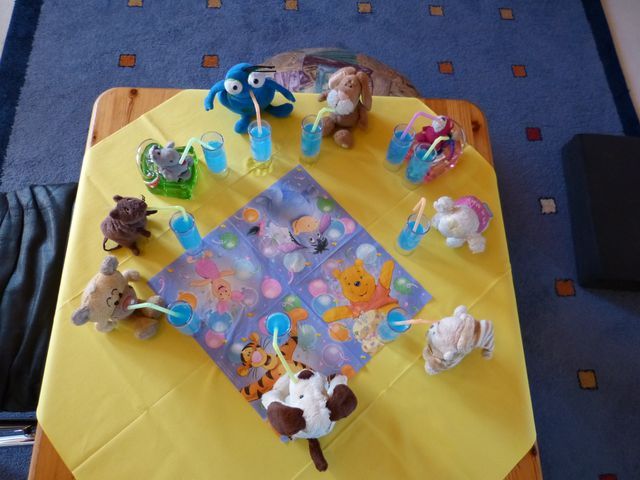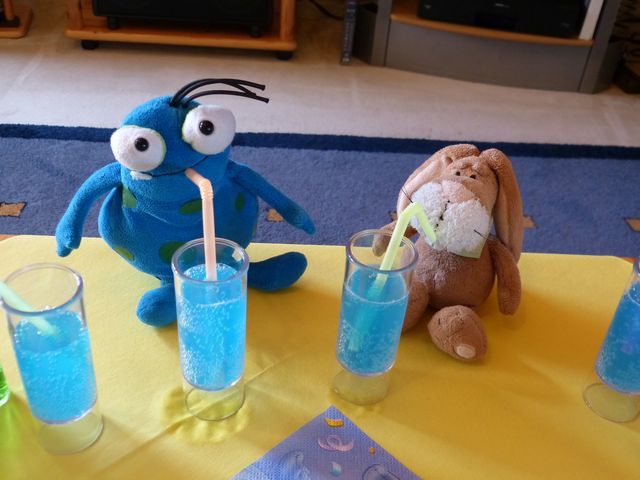 Well – really yummy… I drank a lot of it.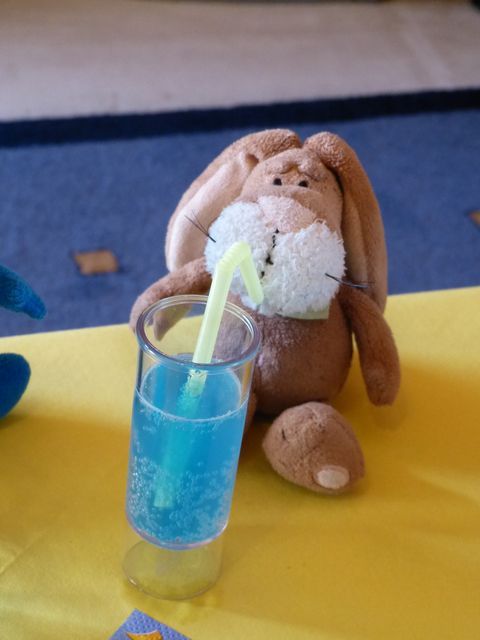 Later Murph and his guests showed us a wonderful cake!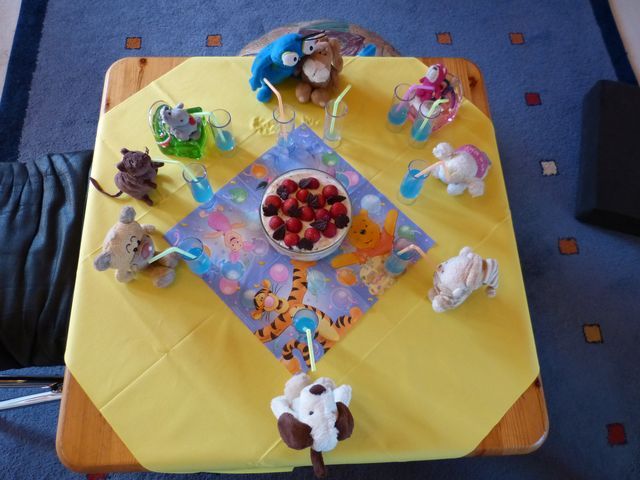 We all went nearer!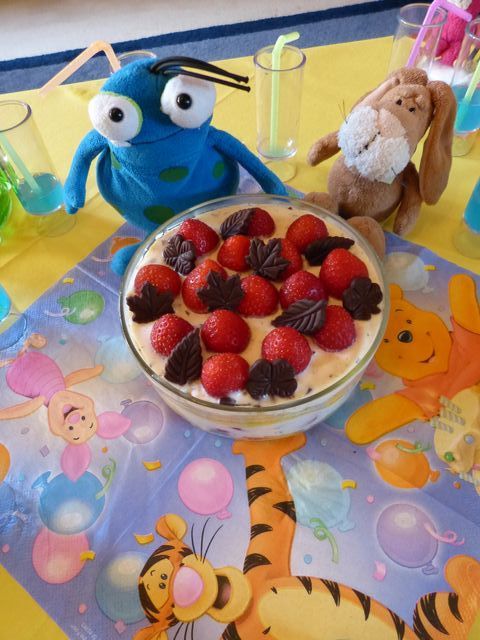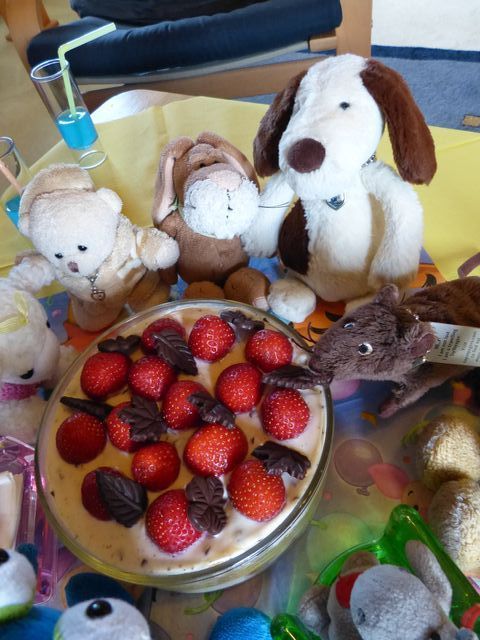 It was so delicious - we had a great party!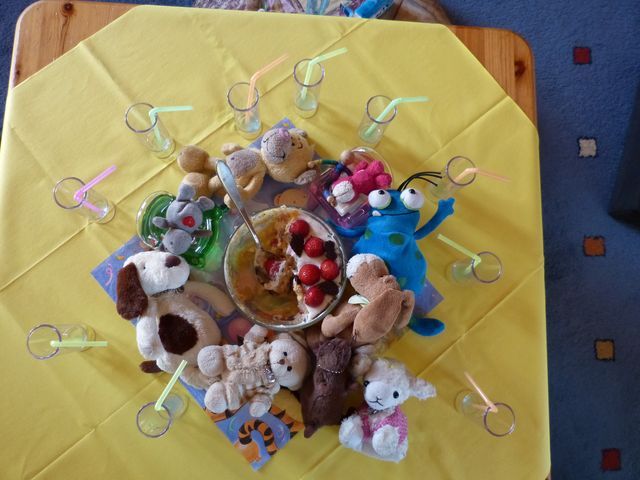 Later it was time to leave – and we had a big TV-hug!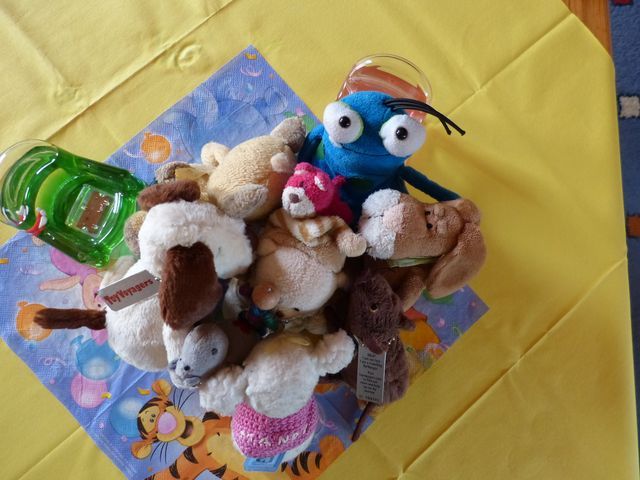 Love Dicker Kumpel
Sülfeld, Germany - 22nd September 2012
Hello, Today it was time for a party. I went to my guests in a dotted cape and invited Dottie Mouse for a party with dotted animals.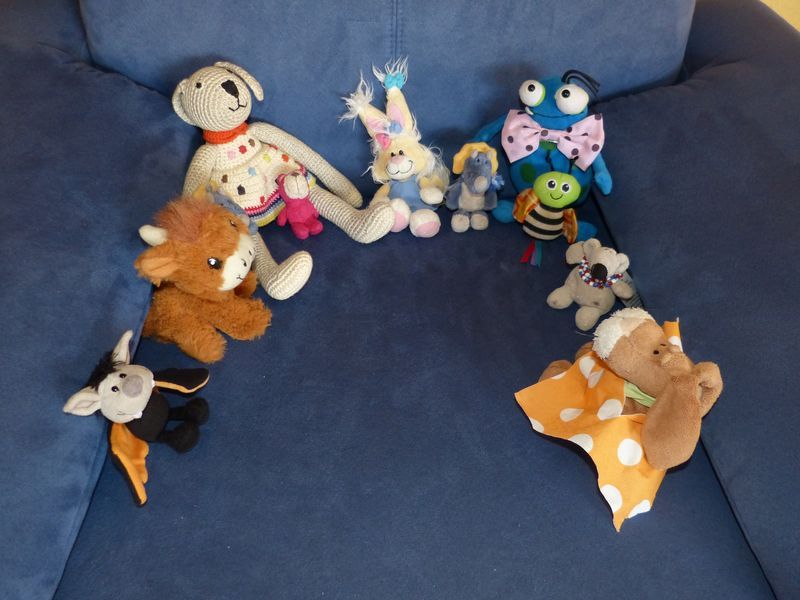 [tv]Murph[/tv] and [tv]Clairchen[/tv] had dots and were allowed to join Dottie Mouse. Some other guys with dots came for Dottie.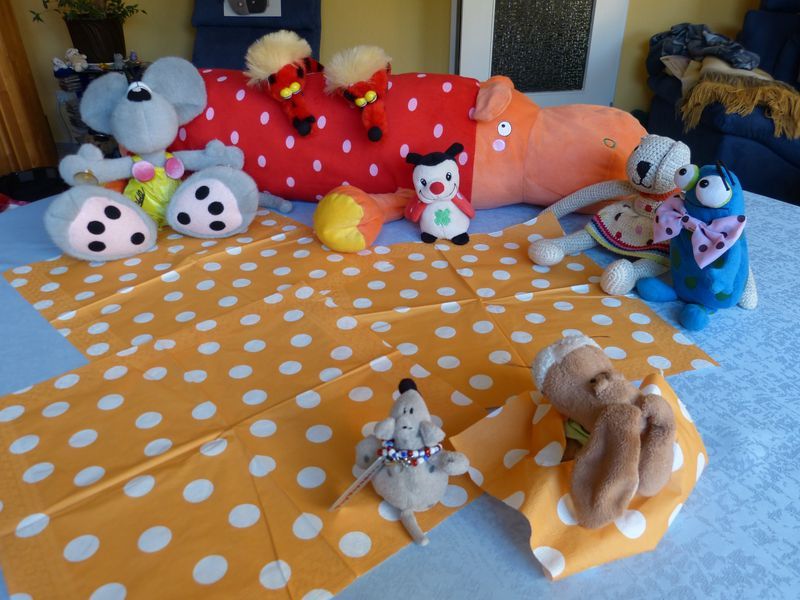 I went back to my other guests – and they all were a little sad, because they wanted to have a party, too.
We went onto the back of Long Hippo and had a look.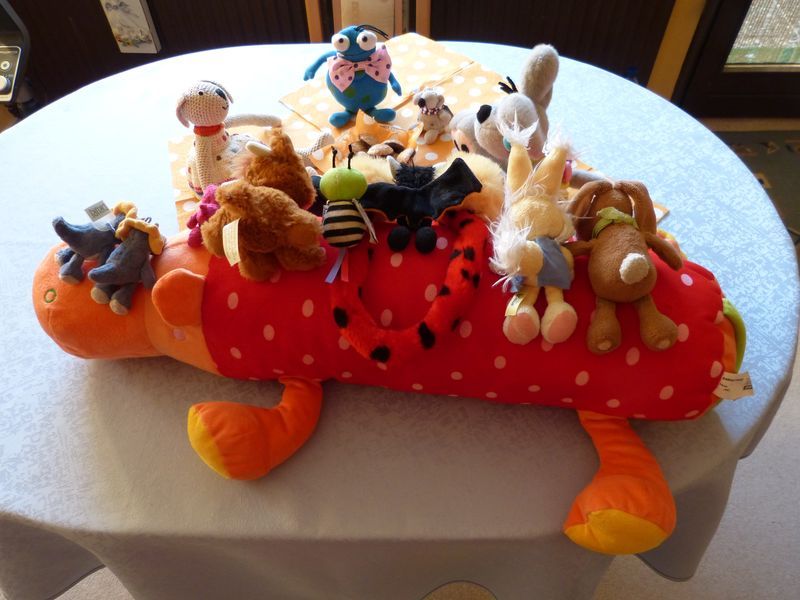 Back on our chair I had an idea. I found some stickers with dots.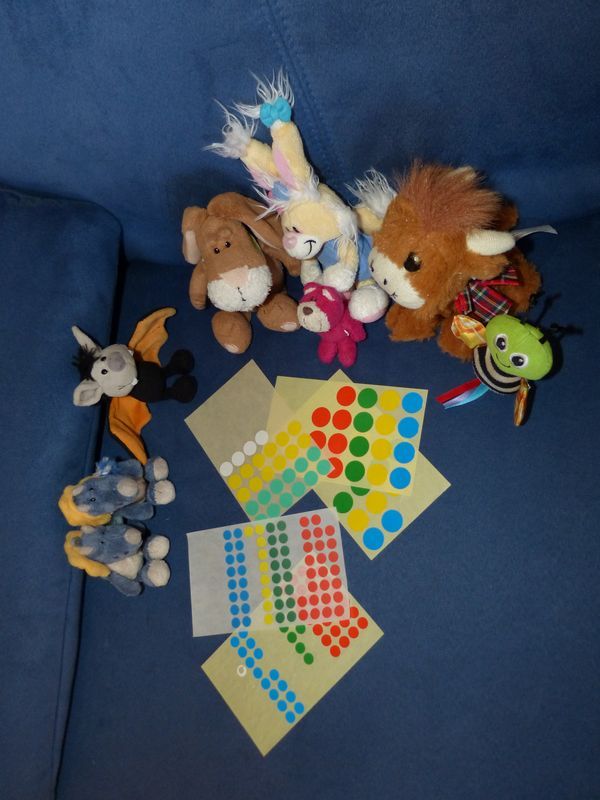 We all looked like dotted animals now.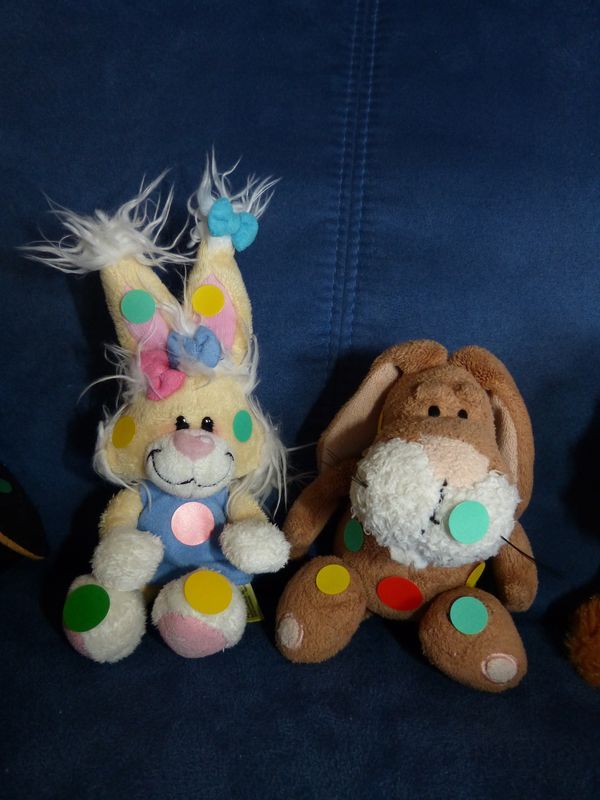 We were all ready.
We went to Dottie and asked her, if we were allowed to join her party.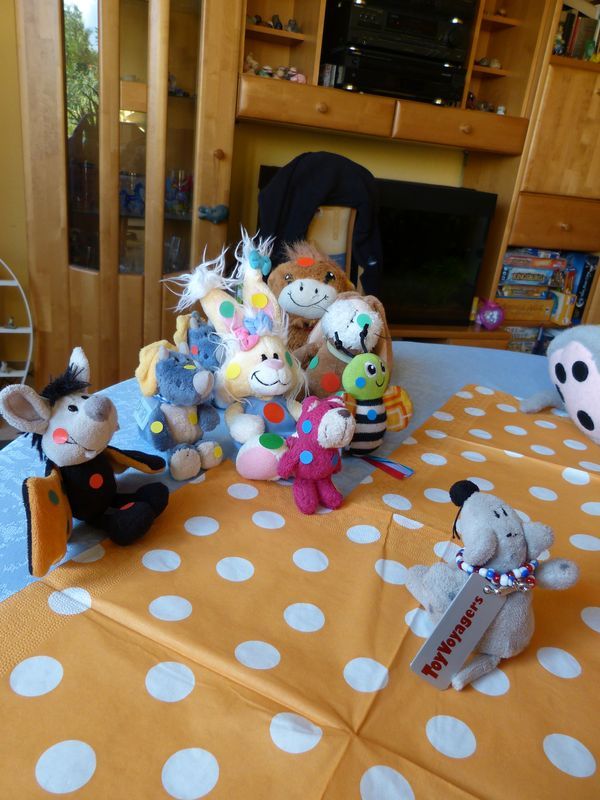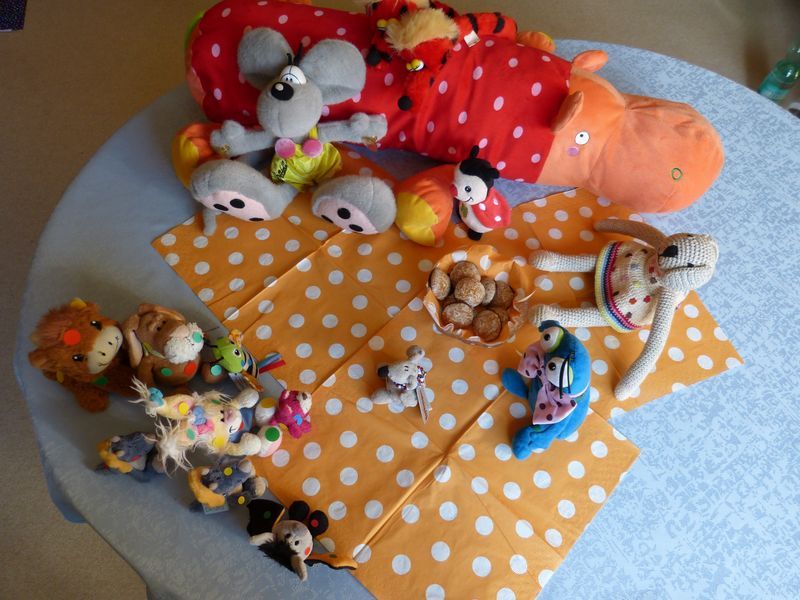 She said yes – and we gave her a Thank-You-hug.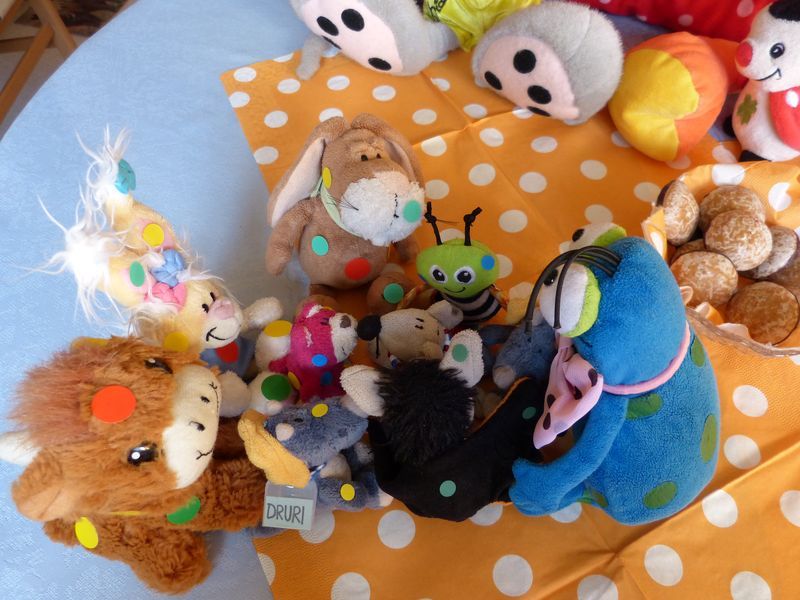 Fortunately my Mum RikeH had more things to eat, so we all started our party together.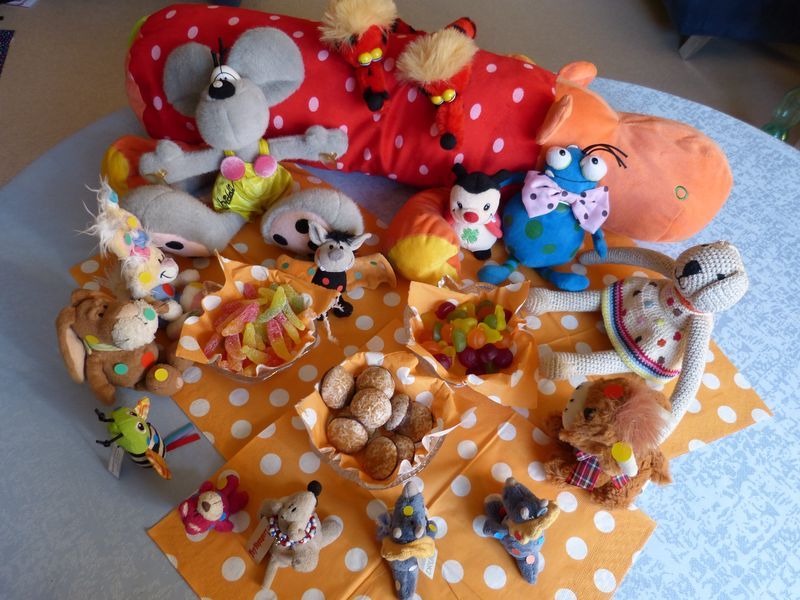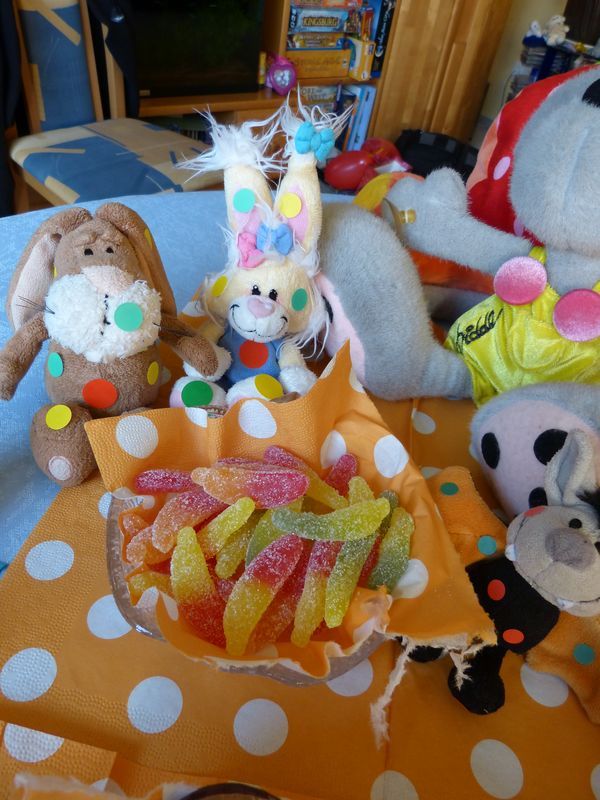 Later Murph and I had a surprise for the others – a wonderful firework.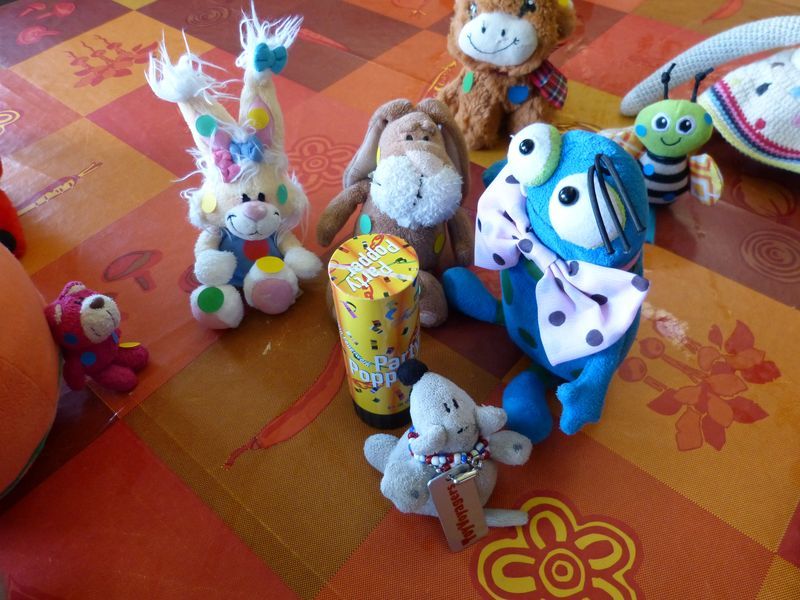 We decided that Murph started it – together with the help of a part of HoBi.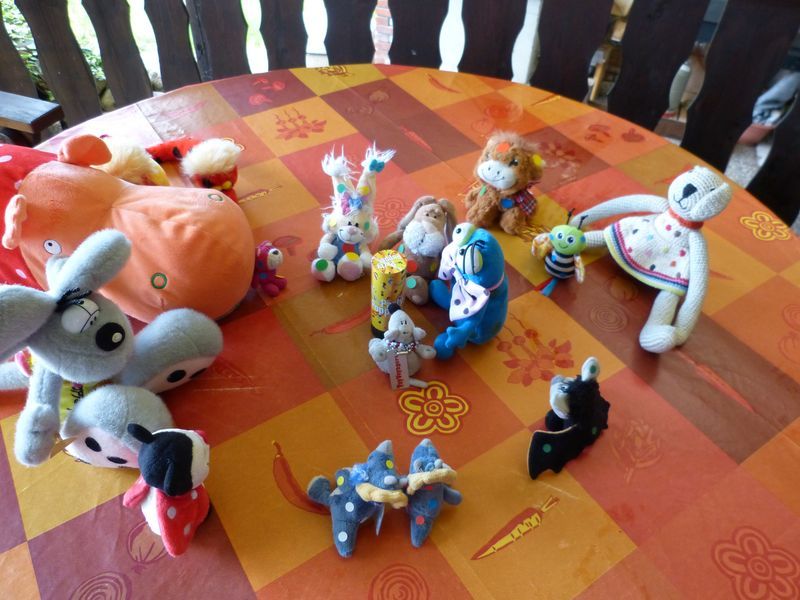 If you have a closer look – you can see some blue parts in the air above us.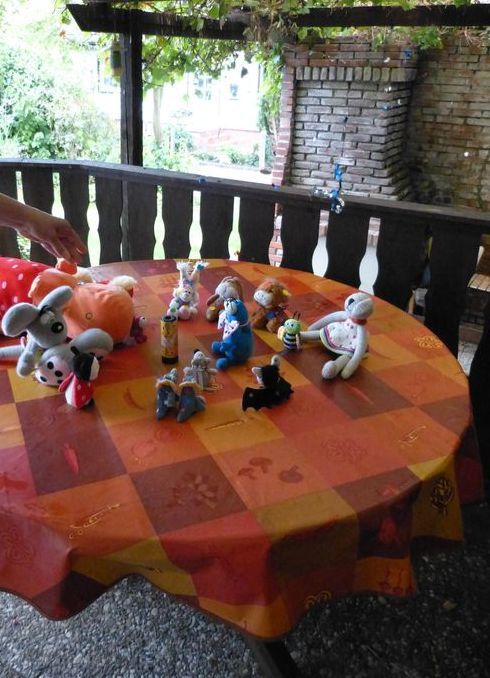 This was fun!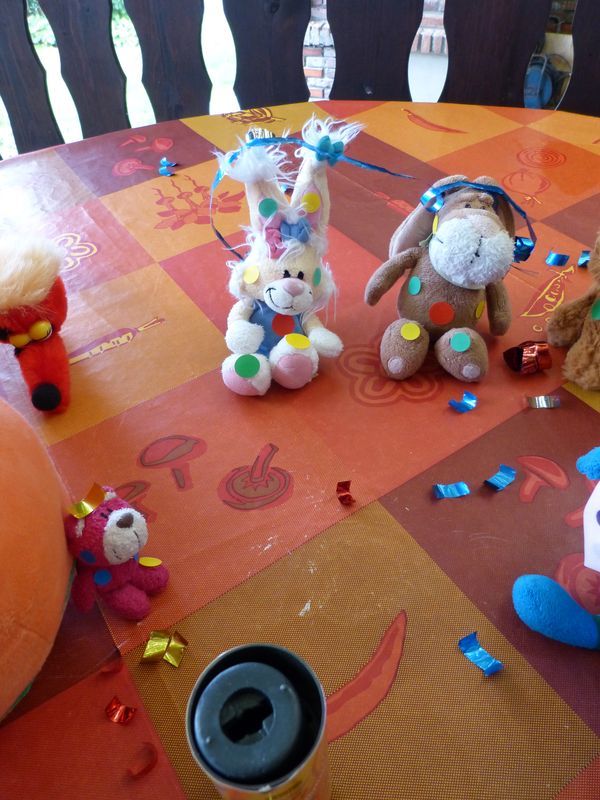 Back home on our party-table, we ate the rest of our dinner. Unfortunately we ate everything.
Everything was empty – what should we do?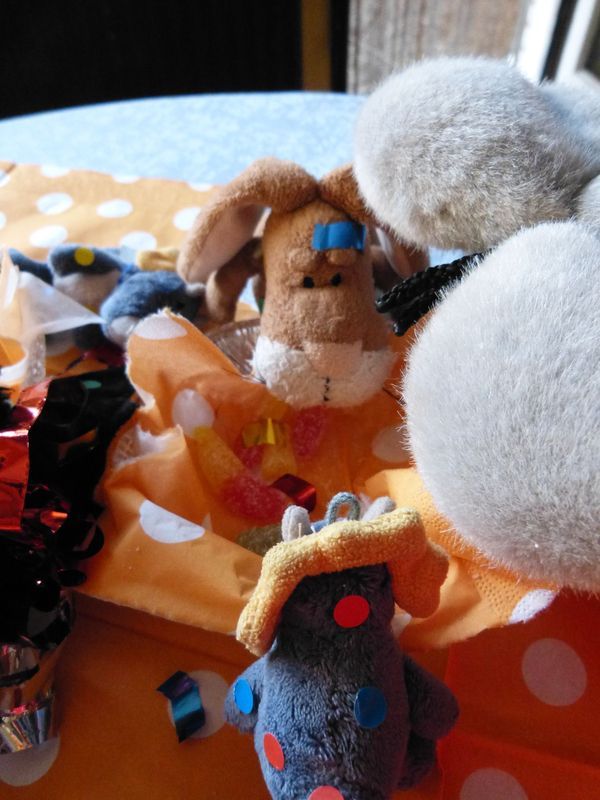 Well – I am in the host – and I know how to party. We drank a delicious cocktail.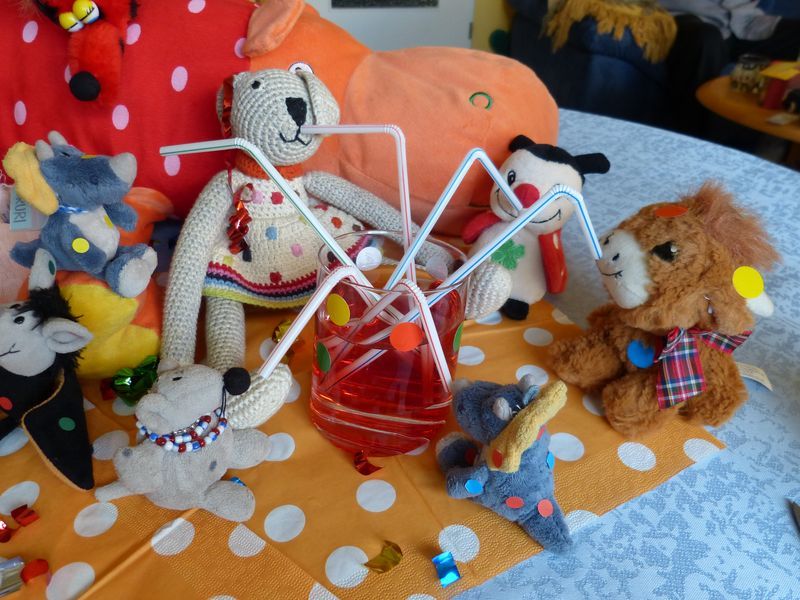 It was yummy. Some hours later – no comment…
I loved this party! Yours Dicker Kumpel
MS Riviera, on the Ocean - 16th March 2013
Hello friends,
We were alone in our cabin and decided to have a look at the minibar.
We found some nice drinks and put all onto our table.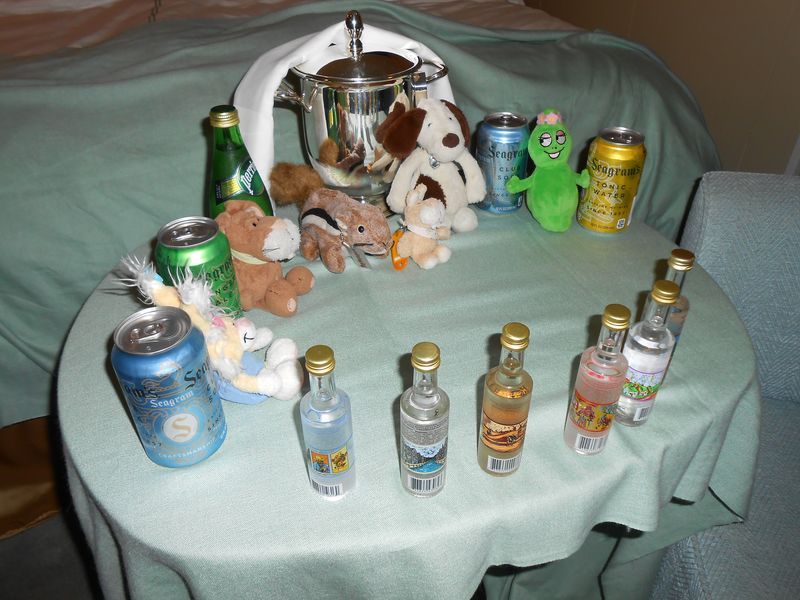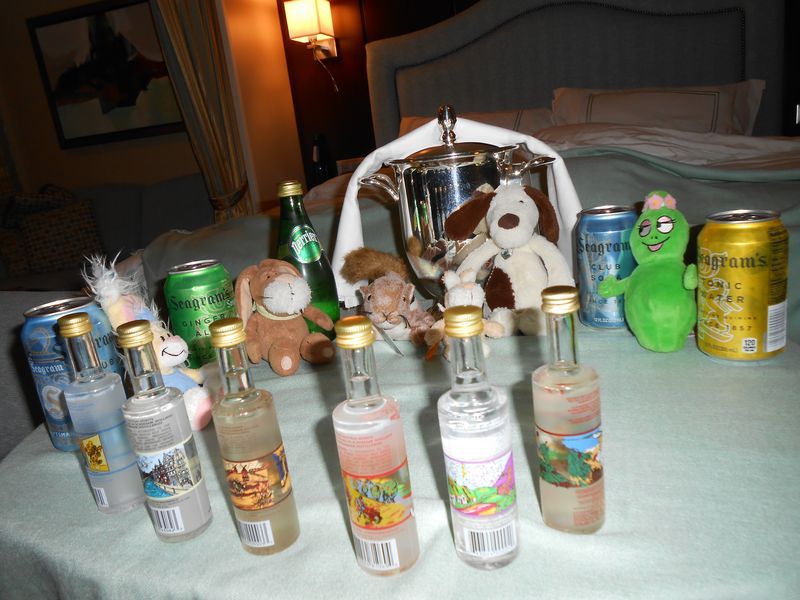 Kleine Fee and I decided to take these beautiful bottles.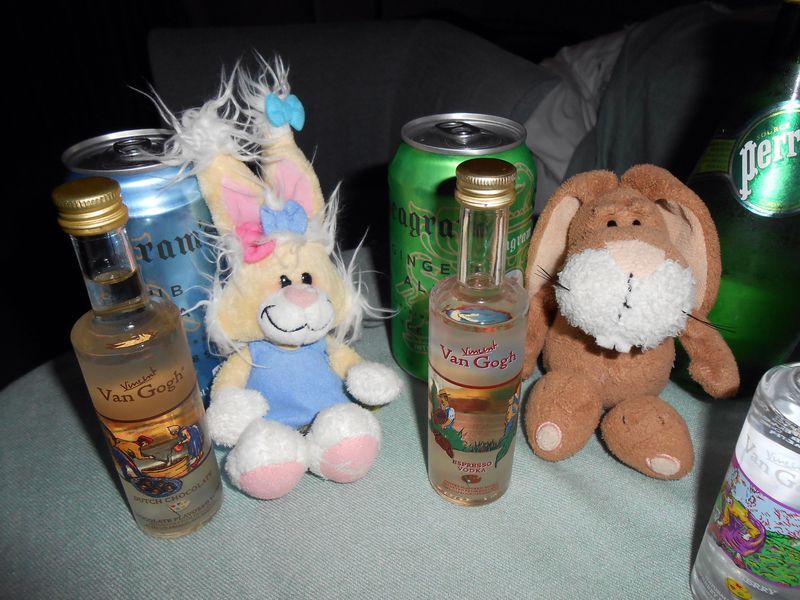 One was not enough – We found a more bottles.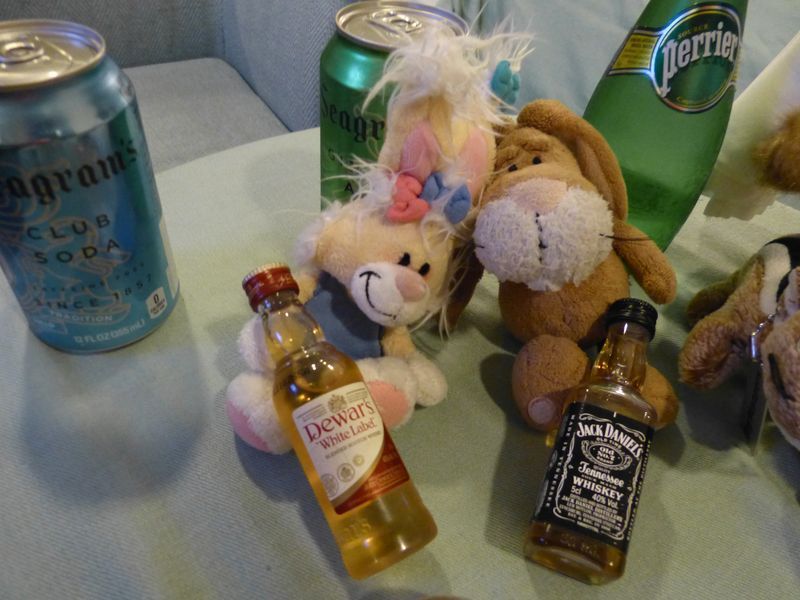 Well – we had a great party!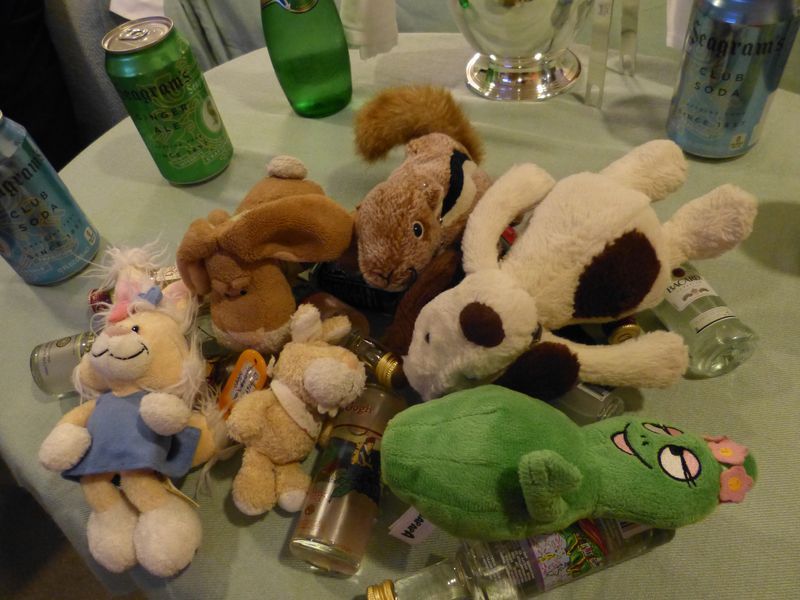 Good night!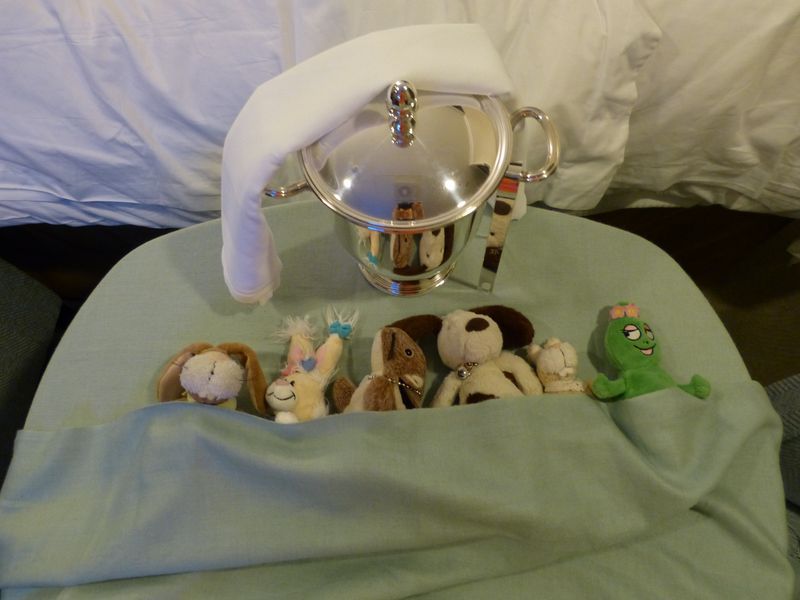 Yours Dicker Kumpel
---
Sülfeld, Germany - 27th September 2014
Hello friends, Today is a wonderful day. It's Murph's birthday and he visited us.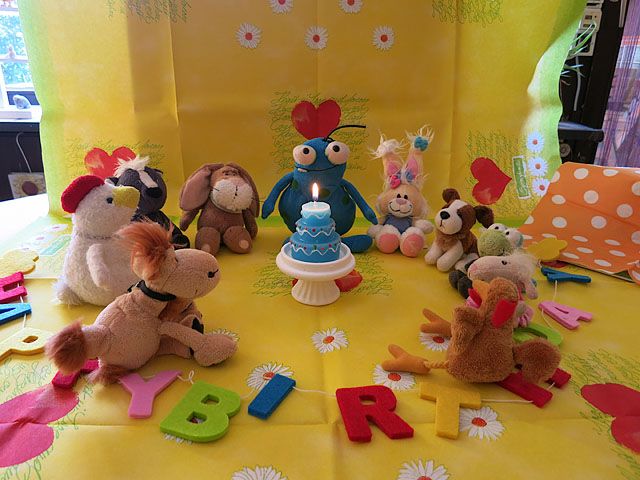 Then he showed the others what he brought for the party.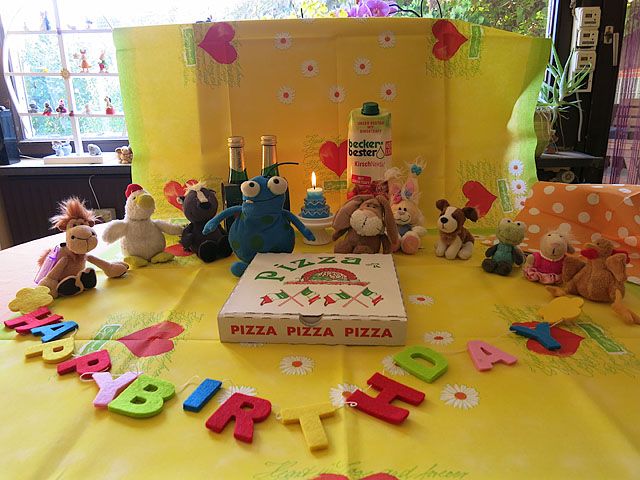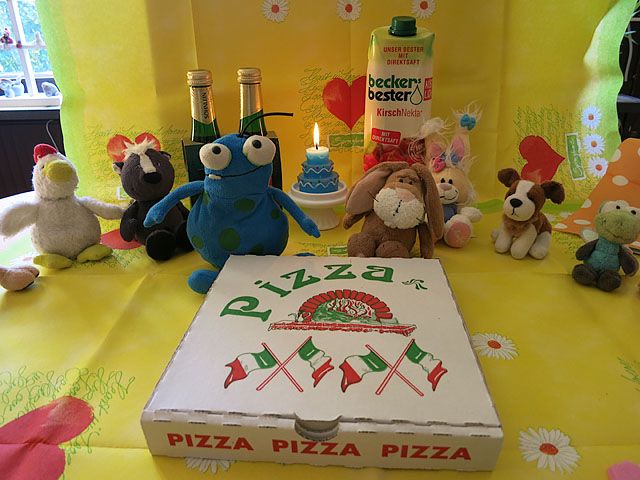 This looked very yummy!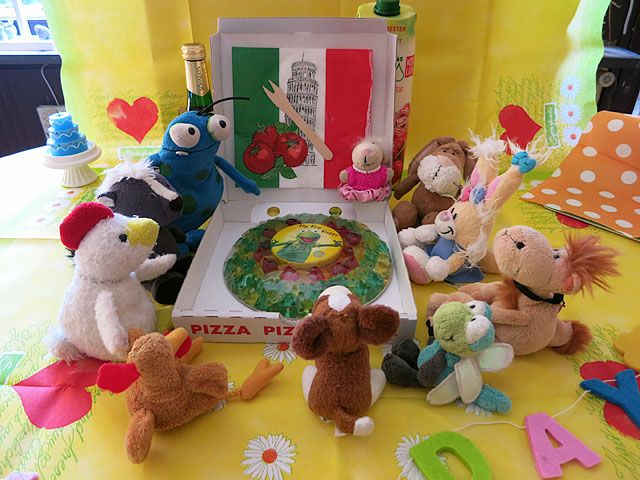 And everyone got a cocktail!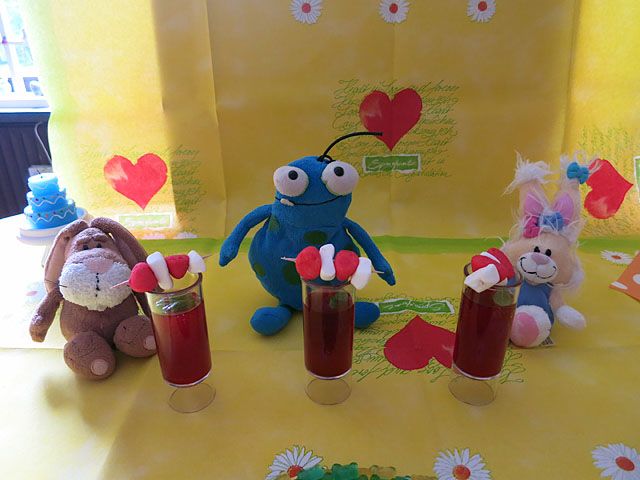 Cheers! Let us enjoy it…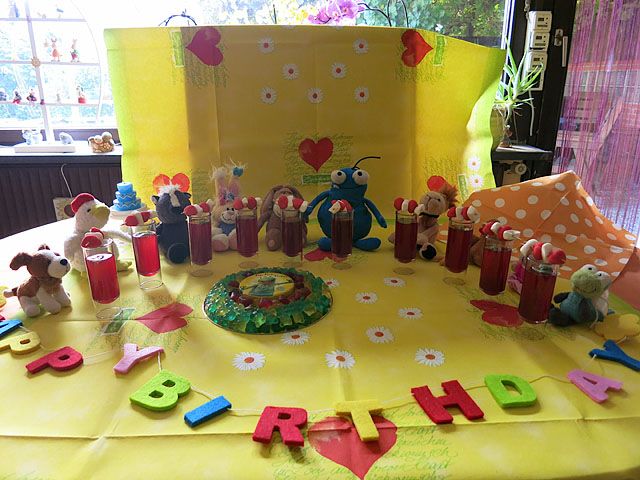 What a pity – already finished.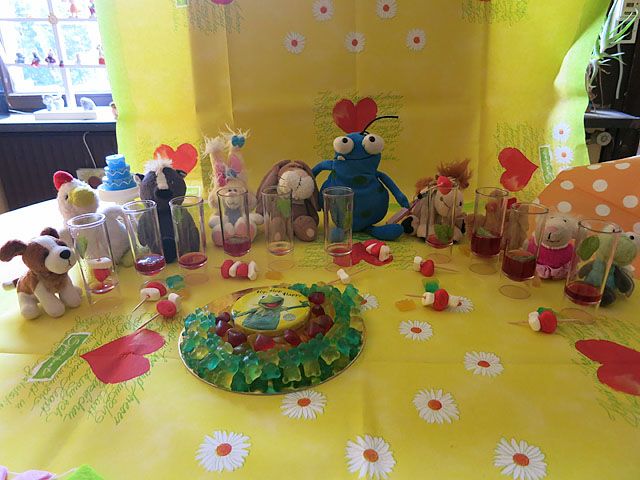 ...After finishing our meal, Murph got his gift.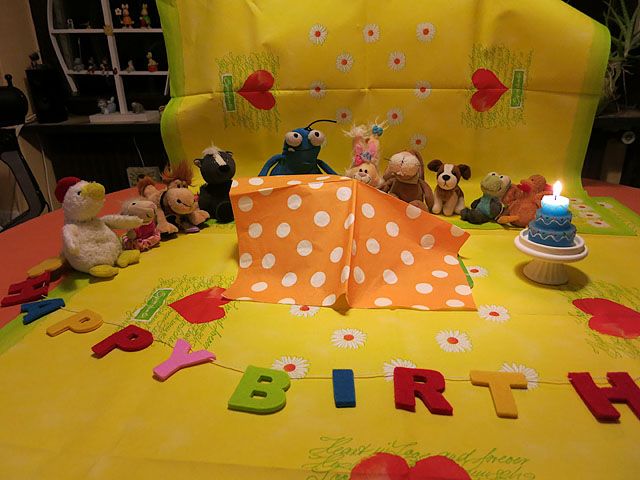 What will be in there?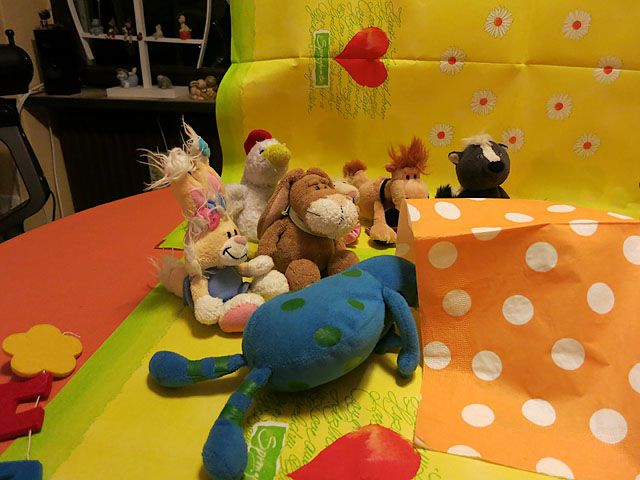 Wow, this is beautiful!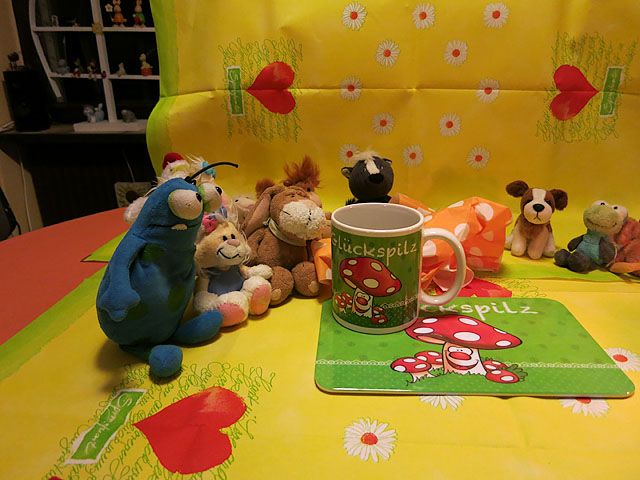 I promised a big surprise! What will it be?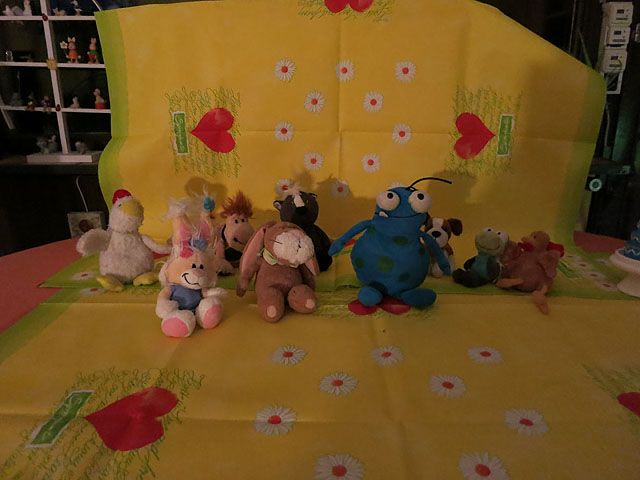 What is it? An UFO! Who will be in it?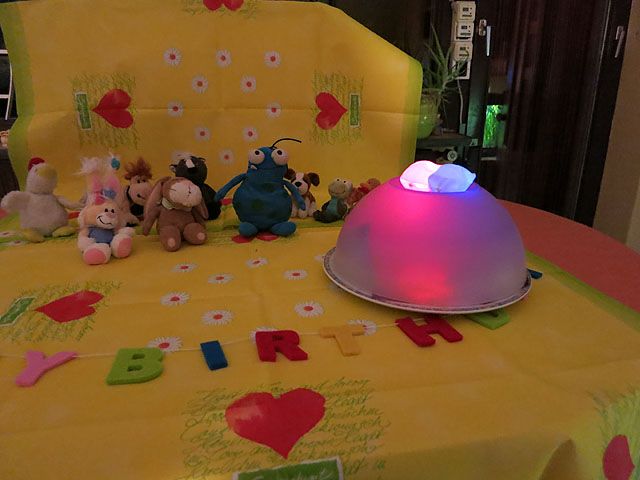 Two beautiful Alien-Girls! Murph was blown away!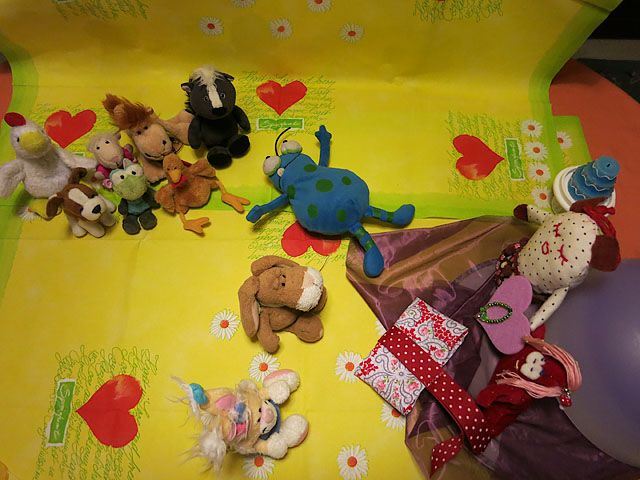 It was a great party!
Dicker Kumpel
---
Sülfeld, Germany - 14th June 2015
Hello friends, It was my birthday!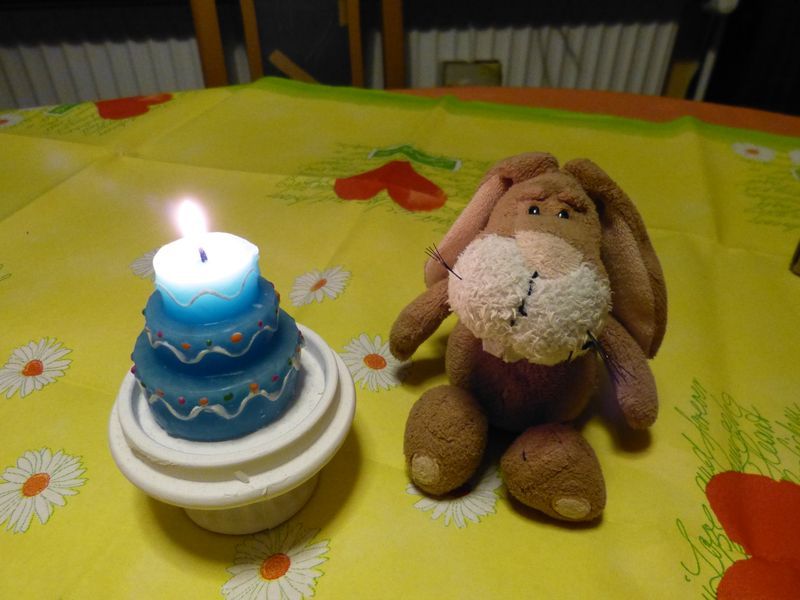 The other sang a wonderful birthday song for me.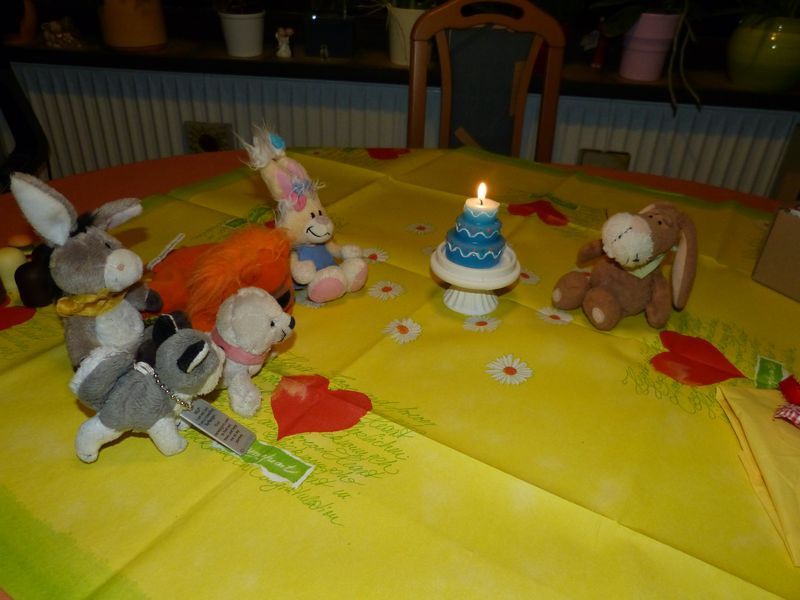 I got a gift.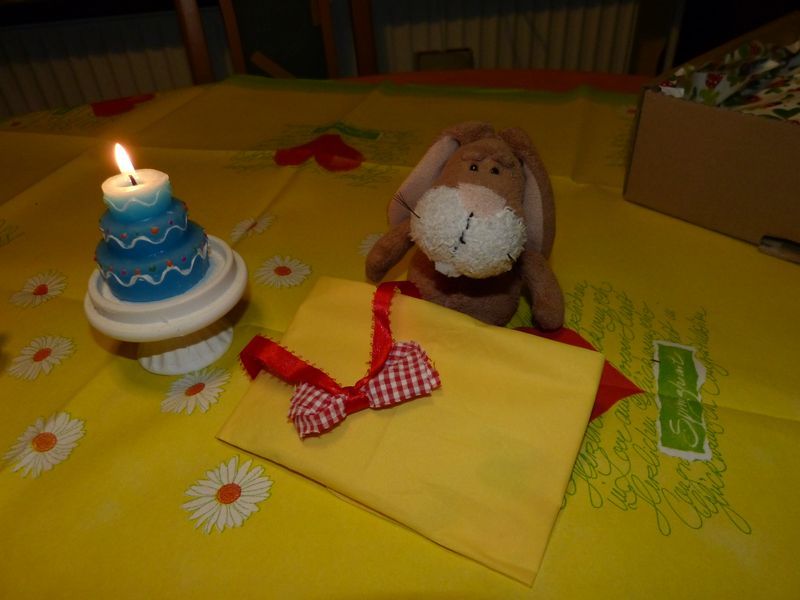 Yummy sweets.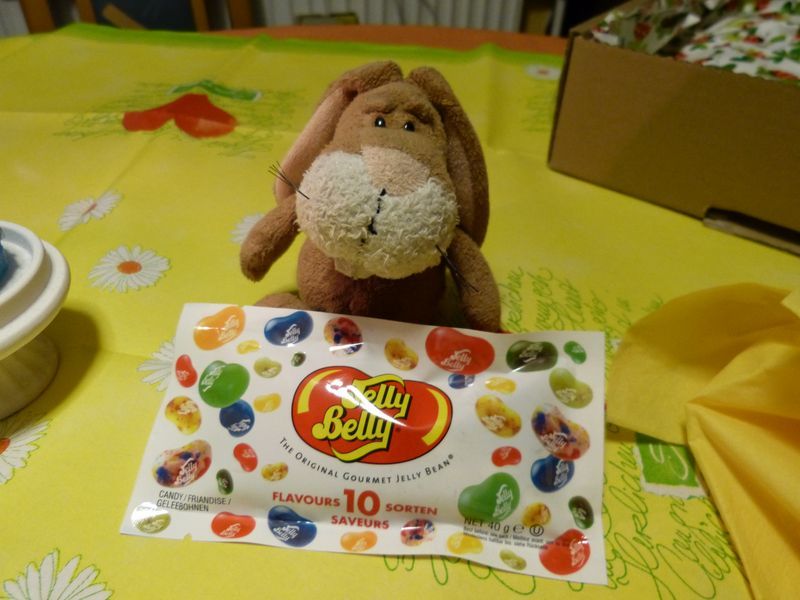 I received a parcel by my best friend [tv]Murph[/tv]!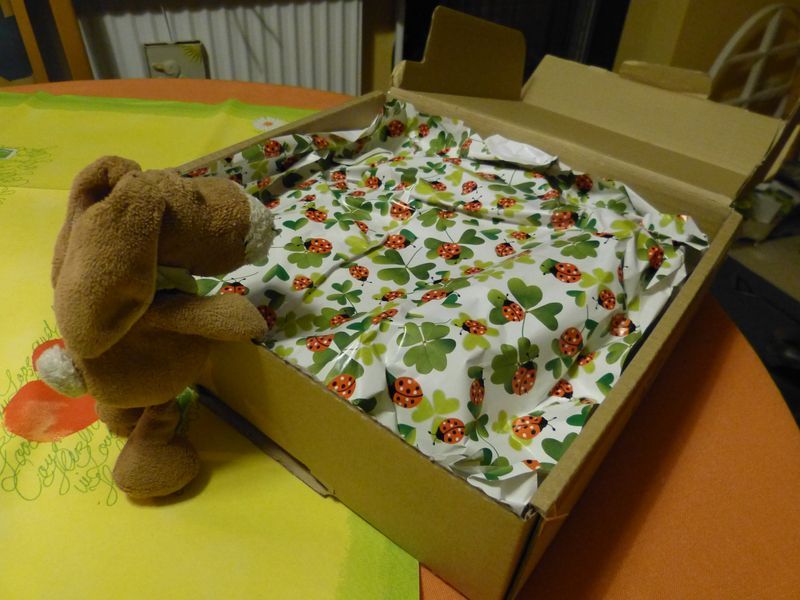 What will be in it?
Wow – great things for a party.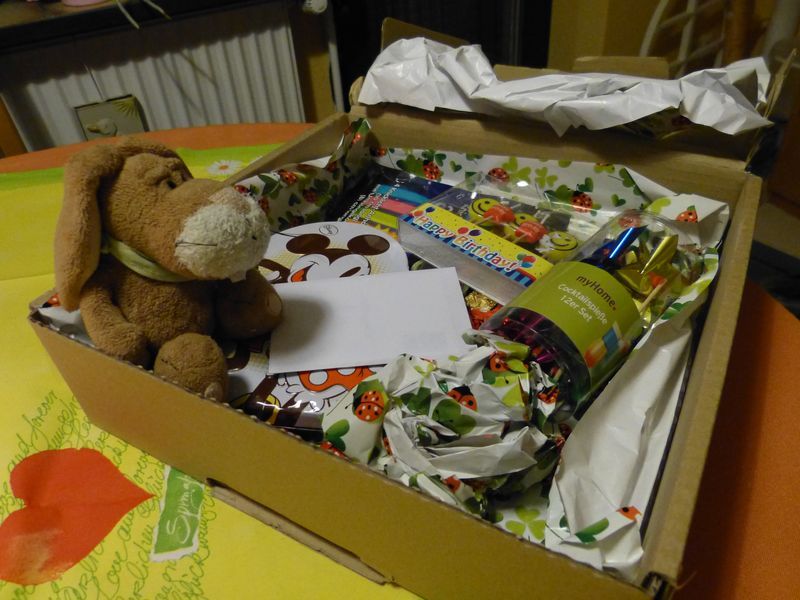 And a funny card.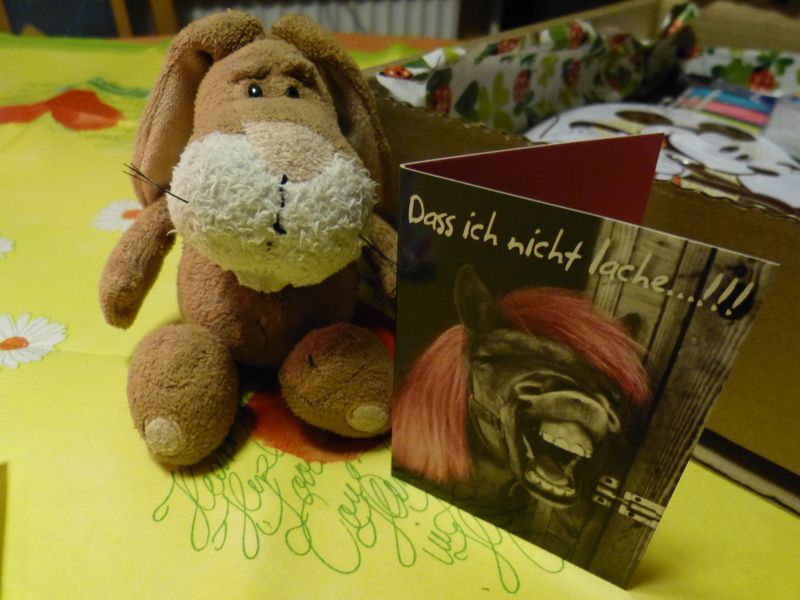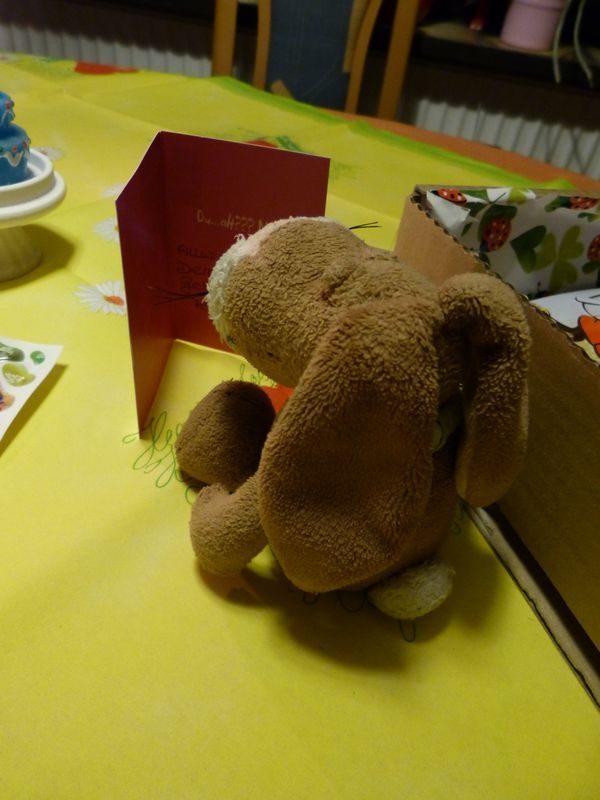 Thanks Murph!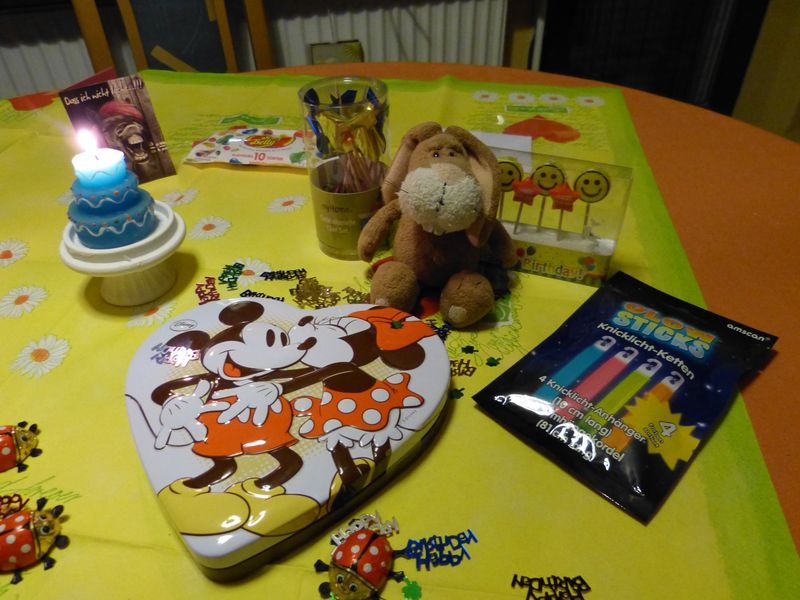 This one is for Kleine Fee and me.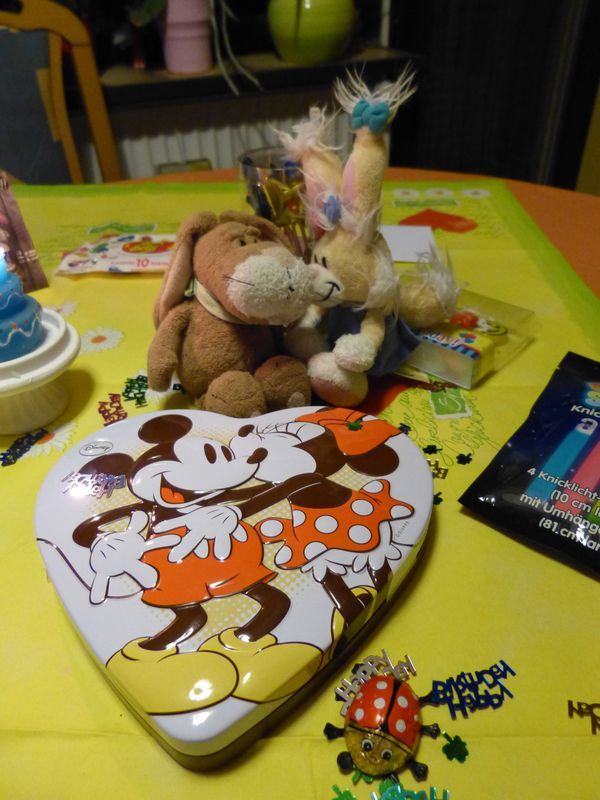 Then it was time for the party.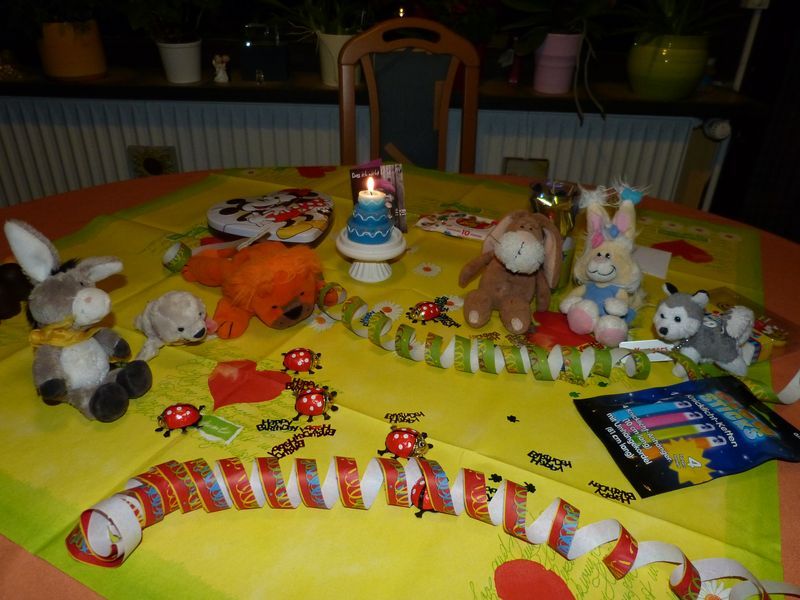 We love muffins!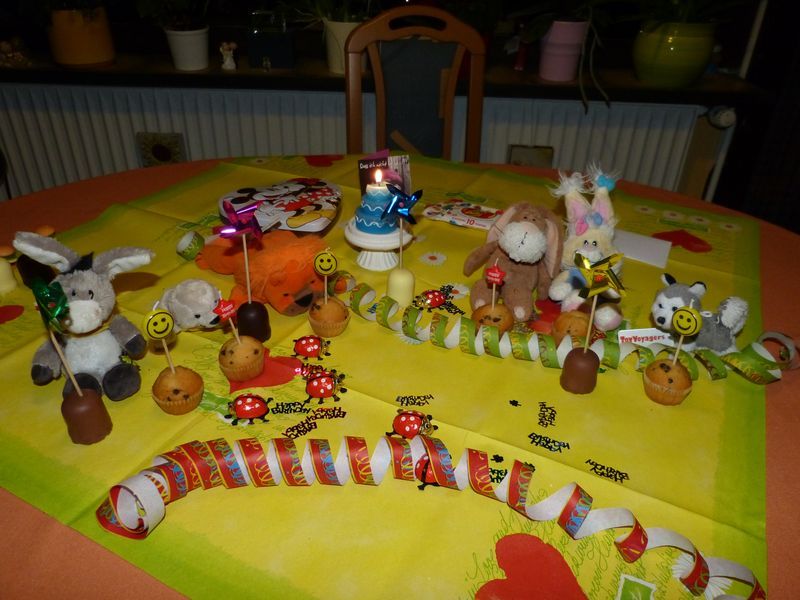 Of course no parties without drinks.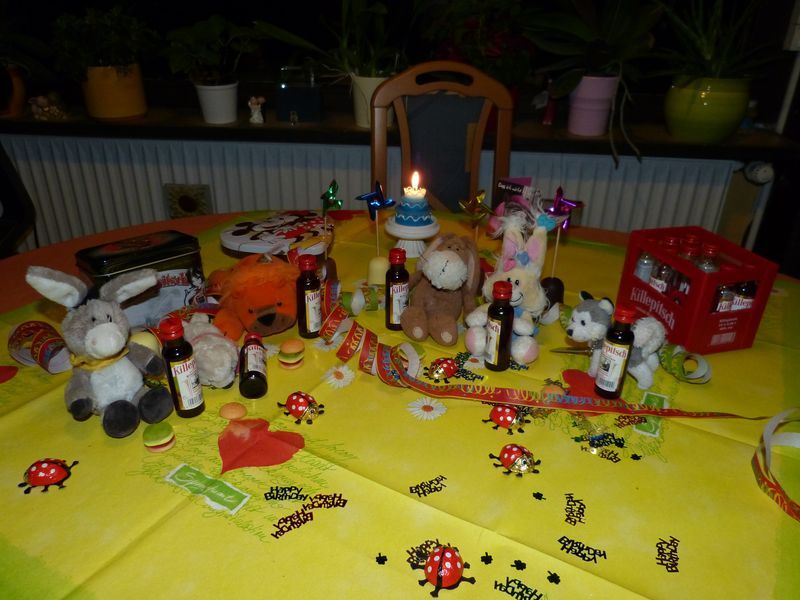 Murph sent me wonderful lights.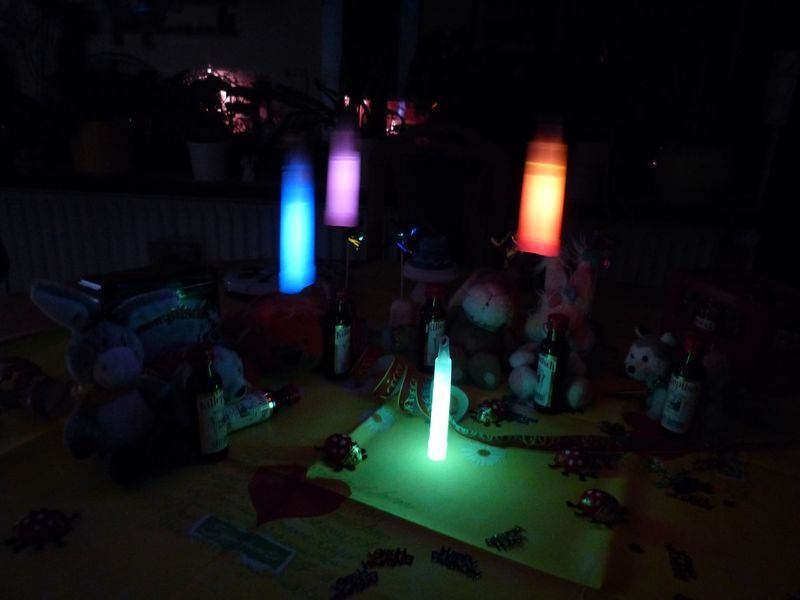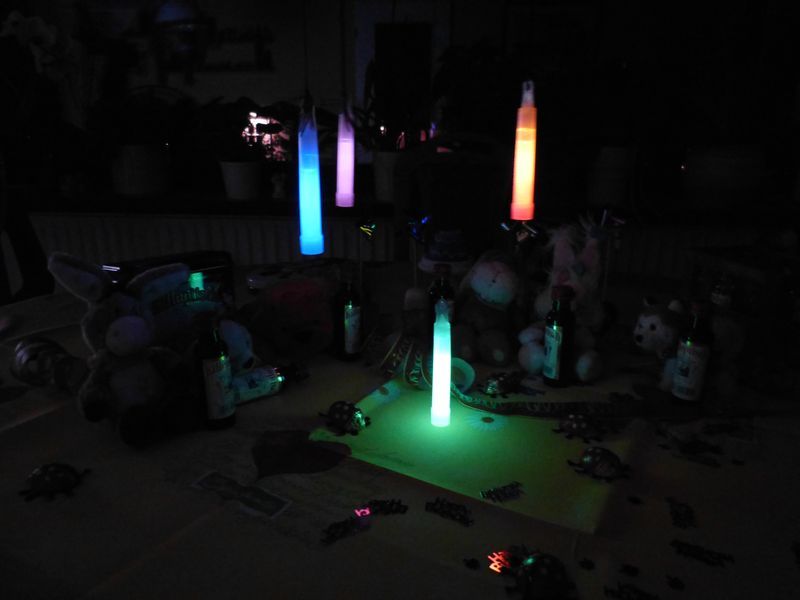 We loved it!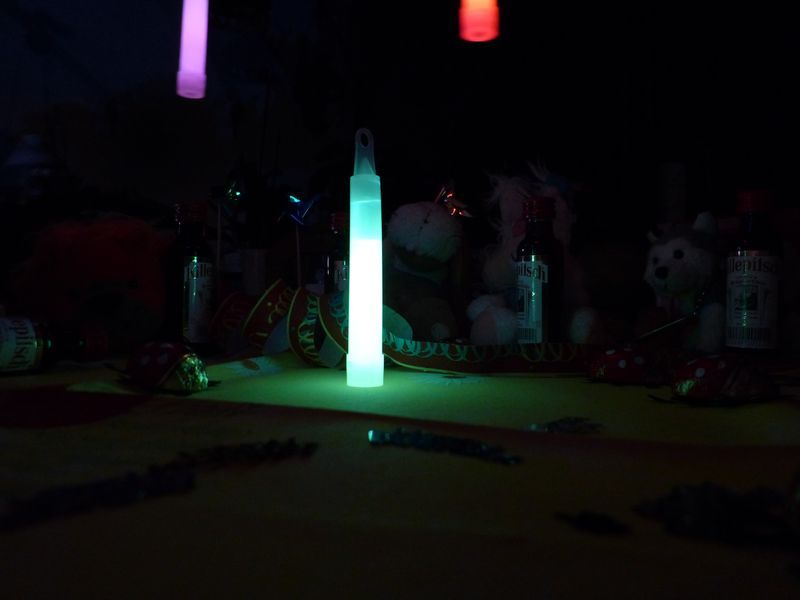 Can you see, who this was?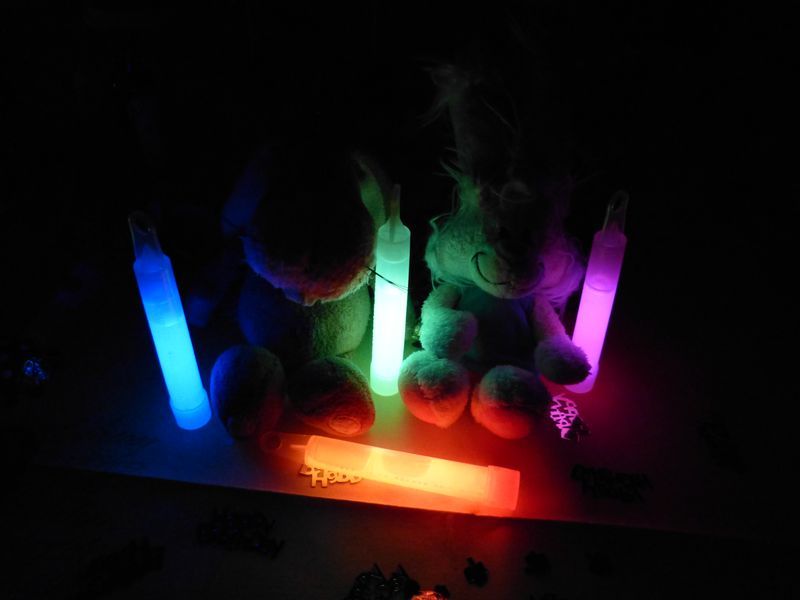 Yes, Kleine Fee and me!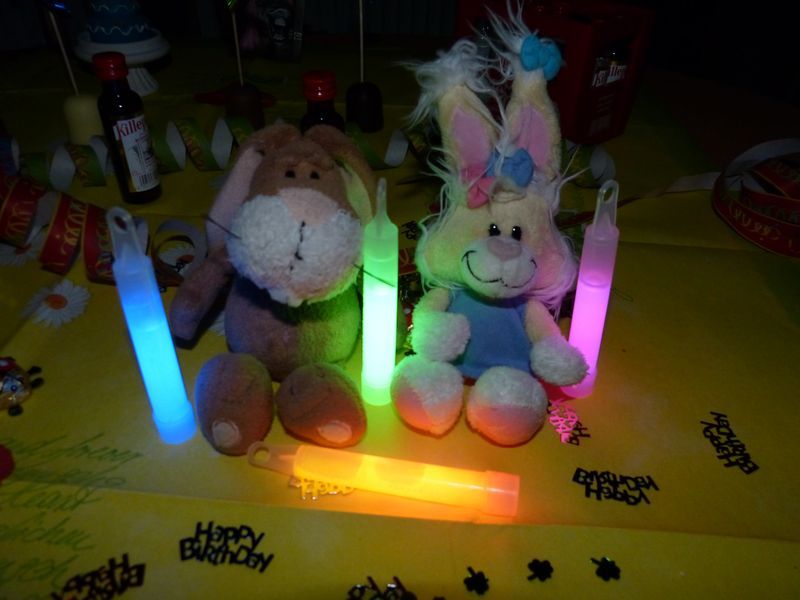 Great!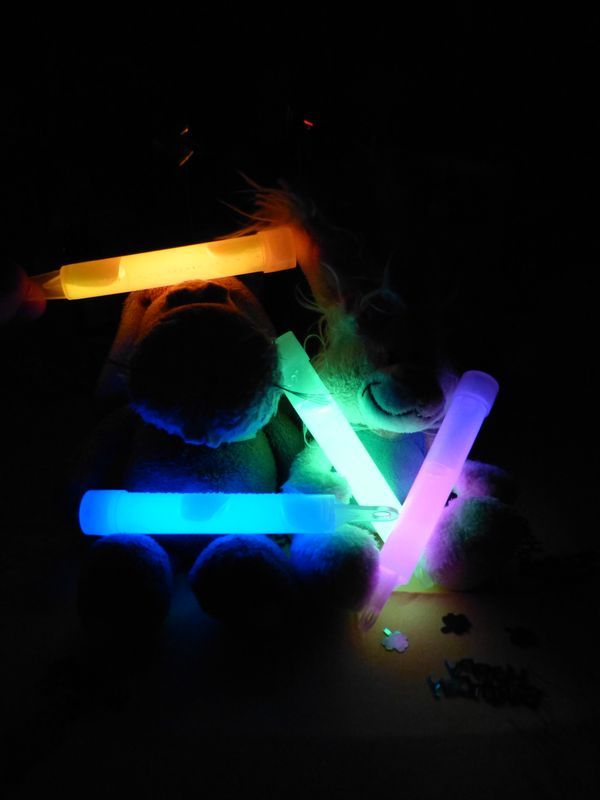 The party was over!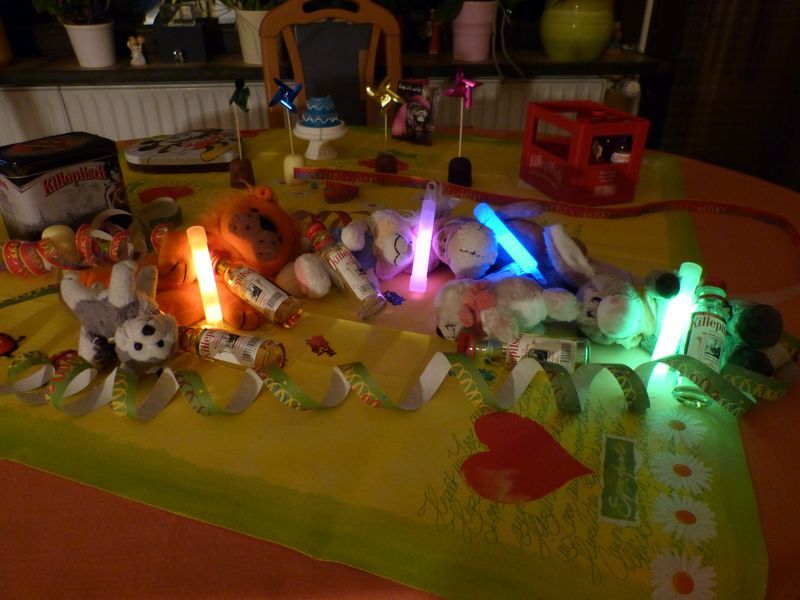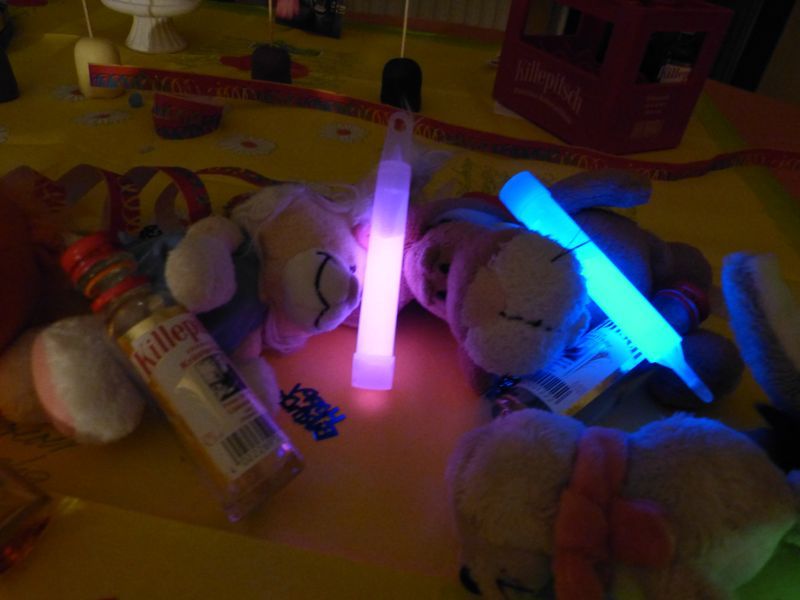 Love Dicker Kumpel