Kleine Fee ist meine große Liebe. Ich werde hier mehr von unserem gemeinsamen Leben erzählen.
Kleine Fee is my big love - I will tell you more about our love here.
---
Hello friends,
In the last time I had the feeling that I miss something. First I had no idea, what it should be – but now I know it.
I should fall in love!
Well – it is not so easy to find a nice girl in the garden – so I decided to join
www.find_your_bunny.hops
And this is what I wrote into my profile:
Friendly bunny wants to find the Mrs. Right Bunny!
About me: My name is Dicker Kumpel – and I love to travel. I saw a lot of the world –
and I already travelled more than 52000 miles in the last years.
I love to have guests – and often there are guests (or maybe always some guests here) –
but I would love to have a nice Bunny-Lady next to me.
If you like travelling, having guests – and of course if you like my photo, then please send me a message.
Yours Dicker Kumpel
Great idea – but now I must have a nice photo. Women love flowers – so I should have a photo with flowers. Maybe this one?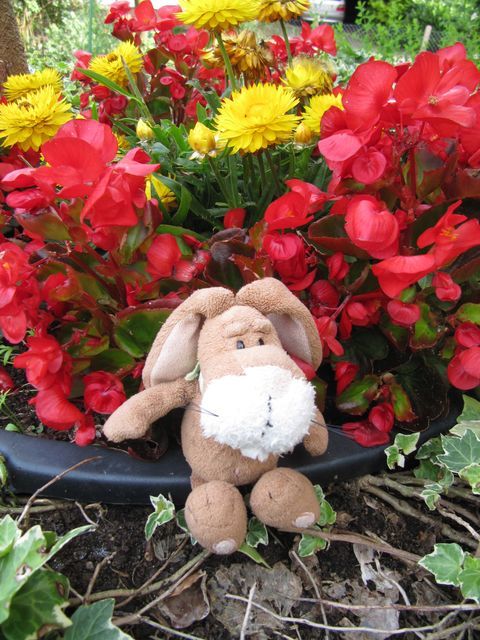 Or is it better not to see all of me?
Maybe it is better in the sun?
Well – I think this one is the best.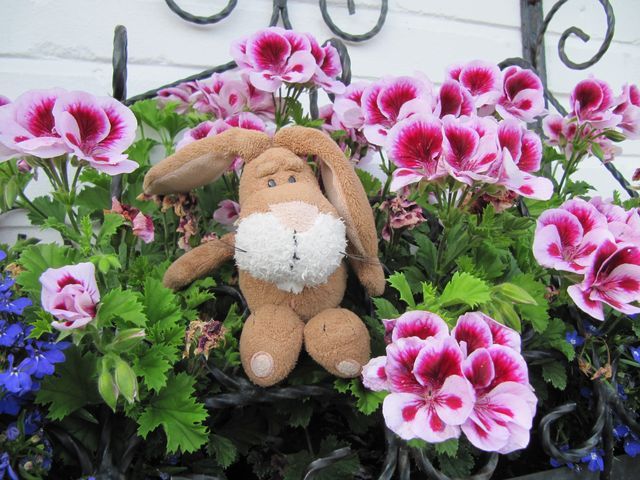 Keep your fingers crossed for me that a lovely lady will write me.
Yours Dicker Kumpel
---
Hello friends, It is amazing – I got 3 messages from different girls – and this is the one I love most. Isn't she a wonderful lady?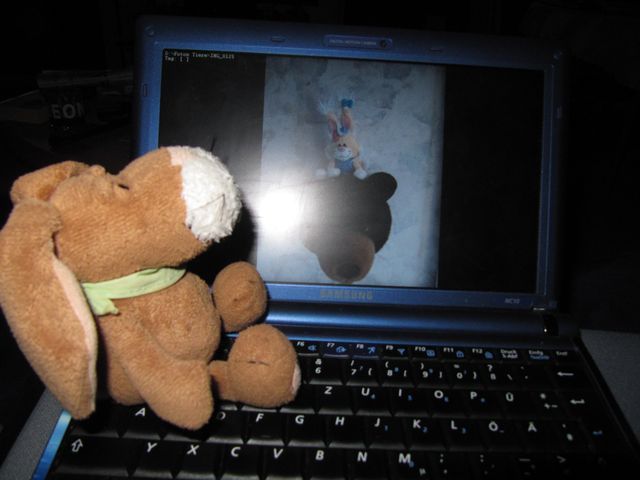 Well – maybe you cannot see her that good – so here is her photo.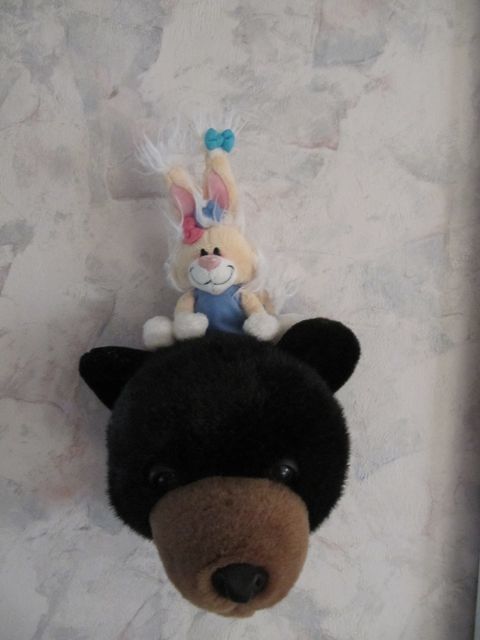 She wrote a nice letter.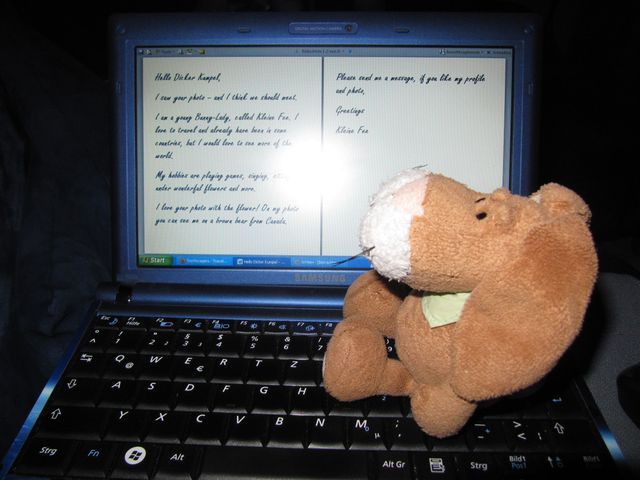 Hello Dicker Kumpel,
I saw your photo – and I think we should meet. I am a young Bunny-Lady, called Kleine Fee. I love to travel and already have been in some countries, but I would love to see more of the world.
My hobbies are playing games, singing, sitting under wonderful flowers and more. I love your photo with the flower! On my photo you can see me on a brown bear from Canada. Please send me a message, if you like my profile and photo.
Greetings Kleine Fee
Isn't that cute? Of course I wrote back:
Hello Kleine Fee,
Thank you so much for your friendly message. It seems that we have a lot in common – and I would love to read more about you and your life. Maybe you would love to give me a call – I will send you my number. But take your time – and do, what you prefer.
You look beautiful on the photos! This year I will travel to South Africa – this is amazing, have you ever been there? I am waiting for your answer.
Yours Dicker Kumpel
Look at her wonderful face!!!
Hopefully she will write back soon – no new message. :(
Maybe she will call me? I will wait all night long! ;)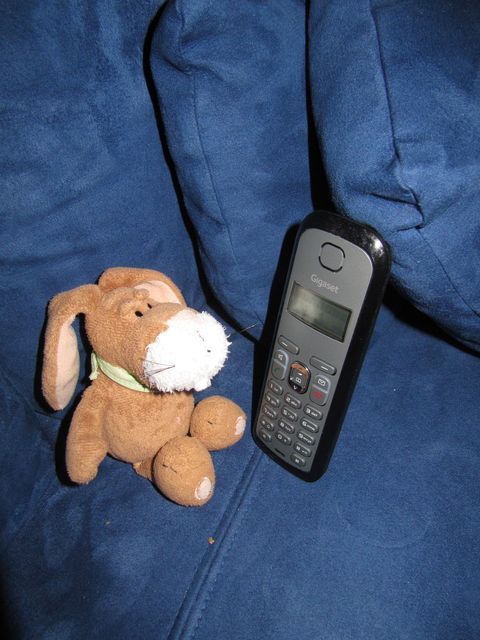 Keep your fingers crossed for me.
Kleine Fee – what a name, what a nice girl! Maybe we will love each other - and travel together to South Africa - and live together for many years and and and....
Yours Dicker Kumpel
---
Hello!!!
Believe it or not - Kleine Fee called me. We talked for hours - she seemed to be a fantastic girl!
We think about meeting next weekend. But this weekend will be great, too.
I will visit my best friend Murph. Hopefully we will have a wonderful party there!
Many greetings
Dicker Kumpel
---
Hi friends,
My life is so wonderful! I met the nicest girl of the world. She is called Kleine Fee. We had a date – and I was waiting for her on a bench.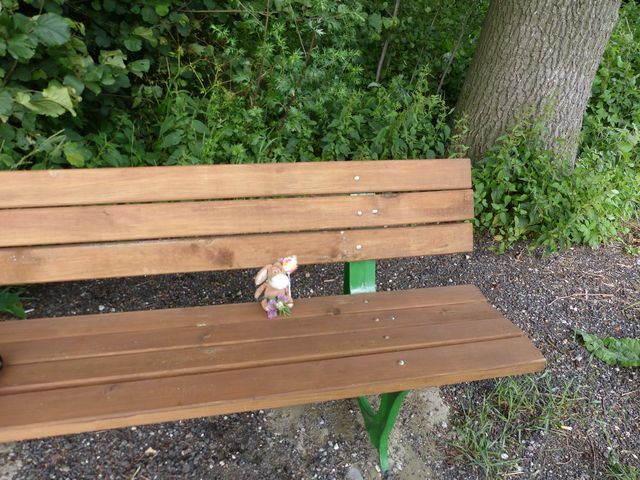 Then she came…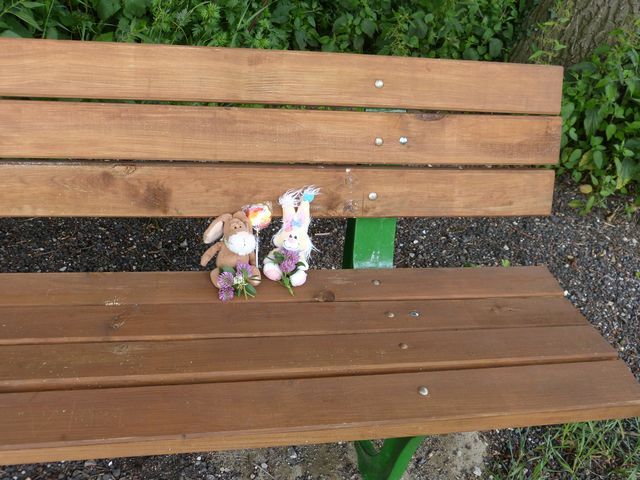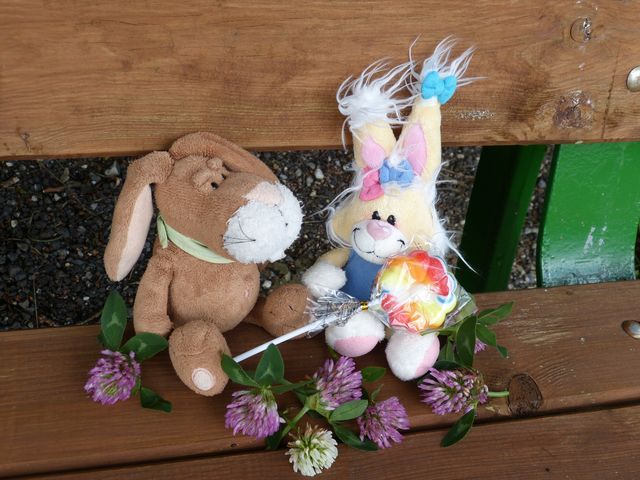 We talked a lot - the we decided to make a walk. We climbed up this post…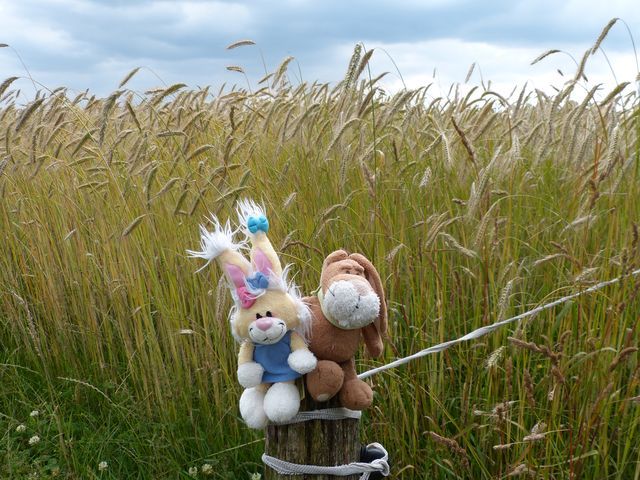 ...and jumped into the grass.
She is such a brave bunny!
Then we saw a nice butterfly. I will always think of this first meeting when I will see a butterfly in the future!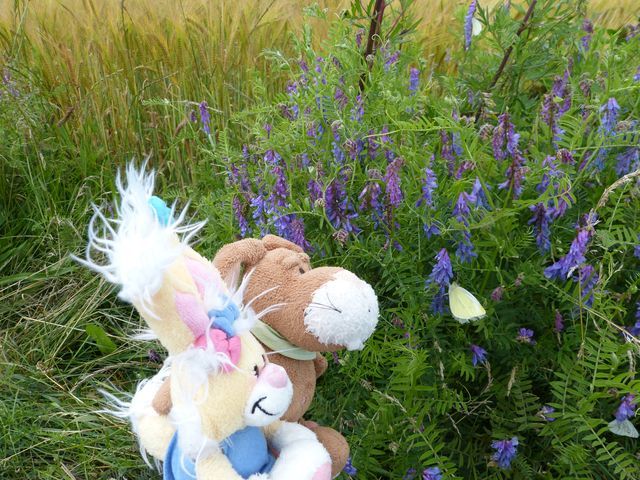 The sun was shining – what a wonderful day!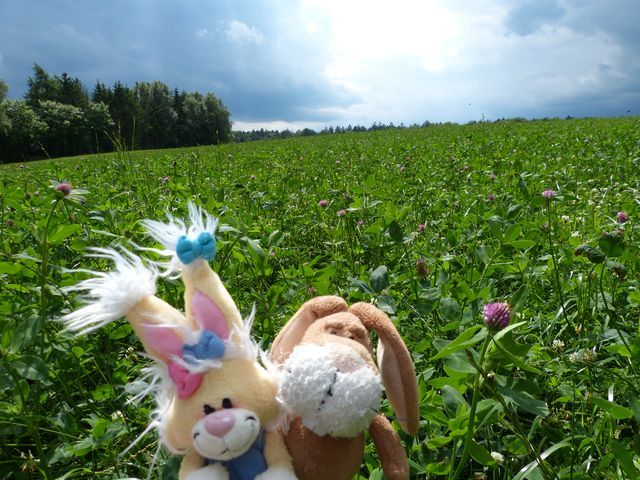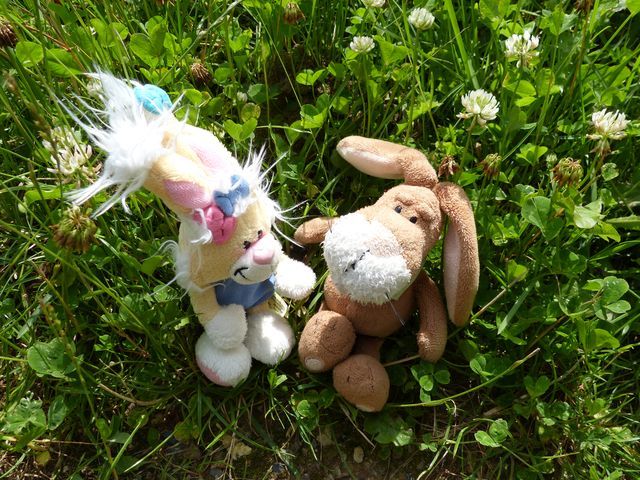 I showed Kleine Fee my famous tree.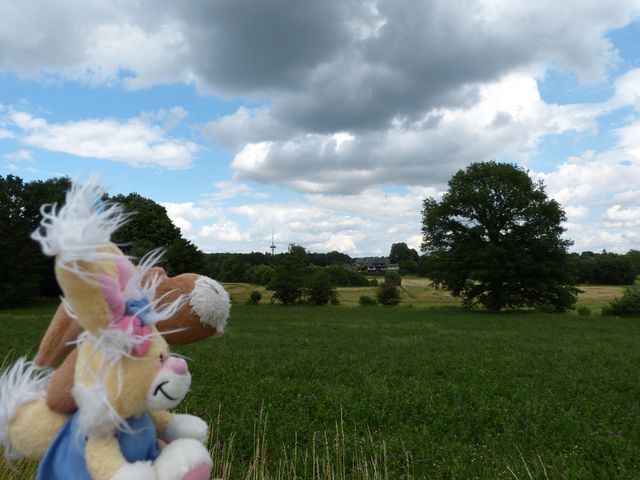 Then it was time for a picnic.
We had some burger! It was yummy. But it was even better to spend the time with Kleine Fee.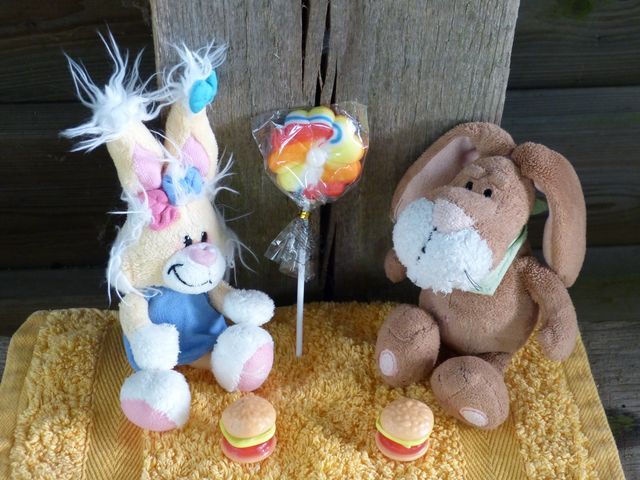 It was a great afternoon – hopefully we will meet again soon!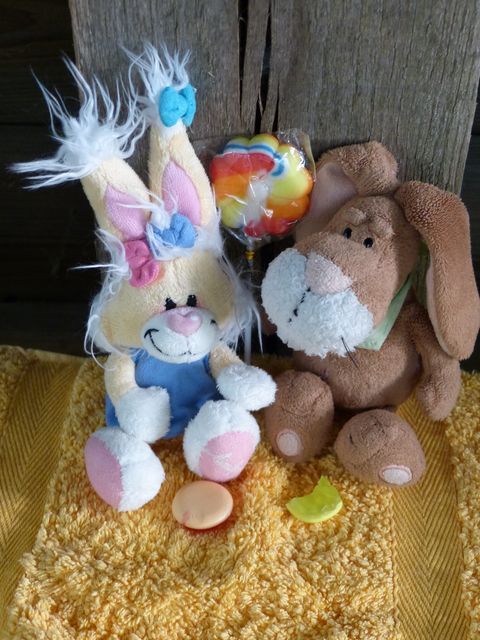 Yours Dicker Kumpel
---
Hi friends,
Yesterday I got a letter from my best friend Murph.
What will be in there? I opened it.
And had a look!
He saw my update with Kleine Fee – and thought about helping me with my next date. I should use candles for more romantic…
He thought that chocolate is better than a burger for women…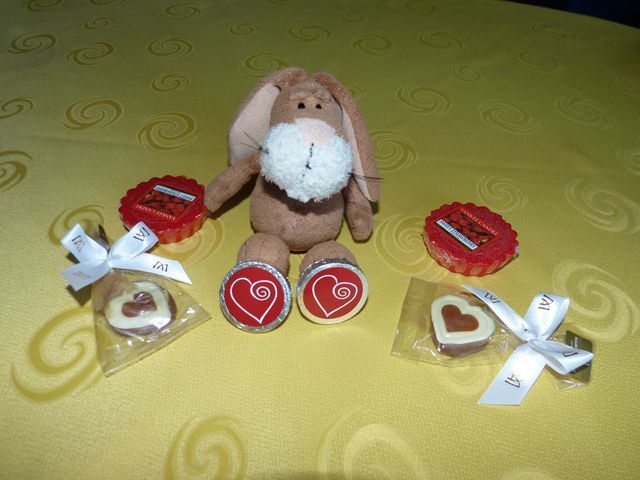 The magic Towel is a nice blanket and should be nicer. And he gave me an advice how to use the Roller – but I am not sure, if I will do it, because I am a little shy…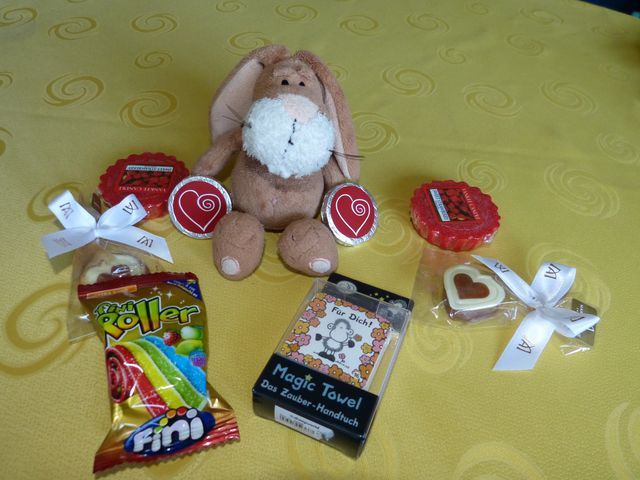 He wrote all about his plans on this card.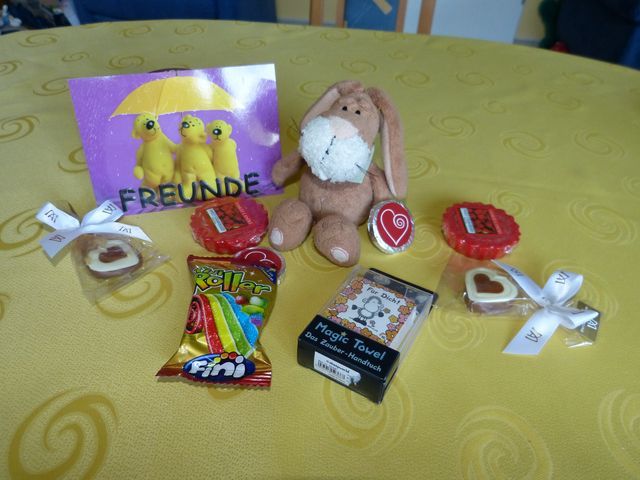 I will read it often, and hopefully my next date with Kleine Fee will be a big success.
Keep your fingers crossed for me!
And thanks a lot Murph – and Holgi.
Yours Dicker Kumpel
PS: See more about Murph's tips here: Murph's suggestions

---
Hi friends,
Maybe you remember the things Murph sent me for a romantic evening with Kleine Fee. But I am a little shy - so I decided to have another meeting with her and use the nice things next weekend. I asked her to go to a fun fair with me.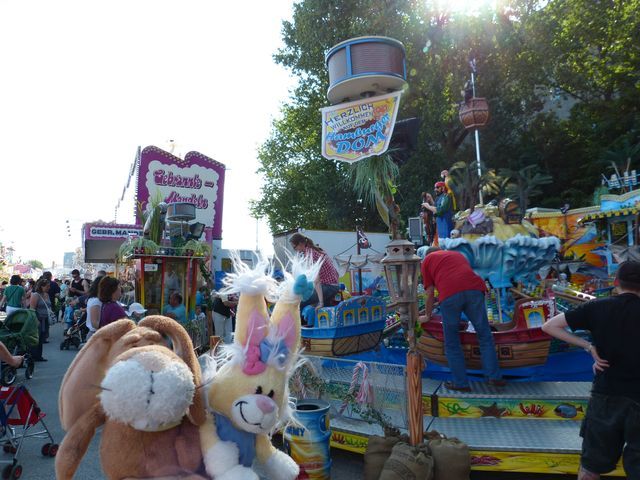 We didn't want to try one of these carousels, but it was nice to see them.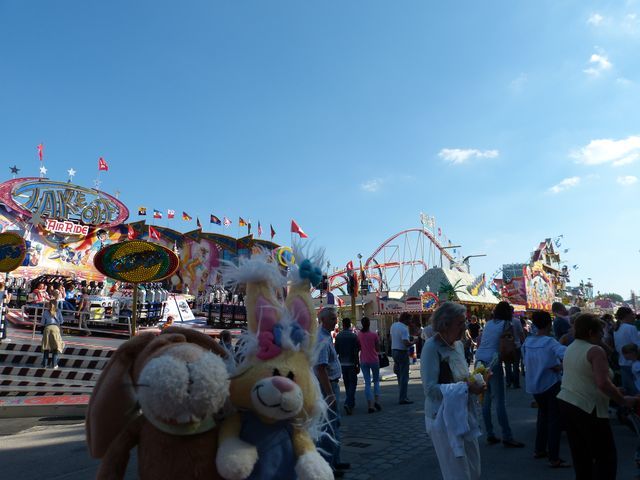 But we loved this chocolate stick – and it was healthy because of the pineapple inside.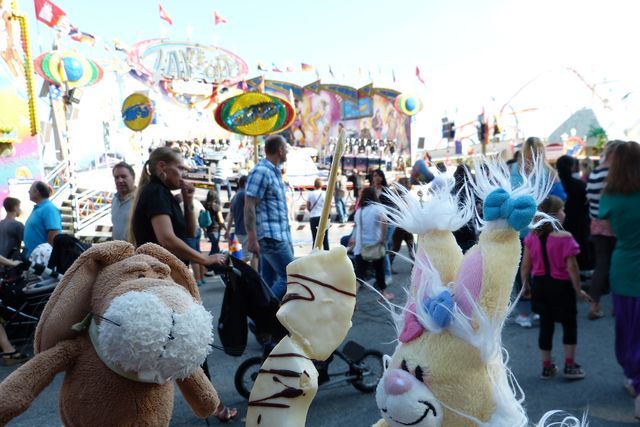 Look - this house had nice colors – and the people inside had a lot of fun. Maybe I will travel to the Alps with Kleine Fee in the future- who knows?
And this carousel was nice, too – not as fast as most of the others.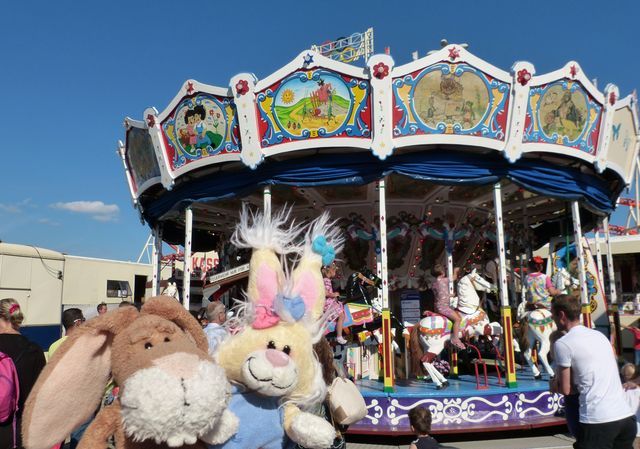 This one was called wild mouse XXL. We thought about using it, but we were too small!
So we stopped at the last roundabout - and then we went home. Well – she went to her home – and I went to my home. But she will visit me next weekend.
Love Dicker Kumpel
---
Hello Murph, hello friends,
I am so excited – Kleine Fee will visit me tomorrow. Murph gave me great tips – and I had to work hard for a nice evening. I need a nicer thing to sit on – so I had to put this blanket into water. Here it is: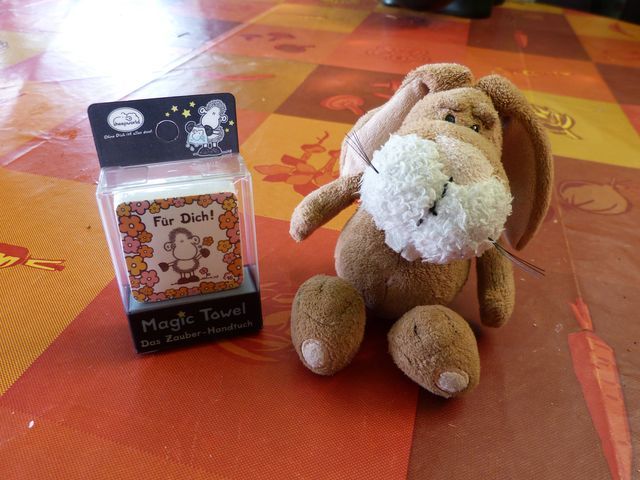 I had to read the instructions.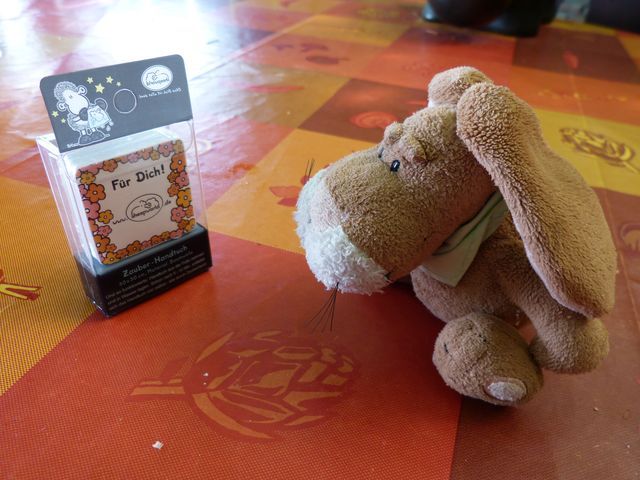 Then I put it out of the the package.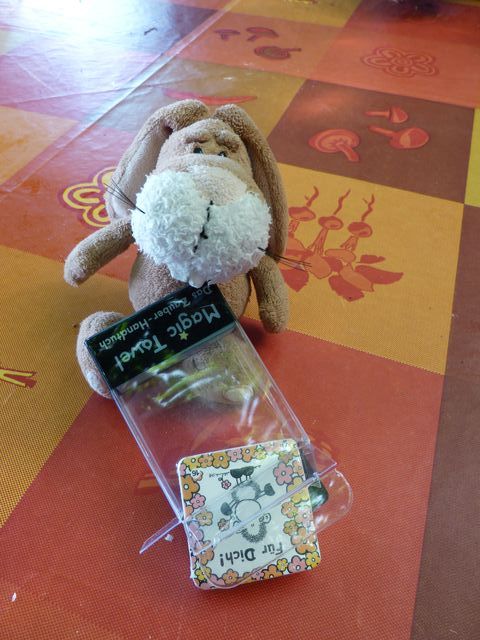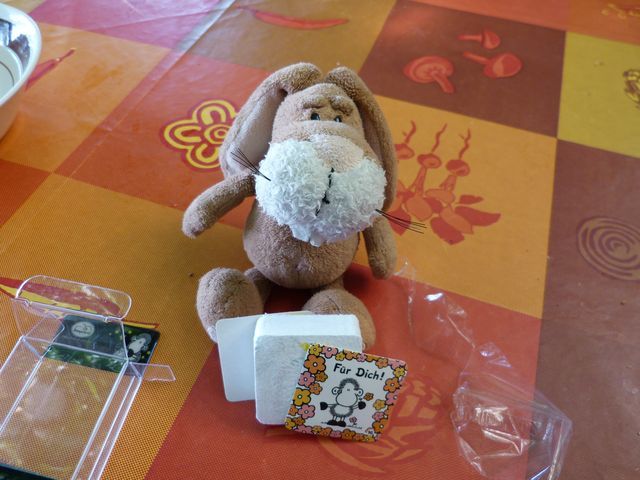 I threw it into water – this is strange. Hopefully it will be a success.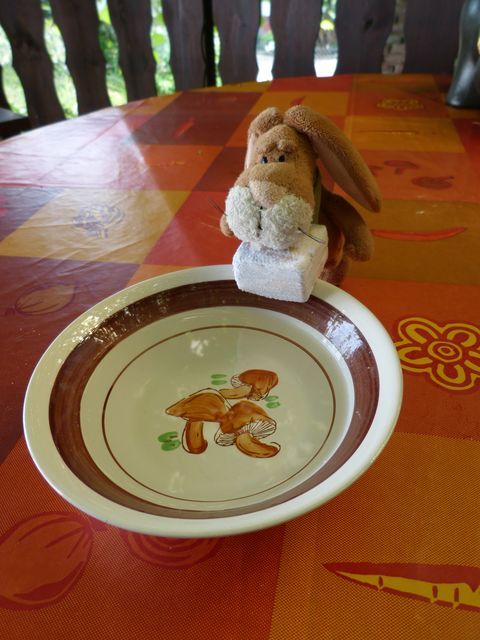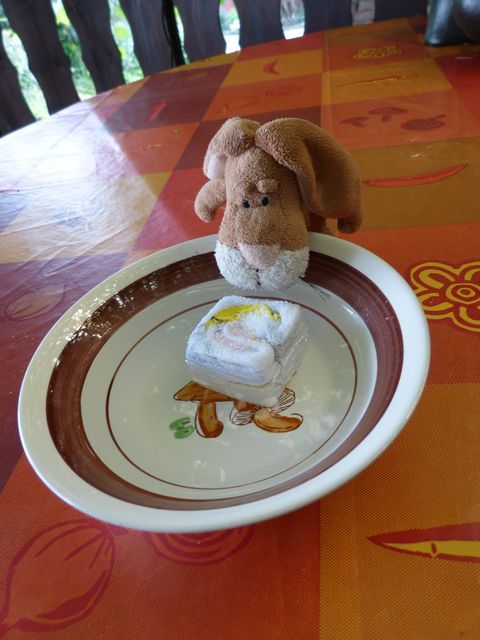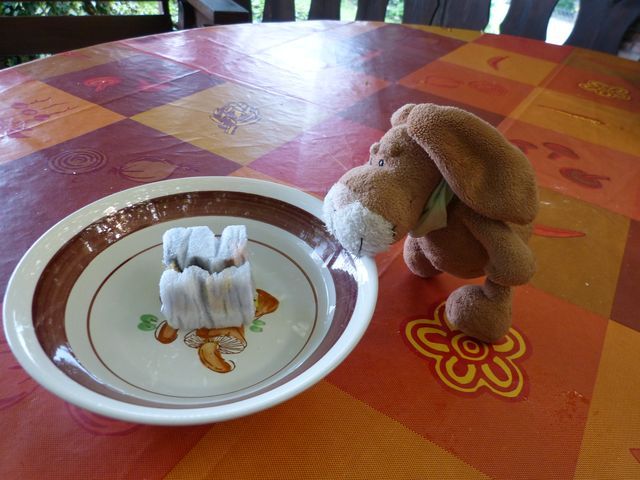 More water would be better!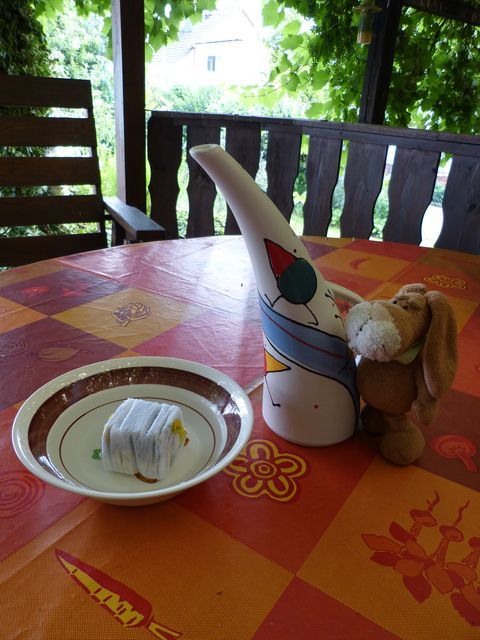 Look! It worked!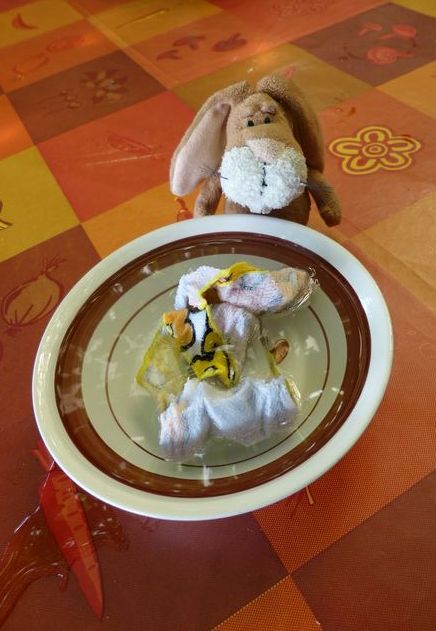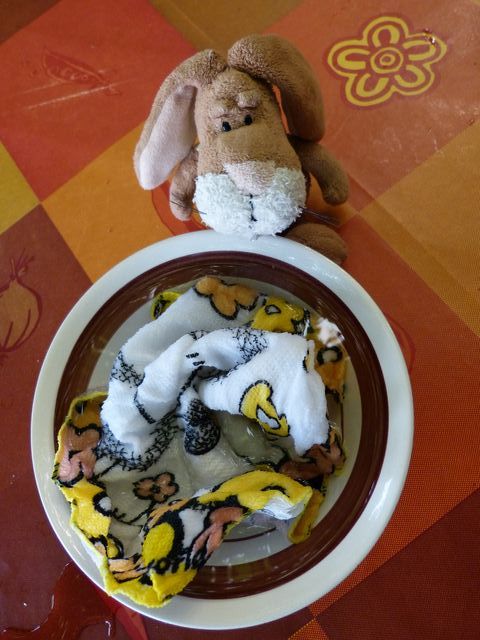 I put it into the sunshine – and waited.
Love Dicker Kumpel
---
Hi friends,
I am so excited – Kleine Fee will come this afternoon. This is the new blanket for our meeting.
I need flowers for the decoration. Blue is a good color.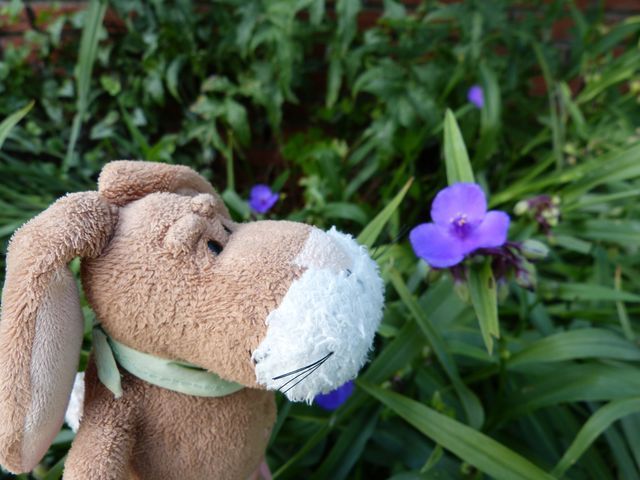 And some white flowers would fit.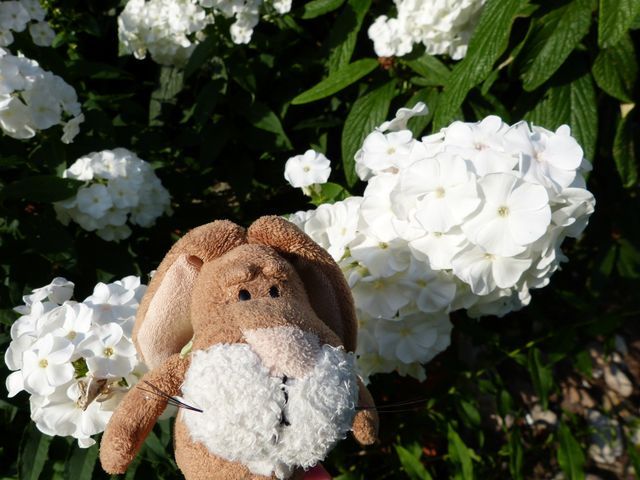 This looked good – but maybe one more color.
Red – the color of love.
I hope that she will like it.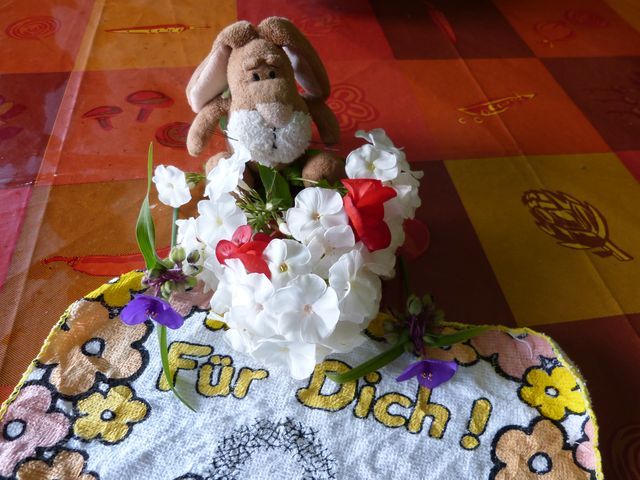 This one was an idea of Murph – for the first kiss…
…but was still not sure if I would use it.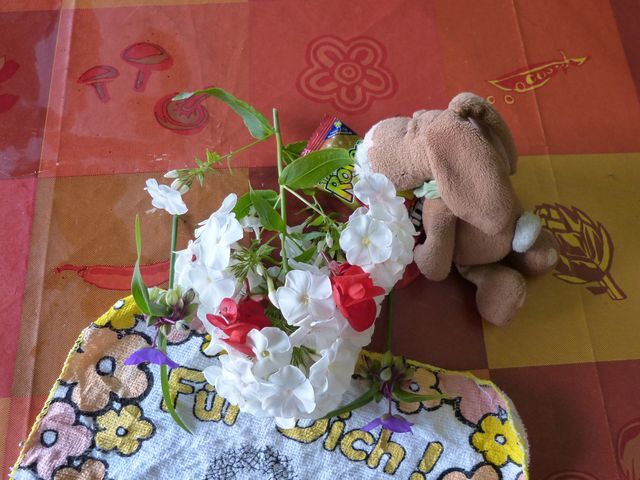 Some romantic candles.
But I didn't find the wick – and had no idea how these candles work.
So I took these candles.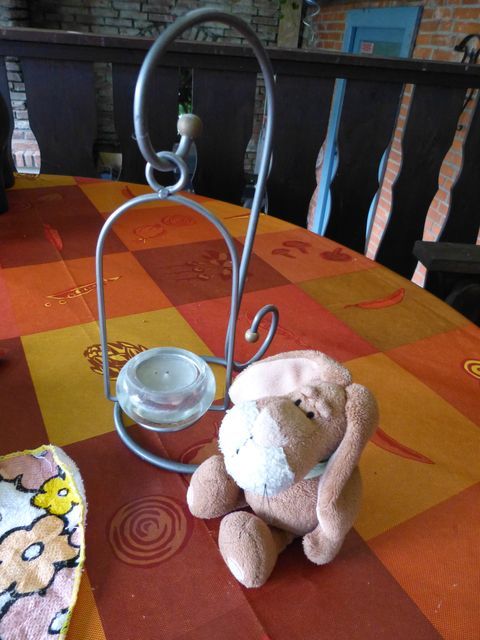 Then I put the chocolate in the four corners – I love this place.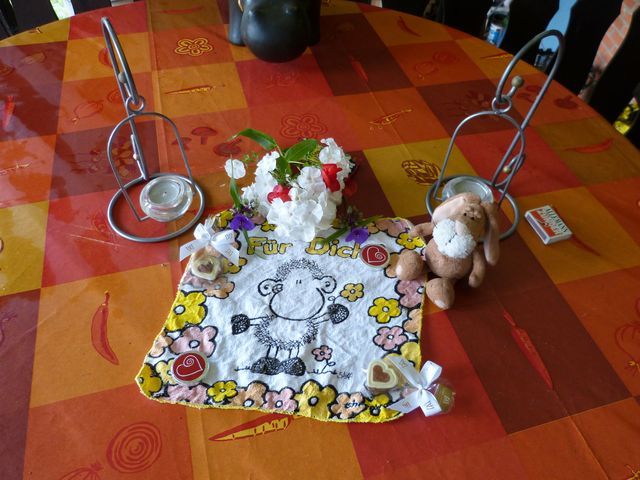 When will she come? I waited…
Yours Dicker Kumpel Hi friends, Then she arrived – the most beautiful girl of the world!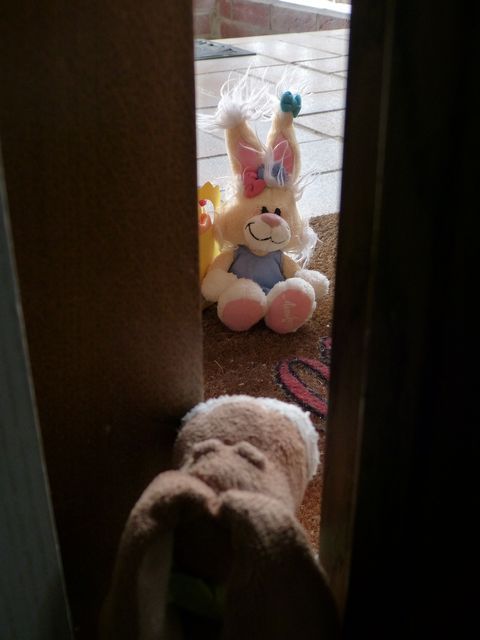 She brought a basket with her, because she promised to bring the dinner.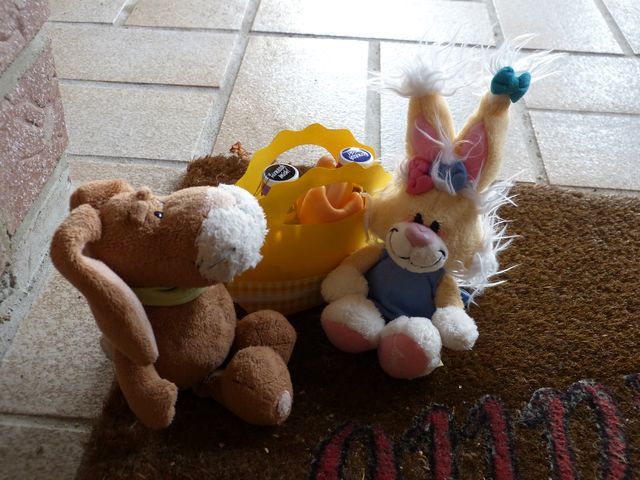 I showed her our place for the afternoon and evening.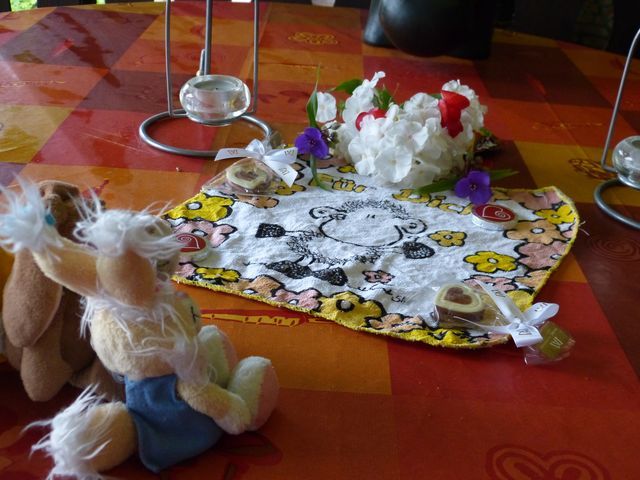 Isn't she cute? I think she loved the chocolates!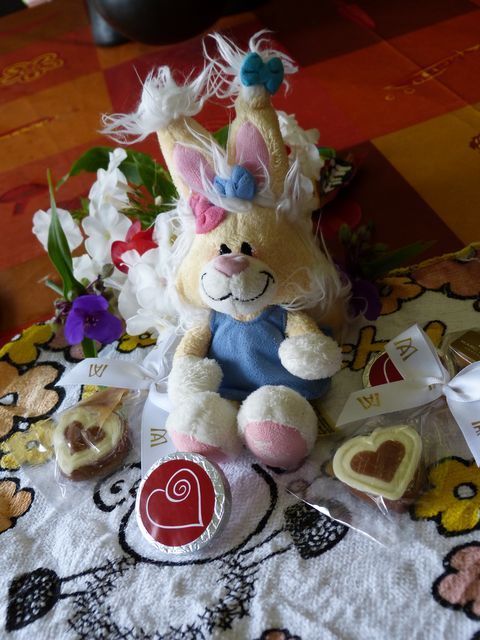 We sat together and talked a lot.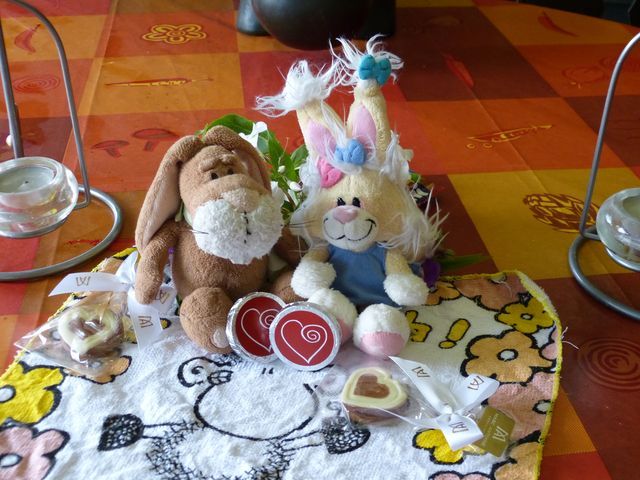 I had a plan for the afternoon – we would plant sunflowers together.
We had to fill the round thing into our plant-form.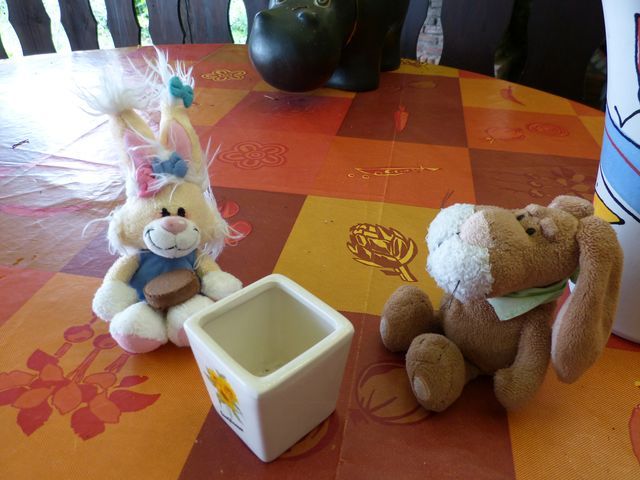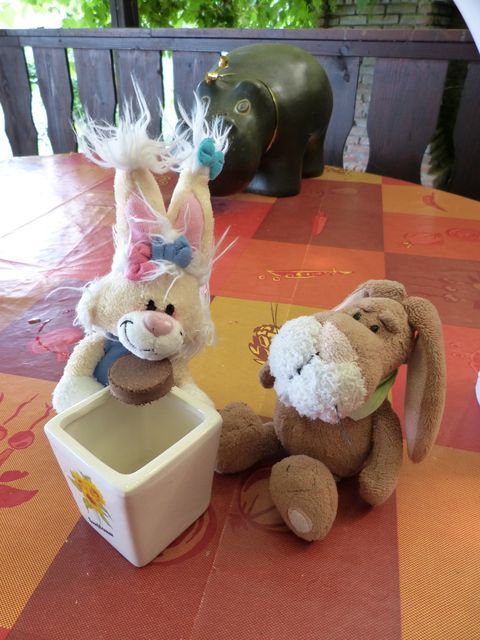 Done.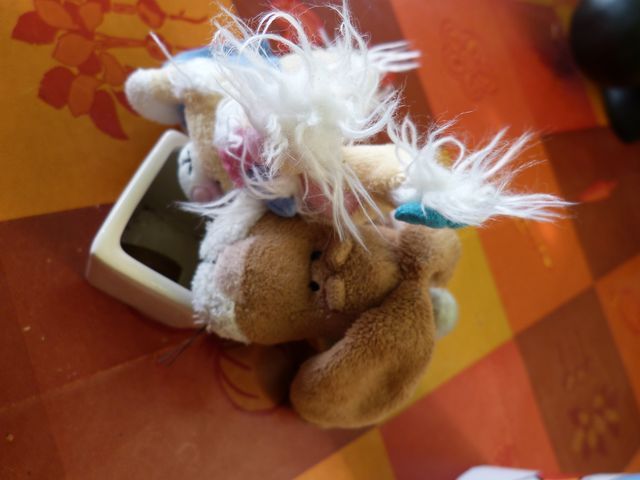 We needed water!
This was funny – with the water and the round thing we get a lot of humus.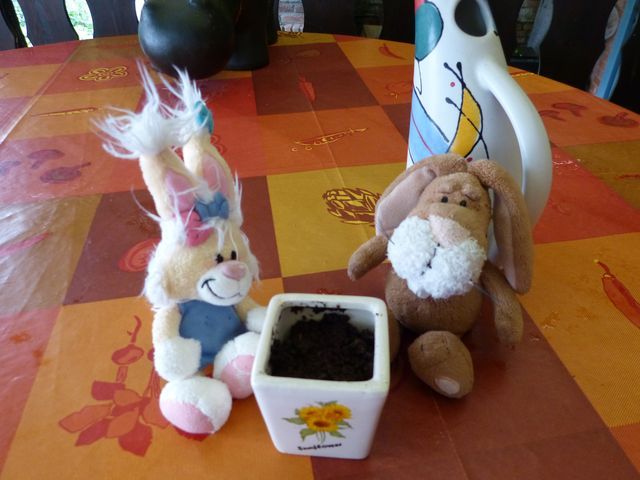 Then we opened the little sachet.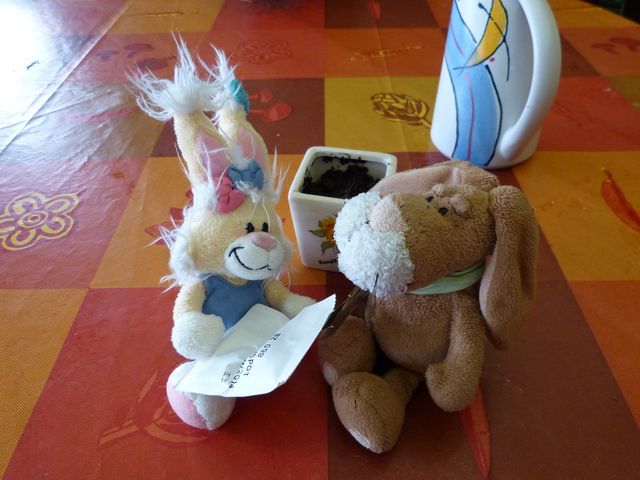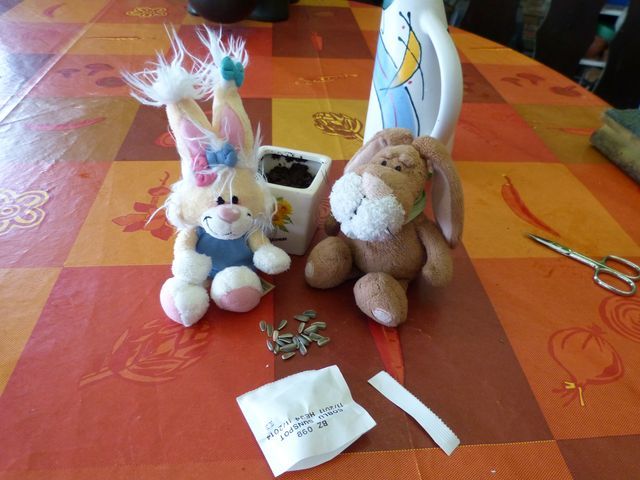 And we put the sunflower seed into the humus.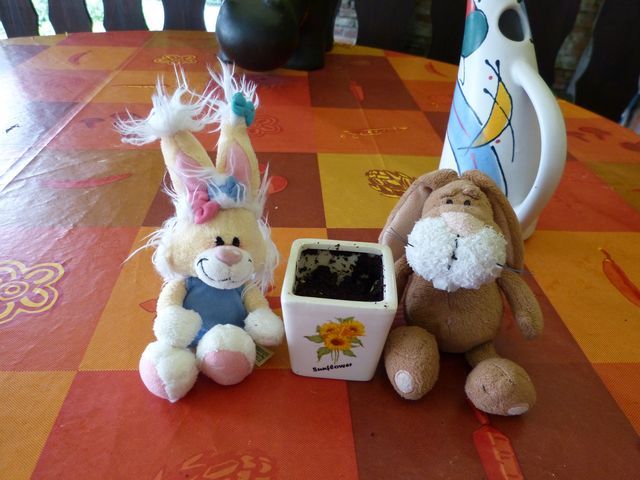 Hopefully we will get wonderful sunflowers soon. I will tell more about the afternoon later. Love Dicker Kumpel
---
Hello again,
After planting the sunflowers we were hungry. Kleine Fee and I looked into her basket.
Look, Murph – Kleine Fee loves the same things as I do. Wei had a delicious burger and a healthy drink.
It was yummy!
Well – she is so wonderful!
After our meal we relaxed and had fun! The chocolate was our dessert!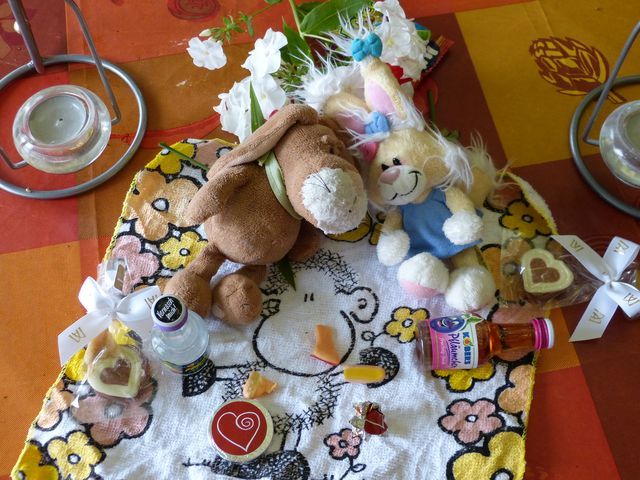 Later – in the evening – we had romantic candlelight.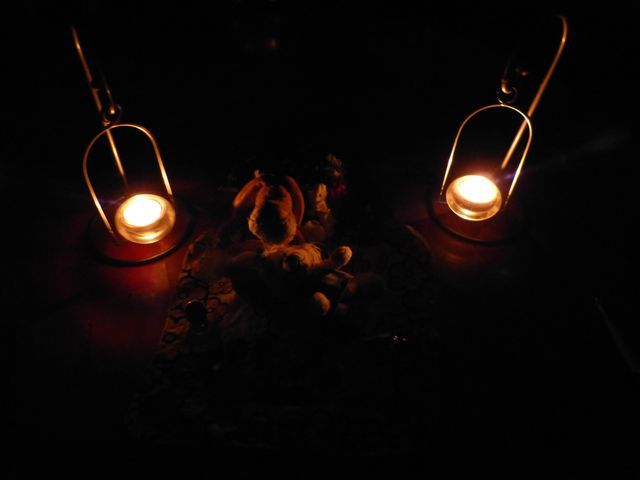 Oups – why does RikeH always use the flashlight?
I told Kleine Fee that my best friend Murph had a gift for our evening. Of course she wanted to know what it was.
Should I really try it out? I was very shy.
But Kleine Fee wasn't that shy – so we tried to eat it, like Murph explained it to me.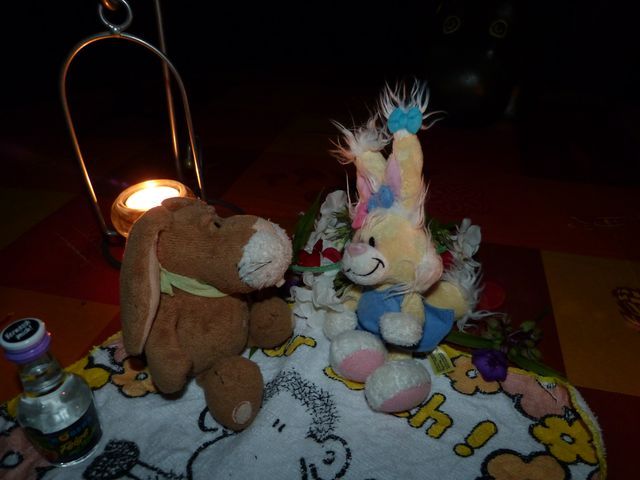 Then we had OUR FIRST KISS!
Thanks Murph for the nice idea!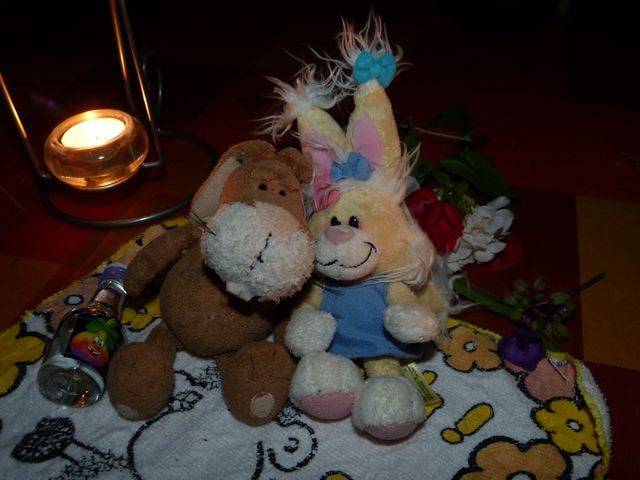 Yours Dicker Kumpel
Sülfeld, Germany - 2nd September 2012
Hello, On Sunday Kleine Fee and I walked through Sülfeld. This is the old church. We were there with my guests.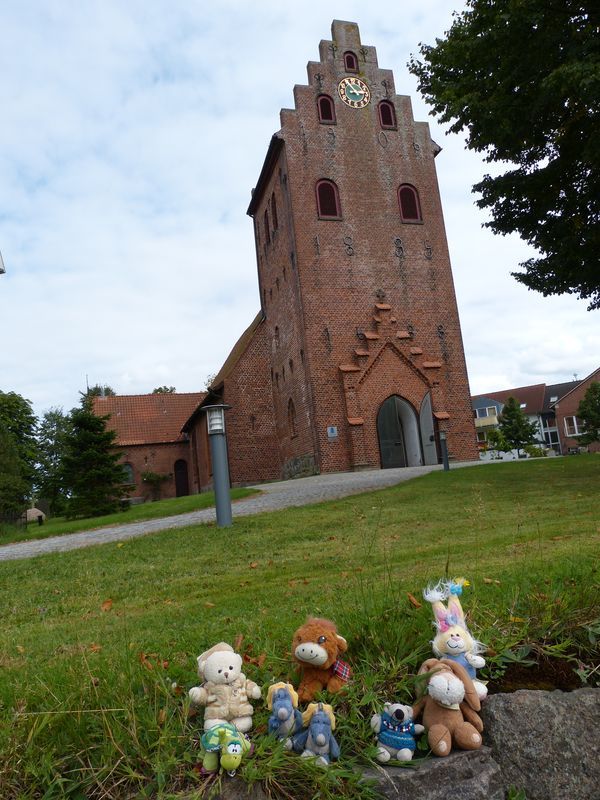 Do you understand the words on this big rock? I hope this will be the truth for Kleine Fee and me!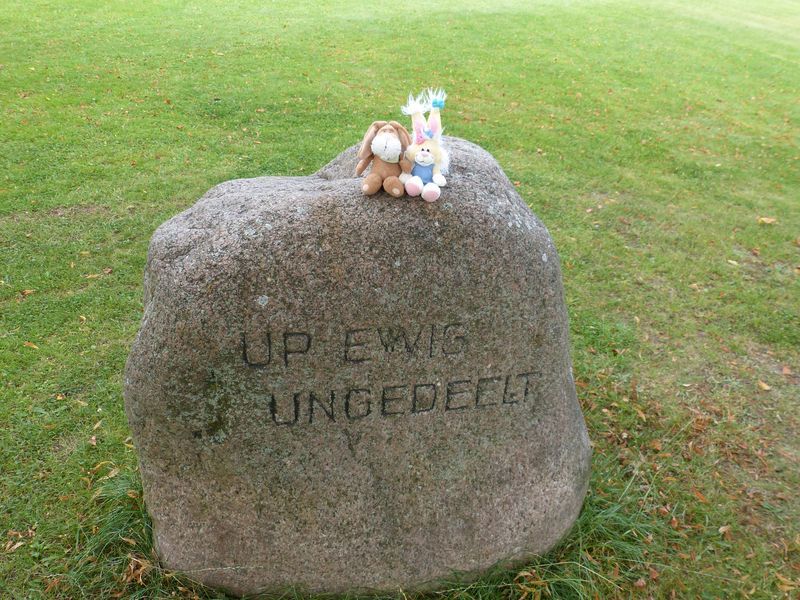 Behind the rock there is the old school.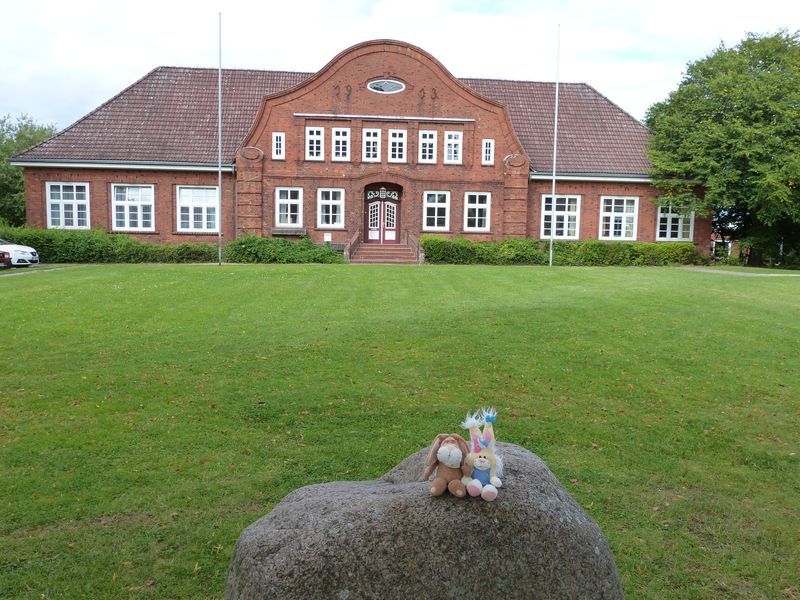 I am a little sad because I will go on holiday next week – and Kleine Fee cannot come with me, because she had an important meeting. But we will see us, when I am home in Sülfeld again. Many greetings Dicker Kumpel Gdansk, Poland - 12th September 2012
Hello from Gdansk,
My Mum told me that there will be a surprise for me in Gdansk. And look who waited for me in the hotel room? It was Kleine Fee.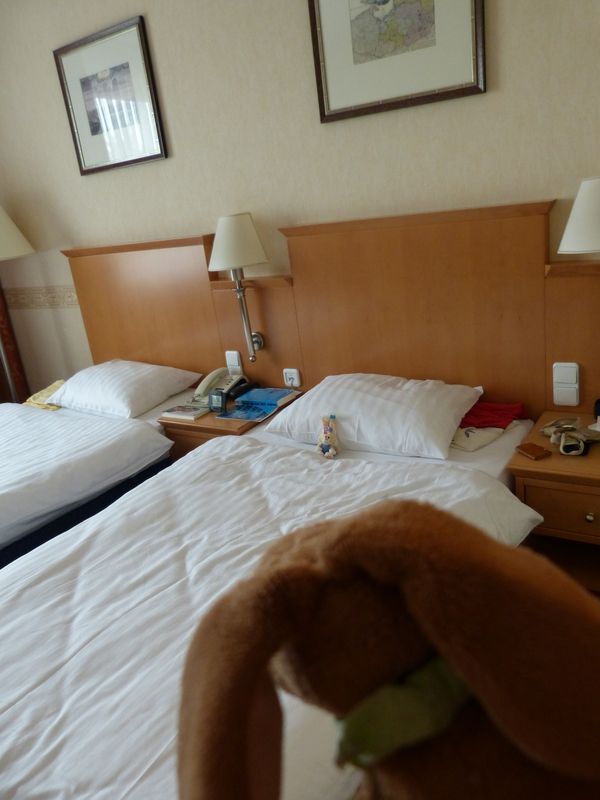 It was great to see here again!
Normally we had good weather here in Poland – but today it was not so good – fortunately we had no rain. Behind us you can see one of the town's landmark - the medieval port crane.
We had a nice view over the river.
There were many gates in Gdansk – we liked this one.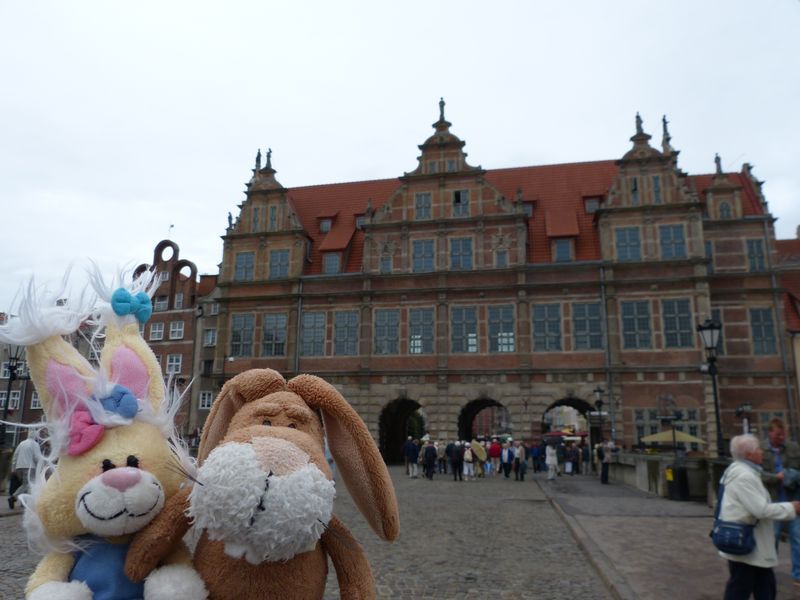 This was inside the old city – this house is called Artus' Court with the Neptune Fountain in front of it.
Next to it there was the town hall.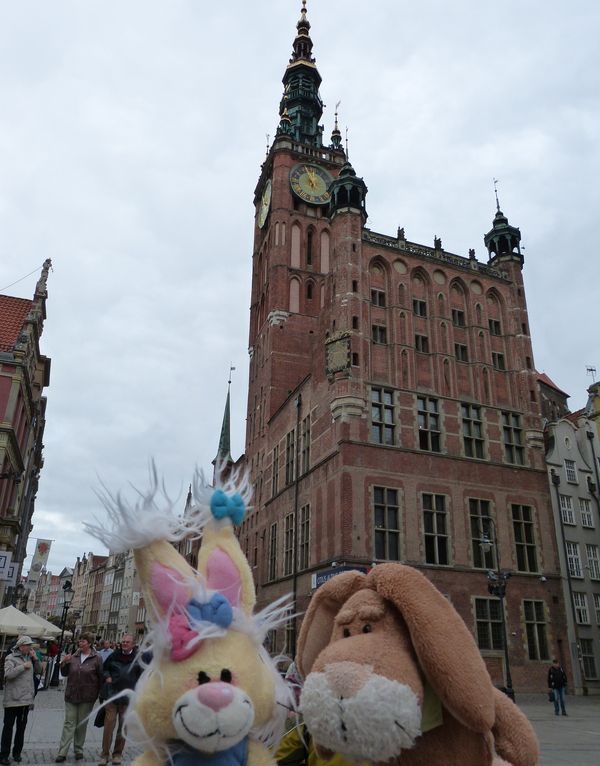 Our lunch was very delicious.
Back on the road we saw another Gate.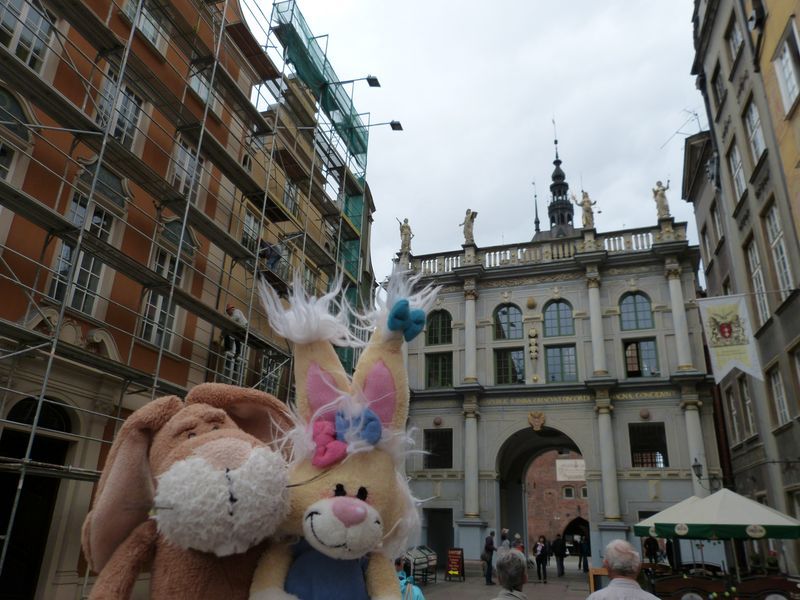 And this was the armory.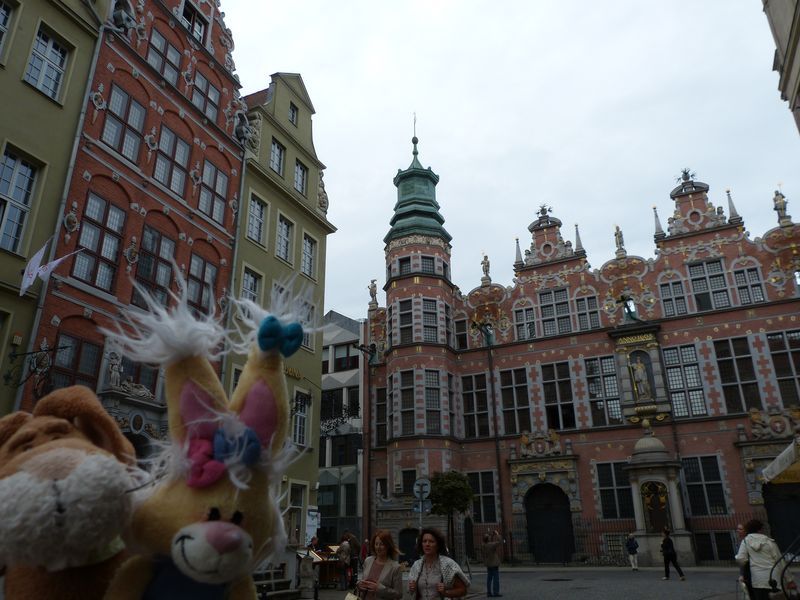 I am so happy that Kleine Fee spend the last time in Poland with me!
yours Dicker Kumpel
Leba, Poland - 13th September 2012
Hello friends,
We visited this nice castle from the family Krockow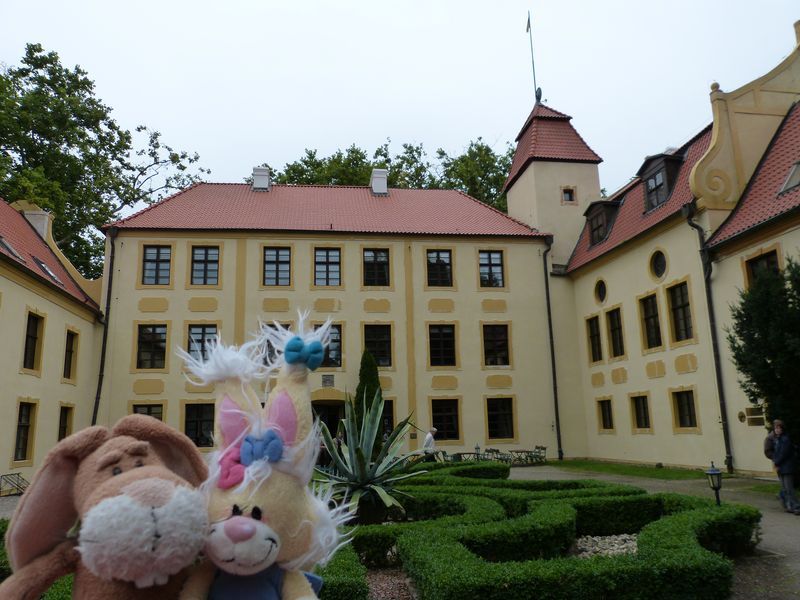 We saw some nice rooms in the castle.
Later we went to a big wandering dune.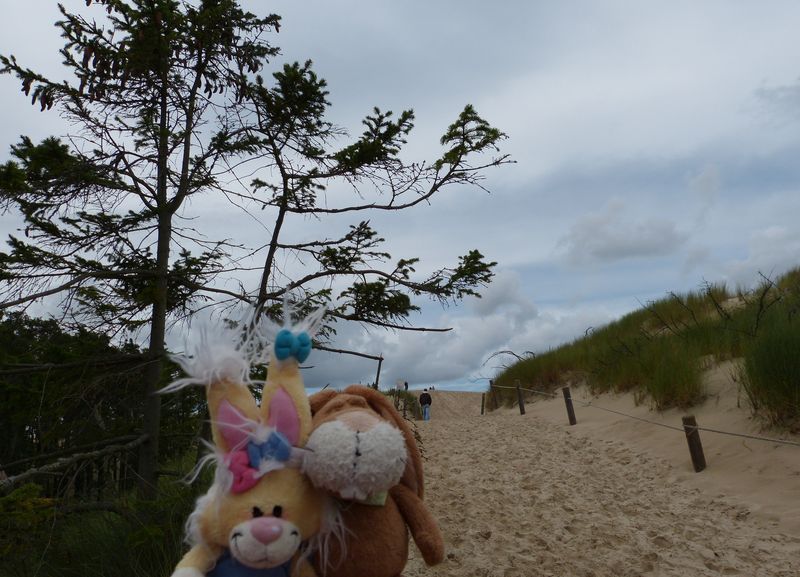 It was really big – and we loved the view from here.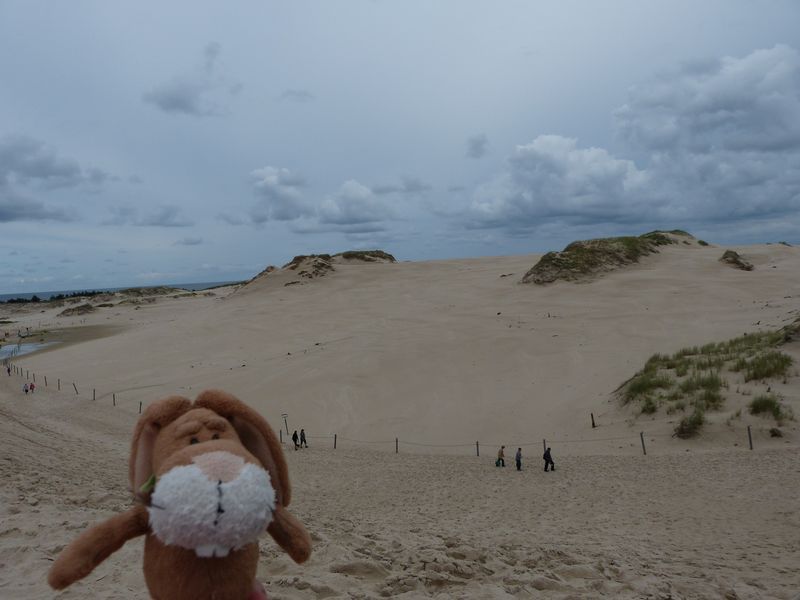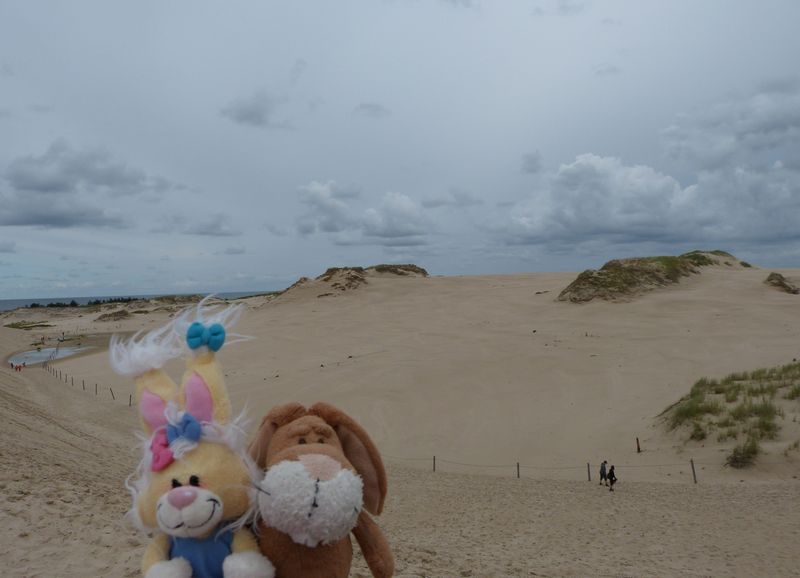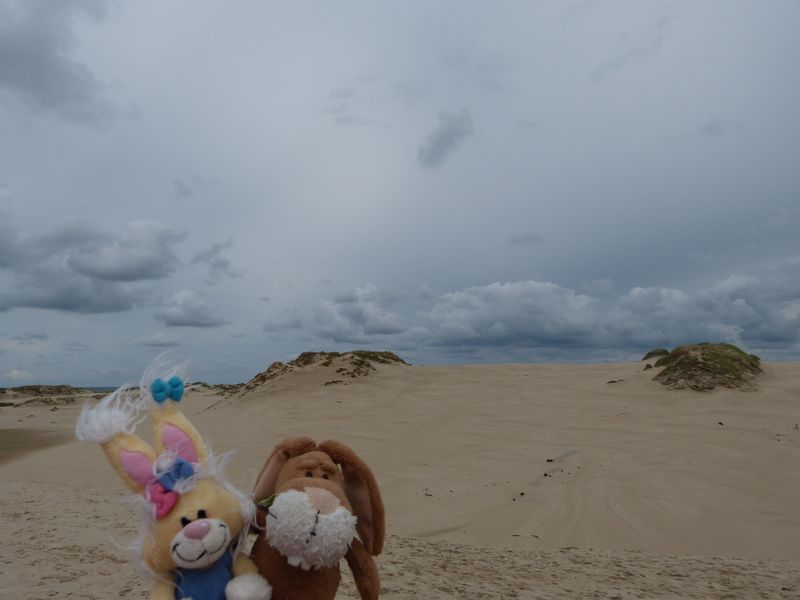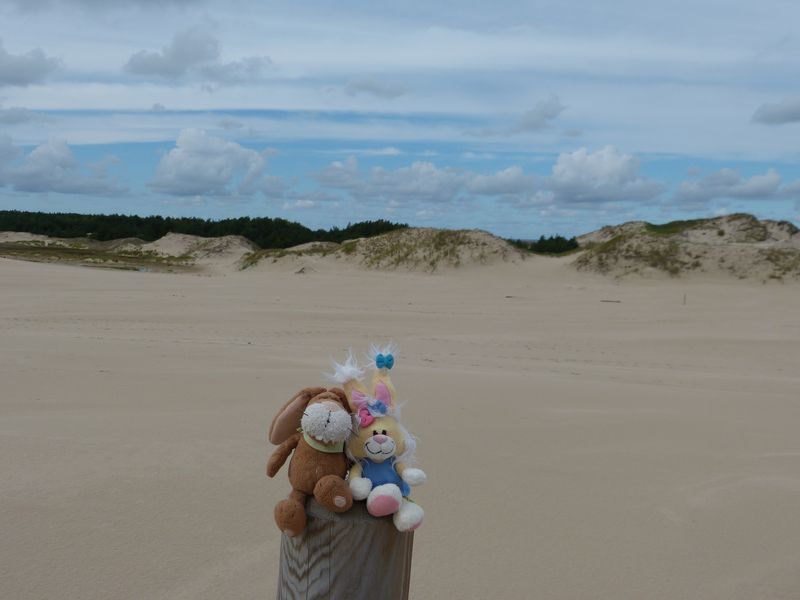 Later we went to the beach.
After the walk we relaxed in a small dune.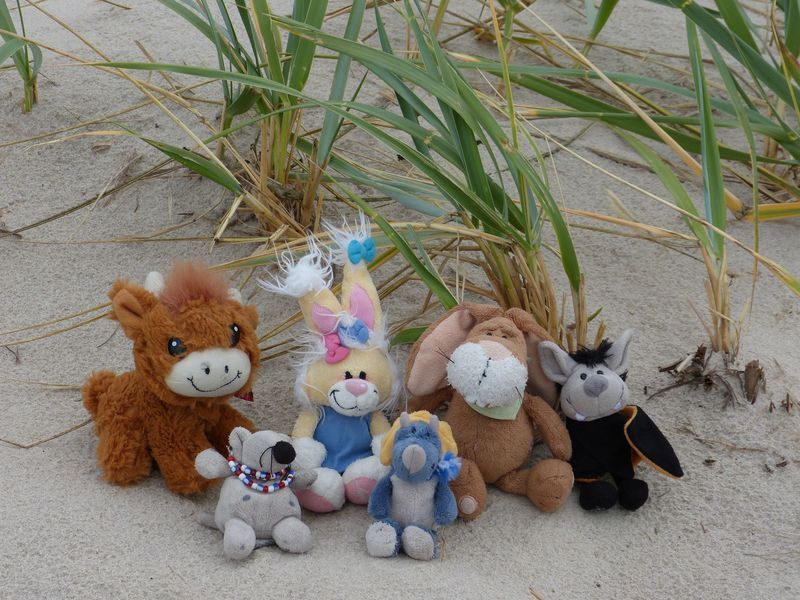 Our next stop was the little town Leba. I liked the boats there.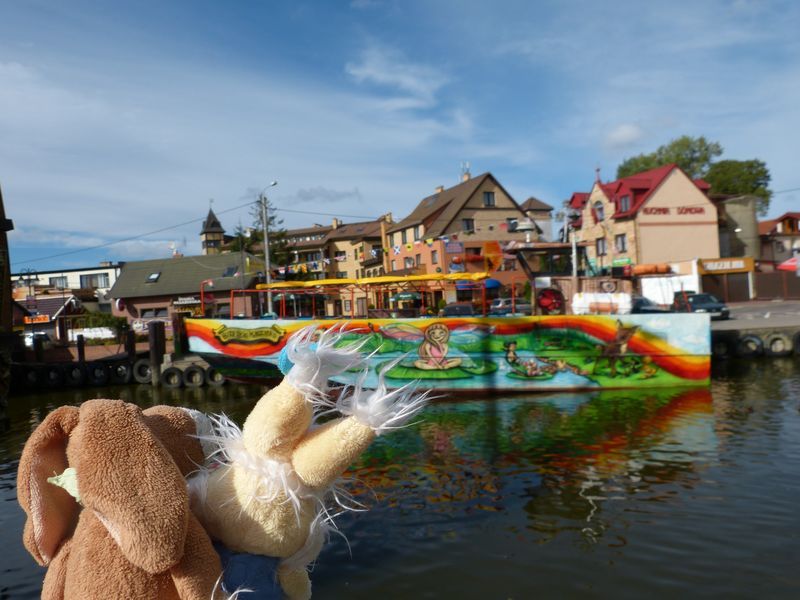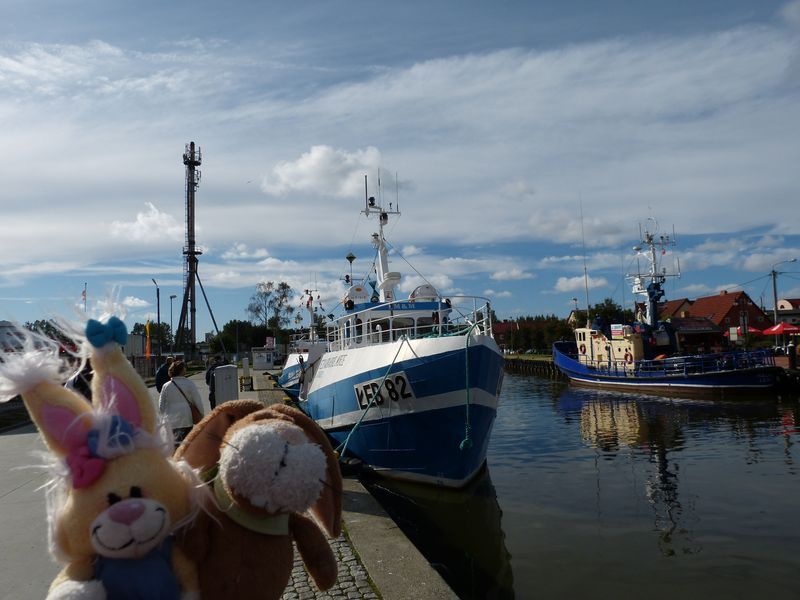 In the evening we saw some folk dances.
It was really interesting.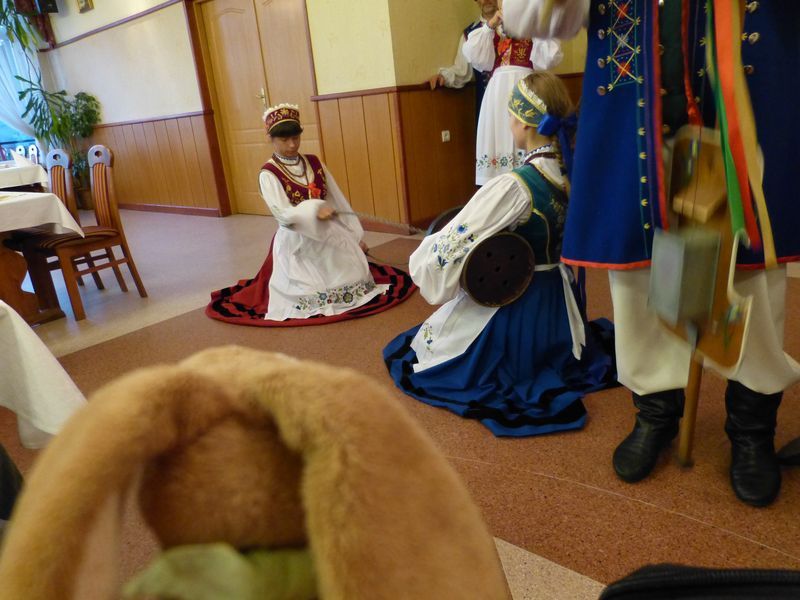 Love Dicker Kumpel
Gdansk, Poland - 14th September 2012
Hello friends,
It was our last day in Poland – and we spent in in Gdansk again. Because the weather was much better, we wanted to have new photos of course.
Everything looked good today.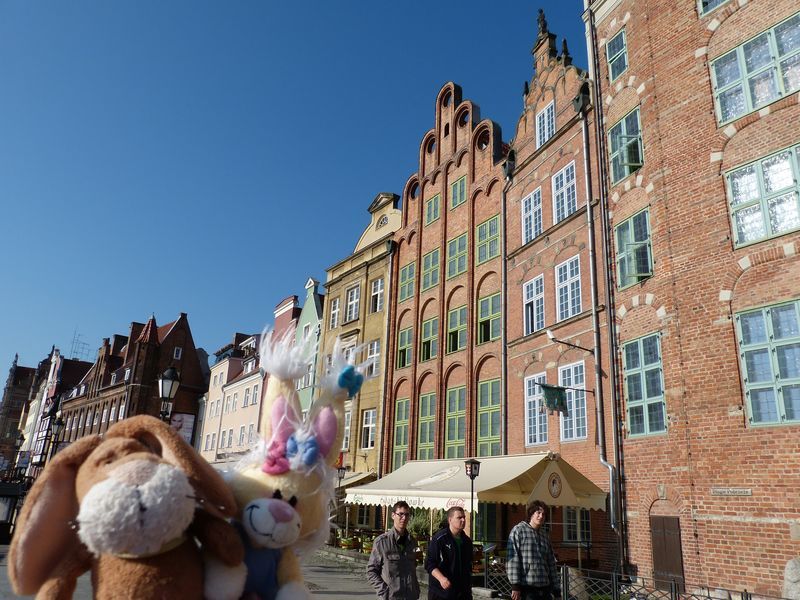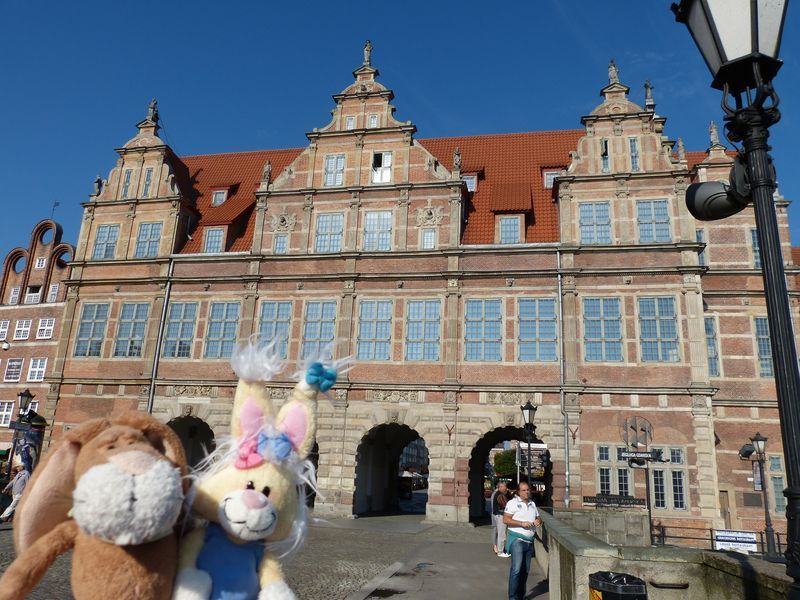 This time we crossed the River and had a nice view. The medieval port crane looked much better in the sunshine.
Stoker and I wanted to have a photo together!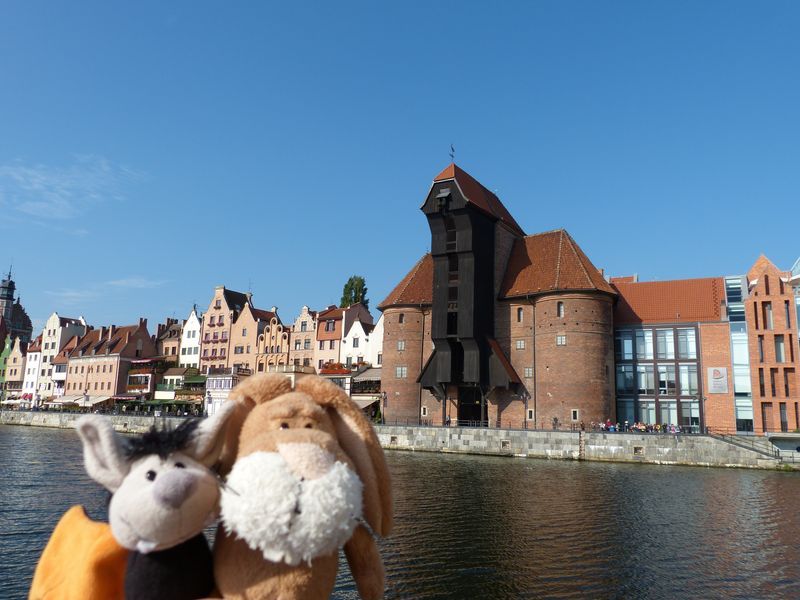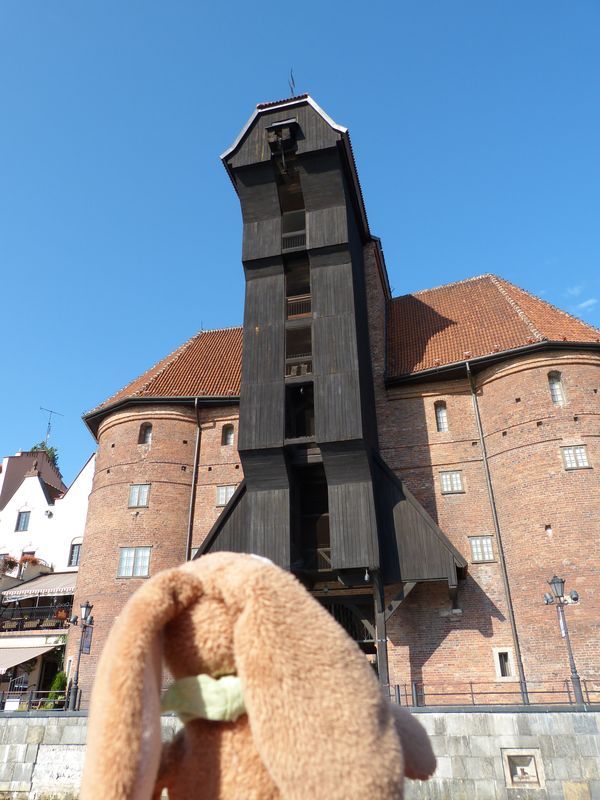 We took a walk through the old city.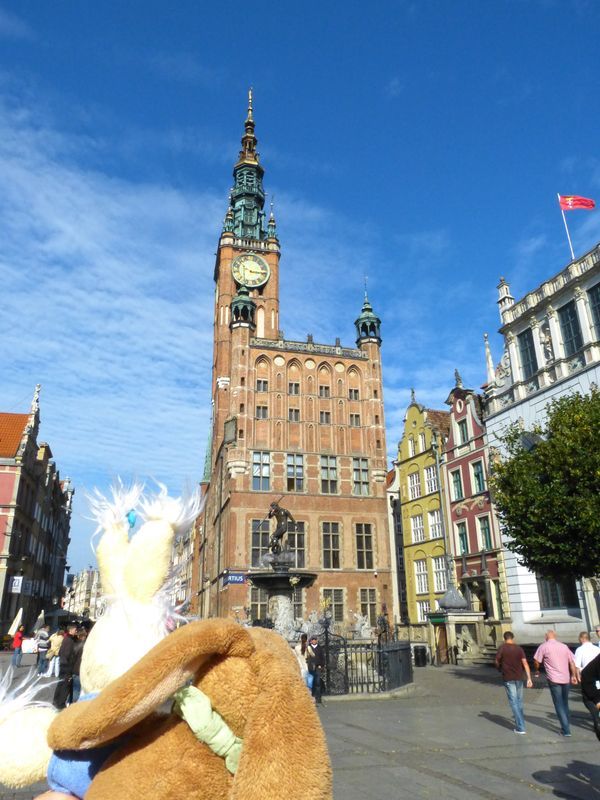 It was a nice and sunny day – then we had to fly home.
Yours Dicker Kumpel
---
Sülfeld, Germany - 21st September 2012
Hello friends, I introduced Murph to my girl-friend Kleine Fee. He wore a wonderful dressy bow-tie!
He brought wonderful presents with him.
And some information about horoscopes.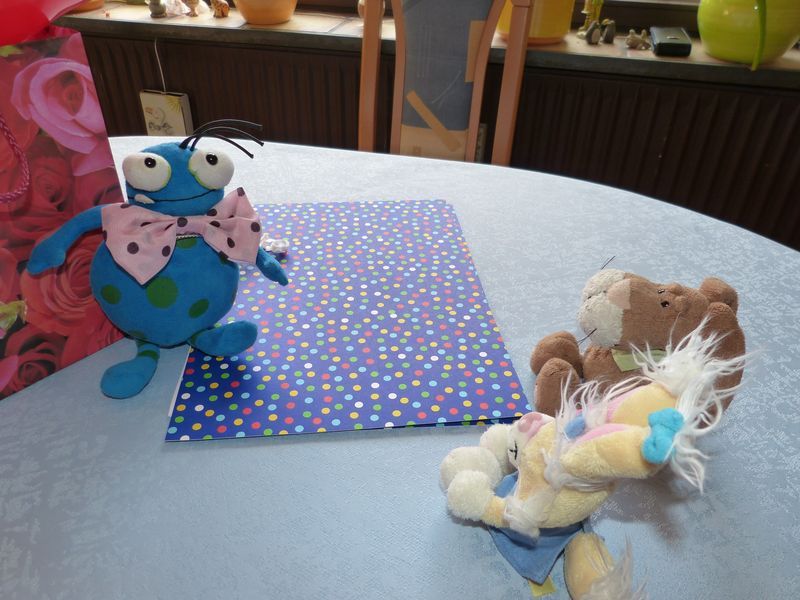 Of course Kleine Fee and I were curious!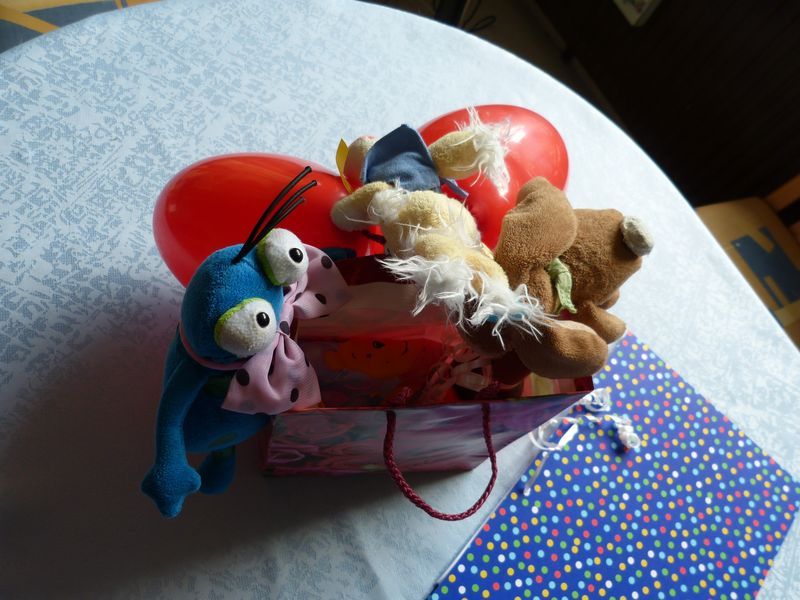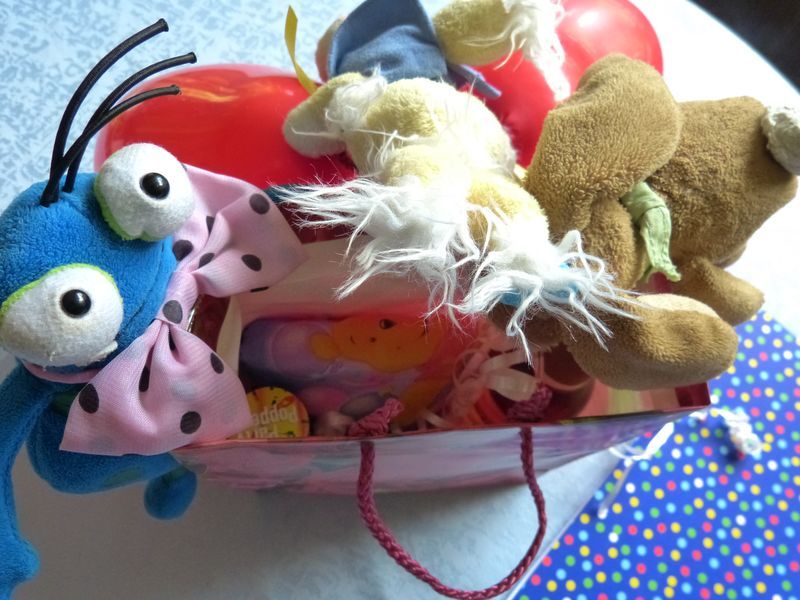 It looked great!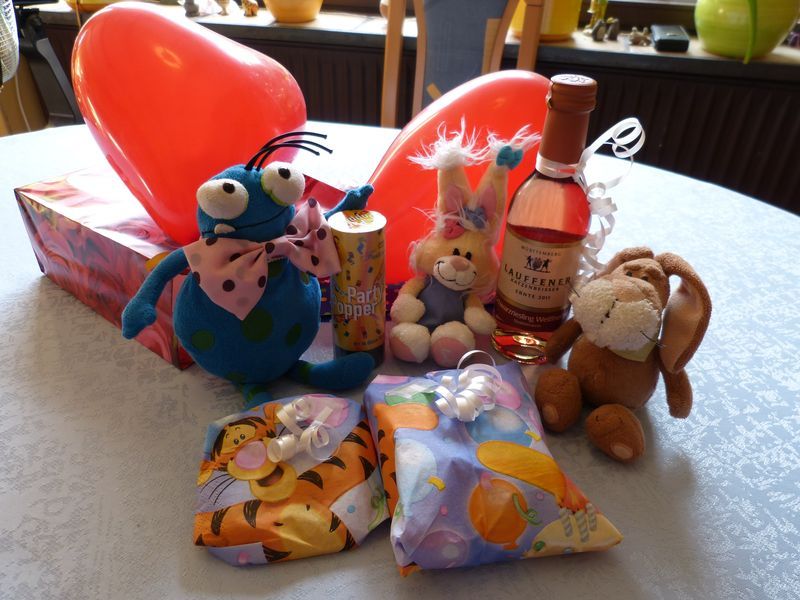 Kleine Fee started and opened the first gift.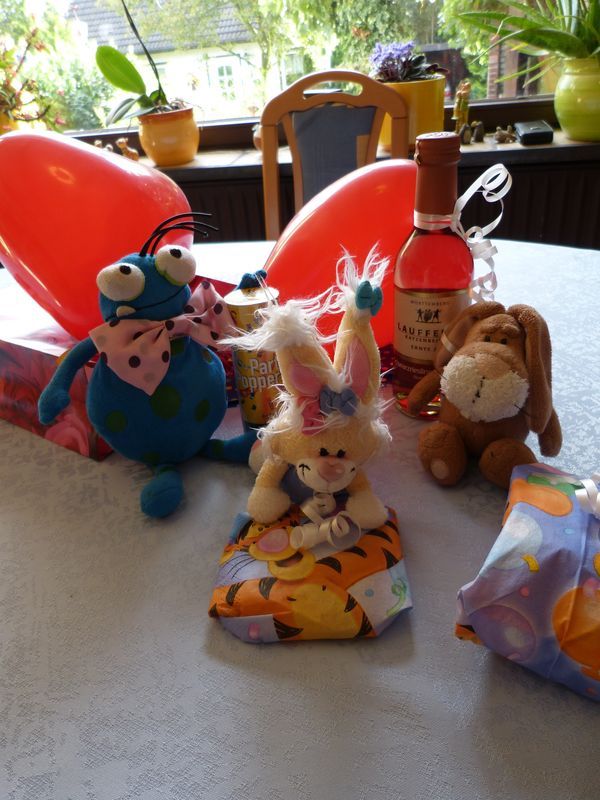 Can you see it - it is a picture frame with a photo of our first meeting.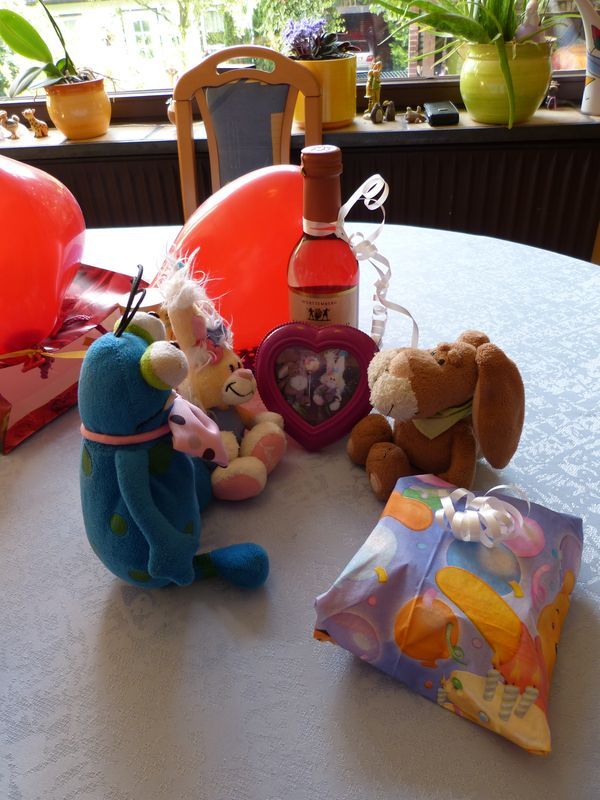 We loved it.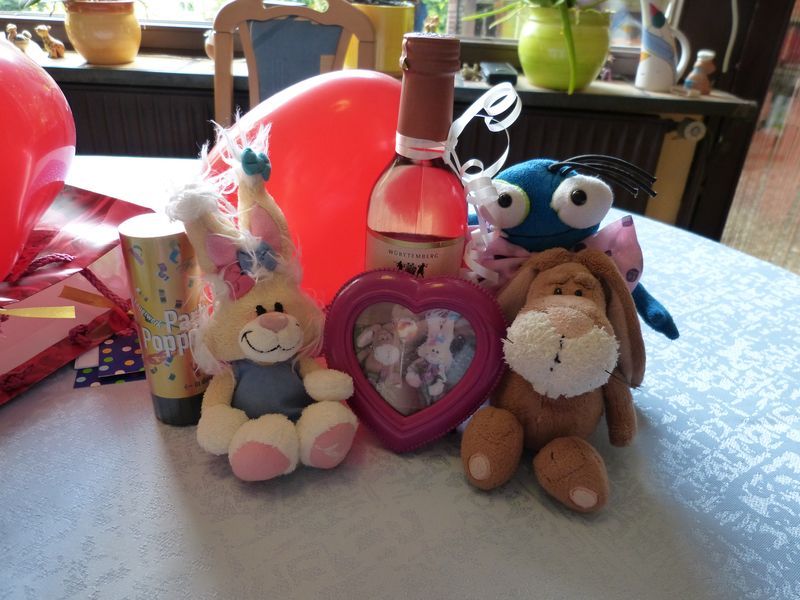 Then I opened the next gift.
Something to eat is always important. Murph brought Champagne and something for a party, too.
Oups – Kleine Fee gave Murph a kiss! What a wonderful little lady!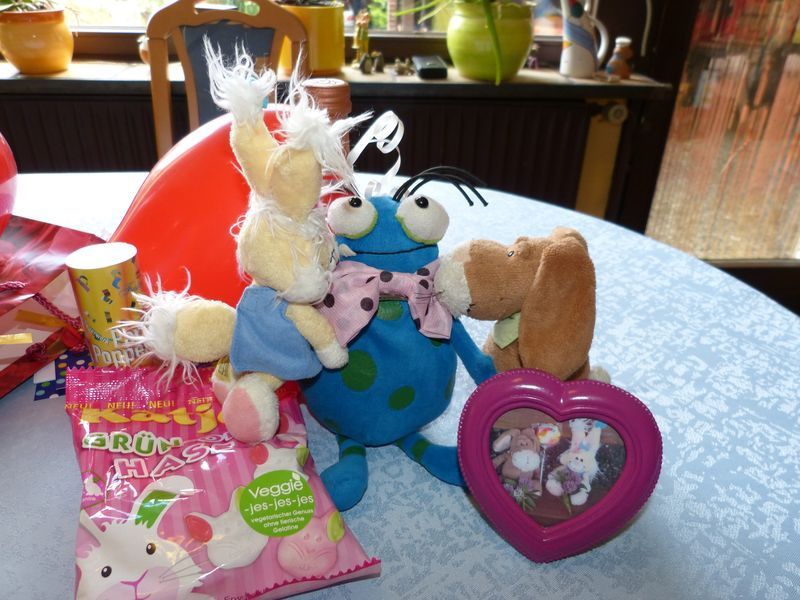 We loved everything!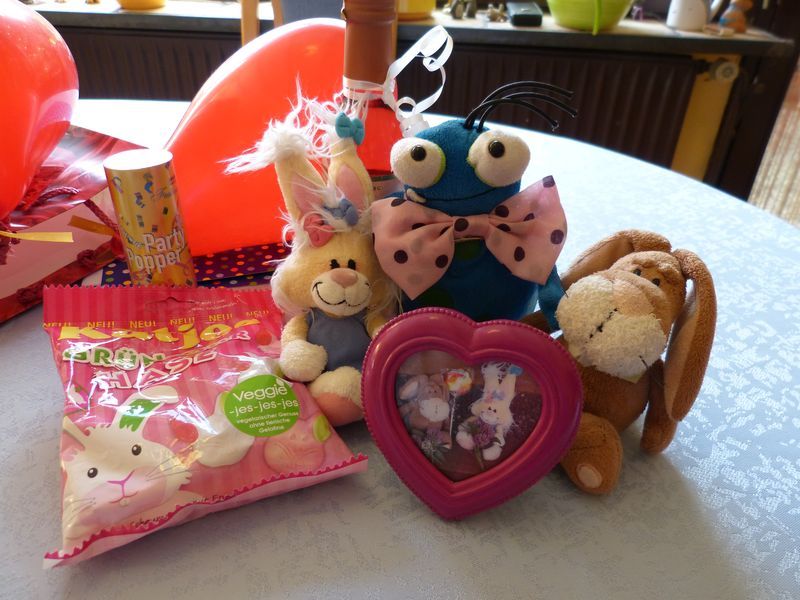 And I am happy that Murph and Kleine Fee like each other a lot! yours Dicker Kumpel