Hallo Mama,
Wir waren heute Dicker Kumpels Oma besuchen – und was ist uns aufgefallen? Es ist Halloween – hurra!
Wir haben uns als Geister verkleidet und haben uns vor die Tür gestellt.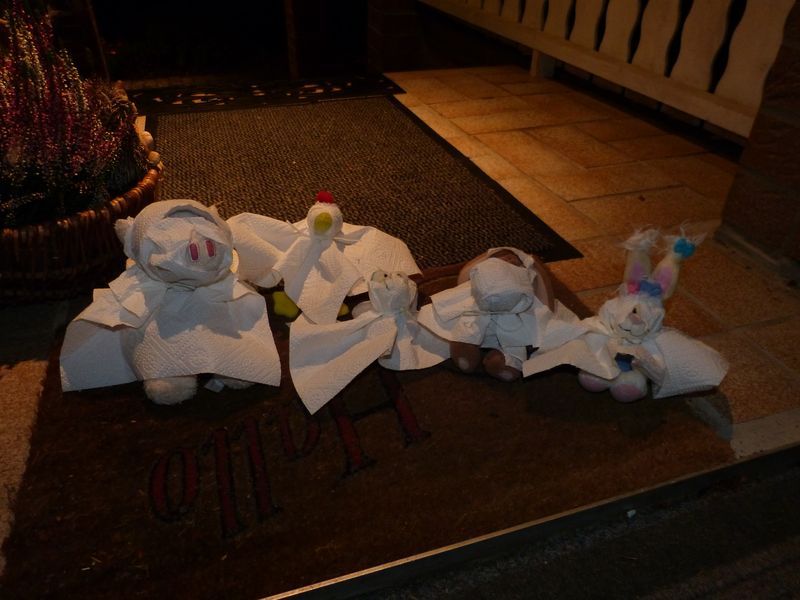 Wir sehen gruselig aus, oder?
Wir hatten Glück, es gab Süßes für uns!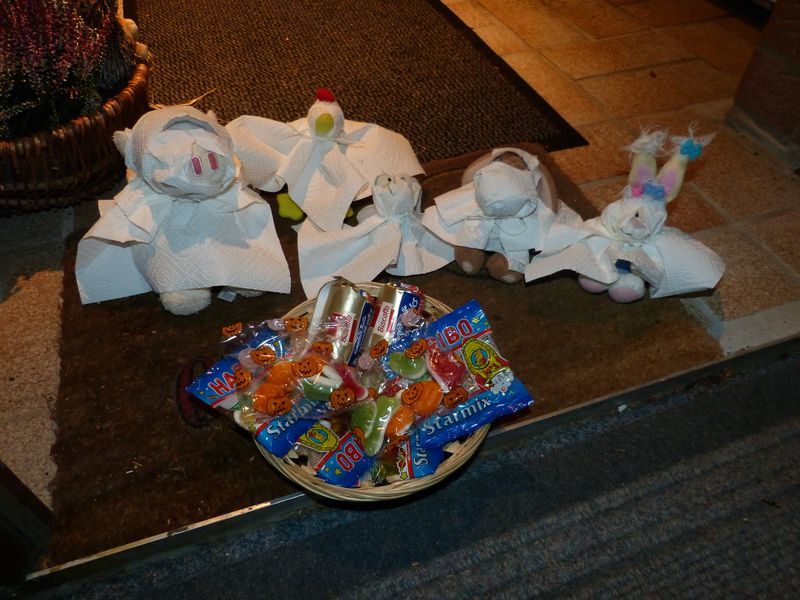 Wir hatten viel Spaß!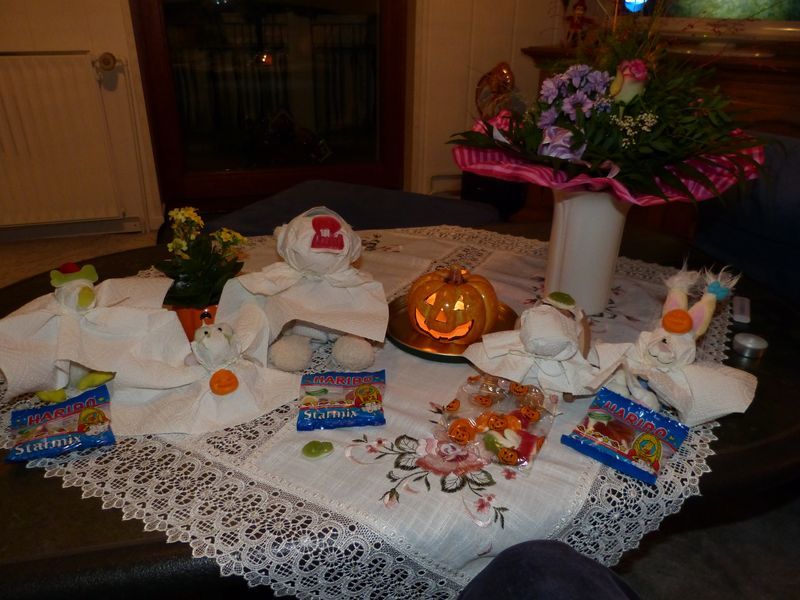 Gruselige Grüße
Squab
---
Hallo Mama,
heute war das Wetter schön und wir sind ein wenig spazieren gegangen. Hinter mir siehst Du Dicker Kumpels Lieblinsgsbaum – er ist in jeder Jahreszeit wunderschön!
Dieser kleine See sieht immer wieder schön aus.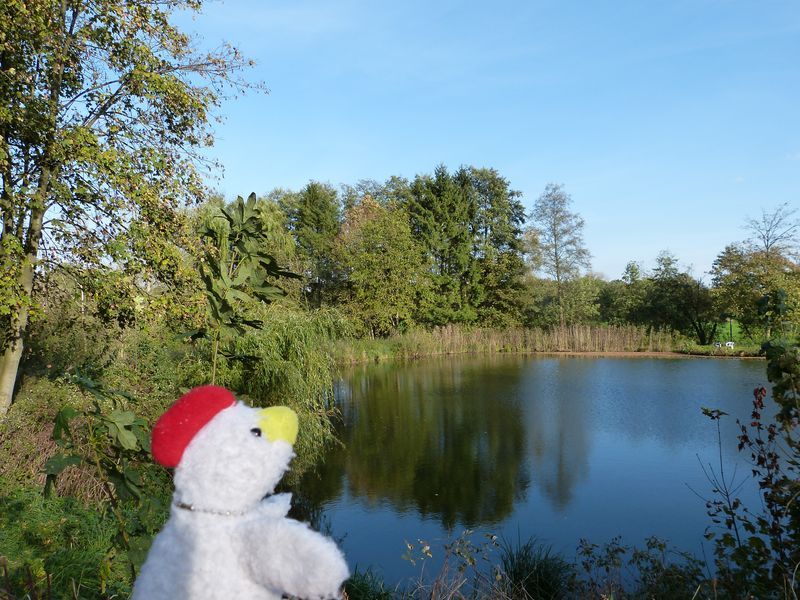 Wir waren 20 Minuten unterwegs und mußten uns erstmal ausruhen.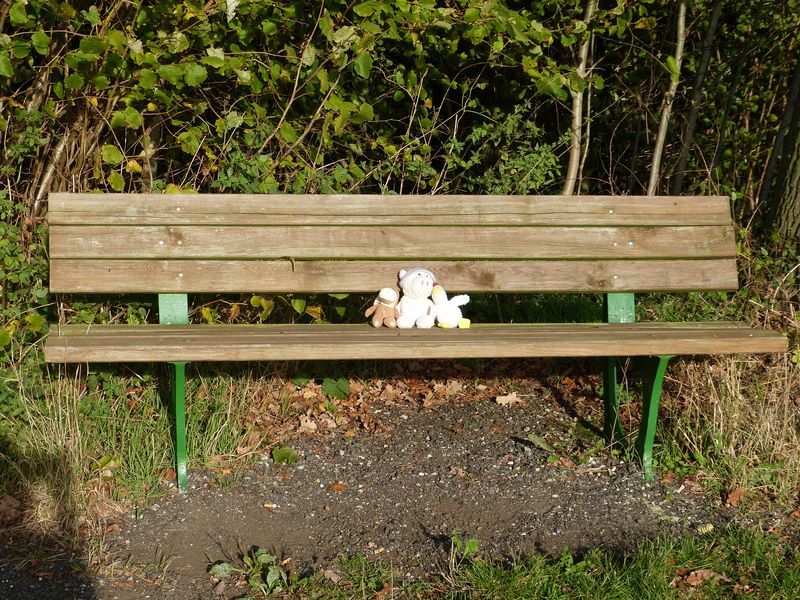 Dieser kleine Fluß sieht auch im Herbst schön aus.
Liebe Grüße Squab
---
Hallo Mama,
Heute war ich im Arboretum. Das ist ein toller Baumpark, in dem es aber auch viele Blumen und Sträucher gibt.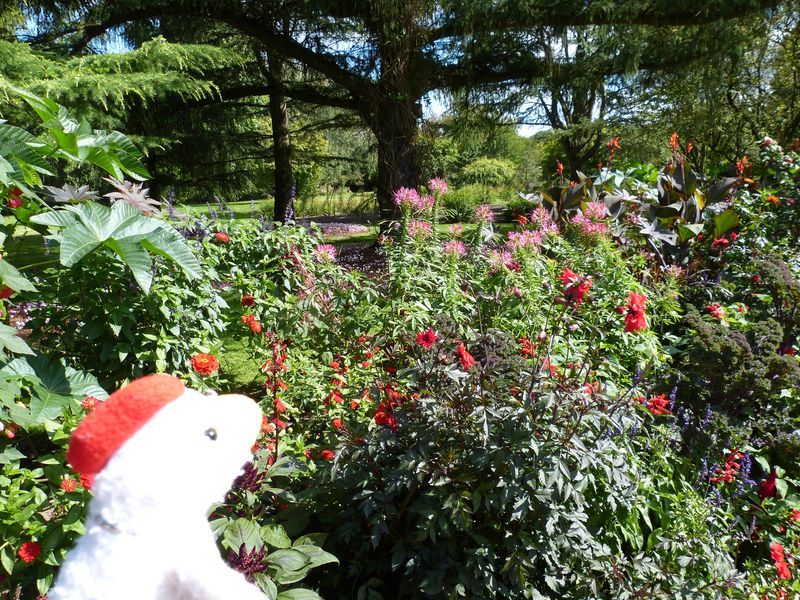 Teilweise waren die Gärten nach Farben geordnet.
Ich habe diesen lustigen Bücherstapel gefunden – er ist nicht umgefallen, obwohl ich draufgesessen habe.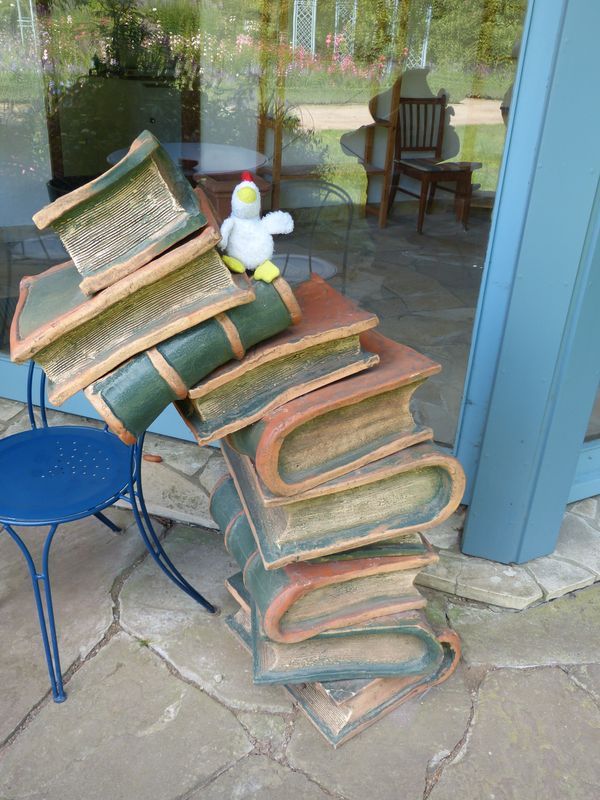 Dieser Weg sieht so schön aus, vielleicht sollte ich so etwas in meinem Garten haben.
Diese Dahlien sehen wunderschön aus.
Ein griechischer Tempel mitten in Schleswig-Holstein.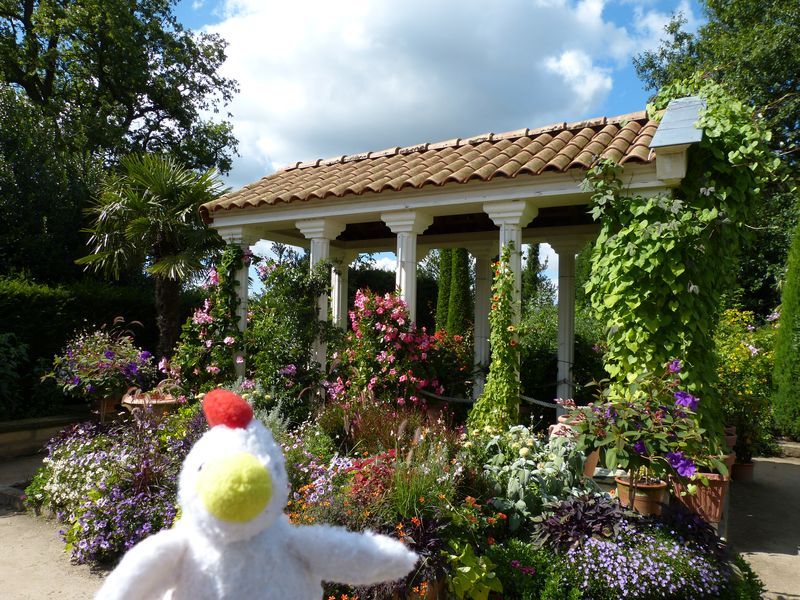 Dieser See war wunderschön – und auf dem See sind nicht einfache Seerosen, sondern Lotusblüten.
Die Sträucher waren so zusammengestellt, dass die Farben schön zusammen passen.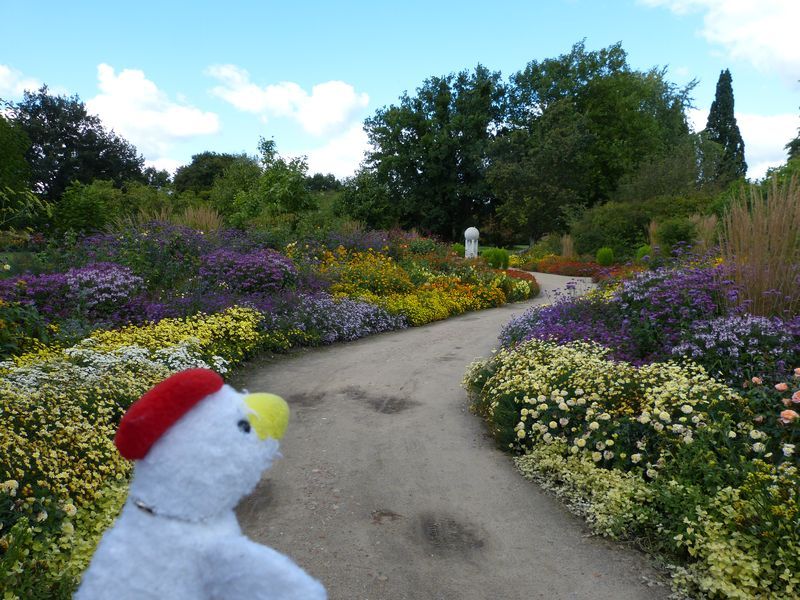 Diese Bäume wachsen im Wasser und es geht ihnen trotzdem gut.
Schließlich habe ich doch noch Seerosen gefunden.
Und ein Feld mit Sonnenblumen – sie sehen immer wieder schön aus.
In diesem Haus können viele verschiedene Insekten wohnen und schlafen.
Es ist erstaunlich, was man alles mit Bäumen und Sträuchern kreieren kann.
Es war ein wunderschöner Nachmittag im Arboretum.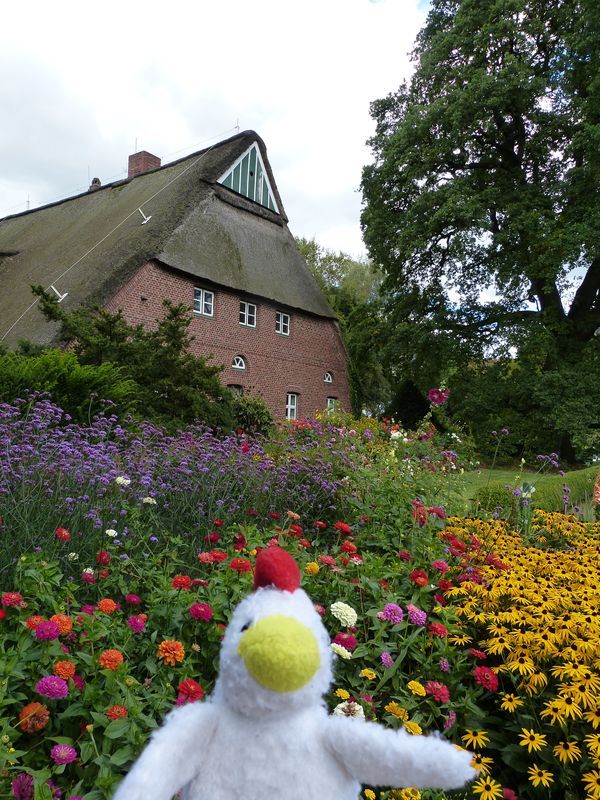 Squab
---
Hello Mum,
I am on a Cruise-Ship. It is the MS Artania – and here you see my cabin.
Today was an important day – Poseidon came onto the ship, because we crossed the Arctic Circle. He was the man in green on the balcony. Some of his friends came too – strange people.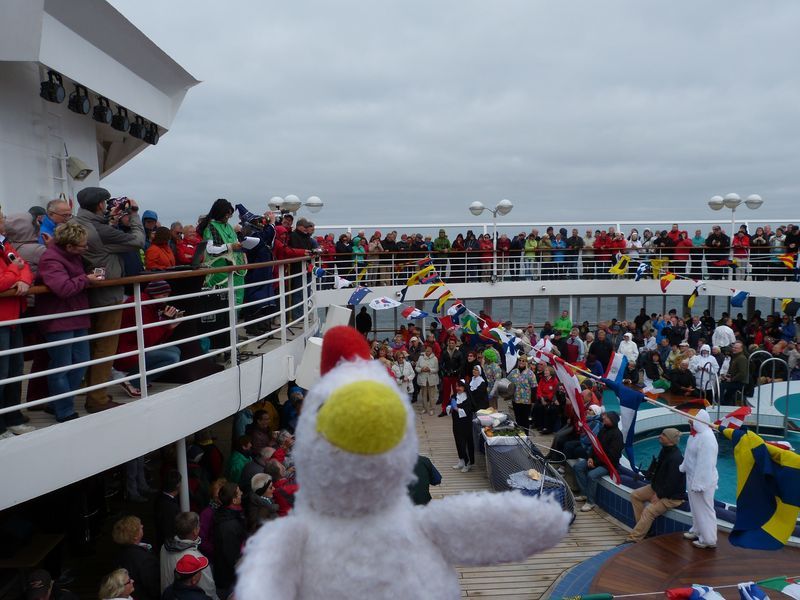 Many of the humans went there to get a 'Polartaufe'– polar christening – we didn't want it.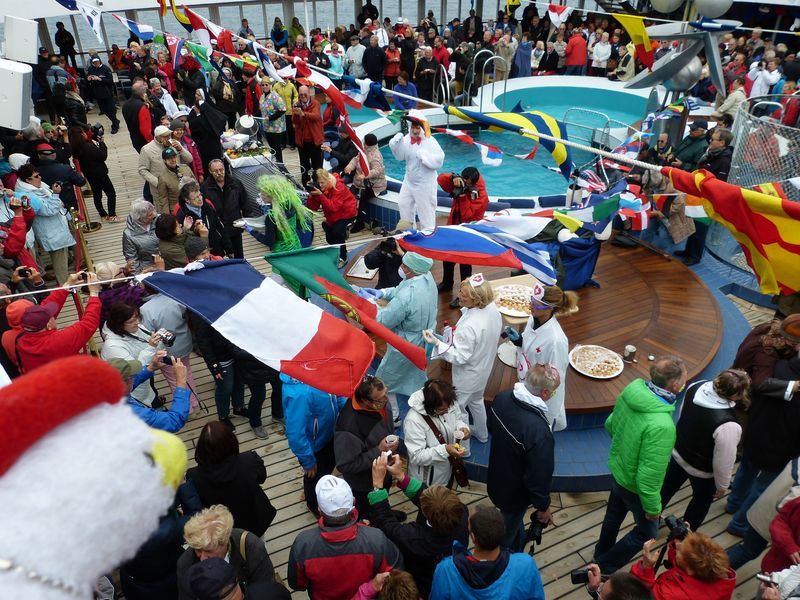 But I received this certificate that I crossed the Arctic Circle!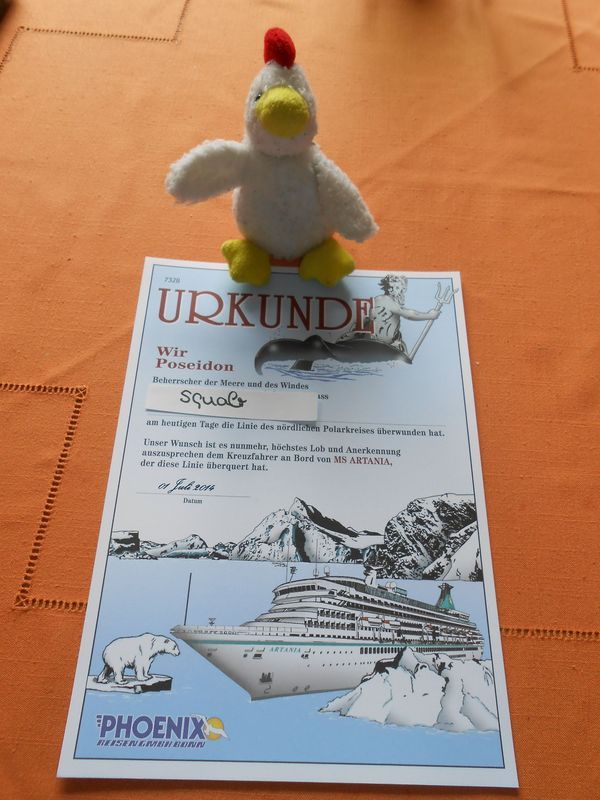 Yours Squab
---
Hello Mum,
It was my birthday today.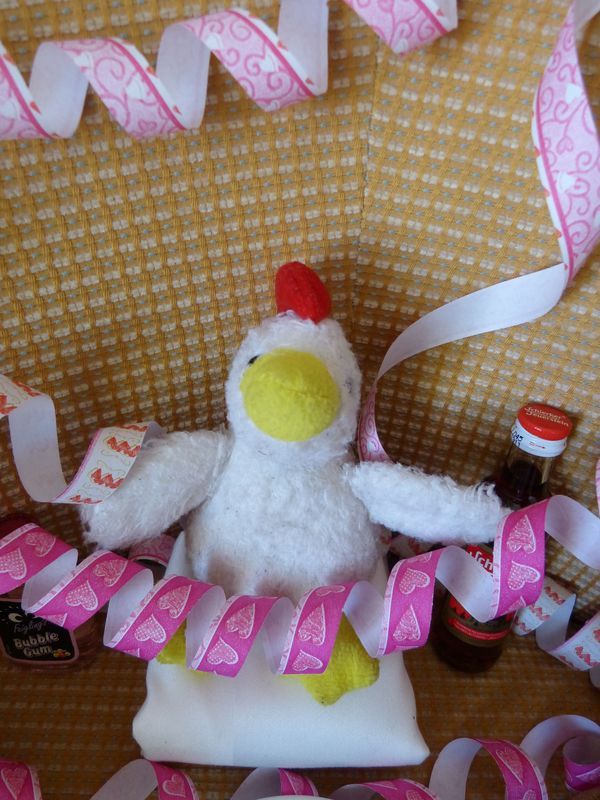 The others came and sang a birthday song for me.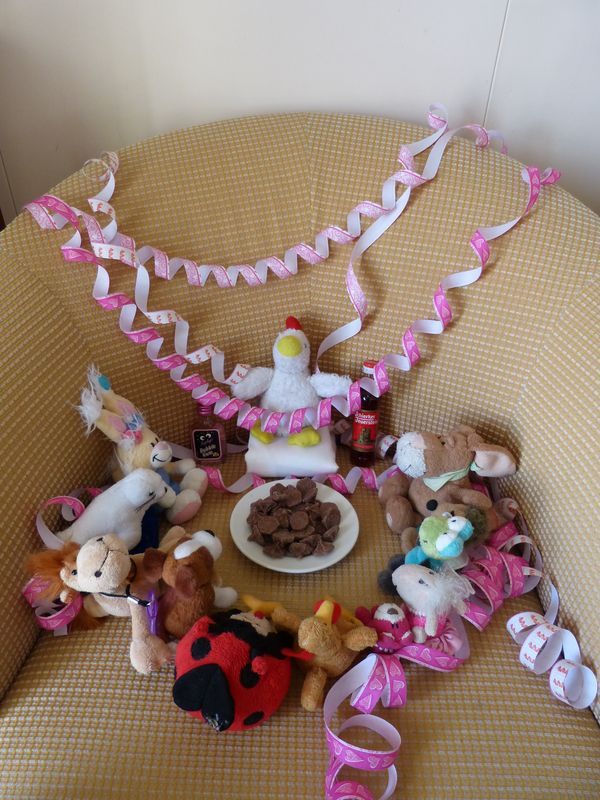 Dicker Kumpel gave me a gift.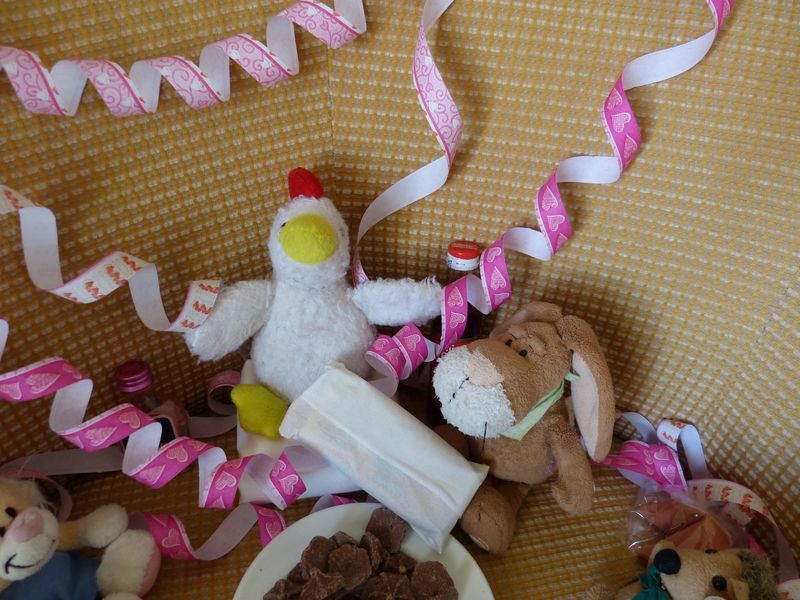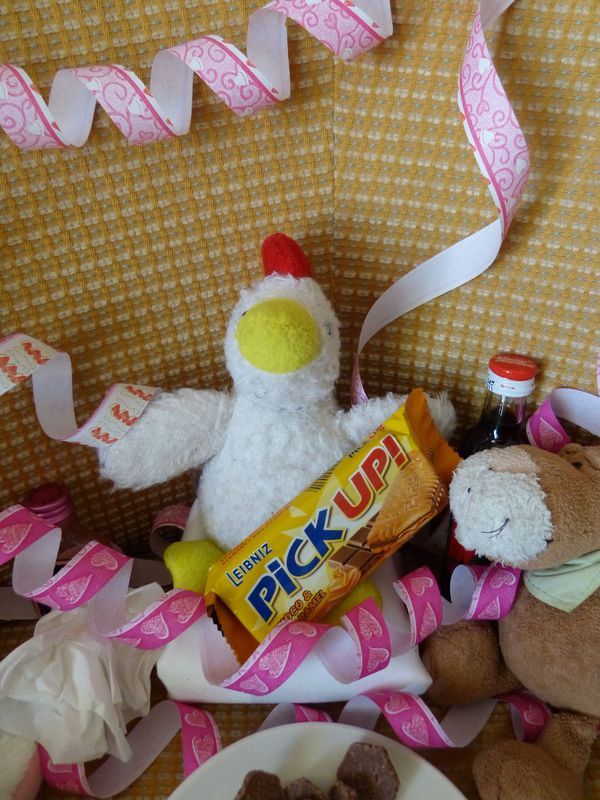 It was time for party – we had chocolate…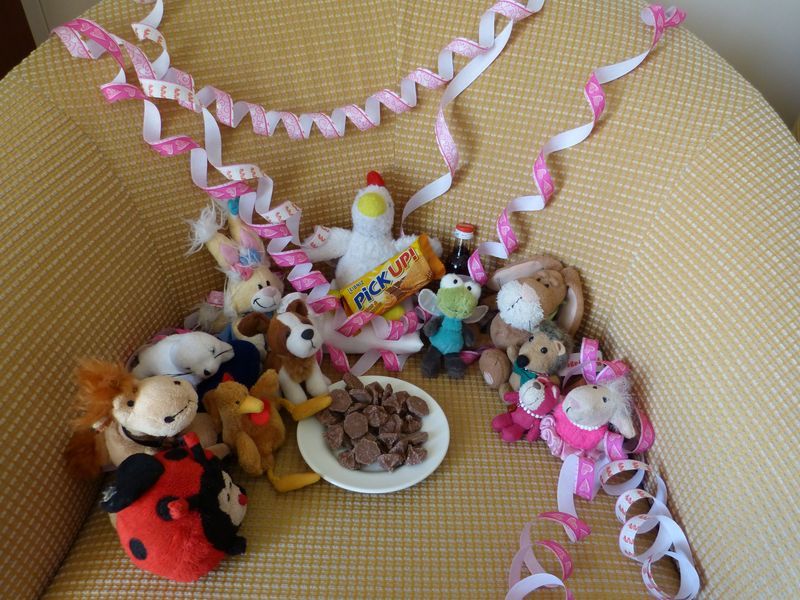 And more chocolate.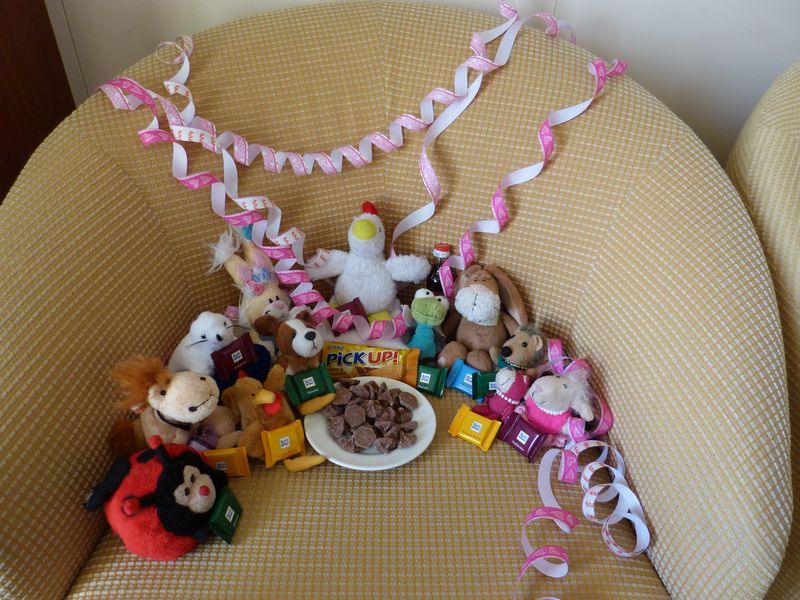 Of course we found something to drink.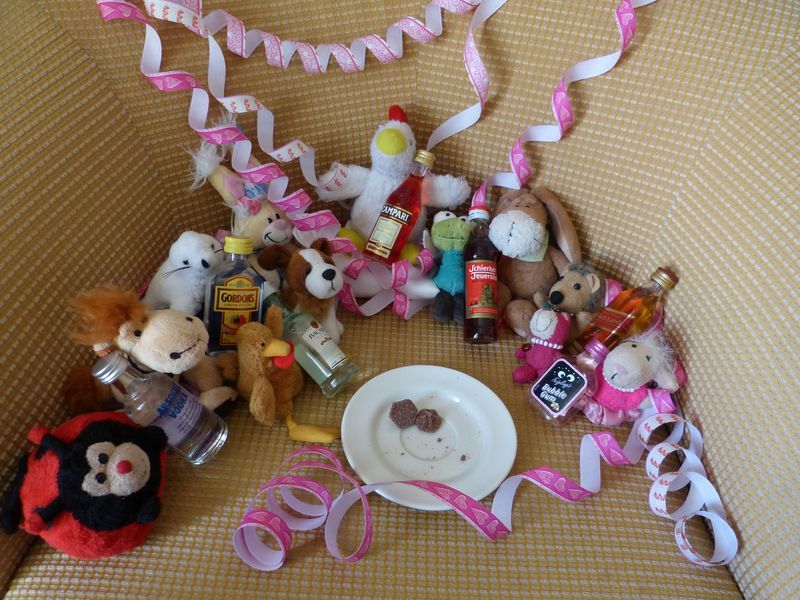 It was a nice party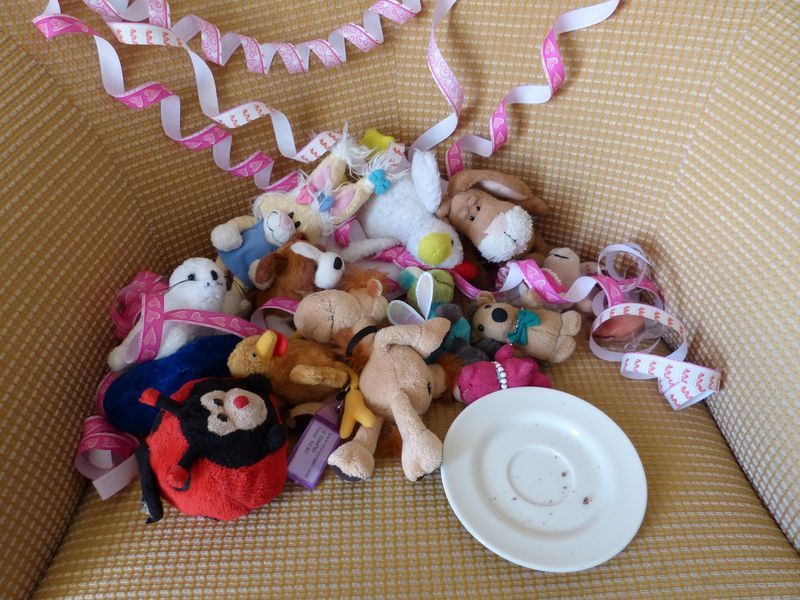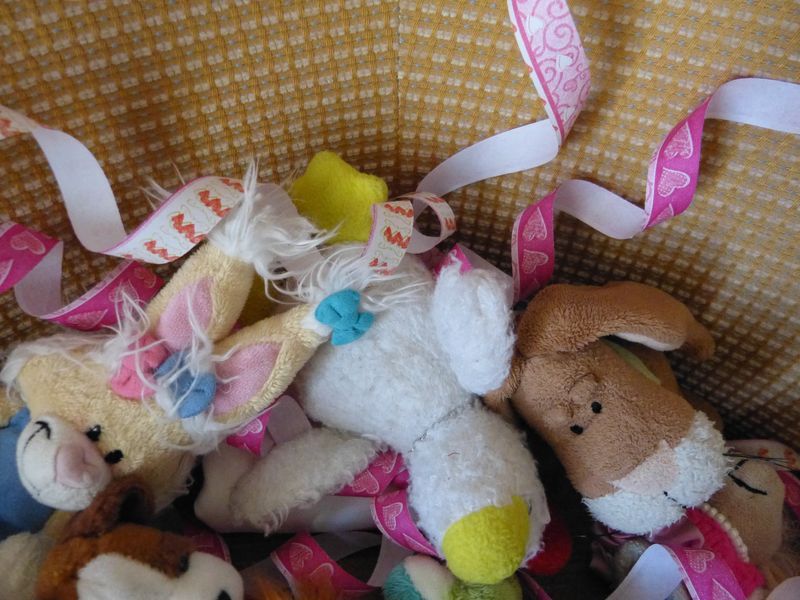 Love Squab
---
Hello Mum,
After two days on the ship I saw the coast of the Lofoten in Norway. Great, wasn't it?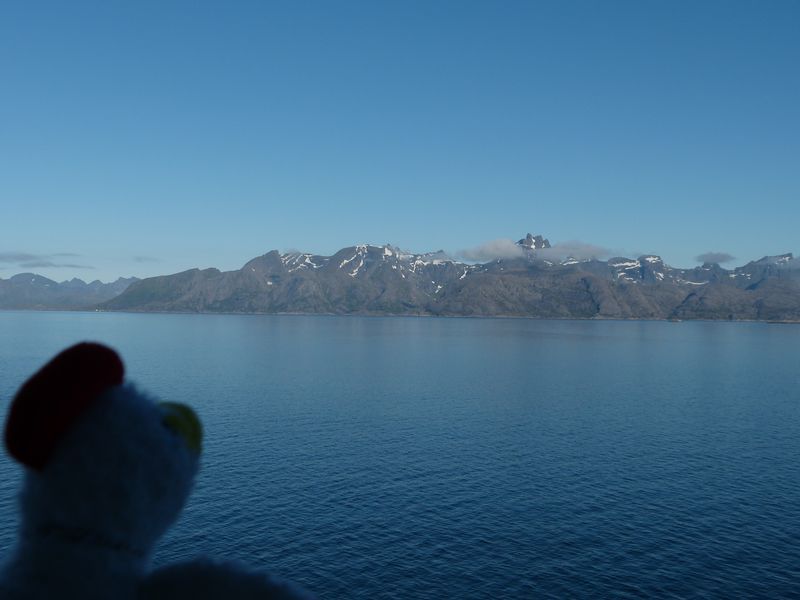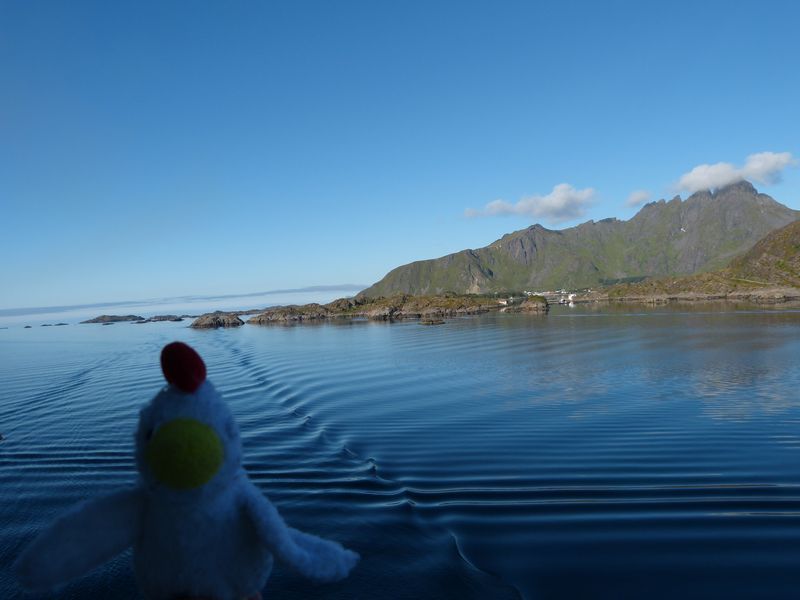 We had wonderful weather.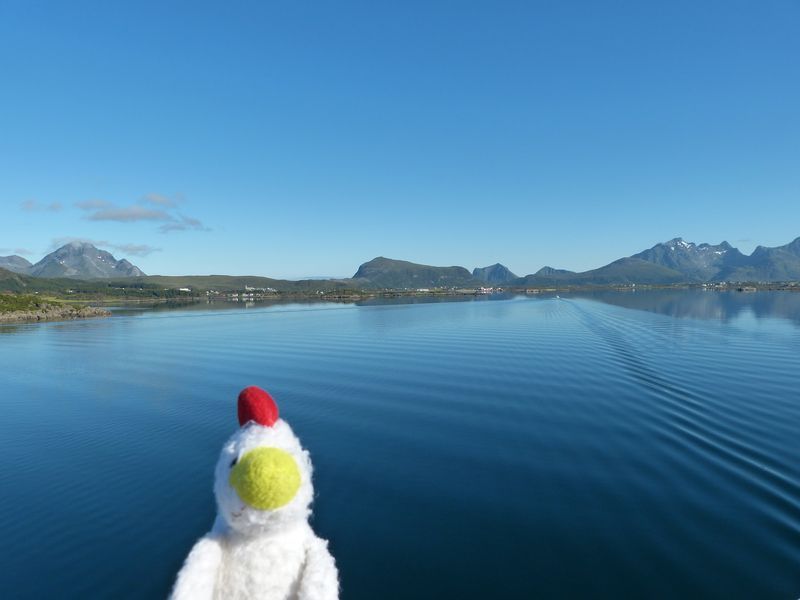 We stopped at two look-outs and saw our ship far away.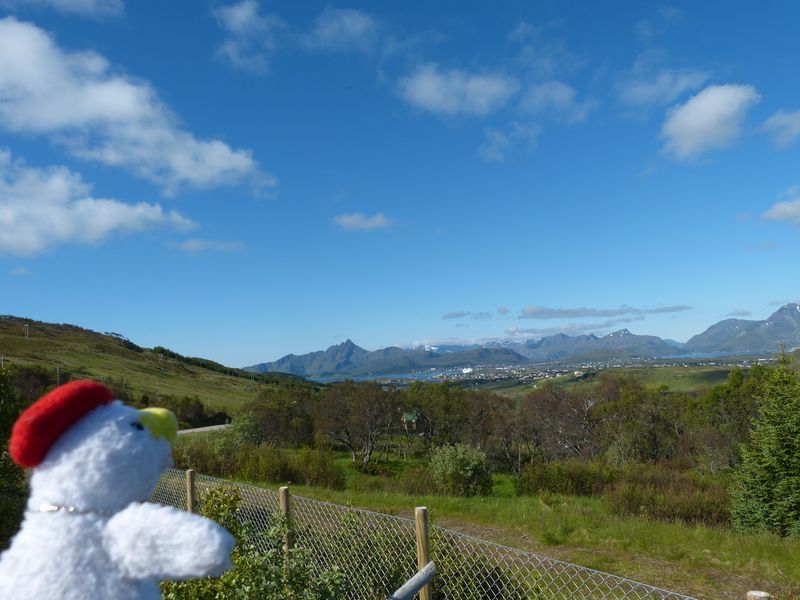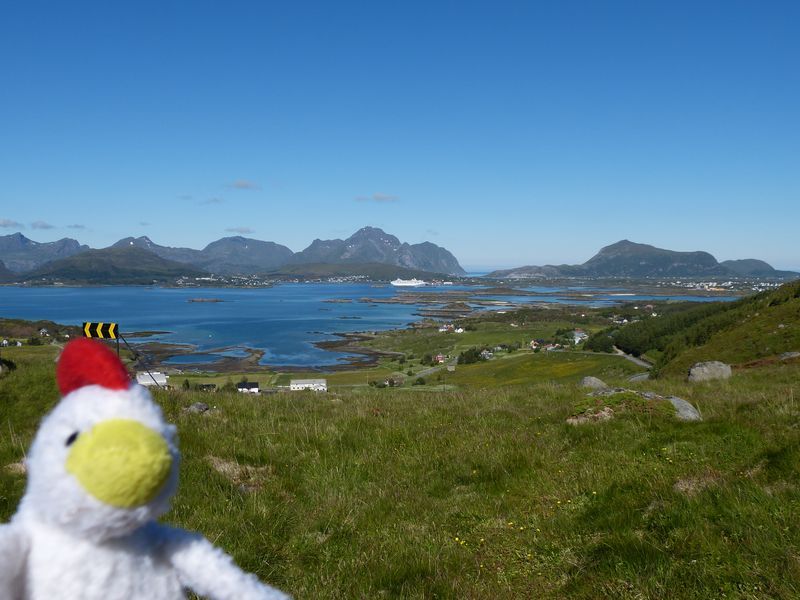 Then we went to a place, where Vikings lived in the past – but first I saw a modern church.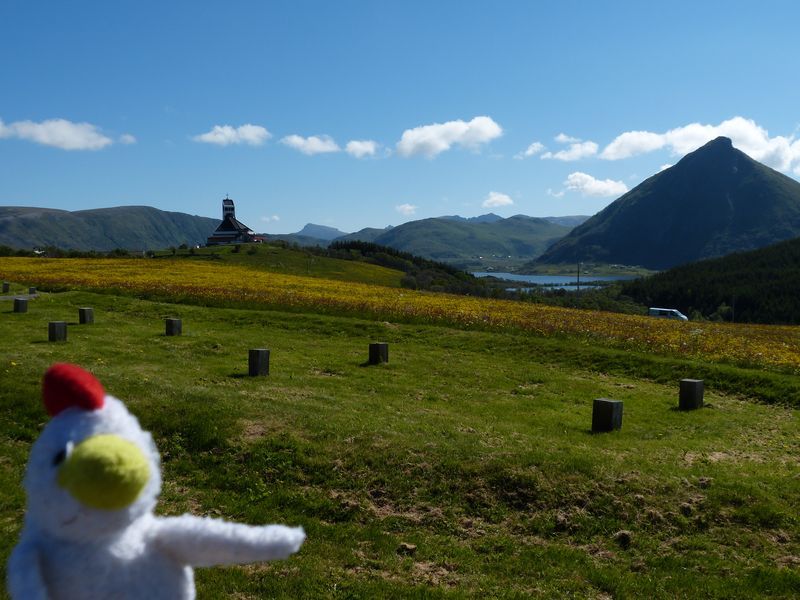 This is the house of the Vikings.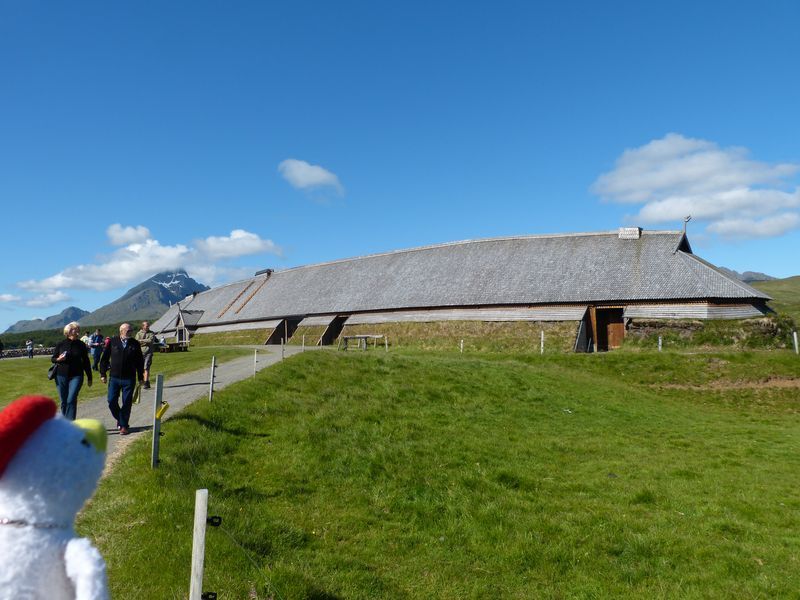 Well – I prefer my bed on the ship.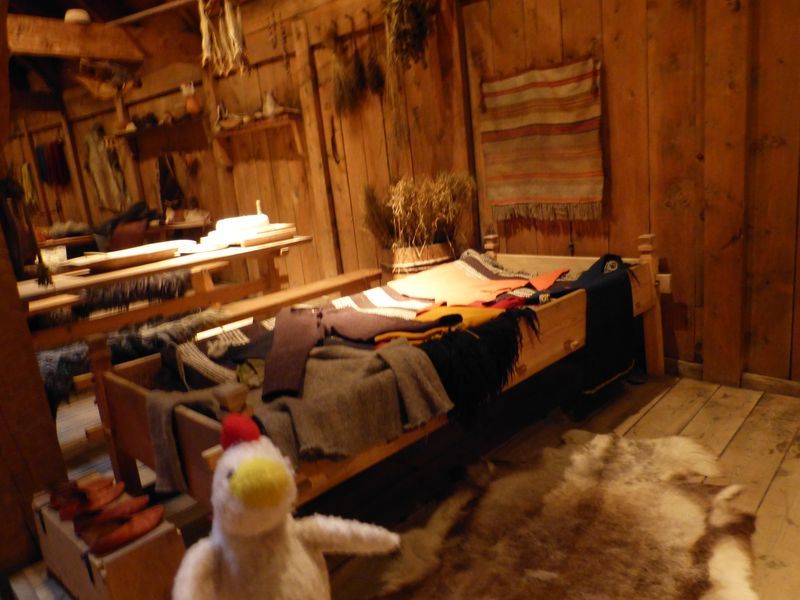 Behind me you can see the dried fish they used to eat.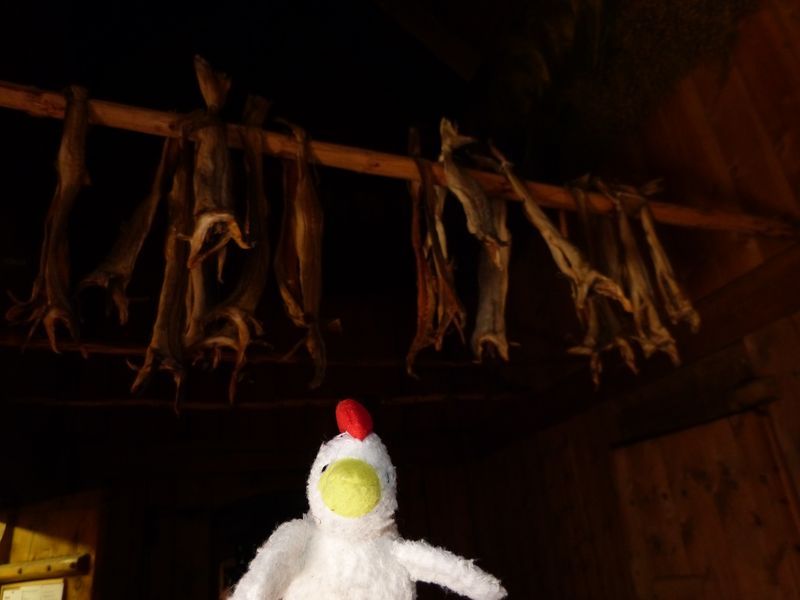 We sat in the sunshine and relaxed.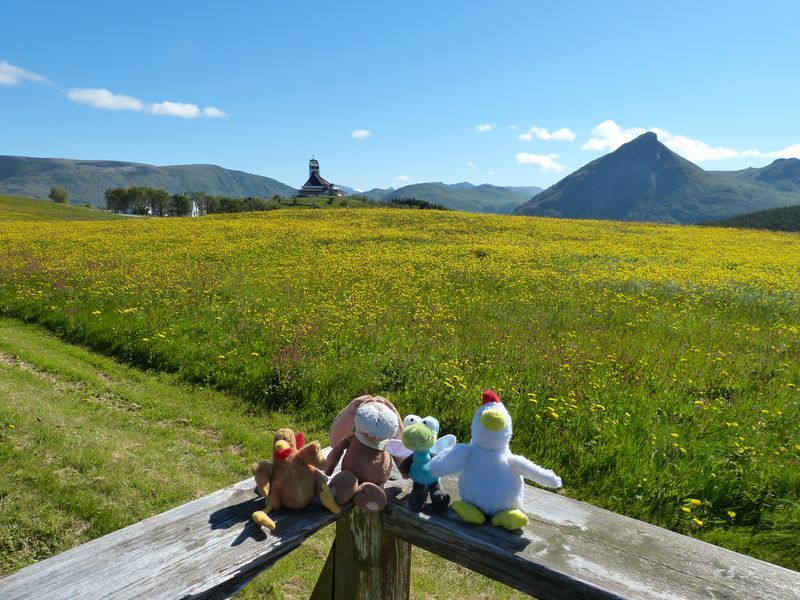 What a great country!
Yours Squab
---
Hello Mum,
We spent a day on the sea and today we arrived in Spitzbergen – and visited the Magdalenenfjord – a great place.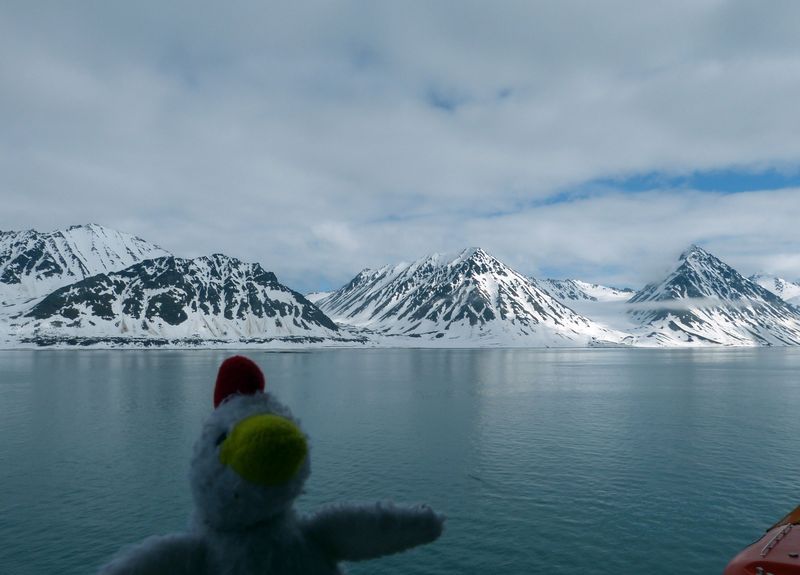 There was a big glacier behind me.
A few minutes later the sun came out – and it even looked better here.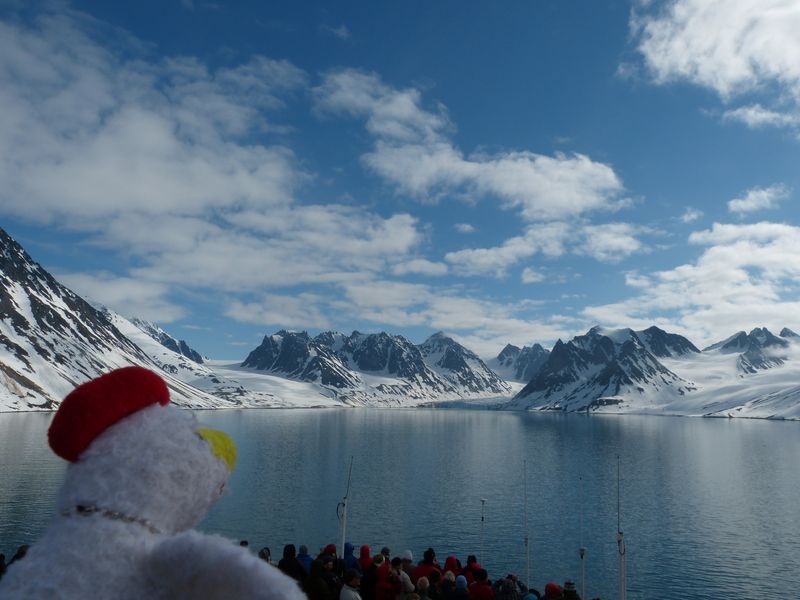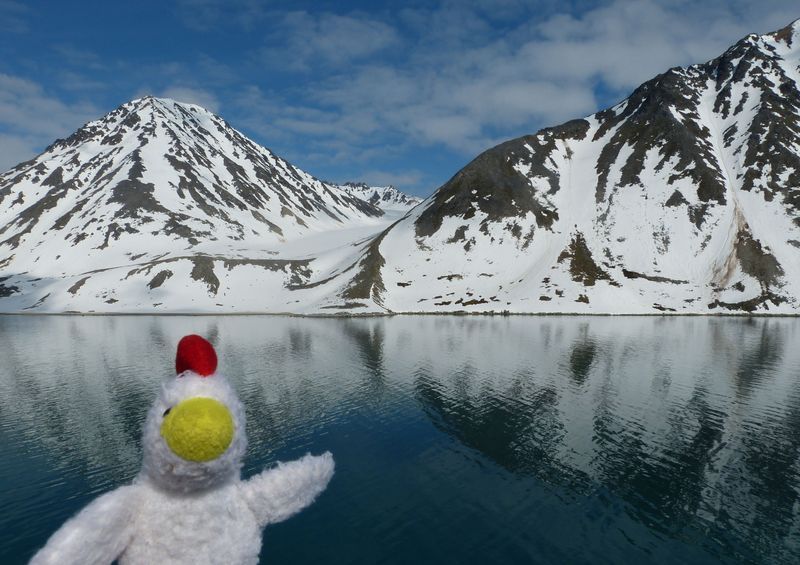 The sky, the mountains, and the glacier – everything looked great!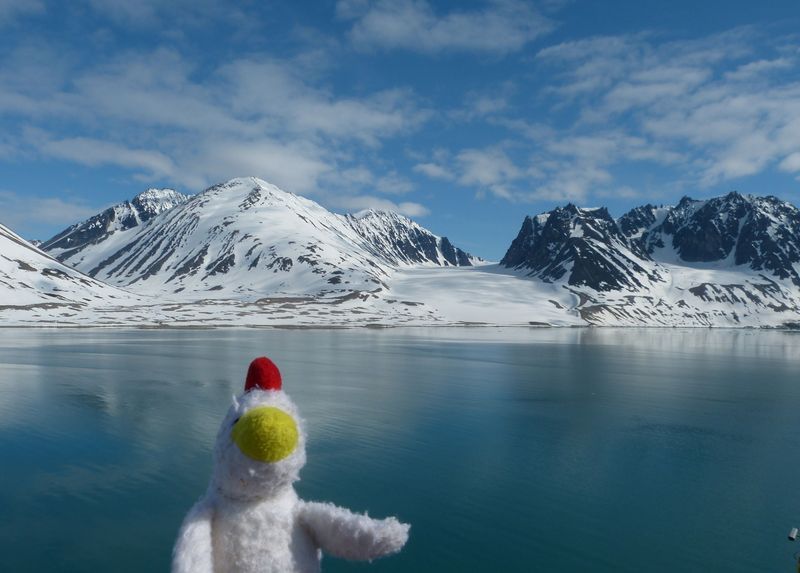 We couldn't stop taking photos.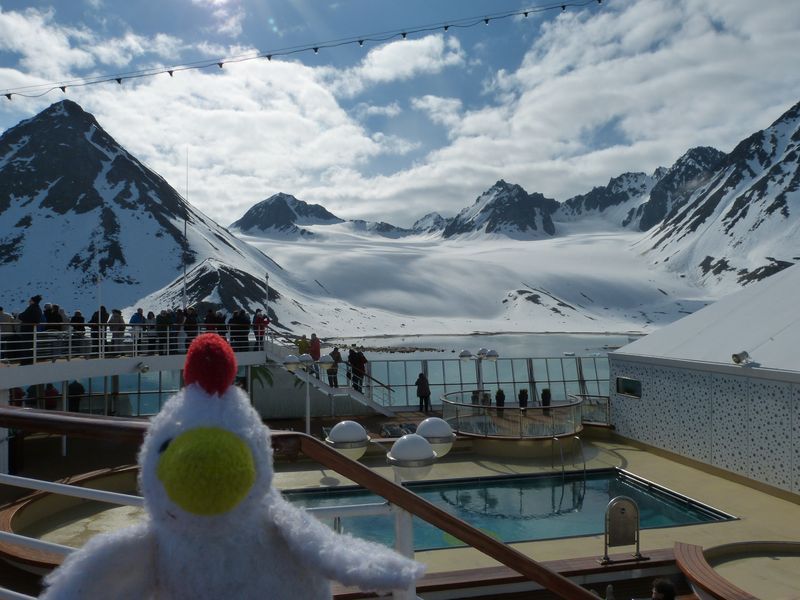 After two hours we left the fjord.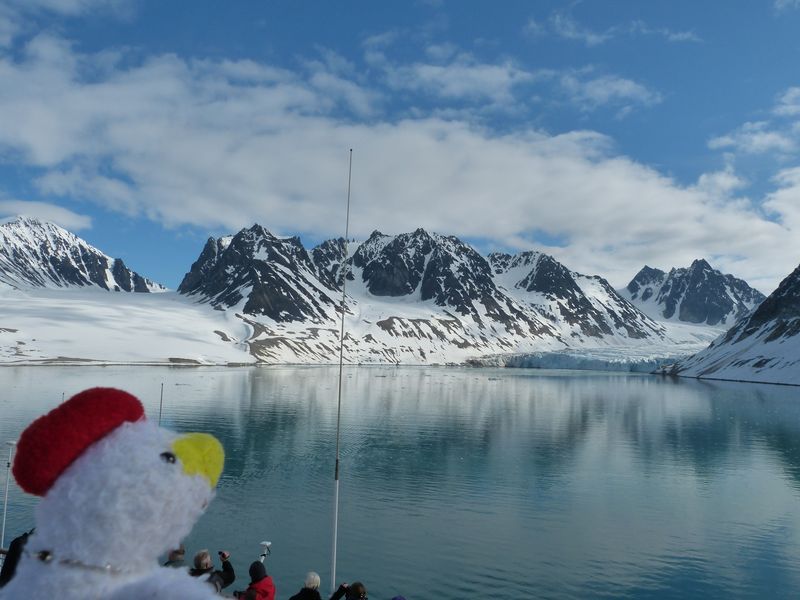 I went onto our balcony and had great views there, too.
Goodbye Magdalenenfjord.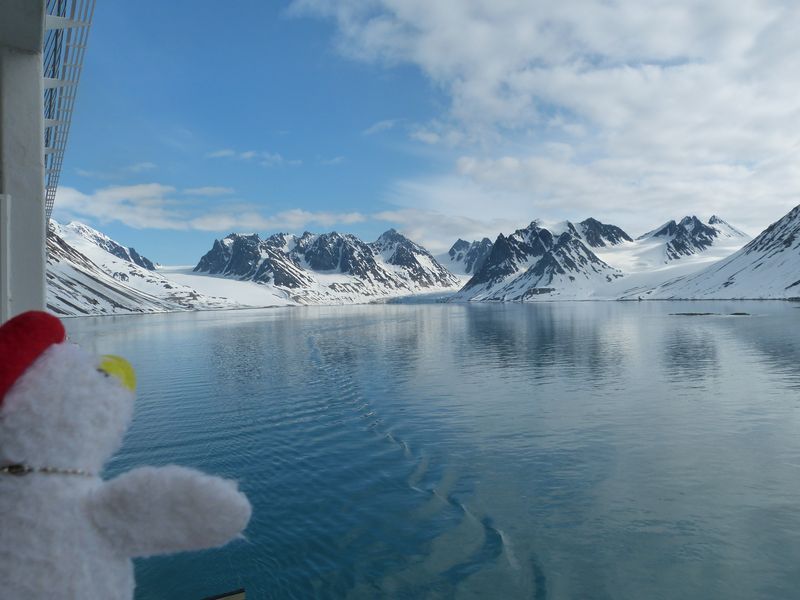 Yours Squab
---
Hello Mum,
We stopped at another nice place called Ny Alesund. The surrounding was beautiful.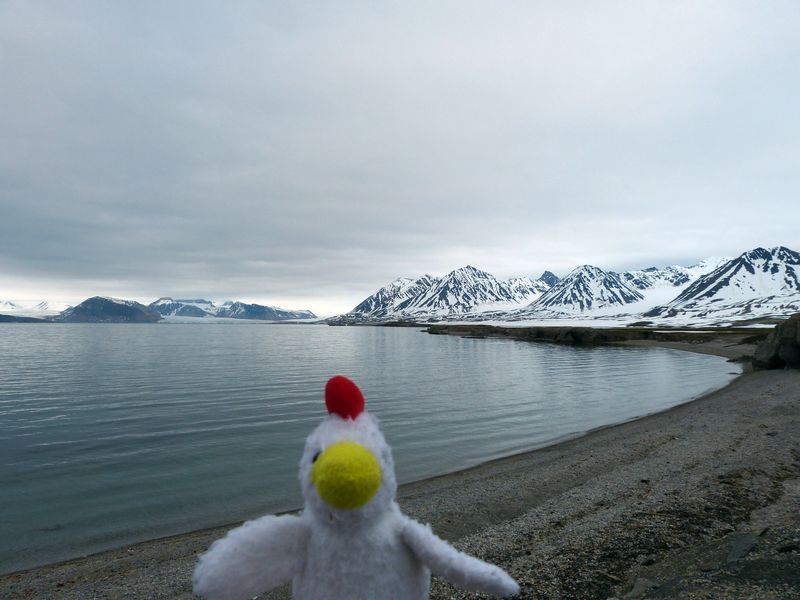 Ny Alesund is a research town and has an all-year permanent population of 30 to 35, with the summer population reaching 120.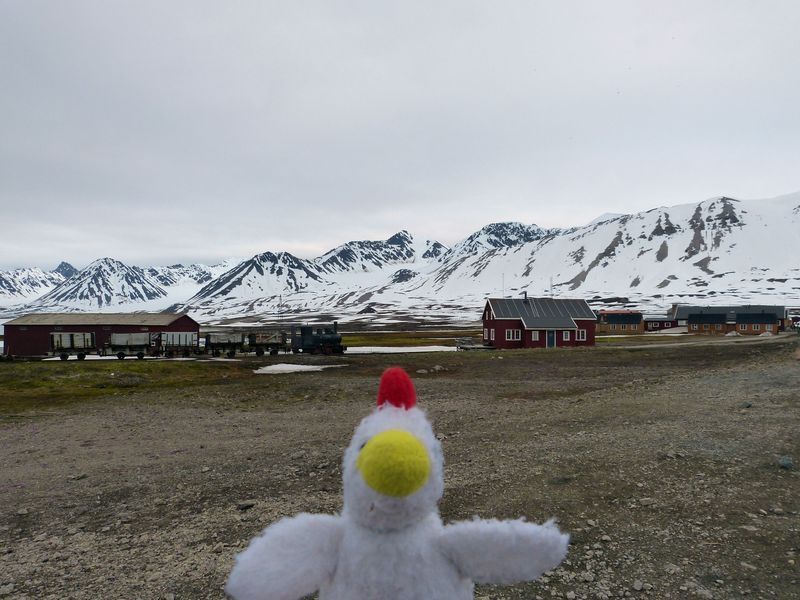 I don't think that I would love to live here.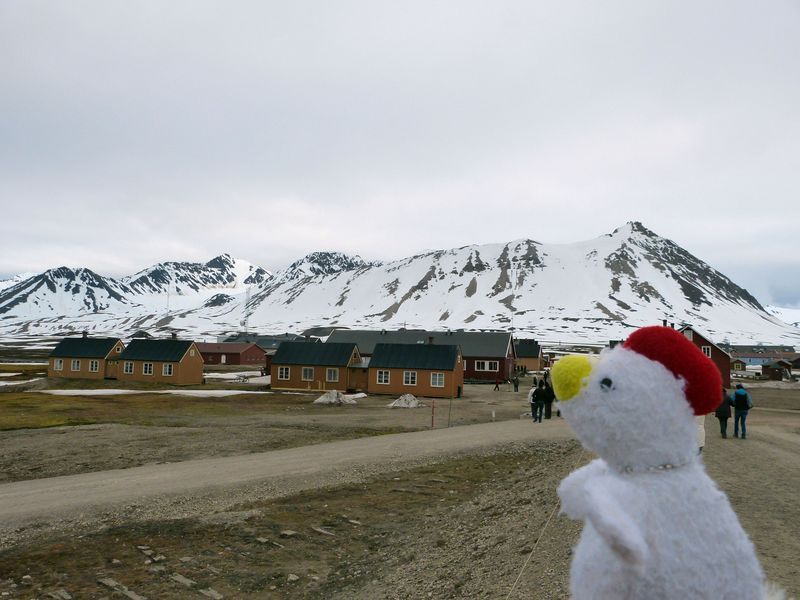 But it could be nice to live in colourful houses next to glaciers.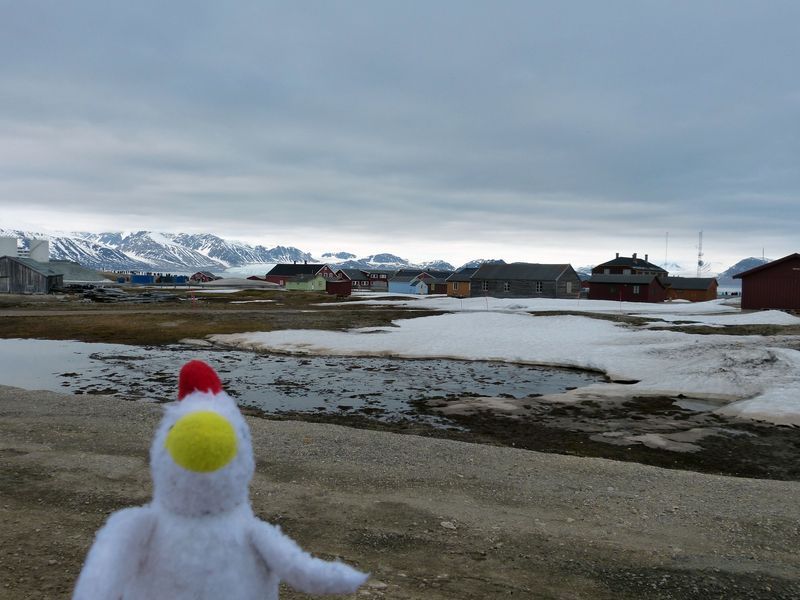 It was amazing – they have a place only for birds – maybe it is a good place for me, I will think about it.
Look, you can see our ship behind me.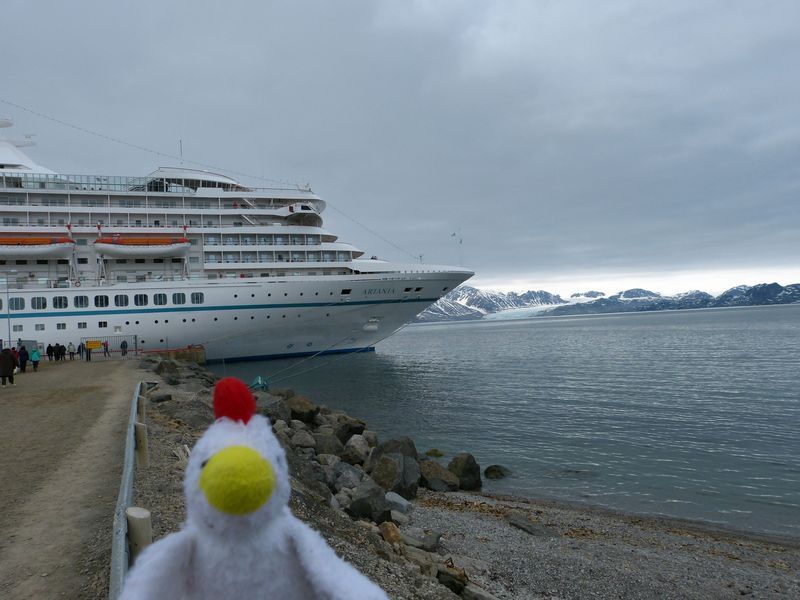 We went back to the ship and had a drink at this nice place.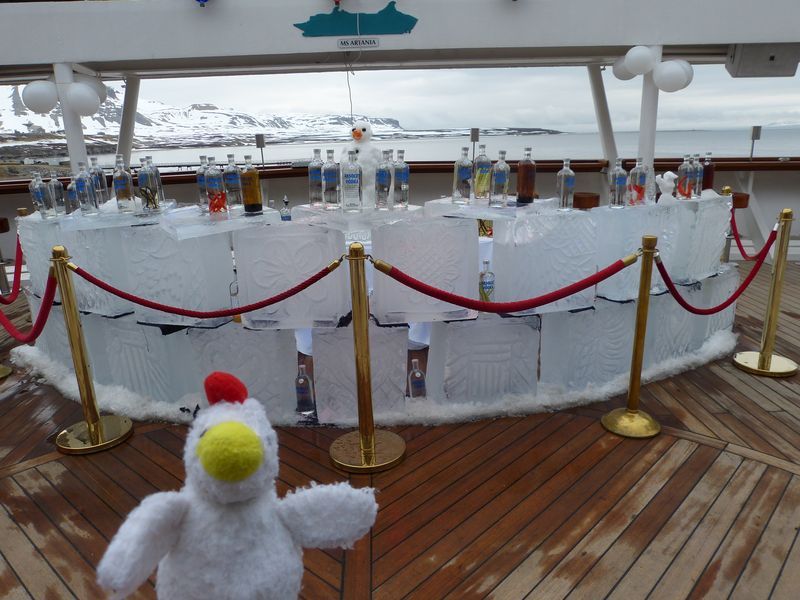 Love
Squab
---
Hello Mum,
We started our day, relaxing on our balcony.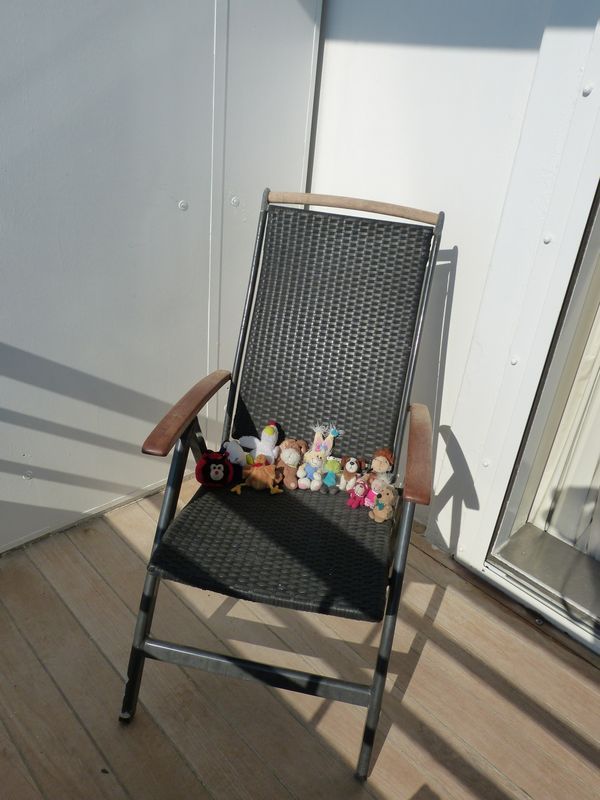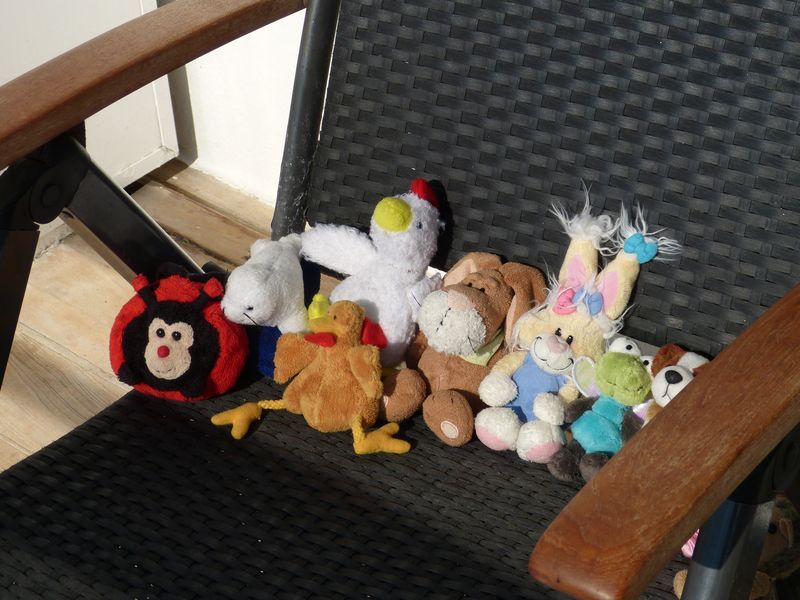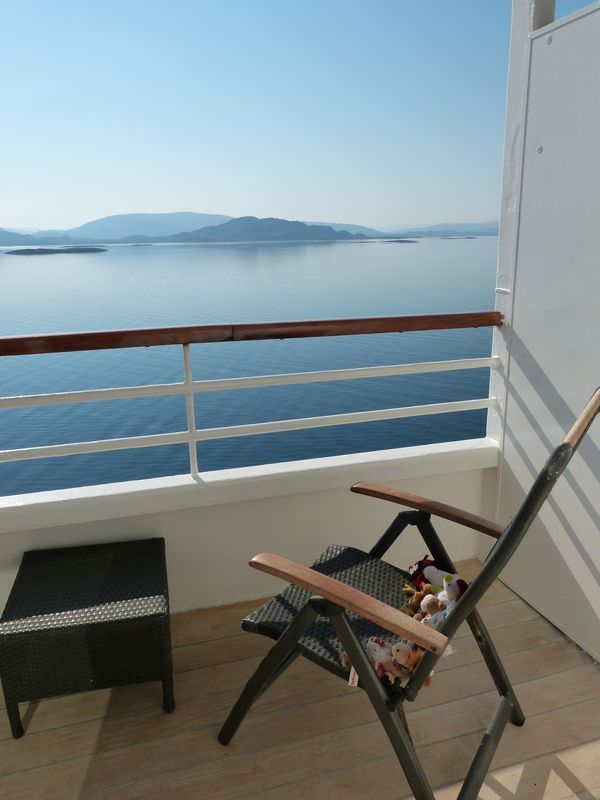 We arrived in a small place called Rörvik.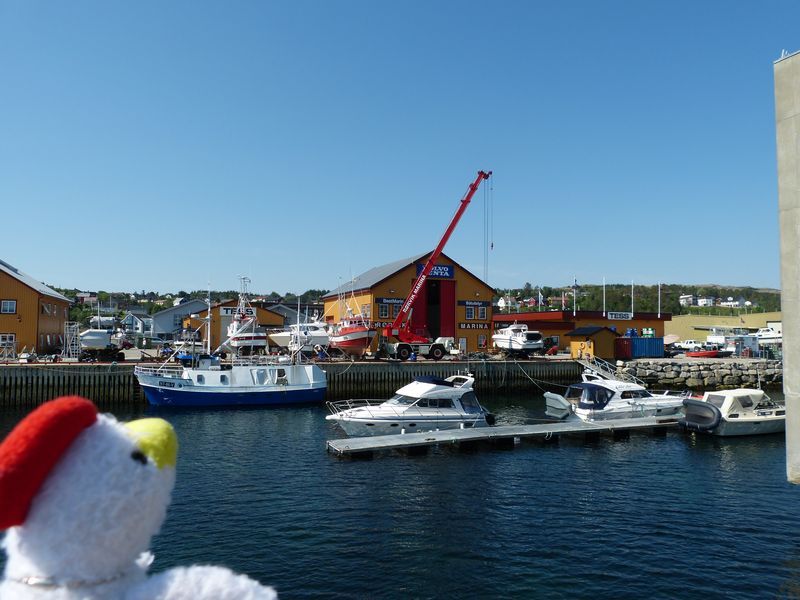 There were nice colourful houses.
And a small harbour.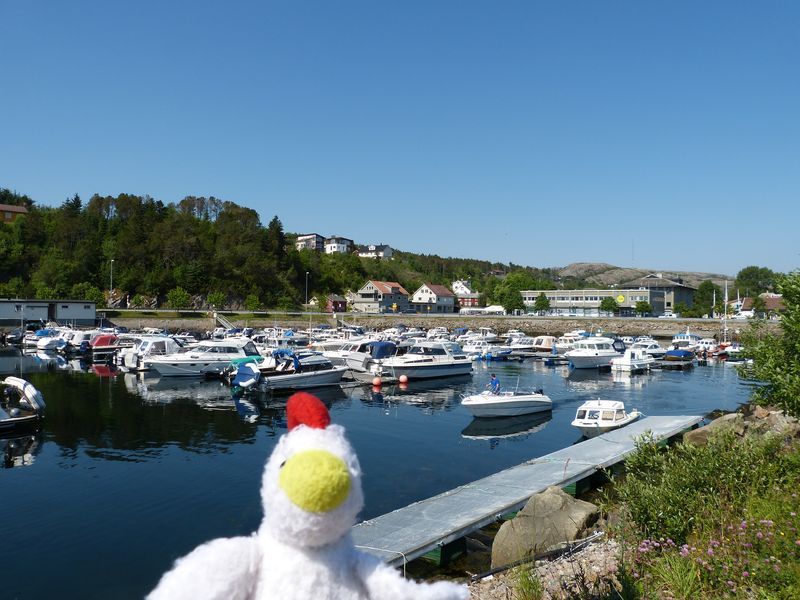 I found two nice statues.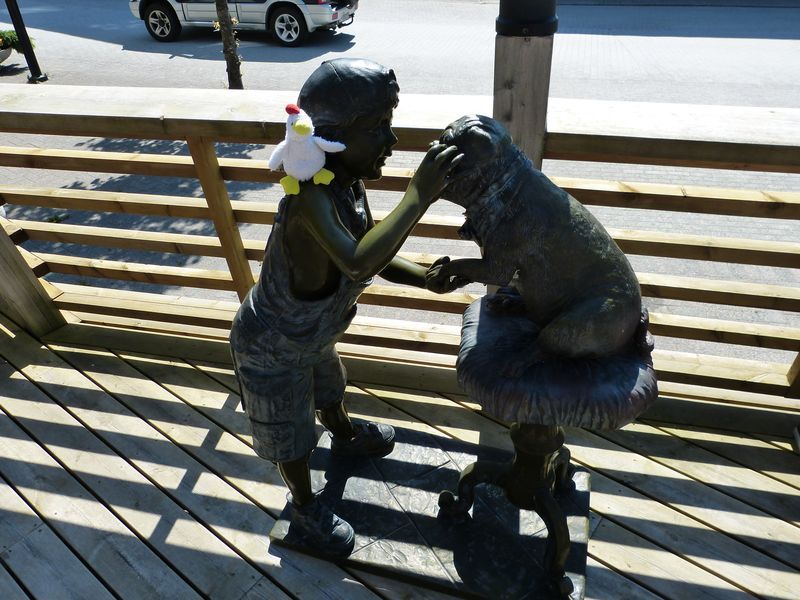 There was a bigger one – with a bird on her head.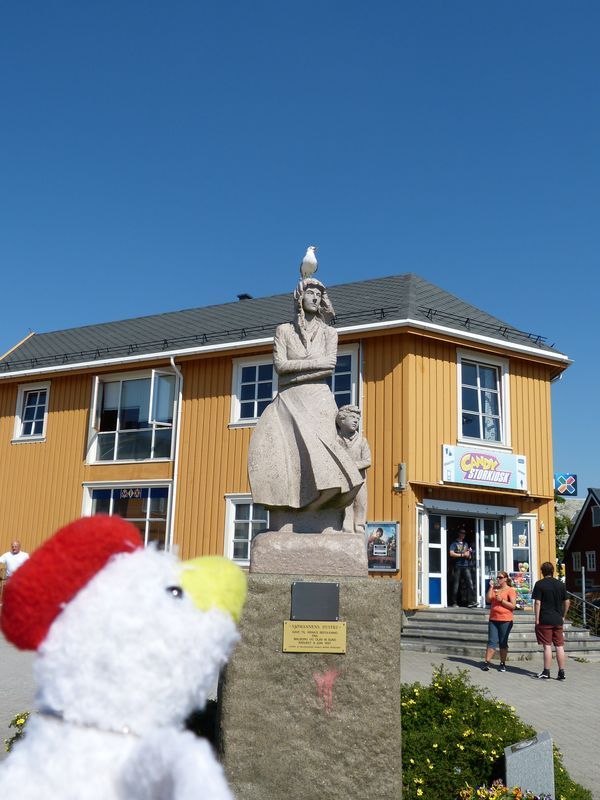 A nice view of our ship – It was so hot here today – more than 32 degrees Celsius.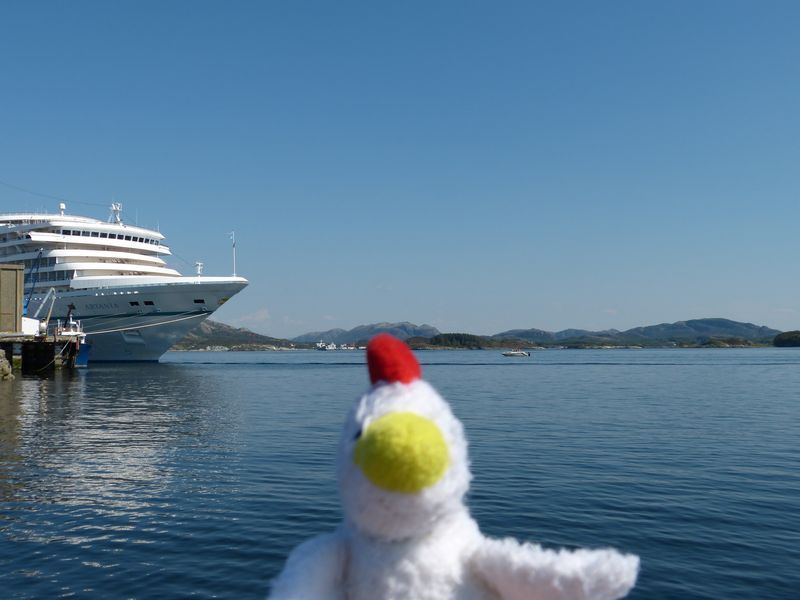 This was the view to the other direction.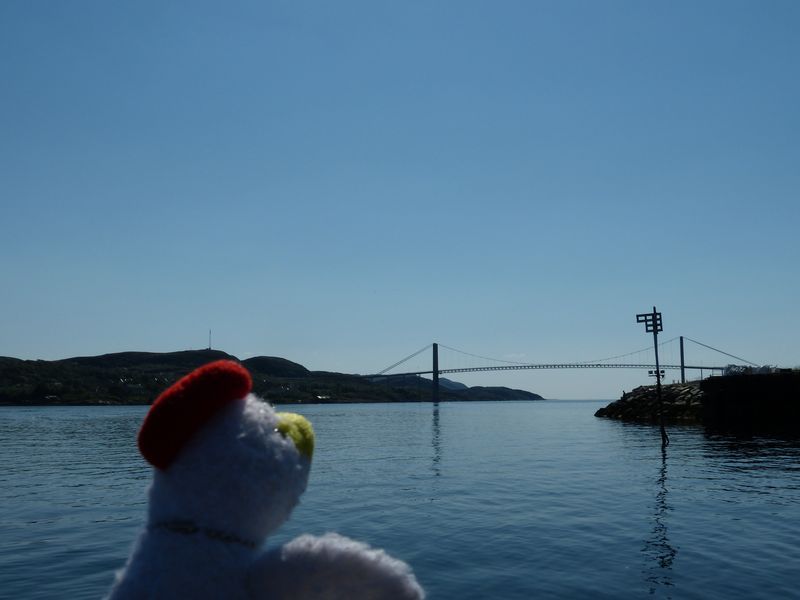 Look, this was the welcome of our ship!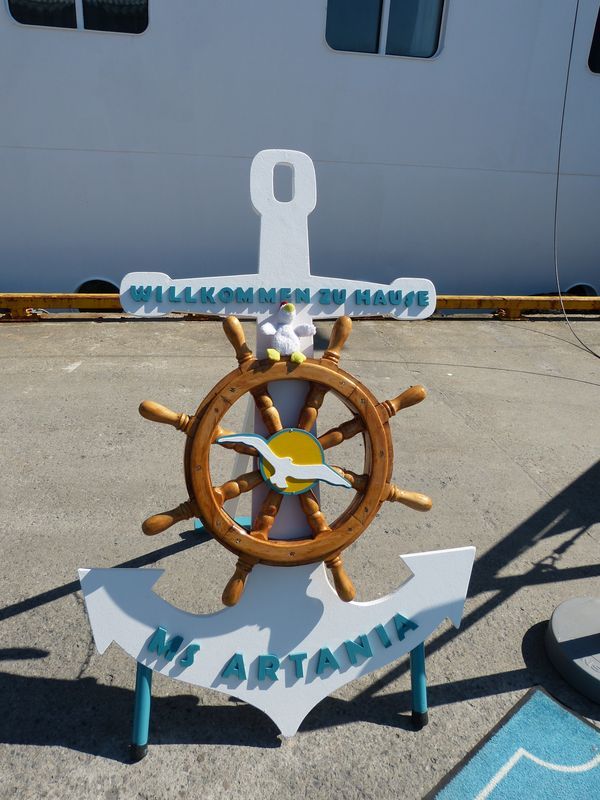 Later we left Rörvik.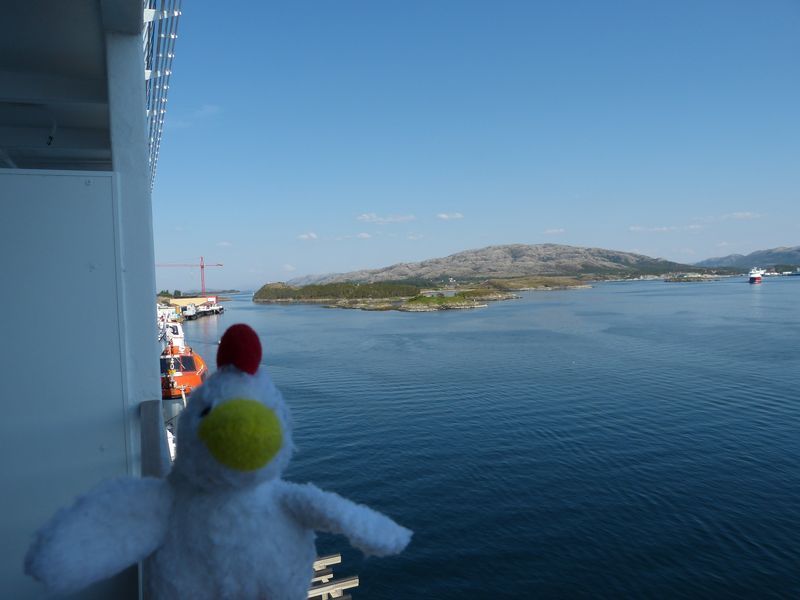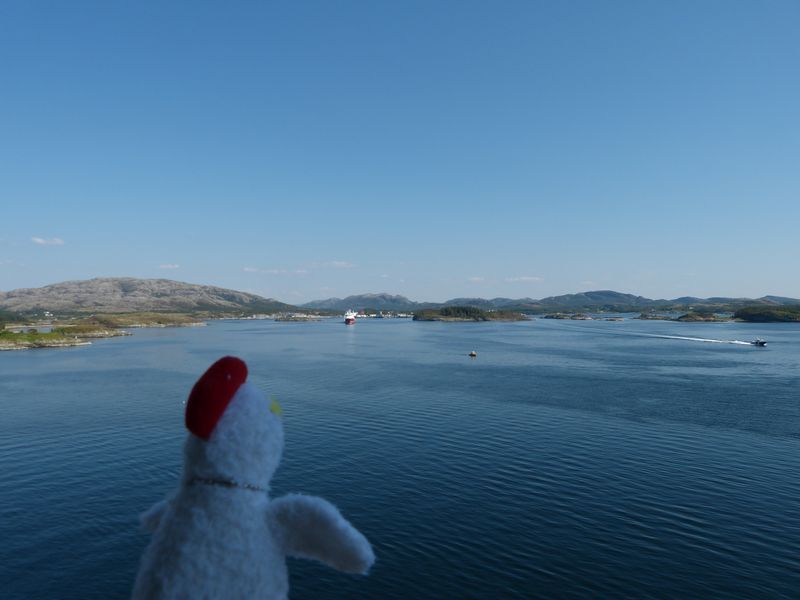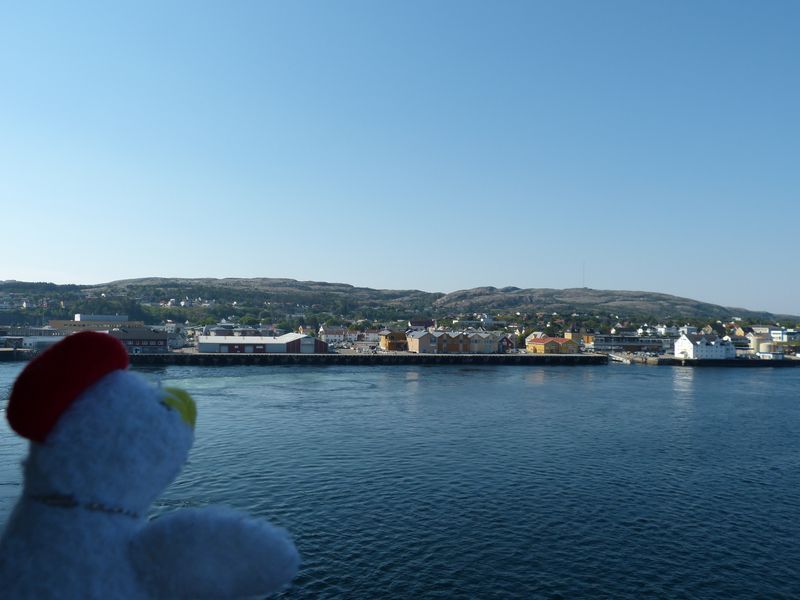 Behind me you can see a farm for salmons.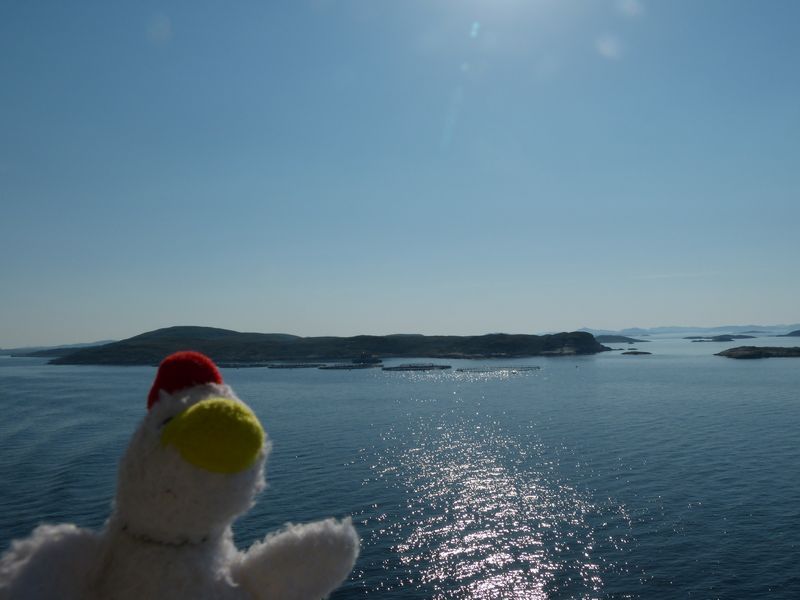 Love Squab
---
Hello Mum,
We arrived in Bergen – a nice sunny city in Norway. I cannot understand why the cruise-director told us something about a city with the most rainy days in Europe…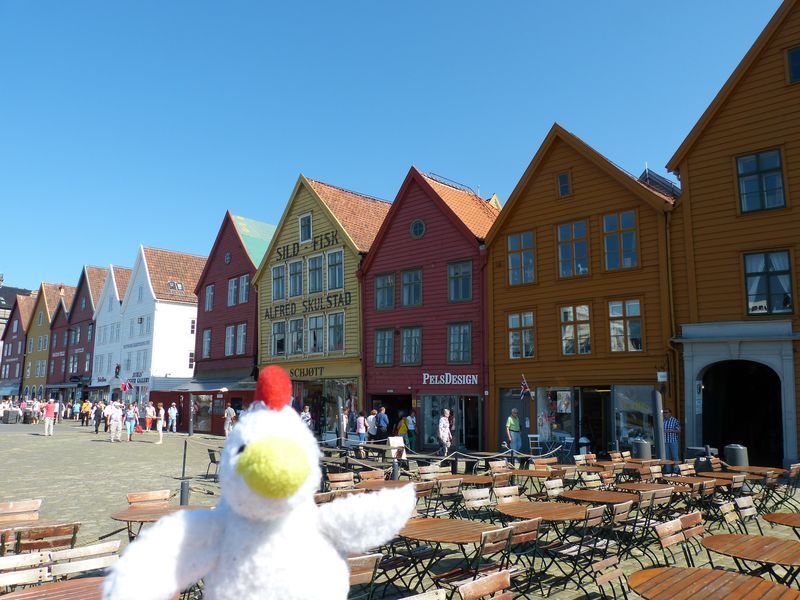 In the morning we walked through the old city with nice colored houses.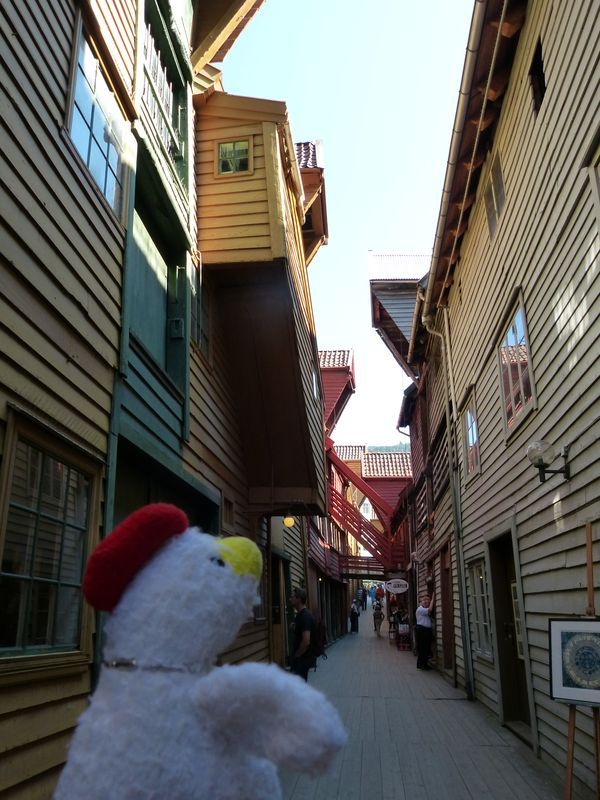 These houses were bigger, but beautiful, too.
There was a castle in the middle of the city.
It was really nice.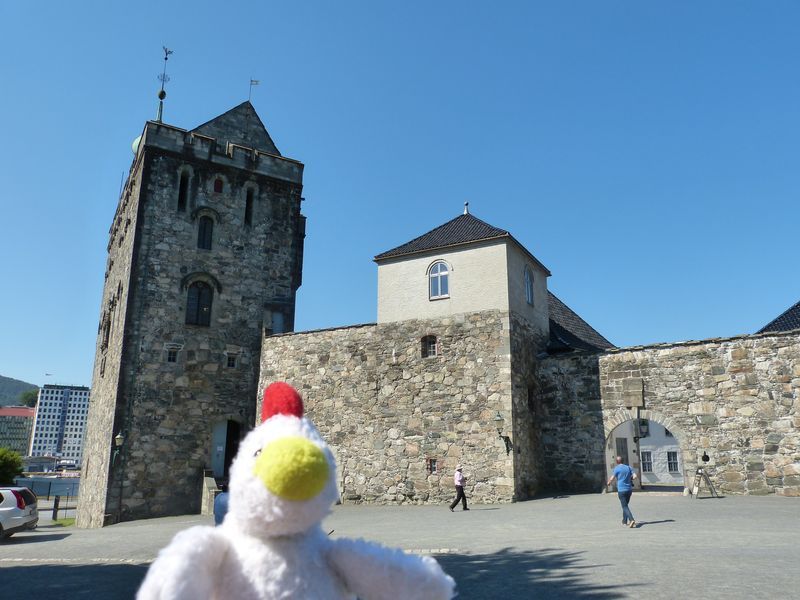 In the afternoon we drove to a place, where the musician Edvard Grieg lived. He had a great nature around his house.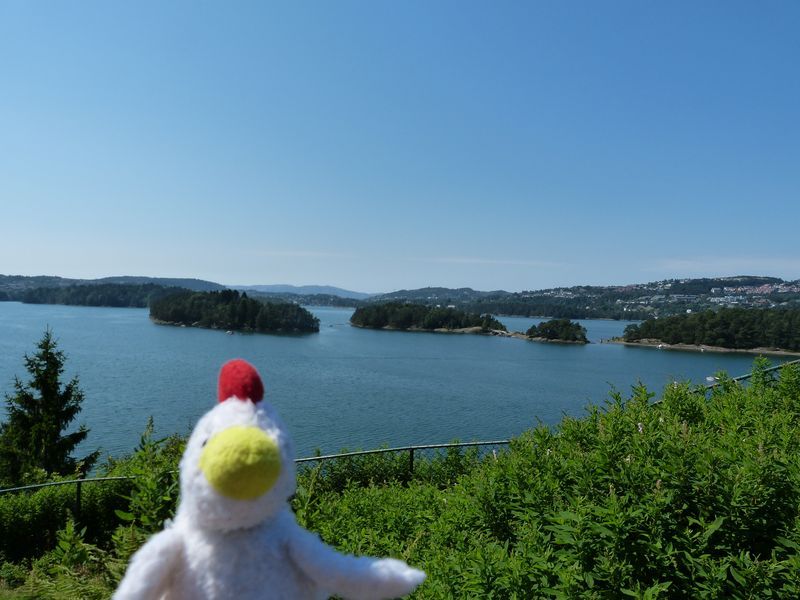 This was his house.
And in this small cottage he wrote his songs.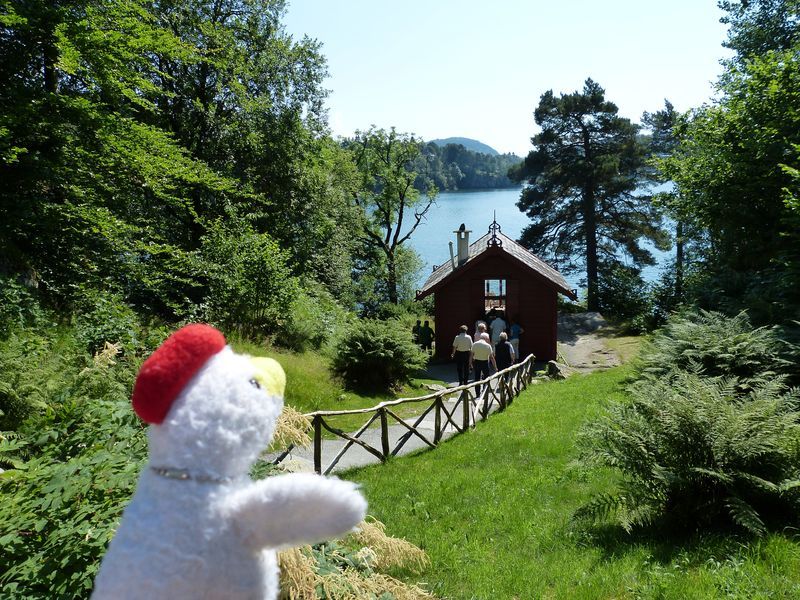 And this was the place where he relaxed.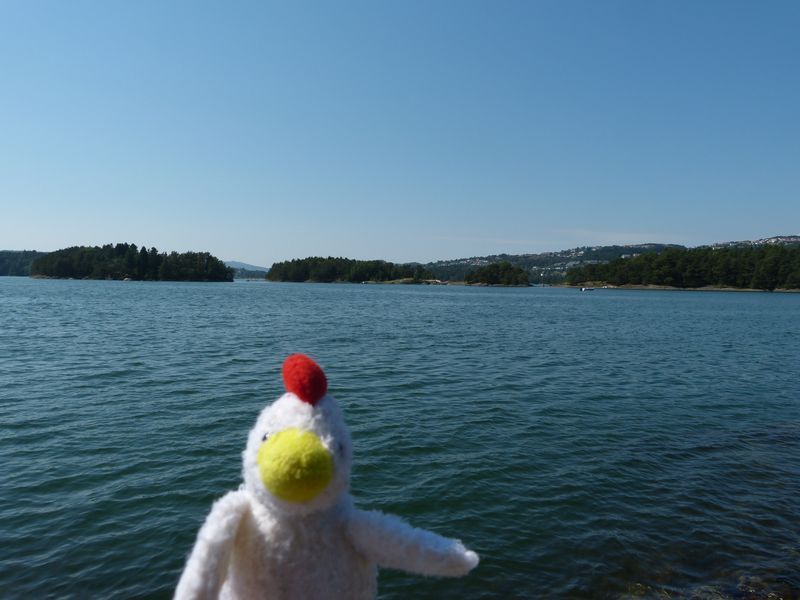 Look, another typical house for Norway.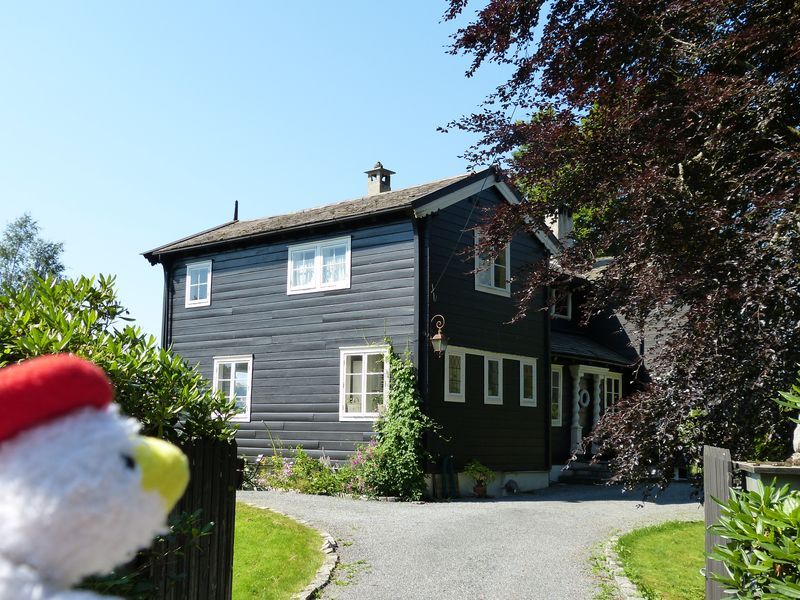 Then we went to a church called stave church.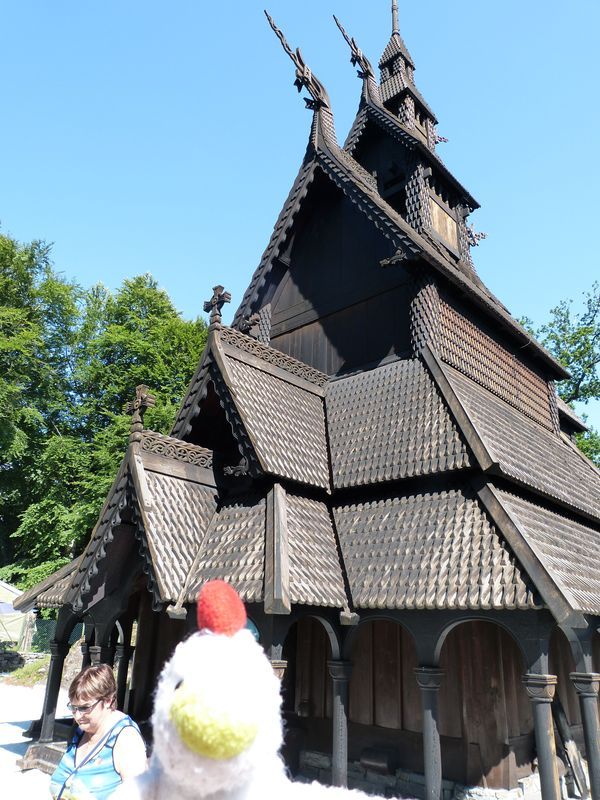 We went inside – I love the wooden things here.
We walked around the church – it was really interesting!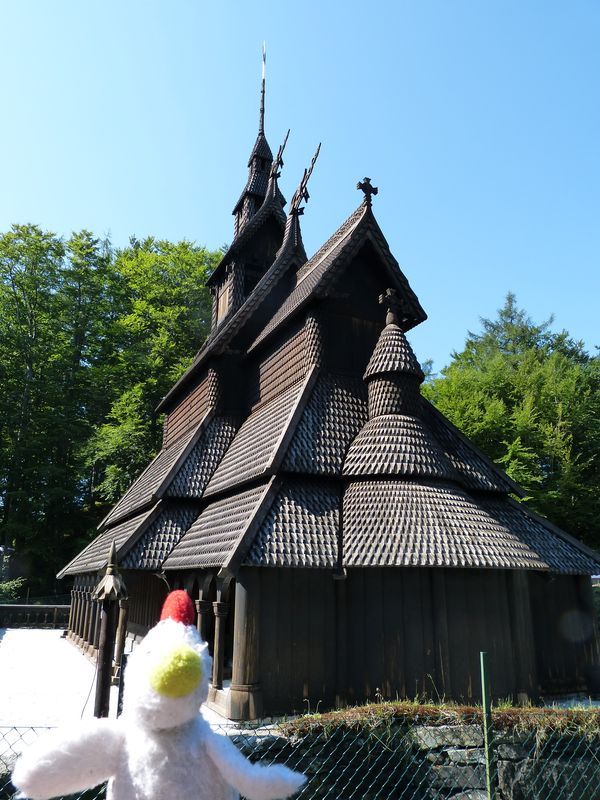 Back on the way to our ship we stopped in Bergen and had a last photo with these wonderful houses.
Yours Squab
---
Hello Mum,
It was our last day on the ship – and I just walked around and want to shop you some nice places here. We had nice weather again.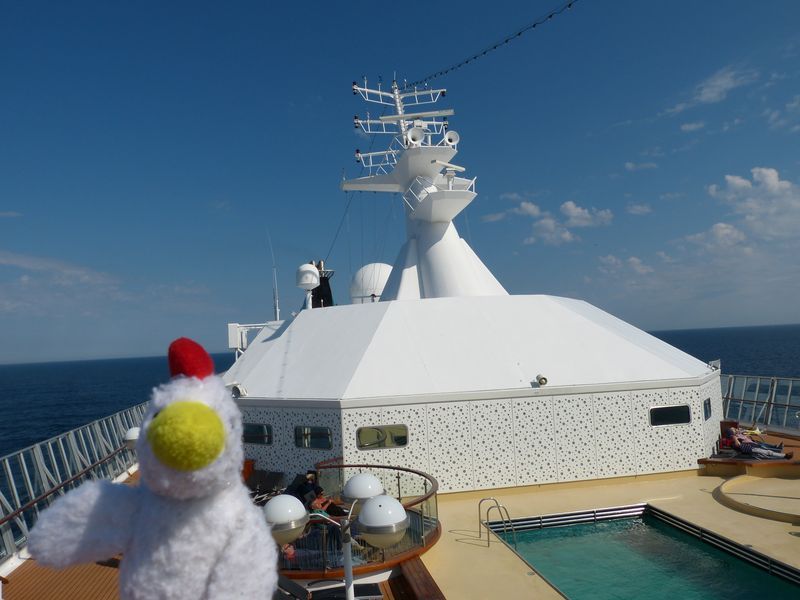 People were sitting in the Kopernikus Bar and enjoyed their lives.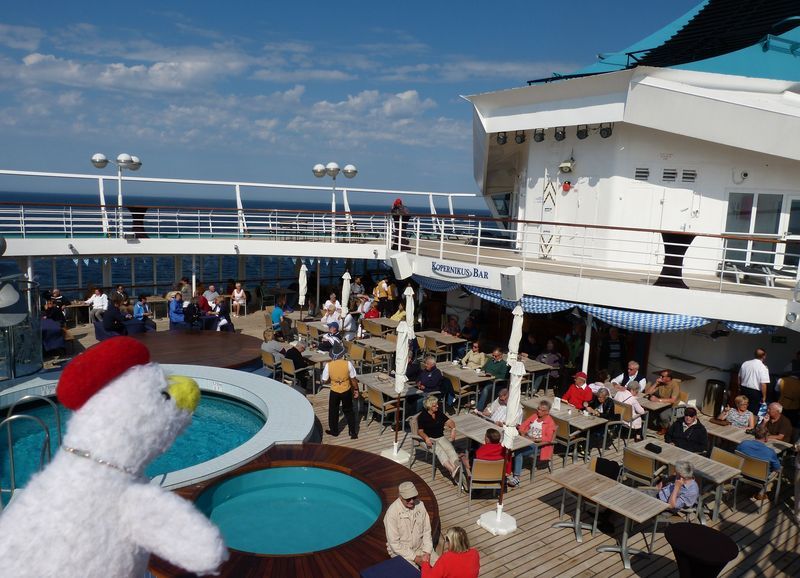 A really beautiful ice sculpture.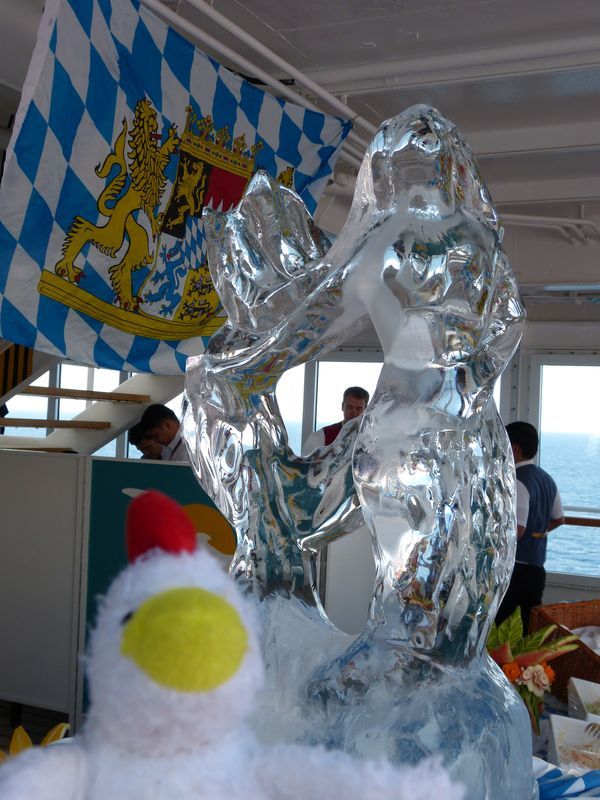 This place is called the atrium – you can find the reception here – and even more important – the entrance to our famous restaurant!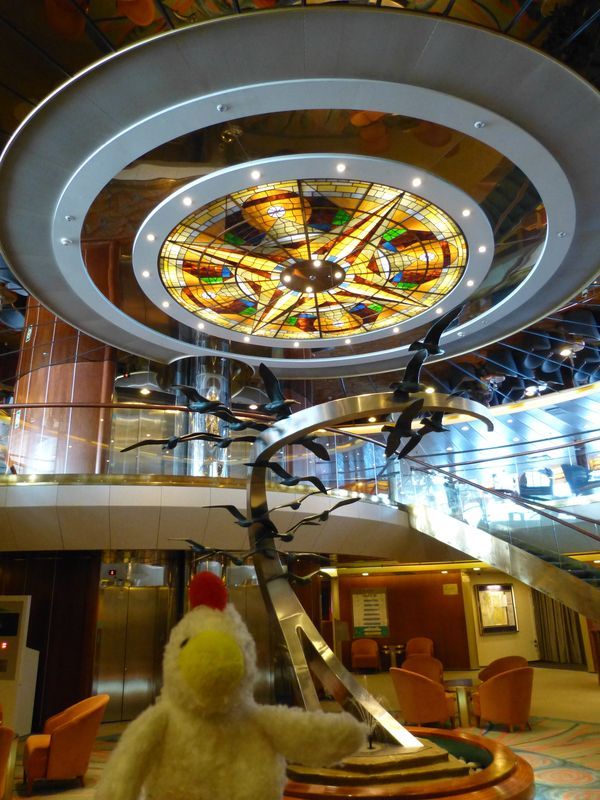 We had a great cruise – and I loved being on this ship.
Yours Squab
---
Hello Mum,
Today is the final day of the Soccer World Championship and the German Team is playing in it. Time to celebrate it.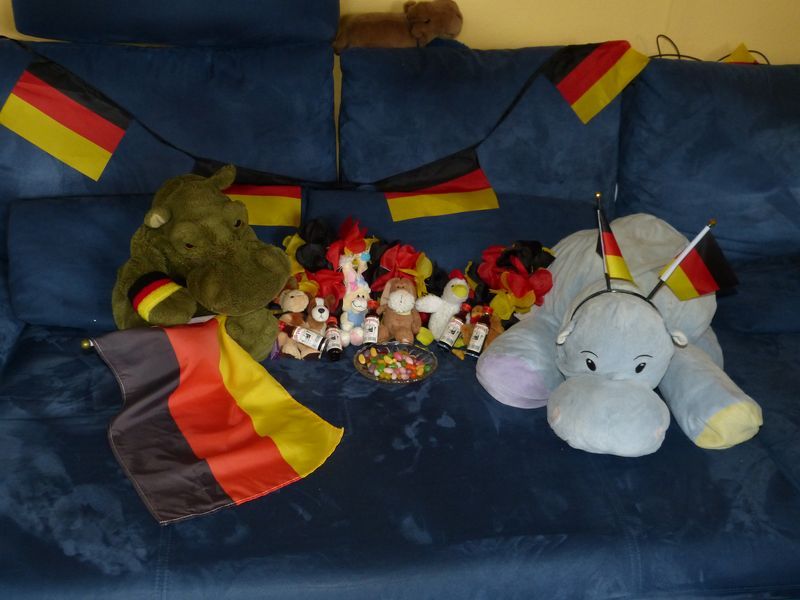 I had fun with Henri!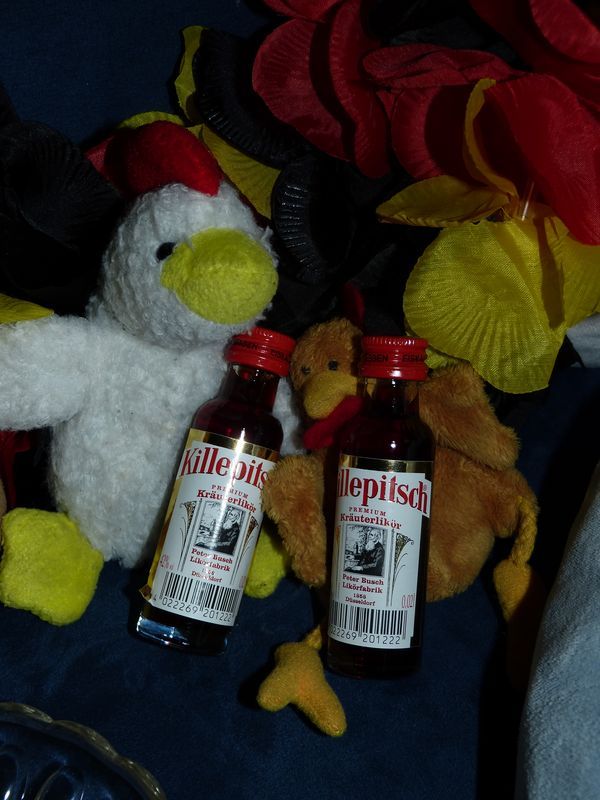 Two big hippos celebrate it with us!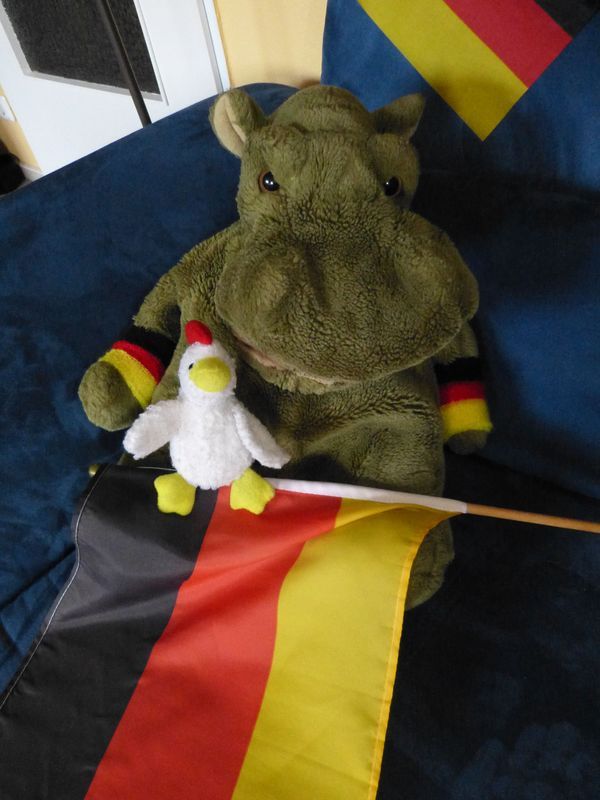 Germany won – what a wonderful evening!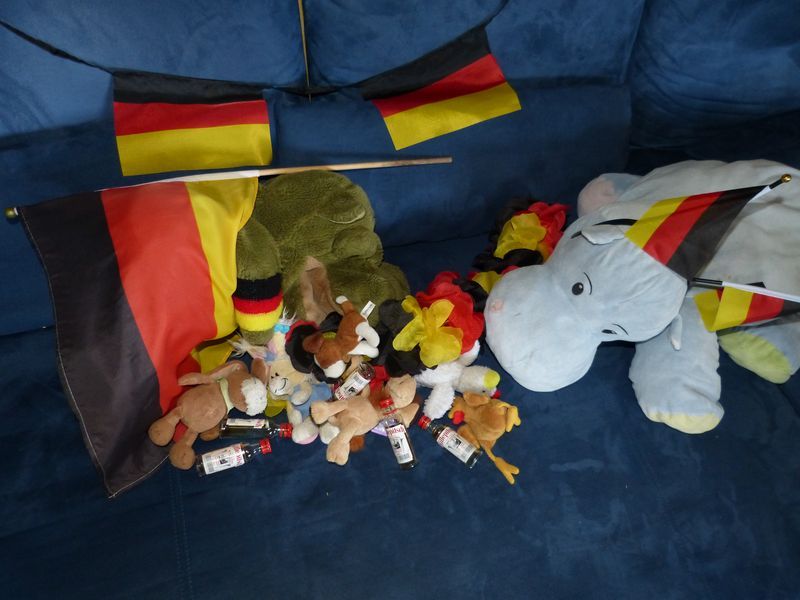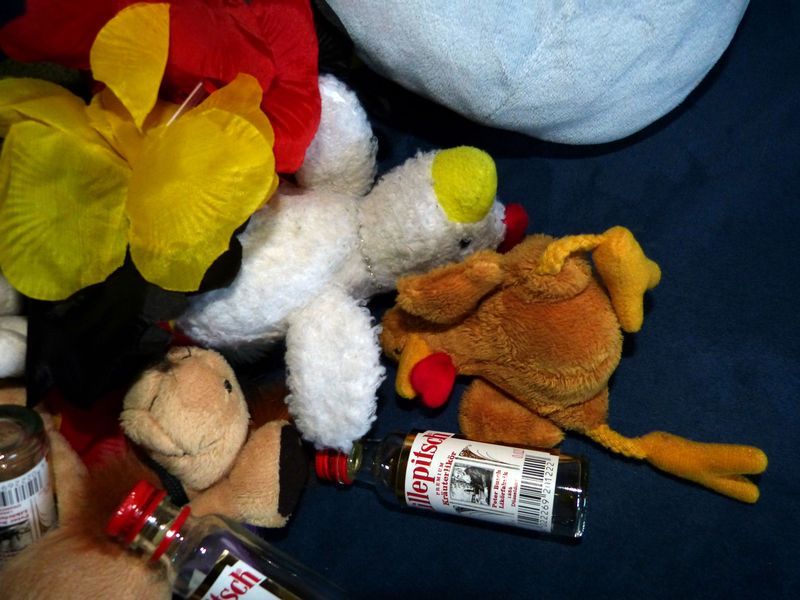 Yours Squab
---
Hello Mum,
We visited a place called Derneburg. I saw a nice Castle there.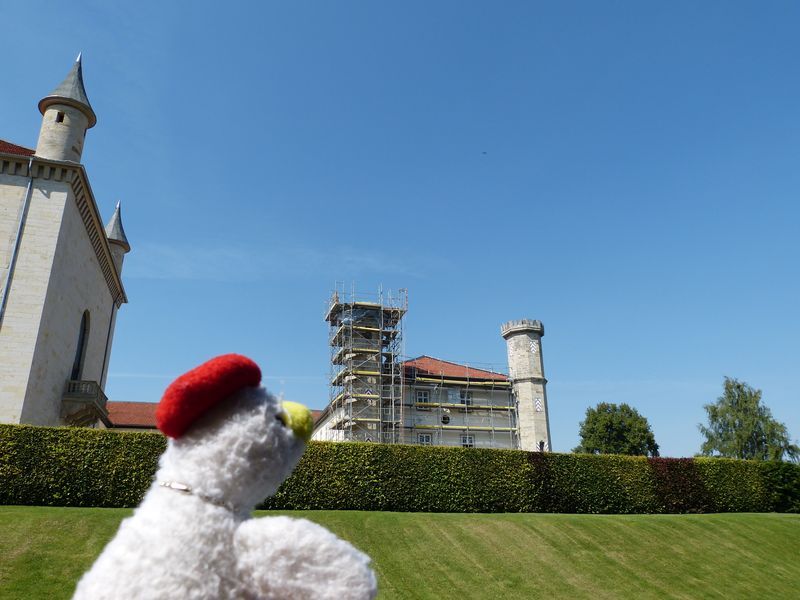 We took a walk through a forest and found interesting buildings there – this was an old teahouse.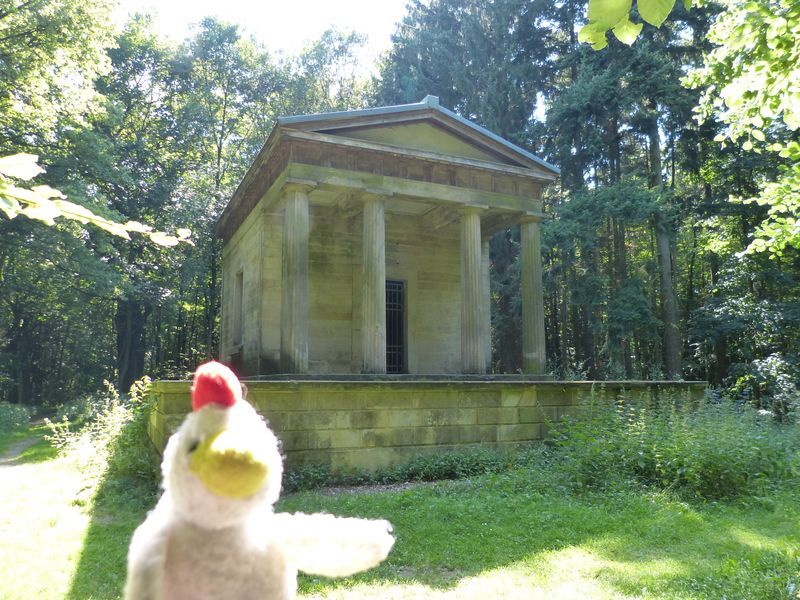 It was a hard and steep way.
But then we found a pyramid – in the middle of Germany, this is strange.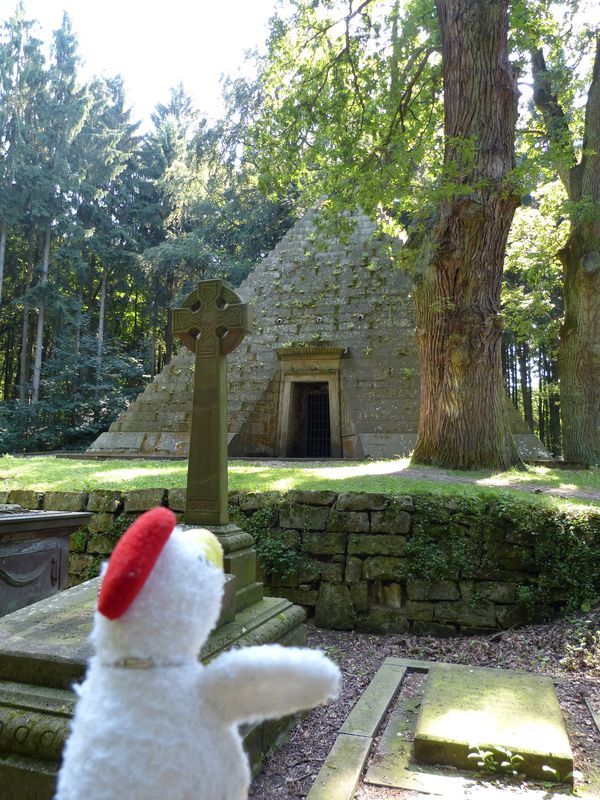 We stopped at this nice place for a photo with all of us!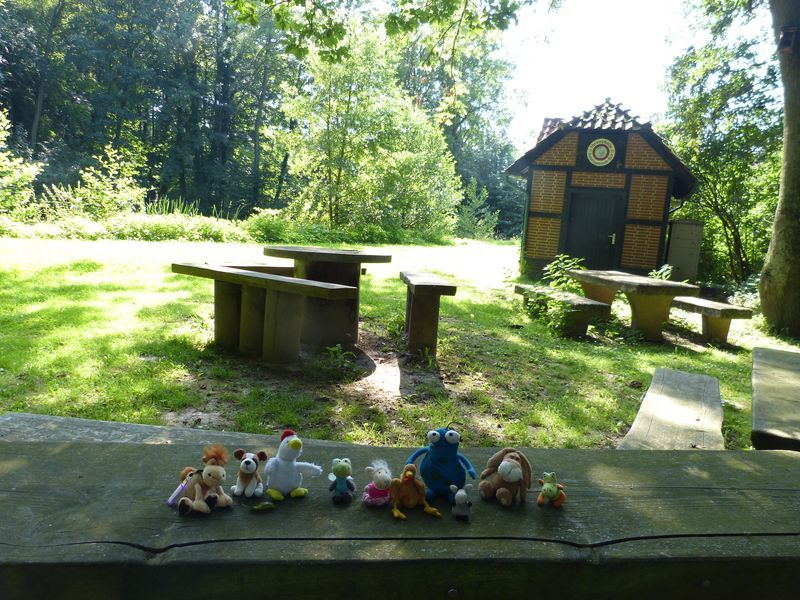 This was the way we took.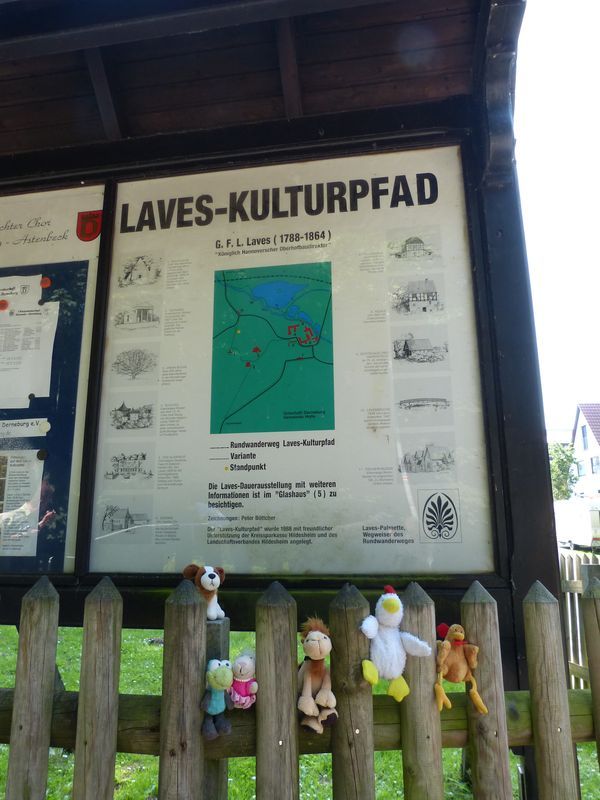 Behind me you can see old houses, fishermen lived in it in the Past.
I had a nice view over a small lake.
The next day we went to a great Castle, called Schloss Marienburg.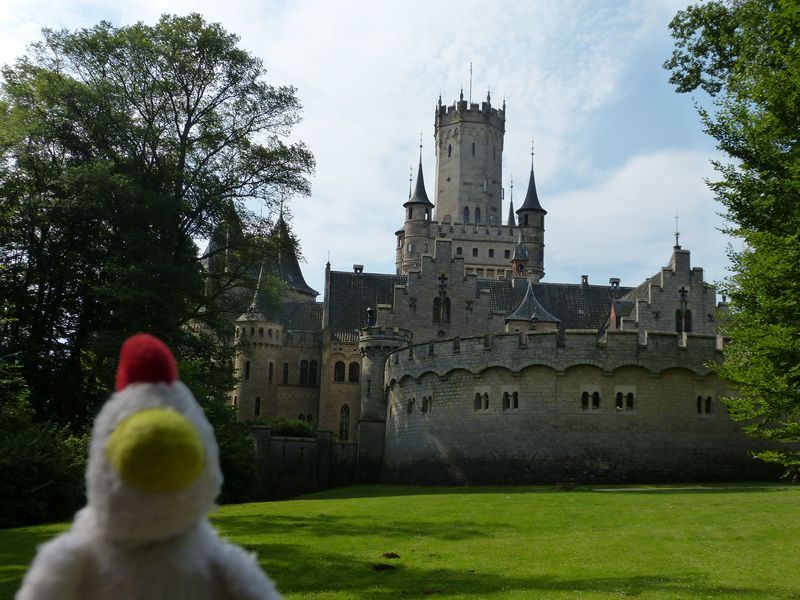 Unfortunately we were not allowed to take photos inside the Castle, but it was very interesting!
It was a nice week-end in Lower-Saxony!
Yours Squab