Hello Mum,
It was boring at home – only sitting in the blue armchair and no adventure. So I listened to a phone call between Murph and Dicker Kumpel.
Murph will go on holiday – this sounds great. I kept all in my mind – and went to the place. 300 kilometers to the south – no problem for a brave donkey.
What was the name Dicker Kumpel talked about? Bellenberg – this looks good!
It must be here…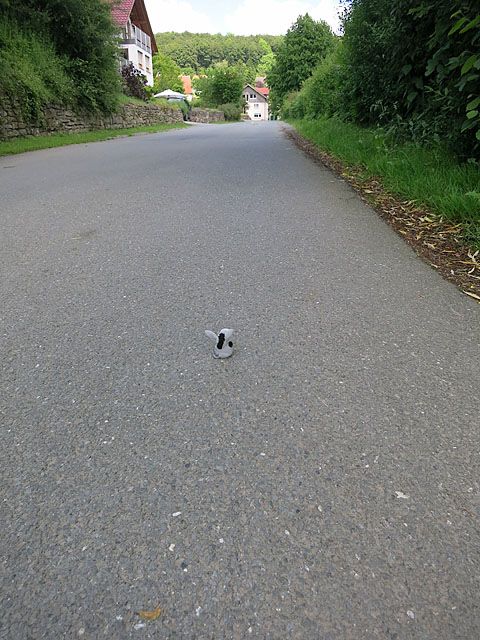 Yes, this was the right way.
I found the farm.
Now I have to wait for Murph! Hopefully this is the right place.
I heard voices! They come! "Pst, here I am!"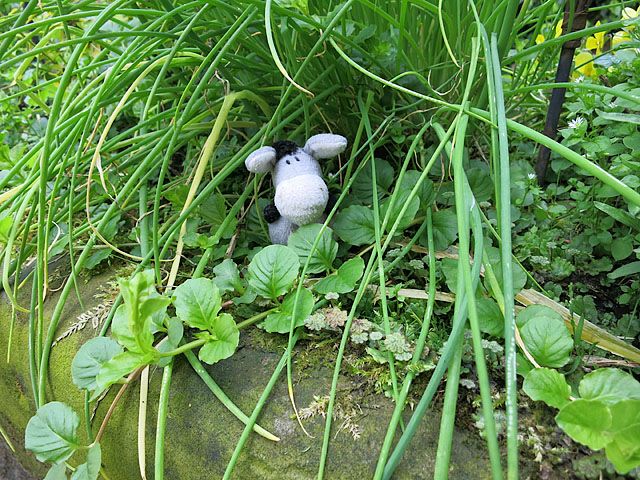 They found me!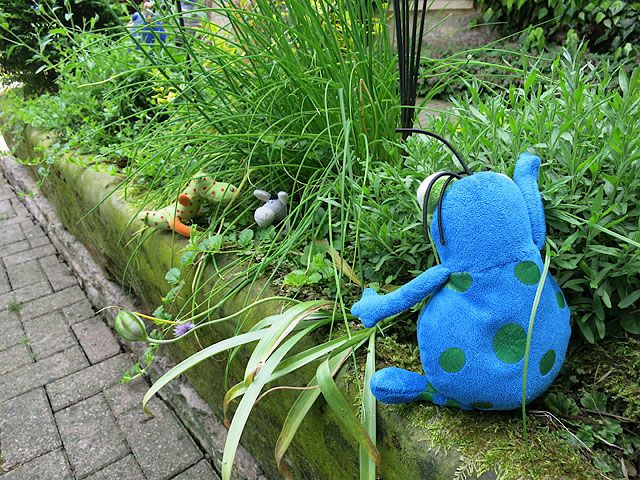 We all were so happy.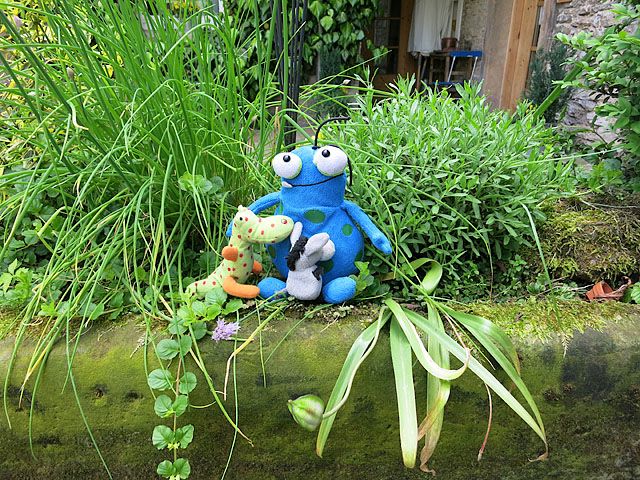 We found a nice armchair and talked all night long!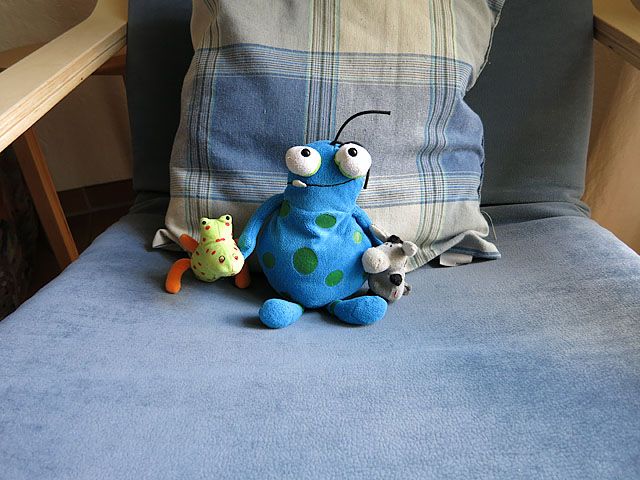 Mum, hopefully it is okay, that I am here…
Yours HolgiHH
---
Hello Mum,
Today we visited two landmarks in the Teutoburger Wald. First we walked to the "Externsteinen". These rocks are really famous. There behind me you can see it.
We saw this beautiful small river – and urgently wanted to have a photo.
These rocks look really great – don't they?
There is a bridge between these rocks – it looks dangerous…
These rocks are really beautiful!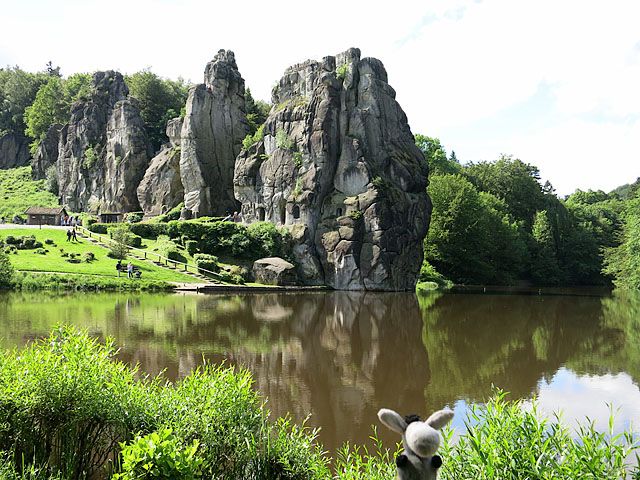 Our second stop is the region's landmark. It is "Hermann der Cheruskser". A really big monument!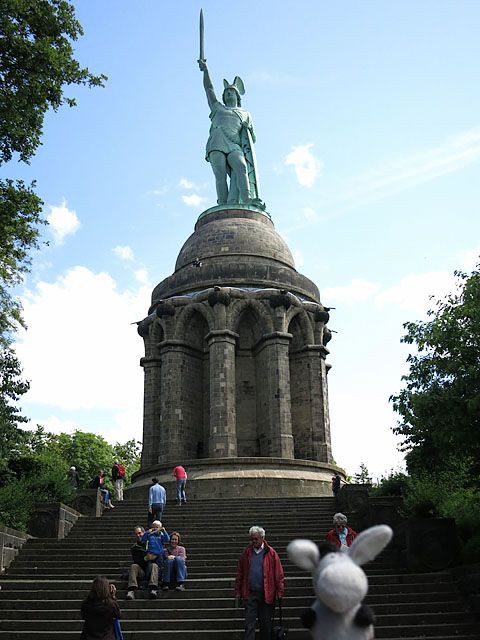 Here you can read the height of the monument. The sword alone is 7 meters high.
What a wonderful day!
HolgiHH
---
Hello mum,
Today we went into a big museum.
There were many old buildings. This house stands on stones, because the mice should not climb into it.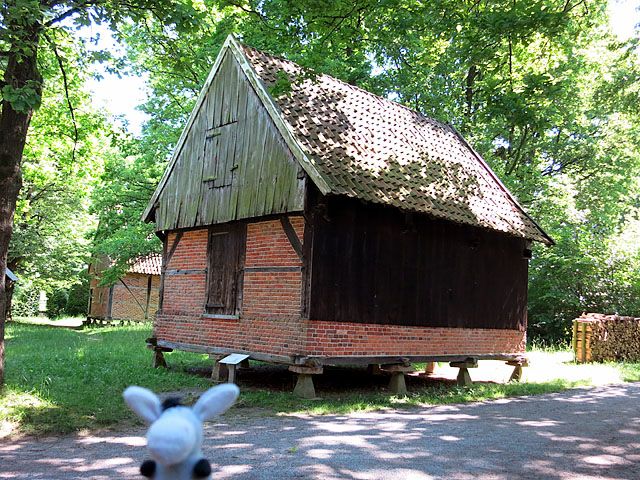 The umbrella for the hay looked great.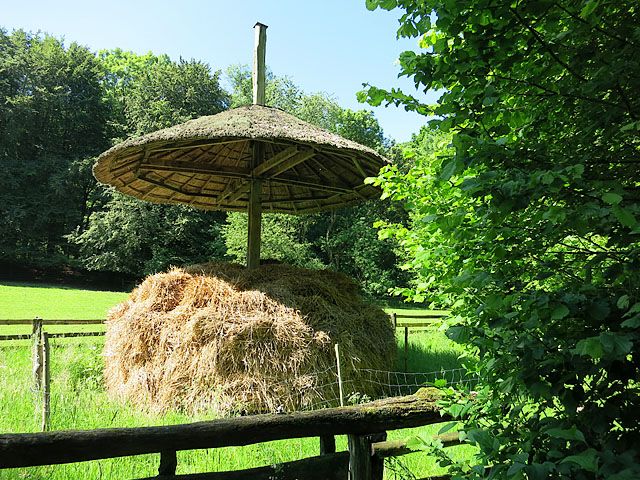 I love Windmills.
Look, Mum, so many vegetables.
Can you see who is on the vegetable? Snails everywhere.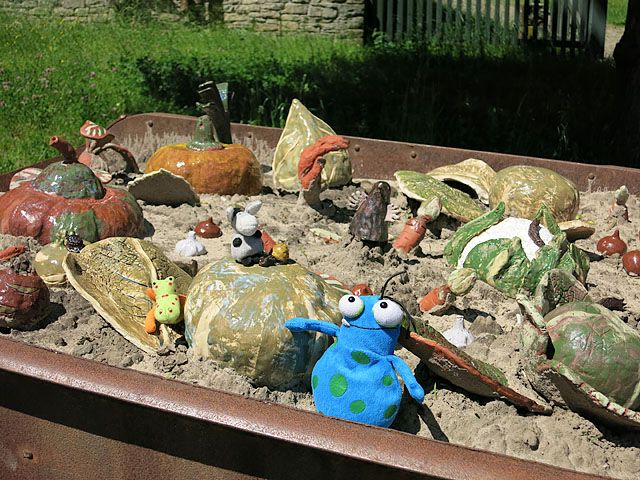 Wonderful houses!
We saw this funny guy in one garden.
Wow, another windmill!
And a water wheel.
At the end we saw an old fuel station – funny, wasn't it?
The museum was really great.
Until soon
HolgiHH
---
Hello mum,
On our way back we visited another small and beautiful town. The town hall:
There was a beautiful fountain on this place.
I saw many nice half-timbered-houses in Blomberg.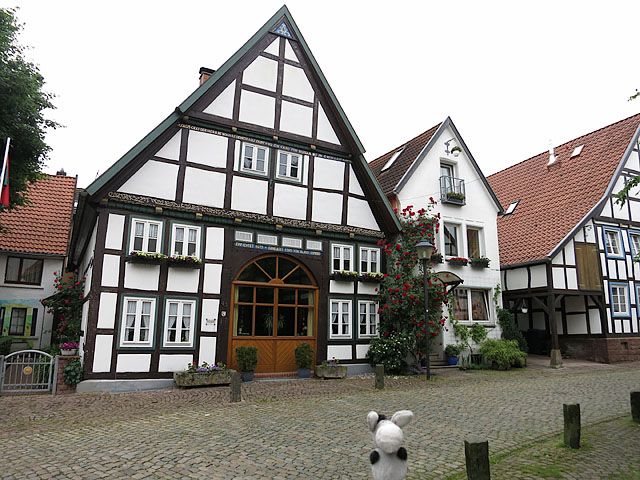 And I really liked this old water pump.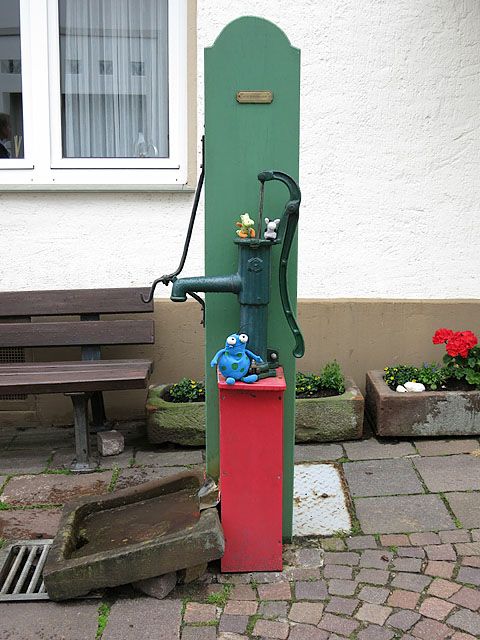 Another great half-timbered house – it was wonderful painted.
This is an old town gate.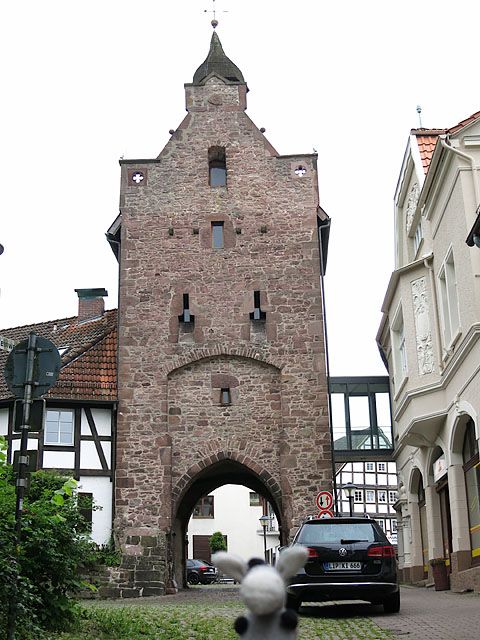 Blomberg has a castle. This is the courtyard of it.
We saw this car there – I would have loved to drive in it.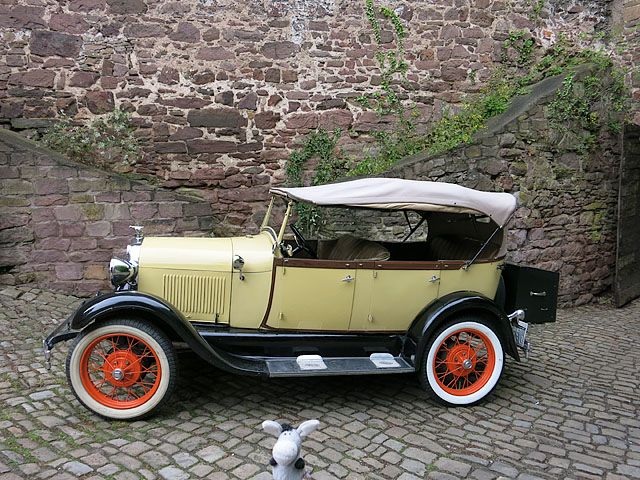 Unfortunately our holiday is over and we have to go back home.
Greetings HolgiHH
---
Hello mum, It is very hot!
Nevertheless we went into the forest.. Maybe we will find mushrooms.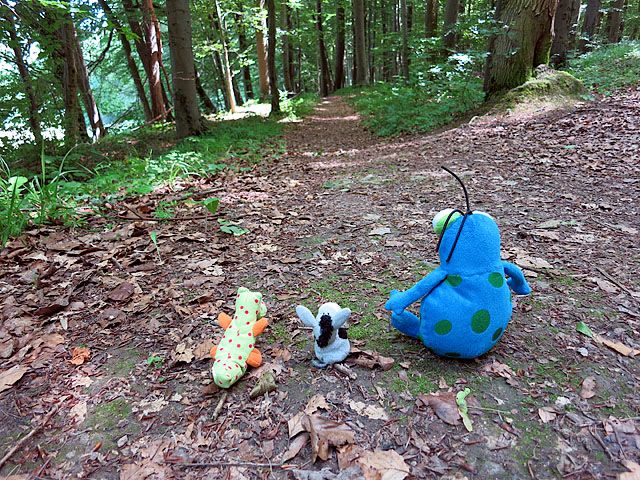 Immediately we found one. It is called Chicken of the woods - funny color, isn't it?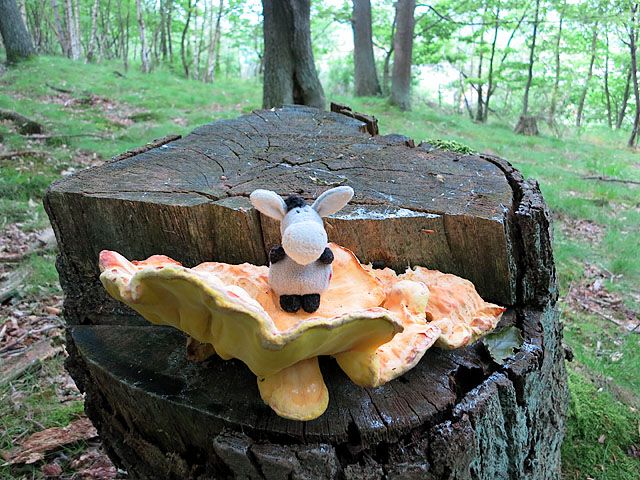 A beautiful flower: the Purple foxglove
And then this: a small King bolete. We left it in the forest, because it was too small.
Another mushroom: a Common stinkhorn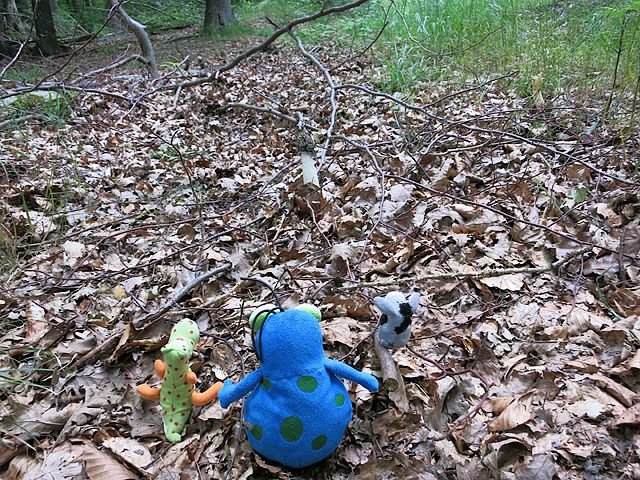 Puh, mushrooms can smell really bad!
These blossoms smell much better: the Black elder
What a beautiful mushroom!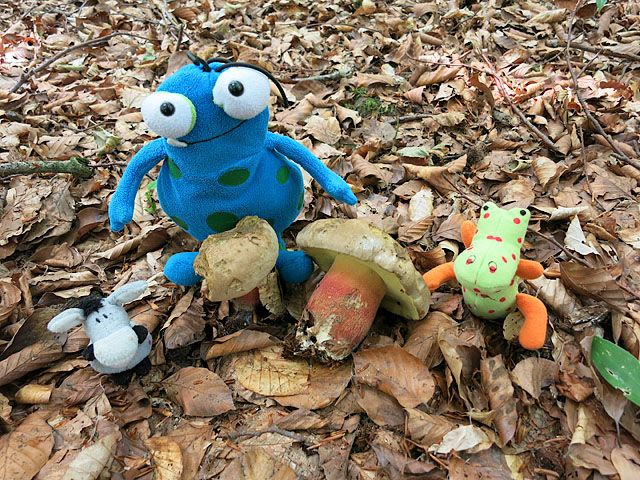 We smelt it – it smells like vinegar…
This plant is really rare here, but beautiful: the Wood cow wheat
Finally I show you this mushroom. Many people love its taste.
What a wonderful day in the forest, although it was very hot!
Yours HolgiHH
---
Hello mum, Today the German team started in the World Cup of Soccer. We had to celebrate it. Can you see our great drink?
I had gold…
…some sweets…
… and potato chips.
Everything was ready!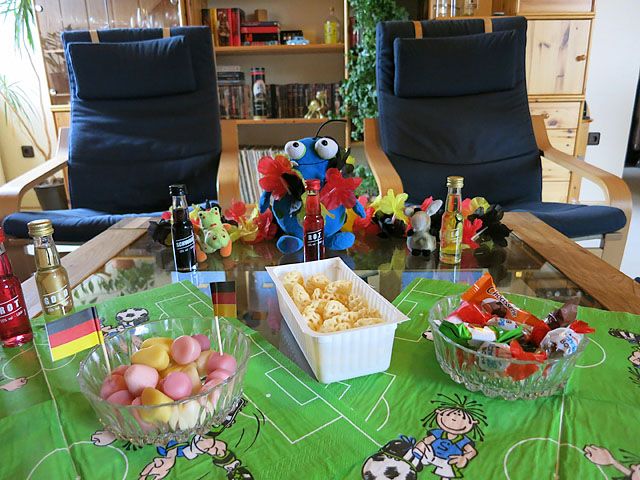 It can start!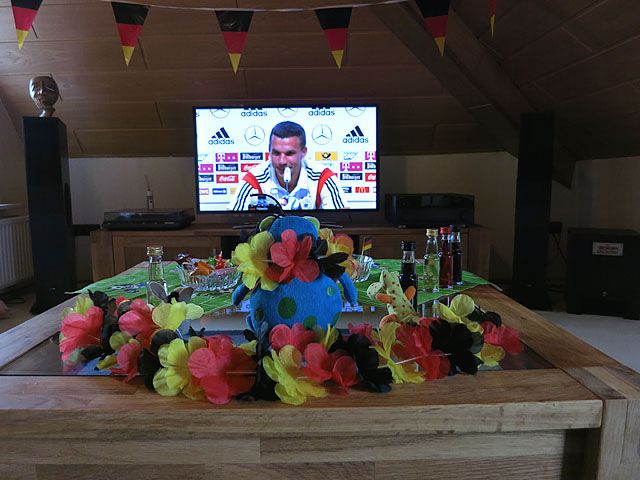 Here they go. The German team played really great!
It was exhausting and the drink was really yummy…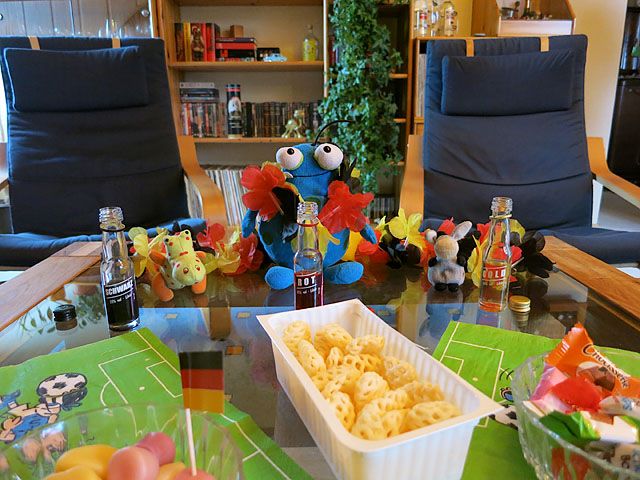 It continued…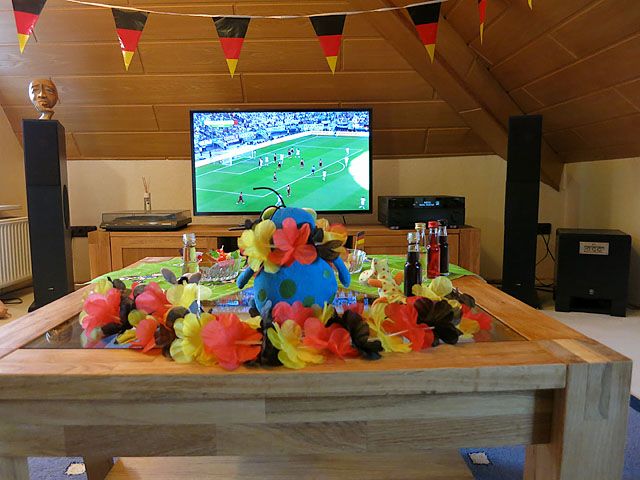 Why did the German Coach looked so strange – Germany will win!
What a game and what a party!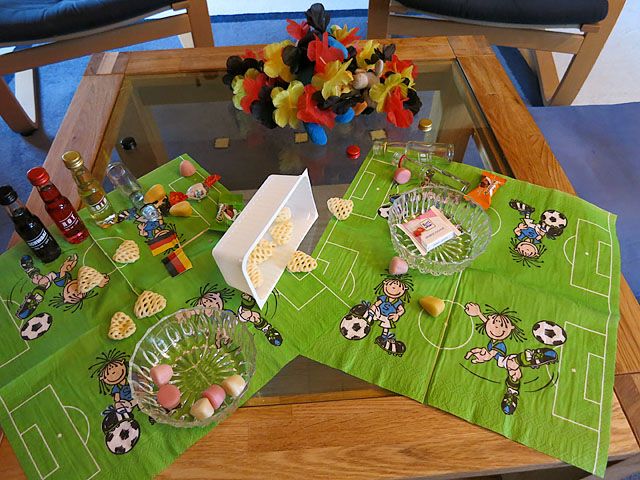 Have a good night!
HolgiHH
---
Hello mum,
It rained today, nevertheless we wanted to go into the forest. Maybe we will find mushrooms.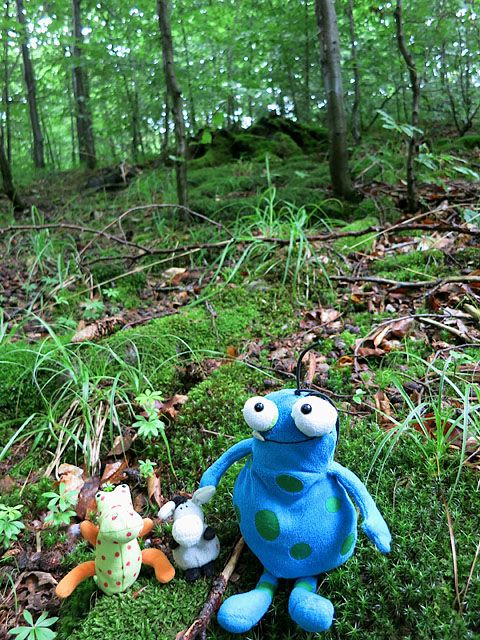 We found mushrooms. First it was a small king bolete.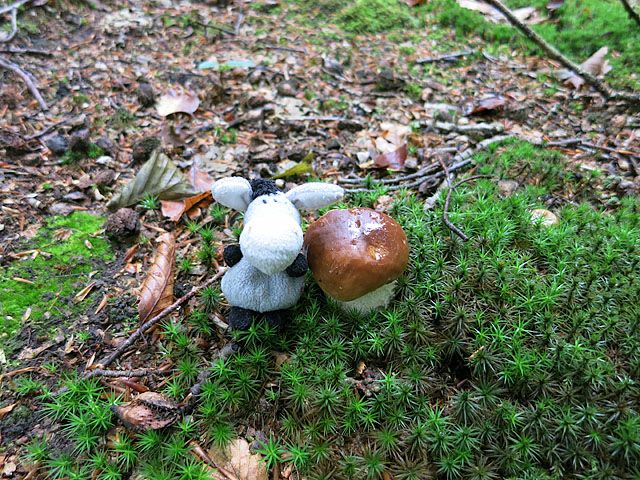 This beautiful mushroom is eatable... a Blusher
And this small mushroom is really hot – Murph told us – we didn't try it.
Another mushroom: the tawny grisette
We had to hide under the trees because of the rain.
This plant looked interesting. It was not green.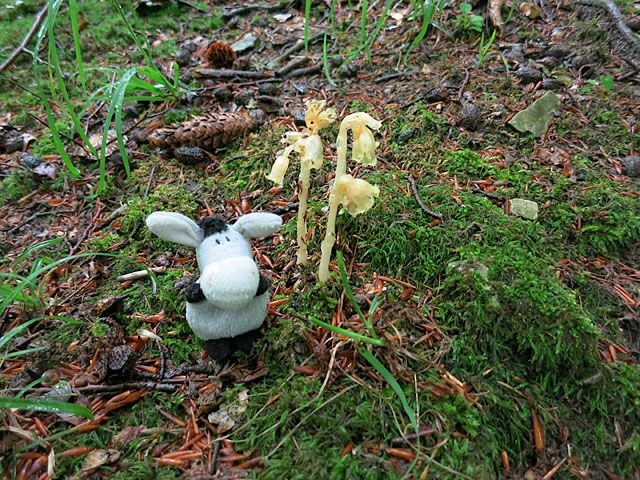 At the end we found a nice portion of chanterelles... Yummy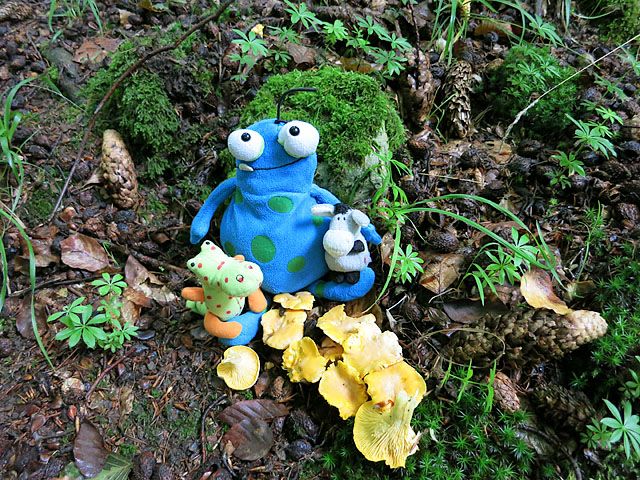 A wonderful day in the forest!
Yours HolgiHH
---
Hello mum,
Today we took a long walk. We started in this small forest.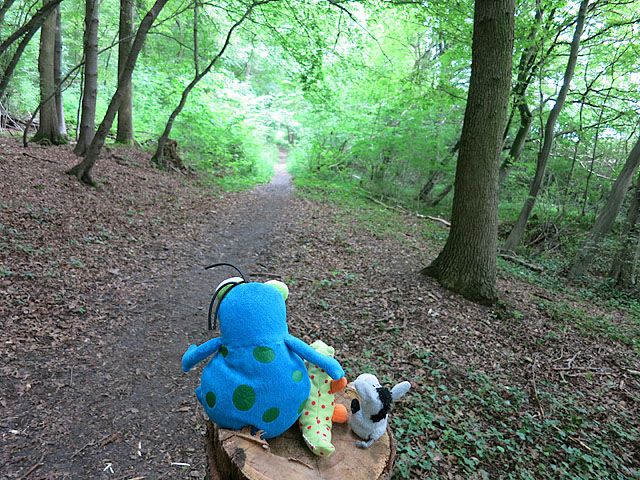 The first mushroom: The Miller- it really smelt like flour.
Imagine that – we found truffles.
And another beautiful cup
At the moment we only find small mushrooms  - not enough for taking it with us…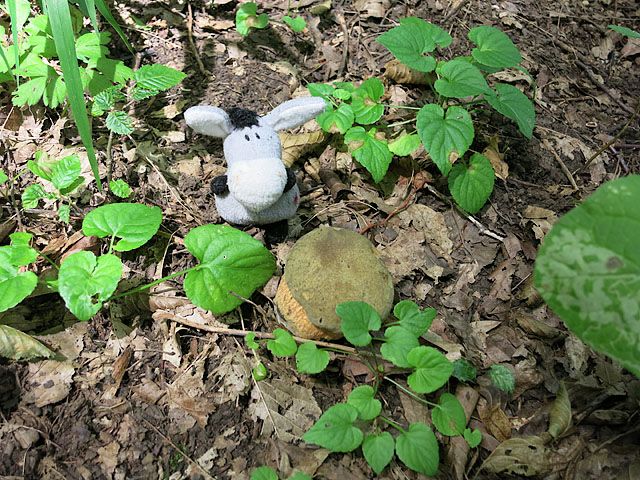 On our way back we walked over a big meadow.
There weren't mushrooms, but beautiful flowers.
And this plant is very rare: the Restharrow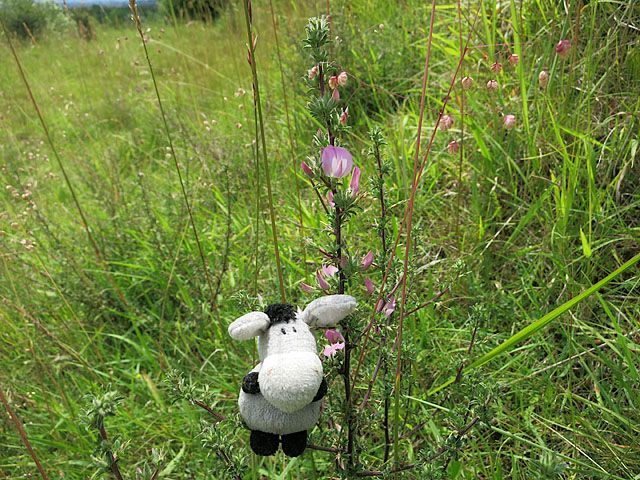 Until soon
HolgiHH
---
Hello Mum,
Today we drove to a meeting with our friends, who like mushrooms like we do. This was the meeting point. Everybody said that the pea soup was very delicious.
We went into a wonderful forest.
There was a meadow with wild orchids in it…
...and colorful mushrooms!
This forest was really great.
We found mushroom – wonderful color, wasn't it?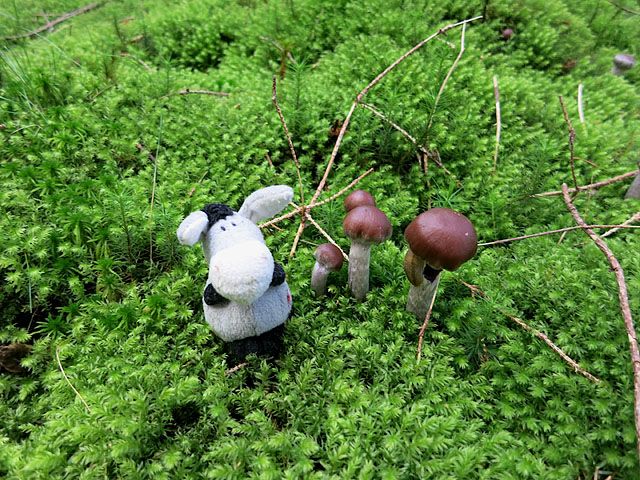 I love this forest!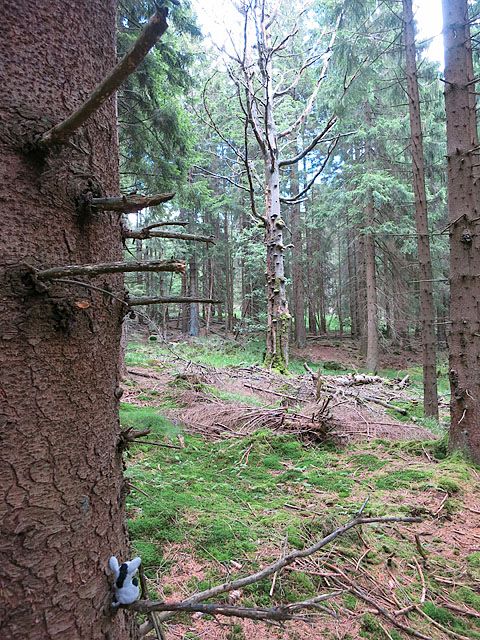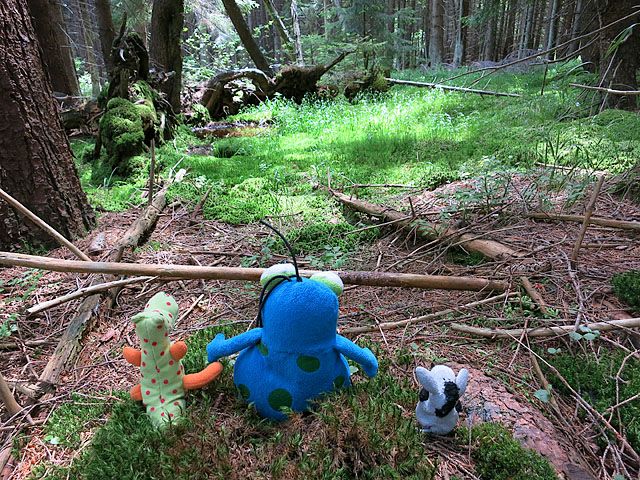 Yours HolgiHH
---
Hello mum, We have new guests!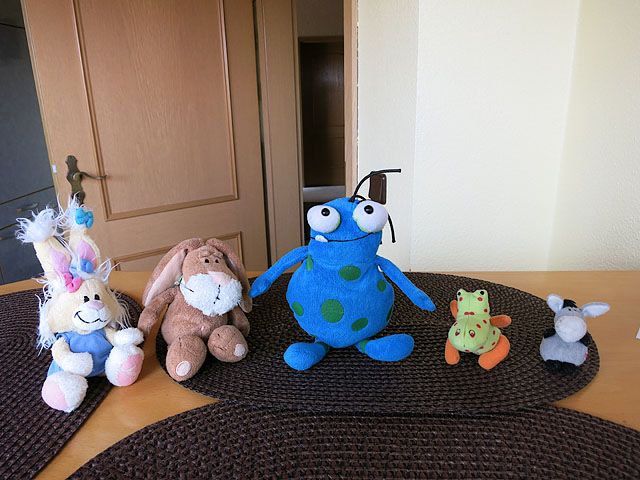 Dicker Kumpel and Kleine Fee arrived! And imagine this – they will stay for four weeks and travel to Rügen with Murph! We all are so happy.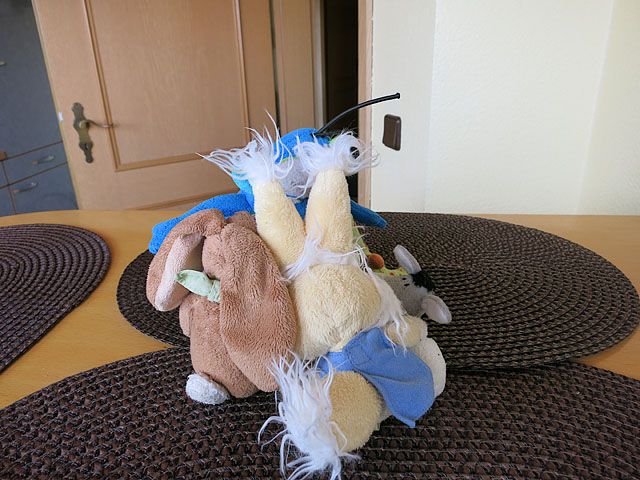 Of course we will celebrate it, but first we will go on a nice excursion.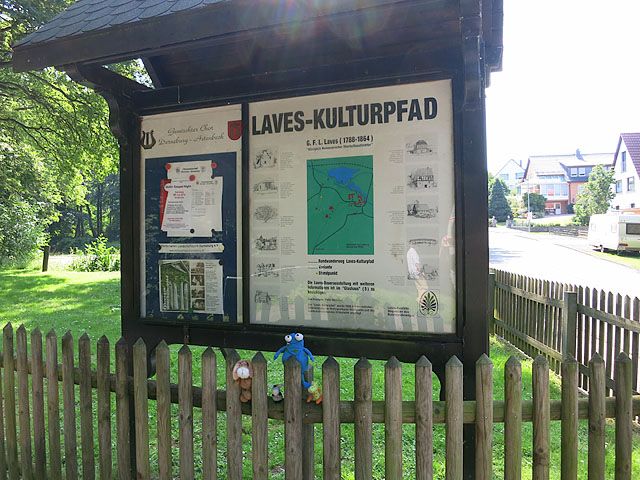 There is a big castle in Derneburg.
In the forest was a small teahouse.
So many stairs…
Unbelievable – there exists a pyramid in the forest inside of Germany. It is the grave of the former owner of the castle.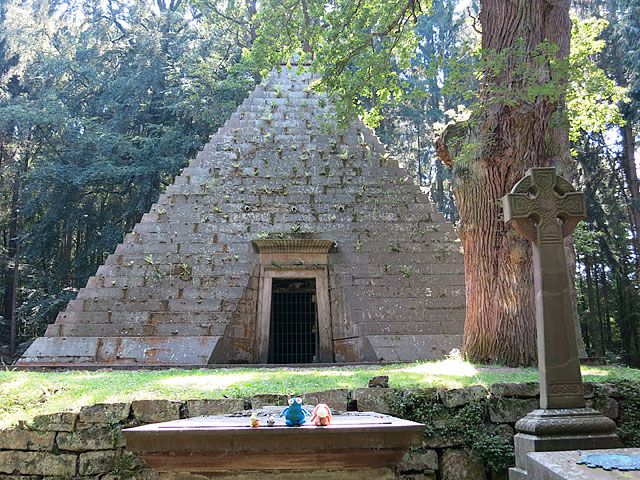 I liked this house.
There were small houses of fishermen next to many small ponds.
It didn't look like one – but this was one of the fish ponds.
This region is really beautiful.
HolgiHH
---
Hello mum,
Today we visited the Castle Marienburg. It looked beautiful!
Just like a fairytale…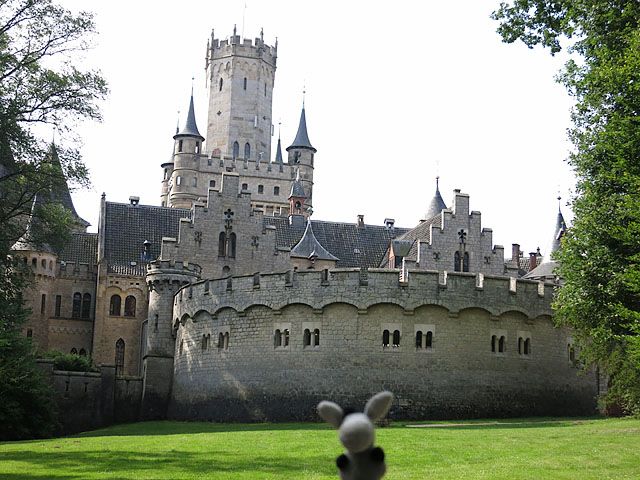 The courtyard of the castle…
We were not allowed to take photos inside of the castle. But we found this funny guy at the exit and wanted to have a photo with him.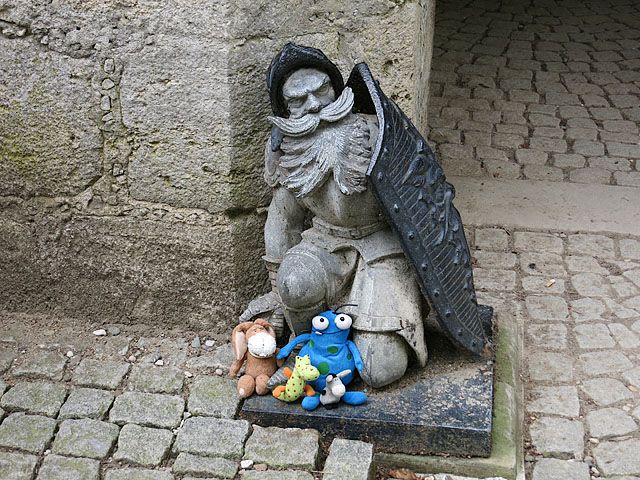 In the evening we celebrated the arrival of Dicker Kumpel and Kleine Fee. Murph prepared a small party:
We drank, ate and talked a lot.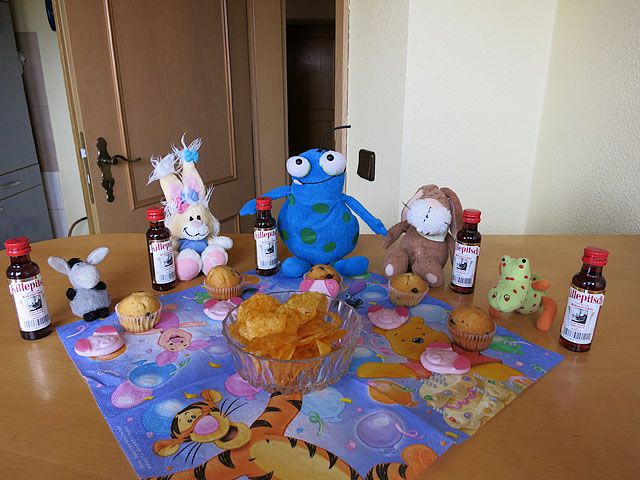 ... even drank, ate and talked more...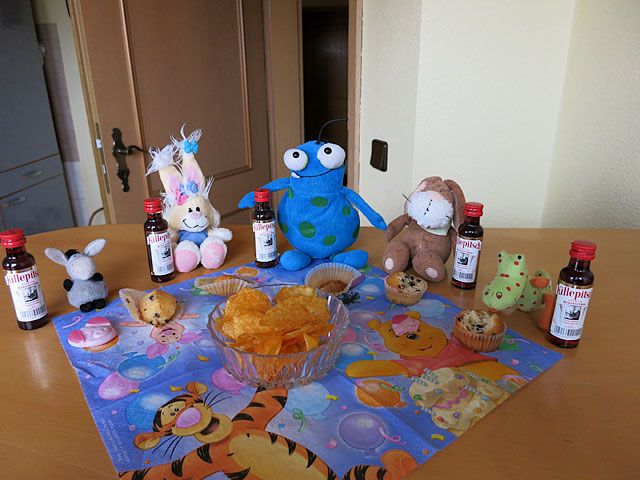 Maybe a little too much?
It was a wonderful evening!
Yours HolgiHH
---
Hello mum,
Today was my last day at Murph's home. I said goodbye to DottyCroc and Kleine Fee.
Then I went into the forest with Dicker Kumpel and Murph. At the beginning we found these beautiful flowers.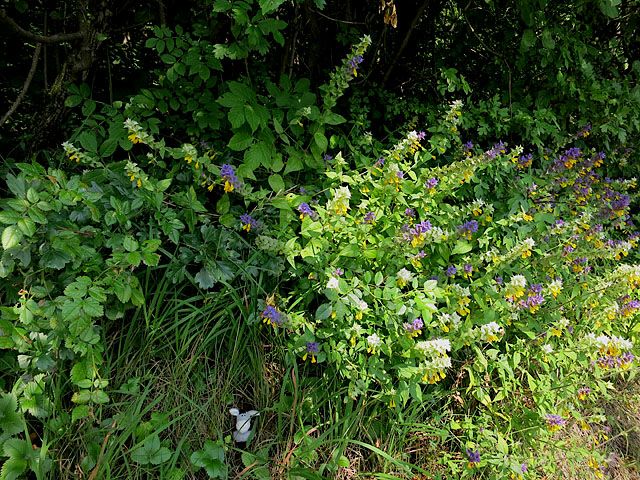 It wasn't funny in the forest. Because nearly all mushrooms were eaten by snails.
But I found a star in the forest.
Often there were butterflies sitting on these flowers. Unfortunately there weren's butterflies today.
This mushroom has a great colour, hasn't it?
People often think that it is the king bolete. But it is not – and it is really bitter…
A really wonderful forest.
The black trumpets are really yummy, but not easy to find.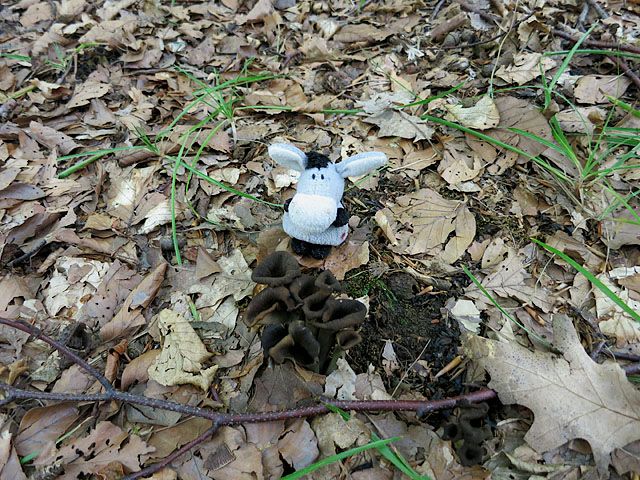 Then it was time to say goodbye.
Mum, I am coming home!
Yours HolgiHH